13 Best Beaches near San Luis Obispo, CA
San Luis Obispo (SLO) is a laid-back and historic town near the Central California coast. The surrounding San Luis Obispo County offers over 80 miles of distinct and stunning shoreline within a short drive. This range of coastal appeal, alongside enough distance from both Los Angeles and the Bay Area, helps set a tone appropriately known as SLO CAL.
Several small cities intersperse the county coastline, each with its own charm. Places like Pismo Beach offer the quintessential vacation experience with ocean dining and a lively plaza. And like Pirate's Cove Beach and Sandspit Beach in Morro Bay, other spots feature a more solitary experience.
Whatever activities pique your interest, beaches in San Luis Obispo County deliver. From suntanning and shoreline fishing to exploring sea caves and driving off-road vehicles across dunes, there's no shortage of ways to enjoy the typically sunny weather of the region.
Enjoy your next SLO CAL experience with our list of the top beaches in San Luis Obispo County.
1. Moonstone Beach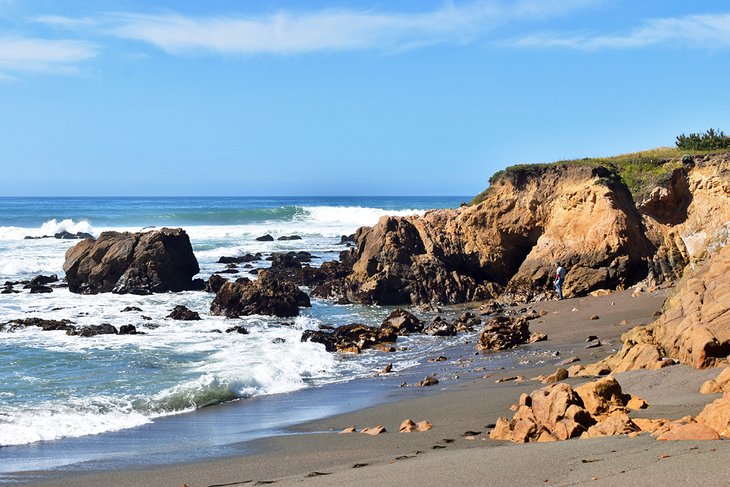 Moonstone Beach is along Moonstone Beach Drive in Cambria, along the northern county coast. It's a beautiful stretch of shoreline with several rugged rock formations punctuating sandy coves. The most popular activity here is appreciating the dramatic coastline from a network of blufftop trails.
The Moonstone Beach Boardwalk Trail spans a mile between Santa Rosa Creek and Leffingwell Landing day-use areas. Gorgeous views of the coastline span the entire boardwalk. Plenty of parking is available at the day-use areas or along Moonstone Beach Drive.
2. Piedra Blancas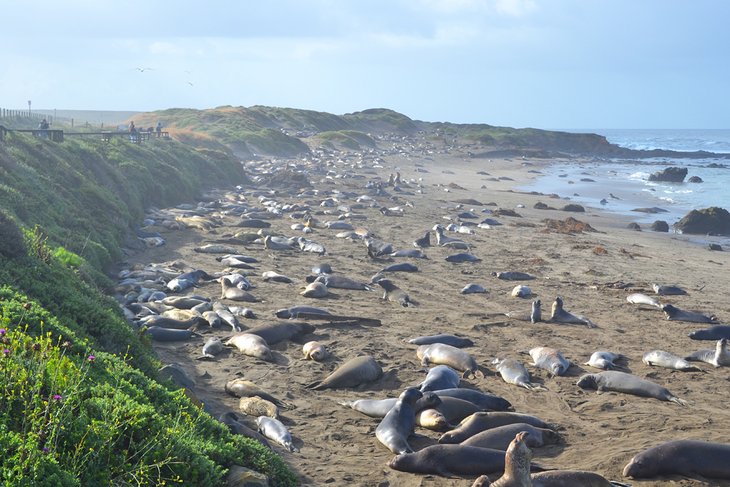 Point Piedra Blancas juts out into the ocean on the northern county coast. It offers a different type of beach attraction. The entire coast surrounding Point Piedra Blancas is a protected beach for elephant seals, making the beach primarily visited for its outstanding wildlife viewing.
South of the historic Piedra Blancas Light Station, Elephant Seal Vista Point lends an incredible view of these massive mammals crowding the beach, some weighing upwards of 4,000 pounds. Between December and March brings the most elephant seals to this rookery, creating a symphony of barks, groans, and other large-animal noises.
Naturalists from the Friends of the Elephant Seal are often on-site during the busiest seasons, offering knowledgeable insight into the natural process in view. Especially for animal lovers, it's easy to spend hours observing the hundreds of wild animals inhabiting the beach.
Official site: https://elephantseal.org/
3. Morro Strand State Beach, Morro Bay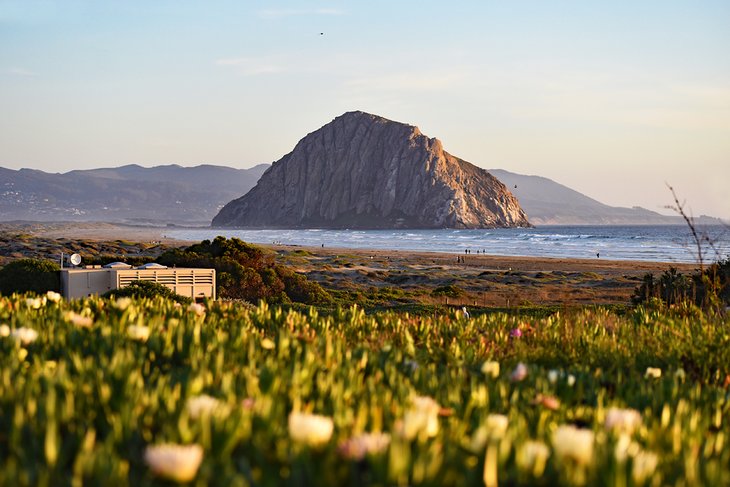 Morro Strand is a long stretch of beach connecting Morro Rock and the community of Cayucos to the north. The beach encompasses over five miles of vast and welcoming shoreline, split between a north and south beach. And along this entire stretch, especially farther south, an excellent view of Morro Rock backdrops much of the beach scene.
The state beach is home to a popular campground, approximately two miles north of Morro Rock. The campground has over 75 sites available, catering to tents and RVs. Some sites have full electric hookups. And all campsites are within a three-minute walk from the beach, separated by small bluffs and coastal shrubs.
Given its length, one of the most popular activities at Morro Strand is beach walking. It's particularly scenic heading south on Morro Strand, as Morro Rock becomes more and more in view. The beach is also popular for spreading a blanket out and having a family picnic.
Read More: Top-Rated Attractions & Things to Do in Morro Bay, CA
4. Avila Main Beach, Avila Beach

Avila Beach is a charming coastal community just north of Pismo Beach, easily accessible with a short turn off the 101. Much of its fun centers around the waterfront shopping and dining district across from the Avila Beach Pier.
A lively promenade connects the different tourist opportunities in Avila Beach. It also offers an encompassing view of the sand, where towels and gathering families usually punctuate the space. Because of its northern location in San Luis Obispo Bay, the beach has generally calmer waters and warmer winds.
5. William Randolph Hearst Memorial Beach, San Simeon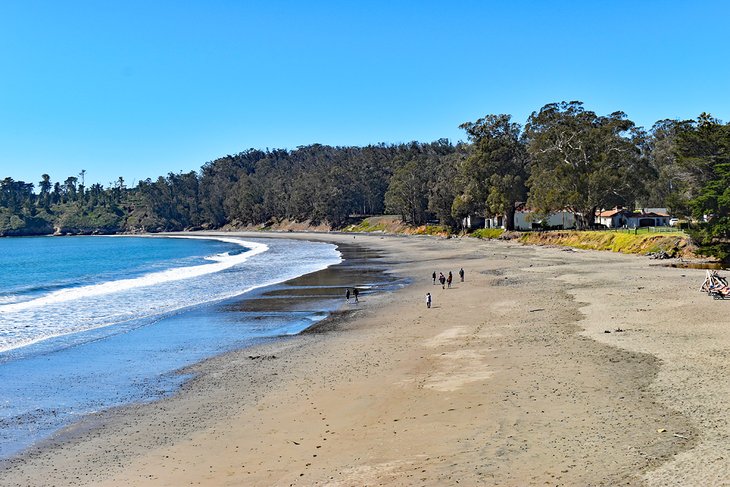 This state beach is the closest to Hearst Castle on Highway 1 in northern San Luis Obispo County. The beach area is opposite the highway from the long driveway leading up to the castle, making it a common stopover when visiting. And it's one of many beaches operated by Hearst San Simeon State Park.
A large pier juts into the ocean near the parking area. This extended boardwalk offers a long view of the southern coastline and the crescent beach leading to San Simeon Point to the north. This proximity to San Simeon Point lends to calm waters near the pier, enabling activities like shoreline walking and swimming.
W.R. Hearst State Beach also offers several day-use amenities above the sand. Over 20 picnic sites encourage a meal outside, and the entire space has a beautiful vantage point looking down the coast. Restrooms and running water are also available.
6. Pismo State Beach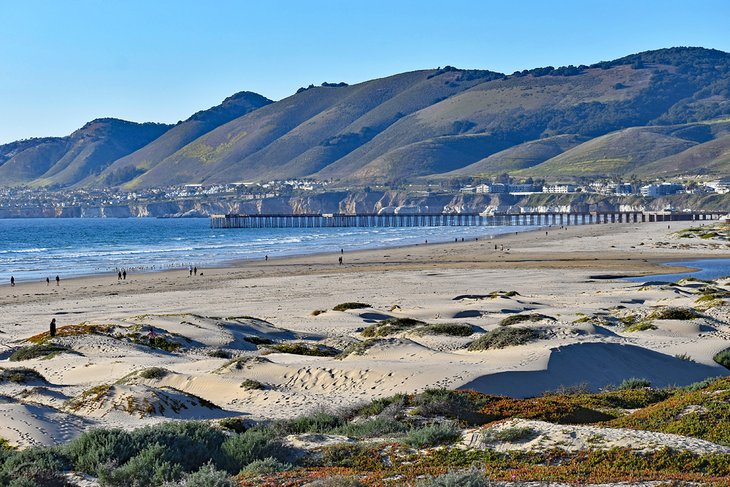 Pismo State Beach is the vast expanse of dunes and ocean stretching south of Pismo City Beach and the Pismo Pier. It's a popular beach for several reasons, including its wide and welcoming appeal. Miles of beachfront makes it easy to find personal space. It also lends to activities like beachcombing, suntanning, and long walks.
Pismo State Beach also offers a dynamic environment to explore. The entire backend of the beach comprises shifting dunes laced with coastal shrubs. Several impromptu and boardwalk trails navigate this hilly environment, many leading to Oceano Lagoon. This area is fun to explore and ripe for photography enthusiasts.
Pismo State Beach is also home to two campgrounds. The North Beach Campground tends to be quieter, with 100 non-electric sites within walking distance of a Monarch Butterfly Grove. The Oceano Campground has full hookup RV sites at the south end of the beach, all lending quick access to the State Vehicular Recreation Area.
7. Pirate's Cove Beach, San Luis Obispo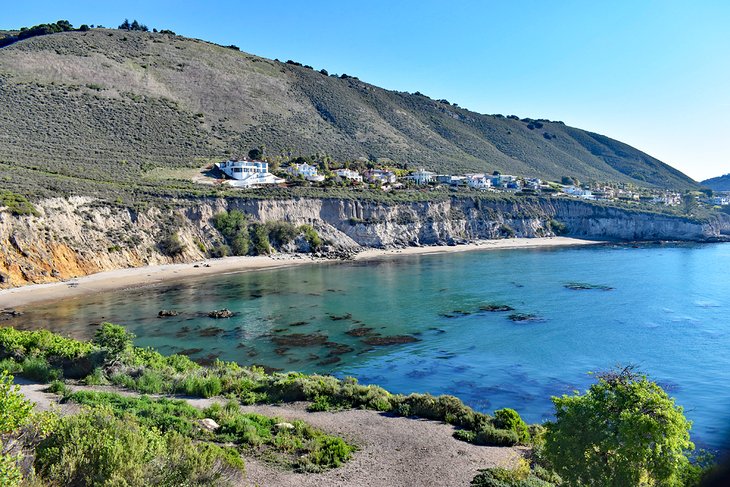 Pirate's Cove is a clothing-optional beach between Avila Beach and the Shell Beach neighborhood in San Luis Obispo County. It requires a short detour off Highway 101 and a steep drive on Cave Landing Road to a primitive parking area. From this parking spot, it's a steep hike down to this remote beach.
Pirate's Cove and Cave Landing are also popular destinations for their namesake sea caves. Smugglers Cave is the most popular to visit and easiest to reach, with a trail that diverts from the beach trail. It is a rocky landscape to reach the cave across potentially unstable terrain. Visitors need to exercise caution throughout Cave Landing.
Read More: Top-Rated Attractions & Things to Do in San Luis Obispo, CA
8. Cayucos State Beach, Cayucos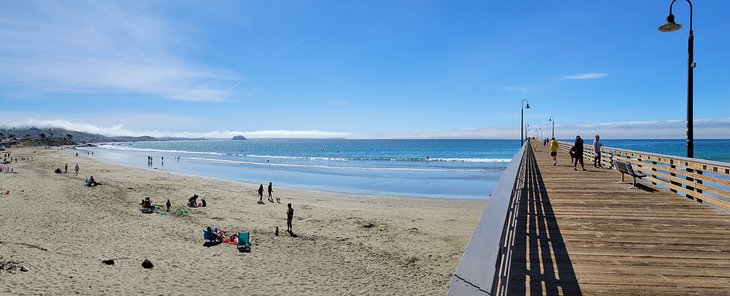 Cayucos State Beach is in northern San Luis Obispo County and is directly north of Morro Strand State Beach. Much of its attention centers around the approximately 950-foot Cayucos Pier, dating back to the town's founding in the 1870s.
Anglers don't need a license to fish off the pier, making it a popular spot for novice and passionate pier anglers alike. The pier also provides excellent ocean views north and south, including surfers in the water. And lights illuminate this pedestrian area in the evening, setting the mood for a romantic stroll.
Cayucos State Beach stretches well over a mile to the south, with several street access points. Much of the beach is wide and welcoming, with the most crowds gravitating toward the pier. The pier is also the place to find local dining and restaurants, many within historic buildings.
9. Morro Rock City Beach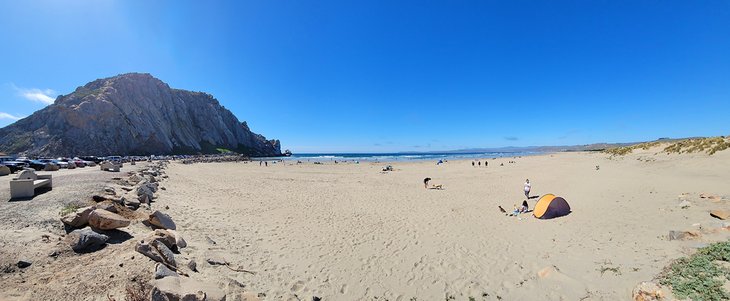 Morro Rock City Beach, also known as Morro Rock Beach, is the northern stretch of sand directly next to Morro Rock. It's accessible at the end of Coleman Drive with a short drive or walk from the Morro Bay waterfront. Parking is available in a large lot next to the beach and along Coleman Drive.
Morro Rock is an ancient volcanic plug, approximately 576-feet tall. It's protected by a natural preserve and home to several species of nesting birds, so no climbing is allowed. The beach is one of the best ways to gaze closely at this massive monolith, with the sand reaching its base.
In addition to offering a beautiful view of Morro Rock, the beach is wide and welcoming, and it's easy to find a space to spread a towel out. A paved trail navigates the dunes at the backend of the beach, offering a fun place to explore between beachcombing. Morro Strand State Beach is directly north of the city beach and stretches to Cayucos, for those interested in a long beach walk.
10. Pismo City Beach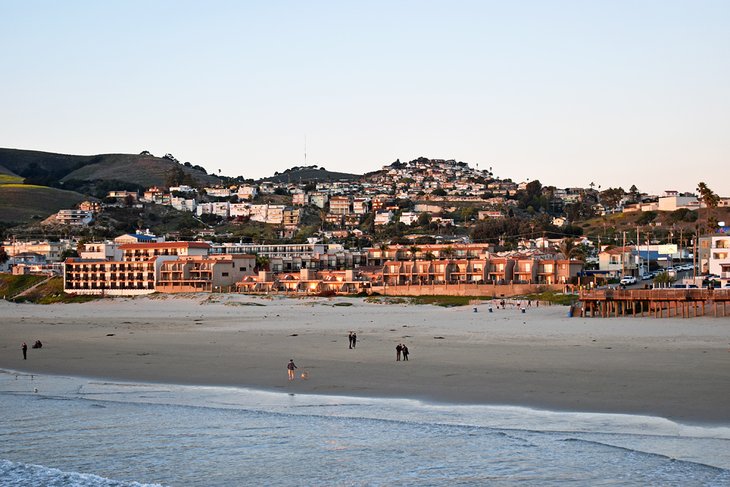 Pismo City Beach is the main stretch of sand opposite the city's downtown district. It's a lively beach with several things to do for visitors, including the Pismo Beach Pier Plaza. This beautiful public space features playgrounds, sitting spots, and several photo opportunities. And it's nothing short of a postcard destination during sunset.
Observation decks extend along a promenade from the pier in both directions. And the 1,200-foot-long Pismo Pier itself offers noteworthy coastal vantage points. A food truck, fishing rod rentals, and an airstream office for the visitors' borough also occupy the pier. The entire area also offers a perfect vantage to watch whales migrating between December and April.
Pismo State Beach extends several miles south of Pismo City Beach and the Pismo Pier. It encompasses the unique Oceano Dunes State Vehicular Recreation Area. North of the Pismo Pier, the sand gives way to a rough and rocky coastline toward the Shell Beach neighborhood.
11. Spooner's Cove, Montaña de Oro State Park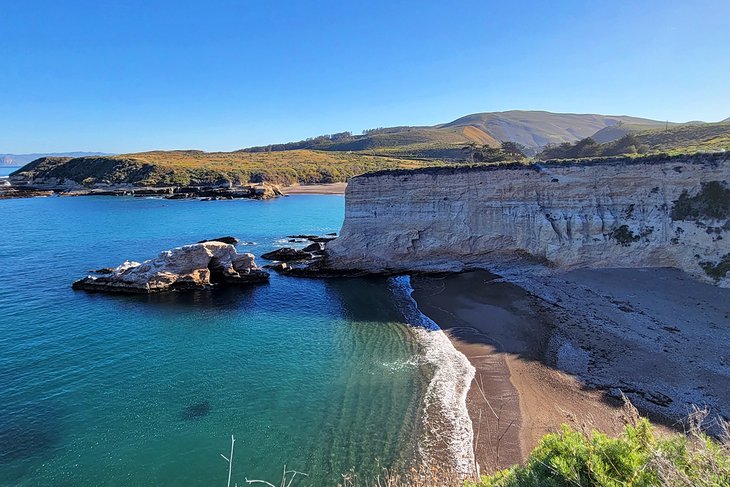 Spooner's Cove is the most popular beach in the rugged Montaña de Oro State Park, south of Morro Bay. It features a pebbly beach accentuated by dramatic rock formations and a formidable seawall. Alongside admiring this landscape, popular activities include beachcombing and exploring the sea rocks, especially at low tide.
Another popular activity at Spooner's Cove is hiking the many surrounding trails. The Bluff Trail navigates the elevated landscape south of the cove, offering non-stop views of the rough coastline. And across the road, the Valencia Peak trailhead offers a more challenging hike with an approximately 4.5-mile round trip and over 1,200 feet of elevation gain.
The state park's only designated campground, Islay Creek Campground, is also within walking distance of Spooner's Cove. This popular campground has 50 primitive sites with access to potable water and vault toilets. The sites are best suited for tent camping or small camper vehicles.
12. Sandspit Beach, Morro Bay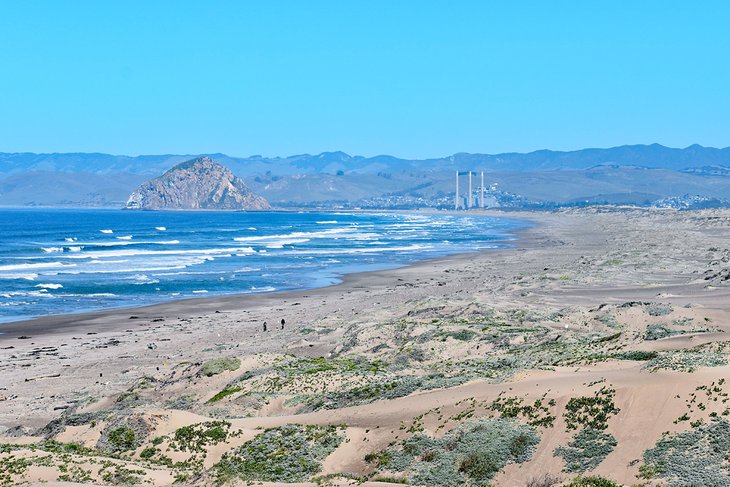 This wild beach comprises the long sandspit separating Morro Bay and the ocean waves. It's a wild and fun place to explore and most easily accessible from Montaña de Oro State Park. Intrepid explorers can also paddle a watercraft across Morro Bay to reach the sandspit.
Sandspit Beach has no other amenities outside of vault toilets at the Montaña de Oro State Park trailhead. That means visitors need to pack out all trash and be mindful to bring enough water. However, this lack of resources draws visitors to hike the sandspit, where it's easy to find solitary space.
The sandspit stretches over four miles to its tip near Morro Rock from the state park trailhead. This entire stretch has potential surfing opportunities for those willing to lug their boards. Between May and September, much of the backend of the beach is roped off for snowy plover restrictions.
13. Oceano Dunes State Vehicular Recreation Area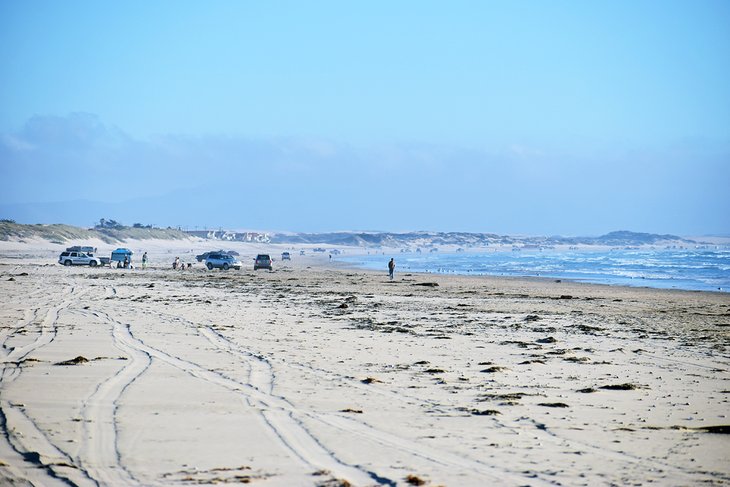 Oceano Dunes offers the unique opportunity on the California coast to drive on the beach. It also provides a shifting playground for off-road vehicles and other motorized means of enjoyment. Four-wheel drive and larger tires, like those found on most trucks, are highly recommended for not getting stuck in the sand.
The Oceano Dunes State Vehicular Recreation Area (SVRA) begins approximately a mile south of the Pismo Pier. Interested off-road riders will want to note specific closures on the beach designated by roped-off areas. First-time visitors, or anyone interested in the unique geology, should head to the Ocean Dunes Visitor Center for more information.
Dispersed camping is allowed within the SVRA. This type of dune camping is very primitive, and overnight guests need to pack in water and pack out everything they bring into the dunes.
Map of Beaches near San Luis Obispo, CA
San Luis Obispo, CA - Climate Chart
Average minimum and maximum temperatures for San Luis Obispo, CA in °C
J
F
M
A
M
J
J
A
S
O
N
D

18

6

19

7

19

7

22

7

23

9

26

11

27

12

28

12

28

12

26

10

22

8

19

6

PlanetWare.com
Average monthly precipitation totals for San Luis Obispo, CA in mm.

134

137

114

33

12

2

1

2

11

25

55

92