12 Best Beaches near Morro Bay, CA
Beautiful beaches surround Morro Bay within San Luis Obispo County on the Central California coast. Much of the seaside appeal of this fishing town centers around the imposing Morro Rock, jutting 576-feet into the sky near the shoreline. This magnificent volcanic plug is one of a chain of nine peaks extending inland from the ocean.
A teeming estuary and waterfront district surrounds Morro Rock, offering several visitor attractions. Morro Rock City Beach and Morro Strand State Beach are the most popular beaches nearby, extending for miles north from the base of Morro Rock. These postcard beaches easily support the crowds that flock their way.
And several other stunning beaches are also within a short drive. North of Morro Bay is the rugged coastline leading to San Simeon and the world-renowned Hearst Castle. And the bluffs of Montaña de Oro State Park extend south of Morro Bay. Farther south, on the other side of Point Buchon, places like Avila Beach and Pismo Beach offer several other days' worth of travel.
Enjoy your next California adventure with our list of the top beaches near Morro Bay.
1. Morro Rock Beach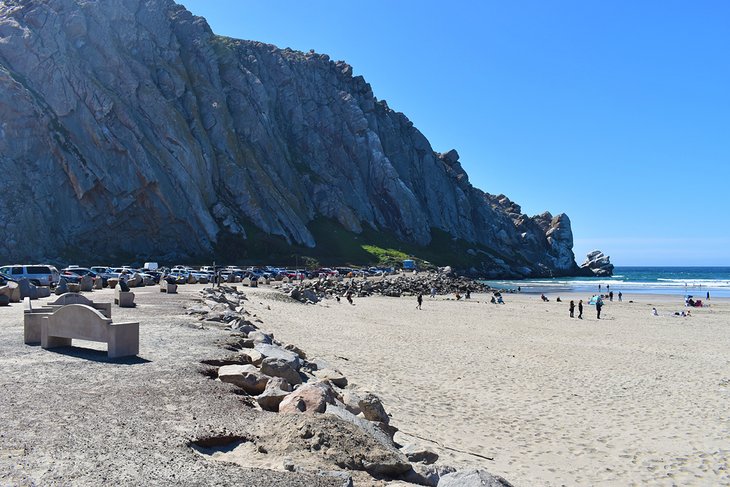 Many visitors gravitate toward Morro Rock Beach. That's because it's the closest stretch of sand to Morro Rock itself, the un-missable 576-foot volcanic plug dominating the city's scenery. And Morro Rock Beach, directly north of "The Rock," enables up-close views of this magnificent formation.
The beach is wide and welcoming but has rough ocean waves. Interested swimmers should consult a lifeguard before entering the water. Lifeguards are on duty between Memorial Day and Labor Day (late May through early September).
Setting up a towel and appreciating the scenery is one of the most popular activities at the beach. Beach walking is also popular, as the lengthy Morro Strand State Beach stretches for miles heading north. Morro Rock is a protected natural environment and home to several species of nesting birds, so no climbing is allowed.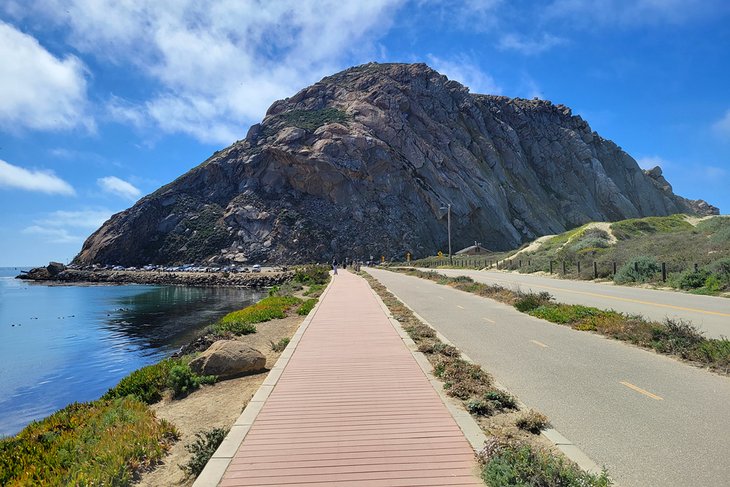 A parking area lends easy vehicle access to Morro Rock Beach at the end of Coleman Drive. Alternatively, it's a short and scenic stroll along a pedestrian path from the downtown waterfront, passing through Coleman Park.
Read More: Top-Rated Attractions & Things to Do in Morro Bay, CA
2. Morro Strand State Beach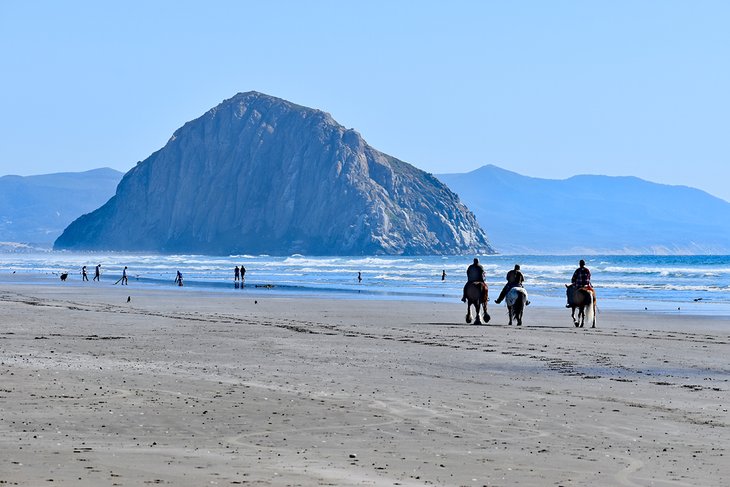 Morro Strand State Beach encompasses two sandy shorelines between Morro Rock Beach and the northern Cayucos State Beach. The southernmost of the two beaches is within city limits and spans approximately two miles between Atascadero Road and the north end of town. And every inch of the shoreline includes a beautiful view of Morro Rock.
A popular campground is at the north end of the southern Morro Strand State Beach. It has over 80 sites that accommodate tents and RVs with electric hookups available. All campsites are within a five-minute walk to the beach and close enough to experience a good dose of ocean mist during a stay.
The beach is vast and hosts large crowds of people without feeling crowded. The further visitors walk south on the beach, the better the view of Morro Rock becomes. Other popular activities include sun tanning, surfing, and fishing with a valid fishing license.
The northern stretch of Morro Strand State Beach is within Cayucos city limits. It spans approximately a mile from 24th street north to Cayucos State Beach. Between the north and south sections of Morro Strand, places like North Point Natural Area and Morro Bay Dog Beach also vie for attention.
3. Morro Rock Jetty Beach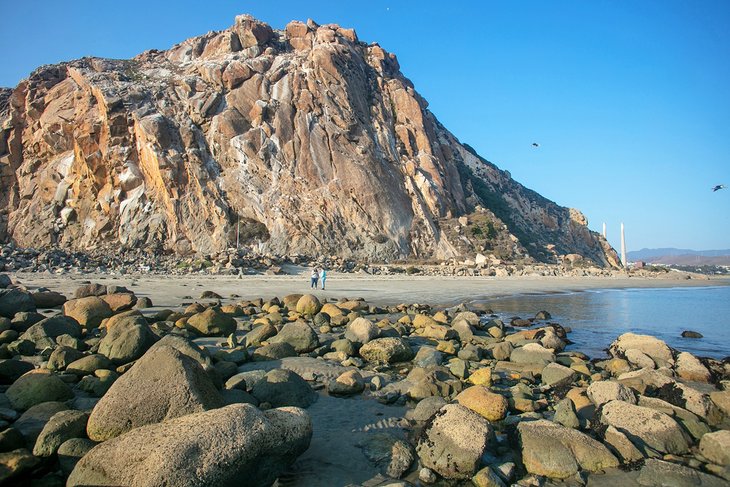 Morro Rock Jetty Beach is the tiny sliver of sand on the south side of Morro Rock, protected by a rock jetty. It's much smaller than the opposite Morro Rock City Beach, but it does provide a less windy alternative when gusts are high. However, visitors will want to watch for big waves breaking against the jetty on blustery days.
The beach isn't big enough for activities like volleyball or large gatherings, but it does provide a fun environment to explore. Birds frequently fly overhead, and crashing waves adds a constant soundtrack for playing in the sand or combing the jetty.
Parking is available at the end of Coleman Drive. Instead of turning right toward Morro Rock City Beach, head left at the base of Morro Rock.
4. Morro Bay State Park Beach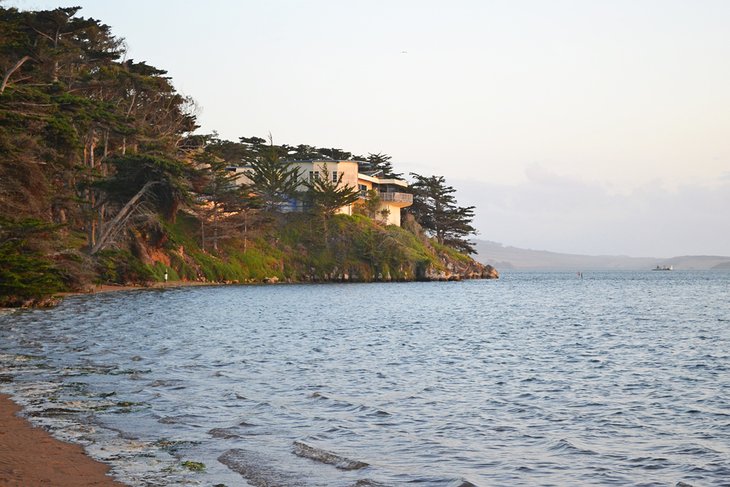 Morro Bay State Park encompasses 2,700 acres of diverse habitat on the city's south side. These varied landscapes include saltwater marshes, rolling sagebrush, and elevated views from the top of Black Hill – the next volcanic plug extending inland from Morro Rock. The park is also home to a campground well utilized by tents and RVs alike.
While beaches aren't the primary purview of Morro Bay State Park, there is a thin slice of beautiful coastline worth visiting. This stretch of sand is north of the park's Museum of Natural History and Heron Rookery. A small parking area off Main Street lends easy access to the beach, which is typically submerged come high tide.
5. Avila Beach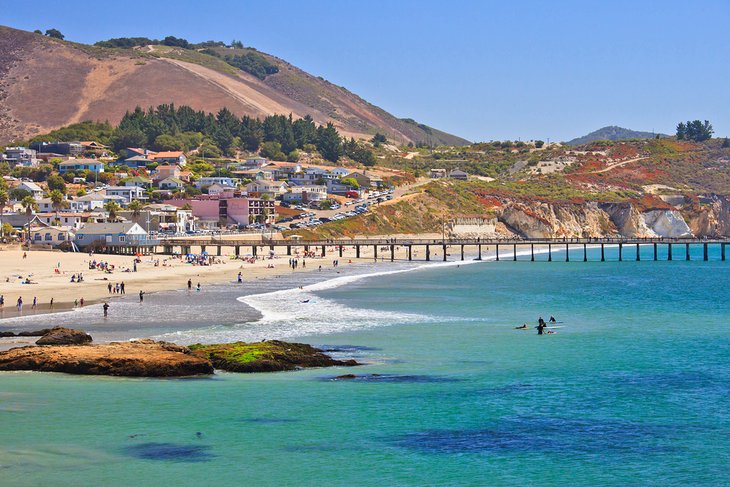 Avila Beach is a scenic coastal community south of Morro Bay, on the other side of Point Buchon. It's accessible from Morro Bay with a 30-minute drive and a short turnoff from the 101 before reaching Pismo Beach. Alongside a postcard shoreline, several community attractions draw visitors to Avila Beach.
Shops and restaurants comprise the community's waterfront district, inland from the Avila Beach Pier and Promenade. This entire area is always lively, especially on the weekends. And the entire beach and community have a particular far-away charm thanks to its off-the-main-highway location.
Avila Beach's location also lends to its own microclimate. The community is at the far northern end of San Luis Obispo Bay, resulting in a protected cove perfect for swimming. The area also receives notably more sunshine, making it easier to burn off the typically foggy mornings in the region.
6. Cayucos State Beach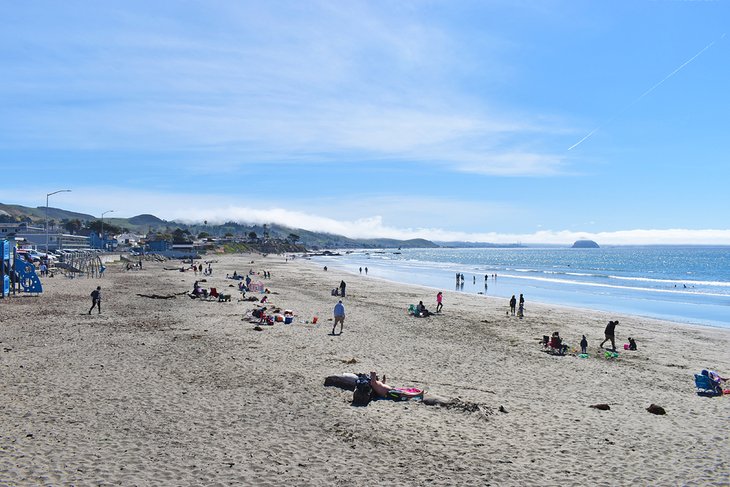 Cayucos is a charming surf community north of Morro Bay on the San Luis Obispo County coastline. It has a long history of hosting visitors. Its main attraction centers around the Cayucos Pier, dating back to the 1860s. The rest of Cayucos State Beach extends south from this pier, offering postcard views of the coast.
Visitors are welcome to fish without a license off the pier, also known as "Cass' Wharf," named after Captain James Cass, who settled on the shores in 1867. A lively waterfront district extends from the front of the pier, with some of the buildings also sporting lengthy histories. Several modern retailers now inhabit these storefronts, including local restaurants and boutiques.
Wandering the pier and the waterfront district is one of the most popular things to do at Cayucos State Beach. It's also a well-known surfing destination, though the water tends to run a bit cold. Other things to do at Cayucos include beachcombing and utilizing sandy playground equipment.
7. William Randolph Hearst State Beach, Hearst San Simeon State Park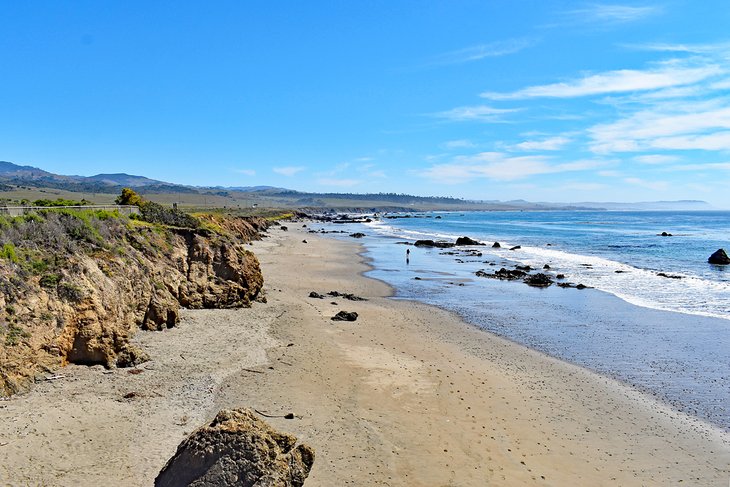 Hearst San Simeon State Park encompasses several beaches on the coastline north of Morro Bay and Cayucos. However, the state park is best known for its guided tours of the luxurious Hearst Castle.
The beaches of Hearst San Simeon State Park shouldn't be missed, though. Like Moonstone Beach and Arroyo Laguna Beach, many of these spots aren't overcrowded and offer a hidden-gem quality when visiting.
William Randolph Hearst State Beach is the closest to Hearst Castle, just across the PCH from the castle's long driveway. It's home to an angled pier, allowing miles-long views down the coast. And the proximity makes the beach an easy detour before or after a tour of Hearst Castle.
8. Pismo State Beach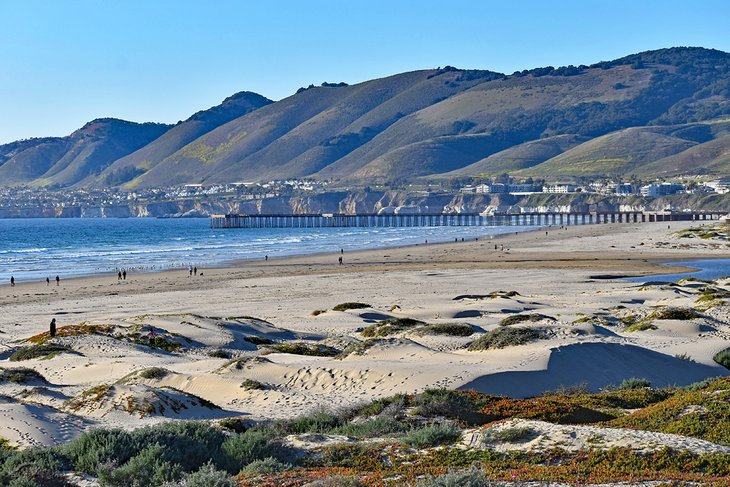 Pismo State Beach is a sprawling ocean and dune habitat south of downtown Pismo Beach and the Pismo Beach Pier Plaza. It stretches for over two miles and encompasses the popular Oceano Dunes State Vehicular Recreation Area, where visitors drive right onto the sand.
Oceano Dunes is approximately a mile south of Pismo State Beach. Here, street vehicles with big tires and four-wheel drive park right on the beach. It's also where off-road vehicles like dirt bikes and four-wheelers venture deeper into the dunes. Visitors from Morro Bay can reach this off-road haven with a 40-minute drive.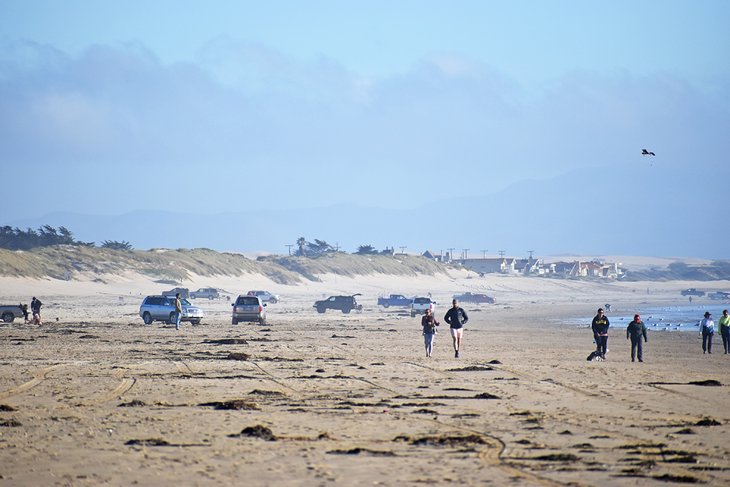 North of Oceano Dunes, closer to Morro Bay, the rest of Pismo State Beach offers a fun environment to explore on foot. A vibrant dune area backends much of the beach, where a boardwalk trail enables easy navigation of the dynamic landscape. And the beach itself is wide and easy to find plenty of space to spread a towel out.
Two campgrounds are available for tents and RVs along Pismo State Beach. The Oceano Campground best caters to those looking to explore the dunes with a motor vehicle. The North Beach Campground tends to be quieter and is within walking distance of a monarch butterfly grove.
Read More: Top-Rated Attractions & Things to Do in Pismo Beach, CA
9. Spooners Cove, Montaña de Oro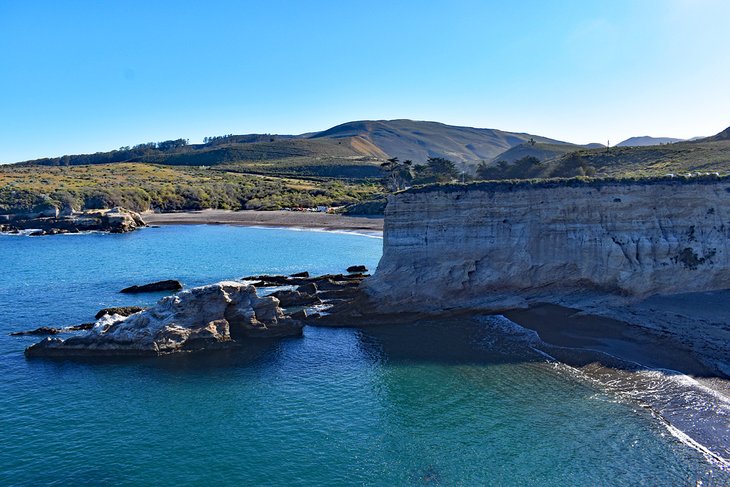 A few miles south of Morro Bay, Montaña de Oro is one of the largest state parks in California. It encompasses over 8,000 acres of oceanfront terrain, including over seven miles of shoreline. This rich and rugged landscape has a long history in the region, dating back thousands of years to Indigenous cultures inhabiting the lush habitat.
Spooner's Cove is one of the most popular and scenic beaches in Montaña de Oro. Islay Creek meets the ocean at this rugged beachscape, complete with tide pools and sea caves. The pebbly cove is popular for beachcombing and launching small watercraft.
The Islay Creek Campground is just across the park road for those interested in the best way to catch sunset or sunrise at Spooner's Cove. Take some time to walk the Bluff Trail overlooking the south end of the beach. The trail offers a leisurely walk with extensive views of rock formations and the rest of the rugged coast.
10. Pismo City Beach

Pismo Beach is another oceanside city worth visiting when touring San Luis Obispo County. It's less than a 30-mile drive south of Morro Bay, on the other side of Point Buchon. Hotels, restaurants, and other visitor resources line Pismo's main beach area, offering a complete vacation experience.
Pismo's main waterfront centers around the lively Pismo Beach Pier Plaza. Live music filters through this pedestrian-friendly district. Several photo opportunities also spring up, including the illuminated seven-foot-tall letters spelling Pismo Beach in front of the pier.
A promenade extends from either side of the plaza. Viewing platforms and benches line this pathway, making it easy to appreciate the dramatic sunsets. And with several restaurants nearby, the fun continues into the night.
11. Sandspit Beach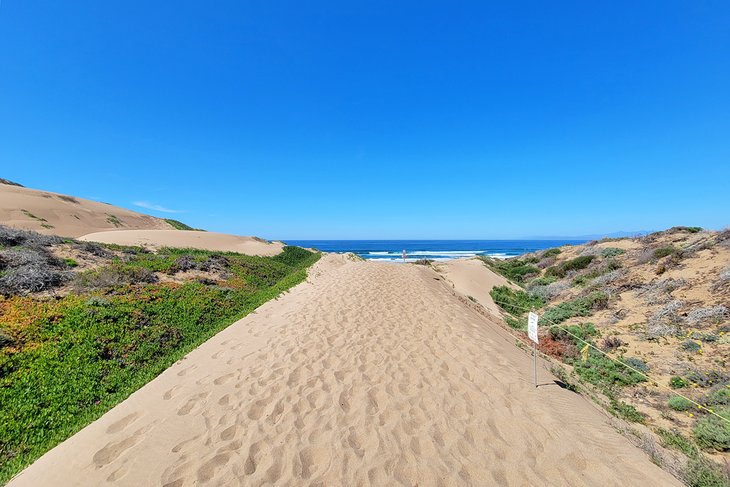 Sandspit Beach is the approximately four-mile stretch of rugged beach separating Morro Bay from the ocean waves. It's accessible via watercraft across Morro Bay or from a paved parking area in Montaña de Oro State Park to the south. And no matter the means of access, chances are this undeveloped beach won't be crowded.
A dynamic dune environment backends much of the beach, sometimes roped off to protect the sensitive nesting habitat. And no resources like bathrooms or drinking water are available along the coast. These remote conditions lend to an excellent location for long beach walks without anyone around. It's also popular for those with binoculars interested in bird-watching.
Rentals like kayaks and stand up paddleboards are available on the downtown waterfront for paddling to Sandspit Beach. And for those looking to camp nearby, the Islay Creek Campground at Montaña de Oro is a five-mile drive from the Sandspit Beach parking area.
12. Pirate's Cove Beach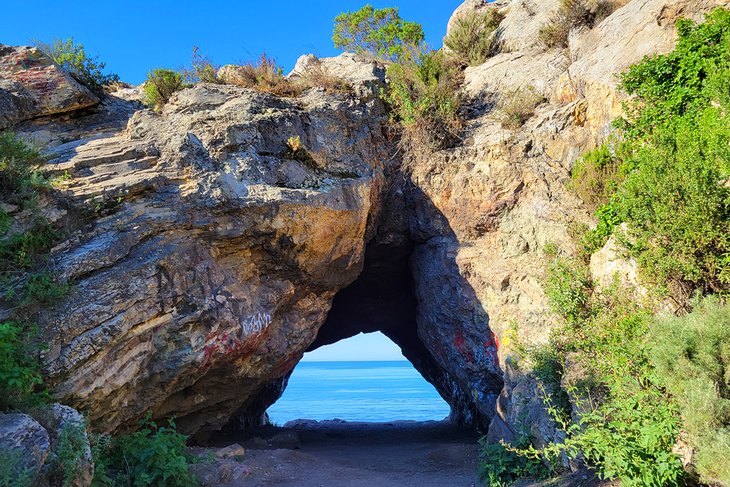 Pirate's Cove Beach is a clothing-optional beach accessible near Avila Beach, just off the 101 South coming from Morro Bay. It's a steep and narrow drive to Cave Landing to find a parking spot, followed by a moderate downhill hike to reach Pirate's Cove Beach. This long approach makes the beach less crowded than most.
Smugglers Cave is also a popular destination to visit at Cave Landing. The trailhead to this impressive walk-through cave is the same for those interested in descending to the beach. It's a bit of a rocky scramble to reach the cave, and proper footwear is advised.
Map of Beaches near Morro Bay, CA
Morro Bay, CA - Climate Chart
Average minimum and maximum temperatures for Morro Bay, CA in °C
J
F
M
A
M
J
J
A
S
O
N
D

17

6

17

7

17

7

17

7

17

9

18

10

18

11

19

12

20

12

21

10

19

8

17

6

PlanetWare.com
Average monthly precipitation totals for Morro Bay, CA in mm.

89

94

93

28

9

2

1

2

9

18

39

64