16 Top-Rated Weekend Getaways from San Diego
We may earn a commission from affiliate links ()
When you decide it's time to get away from the warm weather and beautiful beaches of San Diego, the surrounding region provides an almost endless array of options. From hiking through the rugged canyons of Joshua Tree National Park in the Mojave Desert to fishing off the coast of Baja Mexico, it's all just a short drive away.
Natural wonders, like the giant redwoods of Sequoia National Park, are easily accessible, as are urban adventures like exploring the exploding food scene of DTLA (Downtown Los Angeles).
Southern California's extensive freeway network, combined with some careful planning, can also allow for two extremely different adventures in a single day. Quite easily, it's possible to surf at Pacific Beach in the morning and spend the afternoon skiing in the mountains of Big Bear.
Plan your adventures with our list of the best weekend getaways from San Diego.
1. Catalina Island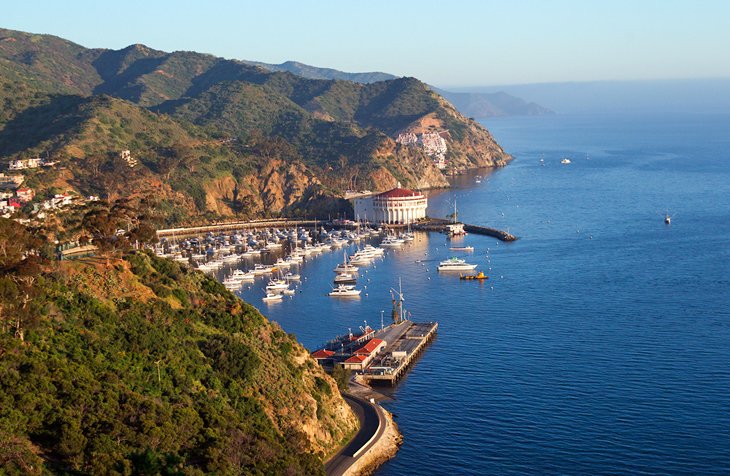 Only 26 miles off the coast and with regular Catalina Express catamaran service departing from Dana Point, this weekend getaway is only two hours from San Diego (a 90-minute boat ride plus 30 minutes to drive to Dana Point).
Catalina Island is filled with small hotels, great restaurants, and a range of outdoor activities. You can enjoy the sun on one of the island's beaches or spend time out on or under the water fishing, kayaking, snorkeling, or scuba diving. If you love jazz, the Catalina Island JazzTrax Festival happens each October.
Catalina Island was once a private island owned by the Wrigley family (Wrigley as in the chewing gum), and their mansion is now a luxury boutique bed-and-breakfast called Mt Ada. It sits high on a hill overlooking the harbor.
Mr. Wrigley made sure his house had the best views on his island, and guests now benefit with sweeping postcard views of Avalon (the island's main town); the Pacific; and on clear days, the coast of Southern California, 26 miles away. The Wrigley home is one of the most expensive hotel options on the island, but this is a very special place.
Accommodation: Where to Stay on Catalina Island
2. Idyllwild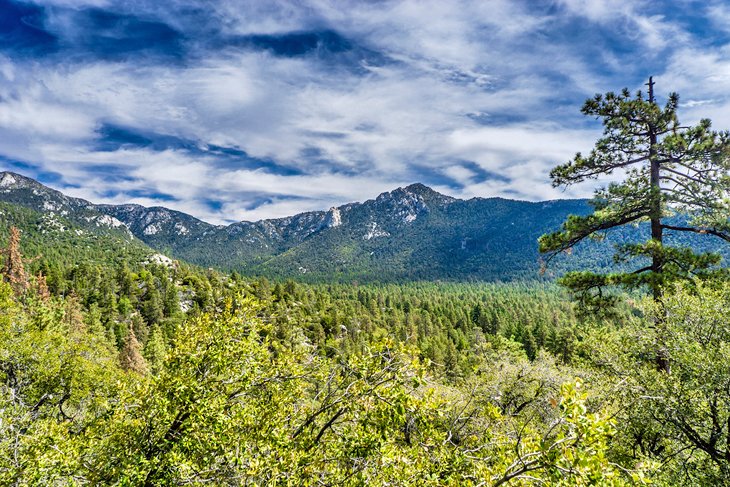 This mainly summer-only weekend destination is high in the San Jacinto mountains of Riverside County, but only a two-hour drive from downtown San Diego. The mountain resort has a few streets of eclectic shops and art galleries, along with restaurants and cafés.
You can visit during the winter, but there are no ski resorts in the area, and the mountain roads can be difficult to drive on in the snow. Some businesses shut down as well.
Idyllwild is a jumping-off point for hundreds of miles of hiking trails, for all levels of hikers. The alpine landscape, filled with huge pine trees, is beautiful and looks like something out of northern Alaska, rather than Southern California. To extend your getaway, you can drive down Highway 74, known as the Palms to Pines Scenic Byway, which connects Idyllwild with Palm Desert, near Palm Springs. It's less than a hour drive away.
The family-owned Idyllwild Inn has been giving guests an authentic mountain experience since opening in 1904. You're nestled in the forest, with vintage (but nicely appointed) cabin accommodations. It's peaceful and isolated yet within walking distance of the town's many galleries and shops.
3. Palm Springs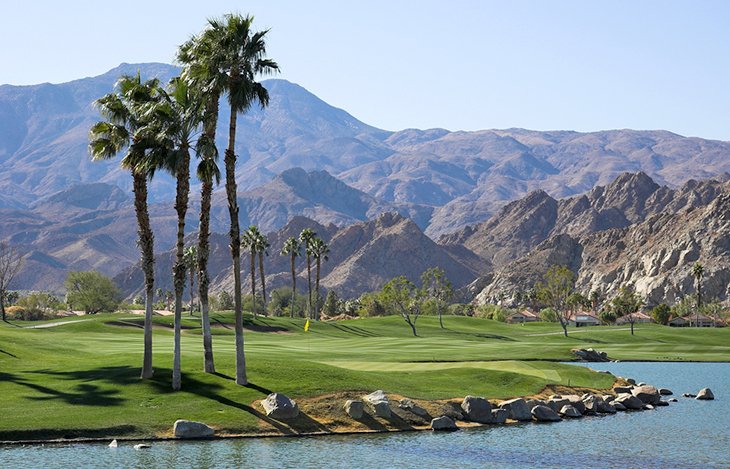 Also about three hours by car from San Diego, this desert resort destination boasts more than 100 golf courses in the Greater Palm Springs area (made up of the cities of Palm Springs, Rancho Mirage, Palm Desert, Indian Wells, and La Quinta). It also averages about 350 days of sunshine per year.
The Coachella Valley area has an excellent restaurant scene, hundreds of luxury and resort hotels, and a lot more to do than just golf. Aviation fans will love the vintage planes of the Palm Springs Air Museum, and the Palm Springs Aerial Tramway is another must-do. It whisks you from the desert floor to a mountain summit almost 9,000 feet high, in only 10 minutes. It's possible to play in the snow at the top, while it's over 100 degrees Fahrenheit (38 degrees Celsius) down below in Palm Springs. You can even find some of Palm Springs' best hiking trails up here.
Go beyond vintage and stay at the Ingleside Inn, one of the city's oldest (and coolest) hotels. Built in 1925 as a private estate, it was then the city's most exclusive private club (popular with celebrities and movie stars due to its privacy) until becoming a hotel in the late 1960s. In the last few years, the hotel has been totally re-imagined as an ultra-luxury boutique hotel. Be sure to have dinner at Mervyn's, their retro restaurant and supper club. It was a favorite of longtime local resident Frank Sinatra.
Accommodation: Top-Rated Resorts in the Palm Springs Area
4. Sequoia National Park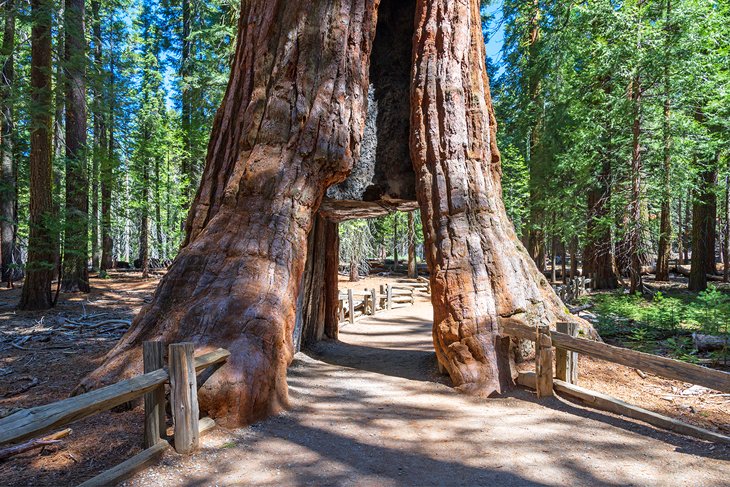 The majestic, giant redwood trees of Sequoia National Park and Kings Canyon National Park are about a six-hour drive from San Diego. Sequoia National Park is in Central California, in the southern part of the Sierra Nevada mountains. Visitors get two national parks right next to each other, as Kings Canyon National Park is adjacent to Sequoia.
The giant redwood trees are breathtaking, and at around 3,500 years old, some are the oldest living things on Earth. These redwoods, some of which have grown to be 300 feet tall, with a trunk almost 30 feet in diameter, are fascinating to explore and walk beneath. There are a number of campgrounds, as well as four lodges, located inside Sequoia and Kings Canyon National Park.
John Muir Lodge, named for the celebrated naturalist who fought to preserve the High Sierra, is a great place to stay within a few minutes of Grant Grove and its towering sequoias. It's a modern lodge constructed of stone and timber, located in Grant Grove Village. The lodge is open seasonally, from the end of March through the end of October.
Read More: Best Campgrounds at Kings Canyon National Park, CA
5. Riverside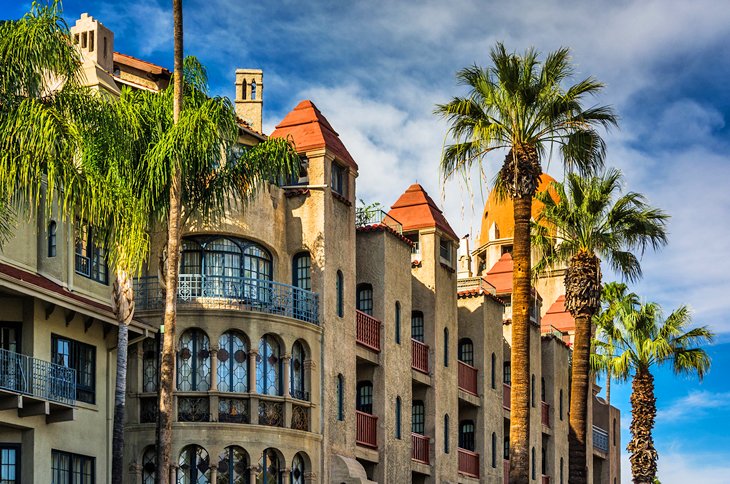 Riverside may seem like an unusual weekend getaway destination, as it doesn't have a reputation for resorts, but a stay at The Mission Inn Hotel & Spa is worth the trip alone.
The architecturally fascinating property has been welcoming guests for more than 100 years and is right in the heart of the city. After you've explored the property (be sure to get a free tour from one of the hotel's ambassadors), there are a few museums to visit: the Riverside Metropolitan Museum, about the city and region; the Riverside Art Museum, with a wonderful selection of mainly California and American painters; and the University of California, Riverside Museum of Photography.
The Mission Inn is also right across the street from the city's historic Fox Performing Arts Center, a vintage theater that hosts live events and popular musical performers.
6. Joshua Tree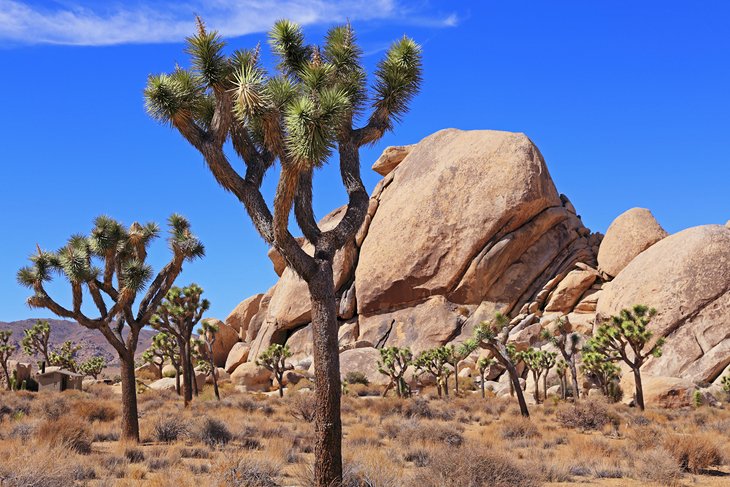 When you want your weekend getaway to include some camping and strikingly beautiful natural scenery, a trip to Joshua Tree National Park is the perfect destination. It's just outside Palm Springs and about a three-hour drive from San Diego.
Here, you'll find about 1,250 square miles of raw desert landscape, with beautiful campgrounds and hiking trails. The small town of Joshua Tree seems intentionally caught in a 1960s time warp and can be almost as fun to visit as the national park.
The Joshua Tree Inn is a seriously eclectic hacienda-style boutique hotel located right in the heart of the little town outside the park.
You can also do Joshua Tree as a day trip from Palm Springs. The park entrance is only 30 minutes from Palm Springs, and many of the park's highlights are accessible to visitors who drive. You can drive from the park's main entrance near the town of Joshua Tree through the park to the other entrance in about two hours. The park's other entrance is near the Cottonwood Visitor's Center and very close to the 10 freeway.
7. Rosarito Beach, Mexico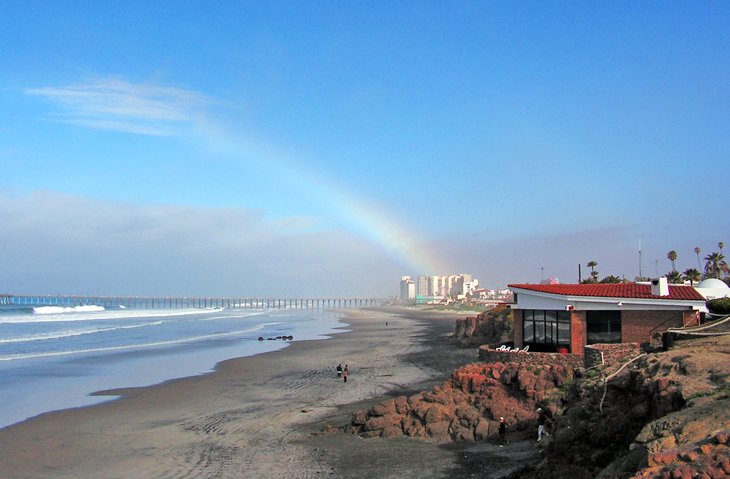 Only 30 minutes from the U.S. - Mexico border, Rosarito Beach delivers an authentic Mexican beach vacation, complete with delicious freshly-caught seafood, strolling Mariachi musicians, and wide sandy beaches.
Park on the U.S. side of the border, walk over the bridge, and take a taxi (or Uber or Lyft) into Rosarito. It's only about 30 minutes away and should cost about $30 per cab (not per person). Once here, you'll find a vibrant seaside vacation city. Why not take a full- or half-day fishing trip on one of the many tourist fishing boats, or try a whale-watching adventure, also available.
The Rosarito Beach Hotel is a large, mid-priced mega-resort, right on the beach in the center of town. Aside from its own stretch of beach, there are multiple pools, a spa, a bunch of restaurants, and all kinds of things to do on-property. It's a great place to stay for families with kids and also for couples who want a romantic getaway.
Read More: Top-Rated Things to Do in Rosarito
8. Solvang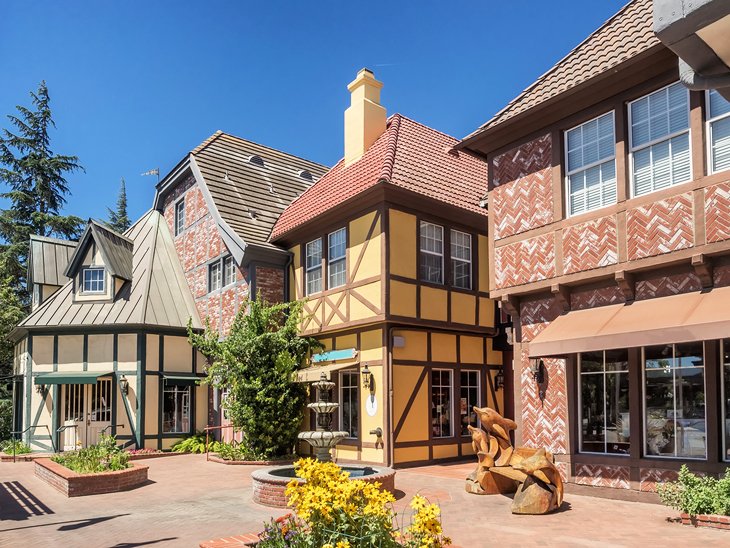 It you want to experience a bit of Denmark in California, this quaint Danish town is about 30 minutes from Santa Barbara and a five-hour drive from San Diego. It's all about Denmark here – the shops and little business district is completely done in Danish/European architecture, and it feels like you're in Copenhagen. The town was founded around the turn of the last century by Danish immigrants looking to escape the cold of the Midwest.
The main draw here are the many Danish restaurants, shops, galleries, and bakeries – it's fun just walking around and exploring. A trip to Solvang is also a good day trip destination during a weekend getaway to Santa Barbara.
The Royal Copenhagen Inn is a fun, popular, well-managed budget hotel right on Mission Drive in the heart of town. Stay here, and you can walk to everything.
9. Ojai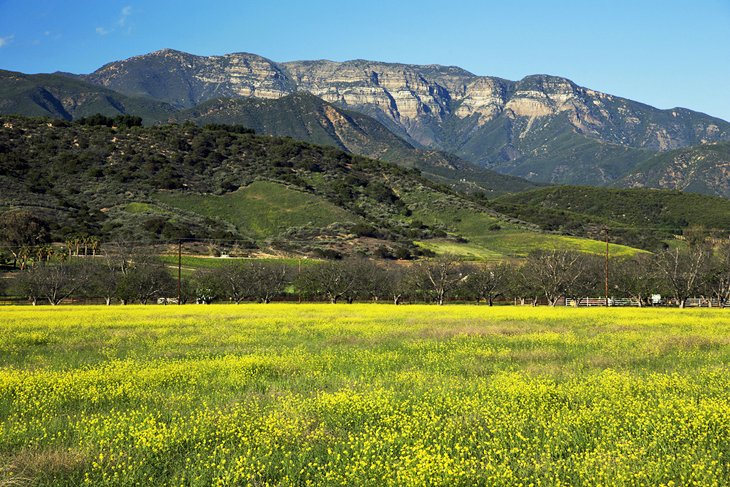 This picturesque valley in Ventura County is near Santa Barbara and a five-hour drive from San Diego. You'll find a cool, New Age town, filled with unique shops, antique stores, art galleries, and various types of healers.
The surrounding area is mainly agricultural, and the local produce and food products are especially amazing. Try to visit a local farm stand to try it for yourself.
The Ojai Valley Inn is a true destination resort and a wonderful place to stay for a getaway. Originally opened in 1923, the 220-acre, AAA five-diamond luxury resort is a mini city, with multiple types of accommodations and plenty of activities and amenities. The resort has an award-winning spa, an 18-hole golf course, and eight different dining options, from formal to casual.
Read More: Top-Rated Things to Do in Ojai, CA
10. Los Angeles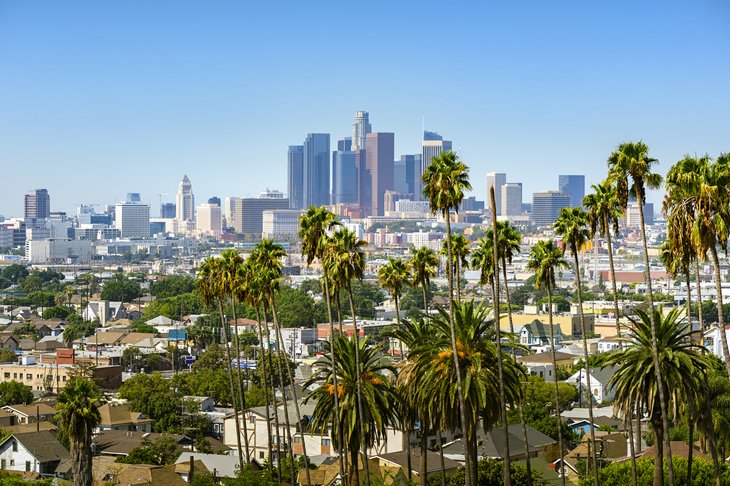 It only takes about two hours to drive to Los Angeles from San Diego, and it makes a great weekend getaway destination. It's probably best to focus on a single area, like a beach getaway to Santa Monica or an urban foodie getaway to DTLA (downtown Los Angeles).
The downtown area of LA is thriving – it's full of street after street of new restaurants, and early-20th-century building after building converted into luxury loft apartments or upscale shopping. A meal at the Grand Central Market, now a gastronomic food hall, is a must-do, as is a visit to Disney Hall for a music concert. DTLA's renovated Regent Theater hosts more modern musical performers.
If you don't want to drive to LA from San Diego, Amtrak trains run from San Diego's Santa Fe Depot right to Union Station in DTLA. It's then easy to take the Metro system all over downtown and all over Los Angeles including tourist destinations like Hollywood, Universal City, and the Santa Monica Beach.
11. Lake Arrowhead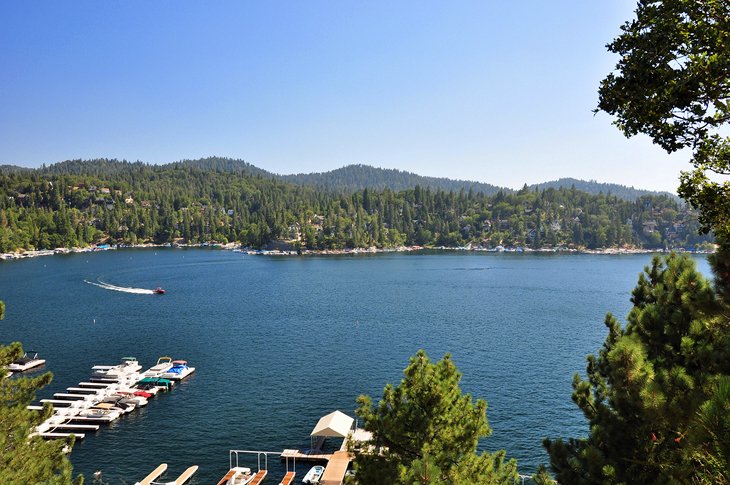 Located high up in the San Bernardino mountains, Lake Arrowhead is only a two-hour drive from San Diego. In the winter, the area is a popular spot for skiing – the Snow Valley ski resort is only 30 minutes away, but in the summertime, it's a beautiful, rustic family-friendly lake getaway.
There's a huge lake, of course, along with hundreds of miles of hiking and mountain biking trails. The small town of Lake Arrowhead has a nice selection of hotels, restaurants, shops, and art galleries. The lake is great for swimming, fishing, boating and, of course, all kinds of water sports, including wakeboarding, riding Jet Skis, and water-skiing.
12. Temecula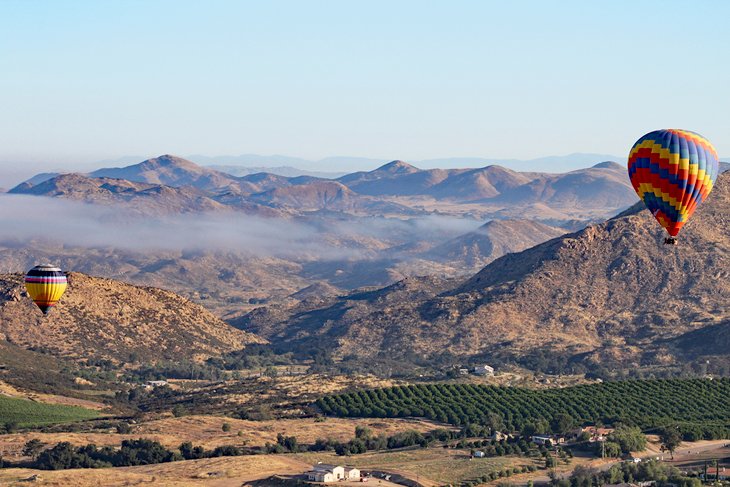 This beautiful rural area, only an hour from San Diego, has transformed itself from an agricultural region into a popular tourism destination. The Temecula Valley is filled with golf courses and now also many hotel options. It's also a very popular spot in Southern California for hot air ballooning.
Temecula's Old Town area pays homage to its farming past and retains some of the original architecture. The compact downtown area has many restaurants and antique shops, along with a few museums, including Pennypickle's Workshop, a hands-on children's science museum.
The Signature Temecula is a good budget option for those wanting to spend more time in the Old Town area. It's next door to Lienzo Charro, considered one of the best Mexican restaurants in town, and a short walk from the Old Town area.
13. Mammoth Lakes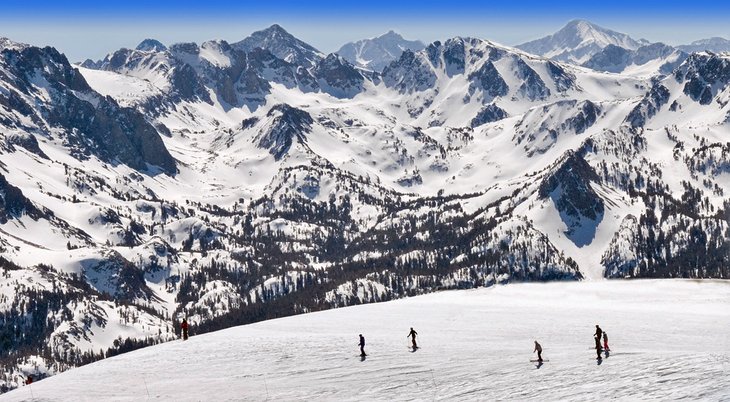 This mainly winter resort destination is high in the Eastern Sierra mountains. It's a day's drive (about eight hours) or a brief flight away. United has direct flights to Eastern Sierra Regional/Bishop Airport (BIH) from LAX. The airport is about 45 minutes from Mammoth Lakes. Advanced Air offers a semi-private flight experience from Carlsbad (CLD) right to Mammoth Yosemite Airport (MMH), which is 15 minutes from the resort area.
In the winter, it's all about snow, and Mammoth gets a lot of it. The Mammoth Mountain ski resort boasts California's highest lift-serviced ski mountain. There are 25 lifts taking you to 175 runs, the longest of which is three miles. There are also 10 terrain parks to conquer.
Mammoth is also a great place to visit for a summer getaway. The mountain resort is filled with hiking trails, world-class mountain biking, and some great golf courses. Some of the ski lifts operate, so you can explore higher elevations or go mountain biking down the slopes.
Take some time to explore the nearby Manzanar National Historic Site. This was one of 10 camps where Japanese Americans and Japanese immigrants were incarcerated during World War II.
Accommodation: Where to Stay in Mammoth Lakes
14. Santa Barbara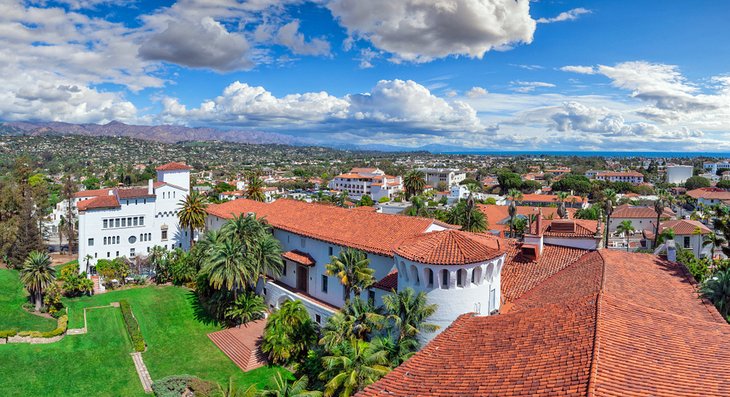 Santa Barbara is an easy four-hour drive up the coast from San Diego and is an excellent destination for a weekend getaway. The city's downtown area, focused around State Street, offers visitors a melange of locally owned shops, restaurants, and art galleries.
When you get hungry, head down to the city's Funk Zone, a former industrial warehouse area now filled with hip restaurants and art galleries.
For a cool, luxury boutique hotel experience in the downtown area, the Kimpton Canary Hotel is a great choice. Aside from compact, luxurious, yet comfortable rooms, there's a popular restaurant, Finch & Fork, and the extremely pet-friendly hotel also has a beautiful rooftop swimming pool.
Accommodation: Best Beach Resorts in Santa Barbara
Read More:
15. Death Valley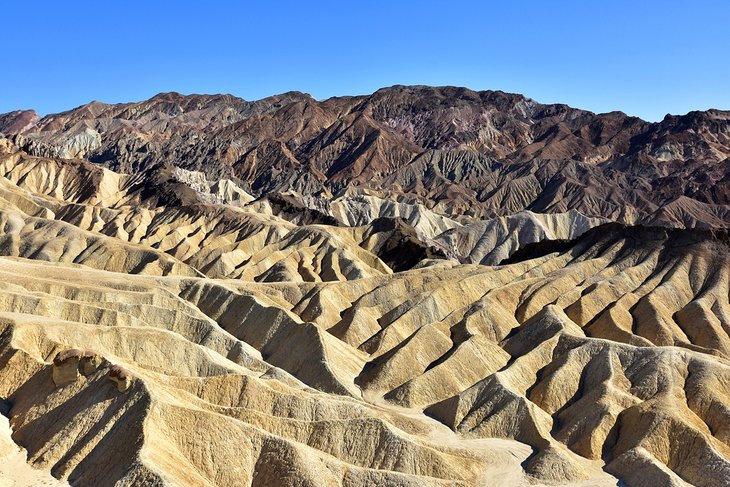 The hottest place on Earth might not seem like a weekend getaway destination, but if you stay at The Inn at Death Valley resort or The Ranch at Death Valley family adventure resort, it's a very fun experience.
Best visited during the winter, the AAA four-diamond The Inn at Death Valley resort hotel first opened in 1927 and was a favorite destination for Old Hollywood celebrities. It recently underwent a 100 million dollar total renovation, which included the addition of 22 private casitas, providing an even more private, more luxurious experience. Part of the same Oasis at Death Valley development, The Ranch at Death Valley is a large, mid-range, family-oriented adventure resort.
The development is within the borders of Death Valley National Park, which is almost 3.5 million acres of land, the largest national park in the continental US. It's the lowest point in the United States and one of the lowest places on Earth. It's also one of the hottest, having recorded the hottest ever temperature anywhere on Earth (134 degrees Fahrenheit/57 Celsius).
16. Berkeley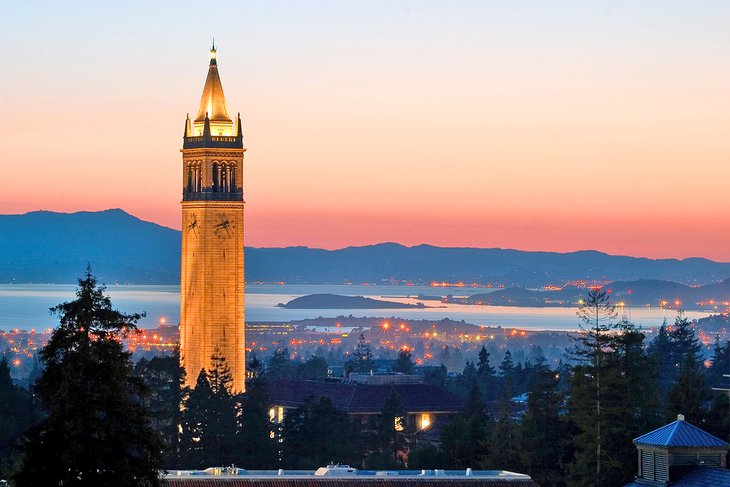 The Bay Area, including San Francisco, is a great weekend getaway destination from San Diego. It takes eight hours to drive to San Francisco if you take the less scenic route (I-5) or about 10 hours if you take the coastal route. Of course you can also fly in about an hour.
Instead of staying in San Francisco, make Berkeley and the iconic Claremont Club & Spa - A Fairmont Hotel your home base. Located just across the Bay Bridge from San Francisco (and about 40 minutes by car, Berkeley retains some of its hippy roots. The Claremont Club & Spa is a historic resort located in the Berkeley Hills.
Berkeley has an eclectic downtown area and lots of great dining options. The city also has a great selection of things to do, including museums, many connected with the University of California.
Take a day to explore San Francisco. Don't miss a climb up the Coit Tower, a walk through Chinatown, and a visit to the Legion of Honor museum in Golden Gate Park.