12 Best Things to Do in Temecula, CA
Temecula is a scenic city in the Inland Empire of Southern California. It's within an hour's drive of San Diego and 90 minutes from Los Angeles, making it a popular weekend getaway destination. The city's tourist attractions and consistently warm weather also make it a popular Southern California destination.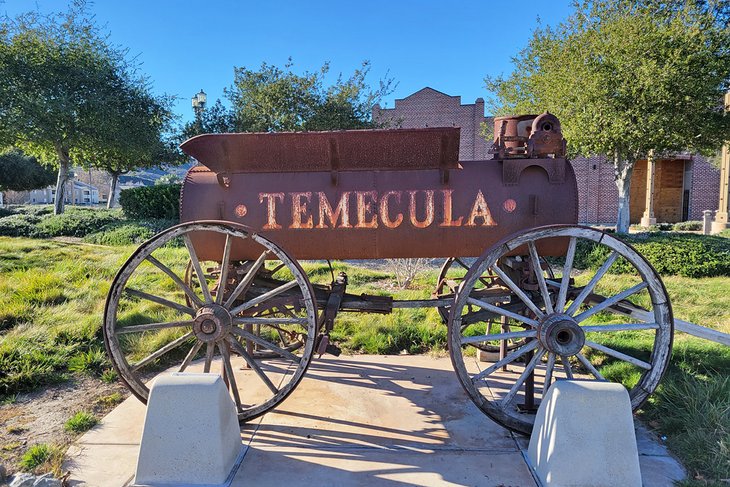 Tourists travel to Temecula for outdoor attractions like hot air balloon rides and mountain biking. But it's perhaps the vine-draped fields along Rancho California Road that draw the most attention. Agriculture lines both sides of this famous road, and alongside tours and local menus, several other attractions, such as the Sugarplum Zoo, offer family-fun outings.
Temecula also made a name for itself for its local food scene. One of the first places to visit for a taste of this foodie culture is Old Town Temecula. Patio-clad restaurants and farm-to-table dining define this charming town square, alongside a distinctive historic flair dating to the late 1800s.
Enjoy your next weekend getaway with our list of the best places to visit in Temecula.
1. Enjoy the Taste of Temecula on Rancho California Road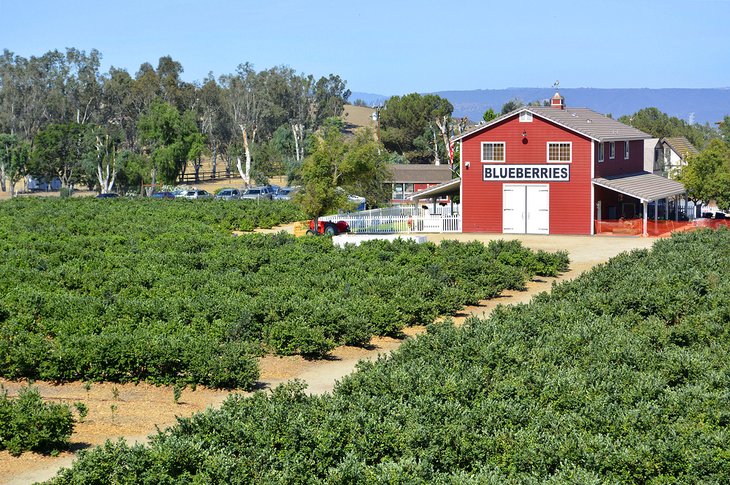 Rancho California Road is the main thoroughfare for tourists in Temecula. It's the gateway to the region's several farms that prosper under the city's forecast. These local farms make it a popular route for tasting the agricultural bounty in this part of Southern California. And with hotels, tastings, and plenty of farm-fresh restaurants, entire vacations are often planned around this scenic stretch of road.
It's a beautiful drive and several family-friendly tourist attractions line the route. Perhaps most notable are the several hot air balloon companies that operate in the area, often giving the city its postcard-worthy status.
A few other family attractions along Rancho California Road include the Alpaca Hacienda and Sugarplum Farm. Both these outdoor spots offer the chance to see and interact with animals. Sugarplum Farm is unique as the world's first petting zoo and chocolate shop.
2. Take a Sunrise Hot Air Balloon Ride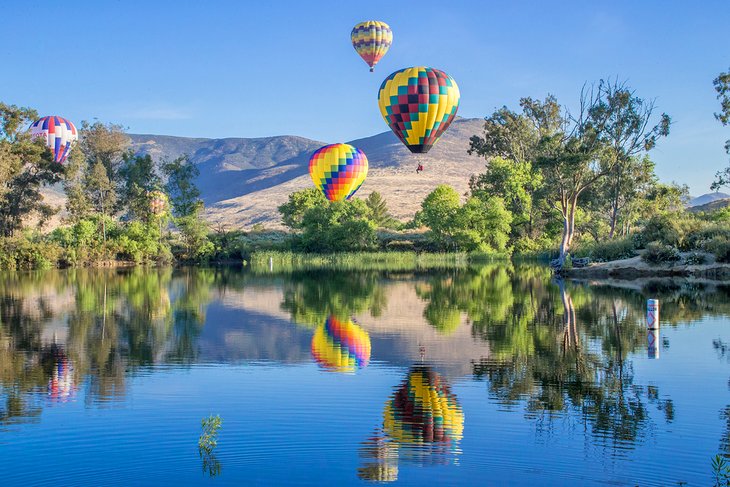 Temecula is synonymous with hot air balloon rides, thanks to a bountiful selection of local operators. These two- to three-hour flights offer a spectacular view of the Temecula topography, including the many farms off Rancho California Road, where most of the flights take off.
Hot Air Balloon rides are available year-round and typically only depart at sunrise. Afternoon and evening winds prevent later departures. This time of morning is especially pleasant in the summer before the heat turns up. It also provides a breathtaking start to the day.
California Dreamin' Balloon Adventures and A Grape Escape Balloon Adventure are two recommended flight operators with decades of experience. It typically costs between $200 and $300 to hop on a shared hot air balloon flight in Temecula, and more for private tours.
3. Stroll through Old Town Temecula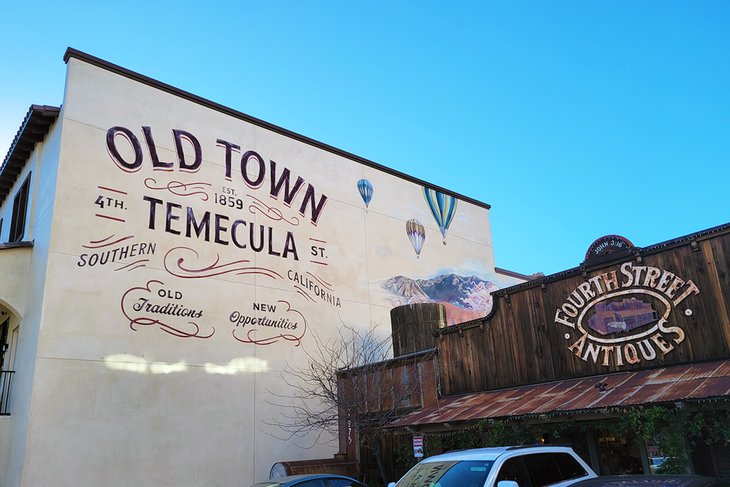 Old Town Temecula is the place where modern comforts and history combine. The streets date to the late 1800s, when the railroads came to town. And today, several patio-clad restaurants and community attractions beckon for attention.
It's hard to miss the history when visiting. Places like Hotel Temecula and the First National Bank of Temecula stand out. Old Town restaurants and eateries are also hard to miss, especially on Old Town Front Street.
Restaurants like The Goat and Vine set a high standard for dining in Temecula. This airy stone hearth kitchen offers an award-winning menu of pizza, salads, and sandwiches, embodying Old Town's casual but classy taste. Other restaurants offering authentic flavors include 1909 and Public House, right next door to each other in Old Town.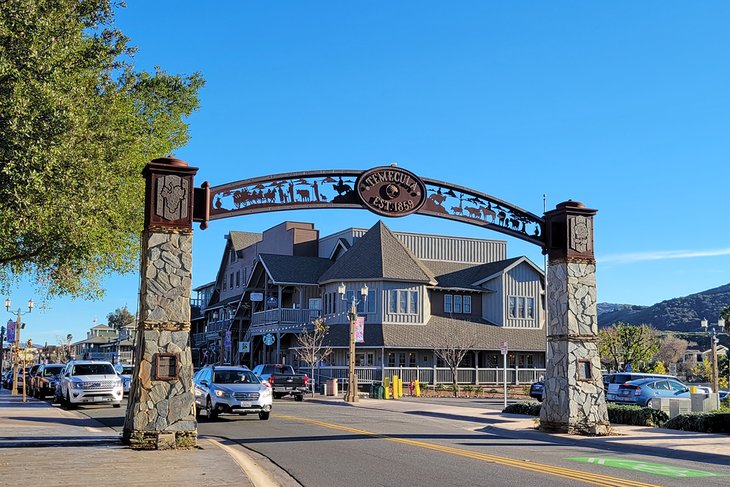 Old Town isn't just history and dining. Attractions like Old Town Temecula Community Theater and Pennypickle's Workshop – Temucula's children's museum – also anchor this lively district. And sitting up on a hill on Mercedes Street, the City of Temecula Civic Center is a beautiful building overlooking everything.
4. Dive into History at the Temecula Valley Museum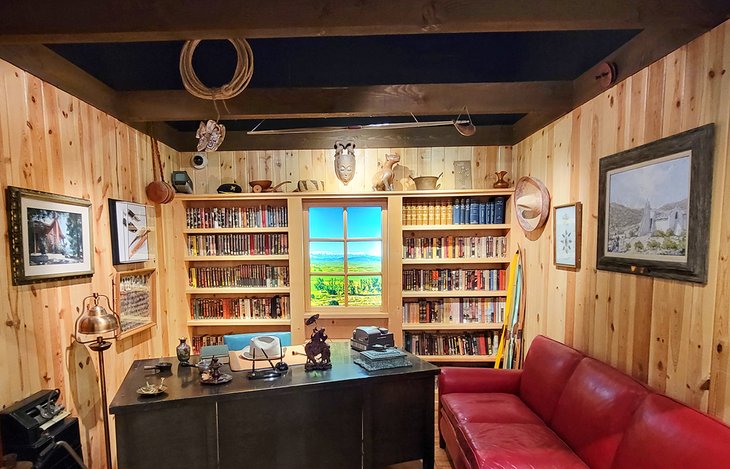 The Temecula Valley Museum is on the north side of Old Town Temecula. Through life-size exhibits and different galleries, the museum dives into the city's rich history. It also offers several ways for kids to engage, making it a fun family destination throughout the week.
Subjects on display in the permanent "Temecula History" exhibit range from native Luiseño culture to the advent of railroads throughout the valley. Another exhibit includes a replica of Erle Stanley Gardner's Temecula office, where he wrote several Perry Mason books.
Kid-specific exhibits at the museum include the "Children's Touch History Exhibit" on the second floor. Here, kids interact with history, including a mercantile store, dress shop, and artificial outdoor setting where they can sit by a "fire." Other things to do with the family include a Discovery Room and a large playground outside.
Address: 28314 Mercedes Street, Temecula, California
Official site: http://www.temeculavalleymuseum.org/
5. Spend the Day Shopping at the Promenade Temecula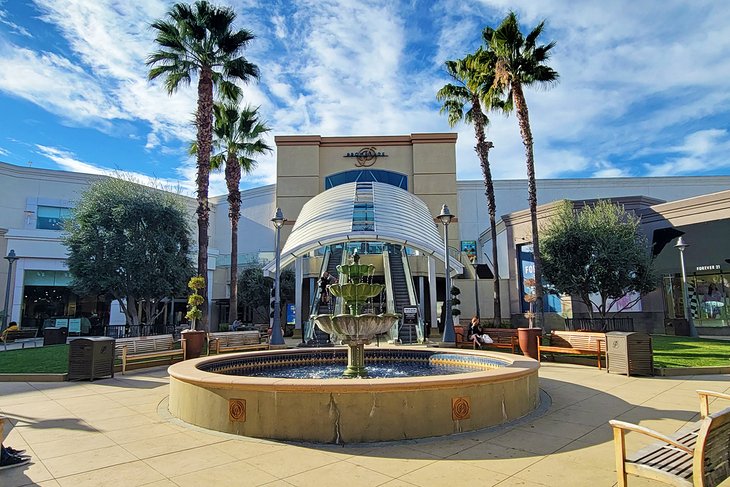 Temecula has several high-end and local shopping opportunities. The densest collection is at Promenade Temecula, on the northside of town, easily accessible off Interstate 15. This massive indoor and outdoor shopping mall has over 170 stores to peruse, as well as a large selection of dining opportunities.
Shoppers can expect everything from fashion to home goods and jewelry, and more. Local stores and boutiques line the directory alongside large department stores like JCPenny's and Macy's. And similarly, for those looking for a bite to eat, the mall is home to an extensive collection of full-service and casual restaurants.
Promenade Temecula offers a complete shopping experience. Alongside abundant people-watching and a lovely outdoor shopping mall to wander, several events and activities occur on location. It's a popular place to visit for date nights, with a bowling alley and movie theater on-site, and a Certified Farmers Market takes place in the JCPenny parking lot each Wednesday.
Address: 40820 Winchester Road, Temecula, California
Official site: https://www.promenadetemecula.com/
6. Walk around Harveston Lake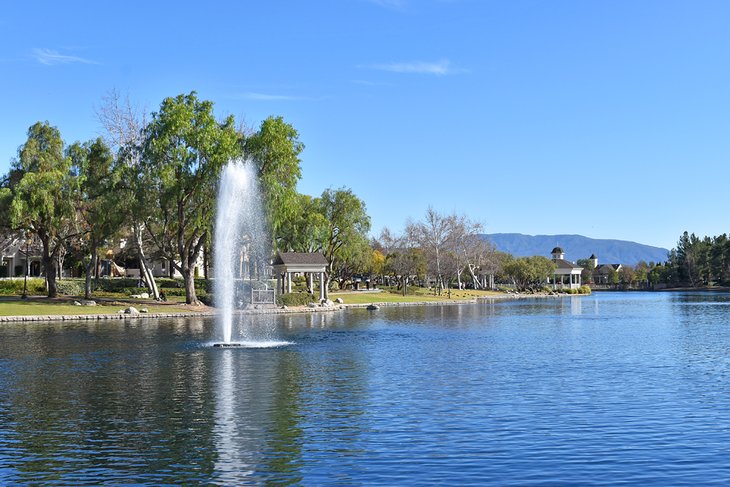 Harveston Lake is a beautiful 17-acre community park at the center of the Harveston Master Plan Community on the northside of town. It features a landscaped walkway next to the water, including gazebos and playground equipment along the way. It also features frequent ducks and other waterfowl, which visitors are asked not to feed.
One of the most popular things to do at the community park is simply walking around the lake. The views are excellent the entire way, from one fountain at the end of the lake to the other. Paddleboat rentals are also available near the eastern shore for those hoping to explore atop the water.
7. Play a Round of Golf at a Temecula Golf Course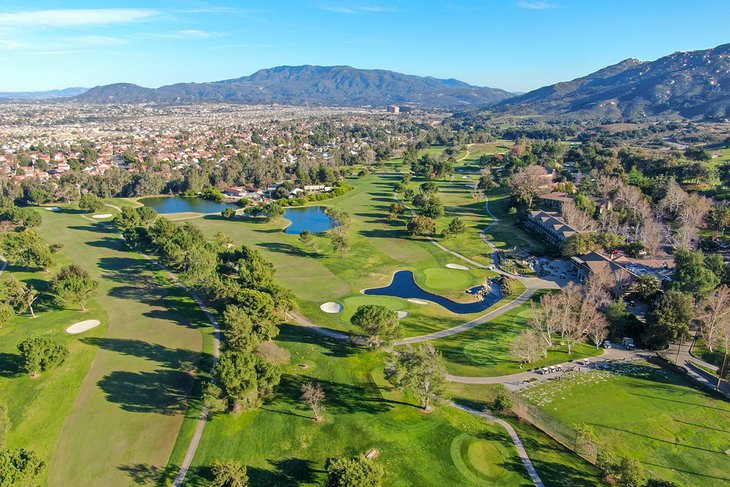 Golfing is a preferred method of enjoying Temecula's sunny forecast. Several signature courses dot the area, open for the public to play. Many of these golf courses operate year-round and stay busy every day. Tee-times are recommended when available.
Temecula Creek Golf Club is a popular public place to play on the south side of town. It features three scenic nine-hole courses, including the challenging Stone House nine. This course tends to fill up fast on the weekends, and reservations should be made well in advance.
Another fun option is the 18 holes at CrossCreek Golf Club, west of town. Arthur Hills designed this challenging and scenic course with obstacles like ponds, creeks, and significant elevation changes. The signature hole at the course is number 17, offering a par three and a big shot down the mountain.
8. Rose Haven Heritage Garden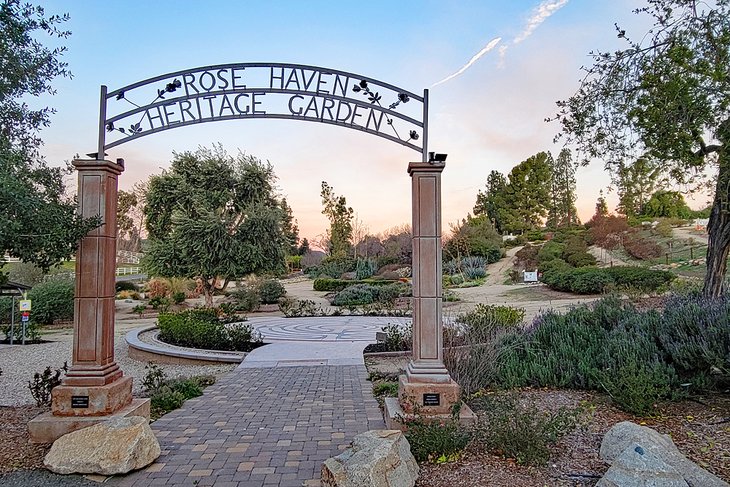 Rose Haven Heritage Garden is on the south side of town, accessible off Jedediah Smith Road. It's a 3.4-acre garden operated by the Temecula Valley Rose Society and is open to the public. And thanks to Temecula's excellent growing conditions, expect to find something in bloom throughout the year.
To witness the garden's approximately 1,600 roses, head to the Heritage Garden in April or May. This time of year brings the most color to the park and potentially the biggest crowds. But with plenty to explore in this sprawling space, there's always room to find some garden tranquility.
Address: 30592 Jedediah Smith Road, Temecula, California
Official site: https://www.temeculavalleyrosesociety.org/rosehaven.html
9. Enjoy a Show at the Old Town Temecula Community Theater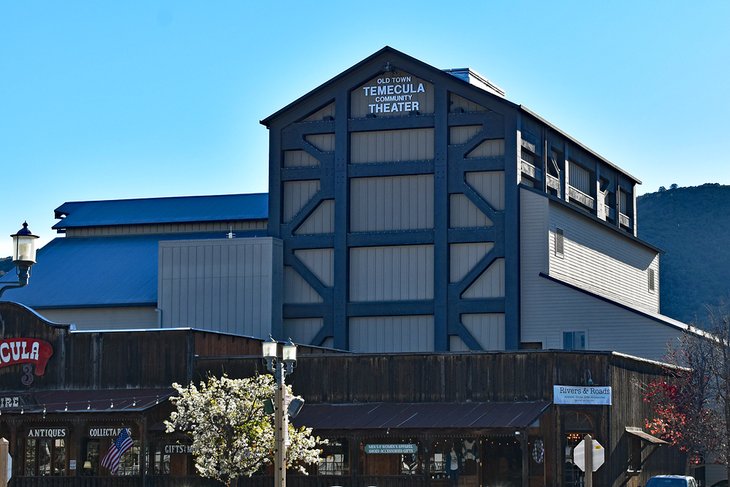 This community theater is at the heart of Old Town. It features two performance spaces, including a large curtain-drawn stage with over 350 seats. This popular venue hosts local, regional, and national touring acts, including Broadway, country music, and stand-up comedians.
The theater's state-of-the-art light and sound system make for a great show, and the raised seating ensures a good view of the action. Guests enter this modern venue through the historic Mercantile Building out front, dating to the late 1800s.
The Mercantile Building is also home to "The Merc" performance space. This black box theater offers more intimate shows with a capacity for 50 audience members. Check the official website for the latest event calendar.
Address: 42051 Main Street, Temecula, California
Official site: https://temeculaca.gov/518/Temecula-Theater
10. Find a Relaxing Moment at the Temecula Duck Pond and Park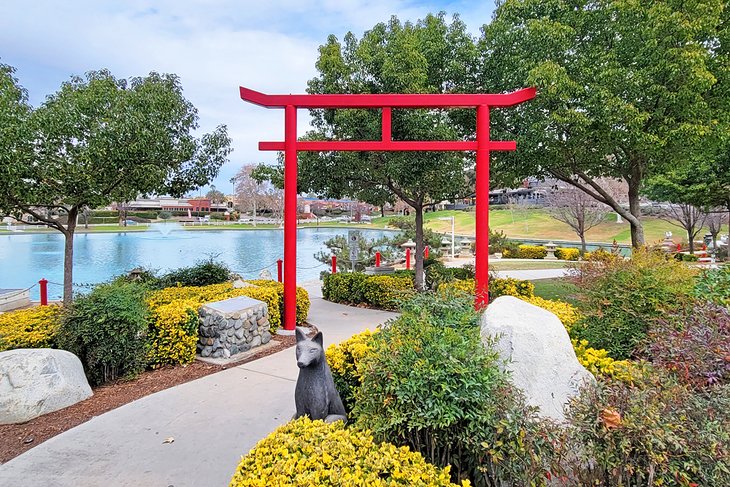 Head to the Temecula Duck Pond for a fun moment in the day and a nice detour off Rancho California Road. This compact park is home to a large pond teeming with rafts of ducks. This fountained landscape offers a nice view and several birds to watch. Visitors are asked not to feed any of these wandering waterfowl for the ducks' well-being.
The rest of the park is lovely, as well. It's home to a beautiful Veterans Memorial, with a touching "Letters Home" statue of a soldier and inscribed pavers with names of those who served. Other park features include picnic tables and a path that circles the pond.
Address: 28250 Ynez Road, Temecula, California
11. Spend Time at Los Alamos Hills Sports Park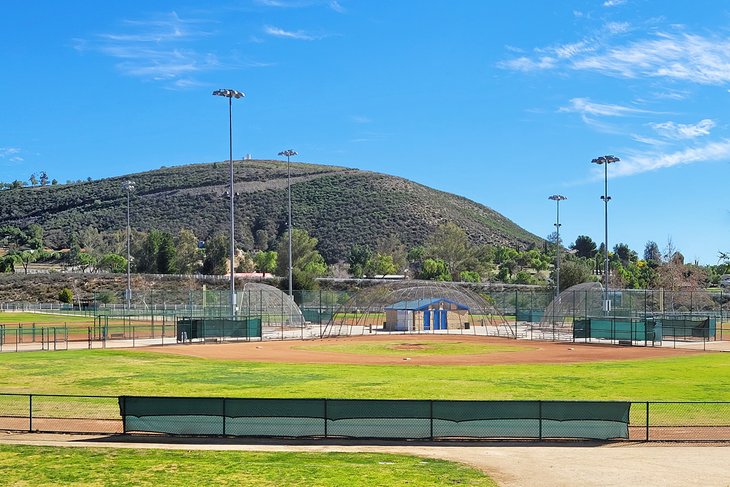 Los Alamos Hills Sports Park is a lovely public outdoor space in Murrieta, approximately a 10-minute drive north of Old Town Temecula. It encompasses 40 wide-open acres, primarily comprising sports fields and facilities.
Los Alamos Hills has four baseball and softball diamonds and six multi-use fields. Sports practices and intramural leagues make good use of these venues. These athletic facilities are open to the public when not scheduled for activity.
Los Alamos Hills Sports Park also has traditional park features. A large, shaded playground area often entices younger visitors to climb around in the park's southern corner. This area also has shaded tables for picnics outside. And a popular gravel walking path circles the entire park for casual strolls and light exercise.
For a similar sports park within the city, head to Ronald Reagan Sports Park. This 128-acre park is slightly smaller but has similar amenities, in addition to a year-round swimming pool.
Address: 37000 Ruth Ellen Way, Murrieta, California
12. Throw a Round at Mountain Pride Disc Golf Course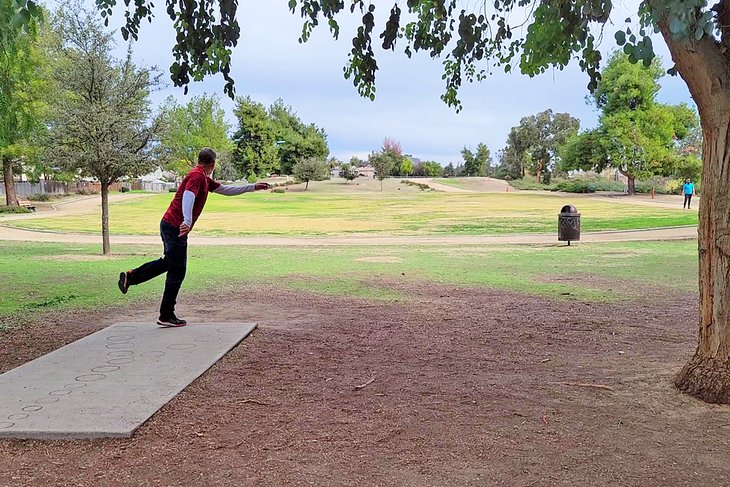 The disc golf scene in Southern California is rapidly growing in popularity. The year-round season and variety of landscapes attract professional and amateur players alike. And for those interested in the sport in Temecula, the Mountain Pride Disc Golf Course in Murrieta is one of the closest and best courses in the region.
The Murrieta Rattlers Disc Golf Club maintains this 18-hole course featuring different tee and pin placements. The course navigates up and down a small canyon with plenty of wooded shots. It's free to play, and several events and leagues occur throughout the month.
There's no water at Mountain Pride Disc Golf Course, and temperatures can soar throughout the summer. The course is known throughout the disc golf community, and it occasionally draws professional players to throw a round or host a clinic.
Address: 41086 Mountain Pride Drive, Murrieta, California
Temecula, CA - Climate Chart
Average minimum and maximum temperatures for Temecula, CA in °C
J
F
M
A
M
J
J
A
S
O
N
D

19

2

20

3

21

5

25

7

28

10

33

12

37

15

37

16

34

14

29

9

23

4

20

1

PlanetWare.com
Average monthly precipitation totals for Temecula, CA in mm.

67

73

59

16

8

1

1

6

5

7

19

28