11 Best Beaches in Laguna Beach, CA
Beaches in Laguna Beach star on Southern California postcards. Dramatic bluff-top gardens punctuate these coastal hot spots adding a tropical appeal, with palm trees and stunning ocean views. And alongside a certain sunset glamour, all beaches in Laguna Beach offer a unique slice of paradise.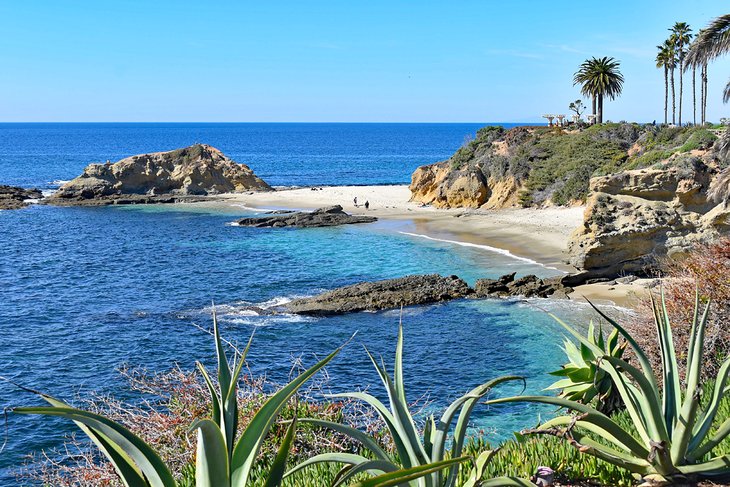 For those wanting to experience the city's cultural buzz, head to Main Beach right across the Coast Highway from downtown. Here, celebrities and tourists enjoy amenities like volleyball nets and a winding boardwalk. Main Beach is the most easily accessible beach in Laguna Beach, and the crowds on the weekends prove its popularity.
But be sure to extend beach adventures beyond the central shore of Main Beach. Up and down the North and South Laguna coast, beaches like Treasure Island and 1000-Steps Beach live up to their names. Activities like snorkeling, suntanning, and exploring tide pools are everyday endeavors on this picture-perfect coastline.
Find your own slice of ocean scenery with our list of top beaches in Laguna Beach.
1. Main Beach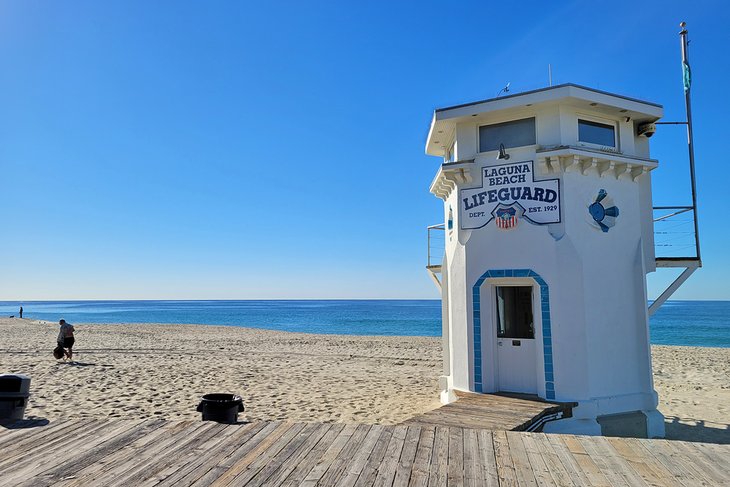 Main Beach is the central spot for ocean activity in Laguna Beach. It's directly across the Coast Highway from downtown, with zero elevation gain to reach the wide and sandy shoreline. This easy access and location make Main Beach the most buzzing of all beaches in Laguna Beach.
A boardwalk navigates the entire backend of the beach, separating the sand from a grassy park filled with picnic tables and benches. This park also has two popular basketball courts, a playground, and a community restroom. And overlooking the ocean from the sand, an iconic lifeguard tower at the park keeps a watch over everything.
Main Beach is a place to be seen. It's also a lovely place to bring a cup of coffee or a picnic bought from the nearby downtown district. Surfing isn't allowed in the summer at this already bustling park. And while visitors are welcome to get in the ocean, interested swimmers should consult with a lifeguard first about riptides in the area.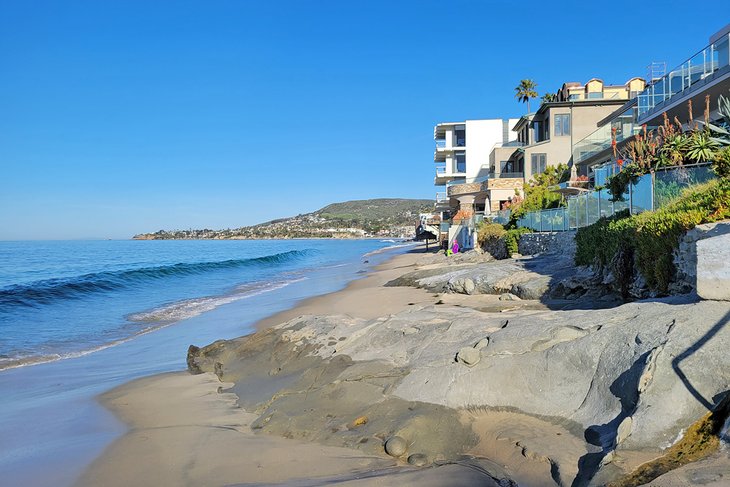 Heisler Park to the north offers a worthwhile side trip from Main Beach. For more solitude, head south on the sand from Main Beach. The beach stretches for over a mile south, touring beneath bluff-side mansions and a thinning coast. The beaches along this stretch, such as Thalia Street Beach and Anita Street Beach, assume the names of their access streets.
2. Victoria Beach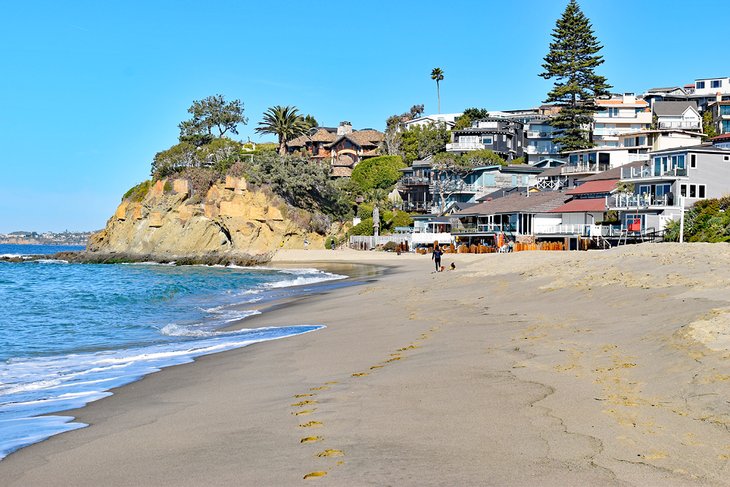 Victoria Beach is perhaps one of the most famous beaches in Laguna. It's home to a photogenic Pirate Tower and a water-collecting pool on its northside, as well as ample room to lay out a blanket and enjoy the sand. However, despite its notoriety, it's still a relatively uncrowded beach to explore. This quiet nature is thanks to the difficult parking and long stairway to the beach.
The stairs leading to Victoria Beach are at the end of Victoria Drive. A residential neighborhood surrounds this staircase, with no beach parking allowed. This limited parking leaves many visitors parking on the Pacific Coast Highway and making the steep walk through the neighborhood.
Make it to the sand, however, and welcome to paradise. The beach's most photogenic feature, the 60-foot Pirate Tower, also known as "La Tour," is a short walk north. Near the Pirate Tower, a man-made basin also collects saltwater to form a unique coastal swimming pool.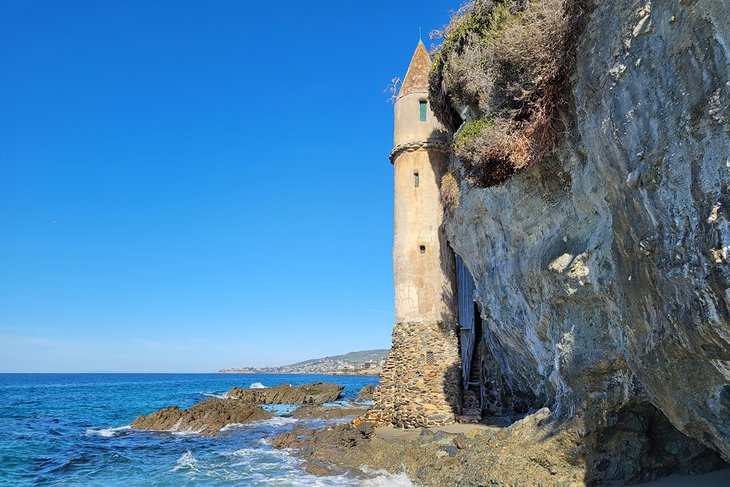 The rest of the beach south is wide and welcoming, with ample space to lay out a towel. The beach continues south approximately a quarter of a mile, offering solitude even at this well-known location.
3. Treasure Island Beach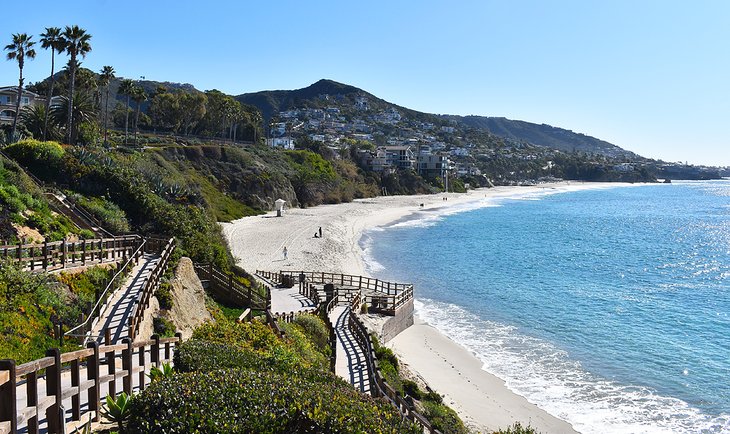 Treasure Island Beach is a true gem in the city park system. It's co-managed by the luxurious Montage Laguna Beach, which helps maintain the beautiful bluff-top park above the beach. The most common way to access the beach is through this landscaped park and down a graded concrete ramp on the resort's southwest side.
Upon making it to the shore, it's hard to miss the bluff to the north. This wave-breaking landscape protects Treasure Island Beach, often resulting in calmer, clearer water that's popular for snorkeling and swimming. It's also a hot spot for tide pools when the ocean is ebbing.
The shore extends almost out of eyesight south of Treasure Island Beach, and it's not a far walk to Aliso Creek and Aliso Beach. This long stretch of sand is welcoming for those that enjoy a nice long beach walk. Restrooms are available near Aliso Creek.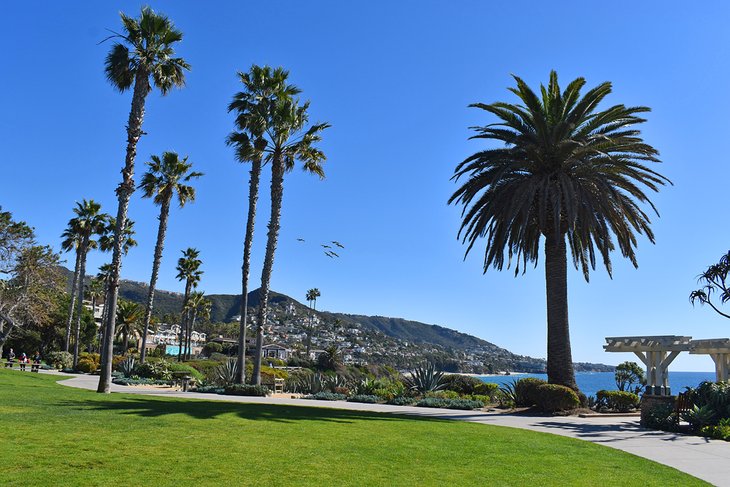 Take some time to enjoy Treasure Island Park on the bluffs above the beach. Mediterranean plants and palm trees line the paths of this public park, leading to benches and beautiful views. This property sits next to the five-star Montage Laguna Beach and offers a luxurious walk in a coastal paradise.
4. Aliso Beach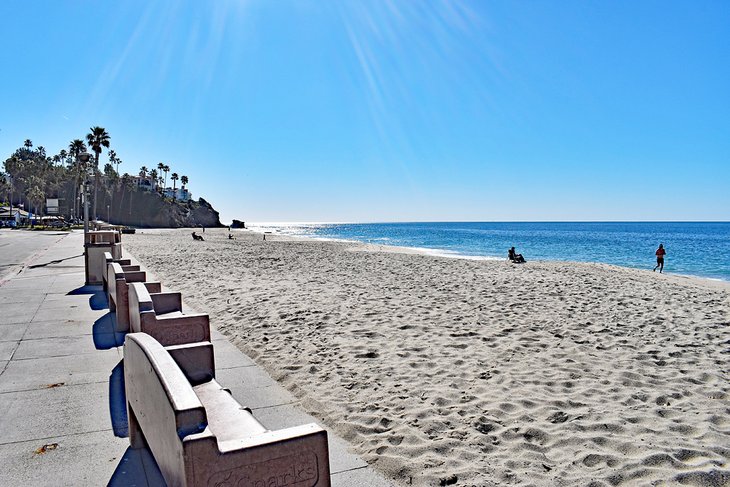 Aliso Beach is another widely popular beach, partly because it has on-site metered parking. This easy parking means visitors avoid descending a long set of stairs. The lack of a long staircase makes the beach popular for family outings and younger kids, as does the on-site playground.
The shoreline waves at Aliso are also popular for surfing activities, especially skimboarding. And every summer, Aliso is home to The Vic, also known as the World Championship of Skimboarding. The local and historic Victoria Skimboards hosts this renowned competition.
Aliso Creek runs right through the middle of the beach. The rough waves and runoff from the creek make for swimming conditions that are not ideal. For those wanting to dip some toes into the water, Treasure Island Beach has better swimming conditions a short walk north.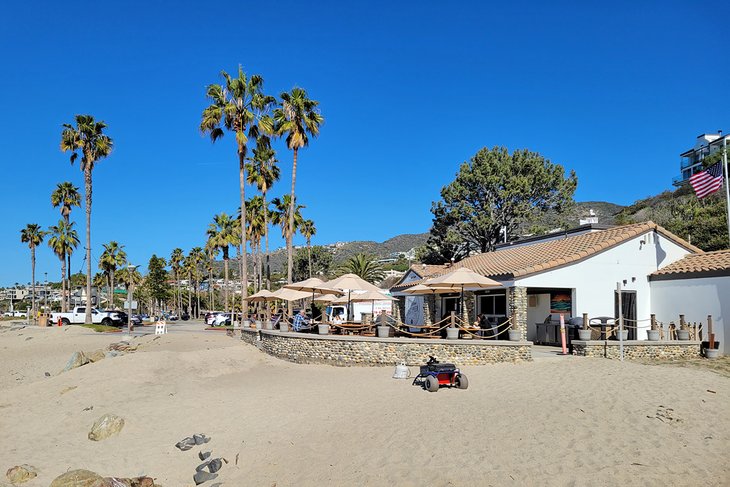 Sands Cafe at Aliso Beach offers casual fare throughout the day. They also run the reservations for the fire pits on Aliso Beach – which are a unique commodity on the Laguna waterfront.
5. Heisler Park Beaches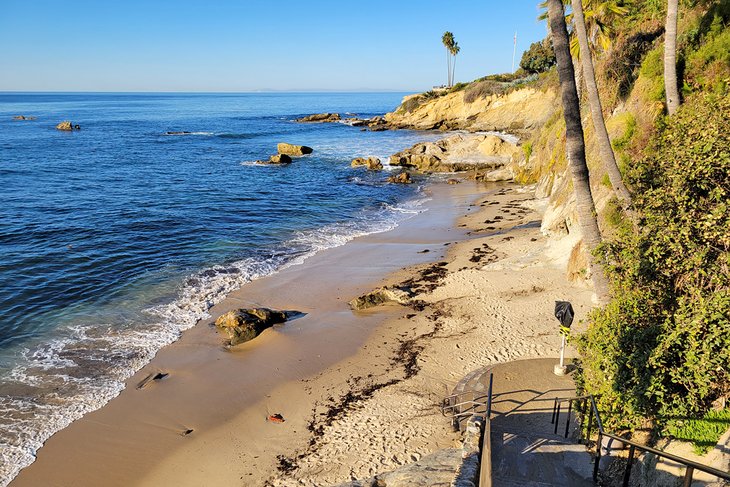 Heisler Park is one of the first places to visit on a Laguna Beach vacation. This oceanfront park sits above the waves, with several beautifully landscaped paths throughout. Among the park's magnificent foliage are sculptures, gazebos, benches, and more than one beach.
The park sits between Cliff Drive and the ocean, less than a block from the Pacific Coast Highway. At its southern end, the park descends to the flat expanse of Main Beach, where the sand continues for nearly a mile. However, several staircases lead to smaller and more secluded coves throughout Heisler Park.
Among the spots to check out are Picnic Beach and Rockpile Beach, on either side of the peninsula jutting out from the Lawn Bowling Club. And on the far north end of Heisler, interested underwater explorers head to Diver's Cove.
6. Thousand Steps Beach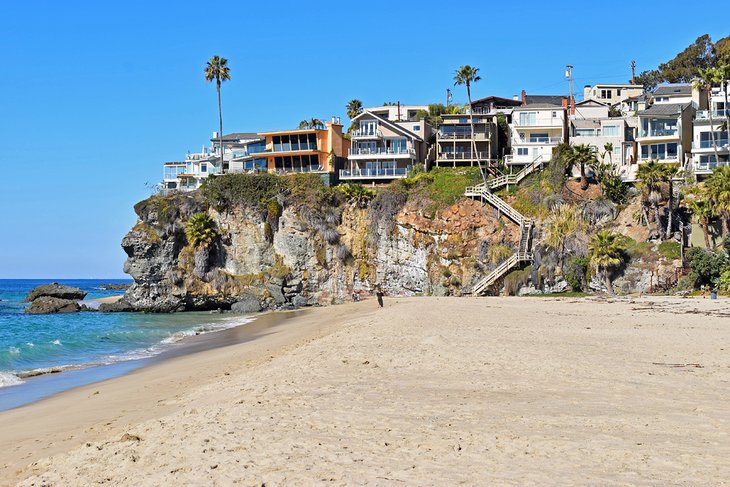 Thousand Steps Beach is one of the most southern beaches in city limits, approximately five miles south of downtown on the Coast Highway. It's a wide and welcoming beach complete with volleyball nets, tide pools, and hilltop mansions that glimmer in the sun. And as its name implies, it's accessible by a long set of stairs.
To be more specific, it's approximately 223 steps to reach the beach. The term "thousand steps" applies to what it feels like to climb back up this long staircase. However it feels, the result of this long staircase is that the beach isn't as crowded as it should be for such a beautiful location.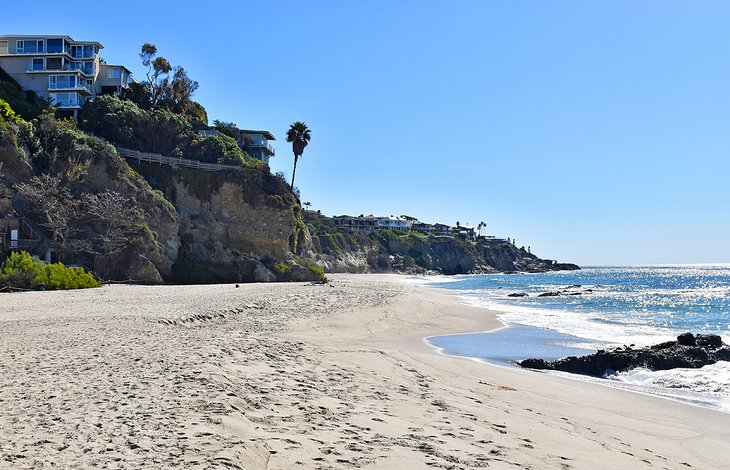 A southern sea cave at Thousand Steps Beach does draw a lot of attention. It's one of Laguna's best-known caves, as it notably includes a complete walk-through to a southern beach. It's an easy tunnel to navigate at low tide. Visitors should consult a tide chart to avoid being trapped on the south beach.
7. Crystal Cove State Park Beach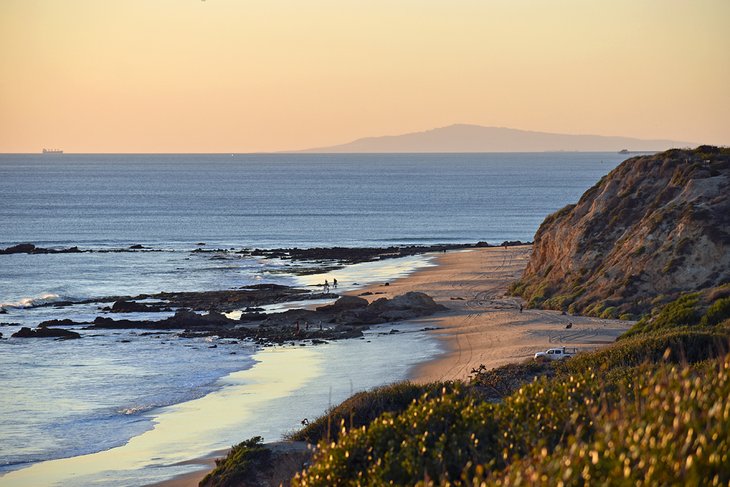 Crystal Cove State Park is three miles north of downtown on the Pacific Coast Highway. It's one of California's best state parks for several reasons. It's home to bluff-top campgrounds, canyon hiking trails, and miles of beachfront. It's also home to over 2,400 acres of backcountry wilderness for those looking for a true Southern California escape.
The 3.2 miles of shoreline at Crystal Cove parallel the Pacific Coast Highway. Three primary access points lead to the beach and parking: the Pelican Point Entrance, Los Trancos Entrance, and the Reef Point Entrance. These day-use areas feature a short walk down to the beach.
The Moro Campground at the state park, one of Southern California's best campgrounds, also features a day-use access point. It's a steep grade to reach this separate parking area beneath the bluff-top campsites, where a scenic tunnel leads to the beach. While the entire beach area at Crystal Cove is popular, the sand is so spread out that it's easy to find personal space.
8. Crescent Beach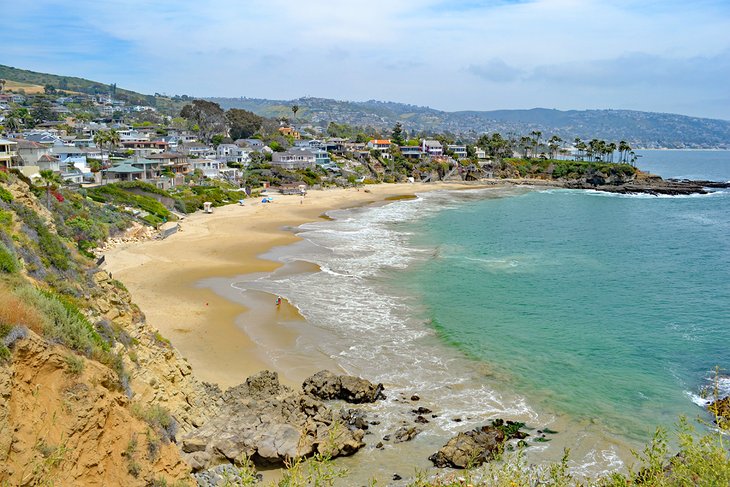 This popular half-moon-shaped beach is in North Laguna Beach, less than two miles north of downtown. Its public entry point is off Cliff Drive, where parking is scarce, and many opt to park on the Pacific Coast Highway instead. It's a popular beach, but not overly crowded thanks to its size.
And the beach is beautiful. Sea cliffs and tide pools bookend either side of the crescent, where visitors can explore with caution during low tide. The waves at the beach tend to crash onshore, lending to fast riptides. Fins are advised for those interested in swimming. These waves also make the beach popular for bodysurfing.
Crescent Bay Point Park sits atop the northern cliff above Crescent Beach. There's no direct access between the beach and the park, but this high vantage point is worth visiting. Besides enormous views of Crescent Beach and the coastline, this bluff-top park is also a popular whale watching spot.
9. Woods Cove Beach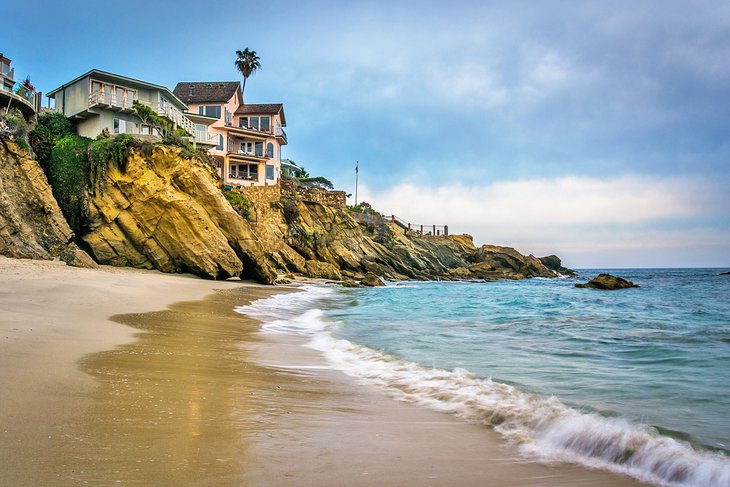 This small but popular beach is less than two miles south of downtown. Its access stairwell is at the Diamond Street and Ocean Way intersection, one block west of the PCH. It's a beach best explored during low tide, as the sand disappears completely sometimes during high tide.
Low tide is also the best time to explore the beach's northern end and the tide pools surrounding the massive outcropping known as Cactus Point. This extended peninsula is also home to a keyhole rock feature that visitors can walk through to access Pearl Street Beach.
10. Shaw's Cove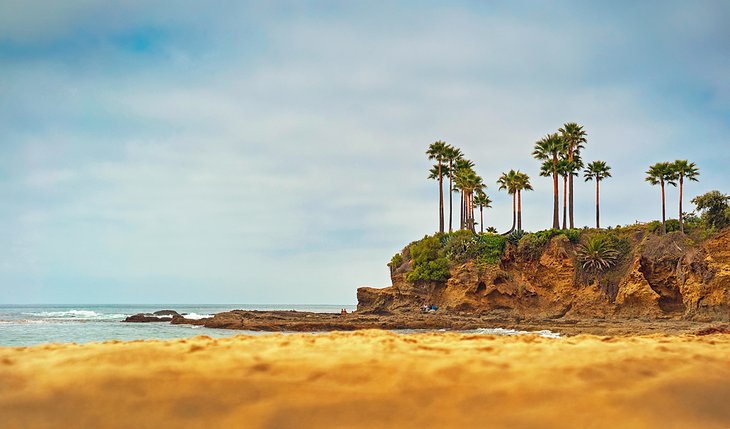 This laid-back and smaller beach is directly north of Heisler Park. It doesn't draw as big crowds as other beaches, but that doesn't mean it's not well visited. It's a very popular spot for underwater exploring, and the crowd here tends to be scuba divers and snorkelers.
A set of stairs leads from Cliff Drive down to the beach. It's a long set of stairs to the beach, which feel longer coming up. Often, especially on the weekends, look for someone wearing scuba equipment and follow them. If parking isn't available on Cliff Drive, metered parking is usually available on the PCH.
The beach is well worth the visit, even without a snorkel or scuba equipment. It's best to visit during low tide, when most of the sand is present. Low tide is also when tide pools reveal themselves on either side of the beach.
11. Pearl Street Beach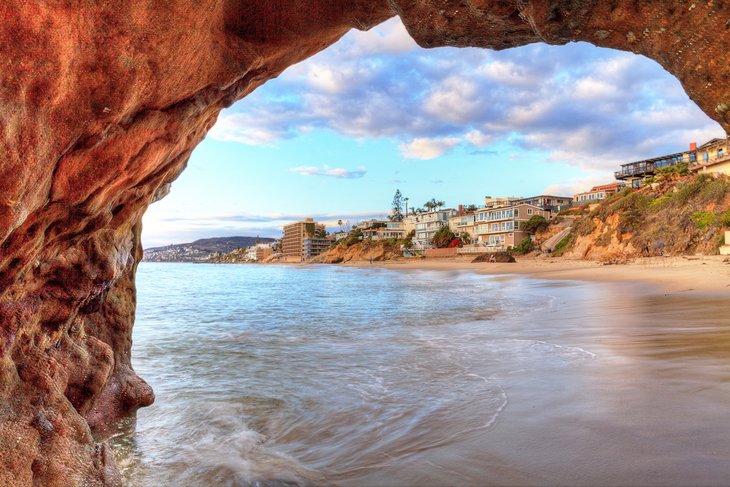 Pearl Street Beach is south of downtown and accessible from a stairway at the end of Pearl Street. The staircase leading down to the beach is more hidden than other beach access points. And with a tucked-away southern location, the beach tends to be a quieter spot to explore.
The beach is directly north of a large outcropping known as Cactus Point. During low tide, this outcropping reveals several teeming tide pools and a signature keyhole that leads to the opposite Woods Cove Beach. This photogenic rock feature also gives the beach the nickname "Arch Beach."
Laguna Beach, CA - Climate Chart
Average minimum and maximum temperatures for Laguna Beach, CA in °C
J
F
M
A
M
J
J
A
S
O
N
D

19

7

19

7

20

8

22

9

22

12

23

14

25

16

26

16

26

16

24

13

22

9

19

7

PlanetWare.com
Average monthly precipitation totals for Laguna Beach, CA in mm.

70

75

66

21

6

3

1

3

9

12

31

47