11 Top-Rated Things to Do in San Clemente, CA
San Clemente is a charming ocean town in Southern California that's all about the beach. About four miles of sandy surf define the city's western border, making activities like beach walking, seafood dining, and admiring sunsets cornerstones of many San Clemente vacations. And don't forget about surfing, as San Clemente and its surf breaks are synonymous with Southern California surf culture.
Much of the city's ocean activity centers around the San Clemente Pier, jutting out through the waves. A lovely beach trail extends from either side of the pier, connecting several other postcard-worthy destinations. These nearby attractions include the historic Casa Romantica nearby, setting the bar for the "Spanish Village by the Sea" motif throughout the rest of town.
And thanks to a Mediterranean climate, the best time to visit San Clemente is as soon as you can. Visitors to San Clemente still wear shorts and T-shirts when it's snowing in much of the rest of the country. The city itself boasts the "world's best climate," with 300-plus days of sunshine and an annual average of around mid-70 degrees Fahrenheit.
Plan your next Orange County getaway with these best things to do in San Clemente, California:
Note: Some businesses may be temporarily closed due to recent global health and safety issues.
1. Head to the San Clemente Pier and San Clemente City Beach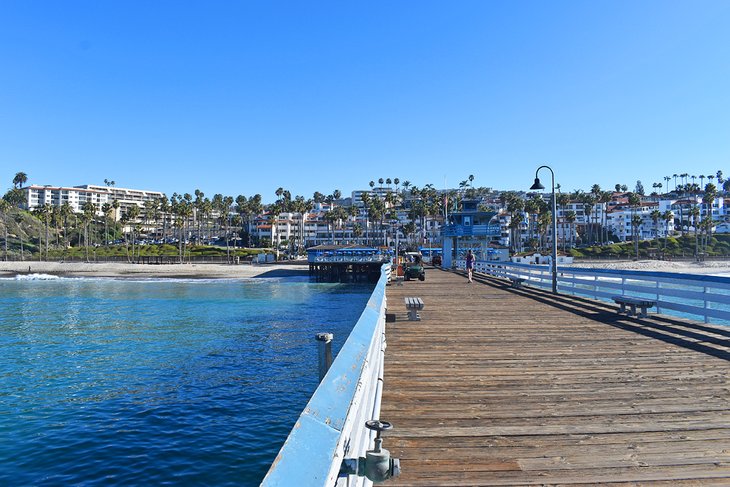 The San Clemente Pier is one of the first places to visit in San Clemente. The generous slice of ocean paradise known as San Clemente City Beach surrounds either side of the near 1,300-foot pier. This landscape includes palm trees, surfable waves, and seafood restaurants. It's also the spot to start a beach adventure, with the San Clemente Beach Trail spanning in either direction.
For first-time visitors, take the time to walk the pier before finding a place to settle in the sand. The Fisherman's Restaurant sits at the start of the pier, enticing visitors with fresh chowder and other seafood dishes. Farther down the pier, enjoy other casual seafood restaurants and expansive views of the ocean.
After exploring the pier, find a place in the sand to enjoy the city's average annual temperature of 73 degrees Fahrenheit. The beach is a popular venue for relaxing and picnics on the sand. And for those looking for waves, north of the pier is the place to go surfing, where crests usually average two to three feet.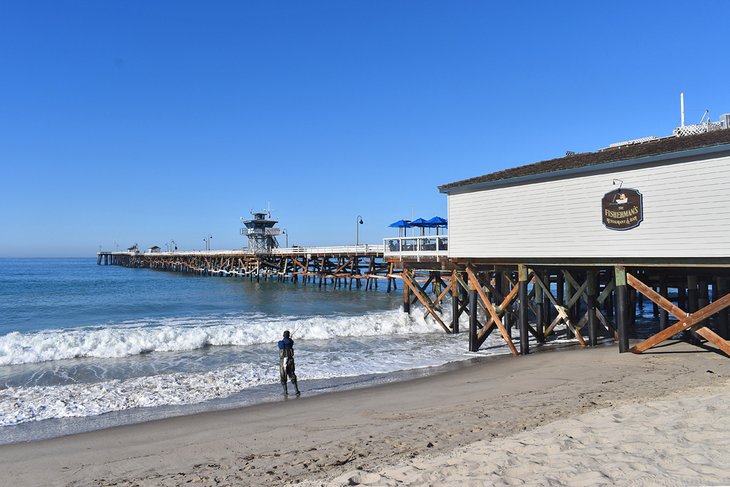 San Clemente City Beach and Pier are good jumping-off points for day-long adventures. The San Clemente Beach Trail heads north and south from the pier on the other side of the railroad tracks. The trail connects to other scenic spots like North Beach and T-Street Beach. And atop the opposing bluffs, Casa Romantic Cultural Center and Gardens offer an incredible view overlooking the pier.
2. Tour the Casa Romantica Cultural Center and Gardens

The Casa Romantica Cultural Center and Gardens offer an incredible view and insight into modern San Clemente history. This historic abode is high atop the bluffs above San Clemente City Beach and the San Clemente Pier. And its cultural center highlights the influence of Ole Hanson, the founder of San Clemente and owner of this magnificent ocean home.
When Casa Romantica was built in 1927, it served as the "Spanish Village by the Sea" model for modern-day San Clemente. Today, it's listed on the National Register of Historic Places and is open for the public to enjoy. Admission includes access to the breezy interior of the home and the landscaped gardens outside.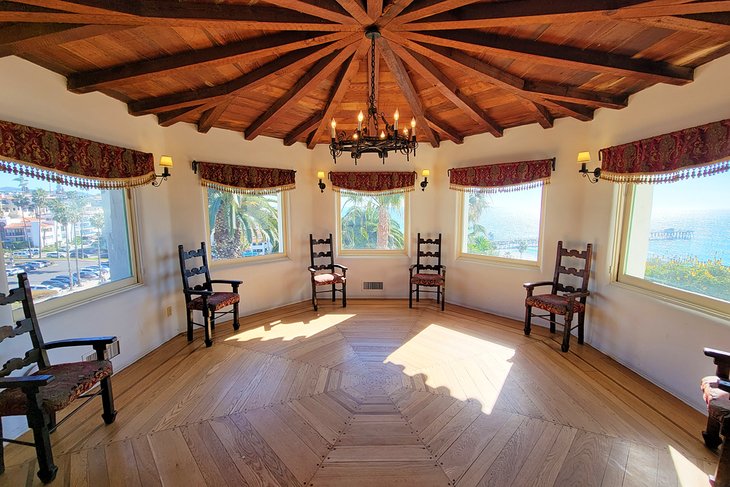 Casa Romantica is also home to an art gallery with a rotating selection of regional artists on display, and an on-site gift shop allows visitors to take some San Clemente history home. The cultural center also hosts several events throughout the year, including music, theater, and special lecture series.
Casa Romantica is open to the public six days a week and closed on Mondays. Expect to spend one to two hours touring the grounds for a general visit. The cultural center makes a great addition to a day spent sightseeing around San Clemente City Beach and Pier, located at the base of the property's bluff.
Address: 415 Avenida Granada, San Clemente, California
3. Wander along the San Clemente Beach Trail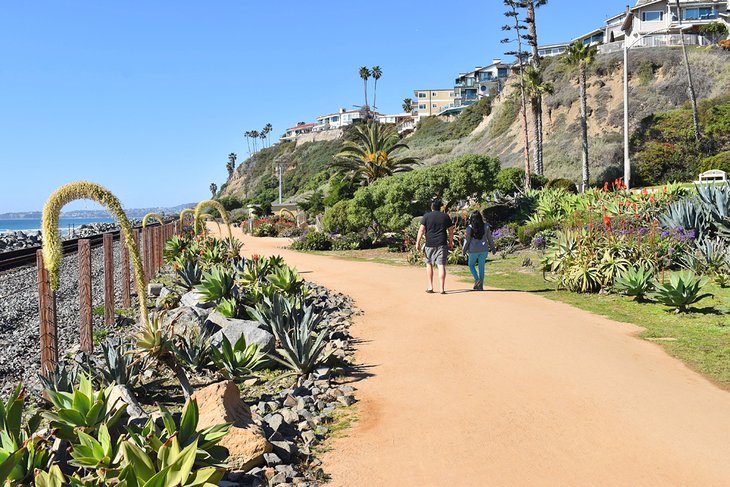 The San Clemente Beach Trail is the most popular pedestrian path in the city. It spans 2.3 miles, connecting North Beach and Calafia Beach Park, and has beautiful ocean views the entire way.
The trail connects many of San Clemente's best beaches, where large parking areas lend easy access to the trail. The most prominent stops and parking areas include North Beach, the San Clemente Pier, and T-Street Beach. These locations have a small parking fee.
Walkers, joggers, and non-motorized bicyclists all use the route. It is occasionally crowded, but with the sprawling sand on the beach nearby, there's plenty of room to step off the trail.
4. Surf in San Clemente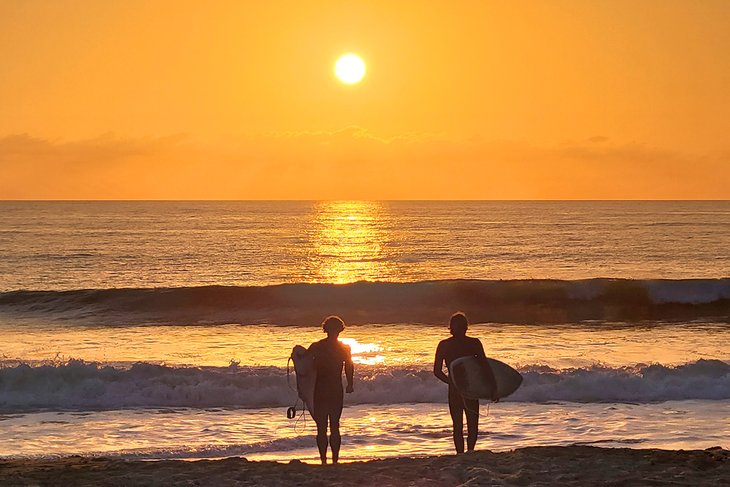 San Clemente and surfing are synonymous in Southern California. Surfing history books have entire chapters devoted to the city, and to this day, it's still a magnet for professionals and passionate surfers alike.
While several surfing spots dot the San Clemente shoreline, the Trestles surf break defines the city's surfing reputation. This world-renowned break is part of San Onofre State Beach and is only accessible by a well-trodden nature trail. However, this walk to the beach doesn't deter surfers, and very few days go by without scores of surfboards in the water.
The best bet for those new to the area or new to the sport is to visit a local surf shop for valuable intel. Several of these shops also offer surfboard rentals and lessons.
Other surf destinations in San Clemente include T-Street Beach, Cottons surf spot, and the north side of San Clemente Pier.
5. San Clemente State Beach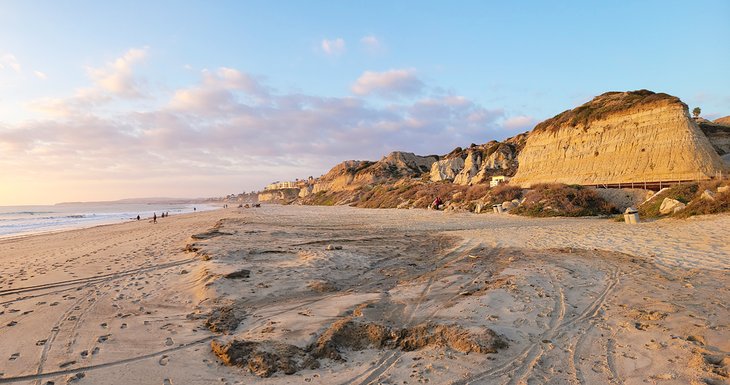 San Clemente State Beach is on the south side of the city and is one of the best beaches in Orange County. Visitors travel from afar to enjoy the surf, sand, and blissful atmosphere of this mile-long beach. It's also a popular spot for overnight travel with several available campsites nearby.
The beach sits at the base of steep and impressive sandstone rock formations. Two walking trails lead from the day-use parking area to the water, one long and winding, and the other short and steep. Both routes lead to a tunnel beneath the railroad tracks where the beach spans out in either direction.
Expect to see surfers and sunbathers spread out along the beach, as well as the occasional Amtrak train zipping by. Other popular things to do include kite flying, fishing, paddling, and bodyboarding. And with its westward orientation, the beach glows during sunset.
The campground at San Clemente State Beach perches atop the bluffs overlooking the ocean. Over 160 sites are available, with approximately 72 RV spots with full hookups. Each site comes with a fire ring, picnic table, and access to flushing restrooms with showers.
Address: 225 Avenida Calafia, San Clemente, California
Official site: https://www.parks.ca.gov/?page_id=646
6. San Onofre State Beach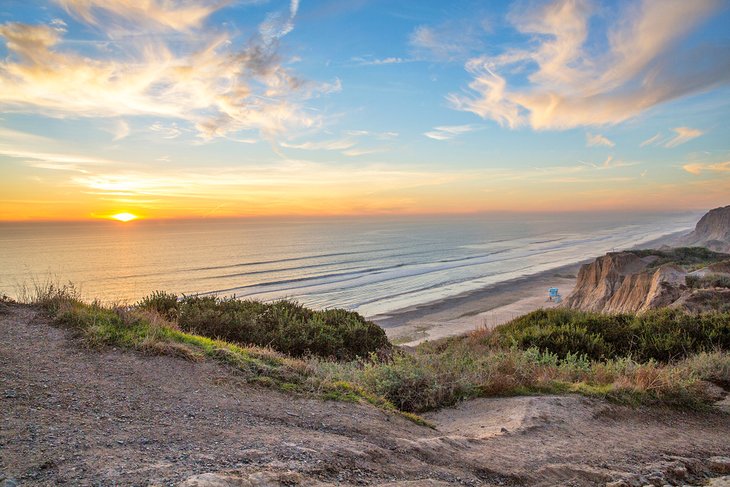 The world-renowned San Onofre State Beach is just a few miles south of San Clemente State Beach on Interstate 5. This beautiful beach earns its reputation and millions of annual visits with stunning views and a host of ocean activities.
Surfing at San Onofre State Beach is perhaps what draws the most worldwide attention. The surf breaks at San Onofre Surf Beach range from beginner to iconic waves often seen in movies and photographs. The most iconic break, Trestles, is only accessible via a long nature walk leading under the trestles bridge.
Non-surfers find several other types of enjoyment at San Onofre State Beach. The park is split into other areas, including the scenic San Onofre Bluffs. Here, alongside extensive views atop the sandstone landscape, camping is available for tents and RVs. This area also provides a popular beach for swimming and sunbathing.
San Onofre also operates the San Mateo Campground farther inland. This popular campground connects to Trestles via a 1.5-mile nature trail. The campground has approximately 150 sites available, some with full hookups for RVs. All overnight visitors have access to flushing restrooms and coin-operated hot showers.
7. Dine Out in the San Clemente Downtown District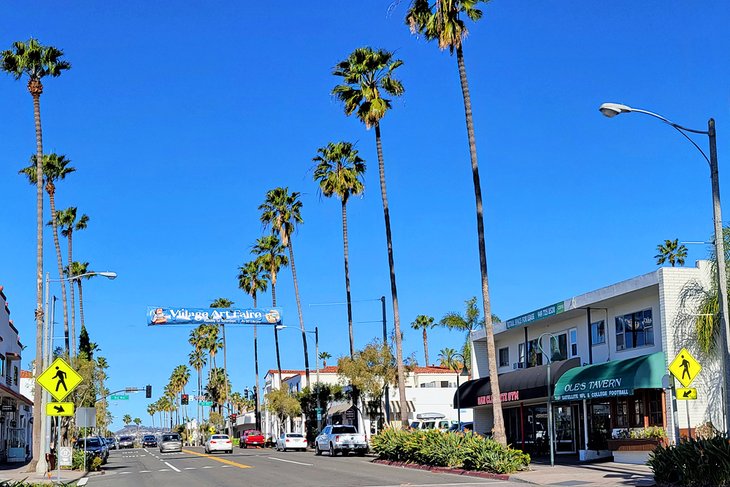 The San Clemente Downtown District is the cultural heartbeat of the city. It features several local boutiques, restaurants, and visitor experiences. The bulk of these tourist attractions is near the intersection of Avenida Del Mar and El Camino Real. Patio restaurants and window-shopping line these main streets.
To taste San Clemente culture downtown, head to places like Vine Restaurant and Nick's San Clemente. These two casual but classy restaurants feature a long list of seafood specials and other made-to-order entrees, and with dozens of other eateries in this area, there's bound to be something for everyone's tastes.
8. Surfing Heritage and Culture Center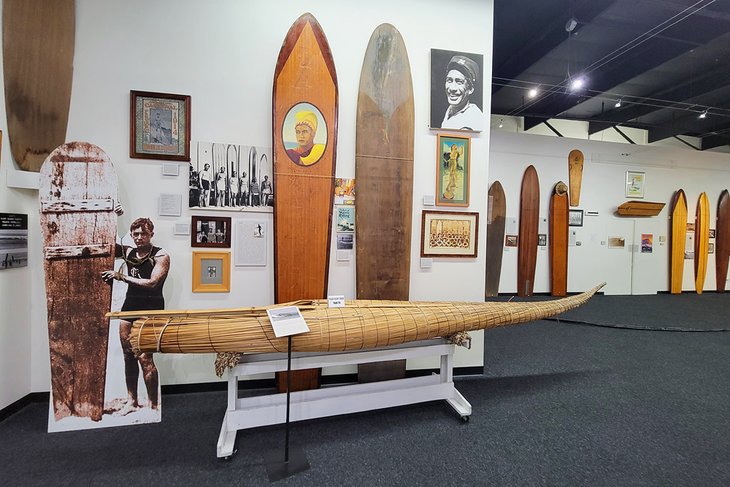 The non-profit Surfing Heritage and Cultural Center (SHCC) celebrates surfing in Southern California and across the world. The museum strives to educate surfing enthusiasts and the general public about the sport and its evolution.
The mainstay of SHCC's collection comprises surfboards from throughout the ages. Many of these are in the main gallery space alongside brief bios of influential surfers and wave-riding legends. Photos, videos, and other artifacts like apparel and plastic molding are also displayed.
The Culture Center is open Tuesday through Saturday, excluding major holidays. The museum also hosts regular events like classes, film screenings, and exhibit showcases.
Address: 110 Calle Iglesia, San Clemente, California
Official site: https://www.shacc.org/
9. Outlets at San Clemente

For a premier retail shopping experience in San Clemente, head to the Outlets at San Clemente next to Interstate 5. This bustling retail area features a beautiful outdoor plaza connecting several name-brand outlets. This layout offers a breezy shopping experience accompanied by the smell of the ocean.
The Outlets at San Clemente have nearly 60 outlet and factory stores, including large retailers like Nike, Eddie Bauer, and Tommy Hilfiger. A few local stores are also on the directory, including souvenir shops and the California Welcome Center. Dining options also abound, comprising primarily casual places like Chick-fil-a and Panera Bread.
Across E Avenida Pico, the Rainbow Sandals Factory Outlet Store also attracts a lot of foot traffic. Visitors here peruse a wide selection of flip-flops and casual sandals hanging on the walls.
Official Site: https://www.outletsatsanclemente.com/
10. T-Street Beach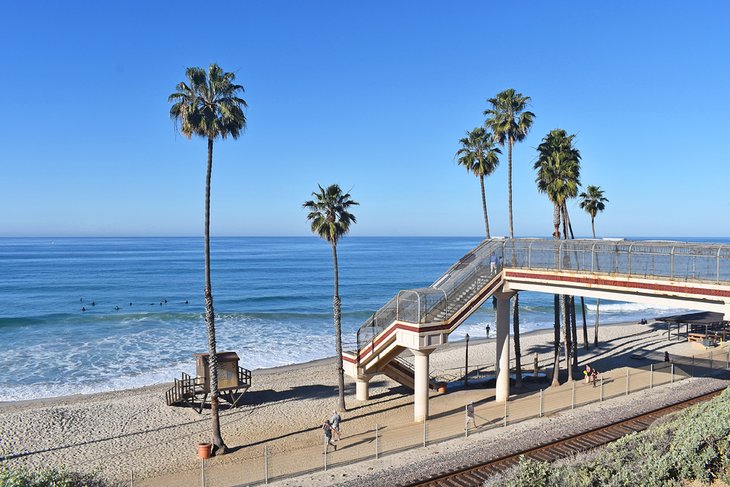 This popular beach is just south of the San Clemente Pier and accessible from Esplanade Street. Here, alongside metered parking spots, a pedestrian overpass crosses the train tracks and descends to the sand.
T-Street Beach is a popular surfing spot along the coast, though some restrictions apply between Memorial Day and Labor Day. Lifeguards are on duty throughout this summer season. T-Street Beach is also a popular spot to enjoy the beach scene, and an on-site café and picnic benches encourage a meal outside.
The San Clemente Beach Trail facilitates exploration north or south of T-Street Beach, and it's a short walk north to the San Clemente Pier.
11. Begin a Road Trip on the Pacific Coast Highway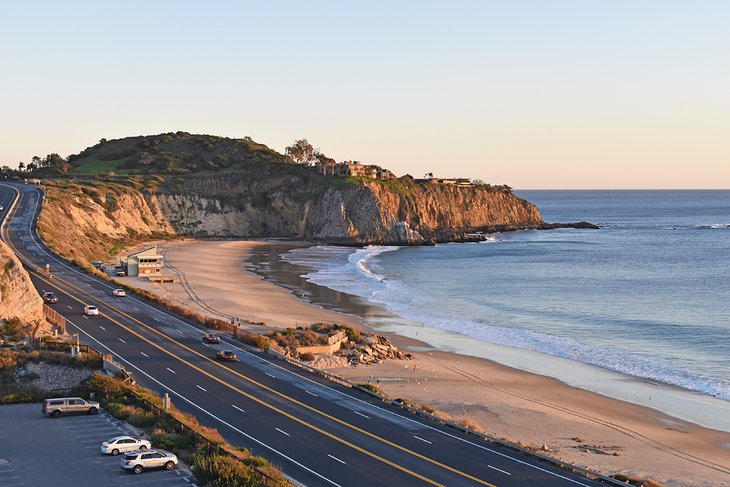 California State Route 1, also known as Highway 1, or the Pacific Coast Highway, begins approximately five miles north of San Clemente in Dana Point. This iconic coastal route heads over 600 miles north, well past San Francisco, deep into California Redwood Country.
While ambitious drivers can cover the PCH in a day, it's a route that easily deserves weeks, if not months, of travel. Several stunning places to visit line the entire way, including many at the beginning near San Clemente. A few stops within the first 60 miles include Laguna Beach, Huntington Beach, and Long Beach, with hundreds of pull-overs in-between.