San Diego with Kids: 11 Top Things to Do
Sunshine, balmy weather, and beautiful beaches are among the many attractions of San Diego. The city is packed with enough kid-friendly activities to keep families busy, yet the laid-back Southern California vibe ensures a relaxing visit.
Families with young kids usually head straight to the San Diego Zoo to check out the amazing animals and then to Balboa Park to enjoy the playgrounds, carousel, and miniature train. A world of discoveries also awaits children at the Birch Aquarium and the New Children's Museum. For an entertaining day at an amusement park, both Legoland and Belmont Park are popular spots.
Whatever sights are on the itinerary, a family vacation in San Diego will make everyone happy with plenty of fun in the sun. Discover the best outings and activities for youngsters with our list of the top things to do in San Diego with kids.
1. Discover Amazing Animals at San Diego Zoo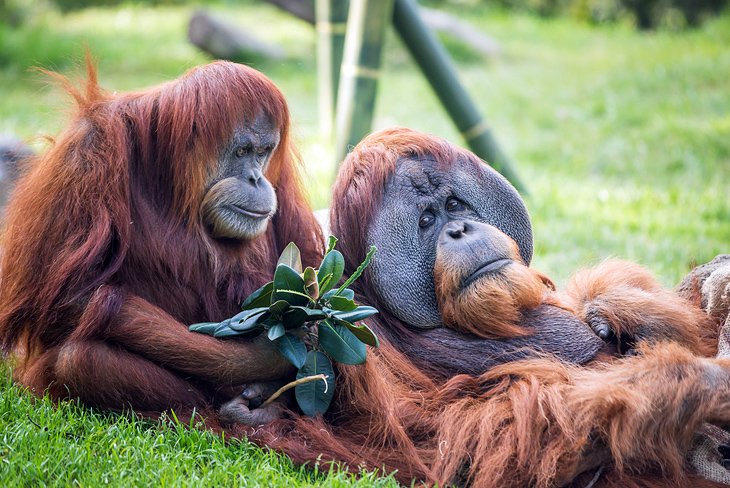 Located within Balboa Park, the San Diego Zoo is a must-see destination for families with kids of all ages. Visitors will be awed by the wide range of species. The zoo is home to an incredible diversity of animals, from leopards and giraffes to hippos, camels, and polar bears.
For families with young children, the zoo is one of the top things to do in San Diego because it offers convenience along with so many attractions. There are several dining options, as well as boutiques for purchasing animal-themed souvenirs.
Kids aged five years and older love the Animals in Action experience, which allows visitors to see exotic cats climbing and jumping while wildlife behavior specialists provide commentary.
The San Diego Zoo Wildlife Alliance is also dedicated to protecting endangered species against extinction. Veterinarians, animal care specialists, and other staff at the zoo conduct studies on animal behavior and health. These studies provide important information used by animal conservationists to perform field projects in the wild.
Address: 2920 Zoo Drive, San Diego, California
Official site: http://zoo.sandiegozoo.org
2. Swing, Slide, and Swim at Balboa Park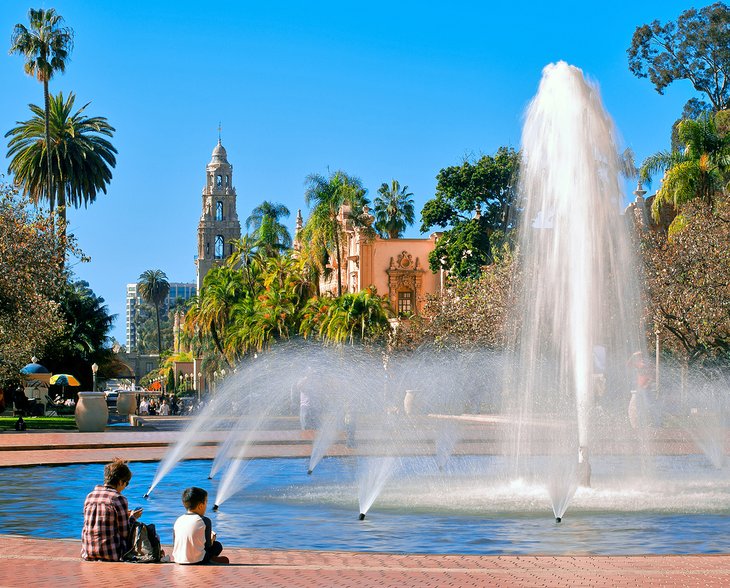 Families appreciate the beauty and abundance of recreational opportunities at Balboa Park. This expansive outdoor space includes 17 museums, playgrounds, a swimming pool, and over a dozen different gardens.
Many visitors come here to enjoy the Pepper Grove Playground, a large kids' recreation area with slides, swings, a jungle gym, sandbox, playing fields, and picnic tables.
Another great tourist attraction for kids is the EthnoBotany Children's Peace Garden, a sustainable organic garden dedicated to educating youth about the importance of plants in society.
Within Balboa Park is the Fleet Science Center, one of the best places to visit in San Diego for kids to learn about science. This innovative science center offers hands-on activities and eight interactive galleries along with interesting temporary exhibitions. The center's Kid City area is designed especially for children under five years old.
Other children's attractions include a puppet theater; a charming Herschell-Spillman carousel (created in 1910); the San Diego Model Railroad Museum; and the Balboa Park Miniature Train, which takes passengers on three-minute half-mile rides around the park.
Address: 1549 El Prado, San Diego, California
Official site: https://www.balboapark.org
3. Admire the Colorful Sea Life at Birch Aquarium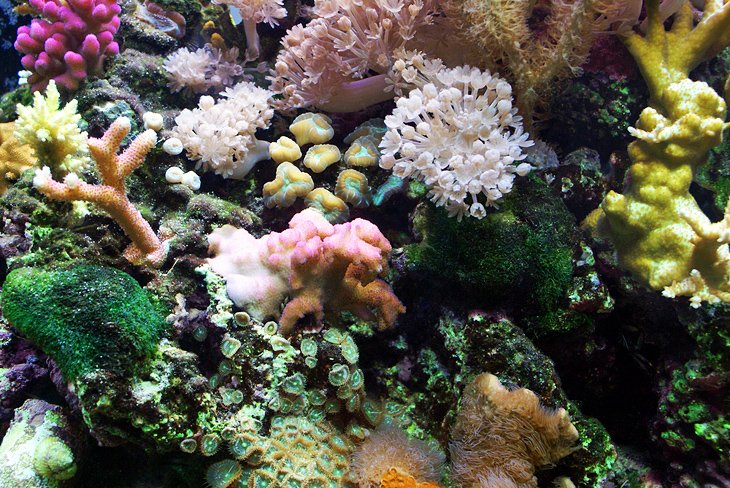 In La Jolla, about 13 miles away from San Diego, the Birch Aquarium is part of the world-renowned Scripps Institute of Oceanography at U.C. San Diego. The aquarium has a marvelous variety of marine animals that are native to the Pacific Ocean.
Discover an array of fish, invertebrates, sharks, seahorses, and a kelp forest filled with inhabitants. Interactive multimedia exhibits showcase the findings of oceanography explorers.
Children have fun exploring the man-made tide pools on the aquarium's Tide Pool Plaza. Hermit crabs, sea anemones, and other creatures flourish within the rocky saltwater-filled pools. As a bonus, the plaza features stunning panoramic views of the Pacific Ocean and the coastline around La Jolla.
Address: 2300 Expedition Way, La Jolla, California
Official site: http://aquarium.ucsd.edu
4. Spark the Imagination at The New Children's Museum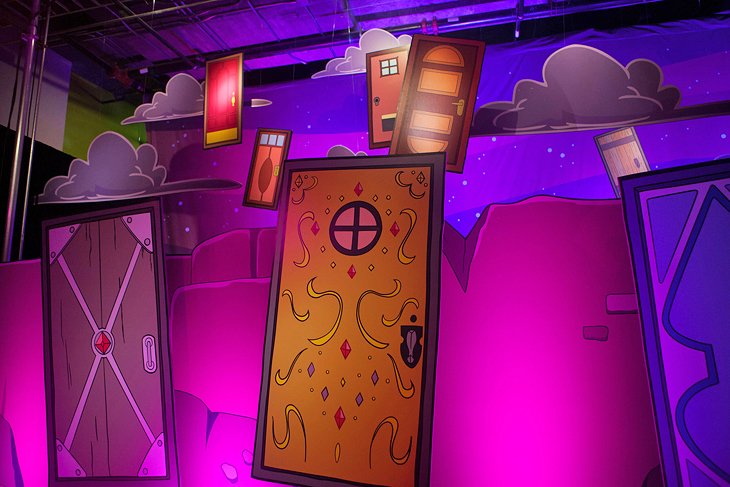 This unique museum collaborates with contemporary artists to create one-of-a-kind art installations. The exhibits include playhouses, clubhouses, and climbable towers.
Kids can interact with the exhibits and engage in active play as they would at home. The art installations engage children in a way that stimulates the imagination and promotes critical thinking.
The museum also displays thematic exhibitions and original works of art, all designed to arouse children's curiosity.
Address: 200 West Island Avenue, San Diego, California
Official site: www.thinkplaycreate.org
5. Go on a Wildlife Safari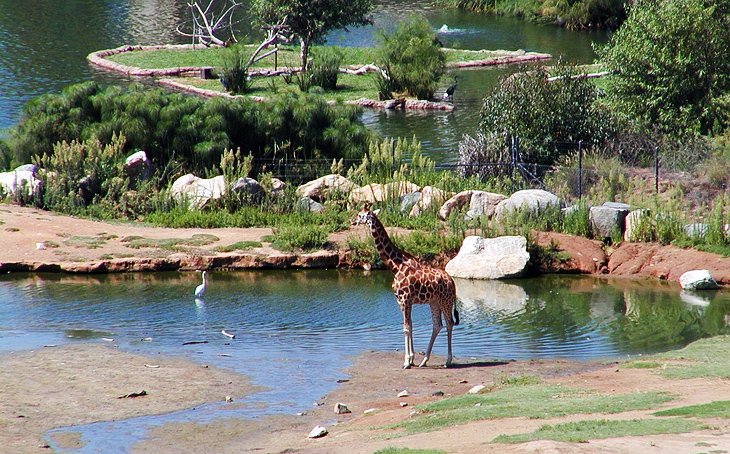 At the Safari Park, kids can see magnificent safari animals roaming in wide-open spaces as they would in the wild. The Safari Park keeps the animals in special enclosures that replicate natural habitats, such as an African savanna.
Children aged three years and older can take a Wildlife Safari at the Safari Park. The guided tours in open-air trucks lend the feel of an authentic safari experience. Kids enjoy the chance to spot tigers, lions, and rhinos just meters away.
The Behind-the-Scenes Safaris, also designed for kids aged three years and up, provide a sneak peak into the lives of favorite animals. These safaris take participants to see elephants, rhinos, or Australian wildlife.
The Safari Park is run by the San Diego Zoo but is located in Escondido, about 40 miles (a 45-minute drive) from the zoo.
Address: 15500 San Pasqual Valley Road, Escondido, California
Official site: http://www.sdzsafaripark.org
6. Visit LEGOLAND California Resort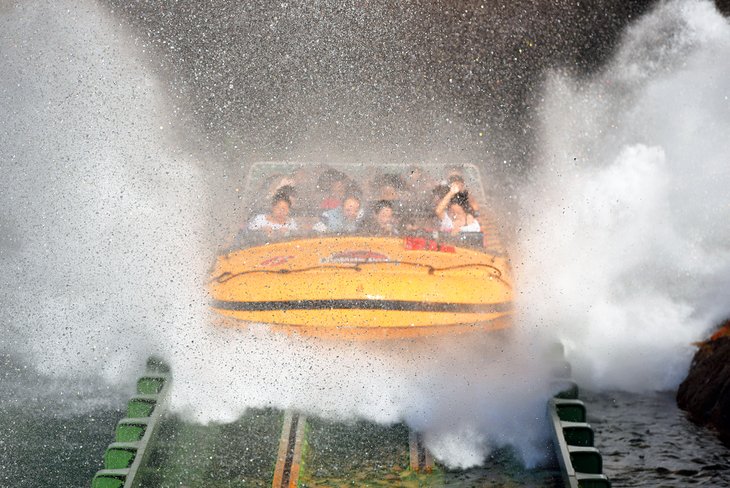 A 35-minute drive from San Diego, LEGOLAND California Resort features amazing Lego installations, but is also an amusement park with rides, a water park, and entertaining shows.
Incredibly realistic creations are made entirely of Lego bricks. Historical figures and famous icons of pop culture make an appearance on the Block of Fame in the Miniland USA area, which includes scaled-down reconstructions of San Francisco, New Orleans, Las Vegas, Washington D.C., and New York City.
Legoland also has many popular rides. Little kids love the Fairy Tale Brook boat ride down a stream, with fairy-tale scenes along the way. Older kids enjoy the high seas adventure-themed Pirates Shores water rides and the Lost Kingdom Adventure expedition in the Land of Adventure.
Address: One Legoland Drive, Carlsbad, California
Official site: https://www.legoland.com/california/
7. Ride Roller Coasters at Belmont Park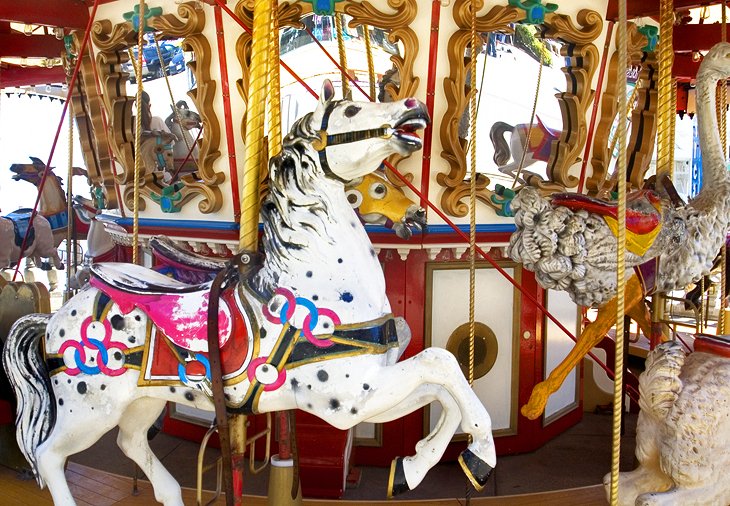 Belmont Park is a fun-filled seaside amusement park, complete with roller coaster rides, arcade games, and fairground foods. Belmont Park offers something for everyone, with a range of attractions, from an old-fashioned carousel to adventurous rock climbing activities.
The Giant Dipper Roller Coaster is for thrill-seeking older kids who meet the height requirement of 50 inches tall. The Beach Blaster and the Control Freak are for kids at least 48 inches tall who love fast-paced motion rides.
Other things to do at Belmont Park include riding on a choo-choo train, playing miniature golf, and strolling along the boardwalk. For a meal or snacks, head to the boardwalk, which has several beachfront restaurants with amazing ocean views.
Address: 3146 Mission Boulevard, San Diego, California
Official site: http://www.belmontpark.com
8. Enjoy Aquatic Shows at SeaWorld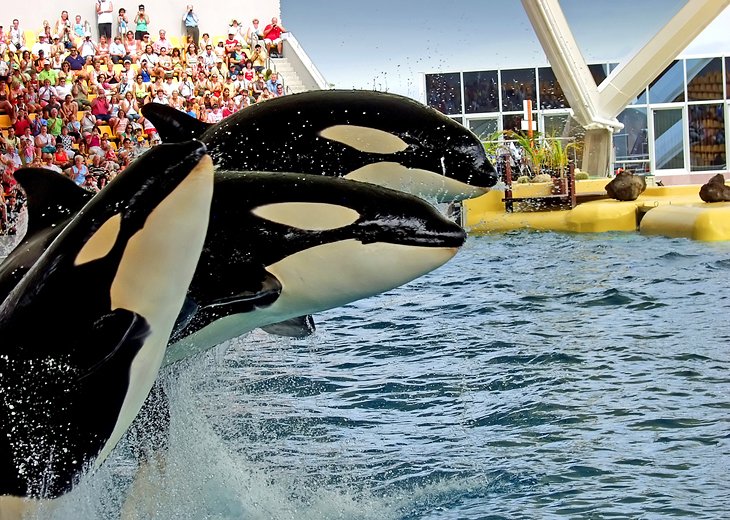 This 200-acre amusement park is famous for its aquatic shows and roller coaster rides. SeaWorld also has an aquarium and is home to adorable marine mammals, including sea lions and sea otters.
Kids can feed and play with dolphins during interactive sessions. It's also possible to have close-up encounters with walruses, penguins, sea lions, flamingos, and sloths.
The Orca Encounter underwater viewing area allows kids to get a close-up look at killer whales.
Other highlights of SeaWorld are the kid-friendly roller coaster and water rides. The Shipwreck Rapids and Journey to Atlantis are exciting rides for kids who meet the height requirement of 42 inches tall.
Opened in 2022, the Sesame Street Bay of Play features rides designed for little kids, and play spaces for children aged seven and younger. The Sesame Street Bay of Play also includes Sesame Street Storytime and the Furry Friends Dance Party, where kids can dance along with Elmo.
Address: 500 Sea World Drive, San Diego, California
9. Maritime Museum of San Diego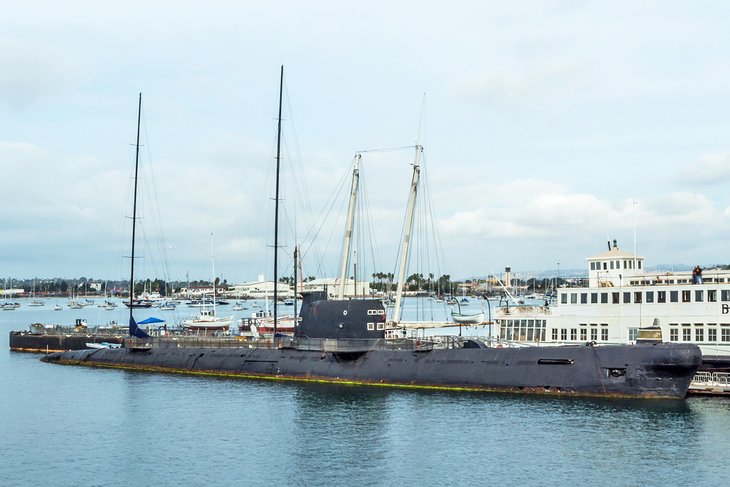 Aspiring young adventurers marvel over the exhibits at the Maritime Museum of San Diego. Kids are amazed by the collection of antique model ships, historic maps and navigation charts, and instruments used on old steamboats.
The museum also offers sailing adventures, bay cruises, and guided boat tours. Families with kids will enjoy the 45-minute bay cruise on the Pilot, a small boat that dates to 1914; or the four-hour sailing adventure on the Californian, a replica of a Gold Rush-era schooner.
There's also a Pirate Adventure that includes sailing with "pirates" (talented actors) and a treasure hunt. During this 90-minute performance on board a pirate ship, the "pirate" crew demonstrates how to navigate the ocean, how to bail water from a ship, and other pirate skills.
Address: Star of India Wharf, 1492 North Harbor Drive, San Diego, California
10. Old Town San Diego State Historic Park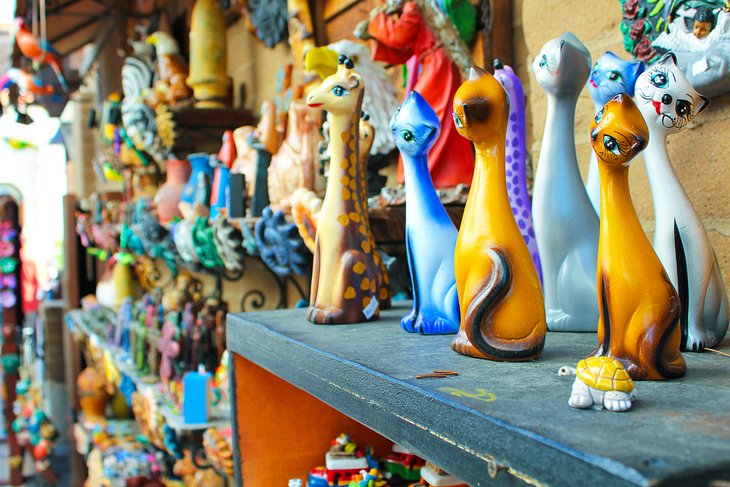 The Old Town San Diego State Historic Park provides a glimpse of what San Diego was like in the mid-19th century, when the area was under Mexican rule. The state park represents the once-thriving small community (California's first European settlement), located below the hilltop Mission San Diego de Alcalá.
Free of charge to visit, Old Town San Diego State Historic Park is an open-air museum brimming with ambience. The park features entertainment and cultural events throughout the year, including mariachi bands, folkloric dance performances, and celebrations of Mexican holidays.
Visitors can see the old schoolhouse, blacksmith shop, hotel, chapel, and courthouse, all dating from 1820 to 1870, as well as adobe structures built around 1830. The Seeley Stable displays a collection of horse-drawn carriages and rare historic vehicles.
Kids will especially enjoy the live re-enactments presented at the blacksmith shop. Little ones also delight in visiting the Old Town Model Railroad Depot, which displays a wonderful assortment of authentically detailed model trains. Adding to the fun, the trains are presented in action, running on scaled-down railway tracks.
Within the Old Town State Historic Park, the Old Town Market includes shops that sell artisan-crafted items such as Mexican blankets and ceramics. The restaurants of the Old Town Market specialize in traditional Mexican cuisine.
Address: 4002 Wallace Street, San Diego, California
Official site: https://www.parks.ca.gov/?page_id=663
11. Shell Beach Tide Pools in La Jolla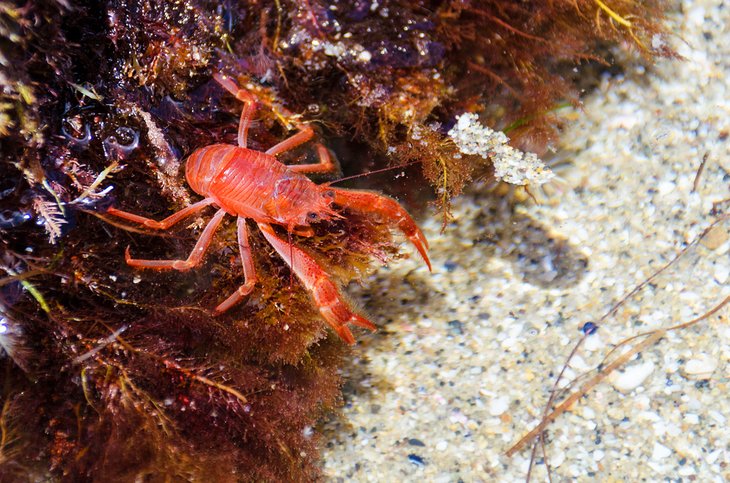 Kids are enthralled by the marvelous world of tide pools at Shell Beach in La Jolla, next to the Ellen Browning Scripps Park. Hermit crabs, sea anemones, tiny fish, and other marine creatures can be spotted within the tide pools.
The best time to check out the tide pools is during low tide, from winter through early spring (December through March).
Access to the beach is via a staircase of concrete steps, and getting to the tide pools requires walking across slippery rocks. Tip: Wear shoes with sturdy soles that have good traction.
Map of San Diego with Kids: Top Things to Do