12 Top-Rated Things to Do in Rosarito
Author Meagan Drillinger visits Mexico several times a year and has traveled throughout the country. She visited Rosarito most recently on an extended trip through Baja California in the summer of 2022.
Rosarito, Mexico is less than an hour from the United States, but feels like another world away. From the gently lapping waves to the seriously explosive sunsets as seen from the Malecon (sea wall), from the wildlife to the spas, Rosarito is truly a laid-back destination, with things to do for everyone.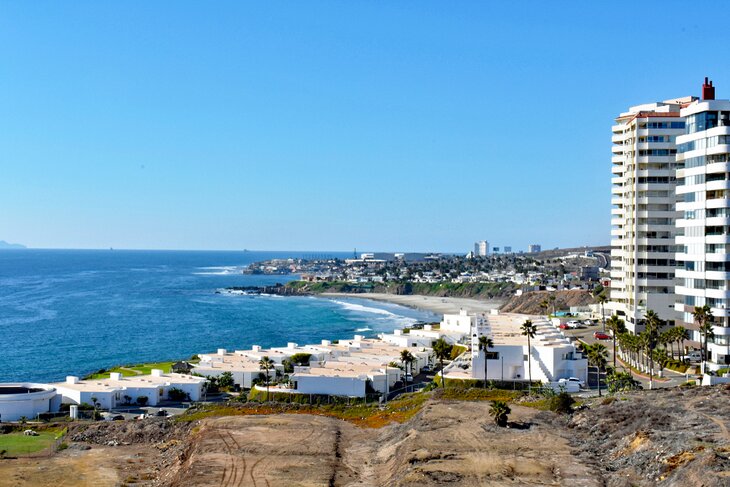 Of course, most travelers are drawn to Rosarito for the beaches, some of the best on the Baja California Peninsula. Once upon a time it was a getaway for the Hollywood elite, who traveled down to the shoreline, which was used for movie sets. Later, it became a hideaway for those evading Prohibition.
Today, it's a sunny coastal community that draws travelers with an affinity for extreme sports like surfing, ATVing, jet skiing, and diving. It's a thriving artistic community, as well, with galleries that sell everything from clothing and leather to blankets and jewelry. Plus, it's a haven for migrating wildlife, including whales, seabirds, reptiles, and more.
Explore the tiny coastal communities that surround Rosarito, or swoop up to Tijuana for an atmosphere that is a little more energetic. Whichever avenue you choose, Rosarito is one of the best getaways in Mexico.
Plan your sightseeing with our list of the top attractions and things to do in Rosarito.
1. Rosarito Beach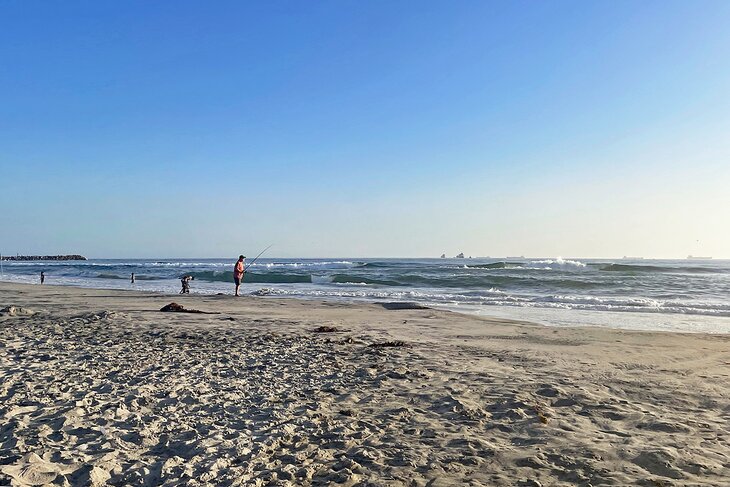 Rosarito has been a surfer's paradise for decades, so you can imagine how wonderful the beaches are. Still today, thousands of surfers per year descend on the local beaches searching for the perfect wave.
Rosarito Beach was once reserved for Hollywood film sets, but today, the shoreline is a thriving hub for locals and vacationers soaking up the rays, splashing in the warm water, exercising, or snacking on seriously good fish tacos.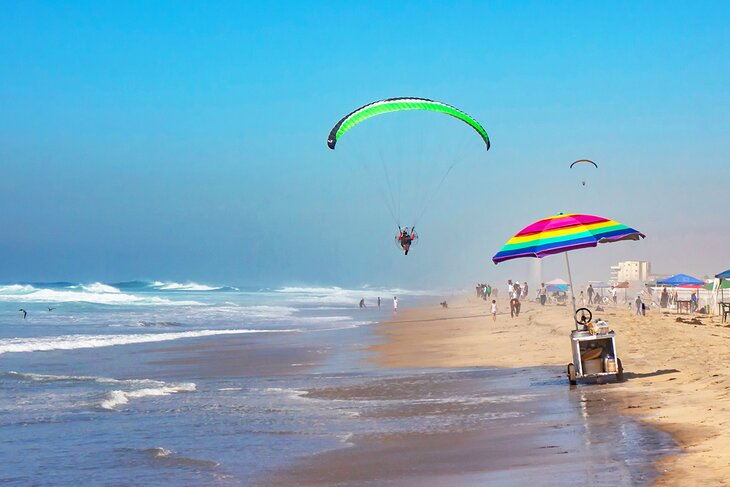 Rosarito experts know that renting an ATV is one of the favorite things to do when it comes to exploring the beach. South of the pier is a sweeping stretch of sand where riders can cruise. Just outside of town are undulating sand dunes perched over the ocean, which are perfect for thrill seekers and more experienced riders.
Quite a few hotel and resort options line the shore, as well, so you can pick prime real estate for beach access and unparalleled views. By night, the beaches come alive with evening activity, so if you're a night owl, this is where you're going to want to be.
2. Extreme Sports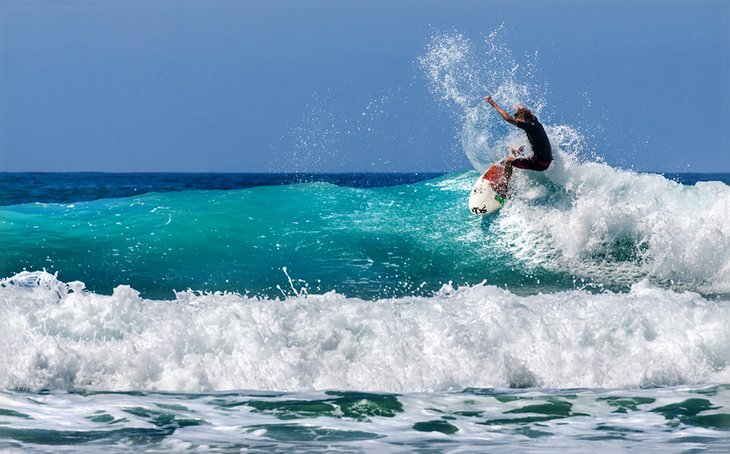 With excellent surf, plenty of mountains, and lots of wide-open space, it's no wonder Rosarito is a haven for outdoor adventure and extreme sports. Long stretches of beach breaks mean Rosarito is ideal for surfers of all levels.
Keep in mind, expert surfers will want to stick to the south end of the bay, while gentler waves break on the northern end. Experts say the best surf seems to be near the pier.
If you prefer wheels over waves, Rosarito has top spots for motocross and ATV rides. About 20 minutes south of Rosarito is the town of Primo Tapia, where undulating dunes set the tone for mile after mile of 4WD paradise.
Rosarito Canyon, another nature spot just outside the city, has dirt roads that web out in every direction, perfect for dirt biking. South of the Hotel Rosarito Pier is another large swath of open sand, where you can rent motorcycles and cruise the shoreline.
Other less intense outdoor activities include kayaking or jet skiing, and equipment for both of these is easily rented from shops around the beach.
Several hiking trails wind their way up into the hills behind the beach, as well. One of the most popular is the Cerro El Coronel, which has a panoramic view overlooking the coast below.
3. Visit Puerto Nuevo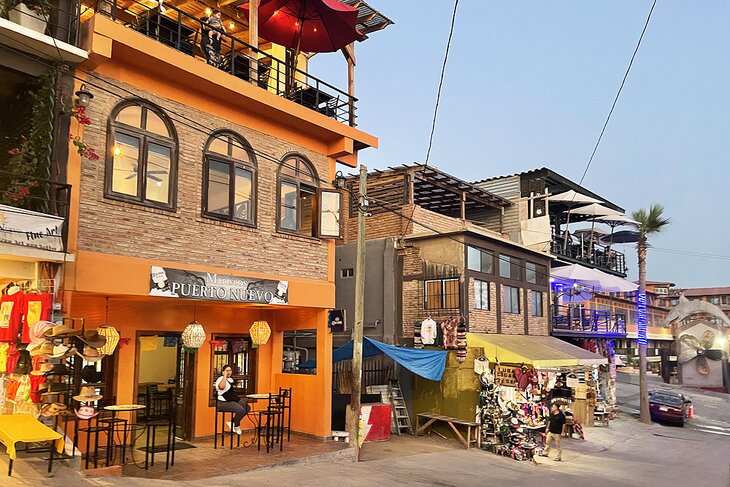 Just 20 minutes out of Rosarito is the seaside town of Puerto Nuevo. A phenomenal dining destination that overlooks the Pacific coast, Puerto Nuevo is an excellent day trip or evening trip from Rosarito, if you're looking for a change of scenery. With more than 40 restaurants, Puerto Nuevo is certainly a foodie's paradise.
Not only that, it's a great escape for a bit of pampering, as well. You're going to want to visit Spa Ventana al Mar, which is one of the best spas in Baja, known for its massages, facials, and various pools.
The town is small — seriously small. It has less than 200 residents. Surfers will also have plenty to do in Puerto Nuevo, as the waves are always sounding off and are great for the more experienced surfers. Note: Lifeguards are not on duty, so this is only recommended for surfers who have been in the game for a while.
4. Browse through Galleries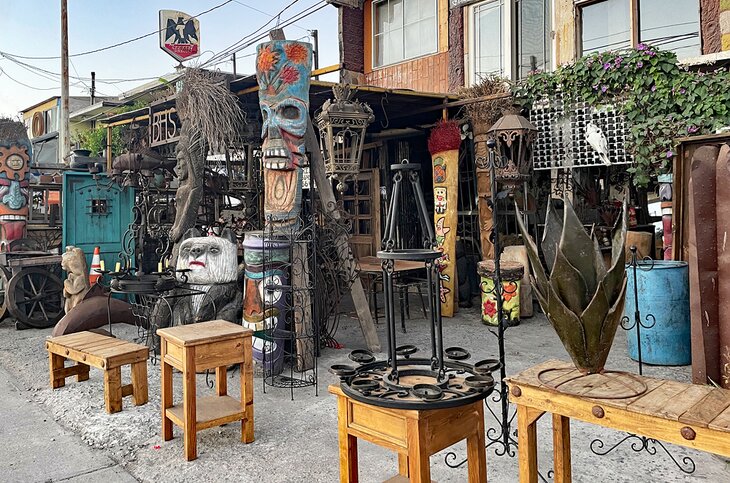 The breathtaking scenery combined with a quirky clientele is the perfect combination for creating a rising arts scene in Rosarito. The small seaside city is bursting with art galleries and furniture stores. From iron sculptures to galleries and workshops, it's easy to take a piece of Rosarito home with you.
The Local Artisan Market has dozens of shops featuring local arts and crafts. Meander the narrow corridors to discover clothing, leather, Talavera pottery, blankets, jewelry, and more.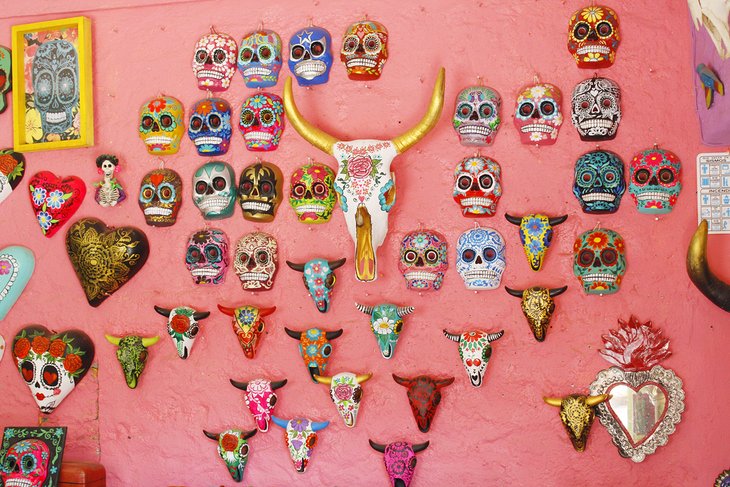 In Plaza Pabellón, you will find clothing, restaurants, and coffee. And don't forget the furniture. Rosarito is home to carpenters, iron artists, and sculptors, who have showrooms packed with handmade furniture. If you'd like something custom made, they can certainly arrange for that, as well.
Visit Polo's Gallery, which is a must-see in Rosarito. It has been open for more than two decades and houses works from more than 15 Baja artists. At La Iguana, metal is welded to form beds, chairs, patio furniture, doors, and lamps.
5. Los Coronados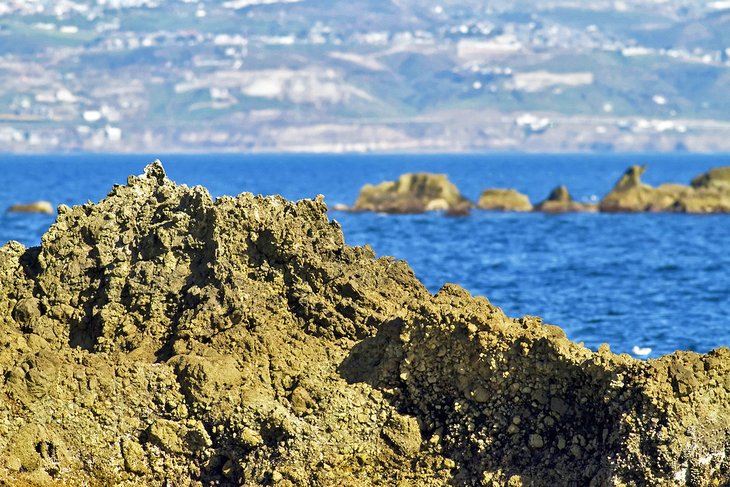 Looming just offshore from the Rosarito coastline are four largely barren, and rugged, islands. About seven miles offshore, these mesmerizing landmasses are more than just isolated rocks out to sea. Los Coronados, as they are called, comprise a natural paradise for snorkelers, scuba divers, fishermen, nature enthusiasts, and adventurers.
No visitors are actually permitted on the islands, as a way to preserve the wildlife, but throughout their history, the islands have played their part, whether being an alleged hideout of pirates or a stop for rum runners during Prohibition.
The islands are a prime spot for local fishermen, and as such attract divers and snorkelers thanks to the clear blue water. Ten species of reptiles and amphibians live here, as well as pelicans, sea ducks, and more. It's even possible to spot a whale or two during the right season.
Even if you don't make it out here, they are still a sight to behold from shore, as their colors seem to morph throughout the day as the sun moves across the sky.
6. Rosarito Beach Hotel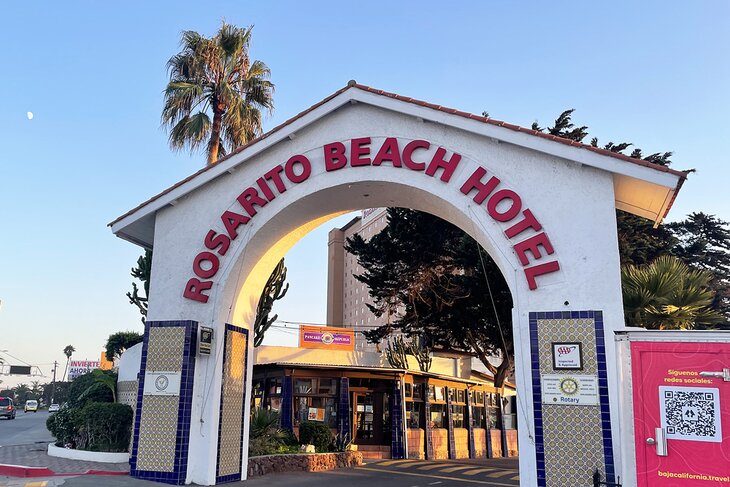 Sleep in the halls of history when you book a stay at the Rosarito Beach Hotel. Not only a legend among Hollywood elite, this hotel is one of the very first locations that put Rosarito on the map.
Since 1924, it has been an iconic hideaway, and it continues to be one of the best, if not the premiere, hotel in Rosarito. It was incredibly popular in the 1920s among the glitterati looking to evade U.S. Prohibition. Its impressive guest list has included names like Kirk Douglas, John Wayne, Frank Sinatra, Rita Hayworth, Marilyn Monroe, and Lana Turner.
Today, the beach hotel has three separate buildings: Coronado, Playas, and Pacifico. Each building has its own pool and Jacuzzi, creating mini hotels within the larger hotel, and each tower has its own particular vibe. There are 500 rooms to choose from.
Even if you're not booking a room, this is still a spot to stop and admire, and drink in a very important sip of Rosarito's past.
Address: Blvd. Benito Juárez 31, Playas Rosarito, 22710 Rosarito, B.C.
7. Baja Studios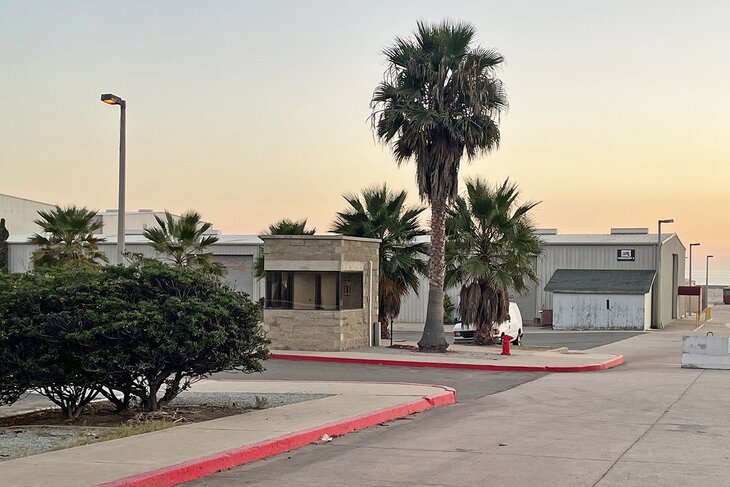 Rosarito has long been associated with Hollywood glitz and glam, having been used as a film set for decades and also a hideaway for celebrities looking to skirt Prohibition. But did you know that there is actually a film studio here?
Baja Studios was built for Twentieth Century Fox's Titanic back in the 1990s, and today is a self-contained production facility with some of the largest stages, scenery shops, dressing rooms, and filming tanks in the world. It spans more than 46 acres, with more than 3,000 feet of oceanfront for filming.
In addition to Titanic, the studio's rap sheet includes Tomorrow Never Dies, Deep Blue Sea, Master and Commander: The Far Side of The World, and more. It's known as having the world's largest stages and water tanks for filming.
Though the studio had a few quiet years when northern Baja was having tumultuous times, the rise of Amazon, HBO, and Netflix has revived the studio.
Address: Carr. Transpeninsular 45, Baja California
8. Popotla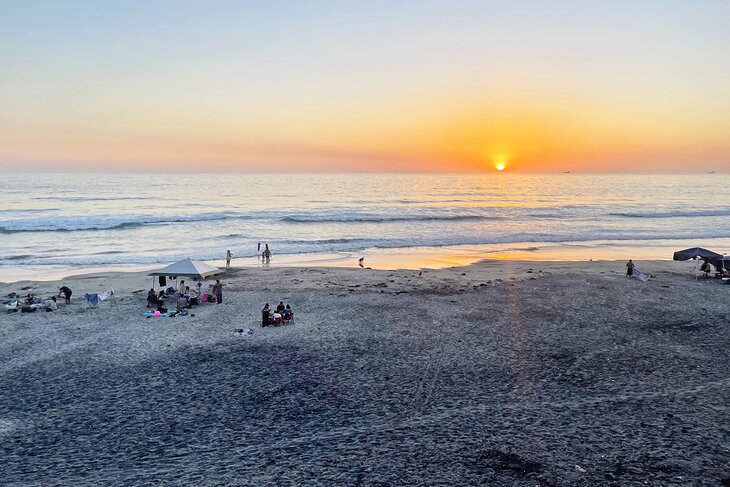 Just 10 minutes south of downtown Rosarito is the small fishing village of Popotla, a must for anyone visiting this part of Mexico. Seafood abounds, so if you have a taste for fresh fish, this will be like a homecoming — especially if you're dining beachside overlooking the water.
While many of the coastal communities are giving way to touristic development, purists will love that the vibe of Popotla is decidedly authentic, laid-back, and local.
Popotla was put on the mainstream map (sort of) when Titanic was filmed just down the way at Baja Studios. Still, the crowds stayed at bay. It wasn't until a visit from Anthony Bourdain that word started to really get out.
Today, it remains ever sleepy, with the only visitors being people who thrive from venturing off the beaten path.
9. Scuba Diving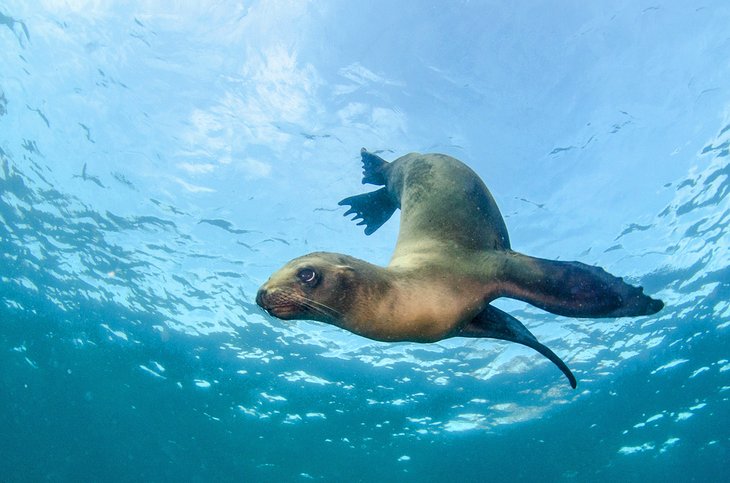 The Baja peninsula is one of the best places to visit for scuba divers, and Rosarito is no exception.
If you're not diving Los Coronados, you may want to check out the Underwater Park, most notably, the sunken ship Uribe 121. The Underwater Park is an ongoing project, which will include a ship cemetery with four wrecks, a tribute to the Titanic, an underwater Atlantis, and a sculpture garden.
Right now, Uribe 121 is the only ship below the water's surface. It was sunk in 2011 after a fire damaged the Command Bridge, Bridge Roof Deck, Battery room, cabins, and more. She was beyond return to service.
Today, the ship is a dive site for expert divers to explore. Tour companies like Rosarito Ocean Sports take diving tours out to the site. Note: You must be certified as an Advanced Open Water Diver. The full-day tour includes lunch.
10. Tijuana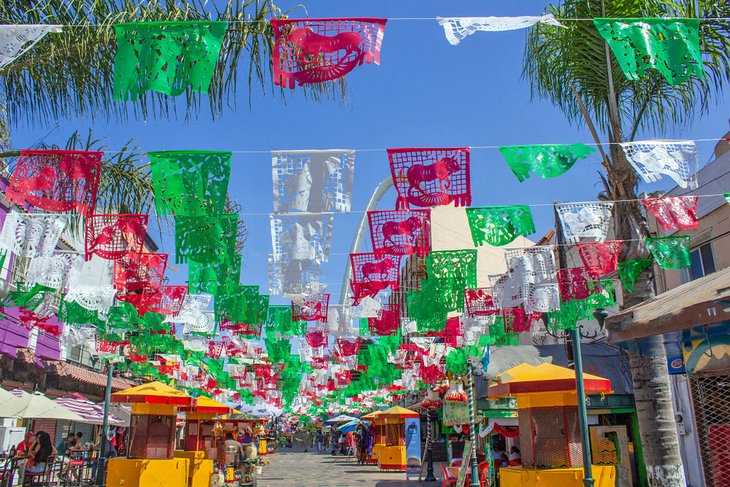 Chances are if you've come to Rosarito then you are looking to relax and quietly soak up some sunshine. But if you're already in this part of the world, it may be worth the trip up to Tijuana, which is just a half an hour away on the U.S. border.
Tijuana is the town that put the Baja peninsula on the map. Though it suffers from the reputation of a tawdry past, today the city has undergone a cultural renaissance, fueled by experimental chefs, local artists, and people with a passion for bringing the real Mexico back to Tijuana.
Tuck into an original Caesar salad, wander the streets and marvel at the brilliantly painted murals, listen to mariachi in the Santa Cecilia Plaza, or venture off to the Foodgarden to try some experimental cooking from next-level chefs. Whichever you choose, Tijuana is certainly a must-see city and a perfect day trip from Rosarito.
11. Christ of the Sacred Heart
It's hard to miss this Rosarito icon. The Christ of the Sacred Heart statue stands at a towering 75 feet, looming with open arms overlooking the Pacific beaches. This statue is one of the top attractions of all of Rosarito and can actually be seen from miles away.
But if it's not enough to simply gaze at the statue in the distance, it is actually possible to physically visit the Christ of the Sacred Heart. Free for all, visitors enter from the road at Km 44 at Villa de San Pedro. From here, take the first right and then left onto San Antonio de Padua to San Marcos.
The road is paved the entire way up, and at the top, visitors are greeted with an amazing view of both the statue, and the beaches below.
12. Parque Metropolitano
Perched on a hillside and veined with walking trails, Parque Metropolitano is a beautiful spot to take in some views while in Rosarito. The park is not on the beach, which makes for a different kind of landscape, and has plenty of things for families to do.
Kids will love the playgrounds, while adults can spend time wandering the hiking trails. The park is also equipped with plenty of tables or spots to sprawl out on a picnic blanket.
Without a doubt, the best place to visit in the park is at the top of the hill, which has views in every direction over the entire town.
Map of Rosarito - Best Things to Do