11 Top-Rated Day Trips from San Diego
We may earn a commission from affiliate links ()
Epitomizing the sunny California lifestyle, the area around San Diego is characterized by its lovely coastal scenery, endless beaches, and peaceful rural landscapes. The deep blue Pacific Ocean around San Diego delights visitors with 70 miles of sandy shoreline and a pristine natural environment. During the whale migration season, tourists can take a whale-watching cruise and get thrillingly close to these amazing marine mammals. The charming town of La Jolla, just 22 miles away from San Diego, has a wonderful seaside ambience and superb beaches.
Less than an hours' drive from San Diego is the delightful farming community of Julian and the historic town of Temecula, with an entertaining children's museum. Farther away in the San Jacinto Mountains, the quaint village of Idyllwild offers a peaceful setting of serene pine forests.
For those seeking a taste of another culture, several destinations in Mexico are easily accessible from San Diego, including the picturesque seaport of Ensenada, about a two-hour drive along the coastline, and Tijuana just across the border. Find the best places to visit near the city with our list of top day trips from San Diego.
Note: Some businesses may be temporarily closed due to recent global health and safety issues.
1. Spectacular Beaches in La Jolla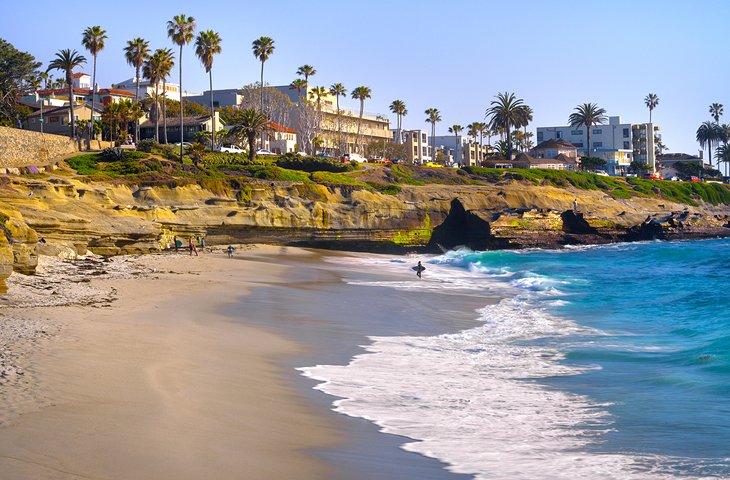 Breathtaking ocean scenery, pristine beaches, and an upscale seaside town make La Jolla an inviting place to spend a leisurely day. Pleasant sunny weather adds to the joy of visiting. La Jolla is only 22 miles away from San Diego and is the perfect place to spend a few hours sunbathing or strolling along the shoreline. The La Jolla coastline has several excellent beaches in unspoiled natural environments. Windansea Beach offers gorgeous scenery and powerful waves that are popular with surfers; this beach is often used for wedding photos and is known for its beautiful sunsets.
The La Jolla Children's Pool is a protected sea-walled cove that is a safe area for children to swim, while the La Jolla Cove is a great spot for snorkeling and diving, as well as swimming. A great spot to sunbathe is La Jolla Shores, a wide, sandy beach with gentle waves that are ideal for beginning surfers.
For a more secluded and quiet atmosphere, head to Black's Beach, close to the UC San Diego campus and accessible from La Jolla Shores Beach or a rough hillside path. Protected from the wind by steep cliffs, this pristine beach is ideal for relaxation and nature walks. The northern area of Black's Beach is clothing optional.
The downtown of La Jolla has many wonderful places to discover. In particular, Prospect Street, Pearl Street, and La Jolla Boulevard have a great selection of restaurants, cafés, and shops, while Girard Avenue has several interesting antique shops. Art lovers will appreciate the Museum of Contemporary Art (700 Prospect Street), with its internationally renowned collection. Tourists can also take a self-guided tour of the Murals of La Jolla, an impressive creative project that features outdoor murals painted on buildings throughout the city.
To see the best of the San Diego coastline and soak up the local beach culture and town, take an organized excursion. The Private Full-Day Tour of the San Diego Coast is a scenic tour of San Diego's North County coastline, featuring stops at spectacular nature sights and favorite local spots, including a meditation garden and a popular surfer's beach, ending up at La Jolla Cove. This tour also allows time to explore the restaurants and boutiques in La Jolla.
2. Whale-Watching Tours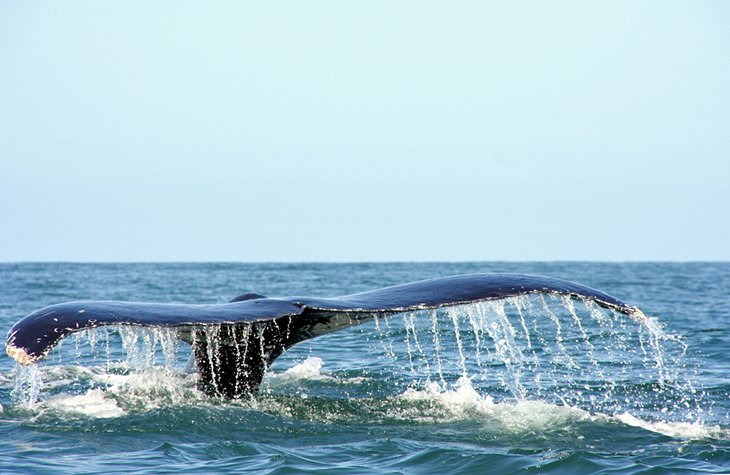 For a truly unforgettable experience, take a whale-watching cruise during the migration season. The whales come to lagoons off the Baja California coast in Mexico, just south of San Diego, where mild, gentle waters and a protected environment offer the ideal breeding grounds. The blue whale migration season is usually from May or June through September or October. The grey whale migration season is roughly from December until April and peaks in mid-January. Various companies offer whale-watching boat tours throughout the year. One enjoyable eco-friendly excursion is the three-hour San Diego Whale Sailboat Cruise, which offers an opportunity to see migrating whales and a variety of other marine life.
Most boating expeditions from San Diego focus on blue whale and grey whale sightings, although it is sometimes possible to see orcas, finback whales, humpback whales, and sperm whales. The boat cruise provides an up-close view of the whales in their natural environment. Grey whales, known for their long migration patterns, can be spotted from various vantage points in San Diego, but only a sightseeing boat cruise allows tourists to see the blue whales, which swim farther out in the ocean.
When viewed underwater, blue whales have a deep indigo hue. It's hard to match the thrill of observing these marvelous marine mammals, the largest animals in the world, in their natural habitat. The excitement begins when the blue whales' distinctive 30-foot spout of water appears in the air and continues when an enormous fin flips up or part of the whale's 100-foot long body glides above the water. Blue Whales weigh an average of 200 tons and have a lifespan of 80 to 90 years on average, however they are listed as an endangered species.
3. Mission San Juan Capistrano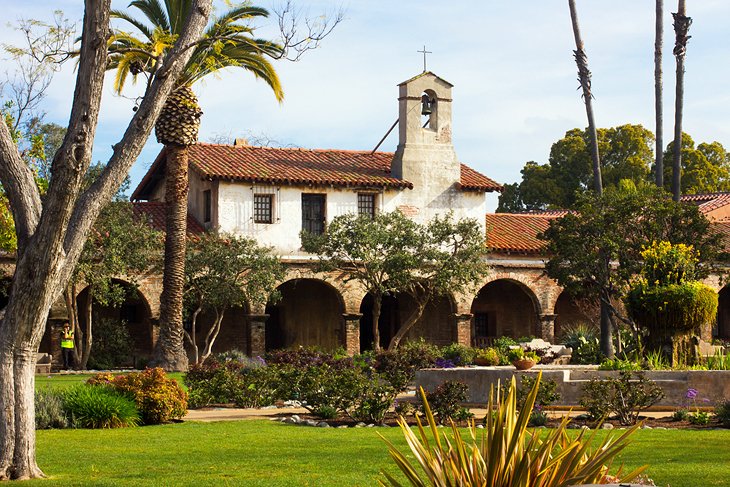 One of the most interesting missions in California, San Juan Capistrano lies in a lovely setting 66 miles north of San Diego. The historic landmark is surrounded by a sun-drenched Mediterranean landscape of rolling hills and palm trees. Founded in 1776 by missionaries from Spain, this evocative site features typical Spanish Mission architecture, with its adobe church, red-tiled roofs, arcaded courtyard, and covered patio area trimmed in bougainvillea.
Although partially in ruins, visitors can still appreciate the beauty of the original buildings. Inside the cloistered gardens are delightful landscaped gardens with shaded grassy areas. While visiting the gardens, listen for the pleasant sound of chirping songbirds. Every spring, the cliff swallows return from Argentina, and the mission celebrates this event on March 19th, Saint Joseph's Day, with a fiesta in traditional Mexican style.
The church of Mission San Juan Capistrano dates to 1777 and is the oldest building in California that is still in use. It's also the only surviving mission church where Father Junípero Serra attended a mass. More decorative than most mission chapels, the church has a splendid gilded reredos behind the altar. The site also has a museum and offers audio tours as well as educational exhibits and historical reenactments. After visiting the mission, take time to wander the historic Los Rios district of San Juan Capistrano's old town, which is worth exploring.
Location: 26801 Ortega Highway, San Juan Capistrano, California
4. Tijuana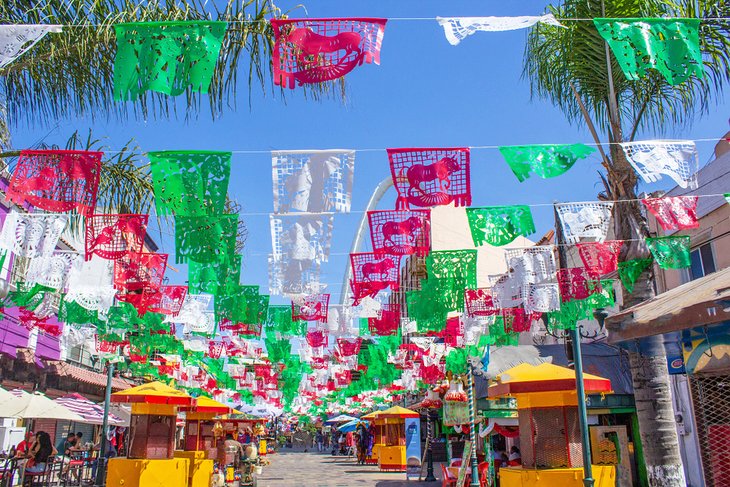 An adventure in a foreign country is as close as 32 kilometers away from San Diego. For a taste of Mexico, spend the day in Tijuana just south of the U.S. border. In this city known as the "corner of Mexico," tourists will experience the vibrant energy and multifaceted culture of Mexico.
Tijuana has a historic center with noteworthy buildings like the Catedral de Nuestra Señora de Guadalupe, a cathedral that exemplifies Spanish Colonial and Neoclassical architecture; the Plaza Santa Cecilia, the oldest square in the city; and the Palacio de Frontón Jai Alai, an elegant Neoclassical palace. To discover modern-day Tijuana, visit the Centro Cultural Tijuana, which displays an avant-garde collection; keep an eye out for street art throughout the city; and sample the delicious local cuisine.
The easiest and most enjoyable way to visit Tijuana as a day trip is by taking an organized excursion, such as the Tijuana City and Shopping Trip from San Diego. This guided tour stops at some of the most interesting places in Tijuana (including the Old Bullring, the Cultural Center, and the lively Zona Rio district), and introduces tourists to the local Mexican cuisine and culture. It also allows plenty of time for shopping on the Avenida Revolución, a great place to pick up souvenirs.

5. Gold Rush Days and Apple Pie in Julian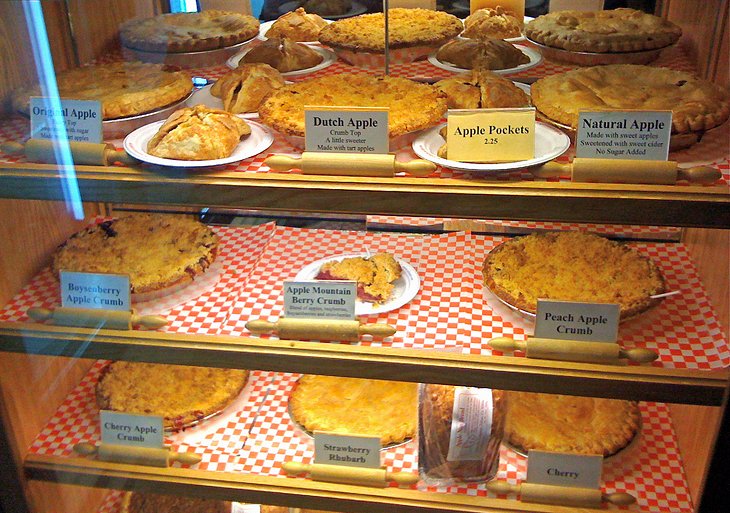 Beautifully located in the Cuyamaca Mountains, this historic Gold Rush town is a delightful destination, 62 miles from San Diego. Dating back to the 1870s, Julian has retained its historic character, and the town's lovingly restored old buildings have been converted into shops, restaurants, and bed-and-breakfasts. Adding to the old-fashioned ambience are the horse-drawn carriages that still ride through town. The Eagle Mining Co., one of the original gold mines, is a top tourist attraction, while the annual Gold Rush Days festival gives tourists a chance to watch re-enactments of a mining camp and attend other events such as an arts and crafts market.
Julian is also famous for its apple orchards and fresh-baked apple pie (the best pie is said to be found at the Julian Pie Company). Many visitors also come for the apple harvest season in the fall to enjoy an afternoon at one of the U-Pick Orchards, gathering a basketful of sweet, crisp apples to bring home. At the end of September, the Julian Apple Days Festival is a two-day celebration that features farmstead apple stands, apple pies for sale, games for kids, music, and dancing.
Another lively event in September is the JulianMusic Festival, an "end of summer" celebration with outdoor concerts, mostly bluegrass but also Western ballads and folk music.
6. Ensenada: A Picturesque Seaport in Mexico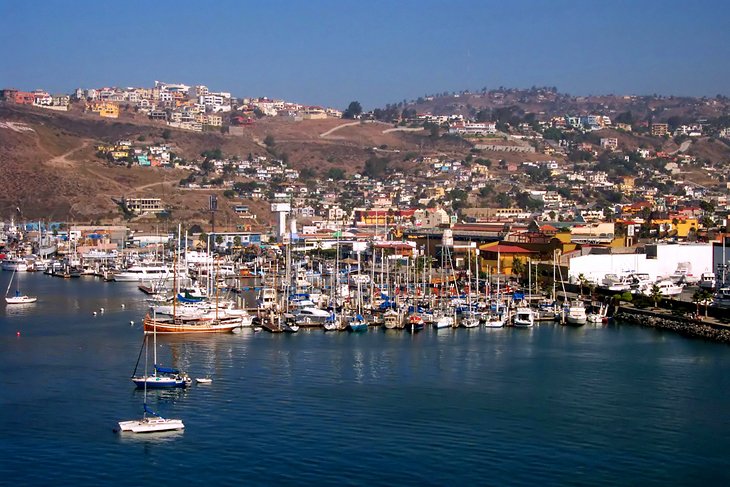 This sunny seaside town is a fantastic day trip (about 100 miles from San Diego). Ensenada has a sheltered harbor filled with yacht marinas. It's the only commercial port in Baja California and Mexico's second largest stop for cruise ships. Besides stunning natural scenery and beaches, Ensenada is known for its luxury spas, golf courses, and great restaurants. Outdoor adventure enthusiasts appreciate this area for rock climbing, kayaking, and scuba diving. The breathtaking Baja California coastline surrounding Ensenada offers striking ocean scenery.
You can do this yourself if you are comfortable driving in Mexico. Alternatively, you can take an organized tour. A good option is the full-day Ensanada Coastal Tour from San Diego. This will allow you to see some of the coastal scenery along the Baja Peninsula and a guided tour of Ensenada, as well as plenty of free time to explore on your own.
7. Beautiful Mountain Scenery in Idyllwild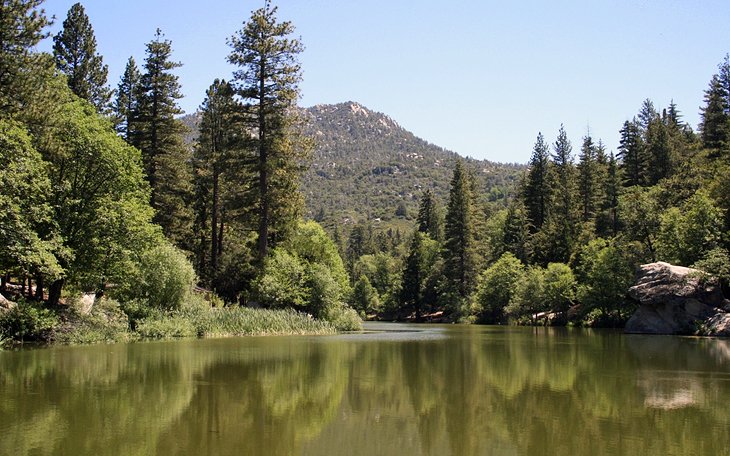 Idyllwild is a quaint mountain village in the San Jacinto Mountains, about a two-hour drive (113 miles) from San Diego. In the heart of a pristine pine forest, Idyllwild is a wonderful place to begin hikes and nature walks. The area has many trails that meander through scenic routes in the mountains. The town itself is a charming destination with many restaurants and shops, as well as art and cultural events. In August, Idyllwild becomes the venue for the Jazz in the Pines music festival.
8. Legoland California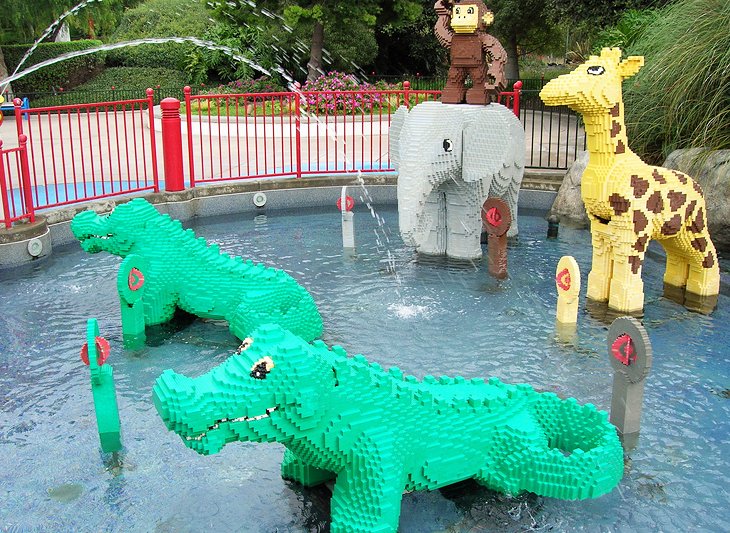 Families with kids are sure to have a fun-filled day at Legoland California, a children's amusement park with amazing Lego creations. Legoland boasts larger-than-life Lego models, special attractions, and entertaining shows. Highlights of the park include the Lego Star Wars Miniland, with seven Star Wars scenes; the NINJAGO Training Camp featuring Ninja-themed rides; and the Knights' Tournament, an exhilarating ride that speeds past a giant dragon and over a moat.
The Legoland California Resort also includes the Sea Life Aquarium, with hands-on exhibits and close-up views of sea creatures (such as sharks, stingrays, and octopi) and the Water Park, with aquatics-focused rides and activities like the Soak-N-Sail pirate vessel and a Splash Zoo for little ones. A recent addition to the Water Park, the LEGO CHIMA Water Park offers more exciting rides like the Crooler's Twist water slide and the Lion Temple Wave Pool. Entry to the Sea Life Aquarium and/or Water Park requires additional ticket fees.
Located in Carlsbad, the Legoland Resort is an easy 30-minute drive from San Diego. Visitors staying overnight can choose from the Legoland Hotel, with themed rooms, and the Legoland Castle Hotel, which has an entertainment courtyard and a special pool area designed to engage kids in interactive water play.
Address: 1 Legoland Drive, Carlsbad, California
9. Temecula's Historic Old Town and Pennypickle's Children's Museum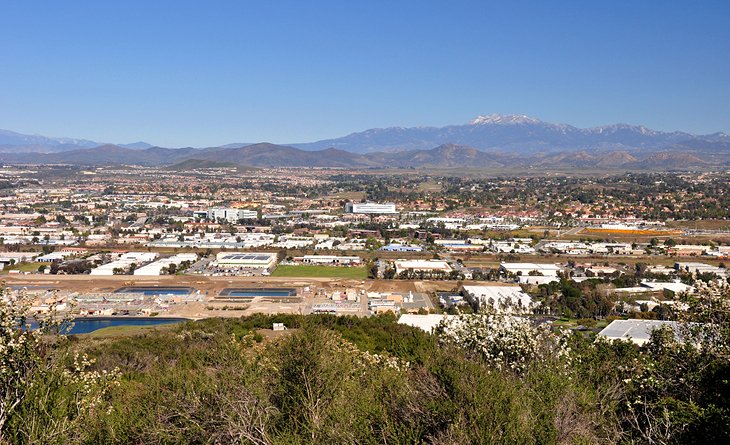 About an hours' drive from San Diego, the town of Temecula dates back to 1882 and has an atmospheric Old Town, with interesting little alleyways and historic buildings. Temecula's Old Town is a fun place for tourists to wander around and check out the locally owned boutiques, art galleries, and antique shops.
A top attraction for families with children in the Old Town is Pennypickle's Workshop. This unique children's museum has won awards, from the Themed Entertainment Association, Nickelodeon Networks, and the California Park and Recreation Society. The 7,500-square-foot workshop is filled with games, gizmos, and gadgets, which are designed to inspire a child's imagination. Kids will be delighted by Professor Pennypickle's laboratory of inventions such as the Electrolight-o-later Chandelier and a Peanut-Butter-and-Jelly-Sandwich-Making Machine, as well as the library with its hidden passageway to the Maze Room.
During summertime, Temecula comes to life with many free cultural happenings. Old Town Live music concerts take place on Friday and Saturday nights at shops and restaurants throughout town. Moonlight Movies in the Park (on Friday evenings in June and July) delight those who enjoy watching films under the stars. The Summer Sunset Concert Series runs from June through July with rock music concerts held at the Temecula Amphitheater.
In August, Sundays in the Square brings live music and other events to the outdoor plaza in front of Temecula's Civic Center. Western Days in mid-September gives tourists a chance to enjoy nostalgic carnival games and learn about the town's history through in-depth museum exhibits.
10. Anza-Borrego Desert State Park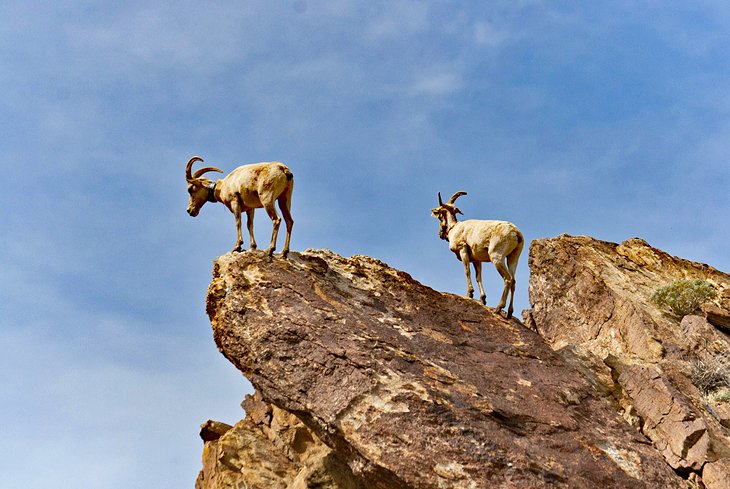 Adventurous travelers will enjoy a visit to the Anza-Borrego Desert State Park, a place of rugged desert scenery about 80 miles northeast of San Diego. This wild and dramatic landscape of canyons, cliffs, and rocky outcrops is home to native bighorn sheep, roadrunners, loggerhead shrike birds, and other wildlife.
The word "borrego" means "sheep" in Spanish; the other part of the park's name refers to Juan Bautista de Anza, the Spanish explorer who in 1774 traversed this remote desert. Although the landscape is mostly barren, hearty species of brittlebush, cactus, wildflowers, and palm oases manage to thrive. In years of heavy winter rainfall, the display of springtime and summer wildflowers is spectacular. The park provides updates about wildflowers on a recorded phone message.
As the largest state park in California, this 600,000-acre preserve offers a wide variety of hiking trails. The park has six nature trails designed for self-guided hikes, and naturalist-guided hikes are available as well. The preserve also joins up with the Pacific Crest Trail, the epic hiking trail that extends for 2,600 miles from the border of Mexico, near the small town of Campo, through three Western states (California, Oregon, and Washington) to British Columbia, Canada near Castle Peak.
To experience the best of Anza-Borrego Desert State Park, try an organized excursion such as the Private Mountain and Desert Tour. Departing from San Diego, this eight-hour tour includes hotel pickup and drop-off, a guided tour of the park with a stop at Borrego Springs, a hike through the cliffs of Slot Canyon, and the chance to see amazing views of the desert badlands from Font's Point lookout. This tour also features visits to Cleveland National Forest and the town of Julian for lunch and apple pie.
11. Santa Ysabel Chapel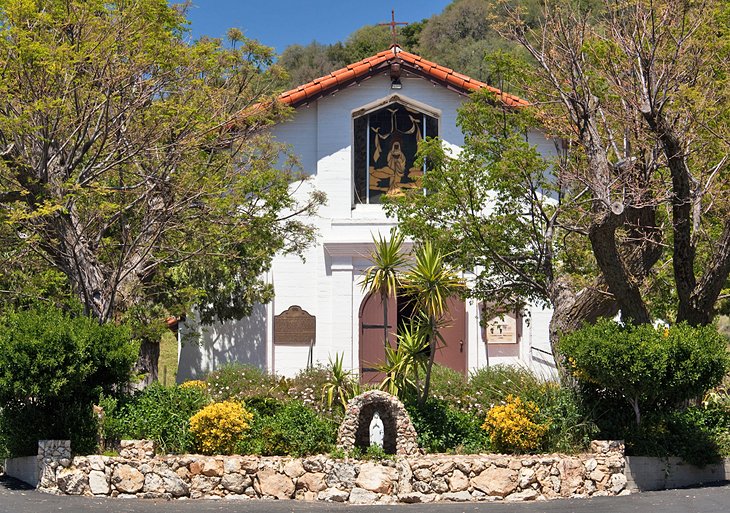 Just eight miles from Julian, the Santa Ysabel Chapel is set in a lush garden, which seems to defy the stark desert environment. This site was part of the Mission San Diego de Alcalá, the first Spanish missions to be founded in California. There are a total of 21 missions on the California Historic Mission Trail.
The chapel present today was built in 1924 near the site of the original 19th-century Spanish Mission's adobe church, which no longer exists (the roof collapsed). The site still has the old cemetery and a piece of the original chapel's floor found next to the chapel. Recommended things to do when visiting Santa Ysabel Chapel include meditating under shady trees in the garden and spending time at the chapel's museum to learn about the heritage of local Indians. The site also has a gift shop, which sells religious items and Indian crafts.
Address: 23013 Highway 79, Santa Ysabel 92070
More Related Articles on PlanetWare.com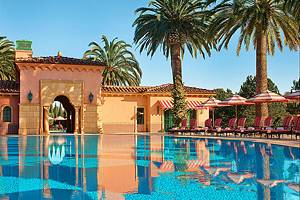 Explore San Diego: For more fun right in the city of San Diego, see our article on the Top Things to Do in San Diego, as well as our piece on Outdoor Adventures in San Diego. Visitors traveling with kids can also pick up some great ideas by having a read through our Top Things to Do with Kids in San Diego and Top Family Resorts in San Diego.