12 Top-Rated Attractions & Things to Do in Tijuana
Mention Tijuana to almost anyone, and they answer you with a skeptical look. It's true — Tijuana does not have the best reputation. With bragging rights like "the most crossed border in the world," you may wonder what has been bringing people here throughout the majority of the 20th century.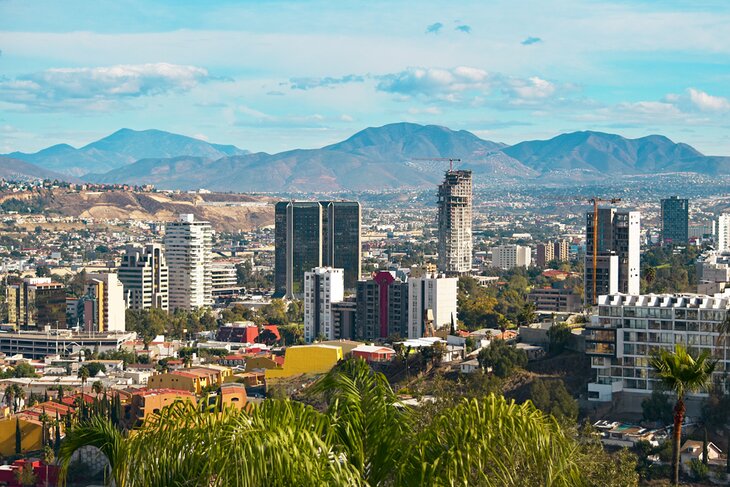 The answer? Seedy activity. Tijuana used to be a hotbed for a slew of nefarious activities. But a recent resurgence, government investment, and cultural renaissance is turning things a full 180 degrees for this iconic border town. A burgeoning dining and urban art scene is breathing new life into Tijuana, with contemporary restaurants, galleries, and artsy cafés.
Travelers ought to still use some level of caution in Tijuana, as nothing is perfect, but tourists are rarely the targets of any illegal activity that may still exist. And if you're staying in the tourist sections, it is a near guarantee that you will be just fine. In fact, to fully understand Mexico and see all that this great country has to offer, you'd be remiss to skip one of its most talked about and visited towns. It's just across the border from San Diego, making it a popular day trip destination.
Are you ready to discover all it has to offer? Check out our list of the top things to do in Tijuana.
1. Tijuana Cultural Center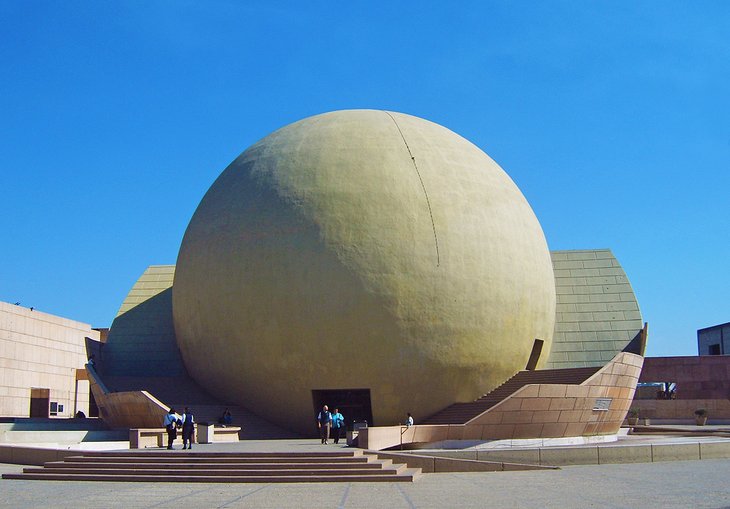 Known for its iconic spherical shape and desert sand color, the Tijuana Cultural Center is one of the top places to visit in Tijuana. The Center opened in the 1980s and since then has become one of the icons of the city, located in Zona Rio, which is just five minutes away from the U.S. border.
Tijuana Cultural Center is one of the only institutions of the National Council for Culture and Arts in Mexico. Here, visitors can come to learn about the history of Baja California through its many exhibitions at the Museum of the Californias; through film in the IMAX dome; and live performances in the Performance Hall, aquarium, and more.
The Cultural Center pays special attention to the native peoples of the region, with the participation of artists and artisans that are both national and international. The center even has its own Cineteca Tijuana, which screens films and has been a gathering point for directors, screenwriters, and actors.
Address: Paseo de los Héroes 9350, Zona Urbana Rio Tijuana, 22010 Tijuana, B.C.
2. Avenida Revolucion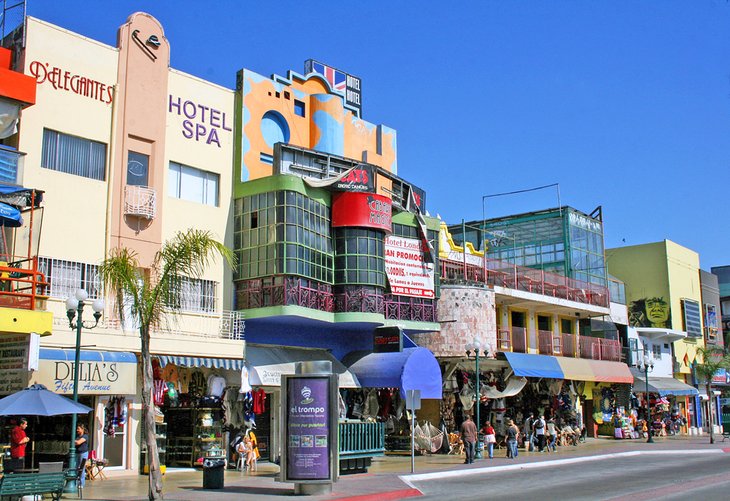 Avenida Revolucion is, in a word, legendary. What was once the main thoroughfare for the city's notorious "seedy" activity has now become the focal point of the Tijuana renaissance. Locally known as "La Revu," today, it is a kaleidoscope of physical color, and holds the secrets from a tawdry past. It is the source of new life for the city, brimming with cafés, restaurants, hotels, brilliant street murals, designer galleries, and outdoor performances.
If you're looking for artisan craft shops, this is the street to explore. Many of the shops along the street stock their shelves with goods produced by Tijuana natives. Think stained glass, leather, and figurines. You'll also be able to find Talavera pottery, wooden figurines from Oaxaca, and textiles from the Yucatan.
There is always something to see, hear, smell, or taste along the main artery of the downtown. This is also the heart of Tijuana's culinary revolution. Flanking either side of the Avenue, visitors will find many modern restaurants churning out traditional and experimental dishes from both local and international chefs.
3. El Trompo
El Trompo is an interactive science museum geared towards local families and tourists. It's fun for the whole family here, with cultural shows, games, and multiple exhibitions.
General admission is around $5. Their website often has a calendar of upcoming events, as well.
The learning space encourages kids and their families to take a hands-on approach to experimenting and incorporating science into everyday life. The expansive four-story building has four interactive rooms, with a collection of 108 pieces, as well as a Multipurpose Room and an auditorium with a capacity for 4,000 people.
Within the exhibits, visitors will find sculpture and robotics workshops; a youth science center; a center for computer programming; and space for concerts, conferences, and book presentations. A movie hall plays 3D movies, as well.
Address: Av de los Insurgentes s/n, Rio Tijuana 3ra Etapa, 22226 Tijuana, B.C
4. Pasaje Rodriguez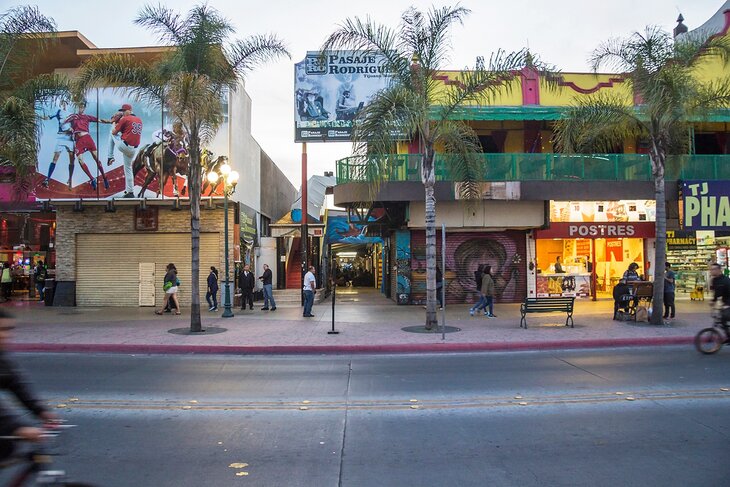 Amid the frenzy of La Revu, tucked between the slew of hotels, restaurants, and shops, an oasis for the artistic stands under the radar. This is Pasaje Rodriguez, a back alley packed with art, delicious food, and excellent energy.
Pasaje Rodriguez is a nod to the evolution of Tijuana and the revitalization that is reshaping the way the city is seen around the world. The project responsible for the Passage began in 2009, when parts of the passage were opened up for just a few days in order to display local art. It's not surprising that artists, designers, and photographers wanted the space to remain open even after the festival was gone.
Today, visitors can find a walkway of brilliant murals, small hole-in-the-wall restaurants, art galleries, and much more. First Fridays of each month tend to be great times to go, when exhibitions are organized, as well as festive parties. Evenings are also the most energetic and interesting time to explore, as well.
5. El Popo Market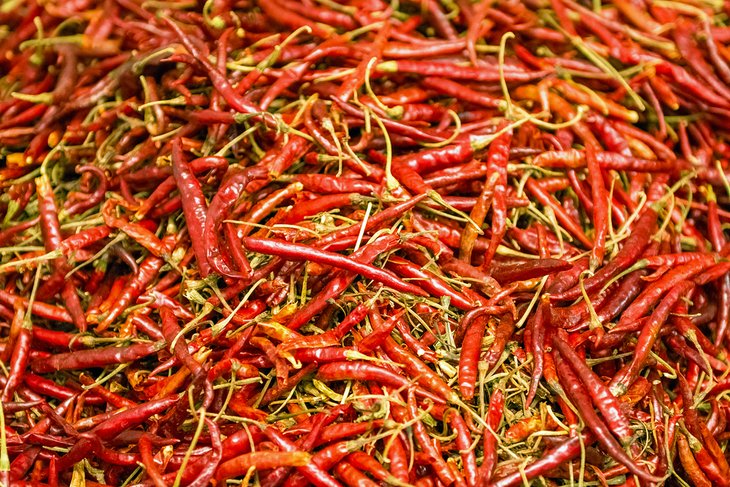 Mexico is all about its local markets, and Tijuana is no different. Mercado El Popo is arguably the best in town. If you want to see a slice of local Tijuana life, this is the place to start. The downtown market is brimming with products, from fresh cheeses and candy to sacks of dried chilies, candles, soaps, oils, cinnamon, fruit, herbs, and incense.
El Popo is a perfect spot to tuck into the local cuisine or pick up some fun and festive souvenirs. It's also a great place to see locals coming in from out of town to sell their products from the countryside.
Address: 22000, Calle Benito Juárez 2da 8053, Zona Centro, 22000 Tijuana, B.C.
6. Playas de Tijuana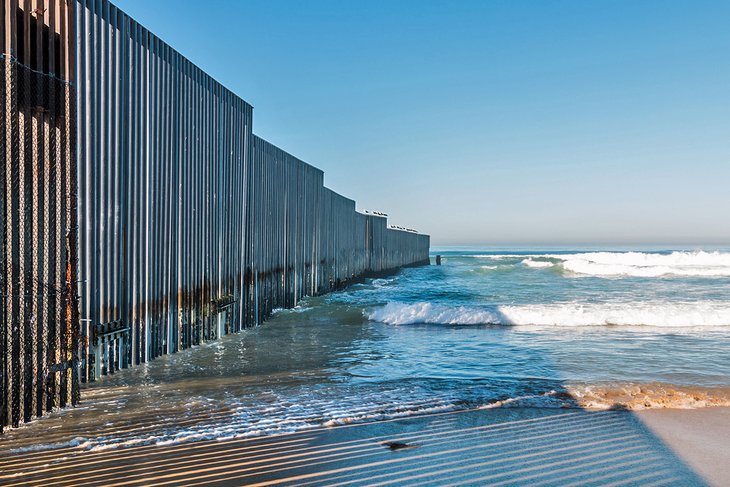 Venture outside of "downtown" to discover Playas de Tijuana, a western borough of the entire municipality. The boardwalk here is a four-mile ring of pedestrian bridges that runs from the Azteca Park to the U.S. border.
It's difficult to visit Tijuana and ignore the very real political issue between Mexico and the United States, and the boardwalk is an in-your-face reminder, as you can see the border wall that runs into the Pacific Ocean.
Seafood reigns supreme in Tijuana, and in Playas, there is a bounty of it, from fish tacos to ceviche and beyond. The majority of travelers bypass Playas to head toward downtown Tijuana, but this is definitely a change-of-pace, laid-back vibe that offers a different side of northern Baja.
7. Ensenada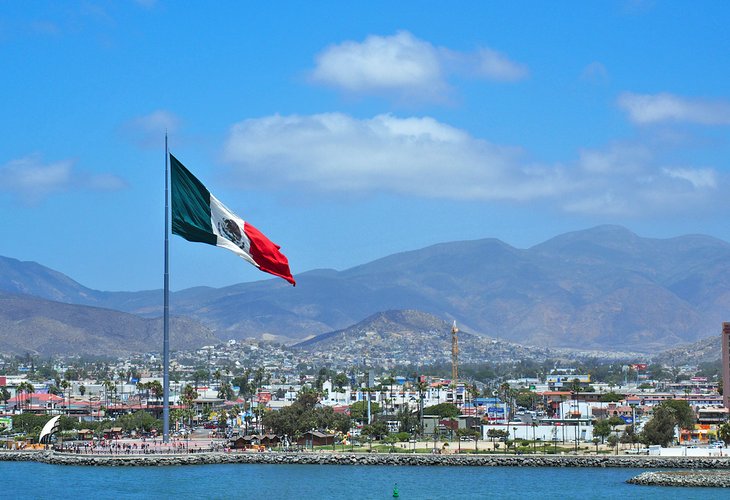 Sure, you've come to Tijuana. But there is so much to see in northern Baja that by no means should you limit your vacation to only TJ. Less than 70 miles from Tijuana is its cosmopolitan counterpart, Ensenada.
Historically Ensenada was the capital of the Baja territory from 1882 until 1915, and today is very much a beachside, touristy hub. The population is a mix of cruisers, California road trippers, Mexican tourists, and locals. It's one of the most popular destinations in all of Baja, with roughly four million visitors each year.
The manicured waterfront is a string of restaurants and shops. You'll definitely want to try a fish taco here, as this is one of the best spots for traditional Baja fish tacos. The foodie scene in Ensenada is electric, with world-famous seafood stands, taco trucks, and even delicious Italian food and pizza.
Ensenada also has a wonderful science museum and aquarium. If you're traveling with kids in tow, the musical fountain on the waterfront is a must-see. Stroll along the Malecon for some beautiful views of the sea. Don't forget to look up — you don't want to miss a shot of one of the largest Mexican flags you've ever seen.
Wildlife lovers ought to make time for Guadalupe Island, one of the best places in the world to see white sharks, which migrate from Alaska to breed in the warmer waters.
8. Casa de la Cultura
Don't let anyone ever tell you there's no culture in Tijuana. Casa de la Cultura in Tijuana is one of Mexico's buildings that has been declared a site of historical heritage.
Originally designed as an elementary school (modeled after one in Yuma, Arizona), today it is a place of learning. In 1975, the building became the first cultural site in Tijuana. In 2014, it was named a cultural heritage site of the state.
It includes a theater, the Josefa Ortiz de Dominguez library, the Benjamin Serrano Gallery, the Literary Cafe, and plenty of rooms for workshops and exhibitions. Past workshops have included dance, hip-hop, language, green cuisine, and more.
Casa de la Cultura brings an average of 25,000 visitors per year. In 2018, Casa de la Cultura became one of the first centers in the city to have a program supported by the National Institute of Fine Arts in Mexico.
Address: Calle Benito Juárez 2da y Constitución s / n, Zona Centro, CP 22000
9. Caesar Salad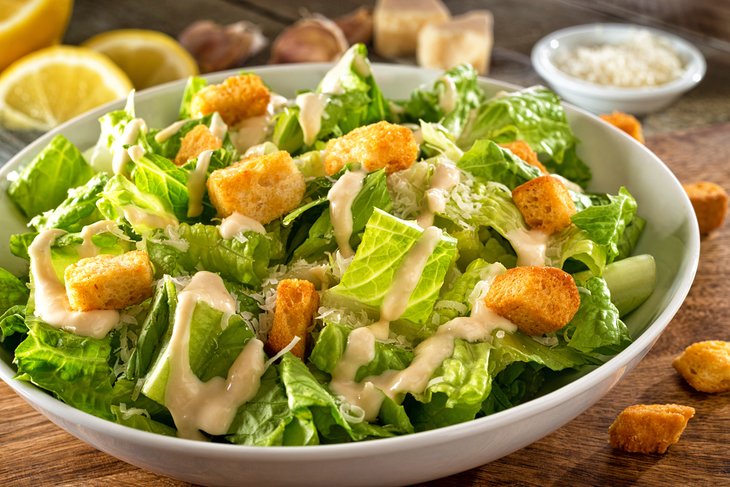 Did you know that when you order a Caesar Salad, you're actually ordering Mexican food? Well, sort of. Though there is some debate surrounding it, it's widely accepted that the Caesar salad was invented in Mexico — and in Tijuana, to be exact.
The salad's birthplace is widely regarded as Caesar's Restaurant, at Caesar's Hotel in Tijuana. It was invented by none other than Caesar himself, Caesar Cardini, who was the owner of the hotel at the time. At that time, Tijuana was popular among the Hollywood elite while Prohibition was raging in the United States, which brought them south of the border for a little bit of lawless fun.
Many other theories exist regarding where the salad was created, but most people hold it to this version of history. So can you still get a Caesar salad the way it was originally intended? Of course! Caesars is still around, and their table-side salad is an iconic dish. In fact, it's one of the longest-reigning culinary traditions in Tijuana.
Address: Av. Revolución 8190, Zona Centro, 22000 Tijuana, B.C.
10. Plaza Santa Cecilia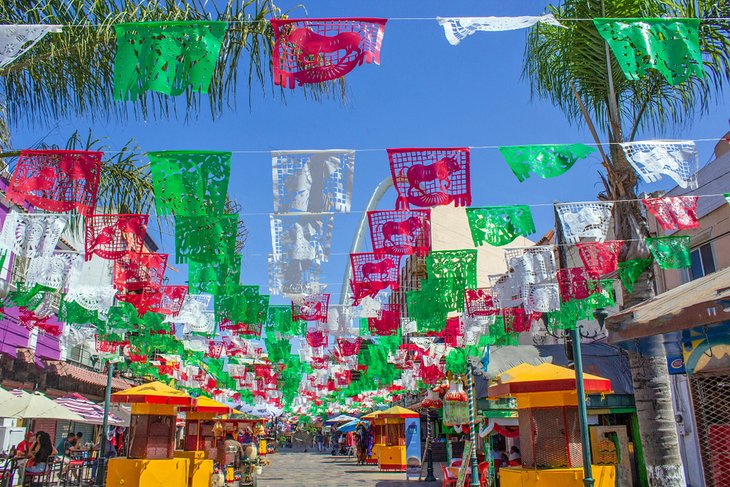 A stroll through Plaza Santa Cecilia is like a step back in time to historic Tijuana. It happens to be one of the oldest parts of the city. It is from this Plaza that Tijuana was born, at the intersection of First Street and La Revu.
Today, it's hard to envision historic Tijuana, as it's a hodgepodge of outdoor craft stalls, restaurants, and modern businesses like pharmacies and dentists. That said, trust that you are standing in the birthplace of this iconic Mexican Bordertown. With the brassy blast of mariachi in the air and the fluttering flags that are strung overhead, it won't be hard to use your imagination and picture how things used to be decades ago.
Like the rest of Tijuana, the plaza wasn't always a gregarious and joyful place. It used to be a hotbed for criminal activity. But those days are long gone. Today it's very much a potpourri of color, activity, art, and music.
11. Zona Rio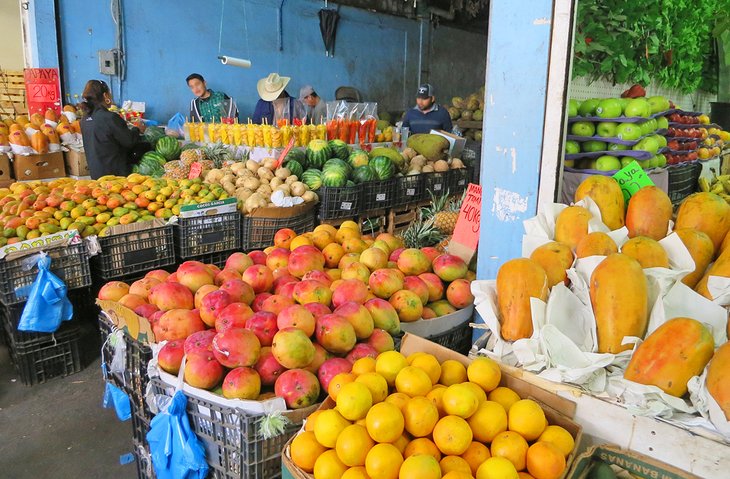 East of downtown Tijuana is this thriving commercial hub, brimming with shops, restaurants, and plenty of things to do. First place to visit should be the Plaza Rio Shopping Mall, especially if you love to eat. Here, you'll find Foodgarden, which is a humming dining destination with food stalls run by young chefs from Tijuana and the region.
Tijuana is being redefined by its foodie scene, so you won't want to miss eating here. You'll also find the Mercado Hidalgo near here, which is more or less a farmer's market, and this is one of the best places in the city to discover the "real" Tijuana. It sells everything from tortilla presses and coffee to candy and pinatas.
Address: Paseo de los Héroes 96-98, Zona Urbana Rio Tijuana, 22010 Tijuana, B.C.
12. Rosarito's Beaches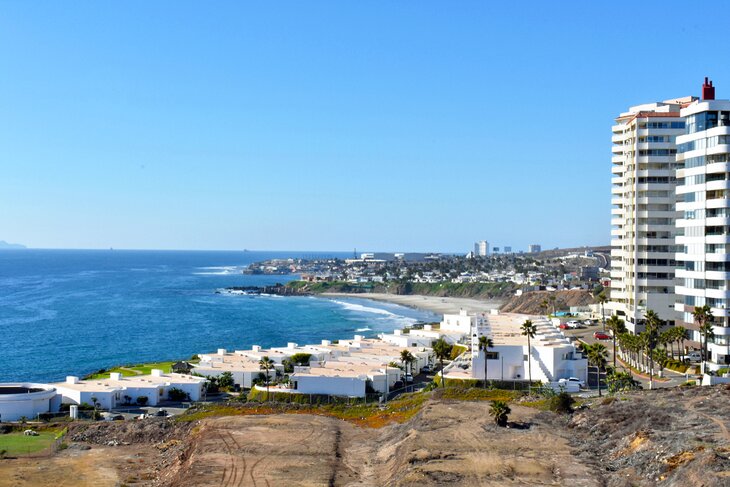 A quick jump down the coastline will put you in the heart of nearby Rosarito. This neighboring beach town is yet another iconic coastal city along the northern Baja peninsula. Its proximity to Tijuana makes it particularly appealing, especially if you're looking for a fabulous beach day.
The beaches of Rosarito are massive, with plenty of space for everyone to have a patch of sand to call their own. The beaches here attract everyone from casual sunbathers to surfers, and all in between.
If you're looking for a true Mexican beach experience, Rosarito is the place to go. And, while you're at it, pop over to the small village of Puerto Nuevo, which is known for its fabulous restaurants and souvenir shopping.
Rosarito has been on the tourist map since the 1930s. It was used as a set for some major Hollywood movies and drew glamorous celebrities down from Los Angeles. The studio here was even where parts of the film Titanic were shot.
Read More: Top-Rated Beaches in Baja California
Map of Attractions & Things to Do in Tijuana