6 Top-Rated Outdoor Adventures in San Diego, CA
Sunny skies, a mild Mediterranean climate, and scenic wilderness areas make San Diego the ideal destination for year-round outdoor adventures.
Along the coast, you can sail the glistening waters of San Diego Bay; paddle through sea caves in a kayak; and snorkel among the kelp forests in the La Jolla Ecological Reserve, one of the most diverse ecosystems in California.
Landlubbers will also find plenty of outdoor things to do in San Diego, from cycling miles of oceanside bike paths to hiking the trails in the beautiful Torrey Pines State Natural Reserve. If you're looking for an adrenaline rush, San Diego extreme adventures include tandem paragliding trips - a great way to enjoy a bird's-eye view over the spectacular coastline - and speedboat adventures.
For details on the best things to do outside in this sunny So-Cal city, check out our list of the top outdoor adventures in San Diego.
1. Kayak the La Jolla Sea Caves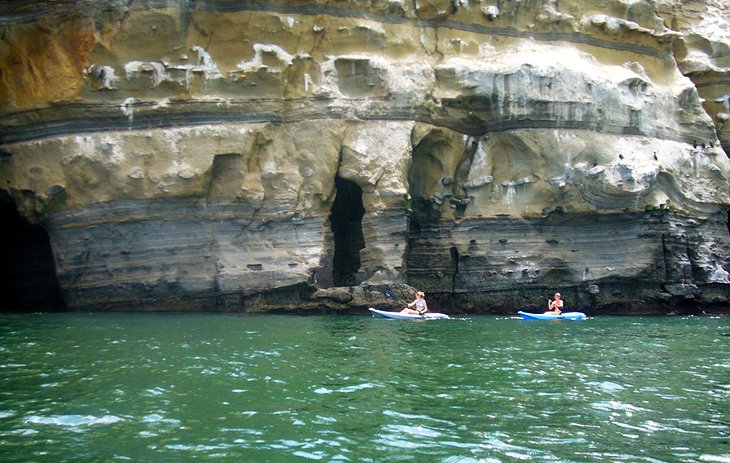 Just offshore from the quaint seaside village of La Jolla lies one of the most biologically diverse ecosystems in California: the La Jolla Ecological Reserve, which also includes beautiful La Jolla Cove.
Sea caves slice into the coastline here, and when conditions allow, you can paddle over to these caves on a kayak from La Jolla Shores for up-close views of the wildlife. Sea lions, seals, dolphins, and many species of fish live among the kelp forests in this no-take marine sanctuary, and sea birds skim the clear waters.
A great way to experience this adventure is on the La Jolla Sea Caves Kayak Tour. On this exhilarating two-hour excursion, an experienced guide shares fascinating facts about the ecological reserve, the wildlife, and local history. Suitable for all levels of kayakers, the tour includes kayaks, paddles, and life jackets, as well as a paddling and safety demonstration before you go.
If you're looking for other La Jolla adventures, this is a great place to snorkel when the weather is warm, and gawk at the multimillion dollar mansions perched on the sea cliffs above the caves.
2. Bike along the San Diego Coast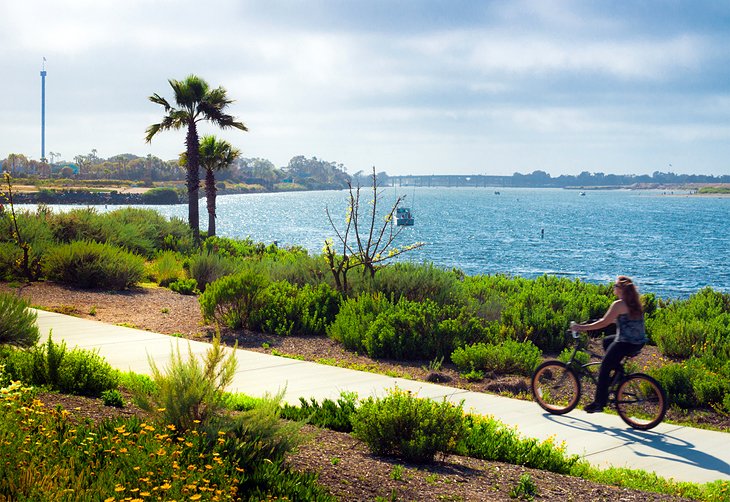 San Diego is one of Southern California's most bike-friendly areas, with miles of bike paths along its extensive coastline. Pedaling along the ocean-view paths is a great way to keep fit and admire the gorgeous scenery along the way.
The Silver Strand on Coronado Island is one of the most popular places to bike along the coast. This 10-mile bike path from Coronado to Imperial Beach skirts the shoreline and San Diego Bay, and takes you past the historic Hotel del Coronado, as well as attractions such as Silver Strand State Beach and San Diego Bay National Wildlife Refuge. It's part of the Bayshore Bikeway, a 25-mile cycling circuit around San Diego Bay with about 13 miles of car-free bike paths.
If you're traveling with children, the 12-mile Mission Bay Bike Route is a great place for a family bike tour. These flat, mostly car-free bike paths loop around the bay's interior, past public parks and along the San Diego River. From here, you can link up to a 27-mile network of paths, with possible side trips to some of San Diego's best beaches and beachside communities including La Jolla, Pacific Beach, and Ocean Beach.
3. Hike Torrey Pines State Natural Reserve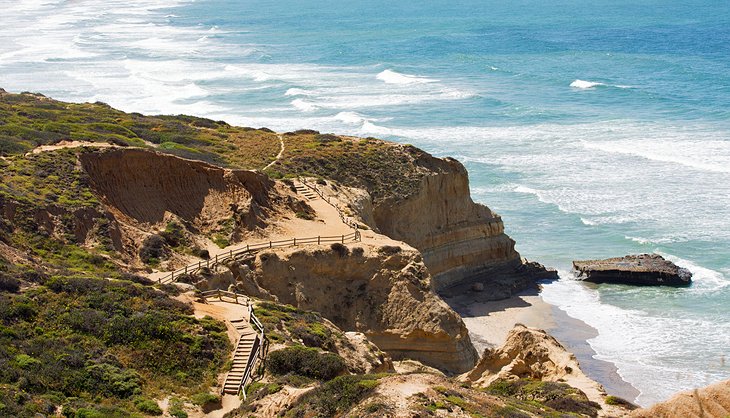 At the Torrey Pines State Natural Reserve, you can hike among the rare Torrey pine trees that reputedly inspired the famous children's book author Dr. Seuss.
San Diego is one of only two places in the world where the Torrey pine grows (the other is Santa Rosa Island in California's Channel Islands), but you'll also find an impressive diversity of other plants and wildlife here, including coastal prickly pear, black sage, ferns, and animals such as skunks, raccoons, gray foxes, and coyotes.
The hiking trails here are mostly short loops with breathtaking ocean views. Favorites include the Guy Fleming Trail, a 2/3-mile loop with two ocean-view overlooks, cacti, and wildflowers, and the Parry Grove Trail, a half-mile loop with a native plant garden. Descending to the shoreline, the .75-mile Beach Trail is another popular option.
On public holidays and weekends, free guided walks are offered two to three times a day from the visitor center for families and small groups, but note that you must pay a state parking fee upon entry to the reserve.
Official site: https://torreypine.org/
4. Sail San Diego Bay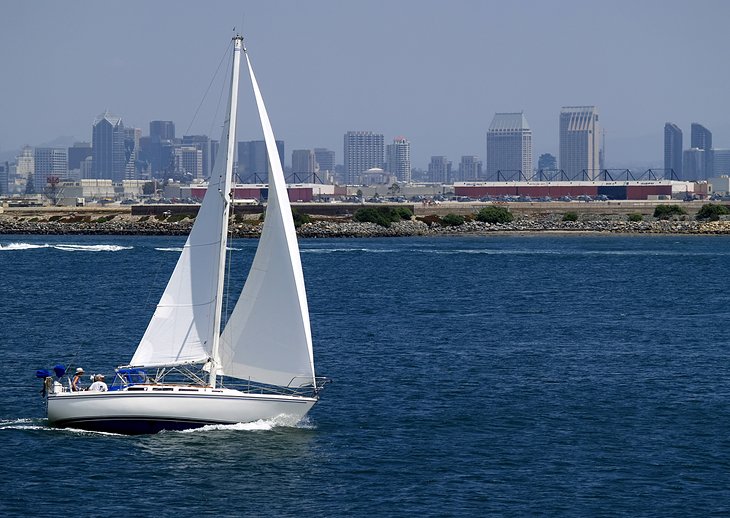 Sailing the sparkling San Diego Bay and the open waters of the Pacific Ocean is one of the most popular outdoor activities in San Diego. If you prefer to skipper your own vessel, you can rent a boat from one of the outfitters at the San Diego Harbor, many of which also offer sailing instruction.
Luxury catamaran sailing tours are available for large groups, and racing fans can opt for a sailing trip around San Diego Bay aboard the Stars & Stripes racing yacht from the 1992 America's Cup. This three-hour interactive cruise gives budding sailors the chance to try their hand at trimming the sails or taking the helm.
Plenty of small-group sailing tours are also available if you prefer a more intimate, relaxing ambience. An excellent choice for a sightseeing sailing trip is the Small-Group San Diego Afternoon Sailing Excursion. This three-hour tour aboard a Catalina-style sailboat is limited to only six passengers and includes beverages and snacks. Choose an afternoon tour or enjoy a romantic sunset sail.
5. Paraglide over the Coast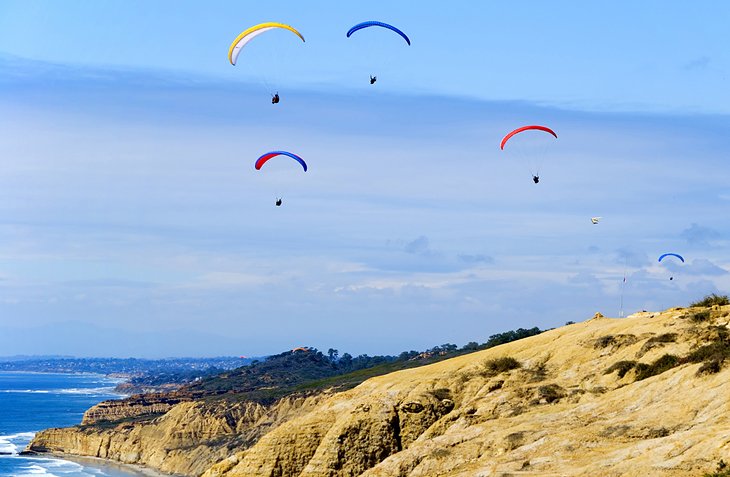 Soaring over the spectacular San Diego coastline is an exhilarating sensation that anyone can enjoy on a tandem paragliding flight. Typically, San Diego boasts more than 300 flyable days a year, increasing the odds that you can find suitable conditions during your visit.
Most paragliding flights in San Diego depart from the cliffs at Torrey Pines Gliderport, where flight enthusiasts have been taking to the air for more than a century. Aviation pioneers, such as Charles Lindbergh, launched their first flights from the cliffs here.
Tandem flights with experienced instructors are open to passengers of all ages. No experience is necessary, and the flights include all the equipment, basic ground instruction with your pilot, and a 20- to 25-minute flight over the beautiful sea cliffs and coastline.
Official site: https://www.flytorrey.com/tandem-flights/
6. Zoom around the Bay on a Speedboat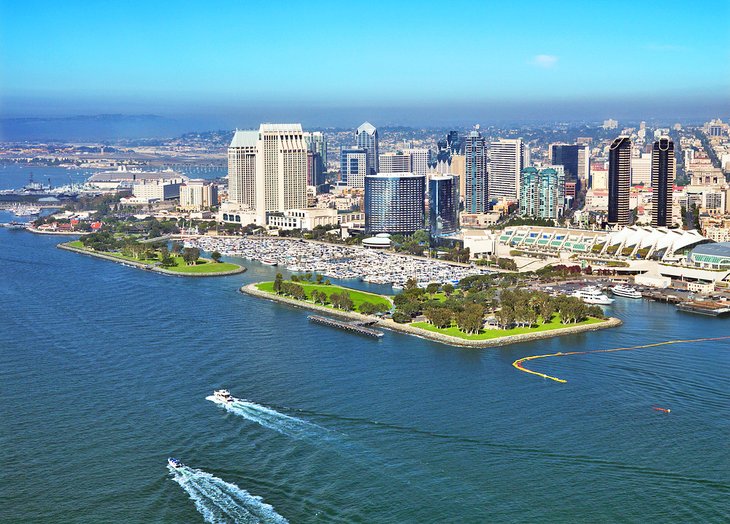 Ever wanted to zip around on the water at top speed? This is your chance. On the two-hour San Diego Harbor Speedboat Adventure, you can learn how to drive your own mini speedboat around the glittering harbor waters and enjoy some sightseeing at the same time.
The tour starts with expert instruction and a safety briefing. Then you head to the water. You'll follow your guide's boat on this thrilling tour, with narration via the onboard two-way communication system.
Top San Diego sights you'll see along the way include the USS Midway, Seaport Village, Coronado Bridge, and the San Diego Maritime Museum. And if you slow down enough, you might even spot some wildlife, including sea lions basking on the docks.
This is a great way to avoid the tourist crowds and get out on the water in the fresh air.
Map of Outdoor Adventures in San Diego, CA