Baja Road Trip: Driving from San Jose del Cabo to Rosarito
Author Meagan Drillinger has visited Baja dozens of times and spent a month driving the entire peninsula.
The Baja peninsula is a place that is beyond Mexico. Technically, yes, Baja is Mexico, but there is something about this skinny sliver of land that divides the Pacific Ocean from the Sea of Cortez that feels like it is an entirely different place.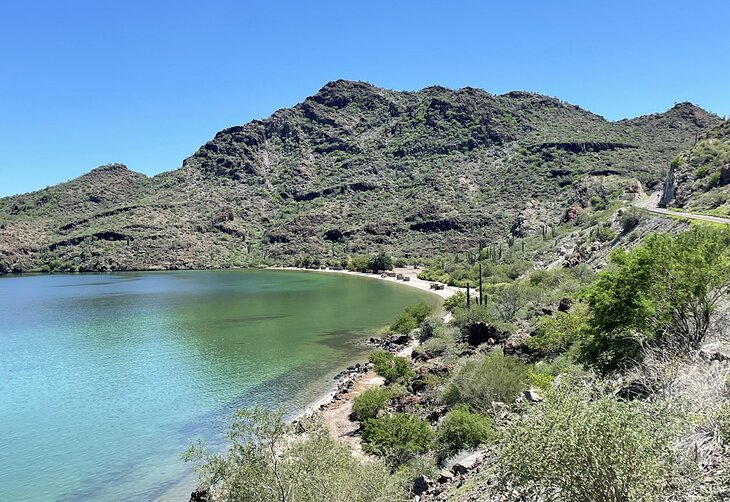 While Baja is home to mega tourist destinations like Cabo San Lucas, San Jose del Cabo, Tijuana, Rosarito, and Ensenada, it is also an expanse of a wild, rugged environment. It is towering, rubbly mountains, vast desert fields of scrub brush and saguaro cacti, dirt roads that lead to nowhere, bays and villages that can only be accessed by water, and lots of hidden oases surrounded by sandy seas of nothingness.
Baja can be inhospitable. Baja can be raw. But Baja is beautiful. Especially if you like beaches, as Baja has some of the best beaches on the planet.
I set off to drive the 750-mile-long peninsula from end to end — and then back again. This is a drive that is not for the faint of heart, and today I'd tell you that one-way is enough. It will not always go smoothly, and there are certainly lessons to learn, but it was one of the most incredible experiences I've had in Mexico, which is saying something. And it's a drive I would not hesitate to do again — with proper planning.
So to help you on your Baja road trip, here are my tips for driving the Baja peninsula from San Jose del Cabo to Rosarito.
Renting a Car in Cabo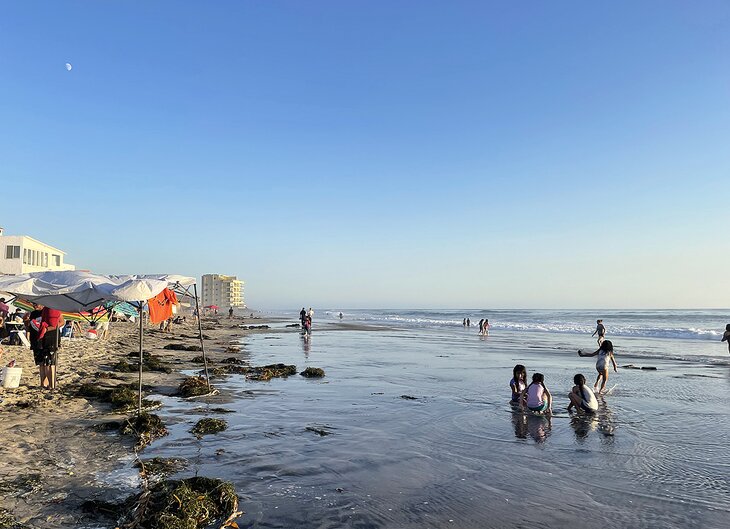 Renting a car in Mexico can be tricky. I've done it many times and when I work with an international franchise, I am (usually) left disappointed, not to mention shell-shocked from the amount of hidden fees.
The very best rental car experience I've had in Mexico was in San Jose del Cabo at Cactus Rent-A-Car. The reviews made it seem too good to be true, but after my personal experience with the company, I can vouch for every single five-star review. The pricing was transparent (and fair), there were no hidden fees, and the price includes third-party liability insurance, which is not always the case when renting a car anywhere. The staff is friendly, communicative, and they will even give you a lift to the airport if that's where you need to go.
We rented a small four-door sedan, which worked very well on the paved roads. But as I learned while on location, the weather does not always cooperate in Baja, and you may want to rent something with a little more oomph just to make sure you have zero problems. An all-wheel drive vehicle would also ensure that you get a bit more off-road to experience the out-of-the-way destinations in Baja that make the peninsula so special.
Driving in Baja: Safety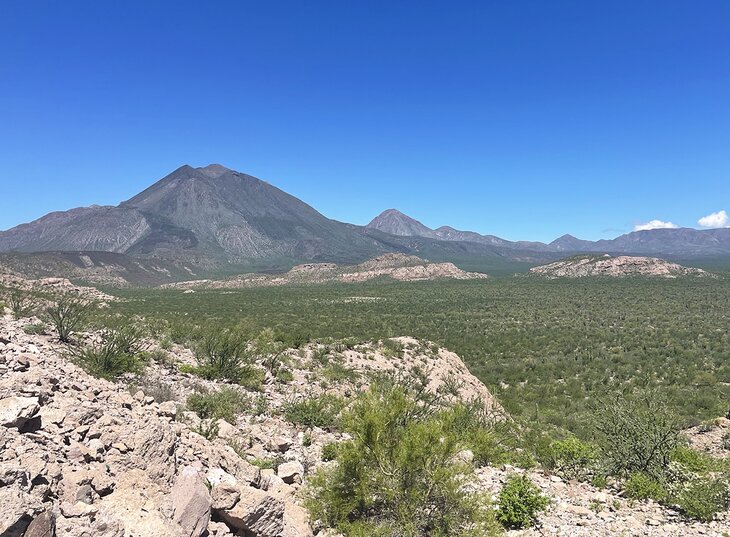 It is very safe to drive in Baja. The main highways are well-maintained and the entire peninsula has a very low crime rate. However, it's a good idea to keep your driving to during the day, as the peninsula has very long, remote stretches. If an emergency happens, like car trouble or a washed-out road, you'll be happy to be driving during the day when more cars are on the road.
Note that you will pass through military checkpoints. These are also completely fine. They will ask to see your passport and you may be asked to get out of the vehicle. Just be respectful and obey the law and everything will be fine.
Also, bear in mind that there are several sections of the drive that are through the desert. You may have upwards of six hours without cell reception. Always be sure to fill up your gas tank whenever you see a gas station. You may be driving for hours at a time in the more remote central section of the peninsula. Pack plenty of water and snacks, and let someone know your proposed daily itinerary.
Finally, avoid doing the drive in August or September, which is peak hurricane season. We happened to get (slightly) derailed by Hurricane Kay, which sliced across the peninsula and caused massive flooding and road damage in its wake. Should you find yourself in a similar situation, The Talk Baja Road Conditions Facebook group has on-the-ground, real-time updates, which I found to be far more comprehensive and helpful than any government website.
On the Road: San Jose del Cabo to La Paz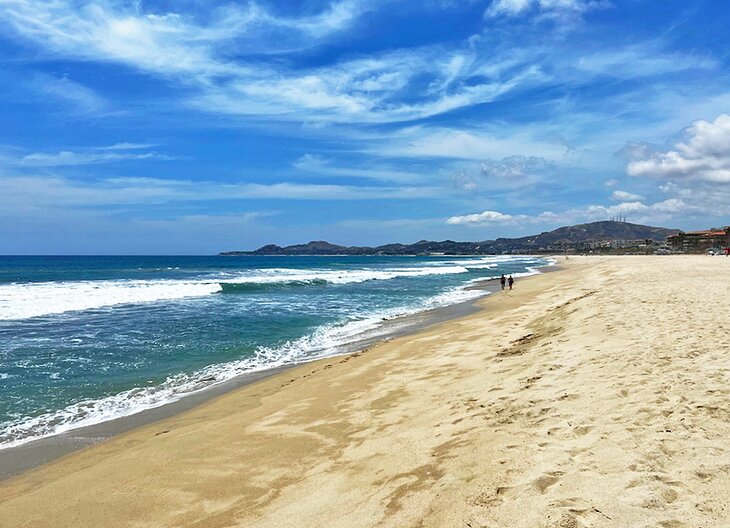 My original idea was to drive up the Sea of Cortez side and back down the Pacific Ocean side. In theory, it's a great idea but in execution, it's not as straightforward. That is because, for a large portion of Baja, you've really only got one paved and maintained road to choose from, which crisscrosses the peninsula. This changes the closer you get to major tourist destinations, with several highways to choose from that V-out in opposite directions, but as you head deeper into the desert, you're on one road.
With that in mind, the first leg was from San Jose del Cabo to La Paz. This beautiful stretch of road leads away from the beaches and all-inclusive resorts and up into the mountains. If you have a ton of time on your hands, go the long way toward Cabo Pulmo National Park, which has some of the best diving in Mexico. But if you're pressed for time, take Highway 1 through Los Barriles and then on to La Paz. This takes less than three hours.
La Paz is the capital of the state of Baja California Sur, but as far as capital cities go, it's rather sleepy. This historic port city has a small, but lovely malecon (waterfront), with historic haciendas-turned-restaurants, shops, and hotels. Tip: Book a stay at the eclectic Baja Club Hotel.
The waterfront is also where you'll find the marina, which has tour boats available to take visitors over to the protected island of Espiritu Santo. The uninhabited island is breathtaking with its red rocks, alarmingly blue water, and the soundtrack of barking sea lions in every direction.
Cabo to Todos Santos
The other option is to drive up the Pacific side first, in which case the first stop should be Todos Santos before La Paz. This takes a little more than two hours to reach La Paz.
Todos Santos has long been a center for spiritual activity in Baja. It has drawn mystics, spiritualists, artists, and creatives for decades.
Today, the sandy cobblestone streets are flanked with art galleries, restaurants, and luxury boutiques. The hotel scene is flourishing with some of the best hotels in Mexico, like Guaycura Boutique Hotel Beach Club & Spa and Paradero Todos Santos. But while the crowd in Todos Santos has started to swing upscale, surfers, backpackers, and van-lifers will still feel right at home here. In fact, the surfing at Los Cerritos Beach is some of the best surfing in Mexico.
La Paz to Loreto or Mulege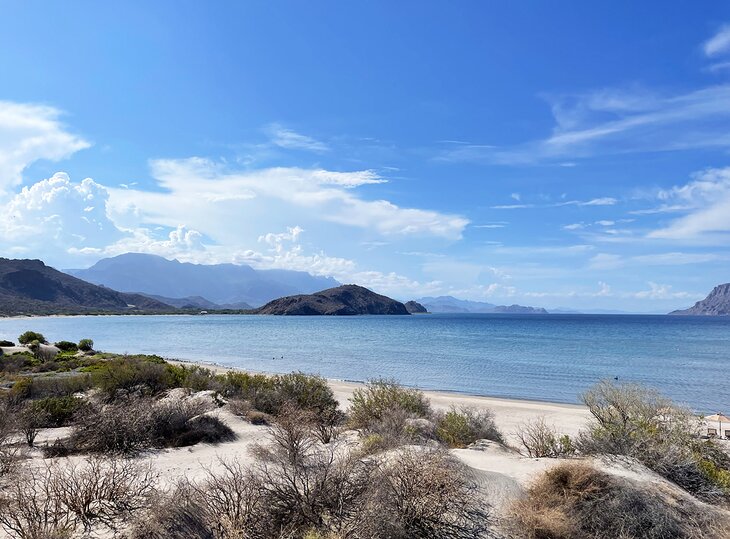 A stop in Loreto is a must when driving the Baja peninsula. This sleepy fishing village on the Sea of Cortez has become quite funky, with seafood food trucks, waterfront restaurants, and little local boutiques. Not far from Loreto is one of the best all-inclusive resorts in Mexico: Villa del Palmar at the Islands of Loreto. I highly recommend this stunning resort, which is surrounded by towering peaks on its own, secluded bay.
If you opt to skip Loreto, then do plan to hit it on the way back and instead continue on to Mulege. Mulege explodes from the desert landscape like a lush, jungle oasis thanks to the Río Santa Rosalía, which cuts through the village and empties out into the Sea of Cortez. The landscape is like something you'd see straight out of Southeast Asia, rather than a desert peninsula.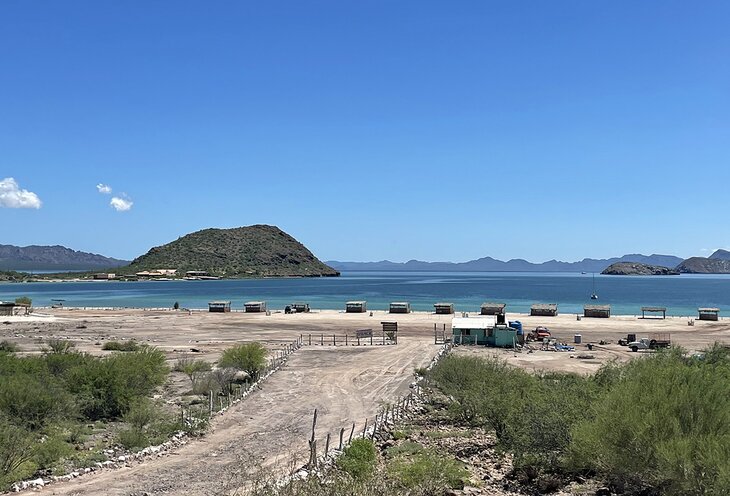 "...if you're camping your way across Baja, Bahia Concepcion is a must."
The drive up to Mulege from Loreto is exceptional and takes a little over 2 hours. The highway hugs the coastline of the jaw-dropping Bahia Concepcion. Along the drive, keep your eyes peeled for thumbnail slivers of uninhabited, sparkling white sand beaches with little more than thatched palapas constructed by previous road trippers. The bay has several campgrounds for RVs, as well, so if you're camping your way across Baja, Bahia Concepcion is a must.
Guerrero Negro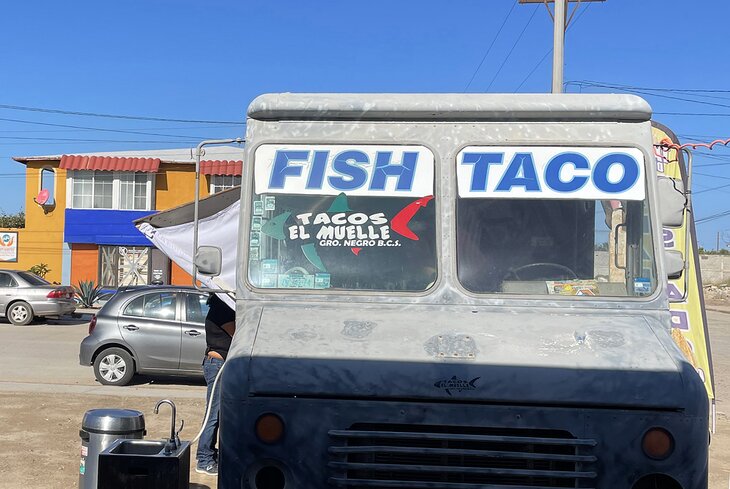 After Mulege, it's a long stretch of desert road. The stark landscape is stunning, but barren, with nothing but cacti and wind-swept mountains in the distance. The next major area of civilization will be Guerrero Negro. If you're driving from Loreto it is a considerably long drive (more than 5 hours), so you may want to overnight in the oasis town of San Ignacio. San Ignacio does not have much, but it does have a few hotels and small restaurants for others making the peninsula-long journey.
Likewise, Guerrero Negro is a limited tourist destination — though it has the best fish tacos I've ever tasted — but it is a popular stop for people driving the peninsula or heading west towards the beautiful, sheltered Bahia Tortugas and the various little villages that lie at the end of the web of rugged, dirt roads. If you're a surfer of any kind, you'll want to spring for the more powerful car to get you to these towns, like Bahia Asuncion. It will be worth it.
San Felipe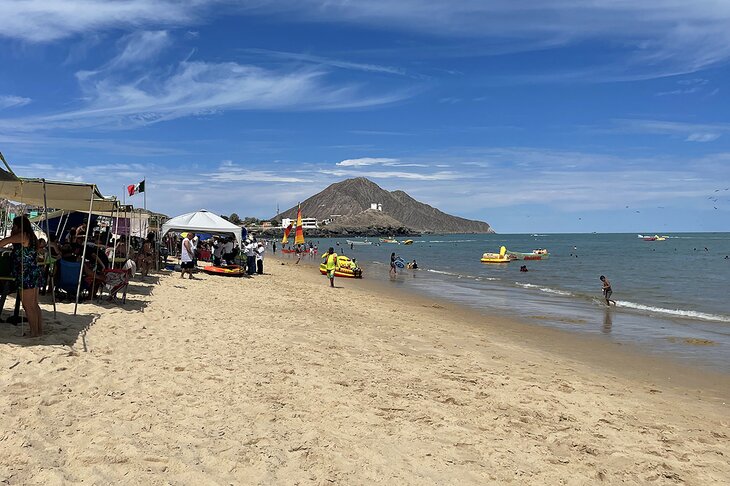 After Guerrero Negro, it's another massive stretch of nothing but dusty, sun-choked towns and dramatic landscapes. It's also after Guerrero Negro that the highway splits in two. Highway 1 continues up the Pacific Coast towards Ensenada and Rosarito, while Highway 5 goes up the Sea of Cortez side to San Felipe.
We opted for the drive to San Felipe first, knowing we'd do the Pacific side on our way back. We also took a detour towards Bahia de Los Angeles, a remote bay popular with boaters sailing the Sea of Cortez and for campers looking to break up the long, sometimes monotonous drive. Normal drive time from Guerrero Negro to San Felipe is about 4.5 to 5 hours.
If you are short on time, skip Bahia de Los Angeles and continue onwards to San Felipe, one of the top cities in Baja. For that matter, if you're short on time I recommend skipping San Felipe altogether. It has beautiful beaches, but the atmosphere is so overrun with tourist trap restaurants and souvenir shops, it feels like it could be anywhere. It is also extremely hot, particularly in the summer months.
Ensenada and Rosarito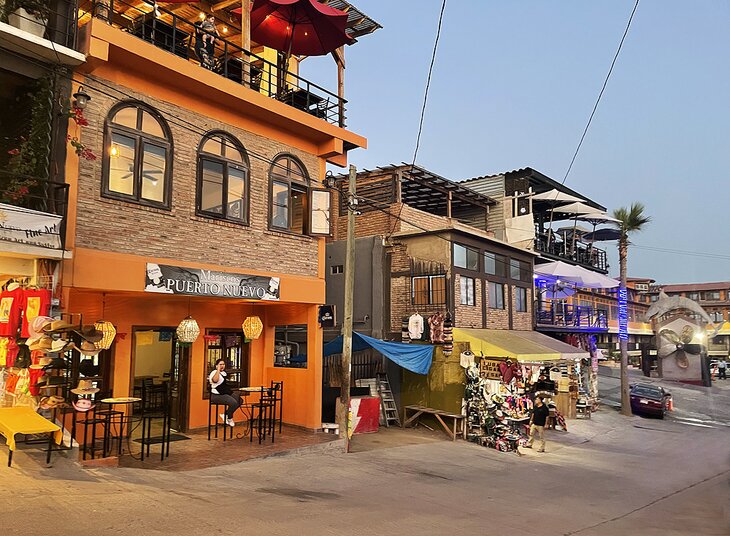 Instead, I would head straight for Ensenada and Rosarito, two of the most beautiful beach destinations in Baja. While both are certainly tourist towns, they have a historic charm, plenty of attractions, fantastic restaurants, and great hotels.
In fact, I became deeply familiar with Ensenada after we were "stuck" there for five days during hurricane season. It was never my intention to spend so much time in Ensenada, but it ended up being a blessing in disguise as I was able to get to know its best attractions and beaches.
It's a quick drive up to Rosarito from Ensenada, which has arguably better beaches and even more fun things to see and do. You'll also find a number of quality hotels and resorts here.
The most important thing to remember when attempting a Baja road trip is to keep the itinerary loose. Leave plenty of room for improvisation. Things will not go as planned. There will be surprises. But it will also be an adventure that gets under your skin, and the experiences will broaden your perspective on just how diverse and magical Mexico is.