12 Top-Rated Things to Do in Todos Santos
Todos Santos is one of the rising stars of the Baja peninsula. Located about an hour north of Cabo San Lucas, the small fishing village-turned-tourist hot spot has risen in the ranks from its humble beginnings to become one of the top places to visit for artists, creatives, surfers, and beach bums.
Todos Santos was originally founded as a mission in the early 18th century. Evidence of its history can be seen throughout its historic downtown, from the stunning architecture to the cobblestone streets.
Today the town is known for its fishing, farming, and legends of mysticism. It's also been a top spot for surfers for decades. An ever-growing number of galleries continues to keep artists coming and art lovers browsing. Boutiques line the historic streets, as well, popping with clothing, beachwear, jewelry, and more.
And if you like beaches, Todos Santos has many of the best in the peninsula. Try your hand surfing, or spend an unforgettable evening releasing baby sea turtles.
Start your journey here with our list of the best things to do in Todos Santos.
1. Surf Playa Los Cerritos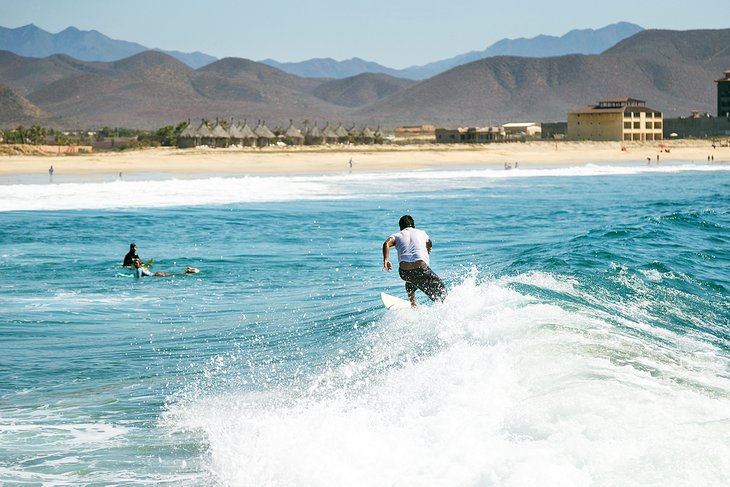 When beach aficionados talk about the best beaches in Baja, usually Playa Los Cerritos is at the top of their list. This stellar beach just happens to be right outside Todos Santos, so if you're visiting the village, a stop at this legendary beach is a must.
Surfers have flocked to Playa Los Cerritos for decades, chasing the waves. Playa los Cerritos is roughly 20 minutes from Todos Santos and is known for its gentle beach break that can be surfed by novices and experts alike.
The beach is also popping with vendors who are on hand to rent surfboards and offer lessons. But even those who prefer to swim will find that this is one of the safer beaches along the Pacific Coast to take a dip.
The beautiful beach is protected by rocky cliffs, and the wide stretch of stand seems to extend forever. This is a great spot in Baja to stop and catch the sunset, as well.
2. Learn at Tortugueros Las Playitas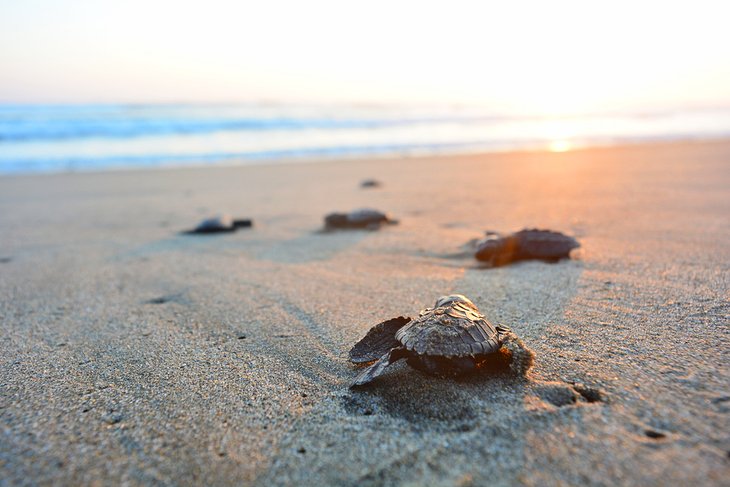 The wildlife of the Baja peninsula is among the most spectacular in all of Mexico. The sea turtles, in particular, are an incredible part of the ecosystem here. Protecting their dwindling population and their fragile environment is vitally important to the people who call Todos Santos home, and the Tortugueros Las Playitas is one of the best places to see that conservation in action.
The conservation program works with sea turtles, other marine life, and natural habitats to keep them safe from destruction and development. Tourists and visitors can come spend the day volunteering, taking an education program, or participating in an eco-tour.
Among the experiences they offer are fishing charters, night patrols to rescue sea turtle nests, whale watching, kayaking, and hiking.
You can also visit the sanctuary for one of their many turtle hatchling releases, which are free and open to the public. Releases happen daily throughout the months of December and January and start to become more sporadic in the warmer months.
Address: Bocana entre Calle los Mangos y Camino Internacional, 23300 Todos Santos, B.C.S.
3. Splash at Palm Beach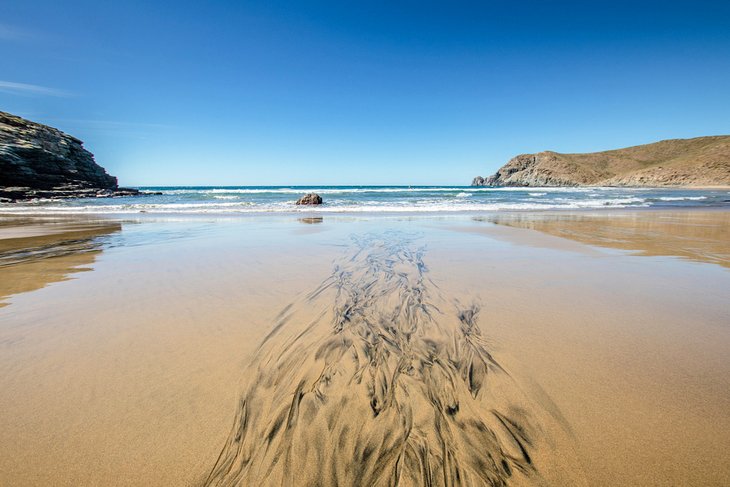 Playa Las Palmas is a quarter-mile, crescent-shaped stretch of beach that is bookmarked on either end with rocky borders, and is easily one of the very best beaches in the entire Baja peninsula. The beach gets its name, of course, from the line of palm trees that fringe the back of the sand, creating a dreamy, idyllic coastal setting.
Unlike most beaches along the Pacific coast of Baja, Playa Las Palmas is one of the few that is safe for swimming. Still, always be aware of your surroundings and remember that undertows are quite common along the coast of Baja.
The beauty of Playa Las Palmas comes from the fact that it is a pretty undeveloped beach. But the lack of development means lack of services, so you'll want to bring everything in with you that you'll need for the day. Still, it will be one of the most serene and lovely beach days, so make sure your camera is ready to go.
4. Visit Iglesia de Nuestra Señora del Pilar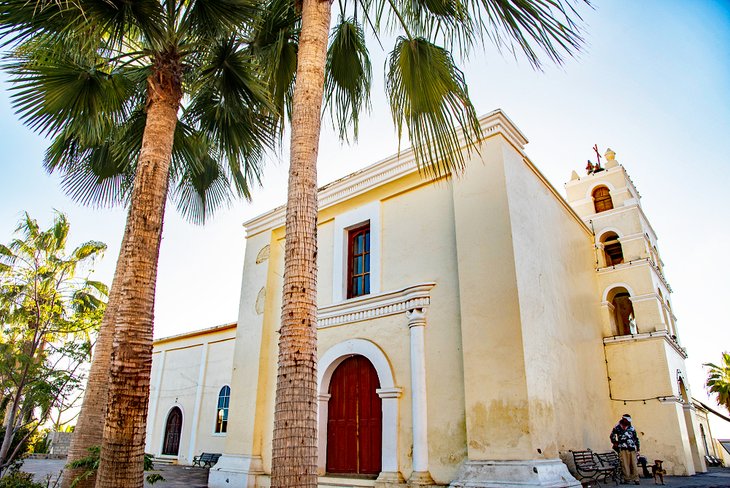 The Iglesia de Nuestra Señora del Pilar is the only Catholic church in the town of Todos Santos and traces its origin back to 1733. The church was one of the first of 28 missions that were built along the entire peninsula.
Unlike other missions in Baja, Iglesia de Nuestra Señora del Pilar is basically as it has been for the last 400 years, completely intact, though it was rebuilt in 1747. The church stands on a popular corner of the town, next to the iconic Hotel California, for which the town also receives a considerable amount of tourists.
It is a fully operational church that offers daily services. The inside of the church is spartan, with wooden pews and cream-colored walls. But the front of the church is known for its beautiful stained-glass window and ochre-colored walls.
Address: Manuel Márquez de León, Centro, 23300 Todos Santos, B.C.S.
5. Hike to Punta Lobos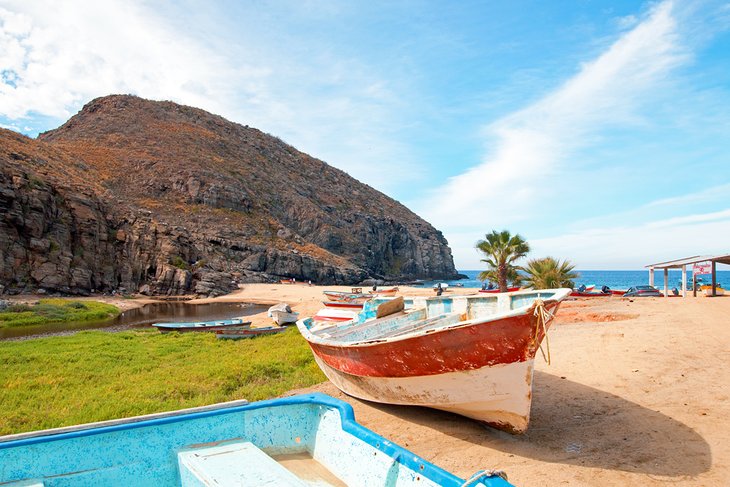 Feast your eyes on one of the most picture-perfect beaches in Los Cabos. Playa Punta Lobos is an expansive swath of golden-hued sand backed by epically beautiful blues from the Pacific Ocean.
A popular beach for local fishermen, this is one of the least developed and naturally beautiful spots in Todos Santos. To get here, travelers will have to exit the highway along a dirt road for nearly two miles. Many paths will lead out to Punta Lobos.
You won't find much in the way of services on Playa Punta Lobos. What you will find, however, is one spectacular hotel — Hotel San Cristobal. This funky, modern boutique hotel has prime beachfront access and a gorgeous design. It's definitely worth booking a night or two at this boutique, beachy hotel.
Punta Lobos is named for a colony of sea lions, and you'll also find a freshwater lagoon at the beach.
6. Browse the Art Galleries
Todos Santos is a haven for artists and creatives. As a result, the town is packed with colorful and vibrant art galleries. Browse the colonial streets and pop in and out of the dozens of galleries available.
Galeria de Todos Santos is a quintessential art gallery, located next to the Todos Santos Inn. It represents painters and sculptors, with a focus on Mexican artists.
Galeria Mangos is another gallery, which features artists from Todos Santos. It is particularly known for its textiles.
La Sonrisa de la Muerte is a gallery that focuses on digital, particularly graphic art; screen printing; and photography.
Every February, Todos Santos hosts the Annual Todos Santos Open Studio Tour, where evictors can wander in and out of the art studios and chat with the artists. But even if you aren't visiting in February, you can craft your own hour-long, self-guided art-walking tour along the lovely cobblestone streets.
7. Walk Playa La Cachora at Sunset
Discover one of the most ruggedly beautiful beaches in Todos Santos. La Cachora is an undeveloped stretch of sand, with small, shrub-covered, undulating dunes and some of the best sunsets in Mexico.
While the ocean is much too powerful for swimming, you'll find visitors at this beach walking the long stretch of shoreline, fishing from the coast, or sunbathing. The beach also has a freshwater lagoon along its back end.
You won't find many services at the beach, but its natural, raw beauty is reason enough to come spend at least a few hours. Remember — you won't want to miss sunsets here, as they are among the best on the peninsula.
You may also find people refer to the beach as Playa Todos Santos, as it's the closest beach to the center of town. It's about a 10-minute drive from downtown along an unpaved road.
8. Stroll Calle Benito Juarez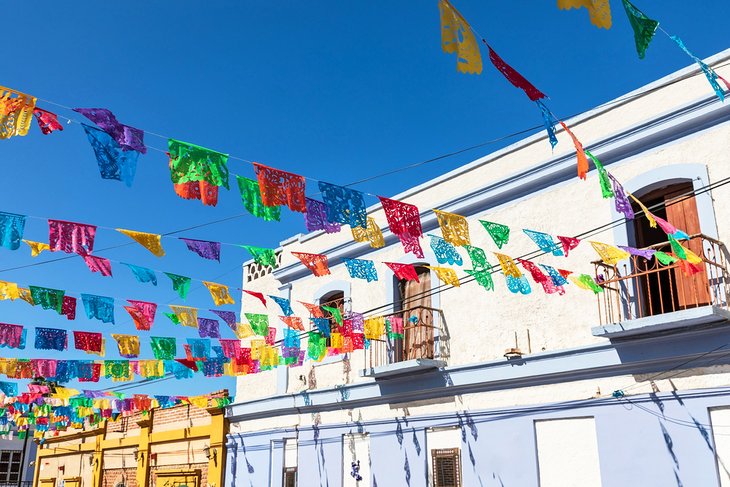 Todos Santos was founded in 1724 as a mission and later was a center of sugarcane production. So much of the village's history can be found down in its historic district, which runs along Calle Benito Juarez. In fact, many of the facades of the buildings along the street date back at least two hundred years.
Today, the street is the main artery of downtown, flanked on either end with wonderful restaurants, shops, galleries, and hotels. A visit to Todos Santos is incomplete without a stroll down the colorful thoroughfare.
Calle Benito Juarez will be the road that you take straight into town. Once you hit Centro, you'll find many of the town's main restaurants and shops lining the street, as well as the famous Hotel California. Branching off from Calle Benito Juarez are the smaller side streets, along which you'll find other great restaurants and hotels.
9. Visit La Candelaria
About two hours from Todos Santos is the charming town of La Candelaria, a village that dates back more than two centuries, with a population of less than 200 people.
Visitors come to La Candelaria to see its beautiful wildlife; browse its historic architecture; and enjoy its opportunity for adventure travel, like ATVing. Legend has it that the town is known for practicing witchcraft, so keep your senses heightened to see if you can feel the change in energy if you decide to visit.
10. Shop the Boutiques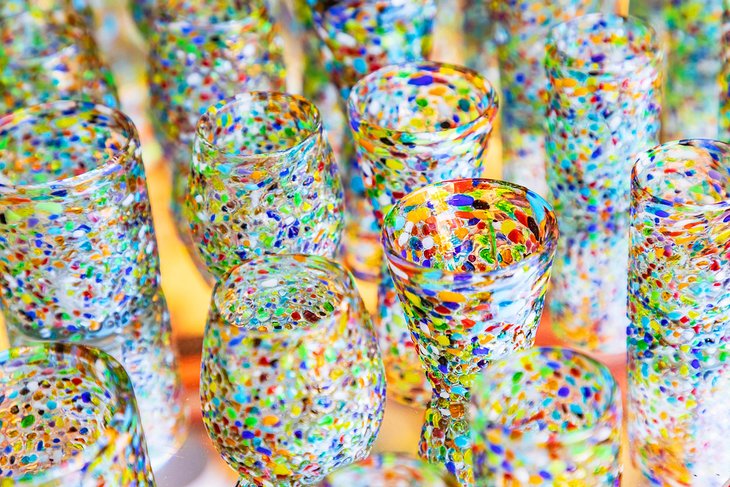 Todos Santos is a shopper's paradise, particularly if you're looking for handcrafted items. Nomad Chic, for example, is a wonderful clothing boutique with bohemian-style designs.
Etnica is another local boutique, known for its uniquely designed clothing and decor, including everything from glassware to throw pillows.
You can also find shops that are dedicated to leather goods, pottery, jewelry, and beachwear.
You will also find the typical tourist shops in Todos Santos, with the same trinkets that you find in most other destinations across Mexico. Keep in mind that most of this stuff is mass produced, even though the advertising may say otherwise.
If you do go shopping at the design-forward artisan boutiques, be sure to bring plenty of pesos. The shopping scene in Todos Santos is not cheap.
11. Take a Picture at Hotel California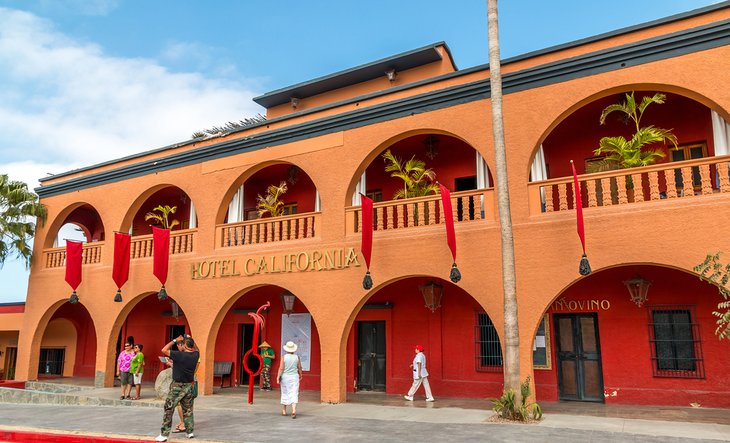 The rumor around town is that Todos Santos' Hotel California is, in fact, the lovely place immortalized in the legendary Eagles song. The band and the hotel have both denied the allegation, but still visitors come from all over the world to see the building that holds the same name as the song.
From the rooftop, you can have beautiful views over town. The hotel was founded in 1947 by an expat from China, though he changed his name to Don Antonio Tabasco, so that locals would believe he was Mexican. The hotel was bought in 2001 by a Canadian couple who funded a massive renovation. Today it is an 11-room hotel with a restaurant.
Each of the 11 rooms is individually decorated, so no two rooms are alike. The best room in the house is its penthouse suite, which has a private patio with ocean views. The hotel also has a pool, which is only open to hotel guests.
Address: C. Benito Juárez S/N, Centro, 23300 Todos Santos, B.C.S.
12. Watch for Whales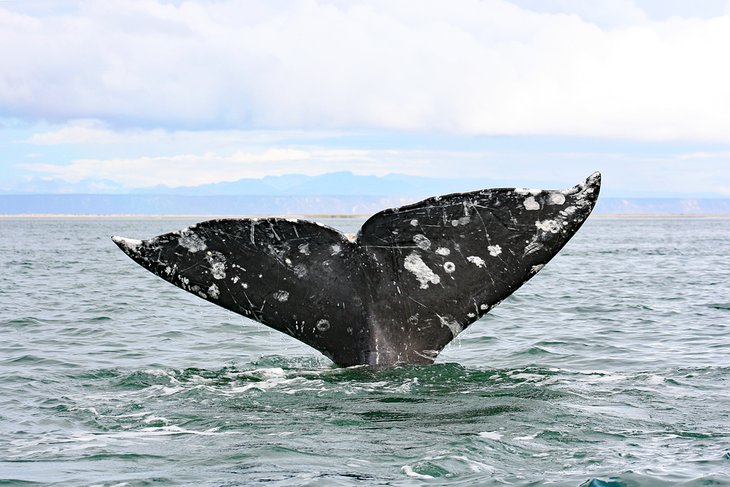 The Baja peninsula is known for its fantastic whale watching opportunities in the winter, when humpback and gray whales make their way down the Pacific. Todos Santos is one of the best places in Baja for whale watching, particularly between January and March.
The San Ignacio Lagoon, which is about an hour north of Todos Santos, is one of the best places to visit to see these gentle giants. Todos Santos has several tour companies that can arrange day trips to the top spots to view the migrating whales.
Map of Things to Do in Todos Santos