11 Top-Rated Things to Do in La Paz
When it comes to the Baja peninsula, Los Cabos tends to hog the spotlight. But you'll also find other wonderful cities and villages that help shed light on the history, culture, and people that have helped shape this part of Mexico. La Paz, the capital of the state of Baja California Sur, is one of those cities, and a must for anyone looking to explore Baja a little deeper.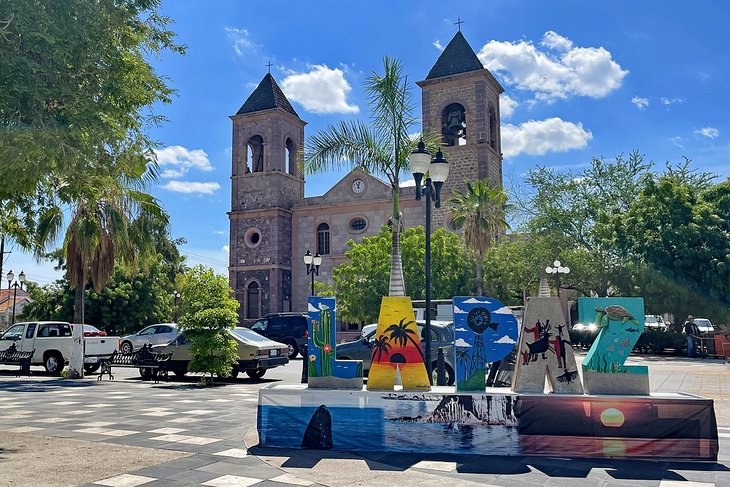 La Paz has been inhabited for centuries and archaeological evidence of prehistoric peoples have been discovered across the region. It also has a rich maritime history, a history of pearl diving, a sad history of attempted colonization, rebellion, and, finally, settlement by missions.
La Paz celebrates all of its history through preserved architecture, museums, modern-day murals, a flourishing dining scene, and eclectic hotels. Its perch overlooking the Sea of Cortez is one of its top selling points, as well. La Paz is also one of the top diving destinations in the world.
It also happens to be a treasure trove of natural beauty, from the protected islands offshore to the pristine, undeveloped beaches that residents have tried to keep secret for so long.
La Paz is a magical, untapped destination in Mexico. Read on to discover the best things to do in La Paz, Mexico.
1. Marvel at Balandra Beach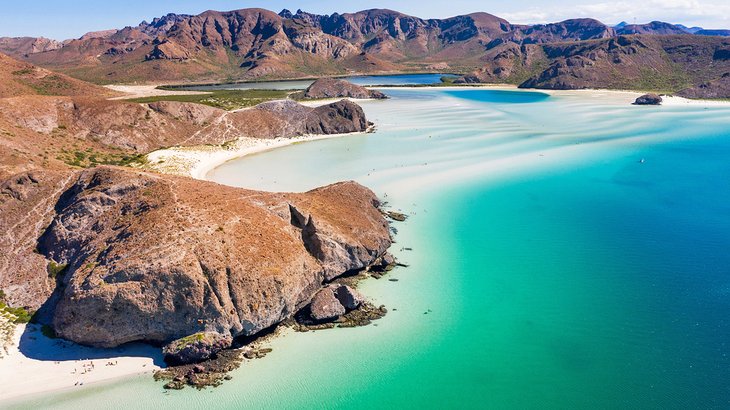 Whenever you see a "best beaches in Mexico" list, Playa Balandra is likely to be at the top. One of the most beautiful beaches in Baja, and in all of Mexico, is located about 40 minutes from La Paz.
The stunningly beautiful turquoise water fills a mountain-wreathed cove, ringed in sugary soft sand. The gentle water is perfect for snorkeling, kayaking, paddleboarding, and swimming. A thick mangrove forest adds a swath of green to the beautiful beachy color palette.
Not only that, Balandra Beach became a Natural Protected Area in 2008, which means that development is not allowed. Because of this Playa Balandra is one of the most photographed and pristine beaches in all of Mexico.
Don't forget to visit The Mushroom Rock, which is one of the iconic symbols of La Paz.
Note: As of Fall 2022, La Paz was affected by an oil spill from a yacht that sank just offshore. The beach has been contaminated with oil and diesel fuel, but the residents have rallied together to begin efforts for cleanup to bring back their beloved beach.
2. Explore Isla Espiritu Santo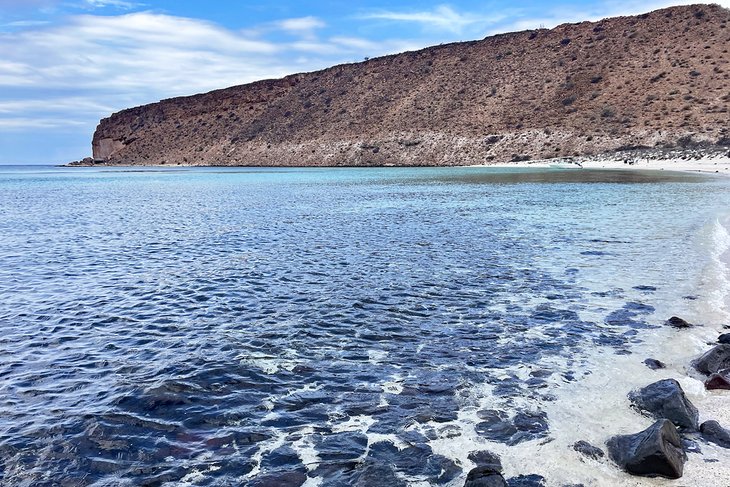 Just off the coast of La Paz is one of the best reasons to visit Baja California Sur — Isla Espiritu Santo. This UNESCO World Heritage Site, and national park, is known for its staggering natural beauty and centuries of history.
The uninhabited, mountainous island is known for its spiny rock formations that jut out into the Sea of Cortez, creating coves of pristine white-sand beaches, turquoise-colored water, and undulating shrub-covered sand dunes. The island is a unique habitat for all types of wildlife, from sea turtles, rabbits, and blue-footed boobies to colonies of sea lions, and, when the season is right, whale sharks.
While on the island, visitors can take part in a variety of activities, like kayaking and hiking, stand up paddleboarding, snorkeling, or scuba diving. In fact, Espiritu Santo is surrounded by beautiful natural reefs and sunken boats, making it one of the best places for diving in Mexico.
The island does not have any facilities, but visitors can spend the night glamping with one of the island's certified operators. Sleeping out underneath the stars on an uninhabited island in the middle of the Sea of Cortez is one of those experiences you will remember for a lifetime.
3. Stroll the Malecon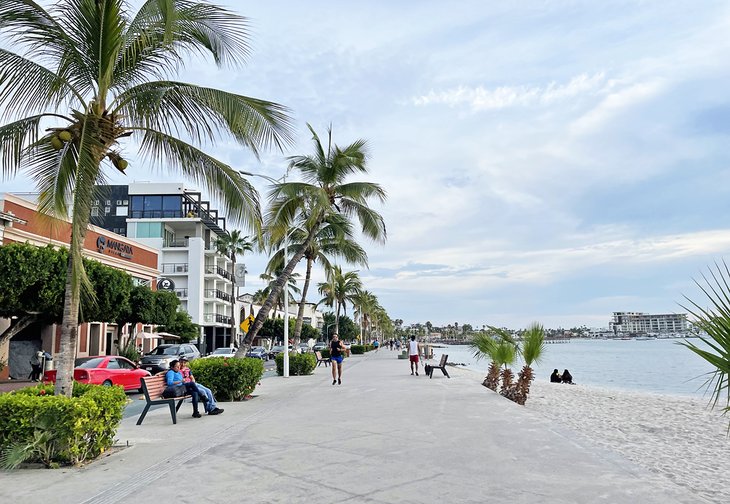 One of the best features of downtown La Paz is its expansive Malecon, or boardwalk. A hub of life and activity, the Malecon is one of the city's most famous landmarks, tourist attractions, and beloved spots for residents.
Running along the shoreline and backed by a sparkling turquoise bay, the Malecon was built in the 1920s and was recently revitalized, making it even more beautiful and modern. Today the Malecon is lined with restaurants and cafés, as well as the Baja Club Hotel — a modern, chic hotel built out of the bones of a historic hacienda home.
The evening is the best time to stroll the Malecon, particularly at sunset, as the sunsets in La Paz are truly spectacular. Live music spills out onto the sidewalks, and the air gets a bit cooler, making it a wonderful time to be outside, watching the boats zipping in and out of the marina.
Along the Malecon are sculptures, a bike path, and shady places along the beach. With so many wonderful things to do throughout the day, it's no wonder the Malecon is one of the most popular places to visit during your time in La Paz.
4. Swim at Playa El Tecolote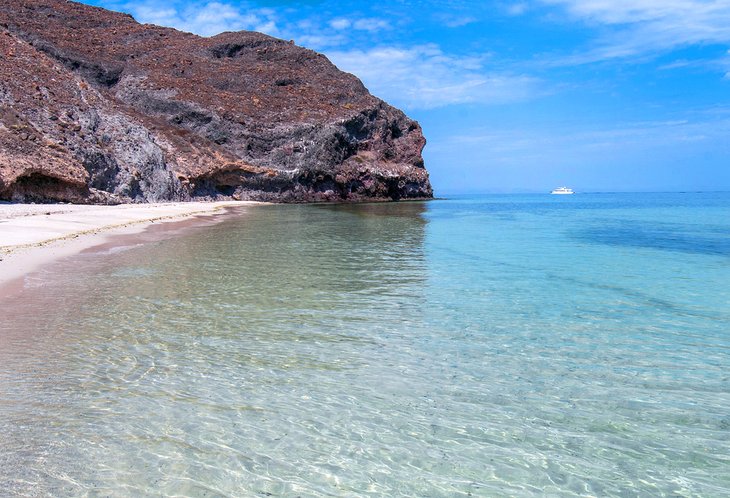 Not far from Playa Balandra is another of Baja's gorgeous beaches. Playa Tecolote is often considered to be an even better beach by locals, because it has far fewer tourists than its more photographed neighbor. The crystalline waters off Playa Tecolote sparkle with shimmering turquoise, and the sand is idyllically soft and powdery.
The calm waters are perfect for snorkeling, swimming, or jet skiing, and the beach has thatched palapas for seeking shade from the strong Baja sun. You'll even find a restaurant here, which is perfect for a casual, fresh lunch.
5. Stop at La Paz Cathedral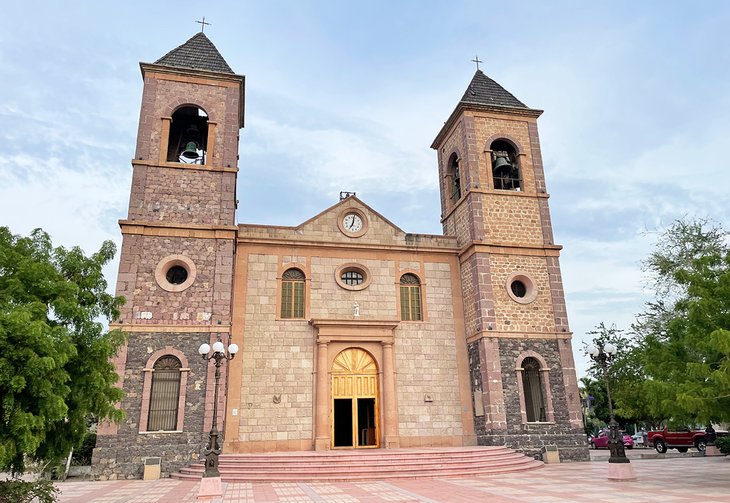 La Paz Cathedral, otherwise known as Our Lady of Peace Cathedral, is a Catholic Church that sits just off the main square in La Paz. The church stands in the original location where the mission of the region was founded in the 18th century.
The church that is currently standing was built in the mid-1800s. It is a rather plain-looking facade of brick and stone, with a large wooden door and a lovely tree-ringed plaza out front. Inside, the church has more detail to it, with a Baroque altar, though it is still much more minimalist compared to other Catholic churches in Mexico.
Address: Revolución de 1910 S/N, Zona Central, 23000 La Paz, B.C.S.
6. Visit the Museo de Antropología e Historia de Baja California Sur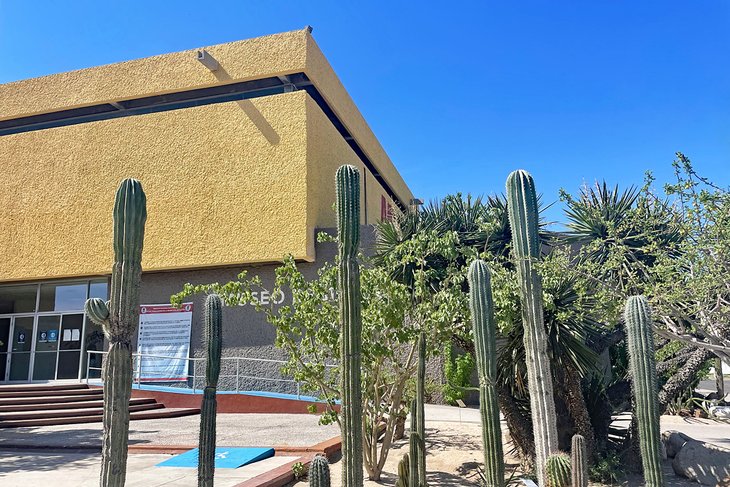 Take a step back in time to discover prehistoric Baja California Sur with a visit to the Regional Museum of Anthropology and History. The museum features a collection of fossils that takes visitors through the natural history of the Baja California Peninsula as far back as 60 million years.
The museum also features tools and other archaeological artifacts from the first inhabitants of the region, including inhabitants who used to live on Espiritu Santo. Some of these artifacts include crafts, stones with inscriptions, tools for pearl diving and mining, and weapons.
Address: Calle Ignacio Altamirano s/n, Zona Central, 23000 La Paz, B.C.S.
7. Depart from Marina Cortez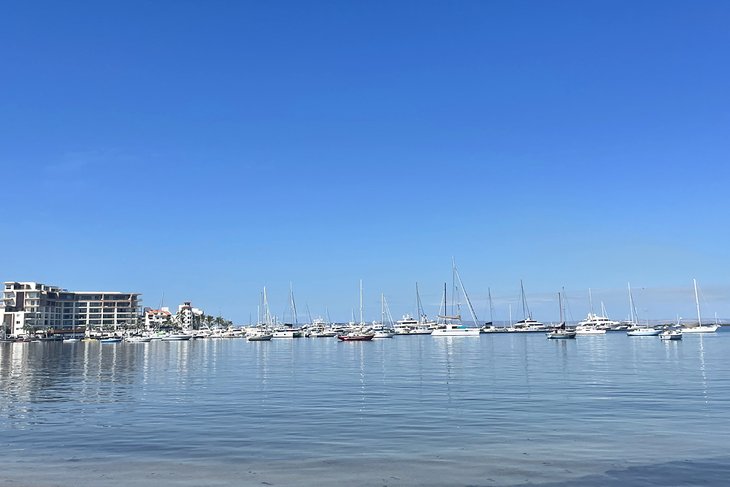 One of the best ways to experience La Paz is from the water. The sea has played such a vital role in the past of La Paz, and continues to be integral to daily life today. Plus, La Paz has such a beautiful natural vantage point overlooking what Jacques Cousteau called, "The Aquarium of the World."
The first stop to getting out on the water from La Paz is the Marina Cortez. Located off the Malecon, in a sheltered cove within the bay, the Marina Cortez has more than 50 slips, and some beautiful boats to marvel at.
But the marina is likely where you'll depart from if you are embarking on a sightseeing boat tour of Espiritu Santo, going on a fishing trip, or sailing to more remote beaches.
Address: Marquez de Leon, Topete 2415, Zona Comercial, 23060 La Paz, B.C.S.
8. Explore the Murals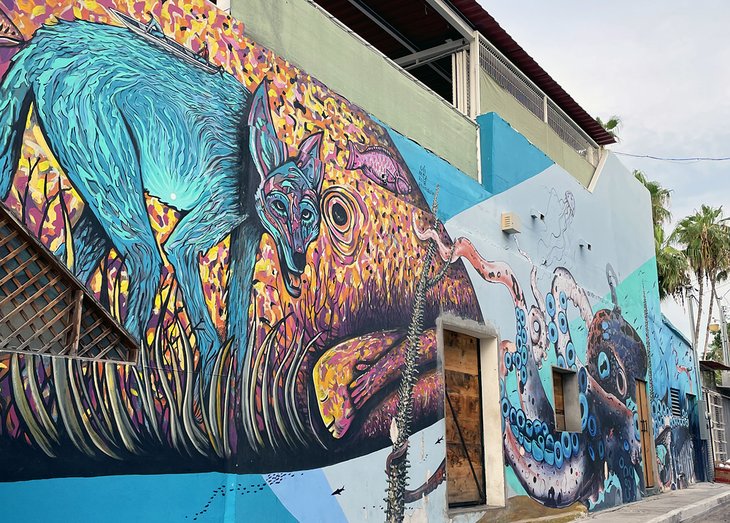 La Paz is a city that explodes with color — and not just from the sparkling hues of blue that shift across the bay. Wandering the historic streets of downtown, it's difficult not to notice the splashes of vibrant color that leap off the walls in the form of spectacular murals.
The artists of La Paz have decorated their city with beautiful art, full of stories that tell the legends and histories of the land and people of La Paz. In fact, in 2017, the city hosted the Ciudad Mural project, which brought 26 artists to paint dozens of murals throughout the city center.
Visitors can take a guided tour of the murals, or download the StreetArt La Paz map for a self-guided tour. It's one of the most unique (and photogenic) ways to get an introduction to the city of La Paz.
9. Check Out the Museo de Arte de Baja California Sur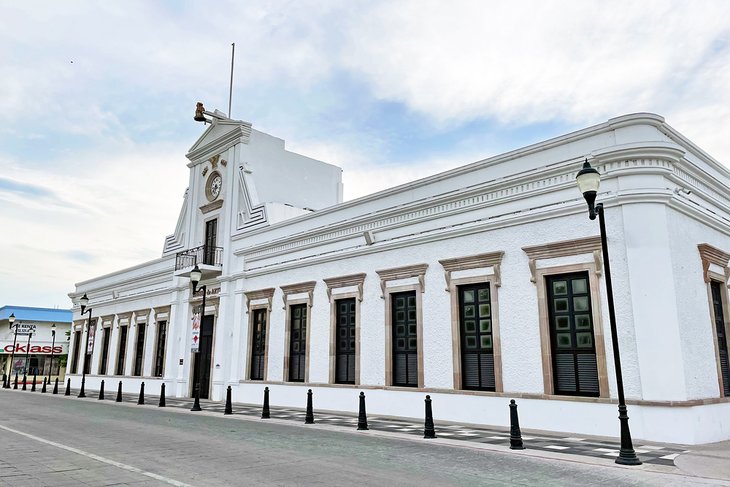 Directly across from the cathedral in downtown La Paz is the Museo de Arte de Baja California Sur. The museum lives in a historic building that used to be the first government house for the capital of the state. It was rebuilt in 1981 and then in 2019 was expanded to become the new home for the museum of art.
The museum's first exhibition was called "Landscapes" and was made up of work from artists such as Manuel Alvarez Bravo, Rufino Tamayo, Carlos Merida, and others. Today it features a rotating series of exhibitions. Visitors also love the museum for its architecture, with a carved stone doorway, beautiful patio, grand staircase, and lovely fountain.
Address: Cl. 5 de Mayo SN-S"BANCO VITAL", Zona Central, 23000 La Paz, B.C.S.
10. Snorkel with Sea Lions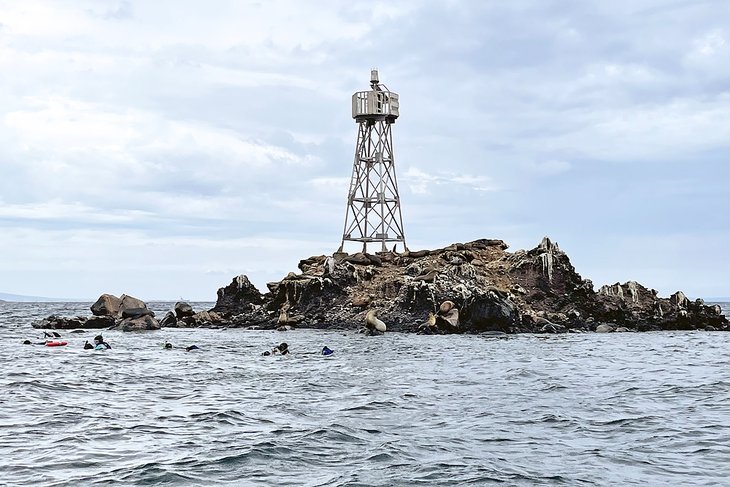 The waters of La Paz are teeming with adorable sea lions. In fact, one of the largest sea lion colonies in Mexico can be found off the shores of La Paz. On the way to Espiritu Santo, boats will pass by Lobera San Rafaelito, where you can find hundreds of sea lions and their pups basking and playing.
Swimming with sea lions is one of the most popular things to do in La Paz. Tour companies taking travelers out to Isla Espiritu Santo will often stop at Isla Partida, where guests can strap on a life vest and a snorkel, and hop in to swim near these gentle, playful animals.
Keep your eyes peeled for dolphins, as well, because sometimes they ride alongside the boats and put on a show. Depending on the season, you may even spot a glimpse of the gorgeous, and massive, whale sharks.
But even if you don't feel like jumping in the water, you'll still have a wonderful front-row seat to view all the aquatic life that lives around Lobera San Rafaelito. Make sure to bring your camera!
11. Enjoy a Night at Teatro Juarez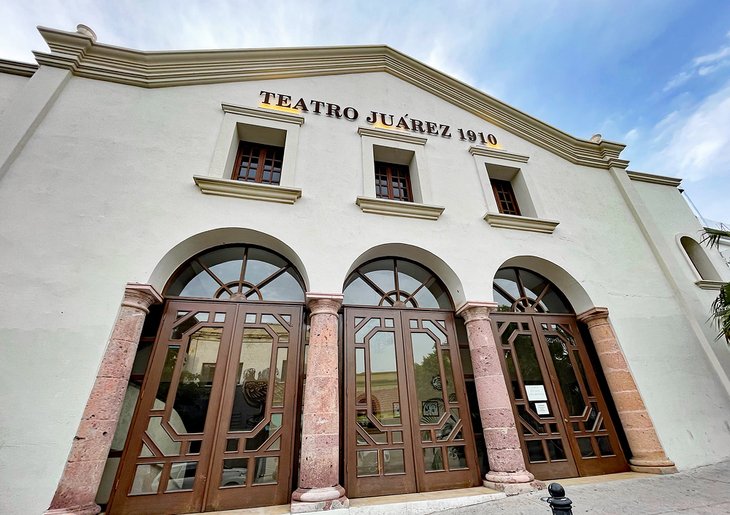 The historic Teatro Juarez dates back to 1910 and is located in the heart of downtown La Paz. When it opened, it operated for many years as both a theater and a cinema, but the building closed in the 1980s and was abandoned.
Later in 1997, the Baja California Sur Culture Board took over the building to restore it, bringing artists from both Baja, Mexico and abroad to fill its calendar of events with plays, dance, folklore, concerts, conferences, movies, courses, and more.
Address: Belisario Domínguez, Zona Central, 23000 La Paz, B.C.S.
Map of Things to Do in La Paz
La Paz, Mexico - Climate Chart
Average minimum and maximum temperatures for La Paz, Mexico in °C
J
F
M
A
M
J
J
A
S
O
N
D

23

12

25

13

27

13

30

14

32

16

34

19

36

23

35

24

34

24

32

20

28

17

25

14

PlanetWare.com
Average monthly precipitation totals for La Paz, Mexico in mm.

5

28

0

0

0

5

10

31

36

15

13

28