12 Top-Rated Attractions & Things to Do in Puerto Peñasco
Author Meagan Drillinger has spent more than a decade exploring Mexico and visits several times per year.
Have you ever been to Arizona's best beach town? Yes, you read that correctly. Arizona has a beach town — it just happens to be right over the border in the state of Sonora in Mexico. Packed with things to do, it's a part of Mexico you never knew you needed to visit.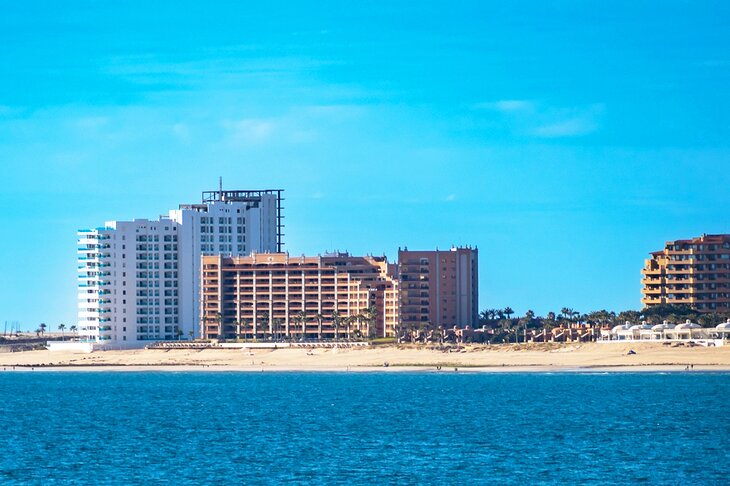 Puerto Peñasco is home to a bustling Old Port, historic malecon (sea wall), uninterrupted stretches of sandy beach, holiday resorts, restaurants, golf courses, and explosive sunsets. Picture the landscape of Los Cabos, with a rugged, wild interior and panoramic views of the sea, all at a fraction of the cost.
Getting to Puerto Peñasco is easy if you live in the Southwest — all you need to do is drive across the border. It's easiest to reach from Phoenix, but you can also drive from Tucson or even San Diego. The closest airports are in Tijuana or Hermosillo.
If you live in the American Southwest, this is a perfect beach getaway on the Baja Peninsula for even just a weekend. Whether you're a sun worshipper, an adrenaline junkie, or a nature lover, plan your sightseeing with our list of the top places to visit and things to do in Puerto Peñasco.
1. Relax on the Beaches of Puerto Peñasco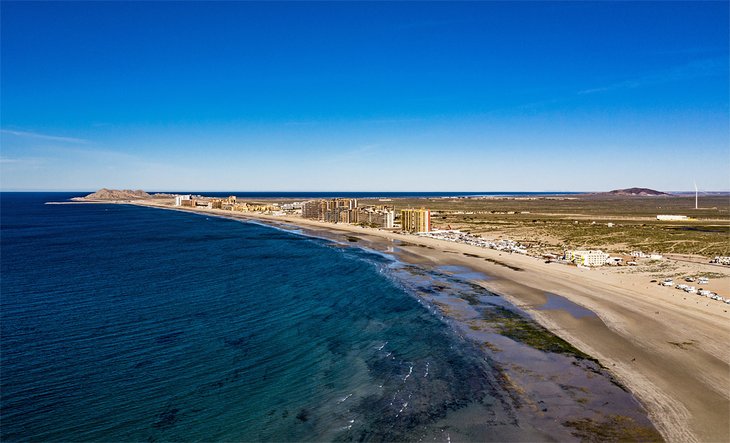 If there's one thing to be said about Puerto Peñasco's beaches, it's that you won't want for space. The beaches here are massive. Picture golden sand, cobalt-colored water, open swaths of sand for sunbathing, and plenty of waves for jet skiing.
Playa Arenosa, or Sandy Beach, is the most sweeping stretch of powder, which sits directly in front of the majority of hotels and resorts. Popular things to do at this family-friendly beach are snorkeling and scuba diving.
Closer to the center of town is Playa Bonita, which is the most convenient beach in Puerto Peñasco. Also family-friendly, but big enough to keep crowds spread apart, this is a great beach for renting an umbrella, ordering a snack from one of the many restaurants, and relaxing.
Las Conchas offers six uninterrupted miles of sandy dunes and gentle waves, and is a favorite for fishing, running, and gently wading into the water.
Cholla Bay is a few miles north of Puerto Peñasco and has spectacular views of the sunset. A string of restaurants lines the shore, and on a clear day, the 360-degree views are simply stunning.
2. Enjoy Water Sports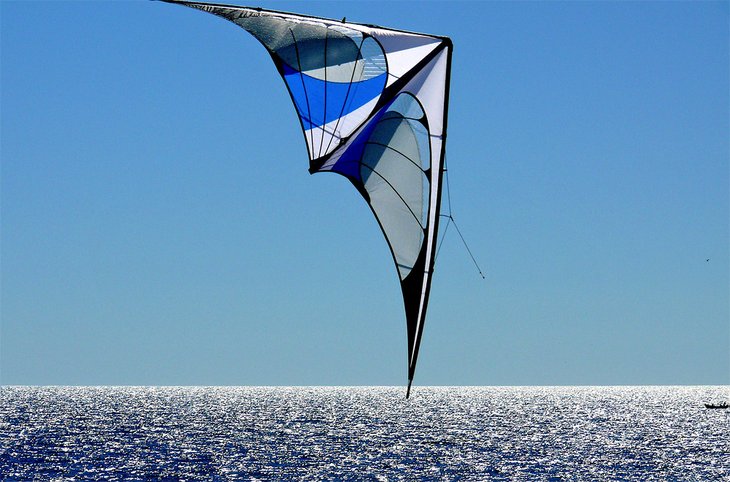 The water in the Sea of Cortez is quite calm, without any big waves, so people of all experience levels are welcome to test their sea legs in whatever form they like.
If you love getting out on the water, Puerto Peñasco is one of the best spots in Mexico to kitesurf the waves. The wind level is just right for zipping kitesurfers across the warm Sea of Cortez waves at amazing speeds. All skill levels are welcome, and many kitesurfing schools are available and ensure that even beginners are safe and having fun.
Looking for something to do that's a little less high-adrenaline? Consider exploring the coastline by Jet Ski. Many outfitters in town offer the opportunity to rent a Jet Ski or WaveRunner for the day.
Not totally into motorized sports? You can also kayak, snorkel, and paddleboard. For all these, you can easily rent your own equipment near the beach. For something like paddleboarding, there are even classes available.
Tip: Plan to be out around sunset. Catching the smoldering sky from the water is a memorable end to any day.
3. Explore El Pinacate y Gran Desierto de Altar Biosphere Reserve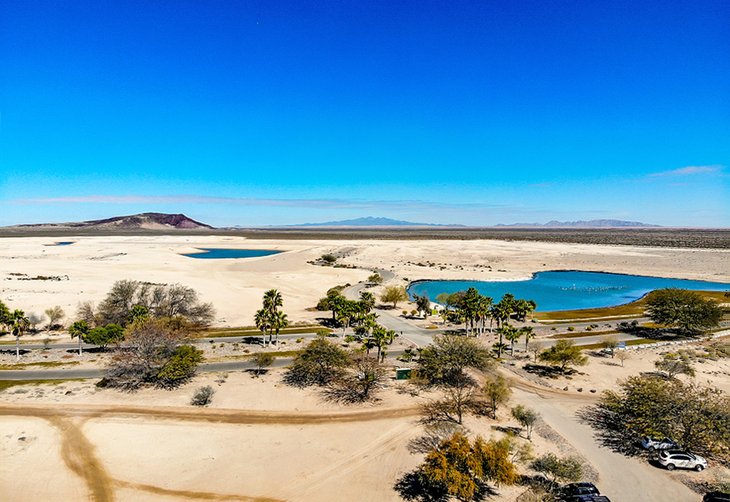 An enigmatic and hypnotizing lunar-like landscape awaits visitors just outside Puerto Peñasco. The Pinacate Reserve and the neighboring Gran Desierto de Altar Reserve are known for the surreal, stark, and alienesque natural beauty.
The biosphere is made up of shifting dune fields, which, you may be surprised to learn, are the largest in North America, as well as volcanic craters. This is by far one of the most rewarding (and hard-to-believe) sites in Puerto Peñasco.
The 30-mile-wide volcanic field is known for its sandy coastline and raw, rugged volcanic cones. Teeming with wildlife like puma, deer, sheep, and even Gila monsters, this part of Mexico is truly other worldly. In fact, some of the lava fields were used by U.S. astronauts as part of their training during the Apollo space program.
Today, the area is a Biosphere Reserve and one of the 34 UNESCO World Heritage Sites in Mexico. The highest peak is the Cerro del Pinacate, which reaches an elevation of 3,904 feet.
Be sure to request the guidance of one of the rangers, who are experts in the region and can give you the best information, while keeping you safe. A driving tour will take you to the most dramatic spots in the biosphere.
Address: Carretera Sonoyta-Puerto Peñasco Km 51 Ejido Los Norteños.
4. Visit Isla San Jorge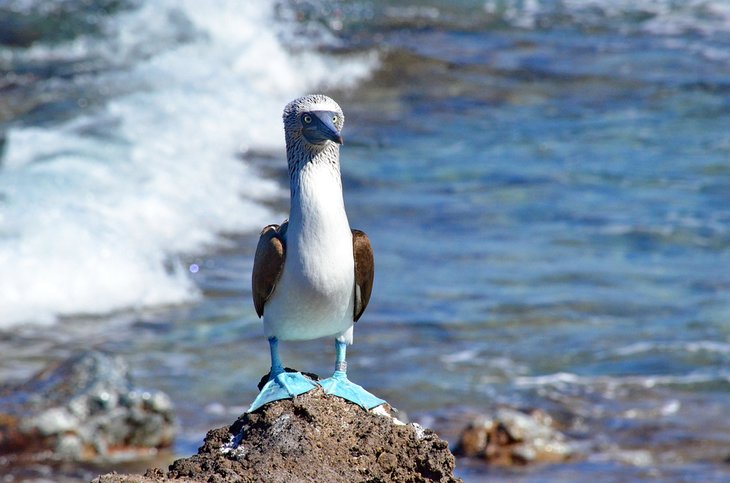 Wildlife lovers will absolutely love Isla San Jorge, also known as Bird Island. If you stand on the shores of Las Conchas, it may be possible, on a clear day, to make out the rising, white mounds along the horizon.
One of the top boat excursions in northern Mexico, Isla San Jorge is a virtual paradise for bird-watchers, about 25 miles south of Puerto Peñasco. What exactly will you be spotting through your binoculars? Seabirds (like herons and boobies), sea lions, dolphins, and possibly even whales.
Today, the island is a federal reserve area, and has been since the late 1970s. For a full-day cruise, consider Del Mar Charters. In fact, in the warmer months, travelers are invited to snorkel or swim with the sea lions. Their charters include lunch for $90 per adult and $60 per child. They also offer fishing and scuba diving charters, and even a sunset cruise, which is highly recommended.
Address: Del Mar Charters, Recinto Portuario, 83554 Puerto Peñasco, Sonora
5. Go on a Whale Watching Tour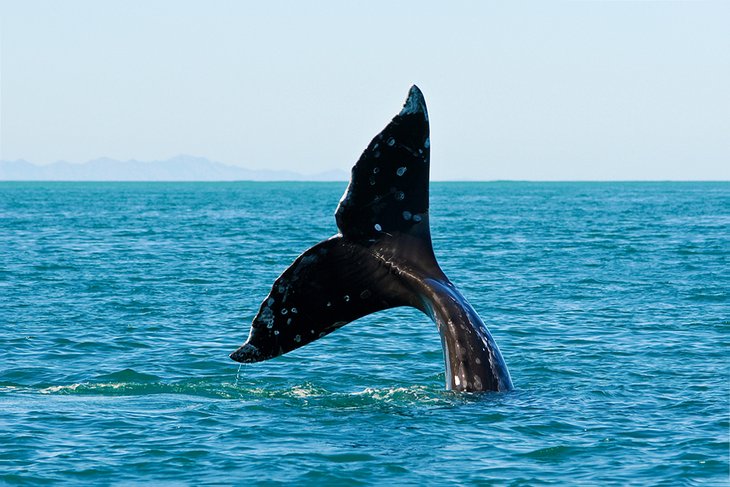 Jacques Cousteau called the Sea of Cortez the world's aquarium, and for good reason. Animal lovers must put a whale watching tour on their to-do list, especially from February to May, when grey whales are frolicking through the Sea of Cortez.
CEDO, the Intercultural Center for the Study of Deserts and Oceans, is another must for getting close to the ecology of Puerto Peñasco. The center runs summer camps and educational programs, and also offers ecotours that center around the landscape that makes Puerto Peñasco so unique.
Address: Edif. Agustín Cortés S/N Fracc, Las Conchas, 83550 Puerto Peñasco, Son.
6. Stroll Along the Malecon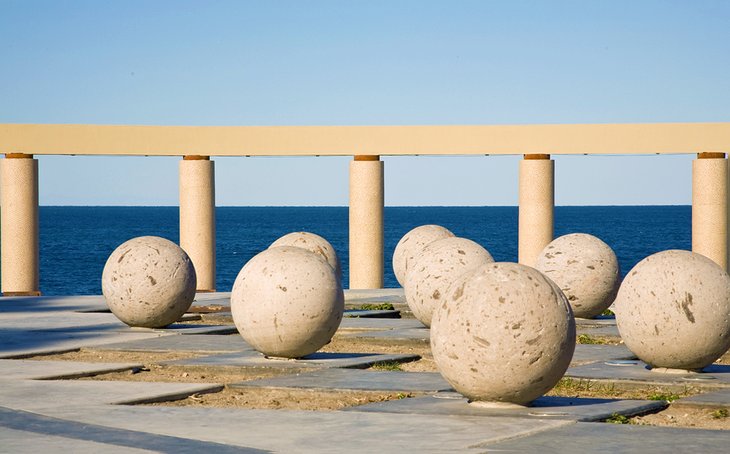 Like any good Mexican beach town worth its sal, Puerto Peñasco has a magnificent Malecon, or beach path. Hugging the coastline, this quarter-mile walking path is a communal gathering place. A typical day on the Malecon can include shopping for handicrafts, eating at one of the many different restaurants along it, or simply perching on a bench and enjoying an explosive Pacific Coast sunset.
Do you feel like dancing? Be sure to catch the live music performances that can pop up any night of the week. A few years ago, the malecon underwent a renovation to make the entire experience seamless by leveling the streets and sidewalks.
The malecon is a vital part of Puerto Peñasco's history, and today visitors can pay homage to the city's first inhabitants at the Monument to the Fishermen, which is part of a set of sculptures that are in ports across Mexico.
7. Golf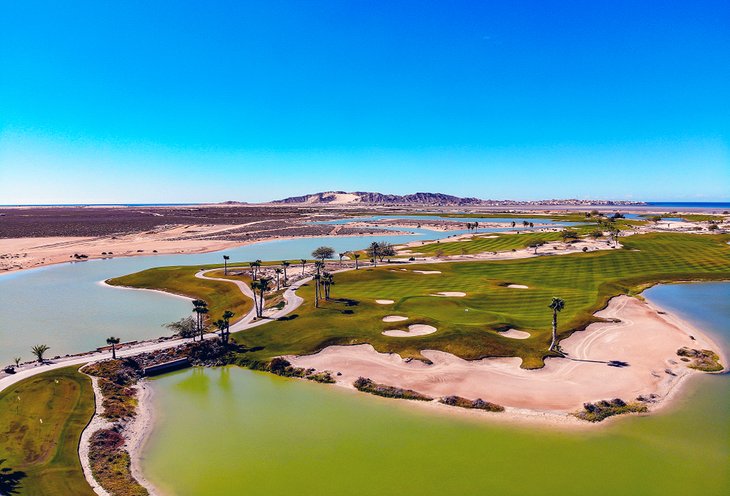 Puerto Peñasco is a prime spot to perfect your golf swing. Quite a few world-class golf courses can be found in and around the city, and it's easy to secure a day pass for a leisurely day of golf, no matter where you're staying.
One of the best golf courses is at Las Palomas Beach & Golf Resort, which features gorgeous views of the Sea of Cortez. The course was designed by Forrest Richards and Arthur Jack Snyder and is a 72-par 18-hole championship course.
If that's not enough, be sure to check out the Jack Nicklaus course at Vidanta Mayan Palace. This 18-hole, 7,200-yard course has been ranked as one of the best in Mexico. End the game with a spectacular view from The Tides Social House.
8. Rent an ATV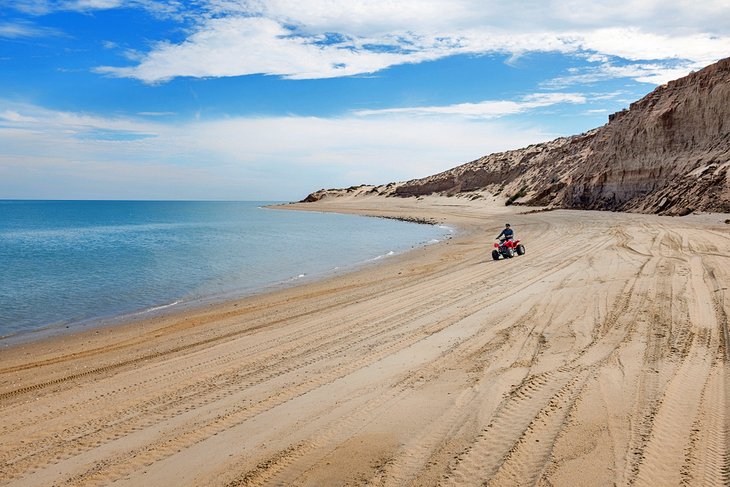 If you go to Puerto Peñasco and don't rent an ATV, did you even visit at all? One of the most popular modes of transportation in this coastal city is an ATV - and not just on the paved roads. Off-roading on the dunes is a visitor's favorite pastime, as well.
It's a desert environment, which means there is a lot of sand, and dune crashing is an epic way to enjoy the day. Quad riding is allowed behind the beaches at Las Conchas, Sandy Beach, Cholla Bay, and more. Most resorts even allow you to park the ATV on property, so you can have it readily at your disposal in case you rent it for more than a day.
The best place to visit to ride your ATV? Competition Hill, located next to Cholla Bay. This 30-degree, 300-foot sandy hill was designed with off-roading in mind, and vehicles can be seen cruising up and down all day long. Rental shacks are set up all over town, and all you will need is a driver's license, a deposit, and to sign a rental agreement.
9. See the Street Art
Those in the know are aware of Puerto Peñasco's budding artistic community. But this isn't surprising, given the Southwest landscape in general has attracted artists for centuries.
What isn't visually inspiring about stark desert meets rolling mountains meets azure sea? And don't even get started on the sunsets. It may not be the number one art destination in Mexico, but that doesn't mean it doesn't have a lot to show for itself.
The art here is all about street art, getting back to the gritty core of public art. But you can also find international art, from jewelry and pottery to other handicrafts, many from around the world.
The Galeria Del Mar Bermejo, for example, just a few blocks off the Malecon, is a treasure trove for art from around the world. In fact, the network of streets downtown is a veritable outdoor museum of street murals. You can even find several galleries that pepper downtown, as well.
The art scene has even trickled down to the beaches, where you can find that the beach stairs are splashed with beautiful murals.
Address: Galería Del Mar Bermejo, Calle Ignacio Zaragoza 11, El Puerto, 83554 Puerto Peñasco, Son.
10. Enjoy the Sounds of Agua de Coco
It's impossible to avoid the vibrant music scene when visiting Mexico, and Puerto Peñasco is no exception. Repeat visitors to Puerto Peñasco are already familiar, and first timers are always delighted, with Agua de Coco. This local jazz and salsa band has been around since 2011, and they are certainly Sonoran native sons who make their city and state proud.
They burst on the scene at the Festival International Cervantino, when it was held in Rocky Point, and have since exploded to become one of the best tourist attractions when you're visiting the area. If you love to dance, be sure to find out where they are playing. And even if you don't love to dance, they still put on a fantastic performance.
11. Browse Old Port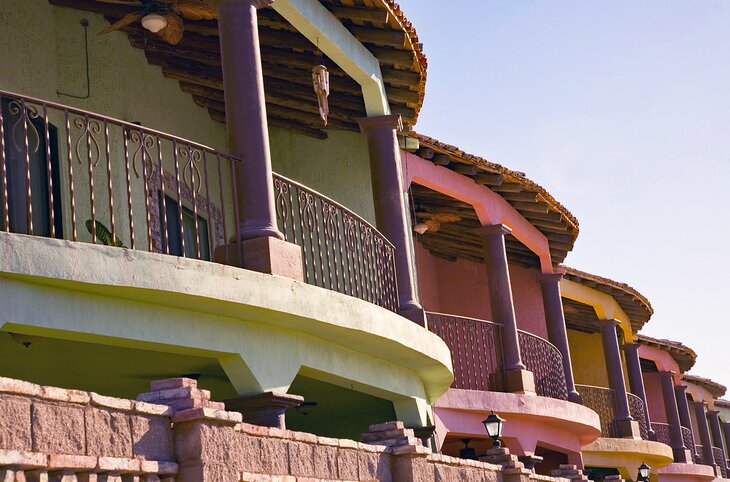 In the heart of Puerto Penasco, Old Port represents the historic section of the city. Today it is known for its markets, where the local fisherman come to sell their morning catch. It's a great spot where residents and visitors mingle together, selecting what they'll be bringing home to cook that afternoon.
Don't feel like cooking? Old Port is packed with many restaurants where you'll be able to try regional cuisine. Old Port also has fantastic shopping and art galleries that flank the wide, palm-fringed street that heads directly to the beach.
12. Fly with Rocky Point Ziplines
One of the best outdoor activities in Puerto Penasco is its adrenaline-pumping biplane course. In fact, it's one of the longest in Sonora and has some of the most beautiful views.
Strap in and get ready to soar above the rolling sand dunes with direct views out to the Sea of Cortez. The course has five lines that are connected by standing platforms. At 2,000 feet of track, this is the second longest zipline in Mexico.
You can find Rocky Point Ziplines on the road to Cholla Bay.
Address: Paseo de la Duna S/N, La Choya, 83550 Son.
Where to Stay in Puerto Peñasco for Sightseeing
Luxury Hotels:
One of the most luxe properties, Las Palomas Beach & Golf

Resort

has a beachfront location in Rocky Point. The resort has a mix of rooms and suites, many with ocean views from private balconies. Amenities include a restaurant serving global cuisine, the region's only links style championship golf course, a swimming pool, and a spa.
Mayan Palace Puerto

Penasco

is another luxury option in Rocky Point, with colorful rooms and suites. If you're traveling with kids there are also family rooms. The decor is vibrant, with lots of bright colors. Some of the rooms and suites have ocean views. There is also an on-site golf course, multiple swimming pools, hot tubs, and fire pits for chilly desert nights. Kids stay free.
The sister property to the Mayan Palace, The Grand Mayan Puerto

Penasco

is also a popular choice. Rooms and suites have a modern vibe and feature comfy beds and kitchenettes. Some also have views of the Sea of Cortez. Amenities include a golf course, multiple swimming pools, a lazy river, beach access, restaurants, and a spa.
Mid-Range Hotels:
Right on the beach but within walking distance of downtown attractions and restaurants, Penasco Del Sol

Hotel

has just over 200 rooms and suites. These have modern decor, and come with beach views from large glass doors opening onto private balconies. The property is family friendly and has activities for kids. There is also a swimming pool, restaurant, and fitness room, and the hotel is dog friendly.
Another family-friendly option is Playa Bonita

Hotel

. Right on the beach, the 3-star property has comfy rooms and suites with balconies. Amenities here include a restaurant, beach access with sun loungers and umbrellas for guests, a spa, swimming pool, hot tub, and free Wi-Fi.
If you're traveling with a dog, check out the pet-friendly Sonoran Sun

Resort

, which is also a beachfront property. Rooms have kitchenettes and free Wi-Fi. There is a swimming pool, hot tub, and a restaurant. There are more restaurants in town within walking distance of the hotel.
Budget Hotels:
A budget-friendly option, Hotel

Senorial

is a motel-style property with dated rooms that are none-the-less clean and affordable. The hotel is also pet friendly if you are traveling with your dog. There is a swimming pool on-site, and staff can arrange all sorts of day trip excursions. There are also a number of good restaurants within walking distance.
Hotel Paraiso del

Desierto

is another budget choice. Rooms are spacious but basic, and beds can be a bit hard, but you are also paying less to stay here. There is a swimming pool and a restaurant on-site. Free parking and Wi-Fi are other perks.