12 Top-Rated Attractions & Things to Do in Riverside, CA
We may earn a commission from affiliate links ()
Sixty miles east of Los Angeles, Riverside is the largest city of the Inland Empire and a great example of what this region can provide. Palm trees line the sidewalks of this city of 300,000 people, and stunning Southern California architecture can be found on every block. One of the top places to visit in Riverside, the historic Mission Inn, also sets the tone for the rest of the downtown district with impressive Spanish-Revival architecture that encompasses an entire city block.
From the Mission Inn rooftop, which can be accessed via a 75-minute tour hosted by the Mission Inn Museum, tourists can catch a glimpse of another defining attraction of Riverside. Besides an impressive backdrop, the towering Mount Rubidoux also provides a sprawling recreation space and place to visit within the city. Every paved trail at Mount Rubidoux Park leads to the top, with spectacular 360-degree views unfolding every step of the way.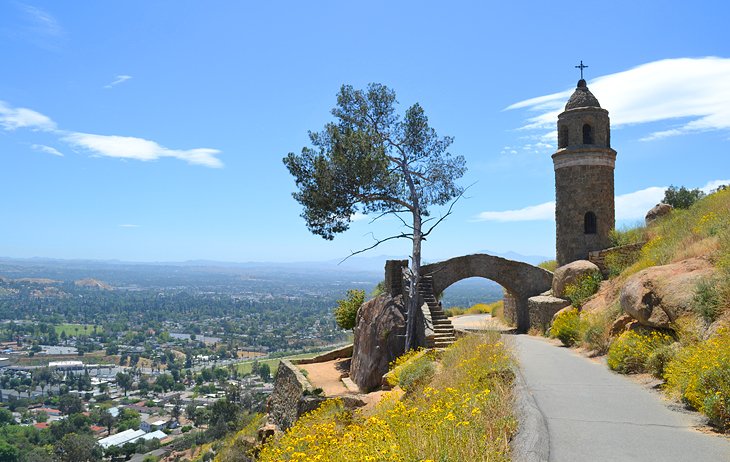 The rest of the Riverside downtown district is filled with culture and entertainment, including the Riverside Art Museum and Main Street Mall, where acclaimed art and local eateries invite indoor entertainment. For nightlife activities in Riverside, many venues come alive after dark, including the Spanish-Colonial-inspired Fox Performing Arts Center. Romantic options also abound, and restaurants like Duane's Prime Steaks and Seafood cater to intimate experiences.
For more outdoor attractions easily accessible from downtown, Box Springs Mountain Preserve has plenty of steep hiking trails and great views from the top. The University of California Riverside Botanical Garden also appeals to students and community members alike. South of the city, the California Citrus State Historic Park preserves part of the city's agricultural heritage with interpretive information and rows and rows of citrus groves. Plan your trip with our list of the top things to do in Riverside, CA.
Note: Some businesses may be temporarily closed due to recent global health and safety issues.
1. Mount Rubidoux Park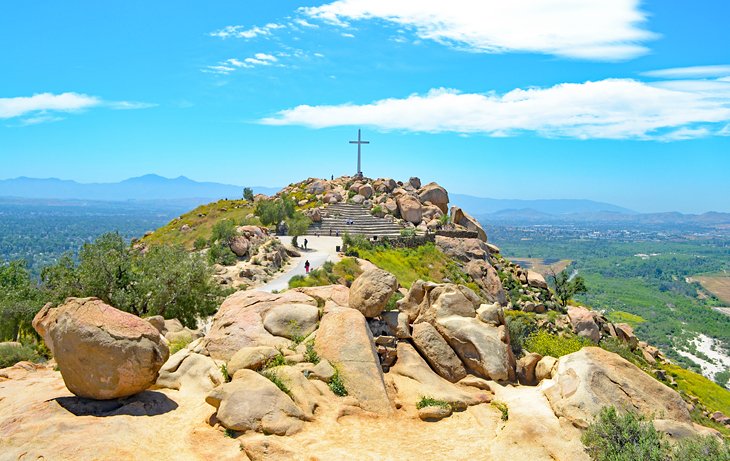 A landmark of the city, Mount Rubidoux is home to one of the most popular hikes for residents and tourists. Various paved routes take visitors to the top of the mountain, and it's between three and four miles from any starting trailhead to reach the summit. The route is lined with cacti and wildflowers, as well as many historical markers that represent the city's past.
At the top of Rubidoux, a symbolic peace tower spans the trail, and a large American flag waves proudly in the air. Also atop Rubidoux, a massive cross overlooks the city, and stone-carved steps are available for sitting. This cross is the site of the oldest outdoor Easter sunset service in the country, a treasured tradition in Riverside since 1909. The entire Inland Empire is also on display atop Rubidoux with a 360-degree perspective, providing a great place to pack a lunch and enjoy the view.
Address: 4706 Mount Rubidoux Drive, Riverside, California
2. Mission Inn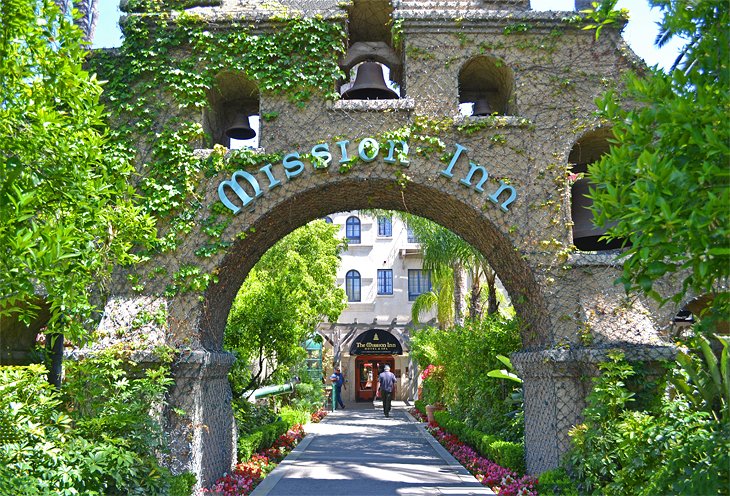 An aesthetic piece of Spanish Mission architecture that sets the tone for the rest of the downtown district, the historic Mission Inn takes up an entire block with a castle-like presence. From a boarding house to bankruptcy and more than one renovation, the history of this unique hotel spans over a century and can be felt within the walls and stylish decor. The Mission Inn Museum offers 75-minute, docent-led tours of this Mission Revival mansion throughout the week, and the public is welcome to experience the elegant lobby on their own.
As one of the best hotels in Riverside, The Mission Inn Hotel & Spa allows guests to continue the legacy of overnight visits. Alongside admission to other parts of the Mission Inn not seen on public tours, guests stay in uniquely decorated rooms that have been preserved to keep their historic character. The Mission Inn is also home to numerous award-winning restaurants including Duane's Prime Steaks and Seafood.
For holiday cheer, the Mission Inn hosts a Festival of Lights for six weeks at the end of every year. Commencing with an eye-catching "Switch-On" ceremony, the Mission Inn is illuminated with over five million holiday lights in an instant, followed by a high-flying fireworks show. Alongside the lights, tourists encounter animatronic displays, horse-drawn carriages, and even some freshly falling snow.
Address: 3649 Mission Inn Avenue, Riverside, California
Official site: https://missioninnmuseum.org/
3. March Field Air Museum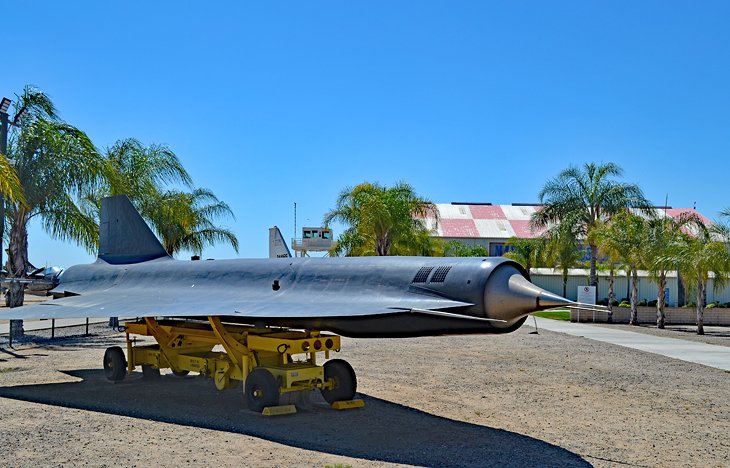 Spanning an aviation timeline of over 100 years, the March Field Air Museum features over 70 aircraft and thousands of artifacts on display, with historic March Field park next to the humongous aircraft outside the museum. Spy planes, bombers, helicopters, and unmanned aircraft can all be toured much closer with the price of admission. Even more aircraft can be seen within the interior of the museum, alongside numerous interpretive exhibits and historical artifacts.
On land donated by the March Field Air Base, on the other side of I-215, the Riverside National Cemetery features solemn grounds and available space for veterans to rest in peace. This is the third largest cemetery operated by the National Cemetery Administration, and any member of the armed forces who has met a minimum active duty requirement is eligible for burial on the grounds. Recreational activities like walking, jogging, bicycling, and photographing are not allowed at the cemetery.
Address: 22550 Van Buren Boulevard, Riverside, California
Official site: https://www.marchfield.org/
4. California State Citrus Historic Park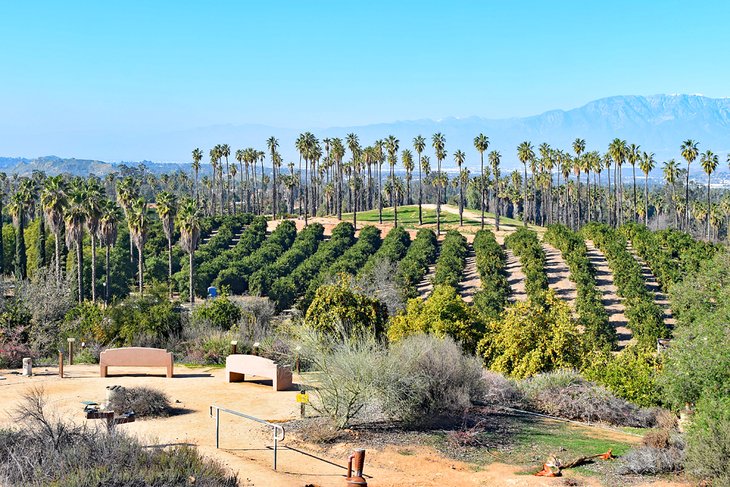 Southwest of the downtown district, this 250-acre state park is dedicated to the citrus legacy of the state, also known as the second Gold Rush of California. Colorful citrus groves encompass half of this historic park, demonstrating a landscape significant in California history, and the visitor center tells the story of the citrus industry in California with interpretive displays and exhibits. The park offers guided tours of the grove on the weekends, as well as fresh citrus sampling on the back porch of the Sunkist Center.
An old-fashioned fruit stand shaped like a giant orange greets visitors at the entrance of the State Citrus Historic Park, as well as tall palm trees. Connecting the visitor and Sunkist Center, a fully accessible paved trail meanders through the sagebrush and citrus grove environment. A beautiful gazebo outside the Sunkist Center makes for a great place to enjoy a picnic or fresh piece of fruit.
Address: 9400 Dufferin Ave, Riverside, California
Official site: http://www.parks.ca.gov/?page_id=649
5. Van Buren Drive-In Theater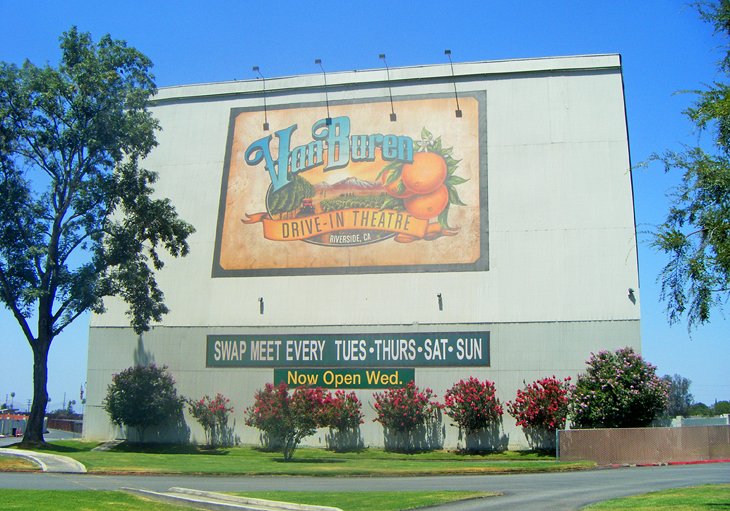 In the historic Arlington district of Riverside, near the California State Citrus Historic Park, the Van Buren Drive-In Theater is a favorite for families and cinephiles alike. One of few thriving drive-in theaters remaining in the nation, the Van Buren Drive-In Theater retains its novelty while showcasing the latest in blockbuster entertainment. Movies play Thursday through Monday, with admission prices that easily undercut big movie theater chains.
Throughout the week, the Van Buren Drive-In Theater is also home to a popular Swap Meet.
Address: 3035 Van Buren Boulevard, Riverside, California
Official site: https://vanburendriveintheatre.com/
6. UC Riverside Botanic Gardens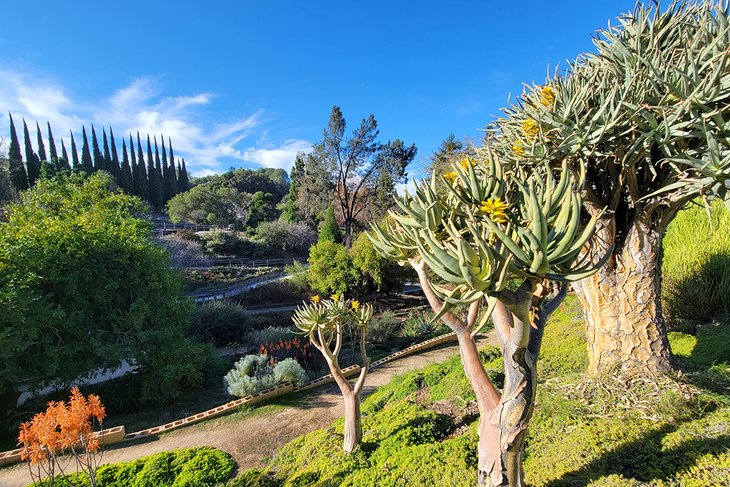 On the University of California, Riverside campus, in the foothills of Box Springs Mountain, these botanic gardens welcome visitors into a lush environment. Four miles of trails explore the forty acres encompassed by the gardens, with well-placed benches and interpretive information along the way. For more information on the types of plants at the UCR Botanic Gardens, as well as their history of use within the region, docent-led tours are available for school groups and members of the public.
Address: 1 Botanic Gardens Drive, Riverside, California
Official site: https://gardens.ucr.edu/
7. Fox Performing Arts Center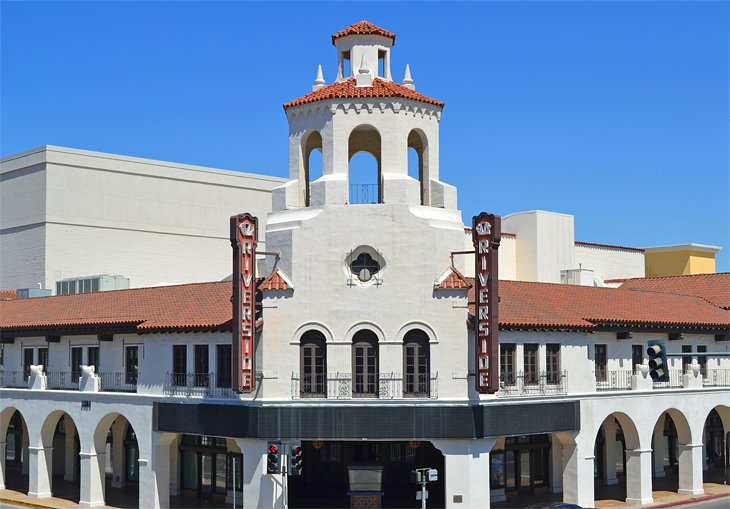 A celebrated entertainment venue in Riverside, the Fox Performing Arts Center is the main stage for live music, comedy, and festivals in the city. Built in a Spanish Colonial Revival style in 1929, the Fox Performing Arts Center first opened as a vaudeville and cinema theater house. A 2007 renovation transformed this historic theater into the modern centerpiece of entertainment it is today.
The neighboring Riverside Municipal Auditorium, operated by the same production company, features a similar lineup of live music and performances.
Address: 3801 Mission Inn Avenue, Riverside, California
Official site: http://www.riversidelive.com/
8. Fairmount Park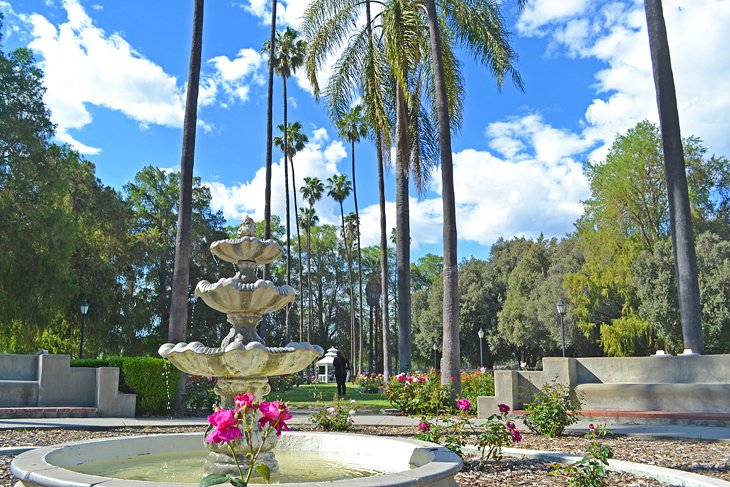 Adjacent to Mount Rubidoux Park, Fairmount Park provides an abundance of open space to explore. A scenic bike trail circles Lake Evans, the park's defining water feature, and connects other park amenities like a bandshell, playgrounds, tennis courts, and a historic boathouse where pedal boats are available to rent.
A decorative wrought-iron fence encloses one of the most eye-catching features at Fairmount Park–a large rose garden on the south side of Lake Evans. Roses are typically in full bloom by May. This is a pleasant place to stroll, photograph, or host a special occasion.
Address: 2601 Fairmount Blvd, Riverside, California
9. Main Street Mall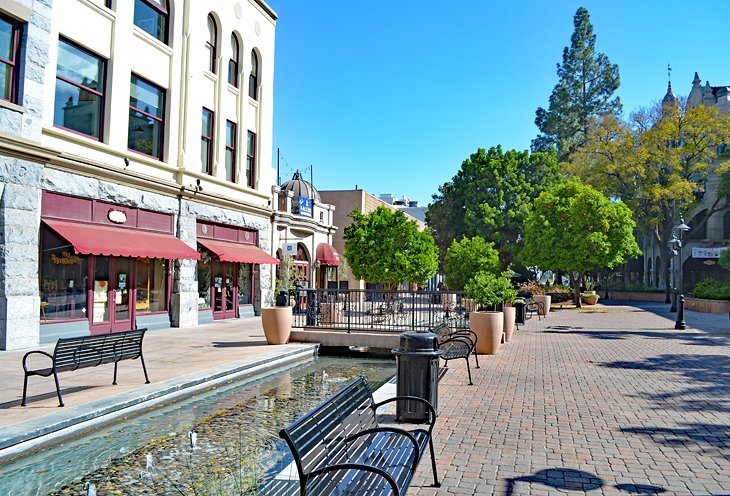 The main downtown pedestrian corridor, Main Street Mall connects small shops, historic sites, and the local flavors of downtown Riverside. Landscaped with gardens, fountains, and an abundance of shade-producing trees, Main Street Mall offers many opportunities to take a seat and enjoy the day.
Main Street Mall is also lined with historical and cultural attractions, including the Mission Inn, as well as the California Museum of Photography. Patio seating is available at many of the local eateries along Main Street Mall, ranging from casual bites to upscale Italian fare.
Address: Main Street, Riverside, California
10. Sycamore Canyon Wilderness Park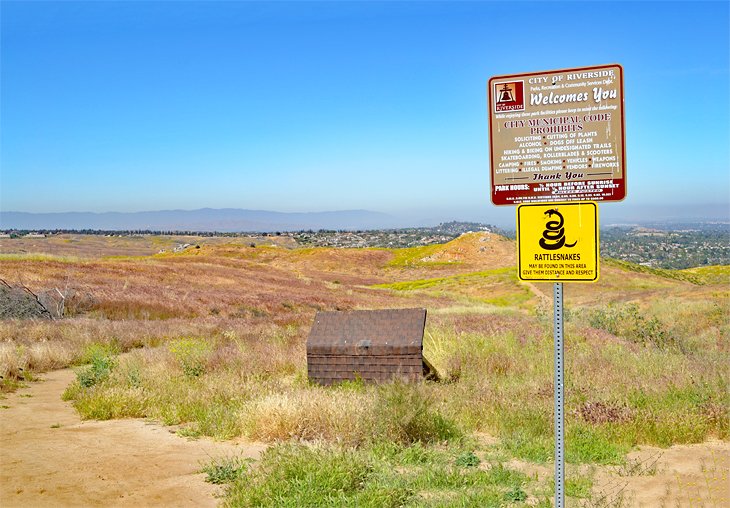 Encompassing 1,500 acres near downtown, Sycamore Canyon Wilderness Park is home to wildlife, open space, and a sprawling network of trails. Hiking, running, and mountain biking are popular ways to explore the park. An abundance of wildlife can be sighted within Sycamore Canyon, including rattlesnakes, and this wilderness area is filled with rare and native plants like scarlet monkeyflower and Fremont cottonwood.
The Ameal Moore Nature Center at the main entrance to the park provides hands-on educational opportunities for kids.
Address: 400 Central Ave, Riverside, California
Official site: https://mysycamorecanyon.com/
11. Riverside Art Museum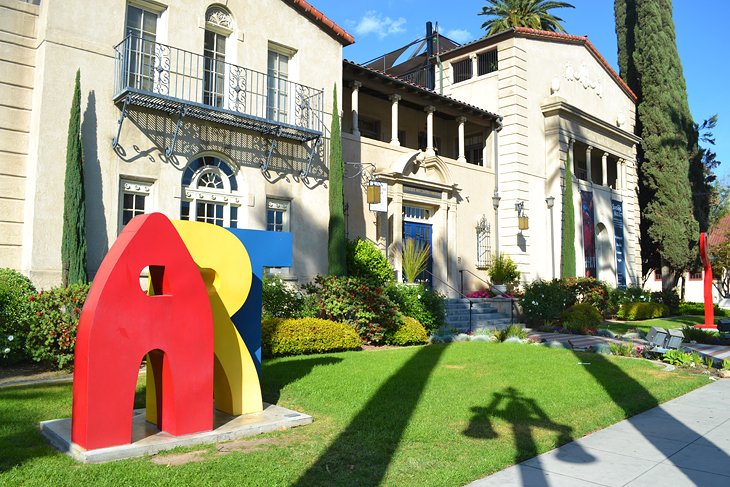 Less than two blocks from the historic Mission Inn, the Riverside Art Museum displays rotating exhibits supplemented with a permanent collection of over 1,500 artworks. Stretching across many genres and mediums, something new is always on display at the Riverside Art Museum. Members of the military and their families receive free admission to this Blue Star Museum.
Every first Thursday of the month, the Riverside Art Museum participates in the city-wide Arts Walk, with free admission and cultural entertainment. The museum is closed on Mondays
Address: 3425 Mission Inn Avenue, Riverside, California
Official site: http://www.riversideartmuseum.org/
12. Box Springs Mountain Preserve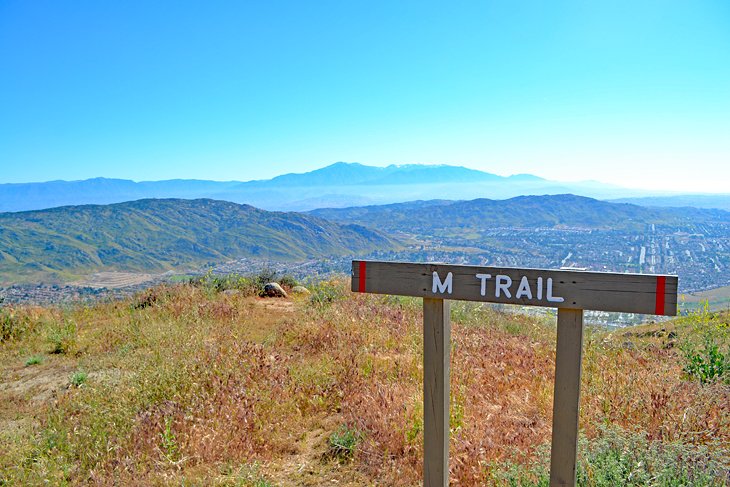 Adjacent to the University of California, Riverside campus, Box Springs Mountain Preserve allows visitors to walk right into nature the moment they step out of the car. This is a welcome escape, easily accessible from downtown, and the steady stream of traffic nearby dissipates the further you head up one of the trails that lead to the top of this 3,000-foot mountain. A recommended but rugged route to the top, the "M" Trail tests the legs and delivers on a 360-degree view encompassing Riverside and Moreno Valley.
Address: Hidden Springs Drive, Moreno Valley, California
Official site: https://www.rivcoparks.org/box-springs-mountain-reserve/
Where to Stay in Riverside, California for Sightseeing
Luxury Hotels:
For one of Riverside's most authentic and luxurious stays, check out The Mission Inn Hotel and

Spa

. This historic place to stay features a distinct Mission-Revival architecture, alongside an elegant tone with several authentic furnishings and decor. The hotel offers 238 guest rooms, including 27 suites, all uniquely decorated for a new experience with each stay. Celebrities, world leaders, and thousands of tourists have enjoyed the escapism offered by the hotel over the years. Other resort amenities include fine dining, a beautiful outdoor pool, and professional services at Kelly's Spa.
Mid-Range Hotels:
Budget Hotels:
For budget-conscious travelers, Americas Best Value Inn

Riverside

provides one of the best deals in town. The hotel has an excellent reputation for clean and tidy facilities, as well as outstanding customer service at the 24/7 front desk. It's a popular hotel for family travel, in part because of the low overnight rates. The hotel's also in a prime location, steps away from downtown Riverside. The hotel is also a quick 40-mile drive to Disneyland Park in Anaheim.
On the other side of Highway 91 from downtown, Thunderbird

Lodge

offers another dependable stay with budget-friendly prices. The hotel provides a blast from the past in a historic property with modern renovations. Overnight accommodations include standard rooms and suites equipped with extra sitting space. Every room features personal air-conditioners, complimentary Wi-Fi, and blackout shades. Some rooms are pet-friendly. Complimentary parking is also available.
More Related Articles on PlanetWare.com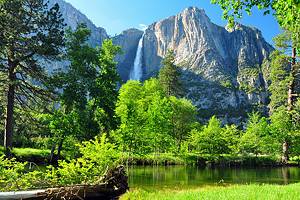 California Touring: For those visiting the Golden State and looking for places to add to the itinerary, our page on the Top-Rated Tourist Attractions in California can point you towards the best there is to see. Even more attractions can be found with our article on the best places to visit in California, and for an extra-special vacation, the top romantic getaways in California really set the mood.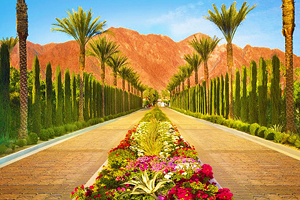 More to Explore in the Inland Empire: Riverside's neighboring city, San Bernardino also has a long list of fun things to do and places to visit, including the adjacent San Bernardino National Forest. Farther west, towards the desert attractions of Joshua Tree National Park, the city of Palm Springs presents great weather throughout the year and plenty of tourist attractions, and the best resorts in Palms Springs provide upscale places to stay.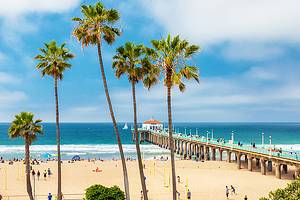 Visiting Los Angeles: The sprawling city of Los Angeles is worth a visit. Alongside the best beaches of Los Angeles, the city provides endless avenues of entertainment, culture, and things to do. To help answer the question every L.A. traveler has to ask, our Where to Stay in Los Angeles: Best Areas and Hotels article can direct you to the best places to stay.