12 Top-Rated Things to Do in San Bernardino, CA
We may earn a commission from affiliate links ()
An inviting city within the Inland Empire of Southern California, San Bernardino offers numerous attractions and outlets for entertainment. Palm trees and rugged mountain peaks can be seen from the streets of San Bernardino, adding a tropical feel to days spent touring the city. San Bernardino County, besides being the largest county in the country, is a geographical hot spot with forest, desert, and ocean environments.
Culture and history run deep through the city of San Bernardino, with top attractions that include San Manuel Stadium for baseball games and the California Theatre of the Performing Arts for the latest Broadway shows. A unique roadside attraction on Route 66, the original McDonalds site in San Bernardino is now the unofficial museum of the franchise and a fun place to visit. Entertainment doesn't stop after sundown in San Bernardino, and places like the National Orange Show Event Center host performances well into the night.
For tourists and residents alike, some of the main sites of San Bernardino can be found in the San Bernardino Mountains, also known as the Alps of Southern California. The entirety of the San Bernardino National Forest is at the backdoor of the city, including aquatic destinations like Big Bear and Silverwood Lake. For even more outdoor adventures close to the city, Glen Helen Regional Park is a wonderful place for a picnic or a walk. Plan your visit with our list of the top things to do in San Bernardino.
Note: Some businesses may be temporarily closed due to recent global health and safety issues.
1. Rim of the World Scenic Byway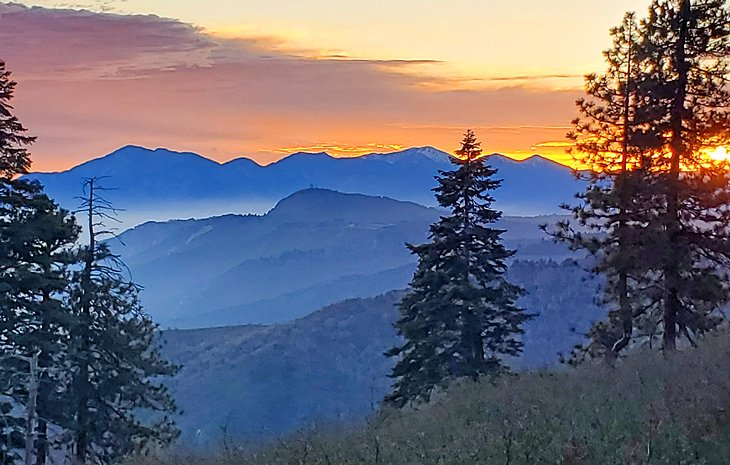 The city's gateway to the mountains, the Rim of the World Scenic Byway encompasses parts of Highways 138, 18, and 38 through the San Bernardino National Forest. Connecting popular forest attractions, including Big Bear Lake, Lake Arrowhead, and Cajon Pass, this mountain road really gets its name from the views found along the way. Overlooking the entire Inland Empire, the scenic byway immediately ascends out of the hot valley floor and into the cooler, higher elevations of the forest—adding a nice respite from both city traffic and summer heat.
Official site: https://www.fs.usda.gov/recarea/sbnf/recarea/?recid=74122
2. San Manuel Stadium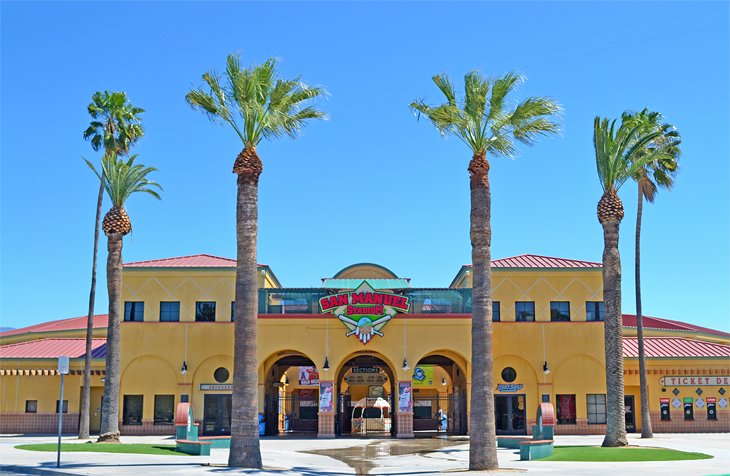 Home to the Inland Empire 66ers Minor League baseball team, San Manuel Stadium has hosted summer fun since 1996. Concessionaires at San Manuel purvey the classic stadium fares including hot dogs, popcorn, and tacos, with special promotions like "$2 Tuesday" offering budget-friendly deals. All 5,000 seats at the stadium face home plate, and the additional grass seating area can hold just as many fans. Special firework games occur throughout the season, providing one of the largest fireworks displays of the Inland Empire.
Address: 280 S E Street, San Bernardino, California
Official site: https://www.milb.com/inland-empire
3. Original McDonald's Site and Museum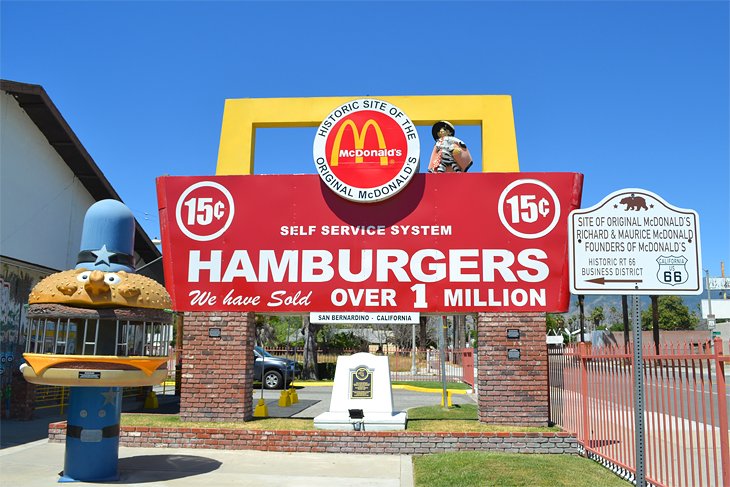 On historic Route 66, this original McDonald's location is now a State Historic Site celebrating the fast-food chain's legacy. The large McDonald's sign outside of the building is only the tip of the Big Mac at this roadside museum, and thousands of pieces of McDonald's memorabilia and souvenirs are found within. The site hosts one of the largest collections of historic McDonald's merchandise in the country, and admission is free to this extensive library detailing the permanent footprint McDonald's has left on the world.
Interpretive information outlines McDonald's restaurants prior to and post-Ray Kroc, including the meteoric rise and eventual billions of burgers sold. A large section of the museum and display cases are dedicated to vintage and collectible Happy Meal toys from all over the world. In fact, visitors can bring their own Happy Meal toys to the museum and have them added to the display.
Address: 1398 N E Street, San Bernardino, California
4. Big Bear Lake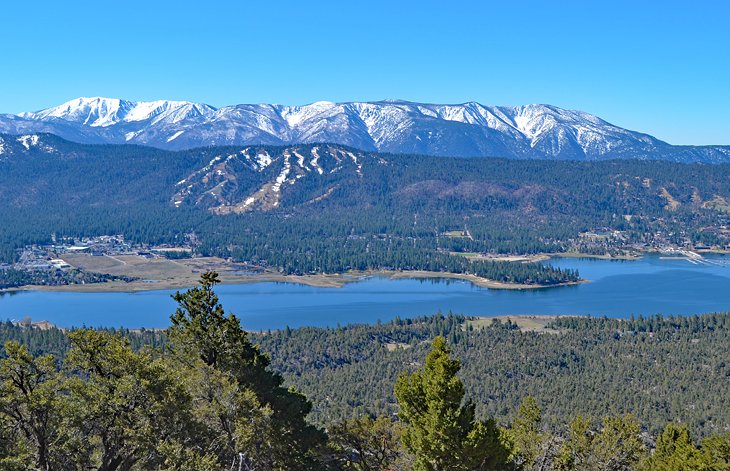 An hour drive into the San Bernardino National Forest, Big Bear Lake is a year-round mountain retreat. Skiing Big Bear Mountain Resort is a refreshing Southern California activity close to San Bernardino, and the area is laced with snowshoe and fatbike trails to explore throughout the winter. Numerous cottages, cabins, and hotels line the south side of the lake, offering an array of accommodations for weekend visits from San Bernardino.
Things to do in the warmer seasons at Big Bear Lake are nearly unlimited. Surrounded by thousands of acres of the San Bernardino National Forest, popular activities in the immediate area include mountain biking, trail running, and launching boats onto the water. The country-spanning Pacific Crest Trail also crosses near Big Bear Lake, bringing a lot of hikers and foot traffic into the town.
Official site: https://www.bigbear.com
5. Glen Helen Regional Park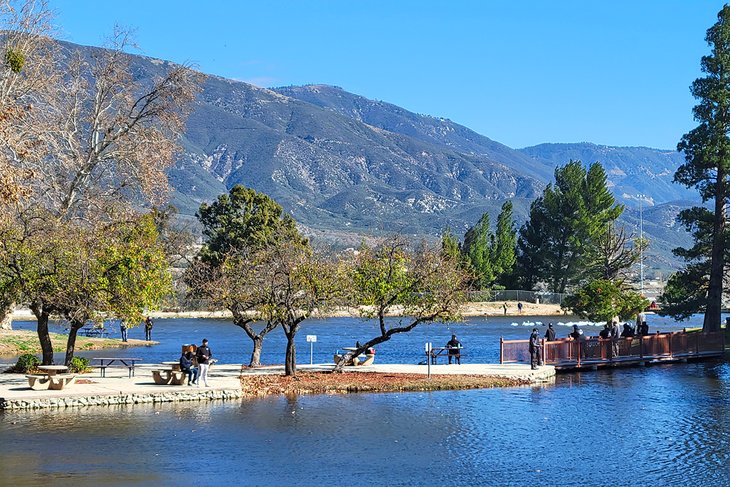 An easy escape into nature from San Bernardino, Glen Helen Regional Park is in the scenic foothills of Cajon Pass northwest of the city center. A 20-minute drive from downtown, popular activities at Glen Helen include fishing, disc golf, and swimming at either one of two lakes at the park. Glen Helen also contains a swimming complex with a large pool and multiple waterslides.
The regional park is also home to the Glen Helen Amphitheater, a massive 65,000-person performance space featuring major headliners. As one of the largest outdoor stages in the country, many visitors flock to the amphitheater for multi-day festival events. The Glen Helen Raceway, too, brings in thousands of fans each year for professional and amateur motor sport races.
Address: 2555 Glen Helen Parkway, San Bernardino, California
Official site: http://cms.sbcounty.gov/parks/parks/glenhelenregionalpark.aspx
6. Day Trip to Joshua Tree National Park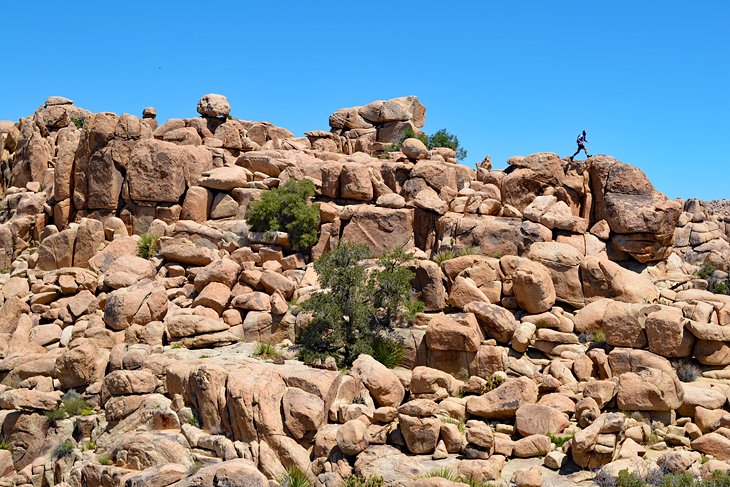 One-and-a-half hours from San Bernardino, the surreal desert scene of Joshua Tree National Park is perfect for an evening or overnight adventure. The closest entrance point into Joshua Tree from San Bernardino is Black Rock Canyon, featuring reservable campsites and scenic hiking trails like Panorama Loop. Farther into the park, the landscape is defined by magnificent boulder piles and desert plants, including teddy bear cholla and an entire forest of Joshua trees.
Other notable campgrounds and attractions at Joshua Tree include Jumbo Rocks, Indian Cove, and Ryan Campground. Rock climbing is a popular activity at Joshua Tree, as is hiking and photographing the unique desert environment. Pets are not allowed on the trails at Joshua Tree National Park.
Several oases are also found within Joshua Tree National Park, providing palm tree shade and lush environments to escape the afternoon heat.
Official site: https://www.nps.gov/jotr/index.htm
7. Santa Ana River Trail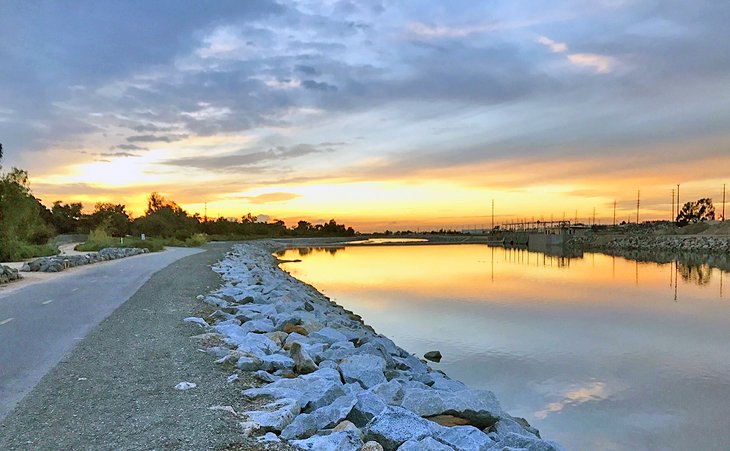 A scenic pedestrian route still under construction, this paved biking trail follows the snaking Santa Ana River throughout the Inland Empire. Upon completion of the route, the Santa Ana River Trail will span 110 miles from the San Bernardino National Forest to the Pacific Ocean at Huntington Beach. As of 2019, much of the trail is complete through San Bernardino and the neighboring city of Riverside—providing trail users a gorgeous corridor to explore by bike or foot.
8. Silverwood Lake State Recreation Area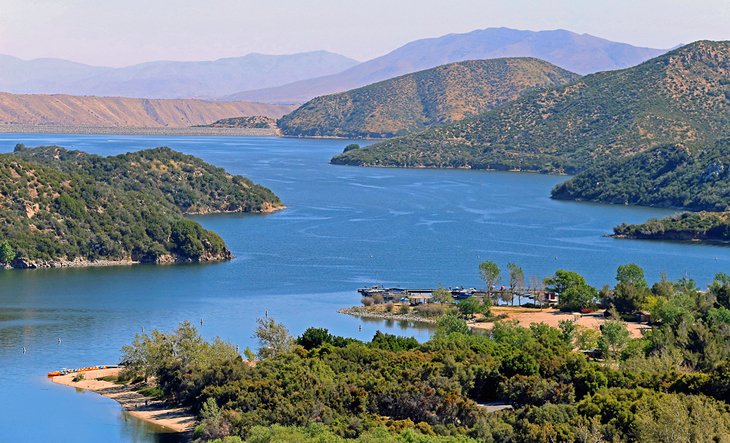 A scenic water spot in the San Bernardino National Forest, Silverwood Lake is reached from San Bernardino within an hour's drive. This massive reservoir was formed by the nearby Cedar Springs Dam, transforming the scenic mountain environment into a watery landscape now popular with birds, boaters, and shoreline hikers. A campground is available at Silverwood Lake, perfect for spending the night, with fishing and swimming popular throughout the warmer months.
Fifteen miles to the east, another scenic lake offers less-rustic accommodations. Lake Arrowhead, a forty-minute drive from San Bernardino, is the lakeside place to be for cabins, cottages, and resort hotels. Along the stunning lakeshore surrounded by San Gabriel Mountains, places like the Lake Arrowhead Resort and Spa indulge visitors with an extra layer of comfort. Other popular things to do at both lakes include mountain biking, horseback riding, and photographing the sunsets.
Official site: http://www.parks.ca.gov/?page_id=650
9. The National Orange Show Fair
Located on the landscaped grounds of the National Orange Show Event Center, the National Orange Show Fair has been celebrating the community in which it belongs for over 100 years. With over a century of experience, this five-day event takes place every year in May. Featuring an abundance of people watching, this crowd-gathering celebration draws visitors from all over the Inland Empire and beyond.
Different contests at the Fair range from baking to photography, including a competitive talent competition. Carnival rides at the fair are popular for family members 36 inches and taller, including an iconic carousel that lends a view of the entire venue. Food is easy to find at the National Orange Show Fair, with various vendors offering aromatic entrees and snacks on a stick.
Address: 689 S E Street, San Bernardino, California
Official site: https://www.nosevents.com/nos-citrus-fair/
10. California Theatre of the Performing Arts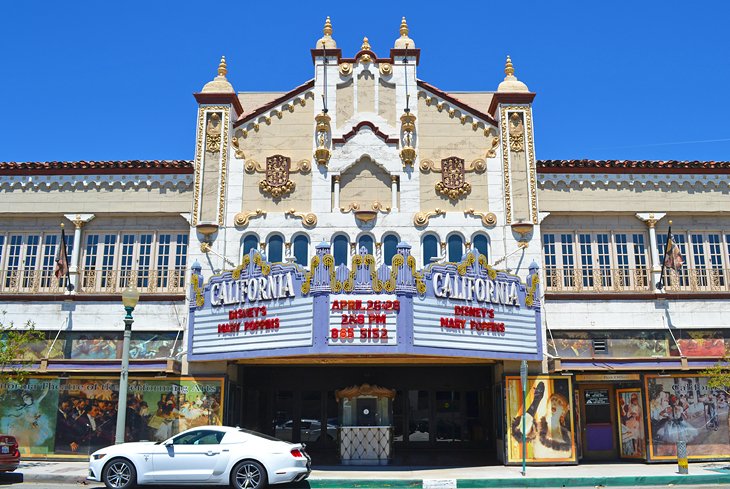 The premier theater of the Inland Empire, this historic venue has entertained the region since 1928. Originally a vaudeville movie palace, the California Theatre of the Performing Arts currently spotlights entertainment including musicals, plays, concerts, and theater engagements. Several national shows stop by the California Theatre each year, and the city's own San Bernardino Symphony calls it home. Unique to this Southern California performance space is the original Mighty Wurlitzer Organ, which is played on special occasions.
Address: 562 W 4th St, San Bernardino, California
Official site: http://www.californiatheatre.net/Home.html
11. Angeles National Forest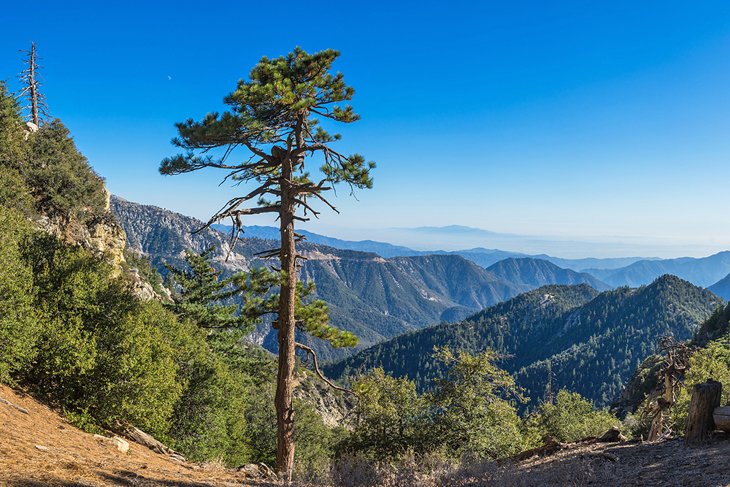 For some San Gabriel Mountain attraction from San Bernardino, the Angeles National Forest is also an easy commute. From San Bernardino, tourists can head west through Rancho Cucamonga to make their way towards Mount San Antonio, better known throughout the region as Mount Baldy.
Throughout the winter, this is the main thoroughfare to reach Mt. Baldy Resort. Alternatively, tourists from San Bernardino can head north towards Wrightwood to access the Angeles Crest Highway, a scenic 66-mile automobile route that ends in Montrose.
Official site: https://www.fs.usda.gov/angeles/
12. San Bernardino History & Railroad Museum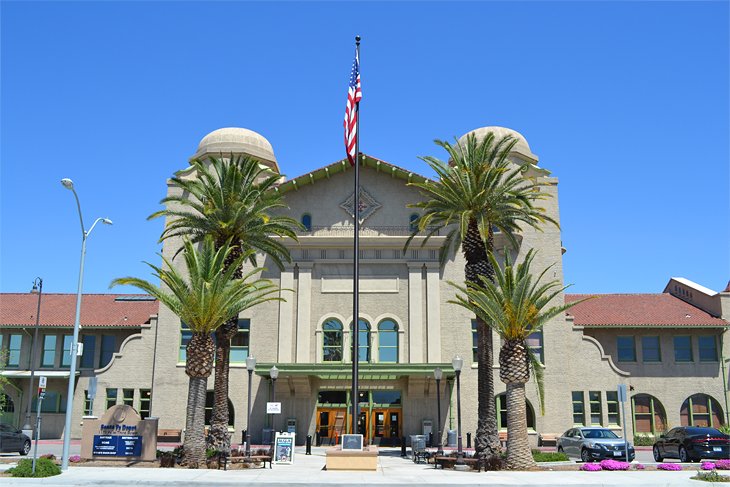 With limited hours throughout the week, the San Bernardino History & Railroad Museum specializes in the long-standing western legacy of the city, with emphasis on locomotion in the Inland Empire. The museum is located within a restored 1918 Santa Fe Depot, that also serves as a modern Amtrak and Metrolink depot, and stands as a visual testament to the city's transportation history. A recreated 1910 railroad station is on display at the museum, as well as several large antique clocks and 19th-century horse-drawn buggies.
Address: 1170 W 3rd St, San Bernardino, California
Official site: http://sbdepotmuseum.squarespace.com
More Related Articles on PlanetWare.com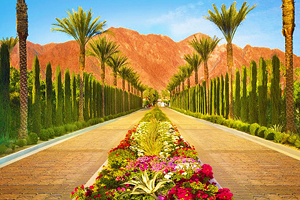 Exploring the Inland Empire: Including San Bernardino, the Inland Empire of Southern California is a region rich in attractions. The neighboring city of Riverside is exemplary of all the fun to be had in the Inland Empire, incorporating palm trees and historic Spanish-revival architecture. Farther east in the Inland Empire, the city of Palm Springs also draws a lot of visitors, as do the best resorts in Palm Springs.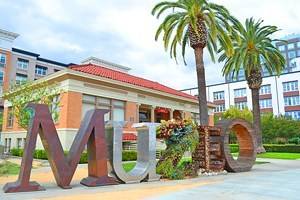 Cities in Orange County: Beaches, big views, and beautiful people define much of Orange County, as well as inviting cities full of character. The city of Anaheim is filled with Disney appeal, as well as two professional sports teams and a thriving restaurant scene. The top-rated attractions of Huntington Beach, likewise, appeal to those who enjoy nice weather and fun places to explore.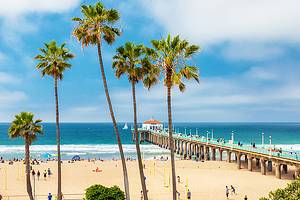 Visiting Los Angeles: Our Top-Rated Attractions in Los Angeles article is a good place to start when planning a visit to the City of Angels. Alongside the sports games, restaurants, and many iconic attractions to visit in Los Angeles, penciling in some time to visit the best beaches in the Los Angeles area is a good way to unwind. To help answer the challenging question of where to stay in Los Angeles, turn to our Where to Stay in Los Angeles: Best Areas & Hotels article.