9 Top-Rated Campgrounds near Hood River, Oregon
We may earn a commission from affiliate links ()
Hood River's fabulous location along the Columbia River and close proximity to Mount Hood National Forest makes it a great area for camping, with a diverse range of options. Kiteboarders and windsurfers can find convenient campgrounds along the river, while hikers and those looking for mountain escapes can base themselves at campgrounds near Mount Hood.
If you are here to enjoy the waterfalls and other attractions in the vicinity, the campgrounds and RV parks in the Hood River area, particularly along the gorge off the Historic Columbia River Highway, are your best options.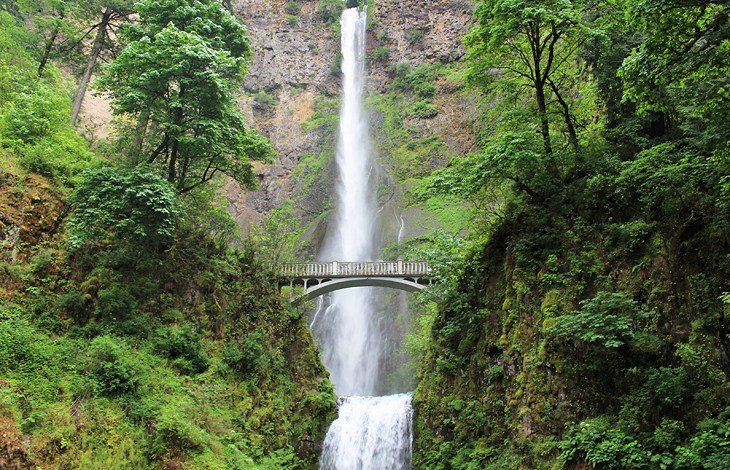 Campgrounds in Mount Hood National Forest offer peaceful, quiet retreats but provide few amenities and are quite a distance from the highlights of the Columbia River Gorge. By contrast, most campgrounds along the gorge offer a full-range of amenities and are convenient for sightseeing, but they are generally close to the highway or train tracks and can be noisy.
Most campgrounds are closed in winter, with the majority opening in March and closing in October. You can book state park campsites up to nine months in advance, although many offer first-come, first-served sites.
The Eagle Creek Fire in the fall of 2017 caused considerable damage in the area. However, the region worked hard to see that major tourist attractions and destinations were reopened quickly. All campgrounds mentioned below have reopened.
1. Wyeth Campground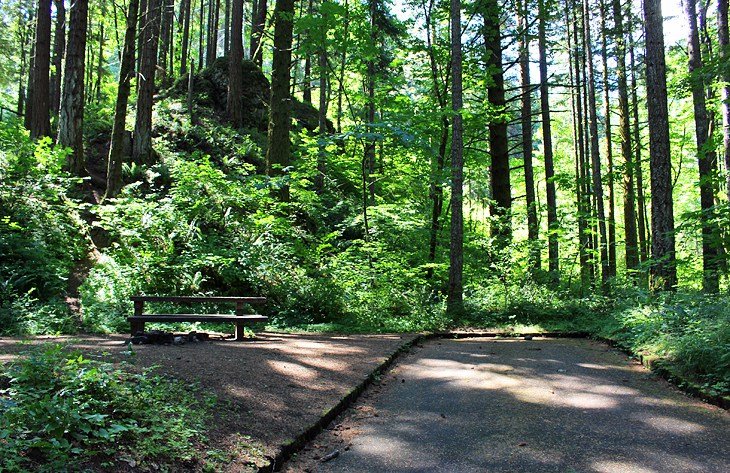 This small campground, featuring 13 regular sites and three group sites, offers a peaceful retreat in a woodsy setting along the Columbia River Gorge. Mature deciduous and pine trees, along with and ample ground cover offer plenty of privacy and shade. Although sites are fairly level the areas surrounding the sites are hilly and scenic.
Located just 15 minutes west of Hood River, this spot is incredibly convenient for touring the most famous waterfalls in the area for accessing hiking trails. A campground host is available to offer information on local attractions and activities, including a beautiful hiking trail which leaves directly from the campground. Keep an eye out for bald eagles and ospreys, which nest nearby.
2. Cascade Locks / Portland East KOA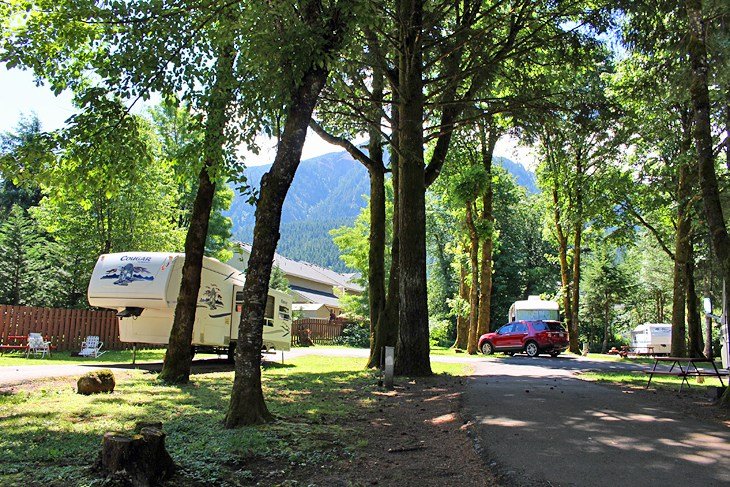 This is a small, pleasant, and well-treed campground offering plenty of space and privacy. Just 19 miles west of Hood River, it's well positioned and offers easy access to town and the Historic Columbia River Highway.
Views of the lush hills in behind can be glimpsed through the trees. This KOA features a seasonal pool, hot tub, and sauna.
Full-hookup RV sites with pull-throughs (max 110 feet) have 50 amp service, cable TV, and Wi-Fi. If you are not traveling with an RV, tent sites as well as camping cabins are your other accommodation options.
The park is a fun place to park yourself for a few days or longer. Sign up for a game of horseshoes, cozy up by the wood-burning fire pit, or have a game of Ladder Golf. If you are traveling with children, the playground has a great assortment of climbing structures guaranteed to tire out even the most rambunctious of kids.
3. Ainsworth State Park Campground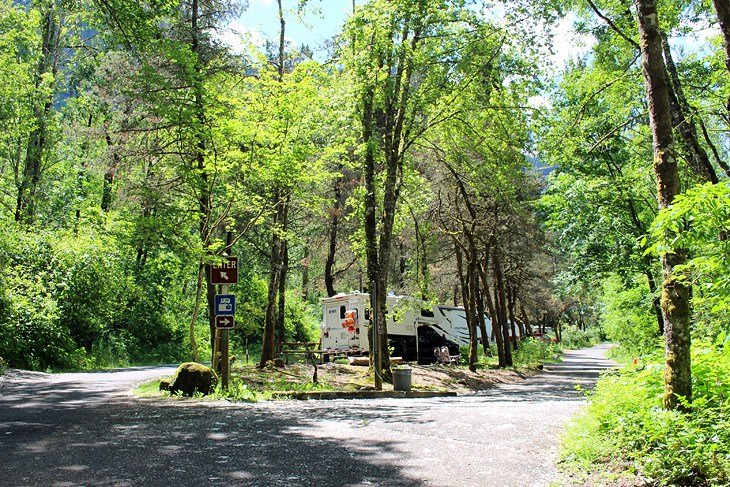 For nature lovers, one of the best campgrounds in the Hood River area is in Ainsworth State Park. Surrounded by forest and dominated by large deciduous trees, this campground offers 43 RV sites and six very private, walk-in campsites in the woods. The RV sites are small but some are pull-through. The campground offers full hookups, a dump station, washrooms, but no showers.
4. Memaloose State Park Campground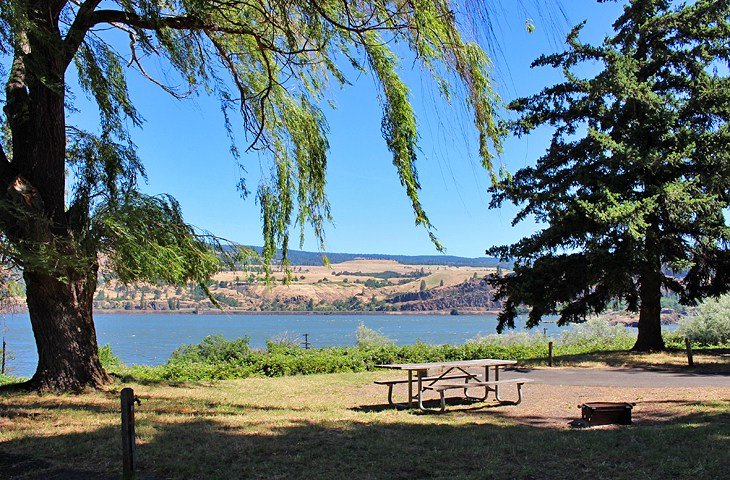 For scenery and views over the river from your campsite, it doesn't get much better than the campground at Memaloose State Park. This campground is located about 17 miles east of Hood River, in an area where the landscape is more rolling and exposed than the area west of the town, where the walls of the gorge seem to encompass you.
While it overlooks the river, the campground is actually much higher up and set back from the river, with no direct access to the river due to the active railroad line. Willows, cottonwoods, and pines offer a scenic setting but be aware, this can be a very windy location, and sites closest to the ridge overlooking the water are highly exposed.
Sites in Loop A have better views, but the highway noise is bothersome. Sites in Loop B are closer to the river and quieter, but you will hear the trains – no whistles, more of a dull roar.
5. Viento State Park Campground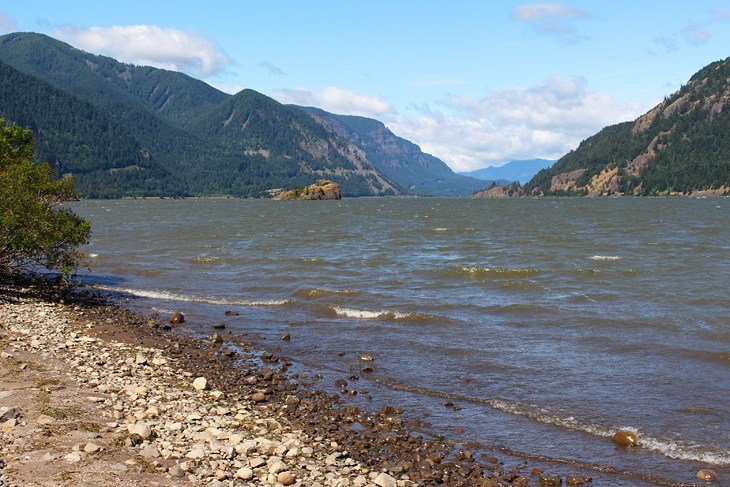 Just 10 minutes west of Hood River, Viento State Park offers access to the Columbia River. The rocky shoreline provides an easy entry to the river for windsurfing, stand up paddle boarding, and other water sports. The campground is actually across the highway from the river, but a walking trail runs down to the water making it a convenient base for campers looking to use the river.
Even if you are just looking to explore the waterfalls and sites along the Columbia River Gorge National Scenic Area, this is an excellent base, just off Interstate 84. Viento State Park also provide easy access to the Columbia Historical Highway State Trail.
The campground has 56 RV sites (20/30 amp service) and 18 tent sites, almost all of which are well-shaded. The tent area is set back in a forested area with a creek running in behind. The RV sites are closer to the highway.
6. Bridge RV Park and Campground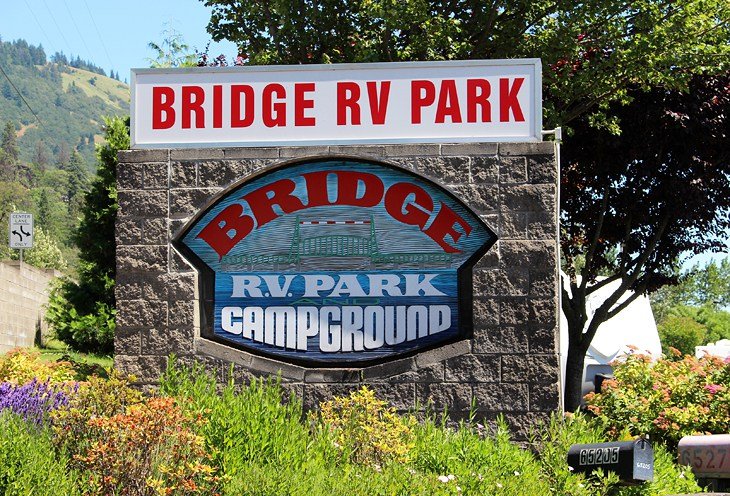 This is the best RV park in the area for location and amenities. Located on the north side of the Columbia River, across the bridge from Hood River, it is extremely convenient for accessing the town of Hood River and all the nearby sites. It's right off the highway but heavily wooded and very scenic, with views to the surrounding hills.
They officially accept RVs up to 40 feet but the staff here are flexible and willing to accommodate larger RVs depending on what is available. While it is primarily set up for RVs, there is an open grassy area with picnic tables and space for about tents. The park prides itself on clean modern bathrooms and facilities.
Sites have 30/50 amp service, and Wi-Fi is available throughout the park. If you are running low on propane, the park has a filling station.
Official site: https://www.bridgerv.com/
7. Sherwood Campground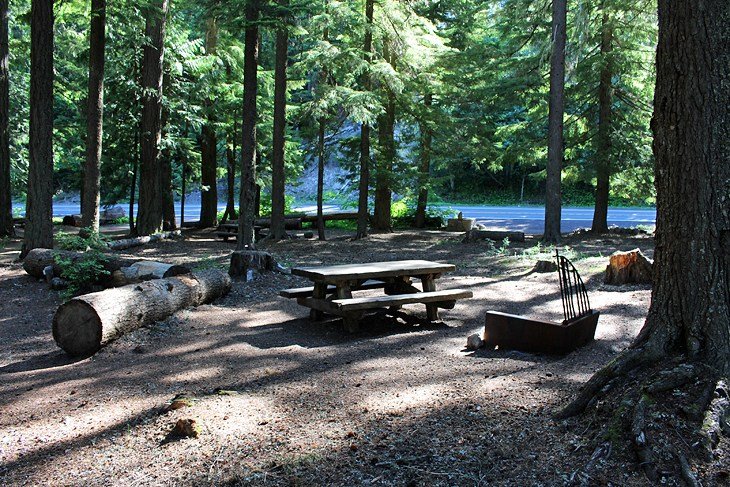 Although this campground is set right next to Highway 35, you definitely feel like you are camping deep in the woods. Set in Mount Hood National Forest, 25 miles south of Hood River, this campground offers a peaceful escape from civilization. Huge pine trees tower overhead providing ample shade, and the Upper Hood River flows through the back side of the campground.
8. Tucker Park Campground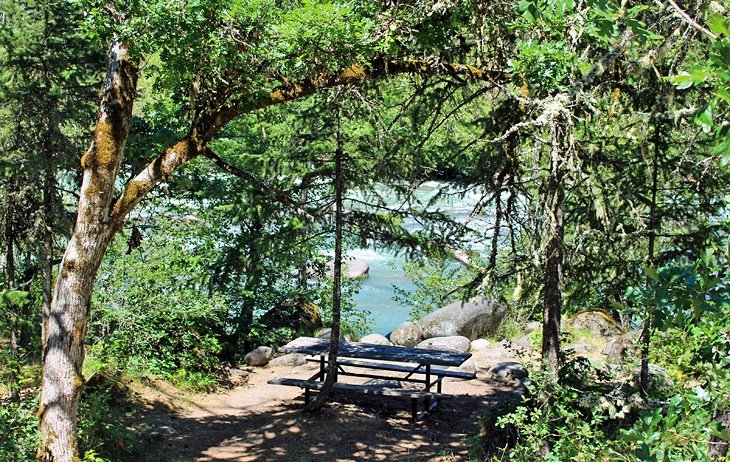 Set along the Hood River, this campground has a distinctly different vibe than other campgrounds in the area. People come here for various reasons, but many of the visitors are here to fish or simply enjoy a friends' weekend away at a campground. You are likely to run into campers from Oregon rather than across the country.
Apart from campsites along the bank, the area is fairly exposed, with trees here and there providing some shade. Although the campground is located about 10 minutes south of downtown Hood River, you don't really feel like you've left town or are camping in the forest. This is the best place to camp if you want to be close to town.
Ninety-four sites accommodate RVs and tents, thirty of which have water hookups, and two have water and electrical hookups. Flush toilets, showers, picnic tables, and fire pits are provided. Sites are all first-come, first-served and the campground is open from May 1 to October 31.
9. Moss Creek Campground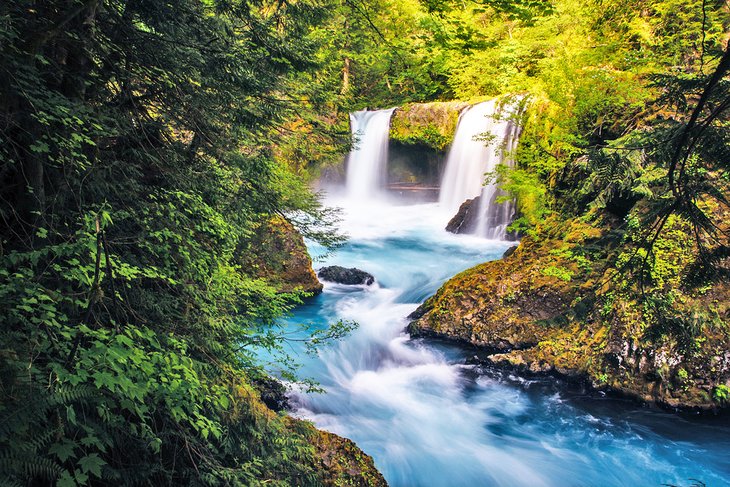 Across the Columbia River in Washington state, about 30 minutes from Hood River is the Moss Creek Campground. Set on the banks of the Little White Salmon River, this small campground is cozy and oriented towards tenting and small tow-behind RVs. The stunning Spirit Falls are a 10-minute drive south from the campground.
The campground has 16 unserviced sites set under large fir, hemlock, and cedar trees. Comfort amenities at Moss Creek include running water, fire rings, pit toilets, and picnic tables. A campground host is on-site during the season, and firewood is available for purchase. Note that cellular service is spotty here.
Official site: https://www.recreation.gov/camping/campgrounds/232799?tab=campsites
Where to Stay in Hood River When You Can't Find a Campsite
Luxury and Mid-Range Hotels:
On the edge of town overlooking the Columbia River, the Columbia Cliff Villas

Hotel

offers beautiful, large suites with balconies. Each suite is different but all are tastefully decorated. This is the perfect place to treat yourself to a luxury stay.
Next door is the Columbia Gorge

Hotel

, an historic property also overlooking the river. Outdoor seating areas, gardens, and even a waterfall, set this hotel apart. From the hotel's fine dining restaurant, you can look out over the river. Guests at the Columbia Cliff Villas Hotel are welcome to explore the grounds at the Columbia Gorge Hotel.
On the opposite side of town is the Best Western Plus Hood River

Inn

. Views here out over the Columbia River are amazing. The property features a quaint restaurant and a pleasant outdoor pool on the river's edge.
Budget Hotels:
Economically priced hotels in Hood River are difficult to fined during the summer high season. Rates vary considerably by season. One of the best options is the pet-friendly Sunset Motel Hood

River

, complete with mini-fridges and microwaves.
The West Cliff

Lodge

, which leans more to mid-range, has wonderful views of the river from its manicured grounds. Many of the rooms have balconies.
More Related Articles on PlanetWare.com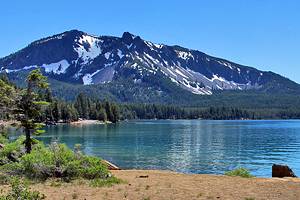 Outdoor Destinations in Oregon: Take some time to explore the attractions in Hood River, including nearby Mount Hood National Forest. When you're ready to move on, consider a stop in Bend. This city has become incredibly popular with outdoor adventurers due to its beautiful nearby natural areas. The surrounding mountains, volcanic wonders, waterfalls, and lakes are just perfect for hiking, camping, and mountain biking.