11 Top-Rated Things to Do in Sisters, OR
The outdoorsy town of Sisters is in Central Oregon, on the eastern flank of the Cascade Mountains. It offers a quainter escape than its larger and neighboring city to the southeast, Bend, located 30 minutes away. And much like Bend, Sister's major appeal is the great outdoors surrounding this sunny-weather region.
From alpine affairs to high-desert excursions east of town, Sister's calendar of things to do spans the entire year. World-class ski resorts, volcano summit trails, and plunging waterfalls are only a small sample of adventure itineraries. And some of the state's most scenic driving and bicycle byways peel off from the town center.
But what makes Sisters a must-visit is the charm and ambience of the city streets. The downtown district has a distinct Old West theme circa the 1880s. Here, charming storefronts house many modern amenities and reasons to window-shop. Art galleries also beckon for attention alongside abundant restaurants and retail boutiques
Find your next Oregon adventure with our list of the top things to do in Sisters.
1. Drive the McKenzie Pass-Santiam Pass Scenic Byway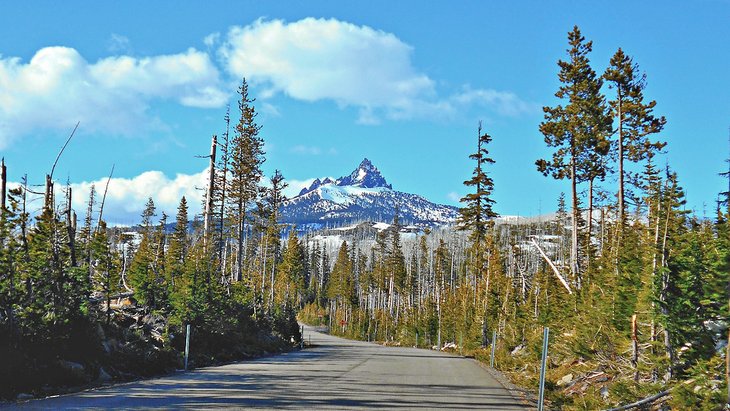 This 83-mile looped route is an absolute avenue for adventure from Bend. It travels deep into the Willamette and Deschutes National Forests west of the city. And it offers rugged Cascade Mountain side-trips the entire way. Volcanic peaks, lava fields, rushing waterfalls, and lush cedar forest comprise only some of the route's outstanding natural scenery.
Several activities line the scenic highway, which is short enough for a day trip but enticing for the extended weekend. Heading counterclockwise from Sisters, the byway ascends to Santiam Pass on Highway 20. Here, Hoodoo Ski Area caters to winter sports, and access to the Metolius River lends interest the rest of the year.
The route heads south after crossing Santiam Pass on OR-126, better known as The McKenzie River Highway. This stunning route follows the Upper McKenzie with plenty of pullouts to access the river and its many natural wonders. Alongside dazzling waterfalls, the McKenzie is also home to a unique spring-fed Blue Pool, also known as Tamolitch Falls, which entices visitors with crystal-clear waters.
And the McKenzie Highway (OR-242) connects the looped route back to Sisters. This seasonal highway shuts down in winter. Throughout the summer, it crosses McKenzie Pass and has several trailheads to follow. This stretch of the scenic byway lends the easiest access to designated wilderness areas, including the Three Sisters Wilderness.
2. Shop and Stroll in Sisters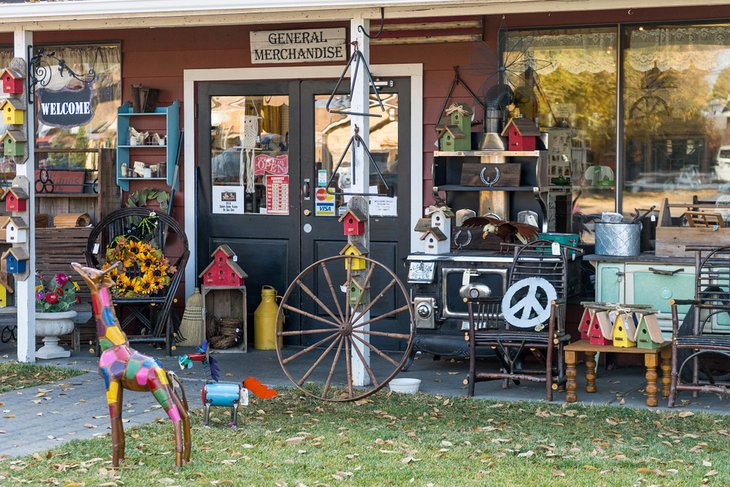 Part of the charm of visiting Sisters is spending time in the Western-themed downtown district. This area lining Cascade Avenue at the center of town is very pedestrian-friendly and fun to stroll around. Several shopping boutiques and art galleries are within the old-fashioned shops lining the streets, offering a modern taste of the area.
From Western apparel to regional gifts and souvenirs, as well as a wide range of fashion apparel, the shopping here demands a full day, especially if lunch from a local restaurant is added to the itinerary. Other areas of retail interest include handmade pottery, Old West antiques, and local bookstores.
Downtown Sisters is also known for its art collection. Several galleries catch the eye, and many of these local institutions line the Hood Avenue Art District, a block south of Cascade Avenue. Hood Avenue Art, Raven Makes Gallery, and Ken Scott's Imagination Gallery are a few not to miss.
3. Put on Your Hiking Boots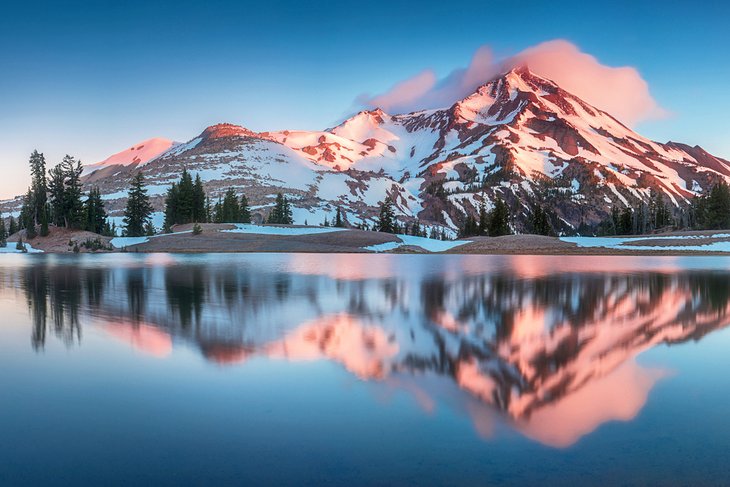 The great outdoors is the biggest tourist attraction in Sisters. The Cascade Mountains invite exploration west of the city, and a high-desert landscape backdrops the horizon to the east. These dynamic landscapes lend to fantastic hiking opportunities throughout the year. It also makes Sisters an excellent basecamp for some of Oregon's best hiking trails.
Wild rivers and glistening glaciers comprise just some of the hiking scenery west of town in the Deschutes and Willamette National Forests. Some good introductory hikes in this mountainous region include the McKenzie River Trail, the Suttle Lake Shoreline Trail, and the short hike to Proxy Falls.
For a taste of the desert landscape east of the city, head to Smith Rock State Park. Here, alongside thousands of rock-climbing routes, several trails lend panoramic views of the Crooked River. One recommended route, the 3.7-mile Misery Ridge Trail Loop, offers a summit view that casts serious doubt about whoever named the trail.
Sisters is also a basecamp for big hiking adventures. The town's namesake trio of volcanic peaks offer bucket-list summit hikes within the Three Sisters Wilderness nearby. South Sister, the tallest in this chain of prominent mountains, is also the least technical to climb and most often summitted. Other elevated routes in the immediate area include Mt. Bachelor and Broken Top.
4. Ski Hoodoo & Bachelor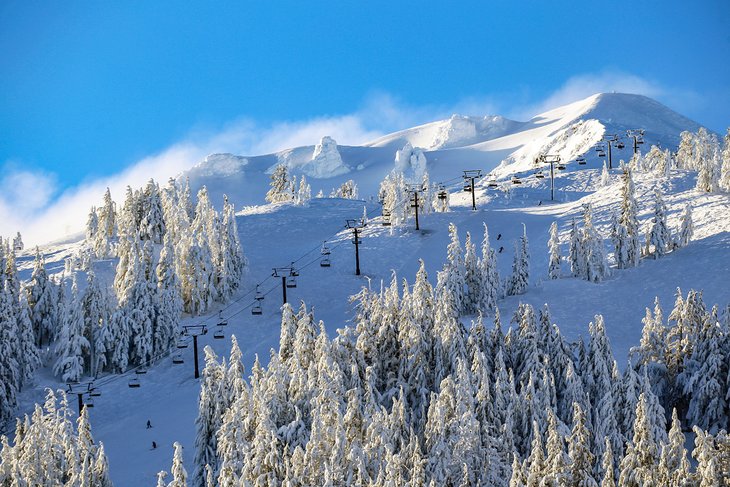 Hoodoo Ski Area, one of Oregon's best ski resorts, is a quick 30-minute drive west from downtown Sisters on Highway 20. The ski area sits atop Santiam Pass and comprises 800 acres of varied terrain. And with an average of 450 inches of snow each year, powdery conditions lace the ski area from December through March.
Other snowbound activities at Hoodoo, like tubing and Nordic skiing, also offer ways to keep warm. The area's Autobahn Tubing Park, with several lanes spanning approximately 800 feet, is particularly popular for young families. Hoodoo also features night skiing with 23 illuminated runs.
Hoodoo is the closest ski area to Sisters, but not the only one. And you can't talk about Central Oregon skiing without mentioning Mt. Bachelor. This world-renowned skiing and snowboarding destination is only an hour's drive from Sisters with a route that goes through Bend.
Mt. Bachelor is the largest resort in Oregon and one of the largest single-mountain resorts in the United States. It has over 4,300 lift-accessible acres and 100-plus named routes. Skiers spend entire seasons discovering new runs streaming down all sides of this dormant volcano.
Official site:https://skihoodoo.com/
5. Hike or Rock Climb at Smith Rock State Park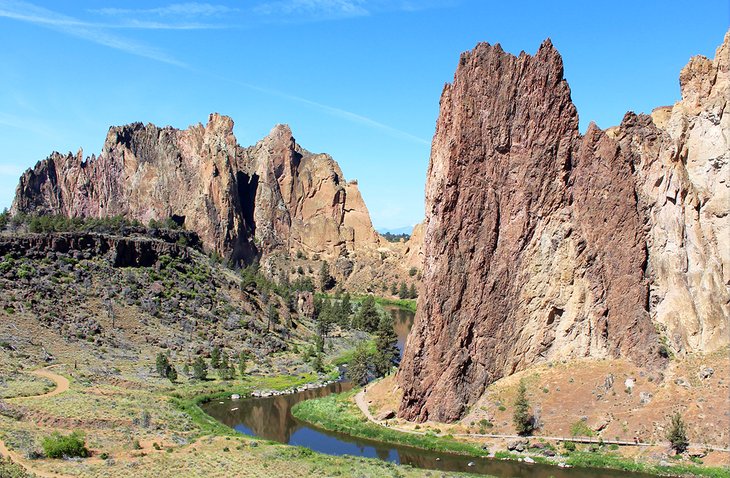 One of the premiere rock-climbing destinations in the country is less than a 30-mile drive from Sisters. Climbers from across the world flock to Smith Rock State Park for year-round sport and traditional endeavors.
Visiting the state park makes it clear why it's a rock-climbing mecca. Tall tufts of basalt cliffs jut high above the scenic Crooked River, making for a real postcard effect. Thousands of named rock-climbing routes line these massive spires, ranging from relatively beginner-friendly to some of the country's most challenging climbs.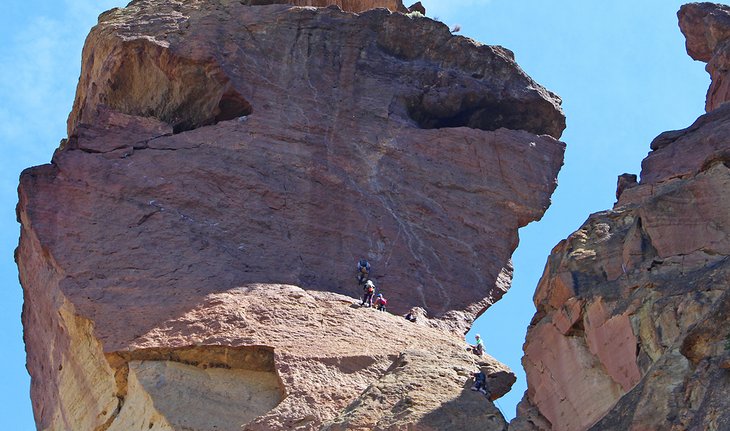 Safe rock climbing requires the right gear and knowledge. Several local guides in the area offer intros and instruction for those new to the sport. But Smith Rock isn't just appealing to those who know how to tie butterfly knots. It's also home to a sprawling trail system popular with hikers, mountain bikers, and horse riders. And photography enthusiasts can expect to bring home thousands of images.
For a fun, vehicle-free way to get to Smith Rock, consider the Sisters to Smith Rock Scenic Byway. Bicyclists often take advantage of this 37-mile, off-highway route. It follows local roads for a more leisurely pace. Unless planning for a long day, biking the byway is best done with a shuttle ride.
Official site: https://stateparks.oregon.gov/index.cfm?do=park.profile&parkId=36
6. Dining in Sisters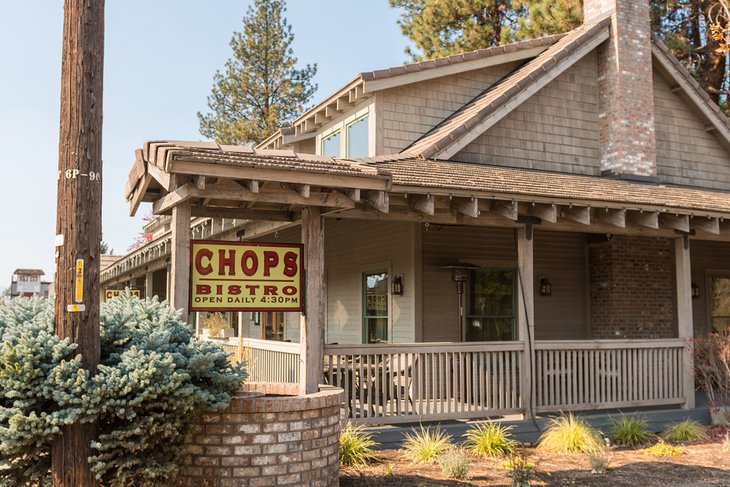 For the real taste of Sisters, head to any one of the local restaurants in the downtown district. Several eateries line this area of town, making Sister's best restaurants all within walking distance.
Breakfast and coffee are two specialties of the city. Places like Sisters Coffee Company and Sisters Bakery add to this early morning reputation. Other spots to get the best meal of the day include The Cottonwood Cafe and Angeline's Bakery.
For lunch or mid-afternoon fare, consider checking out Sisters Meat and Smokehouse. Alongside an ample deli selection, this eatery also features fresh-cut sandwiches and a hip place to sit down.
And for a night out on the town, restaurants like Rancho Viejo and Chops Bistro offer fun places to visit with a date. Reservations are rarely required in Sisters, and one recommended route is to head downtown guided by the senses. But for dessert, do plan on dropping by the Sno Cap Drive In.
7. Feel the Community Buzz at a Sisters Event or Festival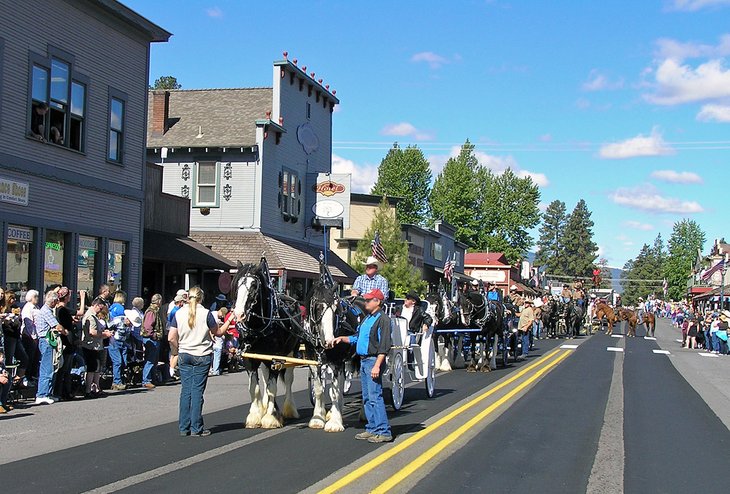 Sisters has a celebratory feel. As soon as the end of winter thaws into spring, events and festivals start filling out weekends for the rest of the year. And as if the city's stunning natural landscapes weren't reason enough, these popular annual events add extra incentive for a road trip.
The Sisters Rodeo & Parade is one fun-event not to miss, always on the second weekend of June. This "Biggest Little Show in the World" first took place in 1940 and is now a time-honored Sisters tradition.
Alongside antique car shows, July in Sisters celebrates quilting. Sisters Outdoor Quilt Show, one of the world's largest of its kind, takes place on the second weekend of July. This decorative event displays over 1,300 handmade quilts alongside exceptional summer weather.
Other events include celebrations of square dancing, Wild West culture, and Hawaiian cuisine. Different art fairs and craft sales also take place throughout the seasons. And like the Sisters Folk Festival in September, in-town music festivals celebrate getting together with a lively soundtrack.
8. Visit Iconic Oregon Waterfalls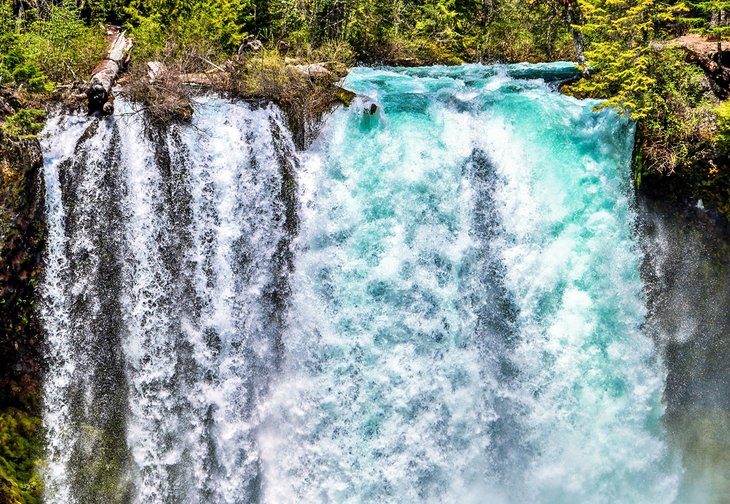 Several of Oregon's best waterfalls are within a short and scenic drive from Sisters. Many of these displays of gravity are spotted while traveling the McKenzie Pass-Santiam Pass Scenic Byway. And like Sahalie & Koosah Falls, within Willamette National Forest, some of these waterfalls are right on the McKenzie River.
The trailhead for Sahalie & Koosah Falls is approximately 35 miles from Sisters on Highway 20. A 2.6-mile section of the McKenzie River National Recreation Trail connects viewing areas for both waterfalls.
Another waterfall on the scenic byway, Proxy Falls, is accessible with a slightly shorter drive on the McKenzie Highway (OR-242). This route is inaccessible throughout the winter. But in the summer, it leads to a stunning cascading waterfall within the Three Sisters Wilderness.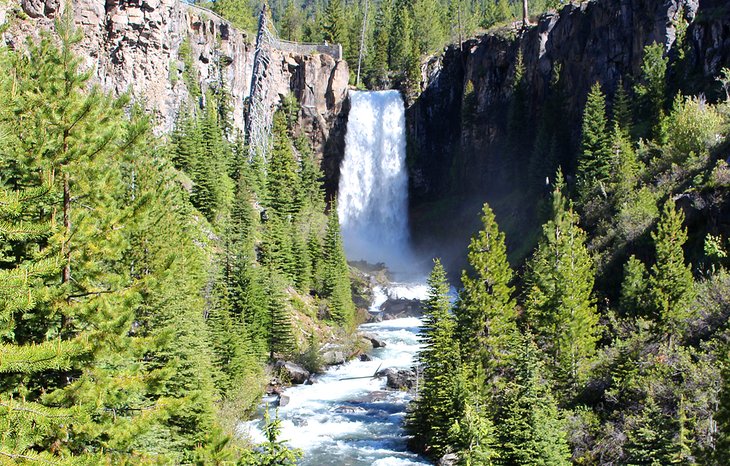 And Tumalo Falls, in Deschutes National Forest, is right at the backdoor of Sister's neighboring city of Bend. From Sisters to the Tumalo Falls trailhead, it's approximately an hour drive. Expect some crowds on the weekends at this iconic waterfall, and plan on visiting earlier in the morning to avoid the most congestion.
9. Take the Short Trip to Suttle Lake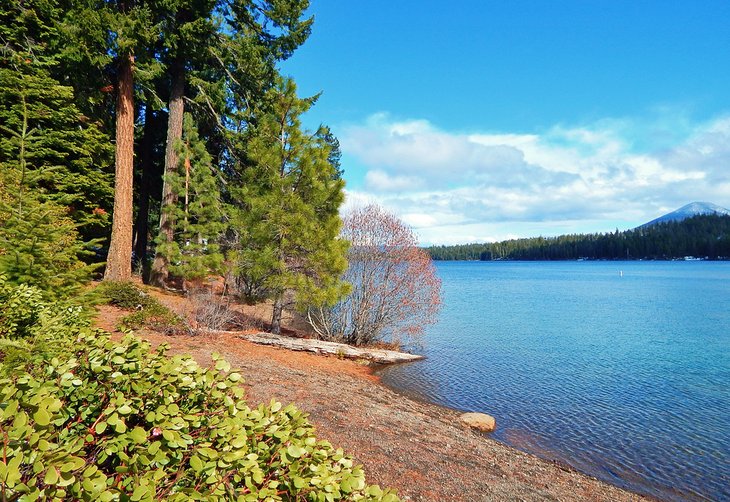 Less than 15 miles northwest of Sisters, in Deschutes National Forest, Suttle Lake is a magnet for recreation throughout the summer. This natural 250-acre lake is deep and clear and surrounded by a stunning conifer forest. Everyday activities include boating, fishing, hiking, and checking out the resort amenities at The Suttle Lodge.
The Suttle Lodge offers a primitive but hip place to stay. Guests enjoy boat rentals, lawn activities, and on-site dining with decadent menus at The Boathouse. Overnight facilities include lodge rooms, primitive cabins, and deluxe cabins.
The Forest Service also operates two campgrounds separate from The Suttle Lodge. These two campgrounds, South Shore and Blue Bay Campgrounds, each have public boat ramps. South Shore is more accommodating to RVs, but Blue Bay also caters to bigger rigs.
The Suttle Lake Loop Trail connects both campgrounds. This stunning and beautiful trail circumnavigates the water with a 3.6-mile route, offering a very family-friendly route to follow. And on hot summer days, excellent swimming spots line the entire trail. Bring a swimsuit if planning on a hike.
10. Fly Fish the Metolius River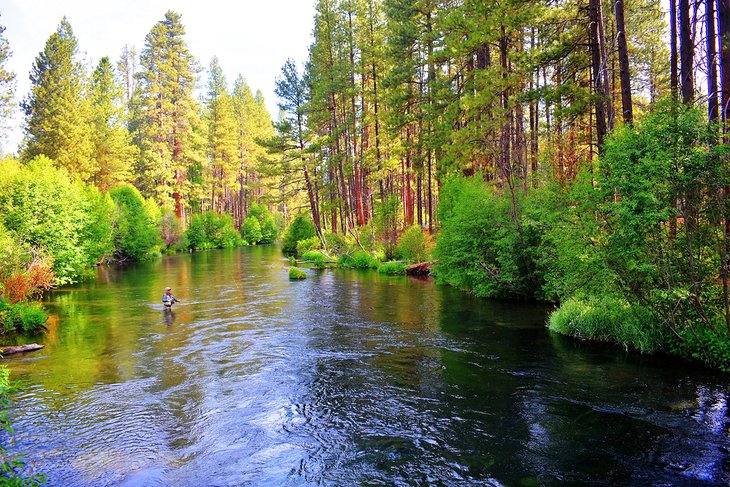 The Metolius is an impressive river a 20-minute drive from Sisters. What makes this river unique is that it appears fully grown from underground, near the base of Black Butte. An observation site at this volcanic work of nature offers a great glimpse of the emerging river and information about its hydrology.
Several cabins and lodges line the banks upriver. Camp Sherman is one such popular place to visit, outfitted with vintage cabins and easy water access. Campgrounds, including the Camp Sherman Campground, also line the river upstream. And the entire Metolius Basin surrounding the water is a recreation paradise with hiking, bird-watching, and postcard surroundings.
Fly fishing is the activity most associated with the crystal-clear and cold waters of the Metolius. Various trout teem in the water throughout the year, including rainbow, brown, and massive bull trout. No commercial guiding services are offered on the Metolius. Still, in-town fly shops, like The Fly Fisher's Place, are happy to share some local knowledge. Camp Sherman also operates an on-location fly shop at the Camp Sherman Store.
11. Hit the Greens at a Local Golf Course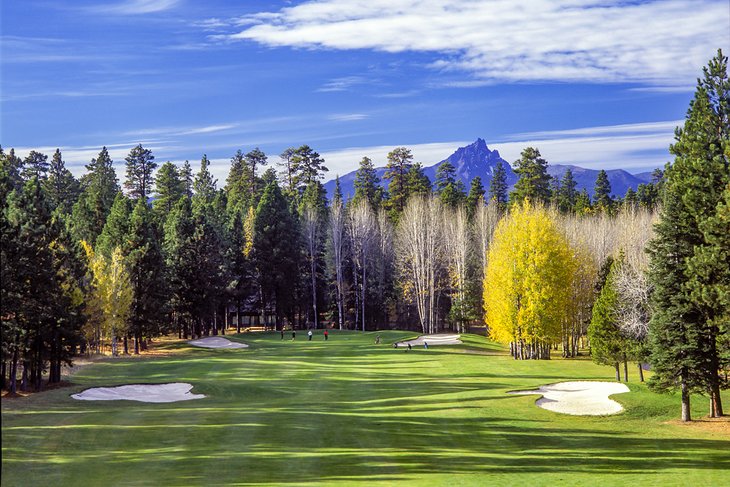 Among its many recreational treasures, Sisters also lends quick access to several public golf courses with a view. Within immediate proximity are three 18-hole courses, split between two facilities. And all three golf courses provide breathtaking mountain backgrounds on most putting greens.
Aspen Lakes Golf Course is the closest, located less than 10 minutes outside of town. This public course caters to the entire golf experience, including on-site dining, a pro shop, and a comprehensive practice facility. The highest rate in the summer for 18 holes tops out at $79 during peak hours. Golf carts are extra. Tee times are recommended,
Black Butte Ranch has two courses northwest of town, reachable with a 15-minute drive. Glaze Meadow Golf Course and Big Meadow Golf Course are both longstanding favorites in Central Oregon, garnering thousands of players each year. Advance tee times are also recommended at both Black Butte courses. Spring rates, twilight rates, and other discounts are available.
Map of Things to Do in Sisters, OR
Sisters, OR - Climate Chart
Average minimum and maximum temperatures for Sisters, OR in °C
J
F
M
A
M
J
J
A
S
O
N
D

4

-7

6

-5

10

-3

14

-2

18

1

23

3

28

6

29

5

24

2

17

-2

8

-4

4

-7

PlanetWare.com
Average monthly precipitation totals for Sisters, OR in mm.

59

44

30

23

20

15

11

13

12

25

54

55