7 Top-Rated Hot Springs in Washington
Hot Springs in Washington add to the already long list of the state's best adventures. From glacier-topped peaks to underground lava tubes, Washington is full of unique adventures. And the state's several mineral-fed hot springs provide an iconic Pacific Northwest attraction everyone can enjoy.
The ease of access to these different hot springs varies from one to the other. From backcountry to hiking to resort and spa visits, each hot spring offers its own ambience and style.
Several of the best places to soak also cater to other adventures, like hiking and camping. And some hot springs, like Sol Duc Hot Springs, are surrounded by world-class adventure playgrounds like Olympic National Park.
Hot Springs are hot attractions in the state. They also represent a fragile environment. Whenever visiting a hot spring, whether commercial, wild, or with access granted on private land, it's important to tread lightly around these awesome attractions.
Find the best places to visit and soak your cares away with our list of the top hot springs in Washington.
1. Goldmyer Hot Springs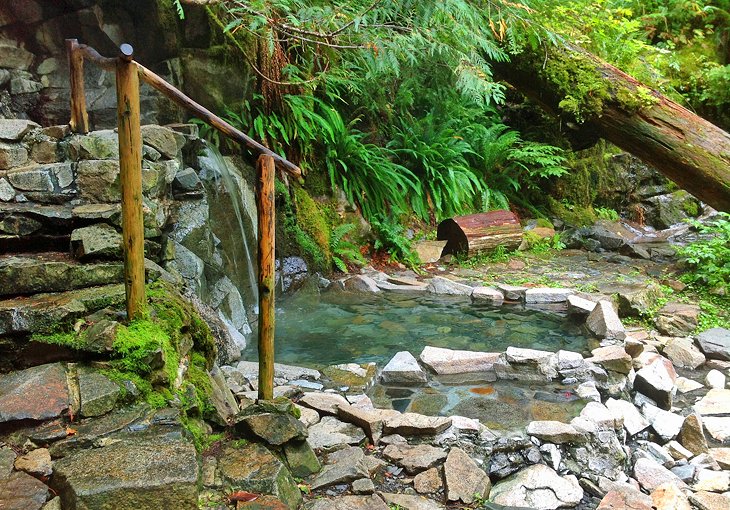 Goldmyer Hot Springs is one of the best-kept geothermal gems in the entire state of Washington. It's nestled among the ancient forests of the Cascade Mountains near Snoqualmie Pass, approximately 45 minutes east of Seattle.
Visitors have to work to enjoy Goldmyer Hot Spring. It's a 15-mile drive on a non-maintained, unpaved Forest Service road, plus a 4.5-mile hike into the wilderness to access the springs. This long approach helps keep this hard-to-reach location in good condition.
Northwest Wilderness Programs also aid in keeping the natural area pristine. This nonprofit organization owns and operates the springs and enforces low-impact policies to protect the fragile environment. Northwest Wilderness Programs limits the use of Goldmyer Hot Springs to 20 people a day.
Reservations are now required to visit Goldmyer Hot Springs, and a new lottery system is in place for each month through 2022. Occasionally, a cancellation may open a last-minute spot. The lottery opens two months prior to the actual month of application. For example, the lottery for April is open between February 1st and February 29th.
Camping is available near the hot springs among the giant trees that define the area. Camping is considered primitive, and visitors need to pack in (and pack out) all their own supplies. Trail and road conditions to reach Goldmyer vary with the weather, and visitors should consult the official site before planning a trip.
Address: Mt. Baker-Snoqualmie National Forest, Goldmyer Hot Springs Trail, North Bend, Washington
Official site: http://www.goldmyer.org/
2. Sol Duc Hot Springs Resort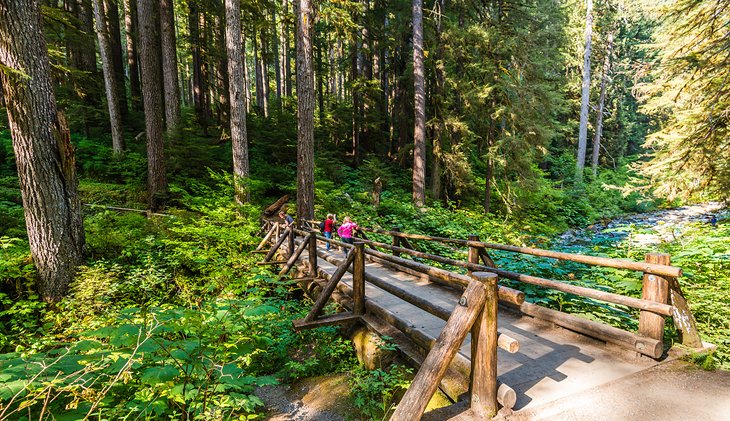 The Sol Duc Hot Springs Resort in Olympic National Park is perhaps one of the most appealing hot springs destinations in Washington. Not only is Sol Duc Hot Springs Resort easy to access and perfect for the whole family, but with the enormity of Olympic National Park surrounding the mineral pools, the hot springs are only a small part of an excellent adventure.
Sol Duc Hot Springs Resort features three different mineral hot spring soaking pools and one large freshwater pool. The pools each vary in temperature, with the hottest reaching 104 degrees Fahrenheit. All pools are open to overnight visitors of the resort and the adjacent campground. Day passes are also available.
Sol Duc Hot Springs Resort has several overnight accommodations, including cabins and historic lodge rooms. It's also home to one of the best campgrounds at Olympic National Park: the Sol Duc Hot Springs Campground.
Sol Duc Hot Springs Resort also lends access to iconic hikes in and around the Sol Duc Valley, including the Sol Duc Falls Trail. It doesn't take long to reach this trail's namesake feature, and for those that want to go farther, the route continues, ascending into the acclaimed Seven Lakes Basin of the park.
Address: Olympic National Park, 12076 Sol Duc Hot Springs Road, Port Angeles, Washington
3. Doe Bay Resort and Retreat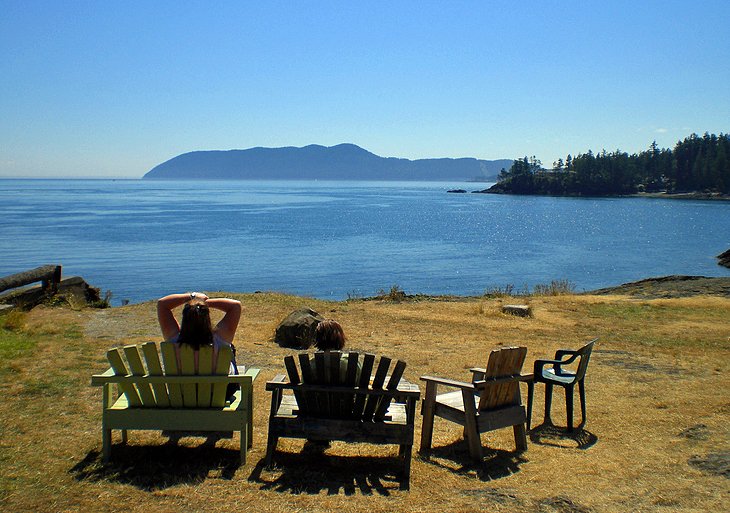 Doe Bay Resort and Retreat is your first-class ticket for everything the San Juan Islands has to offer. This luxurious and laid-back resort is on the southeast corner of Orcas Island, the largest of the San Juan Islands by land size. This far-flung part of the country offers an excellent backdrop for soaking the day away.
The waterfront soaking tubs and sauna are a centerpiece experience while visiting Doe Bay Resort. The Spa at Doe Bay has three outdoor soaking tubs, a dry sauna, and outdoor showers. All overnight guests at Doe Bay Resort have unlimited access to the spa tubs during operating hours. The pools are clothing optional. Currently, the use of the resort grounds and pools is only for overnight guests.
And the mineral baths are only a small part of the offerings at this natural resort. The resort also features a one-acre organic garden that supplies the ingredients for the on-site Doe Bay Cafe. The facility also features a yoga studio to perfect a pose, as well as adventure opportunities like guided kayaking excursions in Puget Sound or hiking the nearby trails in Moran State Park.
Accommodations at Doe Bay Resort include cabins, yurts, and waterfront campsites. The resort often runs specials throughout the year, including special packages and free nights with a minimum booking.
Address: 107 Doe Bay Road, Olga, Washington
Official site: https://doebay.com/
4. Olympic Hot Springs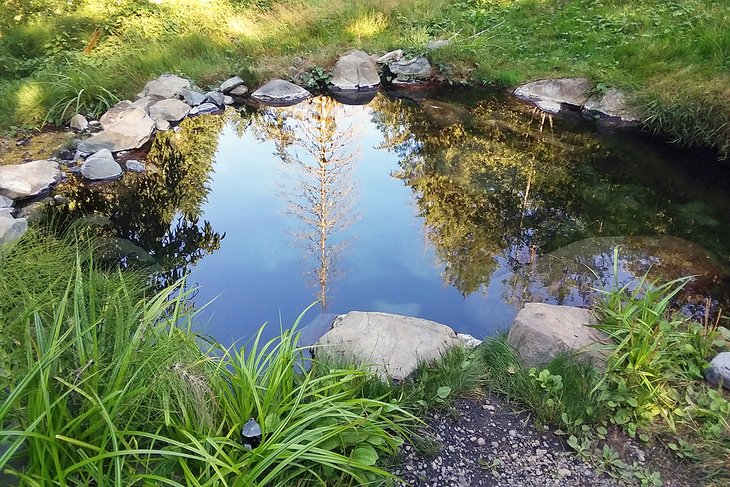 Olympic Hot Springs is another hot-water option while visiting Olympic National Park. It offers much more of a wilderness experience compared to the comfortable confines of the neighboring Sol Duc Hot Springs Resort.
A similar resort as Sol Cuc operated on the Olympic Hot Springs until 1966, when the lease with the National Park Service (NPS) expired. Since then, the NPS removed all man-made structures from the area. After the resort's closure, hikers used to access this natural spring via a 2.5-mile trail.
In more recent times, a road washout closed Olympic Hot Springs Road indefinitely, disabling vehicle access to the trailhead. This means that it's now closer to a 20-mile round-trip hike or bike ride starting from near the Madison Falls Trailhead, mostly following the old road. This jump in distance has made Olympic Hot Springs a rarely visited destination and an almost guaranteed pool to have to yourself.
The pools of Olympic Hot Springs are not maintained by the park, and visitors should use caution when taking a dip. You won't find the same amenities at Olympic Hot Springs that you'll find at Sol Duc Hot Springs Resort, but for many, that's exactly what makes these natural wonders worth visiting.
5. Carson Hot Springs Resort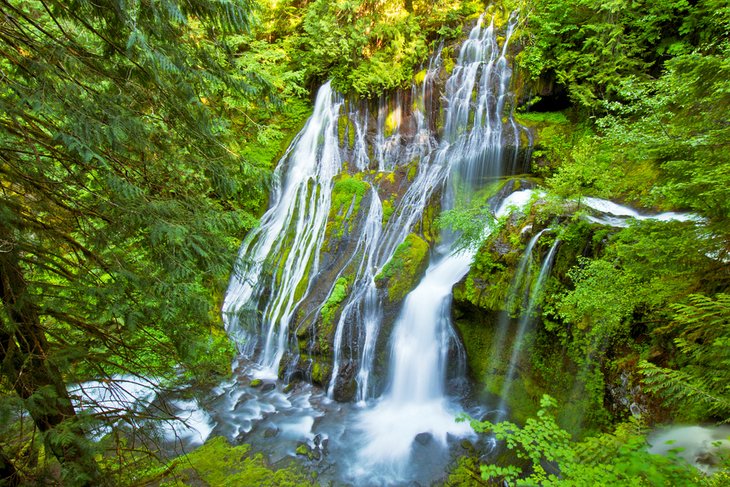 In the Columbia River Valley in southern Washington, Carson Hot Springs Resort takes tourists into the past and away from their present concerns. The facade of the hot springs resort and the surrounding small town of Carson has received a few fresh layers of paint over the last century. Other than that, and some modern renovations, not much else has changed in this rustic retreat and getaway.
.The 1930s bathhouse at Carson Hot Springs is an adults-only facility and features several tubs with mineral water pumped directly into the basins. The resort also offers all sorts of rooms, with a few containing personal mineral-fed hot tubs for private enjoyment
Carson Hot Springs Resort also features the 18-hole Elk Ridge Golf Course on the property. The surrounding Columbia River Gorge is worth exploring, including many of the best waterfalls in Oregon.
6. Scenic Hot Springs
Scenic Hot Springs, amid 40 acres that border the Alpine Lakes Wilderness just west of Stevens Pass, is a privately owned hot spring location with a long and continuing history in the state.
The first recorded interest in the hot springs by our current civilization can be linked back to the construction of the nearby Great Northern Railway, and a resort was built around the hot springs in the late 19th century. The lodge remained a commercial entity until the early 1920s and was then nearly forgotten for 50 years until new hot spring enthusiasts started seeking these soaking waters.
Overcrowding and damage to the natural environment eventually caused issues with local law enforcement and the private owner of the property. Within the past few years, new agreements have begun to open Scenic Hot Springs back up to the public.
Advance permission from the landowner is required to visit Scenic Hot Springs. The facility is limited to 10 people a day. You can gain permission to Scenic Hot Springs by visiting the Scenic Hot Springs site and filling out the necessary reservation request.
The history of Scenic Hot Springs is still in the making, so if you are granted permission to visit this natural attraction, be sure to pack out everything you bring in and help keep this pristine location open to visitors for years to come.
7. Gamma Hot Springs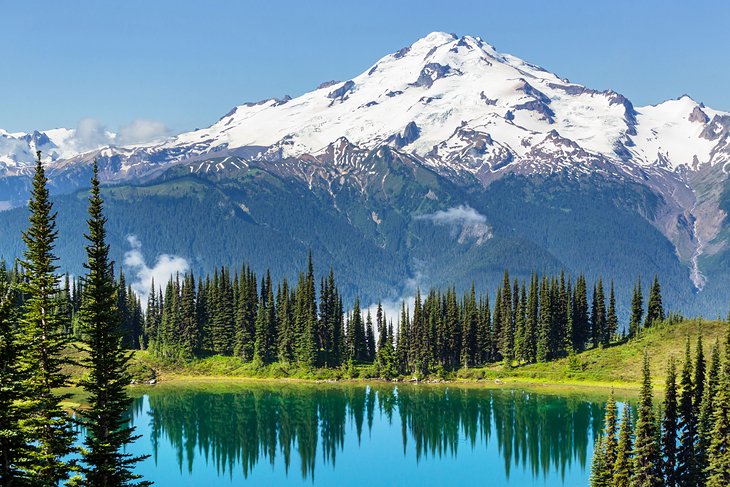 Touted as the most remote hot springs in the state of Washington, Gamma Hot Springs isn't suited for your first-ever excursion into the wilderness. Tucked amid the rugged Glacier Peak Wilderness, Gamma Hot Springs has a nearly mythic status. Even with the necessary equipment and experience in backcountry navigation to search for these geothermal diamonds in the rough, there is still no safe bet you'll find them.
However, if you do find Gamma Hot Springs, you'll most likely have it to yourself. Proper precautions and experienced route-finding abilities are needed to make the trek. The route leads into deep backcountry with no amenities whatsoever.
Map of Hot Springs in Washington
More Related Articles on PlanetWare.com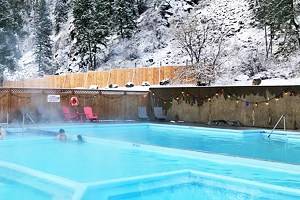 Other Hot Springs to Explore: South of the state of Washington, Oregon might be the true Pacific Northwest hot spot for hot springs. Our guide to the best hot springs in Oregon lays out the top spots to soak in the state. For inland adventures, the best hot springs in Montana comprise several awesome commercial resorts and places for a weekend getaway.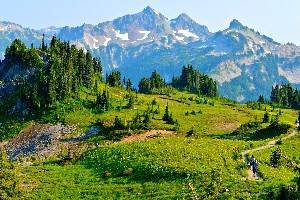 More to Explore in Washington: The state of Washington is stacked with adventure. Great places to start exploring are the several state and national parks in Washington. Likewise, the top hiking trails in the state also lead to some awesome places to visit. For overnight adventures, our guide to places to camp in Washington will have you pitching a tent under the stars in no time (or parking an RV).