16 Top-Rated Attractions & Things to Do in Puget Sound, WA
We may earn a commission from affiliate links ()
Puget Sound is a Pacific Northwest paradise on the western edge of Washington. Specifically, it's an inlet of the Pacific Ocean, with waterways, islands, and major cities bordering the water. Seattle is the largest of these cities, with Puget Sound comprising its downtown waterfront district. Other major cities on the Sound include Tacoma, Everett, and Port Townsend.
Exploring Puget Sound includes activities like ferry rides, sunset hikes, and diving deep into nature. And watchful visitors might also spy some killer whales in the water. Other things to do include tide pooling, exploring history, and generally enjoying island life.
And there's more to explore in Puget Sound when including the San Juan Islands to the north. This archipelago is part of the larger Salish Sea and has over 170 named islands to explore. A few of the islands, like Orcas Island and San Juan Island, are more developed and serve as excellent basecamps for smaller island adventures.
Find your own slice of Pacific Northwest paradise with our list of the top attractions and things to do in Puget Sound:
1. Deception Pass State Park, Whidbey & Fidalgo Islands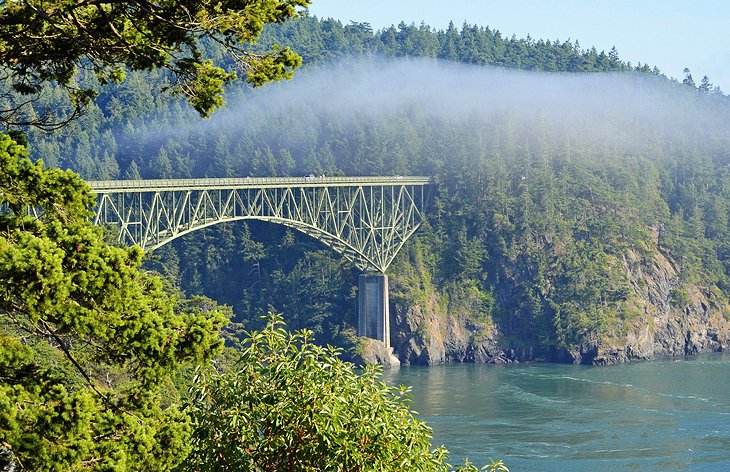 Whidbey Island is the largest island in Puget Sound and one of the few accessible by car. Traveling by car, you arrive on the island via the stunning Deception Pass Bridge, part of the larger Deception Pass State Park. The bridge connects Fidalgo Island to Whidbey Island's north end, spanning the narrow pass where funneled tidal waters create intense rapids.
Deception Pass is one of Washington's best state parks and one of its most visited. It has numerous recreational opportunities, including extensive tide pooling, scenic vista hikes, camping, and boating through the pass with the tides. Camping is available within three campgrounds at the park.
The rest of Whidbey Island is well worth a long weekend or two of exploring. South of the state park, the navy-dominated Oak Harbor offers museums and modern tourist attractions like movie theaters and mini-golf. Farther south still, the island transforms into farmland and historic sites.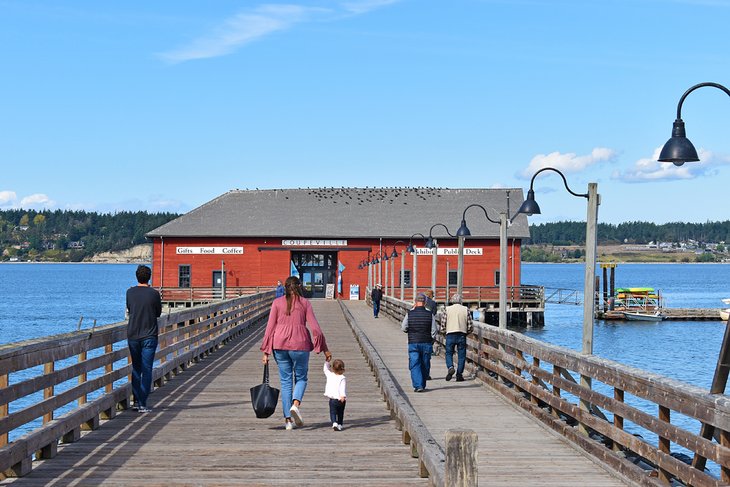 Find some time to visit the historic farming community of Coupeville on the island's southern half, part of the larger Ebey's Landing National Historical Reserve. This unique national park unit preserves the rural history of the island for all to enjoy. Another notable community is Langley – a favorite with whale watchers.
Read More: Top Things to Do on Whidbey Island
Accommodation: Where to Stay on Whidbey Island
2. Bloedel Reserve, Bainbridge Island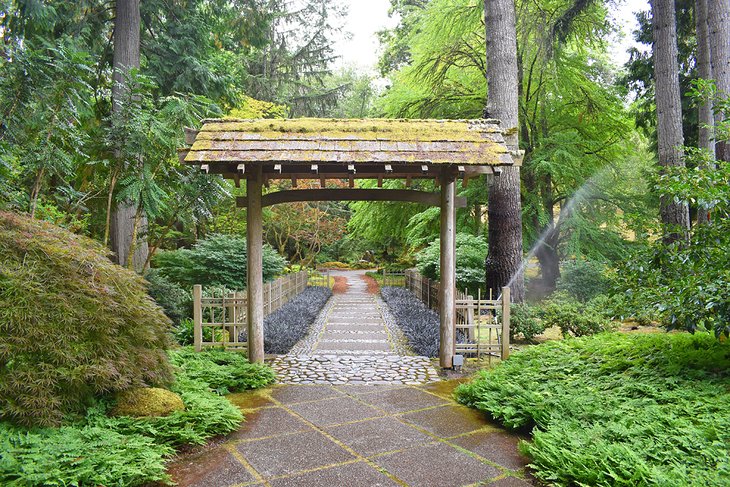 Bainbridge Island is accessed via a short and scenic ferry ride from Seattle. It's also accessible by bridge from the Kitsap Peninsula. It's a fun island to bring the whole family to, and a popular getaway to enjoy shopping and dining and arts and culture. It's also home to a wide array of recreational activities including cycling, kayaking, and camping at Fay Bainbridge Park.
On the northern tip of the island, the Bloedel Reserve is one of the best botanical gardens in the country. It features over 150 acres of intricate gardens and aesthetic structures. The loop trail within the reserve spans approximately two miles, turning around at the Bloedel Residence – a beautiful manor inspired by 1800s French architecture. Plan to spend at least two hours marveling at the grounds.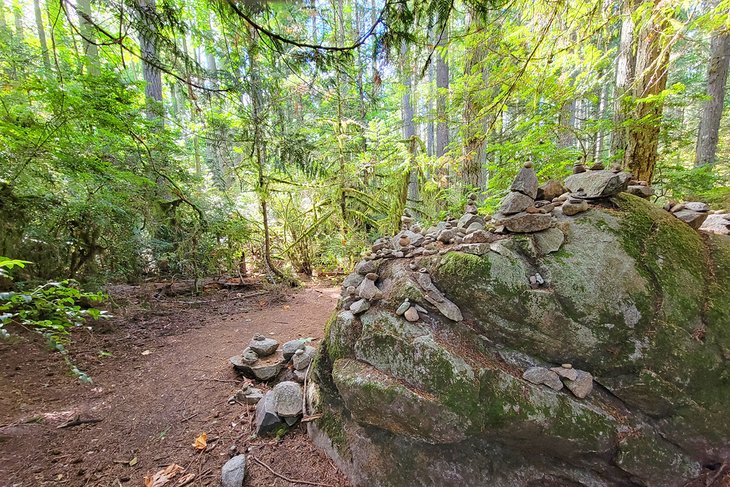 Other fun places to visit on Bainbridge Island include the Bainbridge Museum of Art, the Japanese American Exclusion Memorial, and Fort Ward Park. Take some time to visit the Grand Forest on Bainbridge to get lost in the island landscape.
3. Point Defiance Park, Tacoma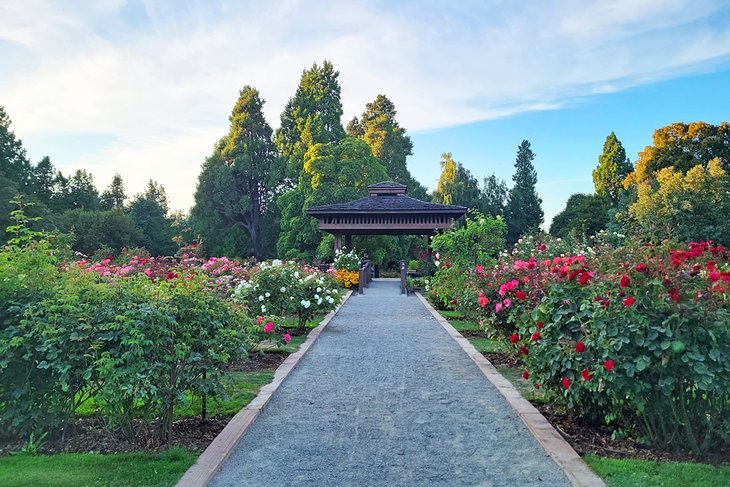 Tacoma is a vibrant city on the far southern end of Puget Sound. It's home to a noteworthy museum district, ranging in subject matter from classic cars to modern art. The city also has the famous Chihuly Bridge spanning the Interstate. This iconic glass sculpture pays homage to its creator, the Tacoma-native Dale Chihuly.
On the northern tip of the city extending into Puget Sound, Point Defiance Park is the city's crown-jewel natural space. Shoreline hiking trails, bountiful gardens, and blazing sunsets define some of the fun at this 760-acre park. On clear days, Mount Rainier also makes an appearance on the southwest horizon.
Point Defiance is also home to several other tourist attractions. Point Defiance Zoo & Aquarium is within the park, offering the only such land and water combination in the region. The Fort Nisqually Living History Museum is also within the park, with several costumed events occurring throughout the year.
Read More: Top-Rated Things to Do in Tacoma
4. Vashon Island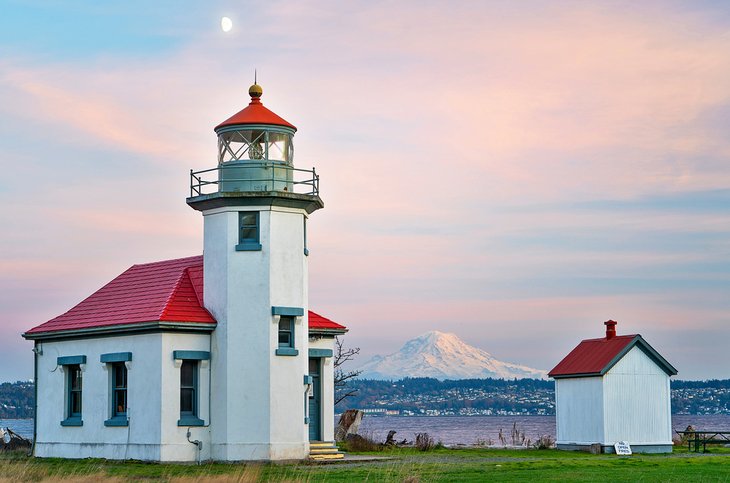 Dubbed the "Heart of the Sound," Vashon Island is a popular farming community with a strong collection of artist galleries, unique eateries, and boutique shops. It's only accessible by boat, with ferry docks in West Seattle, Port Orchard, and Point Defiance Park in Tacoma.
Visitors are encouraged to bring their own bicycle to navigate the island's country roads, and rentals are available near the ferry terminal. On clear days, there's an excellent view of snow-covered Mount Rainier from the Point Robinson Lighthouse.
Accommodation: Where to Stay near Vashon Island
5. Blake Island State Park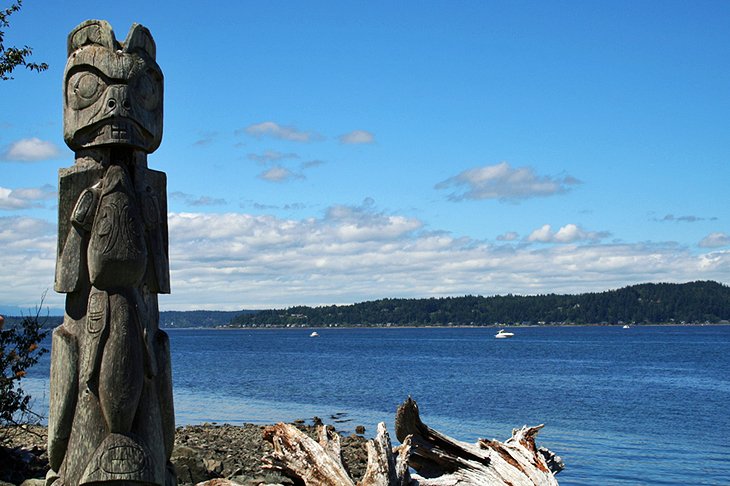 Blake Island is only accessible by boat and helps protect a vast marine park of richly textured shorelines and beaches. It's a great day trip from Seattle, and some of the most popular things to do on the island include cycling, kayaking, and staying in one of the three year-round campgrounds. On clear days, every island activity is backdropped by stunning Olympic Mountain vistas.
Tillicum Village is by far the most popular tourist attraction on the island. This unique tourist destination celebrates the Pacific Northwest American Indian culture with traditional feasts and celebrations. Tourists interested in visiting Tillicum Village can opt for a four-hour Tillicum Excursion that departs from the downtown Seattle waterfront.
Address: 1101 Alaskan Way, Pier 55, Seattle, Washington
6. Fort Worden Historical State Park, Port Townsend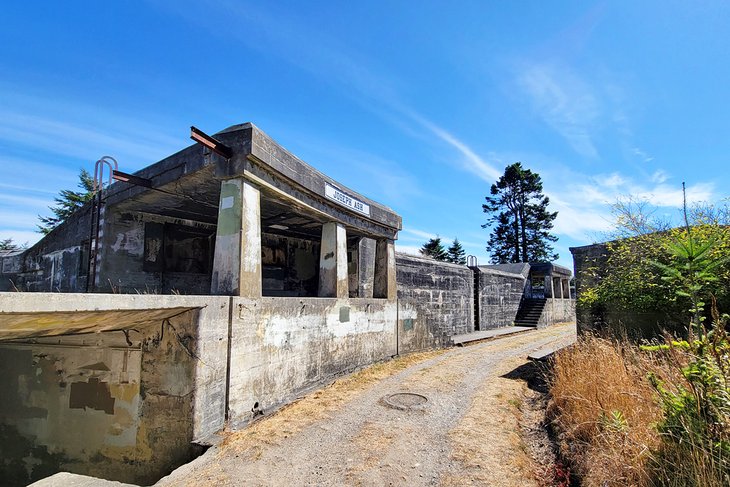 Port Townsend is a lovely city on the far northeast edge of the Olympic Peninsula. What immediately catches the eye when visiting is the historic Victorian architecture punctuating its uptown and downtown districts. These aesthetic relics remain from a brief prosperous era when the town was thought to be the end of the Pacific Northwest Railroad.
While the railroad ended in Seattle instead, the town eventually grew into a beacon of culture on its own. Today, Port Townsend is known for its artistic and laid-back appeal, which is only enhanced by its stunning ocean landscapes and temperate weather. One of the best places to experience the Port Townsend seaside, and dive deeper into history, is Fort Worden Historical State Park.
Fort Worden was once part of a strategic set of coastal defense systems known as the "Triangle of Fire." It has long since been retired from its defense duties, but much of its 460 acres still display its military past. One of the most popular things to do at the park is a self-guided tour of its extensive collection of batteries and barracks next to the sea.
Read More: Top-Rated Things to Do in Port Townsend, Washington
7. Camano Island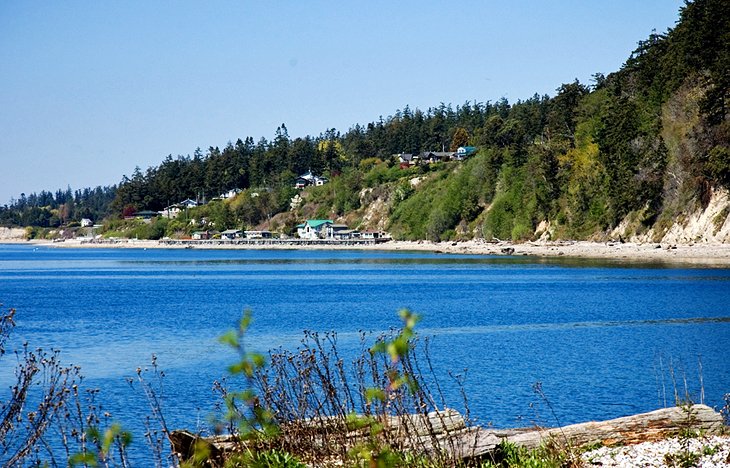 Camano Island neighbors Whidbey Island, north of Seattle, and is also accessible by automobile. It offers a perfect slice of quiet, rural Washington, and a vibrant collection of restaurants, local retail shops, and shoreside hotels.
Both Cama Beach and Camano Island State Park on the island give beachcombing visitors easy access to the shoreline and ample hiking trails to explore. Other fun activities and things to do on Camano Island include bird-watching, golfing, and zipline tours that put visitors above forested canopies.
Accommodation: Where to Stay on Camano Island
8. Anderson Island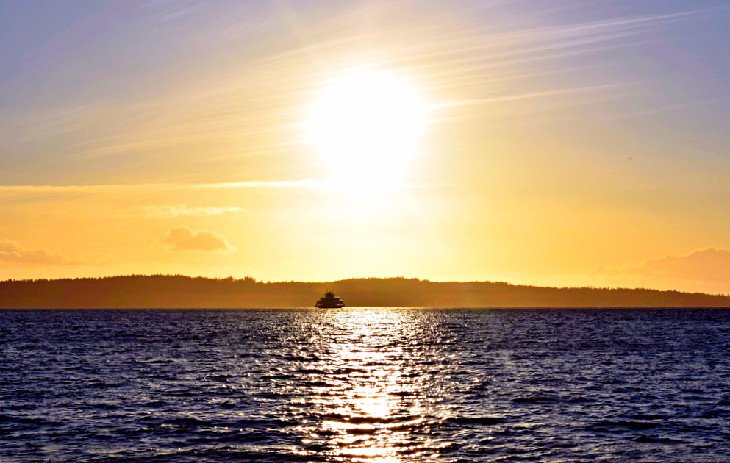 Anderson Island is the southernmost island of Puget Sound, and is most easily accessed with a ferry from Tacoma. This unspoiled island getaway draws less attention than some of its neighboring islands, though it offers plenty of attractions and amenities.
Shopping, dining, and great hotels are found here, as well as scenic golf courses, abundant parklands, and stunning views over the water come sunset. The historic Johnson Farm on Anderson Island allows visitors to take a step back into a century-old homestead and enjoy a docent-led tour of Anderson Island history.
9. Gig Harbor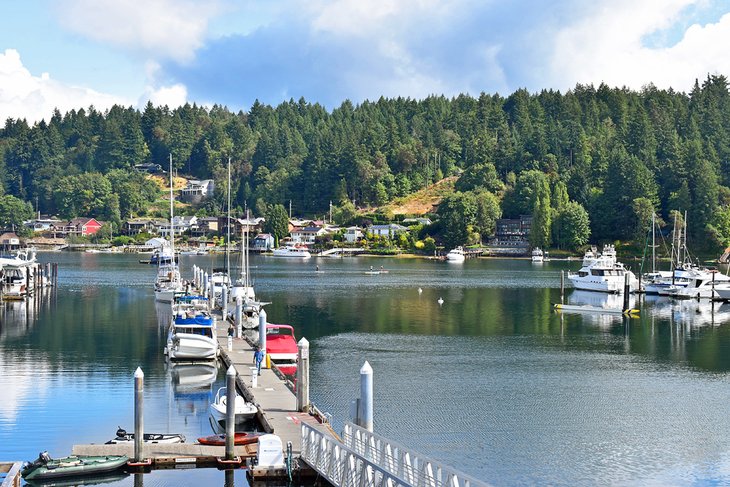 Gig Harbor is a seaside city at the southern end of Puget Sound. Its downtown district surrounds a body of water of the same name, offering several scenic places to wander and spend the day. One of the first places to stop is Skansie Brothers Park & Netshed for a scenic view of the waterfront.
For another great view of Gig Harbor, head to the Finholm View Climb, and start heading up the stairs. Afterwards, nearby restaurants like Anthony's offer patio dining to replenish any calories lost.
Gig Harbor is a great place for family day trips. It's accessible from Seattle with less than an hour's drive. And places like the Harbor History Museum and Donkey Creek Park offer educational and engaging places to spend the day.
10. Anacortes, Fidalgo Island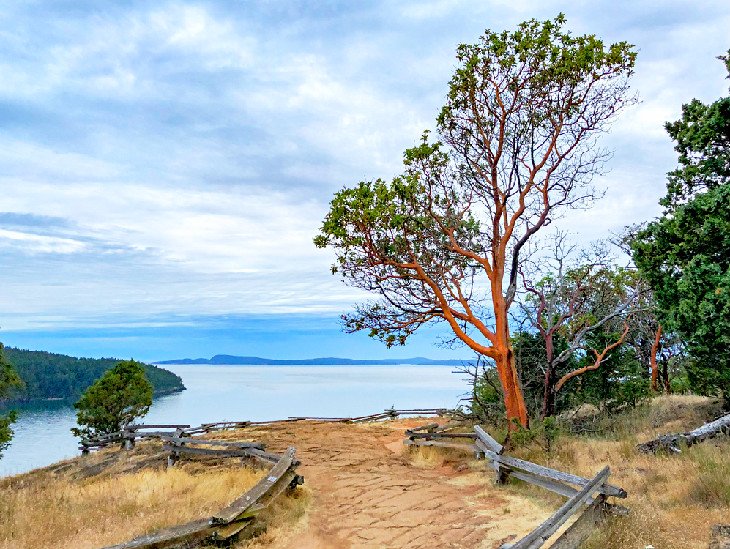 Fidalgo Island is one of the most popular launching points for exploring the San Juan Islands. It's connected to the northern end of Whidbey Island by the Deception Pass Bridge, and accessible from Seattle with a 75-mile drive.
The thriving seaside town of Anacortes is on the north side of the island and is a favorite vacation destination. Popular things to do in Anacortes include bed-and-breakfast stays, perusing eclectic boutique stores, and dining on local fare. Other recreation opportunities on Fidalgo Island include summiting Mount Erie, kayaking to nearby islands, and staying the night at Deception Pass State Park.
When it comes time to set sail and explore the San Juan Islands, several ferries depart daily from Anacortes. It's such a popular place to catch a ride, it helps to have reservations booked for ferry rides.
The San Juan Islands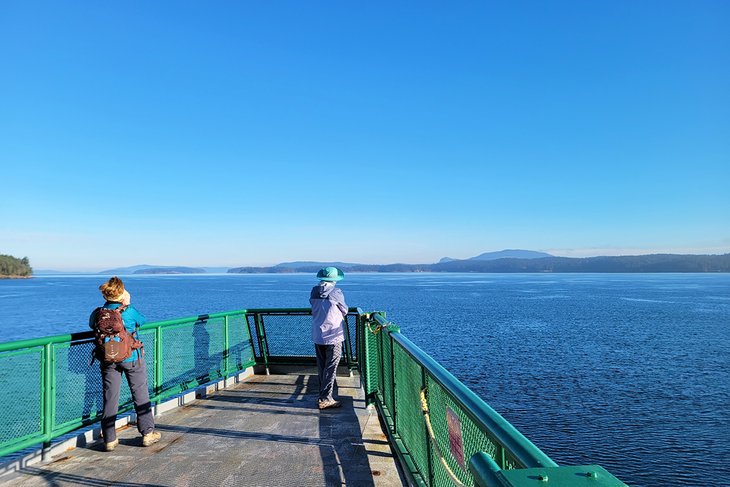 The San Juan Islands, north of Puget Sound, also deserve some attention. This collection of over 170 named islands is part of the larger Salish Sea and encompasses several straits. Anacortes is a common jumping-off point for exploring the San Juan Islands, with several ferries departing daily.
11. San Juan Island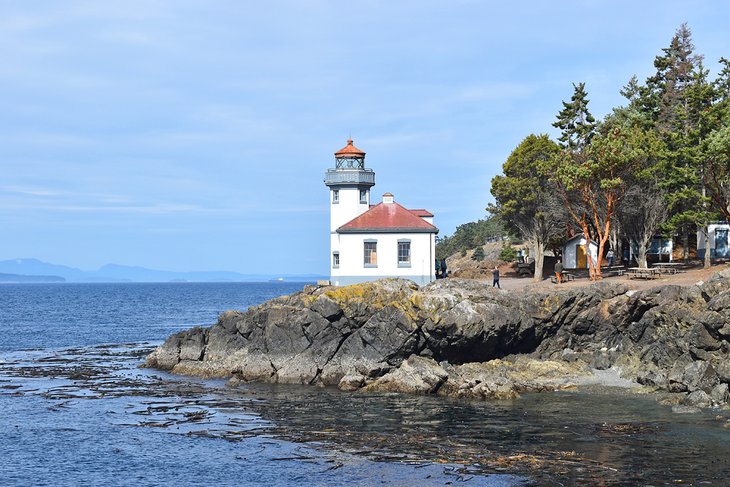 San Juan Island is the most populous of the archipelago, and home to the county seat, Friday Harbor. Ferries dock daily at this community hub, where shops, galleries, restaurants, and accommodations provide everything a tourist may want. Friday Harbor is also a good place to book a whale watching tour with several local companies offering half- and full-day trips.
On the more rural west side of the island, the San Juan Island National Historic Park provides numerous walking trails and bird-watching opportunities. This historic park encompasses both an American Camp and an English Camp, dating back to the 1850s when both nations had claims to the land.
On the west end of the island, Lime Kiln Point State Park is one of the best state parks in Washington and a popular place to explore the scenic environment. The park is also known as Whale Watch Park thanks to its spectacular seaside view, and it's home to the photogenic Lime Kiln Lighthouse, which poses brilliantly for photographs.
Read More: Top-Rated Things to Do in Friday Harbor
Accommodation: Where to Stay on San Juan Island
12. Orcas Island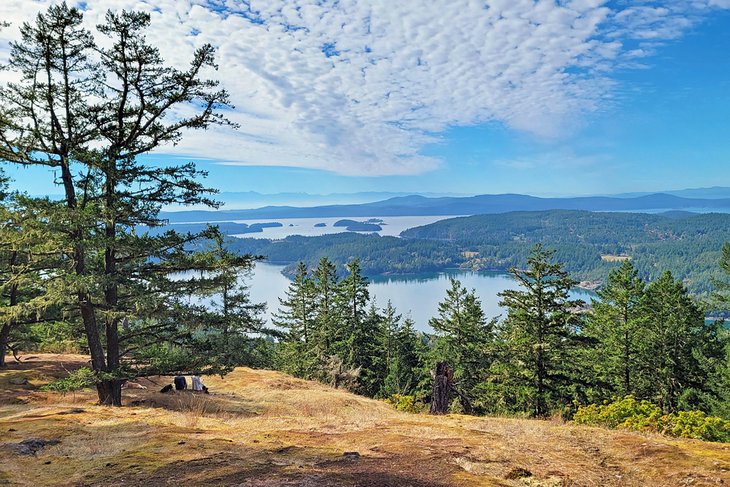 Orcas Island is the largest of the San Juan Islands and one of the most popular to visit. It's known for its natural beauty and recreational opportunities, including the 5,000-acre Moran State Park on the island's east side. Most people come to Moran to camp or hike, as the park offers more than 30 miles of trails. The state park is also home to Mount Constitution, the highest point in the San Juan Islands.
At the center of the island is Eastsound Village with dining, shopping, and galleries. This is the main community hub to explore the rest of the island. In the small downtown, the Orcas Island Historical Museum preserves six original pioneer homesteads from the late 1800s.
13. Whale Watching in the San Juan Islands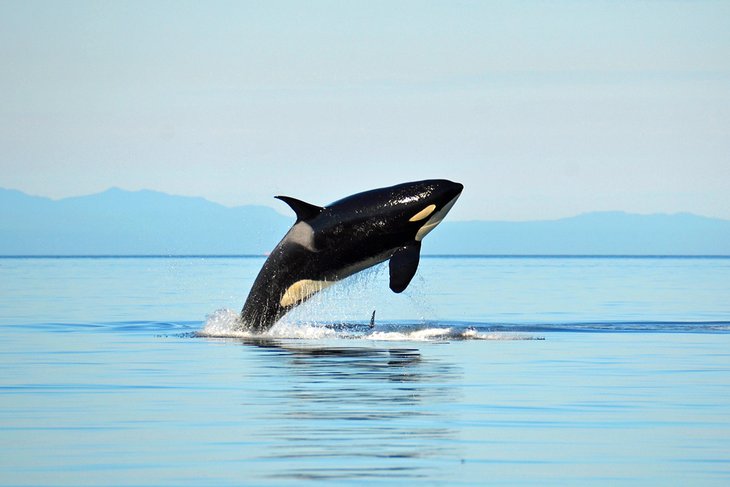 One of the most popular things to do in the San Juan Islands is spotting wild whales in the water. Resident orcas often make an appearance in the Salish Sea surrounding the islands.
It's possible to spot these massive mammals from land, though it takes a little patience. One of the best spots is Lime Kiln State Park on San Juan Island, also known as Whale Watch Park. But the surest way to see some whales is aboard a professionally guided tour.
14. Shaw Island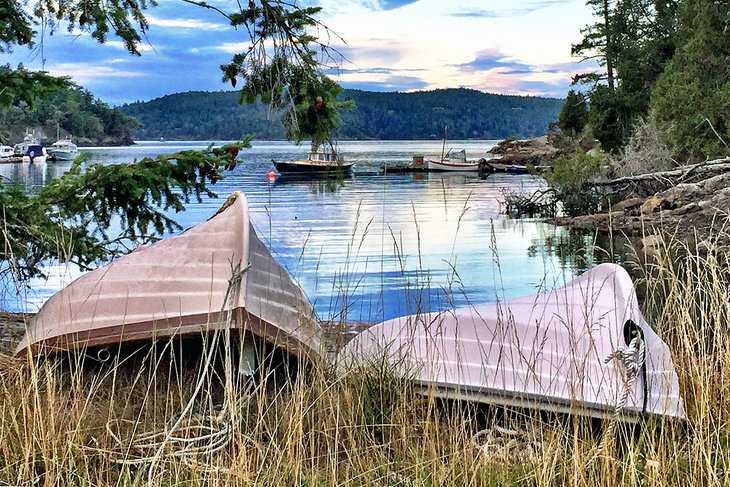 Shaw Island is the smallest island in the San Juan archipelago serviced by Washington State Ferries. Visitors often head to Shaw Island for its quiet beauty. The island doesn't have the usual tourist services like restaurants and hotels found on San Juan and Orcas Island, but the island community does have a historic general store and popular community library.
Our Lady of the Rock Monastery is located on the island, and the nuns who devote their life to living here encourage visitors. Nature lovers often head to the island's quiet trails and natural beaches. Shaw County Park is a popular place to find this natural appeal, and with campsites, it offers one of the best places to camp in the San Juan Islands.
15. Lopez Island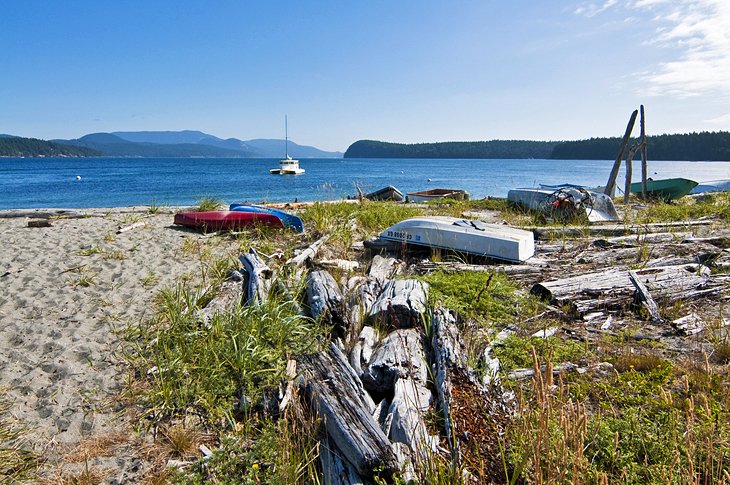 Lopez Island is one of the lesser-visited islands in the San Juan archipelago but still easy to reach via the Washington State Ferry system. It's a popular destination for cycling, kayaking, and spotting whales from the shore. Lopez Village is the place to find hotels, restaurants, and art galleries.
Lopez is home to roughly 2,500 residents and 60-plus miles of shoreline. Cycling around the entire island is often a full-day fun thing to do. The Lopez Island Historical Museum is a small but worthwhile stop in the center of the village, dedicated to the island's history.
Accommodation: Where to Stay on Lopez Island
16. Lummi Island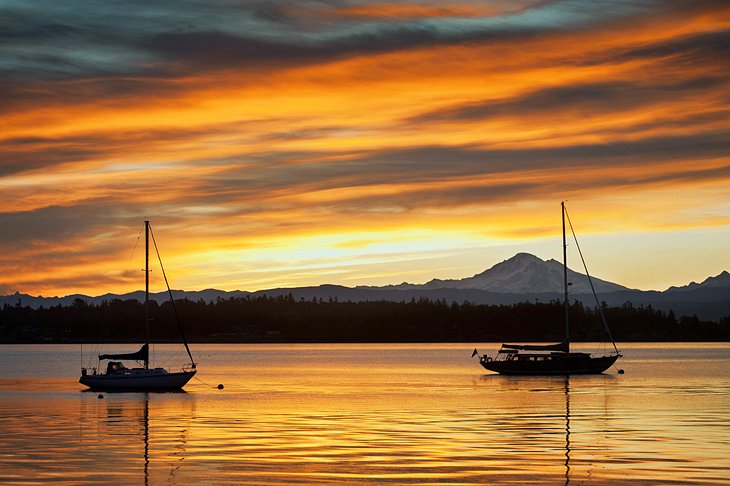 Lummi Island is an unspoiled and historic farming and fishing community, accessible from Bellingham with a short ride aboard the Whatcom Chief Ferry. The island is trimmed with natural beaches and open countryside. This beautiful landscape is often explored via hiking trails and bicycling routes.
Through sustainable fisheries and organic farms, Lummi's farm-to-table lifestyle has gained a higher profile in the region. Nowhere is this more apparent than at the luxury property The Willows Inn, a top culinary destination of the Pacific Northwest.
Other happenings on the island include artists' studio tours and a Saturday Market throughout the summer featuring fresh seafood.
Accommodation: Where to Stay on Lummi Island
More Related Articles on PlanetWare.com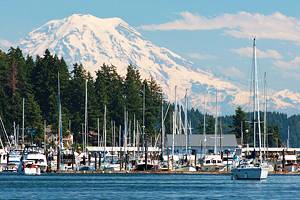 Interesting Experiences in Washington: This state offers some unique destinations and things to do, from the mountains to the ocean. For ideas to help plan your trip to Washington, have a look at our list of the best small towns in Washington, or if you're more into the outdoors, consider hitting one of the top hiking trails in Washington, or simply set up at tent in the outdoors at one of the state's great campgrounds. Planning a weekend escape in Seattle? See our article on Where to Stay in Seattle: Best Areas & Hotels.