10 Top-Rated Beaches in the Seattle Area
Sandy beaches surround all sides of Seattle and invite a fun getaway without leaving the city. Popular beach areas and places to visit, like Discovery Park and Gene Coulon Memorial Beach Park, easily accommodate the large crowds they gather on the weekends, and other "secret" beaches provide a more serene experience.
Fun things to do on Seattle's beaches range from volleyball tournaments to hiking nearby forested trails, and all include swimming, boating, or scenic views out over the water. Campfires are allowed at Alki Beach and Golden Gardens Park, and swimming spots like Green Lake Beach have lifeguards on duty throughout the summer. Other eye-catching attractions of Seattle's beaches include historic lighthouses, public art, and stunning sunsets in the evening. Find the city's best stretches of shoreline with our list of the top beaches near Seattle.
Note: Some businesses may be temporarily closed due to recent global health and safety issues.
1. Discovery Park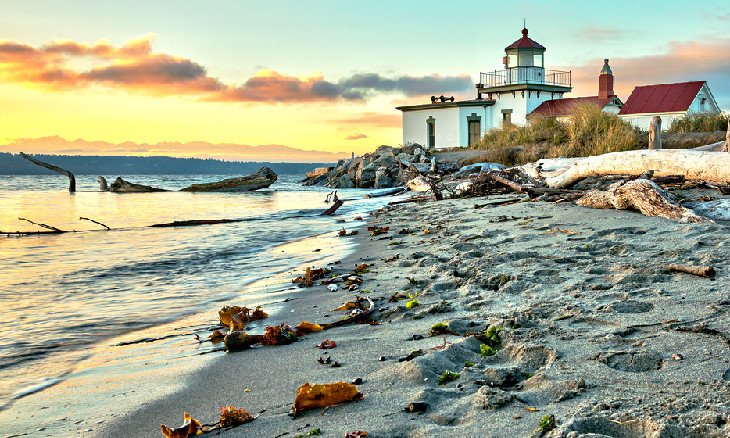 The epitome of great beaches in Seattle, Discovery Park encompasses over 500 acres on a bluff stretching out from the Magnolia neighborhood. Offering skyline views of Cascade and Olympic Mountains, the wide variety of landscapes found within Discovery Park include grasslands, sea cliffs, forest groves, and lighthouse points. Once home to Fort Lawton, evidence of this once-military status can still be found at the heart of the park, and the Daybreak Star Cultural Center provides historical information about the native population of the area.
Two beach areas to the north and south within Discovery Park are great for laying a towel down and beachcombing during low tide, and the picturesque West Point Lighthouse can be found on the shoreline at the center of the park, which is the largest city park in Seattle. Wildlife is abundant in this still-natural place, and on less popular days, seals can be seen on the beach. It's worth bringing a map to Discovery Point, and one great route for exploring is the three-mile Loop Trail. Another recommended way to experience Discovery Park is simply showing up and exploring whatever catches your interest first.
2. Alki Beach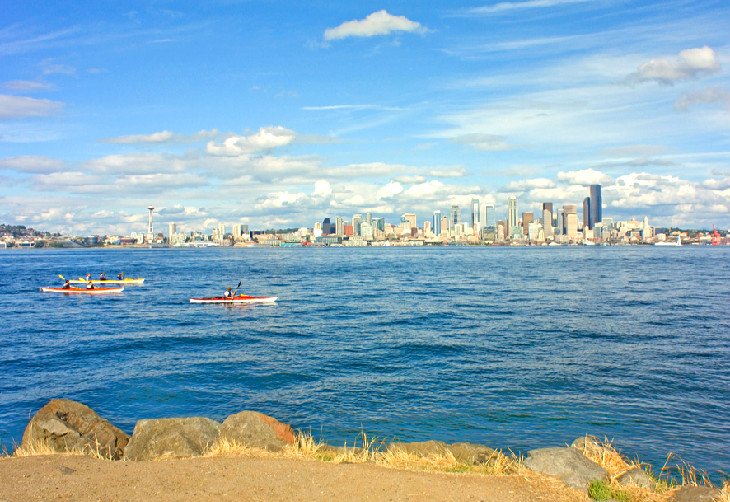 Extending for two and a half miles from Alki Point to Duwamish Head in West Seattle, Alki Beach has been a popular sandy attraction for over 100 years. Once the home to an early 20th-century amusement park, Alki Point is also where the first modern pioneers landed in Seattle in 1851. One of the most popular ways to enjoy this rugged northwest shoreline is to walk, run, rollerblade, or push a stroller down the 2.5-mile paved path that parallels the beach.
Other activities often found at Alki Beach include sand volleyball, beachcombing during the generous low tides, and watching the scores of boats pass by on the water backdropped by the Olympic Mountains. Along with Golden Gardens Park, Alki Beach is one of two areas in the city that allow campfires on the beach, a perfect way to catch the colorful sunsets. Campfires are required to be within designated fire pits spread throughout the park.
3. Golden Gardens Park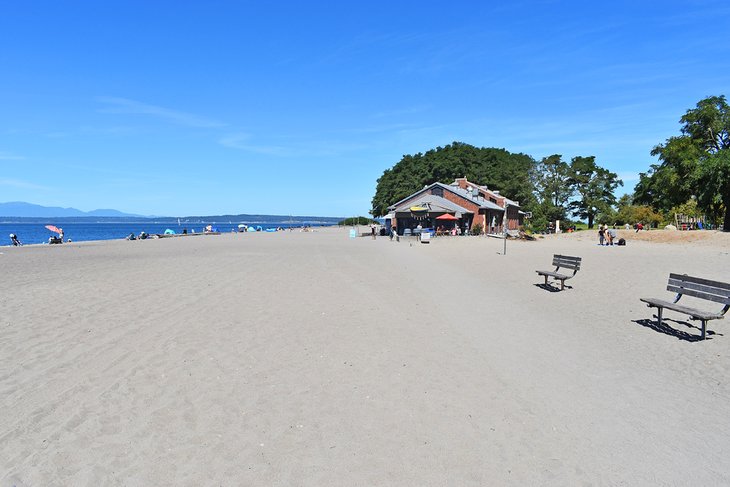 Located in the Ballard neighborhood of Seattle, Golden Gardens Park is one of the most popular beaches in the city. Spread over 80 acres, Golden Gardens overlooks Puget Sound and the Olympic Mountains and easily accommodates the crowds that gather on the weekends. Providing instant swimming access and a boat dock, Golden Gardens also features forested hiking trails and an off-leash dog area. The beach is big enough to facilitate volleyball games, kite flyers, and those who simply want to lay a towel down and enjoy the view. Like Alki Beach, campfires are allowed and encouraged within designated fire pits.
4. Green Lake Park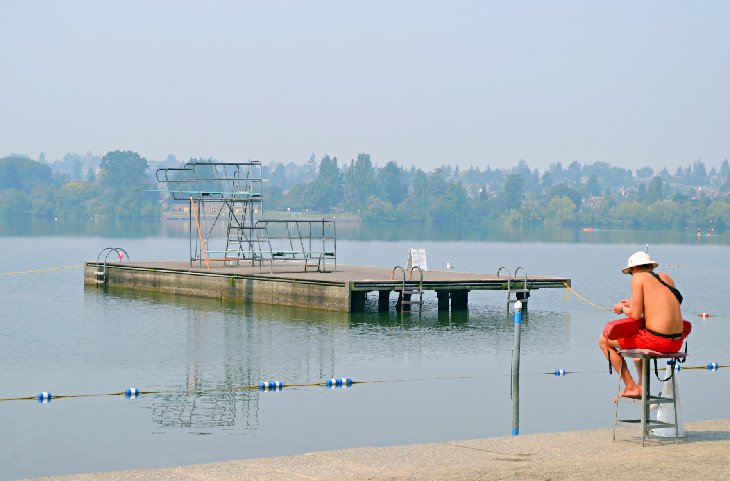 Attracting tourists since 1907, Green Lake Park is an iconic outdoor destination in Seattle. Featuring great running paths, a historic bathhouse, and two designated swimming areas with lifeguards on duty during the summer season, Green Lake also has multiple access points for non-motorized boats to get on the water. Kayaks, canoes, and stand up paddleboards can be rented through a concessionaire at the park.
Running and pedestrian paths circle the entire body of water, serving as a great way to tour the park, and connect the east and west swimming areas. On the south side of Green Lake, the sprawling Woodland Park can also be easily reached including the popular Woodland Park Zoo.
5. Gene Coulon Memorial Beach Park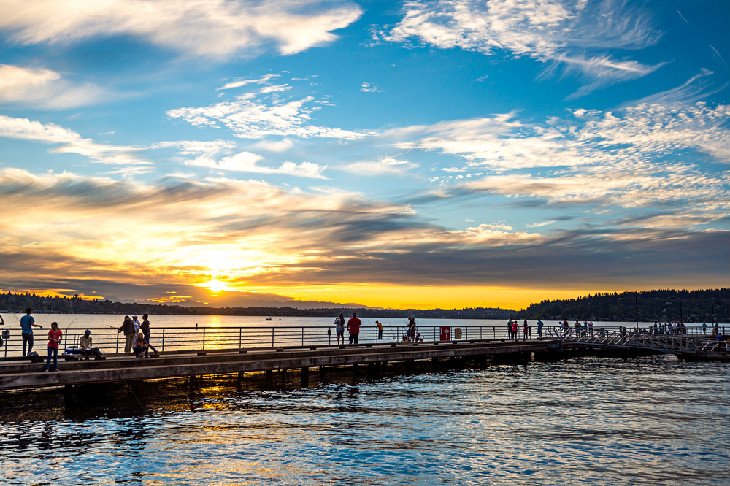 Fifteen miles from downtown Seattle in the city of Renton, Gene Coulon Memorial Beach Park encompasses nearly 60 acres on Lake Washington's southeast shore. Once known as Lake Washington Beach Park, this popular warm-weather spot features a swimming beach, multiple boat launches, and a 1.5-mile trail that parallels the water. Family-friendly and catering towards many interests, Gene Coulon also features playground equipment, two tennis courts, a fishing pier, and four reservable picnic shelters. Community events occur throughout the year at Gene Coulon Memorial Beach Park, including festive fourth of July celebrations and a Summer Concert Series.
6. Madison Park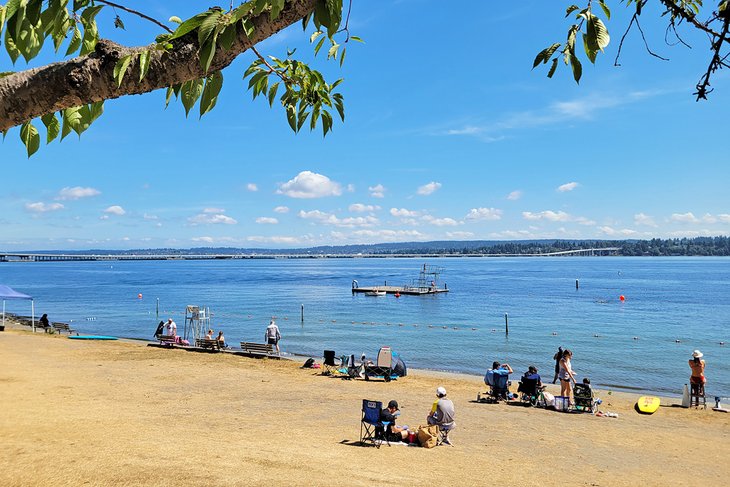 On the shores of Lake Washington, the beach and public area in the Madison Park neighborhood could be considered a "secret beach" of Seattle. On the far east side of this relatively quiet neighborhood, the beach is only 400 feet in length, but this city park provides everything and more to enjoy the day.
With its well-manicured walking paths, sprawling lawn with tennis courts, and lifeguards on duty throughout the summer season, the secret status of this sterling beach space won't remain for long. For even more seclusion on your city beach getaway, the Madison Park North Beach is one block away and features a great Lake Washington overlook above a rocky seawall.
7. Carkeek Park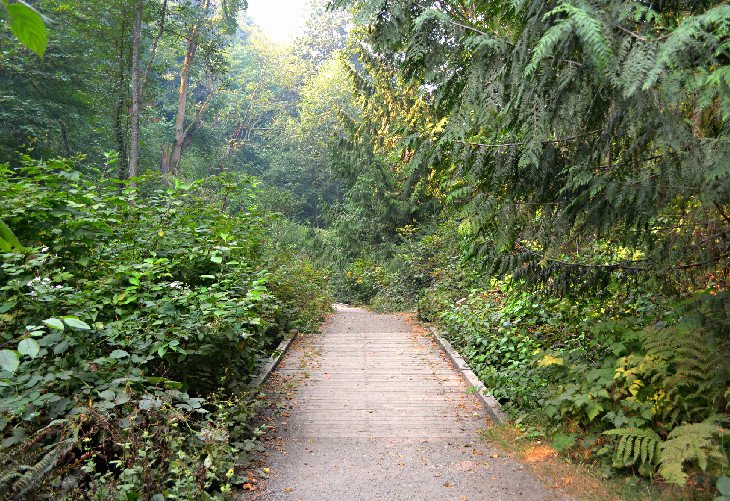 Encompassing over 200 acres in Seattle's northwest neighborhoods, Carkeek Park provides natural appeal that attracts thousands of visitors each year. Featuring a variety of landscapes, including forests, wetlands, creeks, and Puget Sound shoreline, a variety of hiking trails link together all the ecosystems of the park.
The 3.5-mile Pipers Creek Trail within Carkeek has an easy ability to transport users far away from the city. Continued conservation and interest in the park have made Carkeek one of the most pristine in the city, and one of the few homes to a salmon run in Seattle. The waterfront area at Carkeek presents great views across Puget Sound, and low tide adds even more acreage to explore on the wide and welcoming beach.
8. Richmond Beach Saltwater Park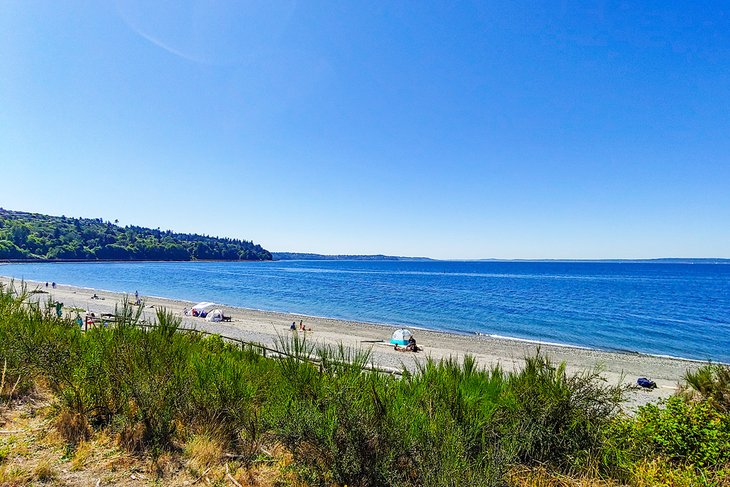 Located in the city of Shoreline, 15 miles north of downtown Seattle, Richmond Beach Saltwater Park provides a secluded place to enjoy Puget Sound. It's a moderate descent to the mile-long beach from the parking area, and sprawling views of Puget Sound and the Olympic Mountains appear in the horizon once you hit the sand.
A popular place for picnics or quick getaways from the city, Richmond Beach also provides outlets for canine companions with a designated off-leash dog area. A playground area near the beach is a popular place for families to unwind, and birds can often be seen flying across the quiet shoreline.
9. Myrtle Edwards Park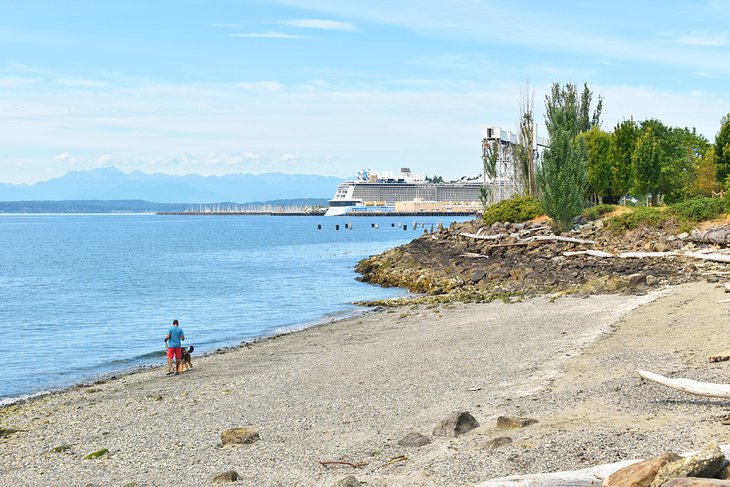 On the Elliot Bay waterfront, Myrtle Edwards is a near five-acre park featuring a 1.25-mile pedestrian path linking the waterfront Centennial Park and Olympic Sculpture Garden. Popular for running, walking, and all forms of muscle-powered transportation, Myrtle Edwards is punctuated by sandy beach areas perfect for overlooking the Puget Sound shoreline.
Centennial Park to the north provides even more pathways to follow, and throughout Myrtle Edwards and within the sculpture Park to the south, public art provides other fascinating attractions to catch your attention. Sunsets are a great time to tour through this tucked-away park and beach area.
10. Madrona Park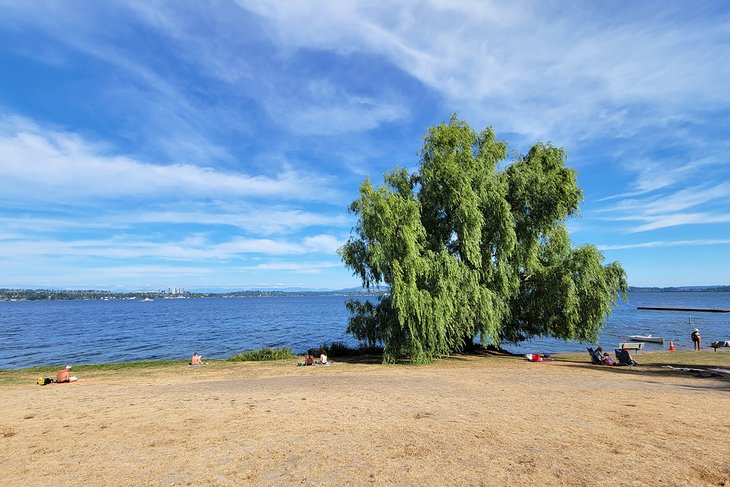 Ideal for fishing, picnicking, and freshwater lake swimming, Madrona Park is also popular for its playground and opportunities for sunbathing and stepping back from the city. On the shores of Lake Washington, lifeguards are on duty at the designated swimming area at Madrona Park throughout the summer season.
The beach at Madrona Park is grassy, with plenty of shady and sun-exposed areas to share. Reservable picnic areas at the park are often well utilized on the weekends, and the trail following the shoreline of Lake Washington is well trodden throughout the year.
More Related Articles on PlanetWare.com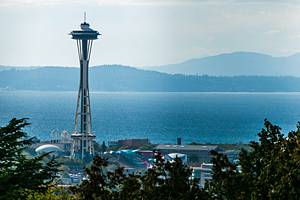 Exploring Seattle: The top-rated tourist attractions of Seattle are a great place to start exploring the city, and from here, the best campgrounds close to Seattle and best hiking trails near the city offer even more to discover. If you are looking to make a quick getaway from the city, our Top-Rated Day Trips from Seattle article can send you in the right direction.