11 Top-Rated Things to Do in Port Townsend, WA
Port Townsend is one of those places everyone should visit. It's on the northeastern tip of the Olympic Peninsula, and water surrounds it on three sides. This seaside splendor pairs well with the Victorian homes and businesses punctuating the city's uptown and downtown districts.
A boom of development occurred in the late 1800s based on speculation that the Pacific Northwest Railroad would end in Port Townsend. While the railroad ended up in Seattle instead, Victorian architecture remained for over a century. Today, many of these homes and businesses constitute the Port Townsend National Historic Landmark District.
More city history is on display at places like Fort Worden and Fort Townsend Historical State Parks. These decommissioned military forts are now acclaimed public spaces that showcase the region's lush coastal landscapes. Amid the scenery are old-growth forests, sandy shorelines, and whales in the water.
Plan your next unforgettable Pacific Northwest experience with our list of the top things to do in Port Townsend.
1. Explore Downtown Port Townsend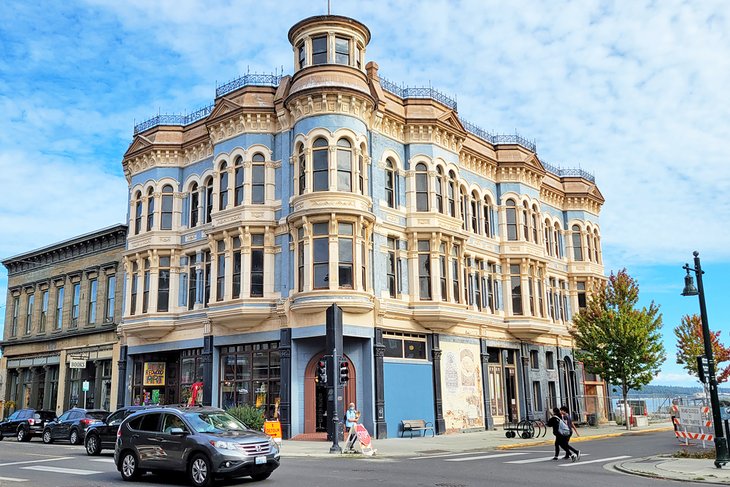 The downtown district of Port Townsend is beyond charming. The main street to explore is Water Street, stretching approximately between Point Hudson and the Port Townsend ferry terminal. Historic Victorian storefronts line this waterfront district, where seagulls caw in the sky above. And alongside the ebbing tides, this area is also defined by several local shops, boutiques, and enough restaurants for a new entrée every meal of the week.
The list is too long for places to visit and things to do in downtown Port Townsend. Instead, the best bet is finding a place to park and strolling at leisure. Along the way, several public spaces like Pope Marine Park offer a chance to sit down and enjoy the passing scenery. Photography enthusiasts will want to bring their camera downtown and perhaps an extra memory card.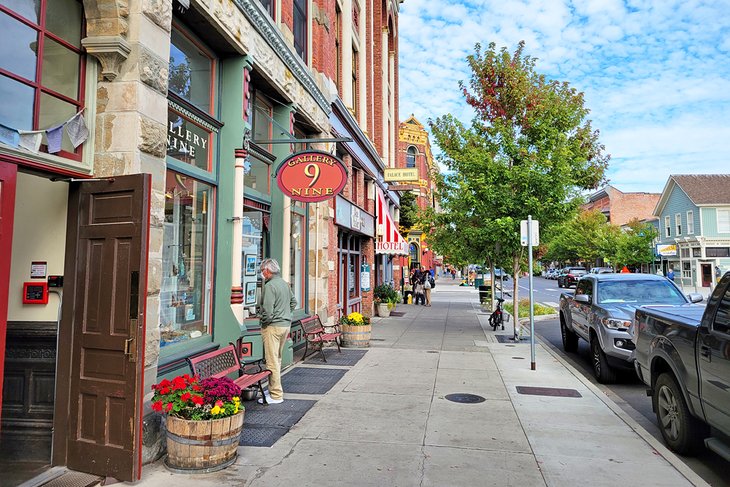 One reason to visit the downtown area near the beginning of September is the Port Townsend Wooden Boat Festival. This acclaimed event is the largest wooden boat festival in North America and has been a Port Townsend tradition for over 40 years. This long weekend event features workshops, sailing opportunities, and live music in the evenings.
2. Discover History at Fort Worden Historical State Park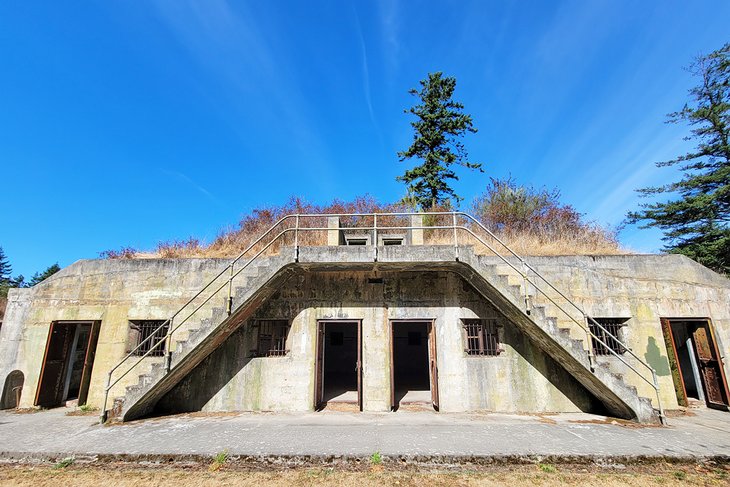 Over 100 years ago, Fort Worden was part of a coastal defense system known as the "Triangle of Fire." Alongside Fort Casey and Fort Flagler, these three forts were entrusted to protect Puget Sound from foreign invaders.
Today, Fort Worden has long since been retired for military purposes, though much of its foundation remains. And amid its 430 acres, hundreds of these military artifacts invite the public to experience its history. Most notably, the park is home to an extensive collection of barracks and batteries.
Several trails navigate the different areas of the park. Military buffs will want to explore the abandoned batteries on Artillery Hill. Sea-lovers often head to the park's two-plus miles of sandy shoreline, and for those with a camera, head to the Point Wilson Lighthouse around sunset to get a memorable shot.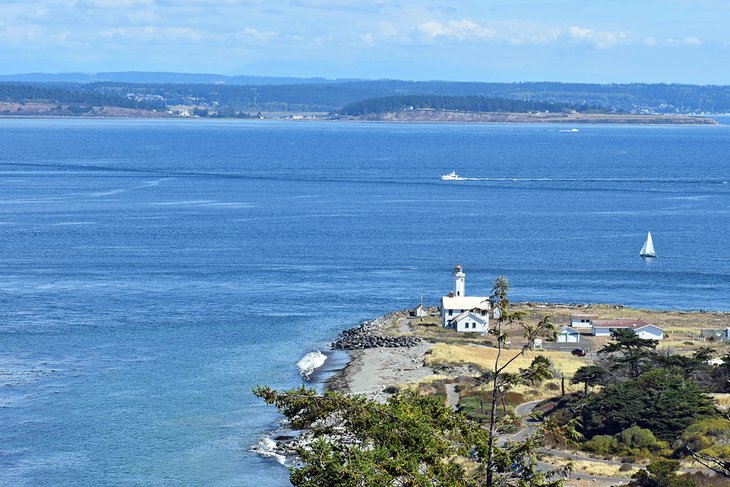 Alongside the abundant nature and military history, Fort Worden is also home to a few educational institutions. The on-site Coast Artillery Museum offers more insight into the armed defenses of the region, and on a pier stretching out from the park, the Port Townsend Marine Science Center shines a light on the surrounding marine habitat.
Fort Worden has way too much to explore in a day. Luckily, the park offers several options to spend the night. Over 400 guest rooms are available in the park, with unique lodging options like retired military barracks, castles, and officer's quarters, and approximately 80 campsites are also available, split between beach sites and forest sites.
Address: 200 Battery Way, Port Townsend, Washington
Official site: https://parks.state.wa.us/511/Fort-Worden
3. Picnic at Chetzemoka Park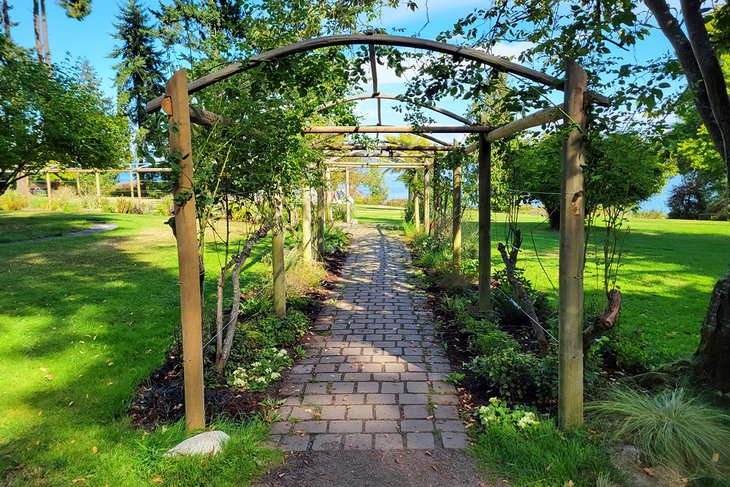 This lovely city park is on the northeast side of town between Ford Worden and downtown. It stands as Port Townsend's first community park and still today has a commanding view of Admiralty Inlet. Alongside a saltwater shoreline, the park comprises an ample open lawn space punctuated by flower gardens, picnic areas, and playgrounds.
The park is a popular spot to gather, and on any given day, expect to see groups of people enjoying the weather. It's also a popular spot for picnicking, burning off energy, or just taking a moment to relax. Private celebrations take place at Chetzemoka, especially within the eye-catching and reservable gazebo.
Address: 1000 Jackson Street, Port Townsend, Washington
Official site: https://cityofpt.us/parksrec/page/chetzemoka-park
4. Dive into the Jefferson Museum of Art & History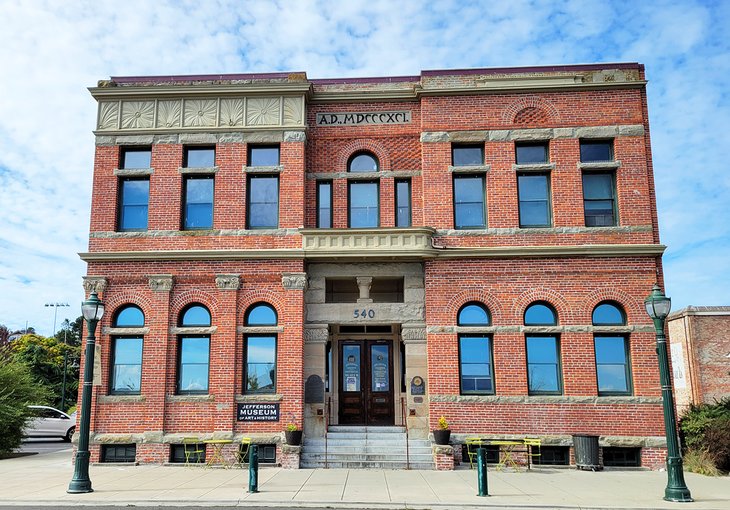 The Jefferson Museum of Art & History is in the historic 1892 Port Townsend City Hall building downtown, across the street from Pope Marine Park. The big red brick building is hard to miss when strolling near the waterfront, and on the inside is valuable insight that adds to any visit.
The museum is the central repository for the Jefferson County Historical Society. Inside, permanent exhibits detail the development of the city for the last century and beyond. The museum also regularly rotates exhibitions from local and regional artists, and it's also home to the 1892 City Jail, which offers a unique sightseeing opportunity.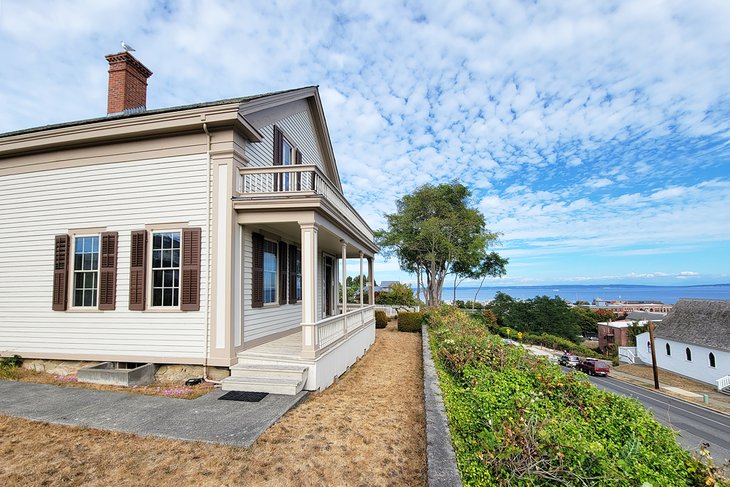 The museum is just one of several properties managed by the Jefferson County Historical Society. A few blocks inland, they also oversee the Rothschild House Museum. Here, visitors can walk through this original abode constructed in 1868. The Historical Society is also responsible for the Commanding Officers Quarters in Fort Worden State Historical Park.
Address: 540 Water Street, Port Townsend, Washington
Official site: https://www.jchsmuseum.org/
5. Walk the Beach at North Beach Park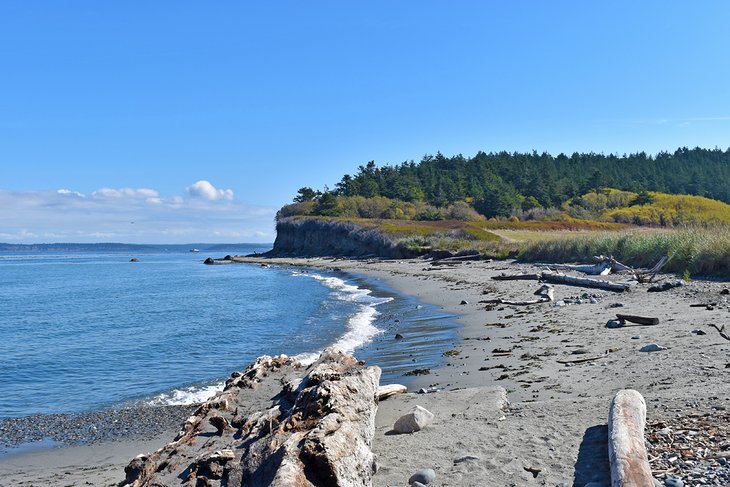 North Beach Park is next to the western boundary of Fort Worden on the north side of the city. It's much smaller than its neighboring state park and often less crowded, though parking can be competitive. It offers a long stretch of beach and open meadow hiking trails, including connector trails to Fort Worden.
North Beach's most popular aspect is the beach. The shoreline is a combination of sand, pebbles, and driftwood and provides a spectacular view of the Strait of Juan de Fuca. Head far enough east on this beach for a picture of the Point Wilson Lighthouse.
The once-secret Glass Beach is accessible from North Beach with a three-mile walk west. This smooth-glass-studded beach was the town's first dumpsite, and today it offers several treasures washed ashore. Be very aware of the tides if trying to make the six-mile journey out and back to Glass Beach. The high tide has the capability of pinning people against the bluff backdrop.
Address: 5787 Kuhn Street, Port Townsend, Washington
Official site: https://www.countyrec.com/info/facilities/details.aspx?FacilityID=9903
6. Pop into the Port Townsend Marine Science Center
The Port Townsend Marine Science Center (PTMSC) is currently located within Fort Worden State Historical Park. The facility has two prominent exhibit buildings: a museum onshore and an aquarium on the pier. Both offer valuable insight into the waters that surround them.
Visitors to PTMSC have the opportunity to learn, see, and touch many aspects of the marine ecosystem. And immediately upon walking in the door, a fully articulated orca skeleton hangs from the ceiling. The tanks in the aquarium fill from Puget Sound water directly below the pier, and feature local fish and invertebrates.
In 2021, the center announced intentions to move the facilities to downtown Water Street over the next several years. They plan to have a presence at their current Fort Ward location, though the primary operations will be downtown.
Address: 532 Battery Way, Port Townsend, Washington
Official site: https://ptmsc.org/
7. Hop aboard a Whale Watching Tour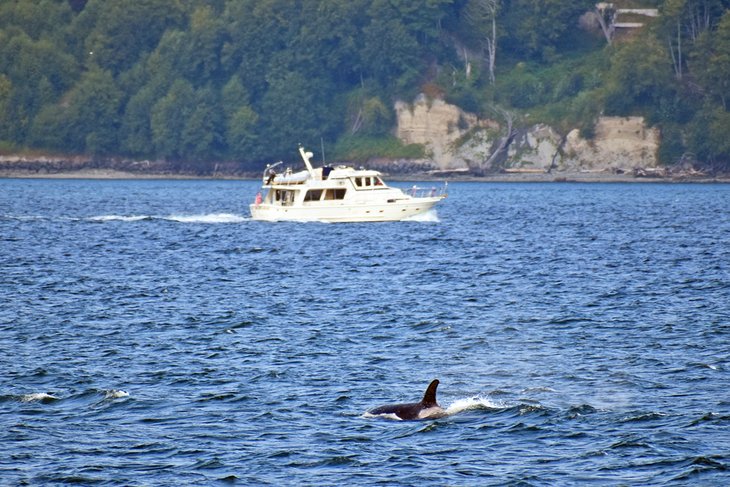 One of the unique wildlife aspects of visiting Puget Sound is the opportunity to see whales swimming in the water. Several types of whales swim in Puget Sound throughout the year, including gray whales, humpback whales, and minke whales. The fan-favorite, however, is arguably orca whales, also known as killer whales.
The best time to see orcas off the coast of Port Townsend is approximately mid-May through mid-October, although sightings do happen throughout the year. It isn't easy to spot these massive carnivores from shore. Instead, a guided boat tour is the recommended way to go.
Puget Sound Express has a long track record of responsible whale watching practices. This longstanding tour company departs from downtown Point Hudson and offers a few different whale-watching tours. A popular trip is a four-hour tour that leaves twice a day. They also guarantee a whale sighting, or they'll provide a voucher for another free trip.
Official site: https://www.pugetsoundexpress.com/
8. Hike the Trails at Fort Townsend Historical State Park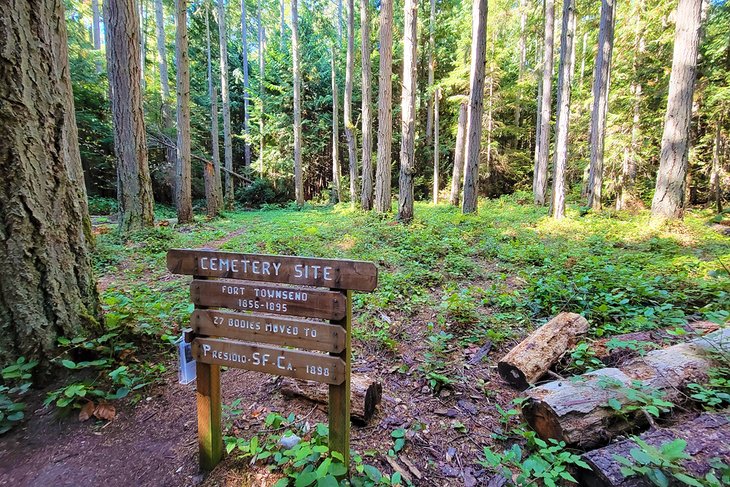 On the south side of the city on Port Townsend Bay, Fort Townsend was initially constructed in 1856. Today, over 160 years later, the lush nature of this seaside location has all but reclaimed the property, and if it weren't for interpretive information denoting things like cement foundations and historic cemeteries, it would be hard to tell a working military base once occupied the grounds.
This back-to-nature status makes Fort Townsend less visited than the much more developed Fort Worden on the city's north side, which adds to the appeal for those looking to connect with nature without the crowds. The nearly seven miles of trails that spread throughout the property make this connection to nature easy.
Fort Townsend is also a popular camping option. The park has 40 standard sites with no hookups, available for reservation between May 15th and September 15th. The sites are spaced out and primarily shaded, and flushing restrooms and coin-operated showers are available to overnight guests.
Address: 1370 Old Fort Townsend Road, Port Townsend, Washington
9. Stay at The Starrett House Inn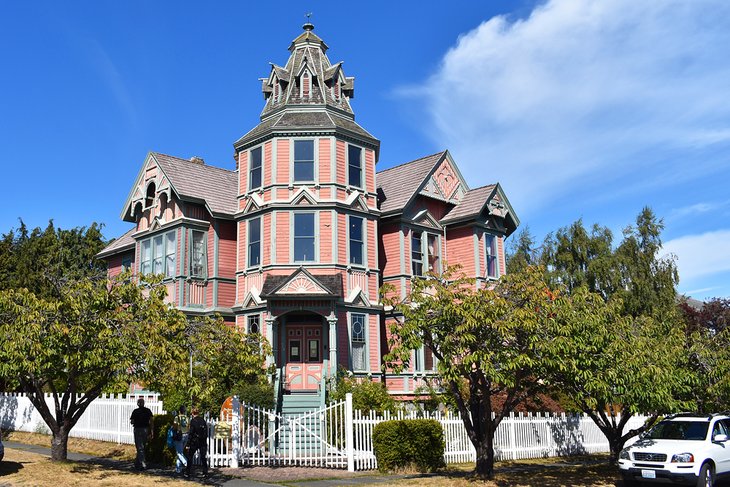 Part of the charm of Port Townsend is the several Victorian-style homes lining the neighborhoods. These historic abodes date back to when Port Townend was thought to be the terminus for the booming railroad industry in the late 1800s. When the railroad decided to end in Seattle instead, these prosperous Victorian homes slowly faded into history.
Thanks to revitalization efforts in the second half of the 1900s, and the growing tourism industry, several abandoned Victorian homes received a new facelift. Today, scattered around the downtown and uptown districts, well over two dozen homes pose perfectly for the camera and are popular tourist attractions.
House tours, neighborhood maps, and informative plaques help you discover this historical side of Port Townsend. One of these Victorian homes, The Starrett House Inn, offers the unique opportunity to reside in history. This historic house, built in 1889, offers five unique guest rooms on the second floor. These second-story rooms offer unbeatable views of the Salish Sea and Port Townsend Bay.
Address: 744 Clay Street, Port Townsend, Washington
10. Find Some Local Flavor at the Port Townsend Saturday Farmers Market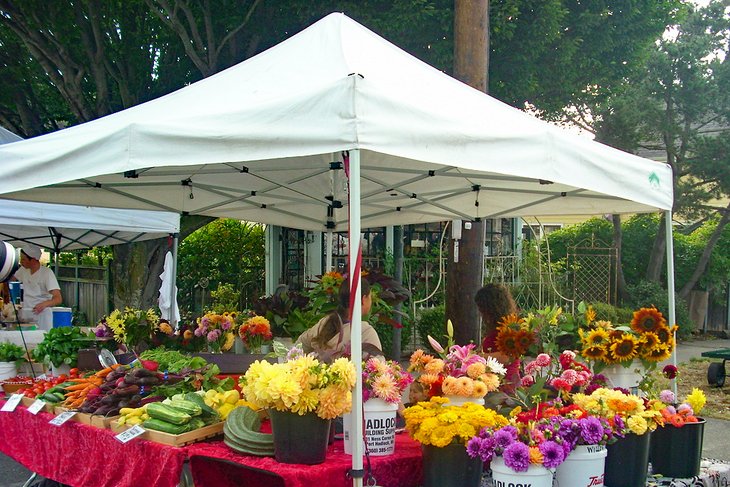 The Port Townsend Farmers Market occurs every Saturday between April and mid-December. This celebrated community event takes place between 9am and 2pm in uptown, on the 600th block of Tyler Street. The market is growing every year, and currently, over 50 vendors set up to offer locally grown produce and handmade goods.
The farmers market is an excellent jumping-off point for a Saturday spent exploring downtown. Several hot food vendors also make up the shopping selection, including purveyors of coffee. Live music often accompanies the shopping, giving a lively soundtrack to the happenings.
Official site: https://jcfmarkets.org/
1`1. Take the Washington State Ferry to Whidbey Island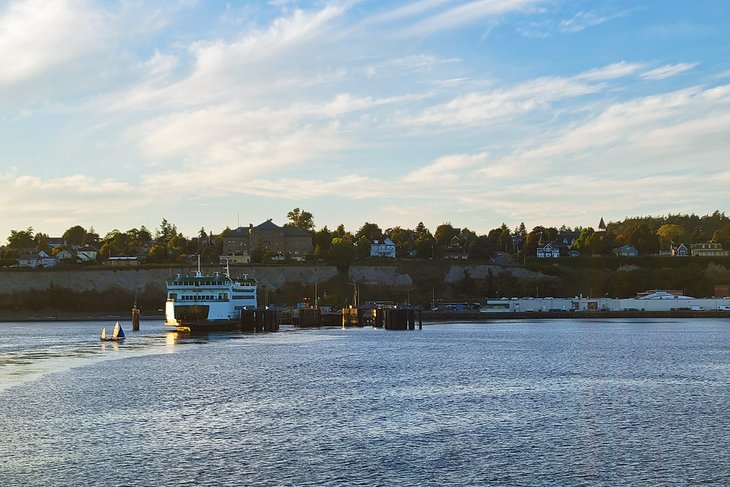 The easiest way to travel north from Port Townsend is aboard a Washington State Ferry heading to Coupeville on Whidbey Island. Reservations are recommended for this ferry that departs from near the downtown waterfront. Excluding holidays, the ferry runs daily.
Upon landing in Coupeville, Whidbey Island offers many days of exploring and enjoyment. Retired military forts, lively farmsteads, and lush coastal vegetation define just a few of the things to explore on Whidbey Island. The island also supports camping excursions, with plenty of state parks offering places to pitch a tent or park an RV.
Official site: https://www.wsdot.wa.gov/ferries/vesselwatch/TerminalDetail.aspx?terminalid=17