9 Best Places for Camping near Deception Pass, WA
Deception Pass State Park is one of the best campgrounds in Washington State for a reason. The park connects Whidbey and Fidalgo Islands in northern Puget Sound, and includes the iconic Deception Pass Bridge, spanning approximately 180 feet above the water. This postcard-worthy environment previews a marine landscape unmatched throughout the rest of the country.
Deception Pass State Park encompasses over 4,000 acres, including over 100,000 feet of saltwater and freshwater shoreline. And over 300 campsites, spread throughout three different campgrounds, lend easy access to this wild environment. Each campground offers a unique overnight experience.
The park's beauty attracts immense crowds, especially when the weather is nice. Reservations are available up to six months in advance, and it's not uncommon for every summer night to be booked before the start of the season.
Luckily, Puget Sound's beauty extends in both directions from the park. Fidalgo Island and Whidbey Island each have additional camping options nearby. These other campgrounds near Deception Pass offer their own wild environments to explore.
Discover the beauty of Washington State with our list of the best places for camping at Deception Pass State Park.
1. Cranberry Lake Campground, Deception Pass State Park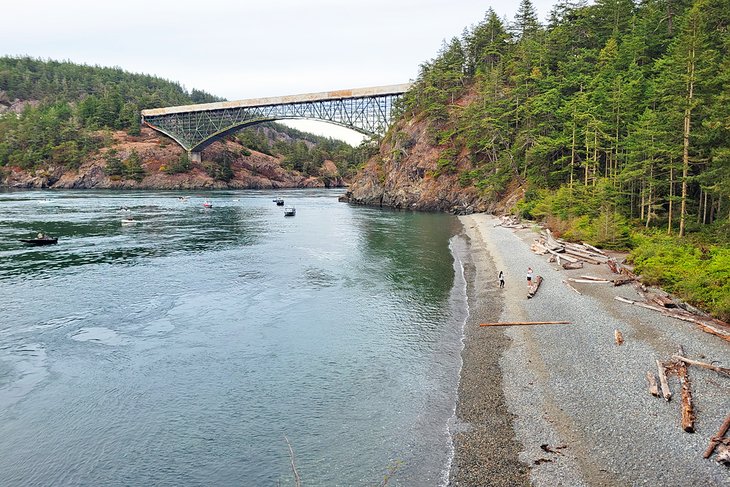 Cranberry Lake is the largest campground at Deception Pass State Park. The campground is on Whidbey Island, south of Deception Pass Bridge, and between North Beach and Cranberry Lake. It has 230 campsites spread between a Forest Loop and a Lower Loop.
This prime location lends to a lot of adventure near the campground. A short trail extends from site 190 and leads to North Beach. Here, alongside a stunning amphitheater overlooking the Salish Sea, the nearby Deception Pass Bridge poses brilliantly for photographs. Hikers can walk along the beach to reach the bridge.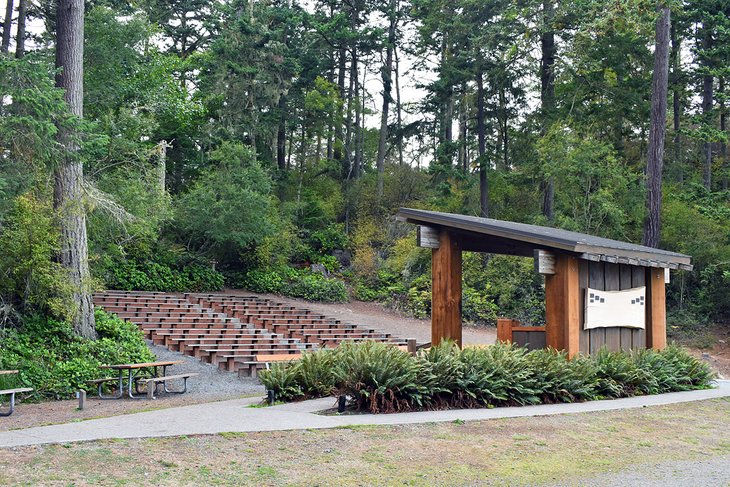 Approximately 150 of the sites at Cranberry Lake Campground cater best to tent camping. The other 80 are utility sites primed for RV travel. These utility sites are mainly in the Forest Loop. The lush foliage throughout the entire area offers privacy between the sites. Every overnight guest has access to flushing restrooms and coin-operated showers.
Official site: https://parks.state.wa.us/497/Deception-Pass
2. Quarry Pond Campground, Deception Pass State Park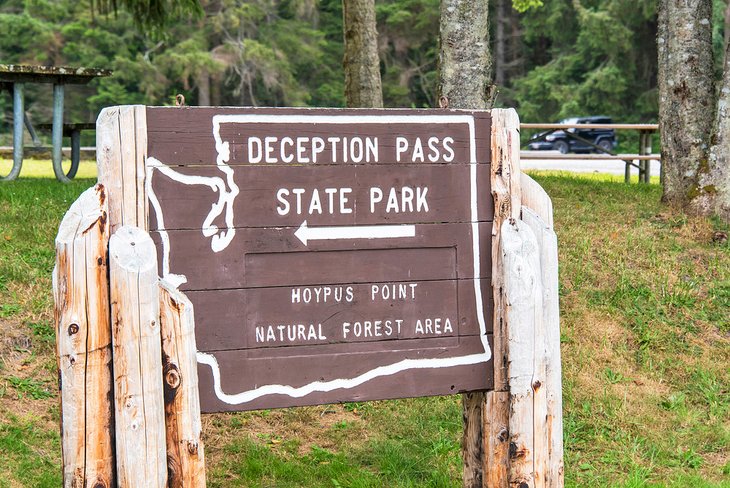 Quarry Pond Campground is the state park's newest spot to spend the night and the park's only campground open year-round. It's on Whidbey Island, on the east side of Highway 20, near the Main Park Entrance. The vast majority of its 56 sites have electrical hookups, making it the most popular spot for RV camping.
A nearby network of hiking trails leads from the campground to the top of Goose Rock. Here, a commanding view of Puget Sound and the Bridge's east side make the uphill trek worth the effort. And the campground's proximity to Highway 20 makes for easy mobility when exploring the rest of the park.

The campground is open throughout the year, but the water is turned off from late November to early March. The site has seven tent sites available and a hiker/biker site for those traveling by muscle-powered transportation. The campground also has five rustic cabins, a reservable gazebo and kitchen space, and restrooms with showers.
3. Bowman Bay Campground, Deception Pass State Park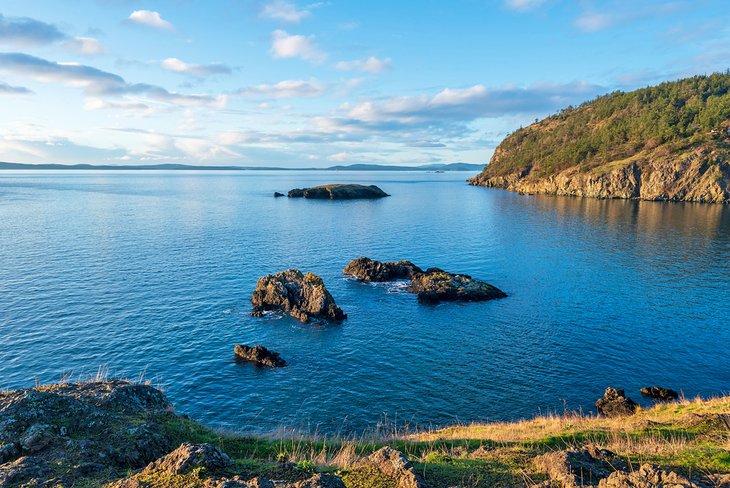 Bowman Bay Campground is the smallest drive-in campground in the park. It has 18 tent sites and two utility sites for RVs. This lack of neighbors makes Bowman Bay one of the quietest campgrounds accessible by vehicle, and it also makes the sites competitive to secure.
Bowman Bay is also the only campground on the north side of the park on Fidalgo Island. This location lends easy access to the cross-country Pacific Northwest Trail that navigates the seashore. Head west on this trail for less than a mile from the campground to reach Rosario Head and its many surrounding tide pools.
Reservations are available for Bowman Bay between April and October and are all but required in the summer. All campers have access to a single restroom facility with showers. Potable water, picnic tables, and fire rings are also available.
4. Boat-In Campsites at Deception Pass State Park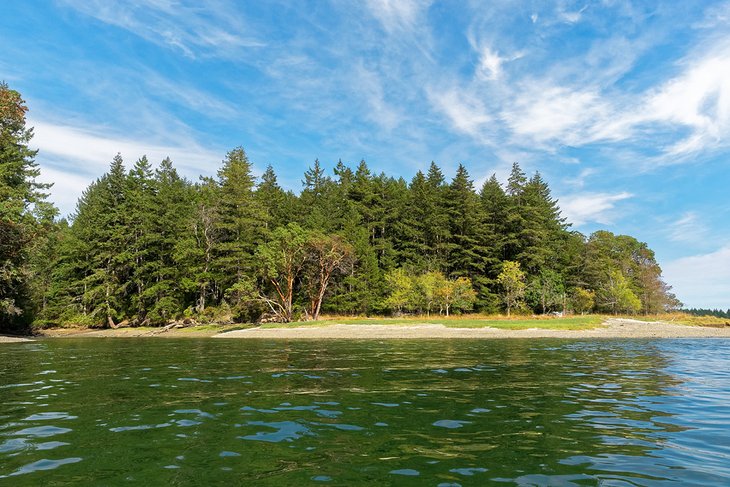 Deception Pass has a few other overnight options for those with a kayak, canoe, or any form of muscle-powered watercraft. Several small islands surround the mainland of the park, and a few have primitive camping opportunities.
Hope and Skagit Islands are two offshore camping destinations, with a total of eleven primitive sites. Kayaking and canoeing are common ways to access these remote islands, launching from Crescent Bay within the park. A vault toilet is the only amenity on either island, and visitors need to pack in all necessary supplies. All sites are available on a first-come, first-served basis.
Another island option is spending the night in the Ben Ure Cabin on Ben Ure Island. This rustic but comfortable cabin is big enough for two people at a time, and demand is high during the summer. Access is by kayak or canoe only. Visitors need to pack in all necessary supplies, including drinking water and bedding.
5. Fort Ebey State Park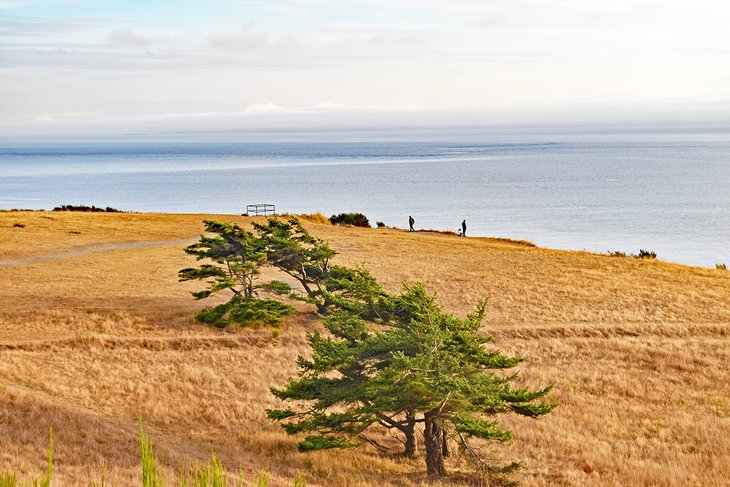 Fort Ebey State Park is a 30-minute drive south of the Deception Pass Bridge on Whidbey Island. It is one of several decommissioned forts in Puget Sound turned into a state park. And today, it's a popular spot for hiking, camping, and exploring a retired military battery.
Fort Ebey has 50 reservable campsites available. Eleven of these sites have electric and water hookups. The 50 sites are spread out in two loops close together amid the lush coastal landscape. Flushing toilets and coin-operated showers are available. The campground is open from March 1st through October 31st.
Deception Pass is a short drive away, but take some time to explore Fort Ebey if you're spending the night. Over 30 miles of hiking trails span the park and the adjacent Kettles Trail area. And the fort's single battery, featuring several rooms and gun emplacements, is a fascinating piece of history to walk through. Here, visitors can also approach a stunning coastal bluff with access to a beach.
Address: 400 Hill Valley Drive, Coupeville, Washington
6. Washington Park, Fidalgo Island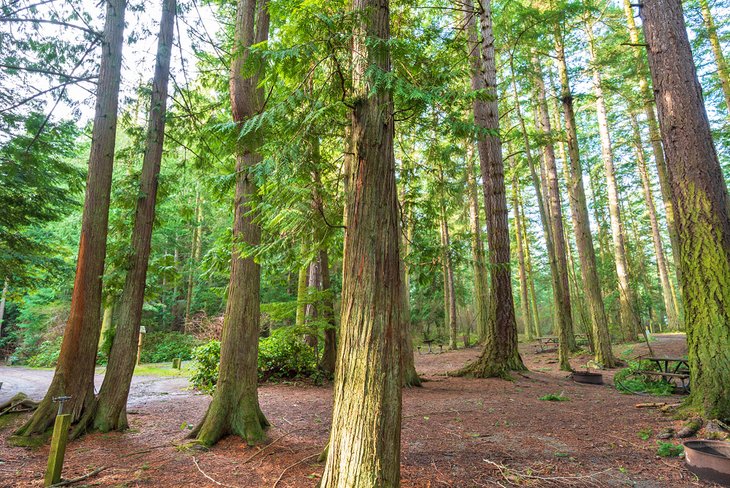 This 220-acre city park is on a peninsula on the far northwest corner of Fidalgo Island. It's approximately a 15-minute drive from Deception Pass with non-highway travel. This proximity makes the park a popular overflow spot for Deception Pass visitors, but it's also a prime spot to explore on its own.
A paved 2.2-mile trail meanders through Washington Park, lending several scenic views of the San Juan Islands and the Salish Sea. Three reservable picnic shelters also lend a preview of this marine landscape. And within a mile-and-a-half of the Anacortes ferry terminal, the park is also a popular jumping-off point for extended San Juan adventures.
Washington Park has 68 sites spread throughout its northside. Approximately two-thirds of the sites have electric and water hookups. Reservations are available and must be made 14 days in advance. All overnight guests have access to restrooms and potable water. Hiker/biker sites are also available.
Address: Washington Park Loop, Anacortes, Washington
Official site: https://www.anacorteswa.gov/560/Washington-Park
7. Fort Casey State Park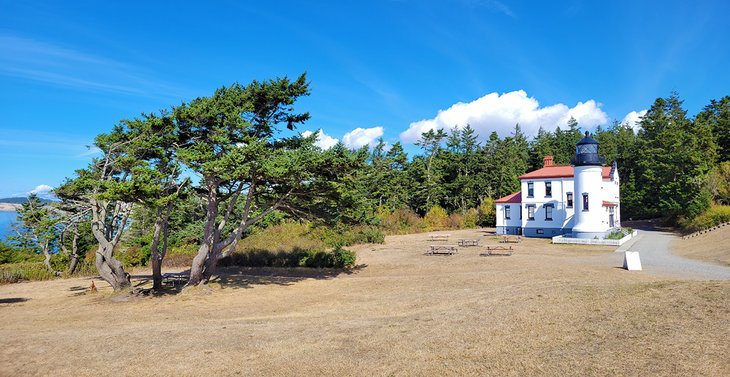 Fort Casey is at the center of Whidbey Island, approximately a 40-minute drive south from the Deception Pass Bridge. The state park is next to the Coupeville ferry terminal, where visitors from Port Townsend and the Olympic Peninsula arrive daily. And the park offers a panoramic view of Admiralty Inlet worth the commute alone.
Fort Casey was once part of a strategic "Ring of Fire" military defense system in Puget Sound. Today, visitors come to check out the retired batteries overlooking the water. The picturesque Admiralty Head Lighthouse is also at Fort Casey, with guided tours available. And several picnic tables make the state park a popular place for afternoon lunch.
Fort Casey has 35 campsites available. Thirteen sites have electric and water hookups and compose the inner loop of the campground circle. The other 22 sites are considered "standard," with no hookups available, but many have views of the water. A single restroom facility with showers is shared between everyone at the campground.
Address: 1280 Engle Road, Coupeville, Washington
8. Pioneer Trails RV Resort
Pioneer Trails RV Resort is the primary spot for RV camping on Fidalgo Island, on the north side of the Deception Pass Bridge. This private campground only caters to RVs with no tent camping, van camping, or pop-up camping available.
Pull up with a recreational vehicle, though, and enjoy the landscaped grounds. Amenities at Pioneer Trails go well beyond the standard campground. Alongside full hookups, overnight guests have access to laundry facilities, a fitness center, and a large community picnic shelter. Wireless internet is also available.
For those without recreational vehicles, cabins are also available. These are split between small and large cabins, with space for two to four people. Extended RV stays are also available with an application process.
Address: 7337 Miller Road, Anacortes, Washington
Official site: https://pioneertrails.com/
9. Rhododendron Park
This Island County park encompasses 35 acres near the center of Whidbey Island, less than five miles from the Coupeville ferry terminal. It has 15 campsites on its northside, available on a first-come, first-served basis. Three of these sites cater to RVs and have water hookups with no electricity.
Many visitors drive right by the sign for Rhododendron Park. And it's a more local area to enjoy the nice weather, with amenities like picnic areas and playgrounds. It's also home to three groomed athletic fields and a trail system that spans all 35 acres.
Despite its community status, the campsites can be difficult to secure on the weekends during the summer. The campground operates seasonally between April and October.
Address: 502 W Patmore Road, Coupeville, Washington
Official site: https://www.islandcountywa.gov/PublicWorks/Parks/Pages/rhododendron-park.aspx
Map of Places for Camping near Deception Pass, WA