12 Top-Rated Things to Do in Whidbey Island, WA
Author Brad Lane lives in Portland and writes on the Pacific Northwest for PlanetWare, including Whidbey Island.
Whidbey Island is a large island just north of Seattle, between the mainland and the Olympic Peninsula. It's Washington's largest island and holds significant historical and cultural value in Puget Sound.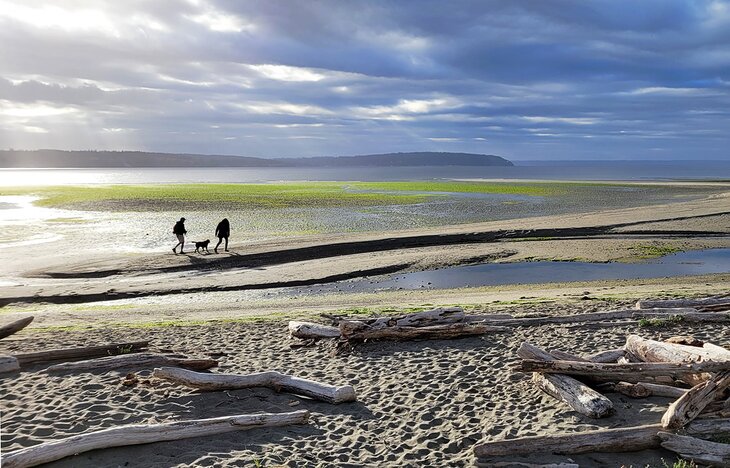 The last time I visited was after an extended stay in Seattle for a month on assignment, and I welcomed the slower pace compared to the non-stop excitement of the Emerald City.
Whidbey Island is accessible by ferry or driving; the best route depends on where you're coming from. If you are coming from Seattle like I was, head to Mukilteo to catch a Washington State Ferry and arrive on the island's southside. A second ferry option departs from Port Townsend and lands in Coupeville, at the island's center. Alternatively, the iconic Deception Pass Bridge connects the island's northside to Fidalgo Island and the mainland.
The proximity to Seattle makes Whidbey Island a top weekend destination for the Seattle metro, alongside its surplus of state parks, charming storefronts, and stunning sunset views. Naval Air Station Whidbey Island and Oak Harbor, the island's largest city, is on the island's northside, so I recommend keeping south for a slower pace.
Plan your next memorable weekend getaway with our list of the top things to do in Whidbey Island.
1. Explore Ebey's Landing National Historical Reserve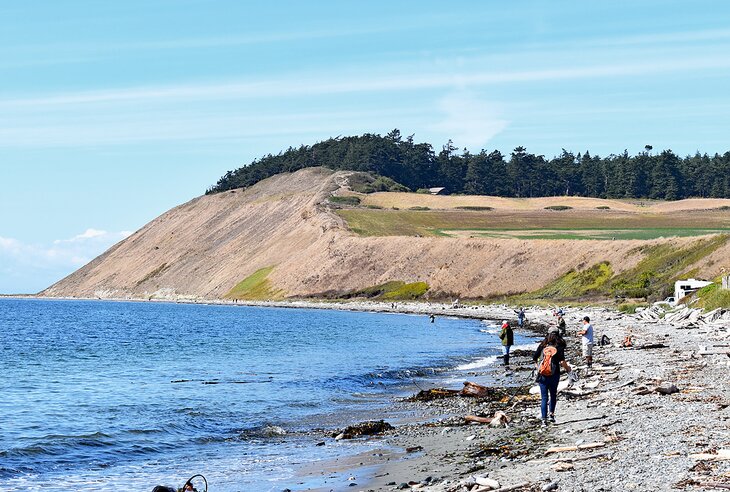 When visiting, plan some time to explore the different units comprising Ebey's Landing National Historical Reserve, encompassing a patchwork of protected lands surrounding historic Coupeville and the island's center. The area was first home to a flourishing native population before it attracted white settlers looking for new homes in Puget Sound.
Ebey's Landing comprises several units worth visiting, including three Washington State Parks: Fort Ebey, Ebey's Landing, and Fort Casey, all along the western coast. These outdoor destinations all provide historical sites and beautiful views of Puget Sound. They are also the best places to visit for recreation, including hiking, fishing, and camping. I recommend visiting all three of these scenic seaside destinations if you have time.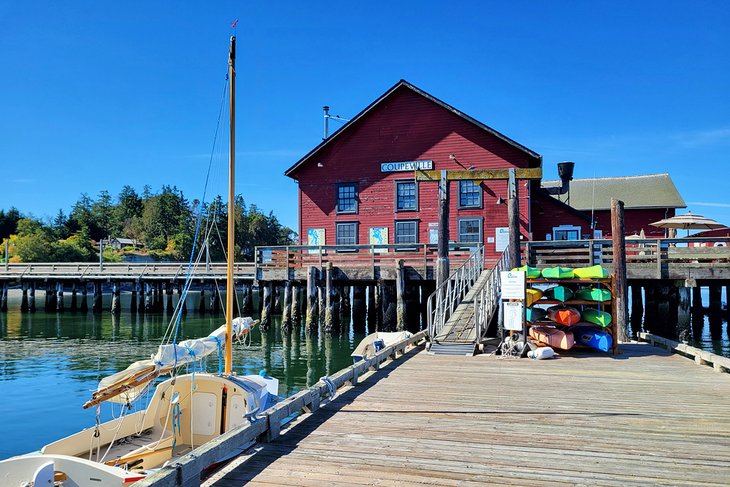 The historic town of Coupeville is also within the reserve. This waterfront district is on Penn Cove and dates back to the 1850s. I spent an entire afternoon with the sun shining, strolling through this charming historic downtown district filled with modern shops, and it was a true highlight of my trip. This included a lengthy photo session along the Coupeville Wharf.
I also took some time to visit the adjacent Island County Historical Museum, also part of Ebey's Landing National Historical Reserve. Admission is by donation only. It took about 45 minutes to tour the organized but crammed-full museum with abundant displays, but I left with a better understanding of the long legacy of the area.
Official site: https://www.nps.gov/ebla/index.htm
2. Discover Deception Pass State Park

Deception Pass State Park, one of Washington's best state parks, occupies Whidbey Island's northern tip and the southern tip of Fidalgo Island. This acreage includes the iconic Deception Pass Bridge, 180 feet above the swirling waters of Deception Pass.
An estimated two million people visit Deception Pass State Park annually, many of which occur during summer. This attendance makes it the most visited state park in Washington. And while this statistic sounds overwhelming, it helps to know that there's plenty of room to spread out the crowds, and the scenery and views are worth the congestion.
The park encompasses nearly 4,000 acres, including 14 miles of saltwater shoreline. This dynamic environment includes lush foliage, teeming tide pools, and a photogenic fleet of boats fishing offshore. The park also has 38 miles of hiking trails to explore, including one of my favorites, the four-mile round-trip hike to the top of Goose Rock, the tallest point in the park.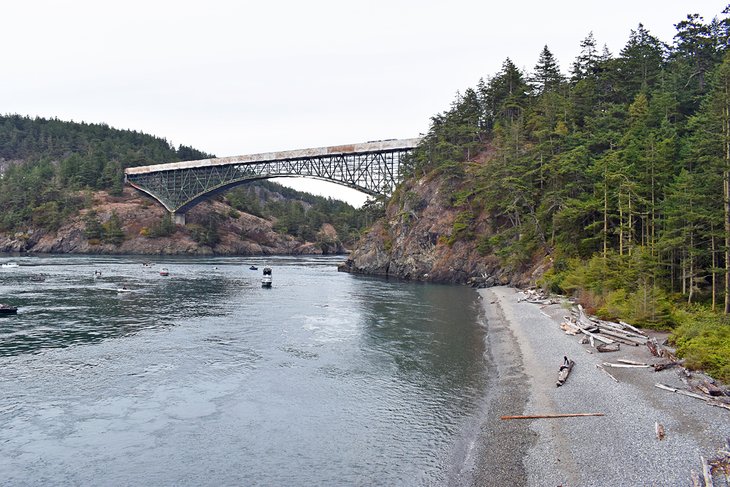 Spending the night is the best way to get the most out of a Deception Pass State Park experience. The closest selections of hotels are in Oak Harbor to the south and Anacortes up north. But I prefer camping (see my piece on the best places for camping near Deception Pass). Over 300 campsites are available within the park.
Official site: https://parks.state.wa.us/497/Deception-Pass
3. Shopping and Dining on Whidbey Island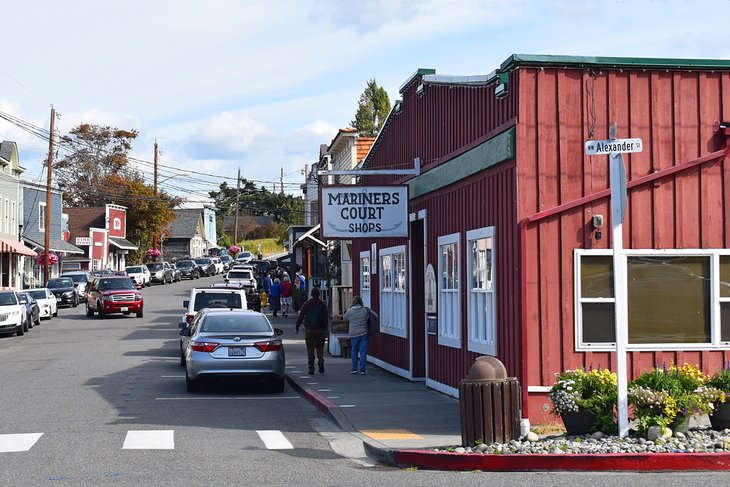 The island's southern half comprises several quaint communities, each emanating the charm of island life. You'll find the most local flavor for shopping and dining in these southern communities compared to the more-bustling streets of Oak Harbor on the island's northern half, home to Naval Air Station Whidbey Island.
Coupeville, Greenbank, and Langley are a few of the communities I checked out and would recommend for a visit. Local storefronts line these charming communities, ranging from home goods to maritime fashion. Local flavor is also on the menu, especially at places like The Oystercatcher in Coupeville, with freshly caught fares.
During my visit, I spent most of my time wandering around Coupeville on an absolutely perfect day in the middle of September. After visiting the Island County Historical Museum and finding some lunch, there wasn't much more to ask for as I wandered the historic town and Coupeville Wharf in the warm afternoon. Coupeville was also an excellent jumping-off point to explore Fort Casey and Ebey's Landing.
Oak Harbor is also well worth the visit on the island's north end, despite its bustling nature. The Naval Air Station and its population of over 20,000 residents lend more of a big box store presence. But excellent local gems aren't hard to find with places like Seabolt's Smokehouse and Frasers Gourmet Hideaway.
4. Step Back into History at Fort Casey Historical State Park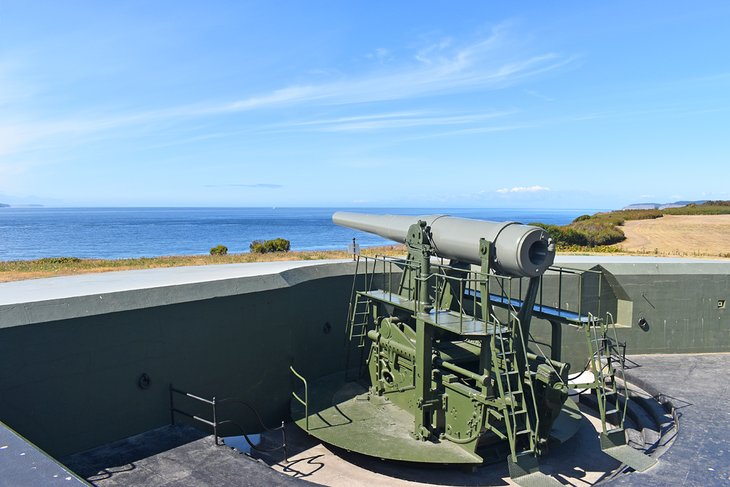 Fort Casey is next to the Coupeville ferry terminal and was my first introduction to the island's military history. This decommissioned fort was part of the "Triangle of Fire" constructed in the late 1800s to protect the open waters of the Puget Sound entrance. The other forts comprising the triangle were Fort Worden in Port Townsend and Fort Flagler on Marrowstone Island.
And like its counterparts, Fort Casey is a fascinating state park open to the public today. I was immediately drawn to explore the several retired batteries with military replicas perched atop a bluff overlooking the sea. These concrete encampments were fun to explore, and with interpretive information available, it was easier to imagine what the bustling fort was like in its early 1900s heyday.
A campground is also available at Fort Casey, next to the Coupeville ferry terminal. These campsites are convenient for those arriving on the island late. But the 22 standard and 13 partial-hookup sites are popular for anyone looking to spend the night on Whidbey Island for an affordable price.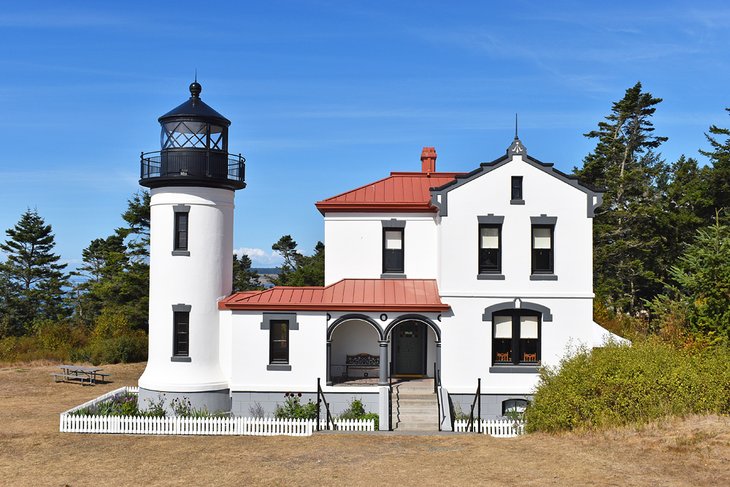 When visiting, seek out the Admiralty Head Lighthouse, a short walk north from the batteries. Although no tours are available, it's a beautiful lighthouse to photograph and admire, re-built in 1903 and splashed with a new coat of paint regularly. Lighthouse tours are available during the summer.
5. Bring a Pet to Double Bluff Beach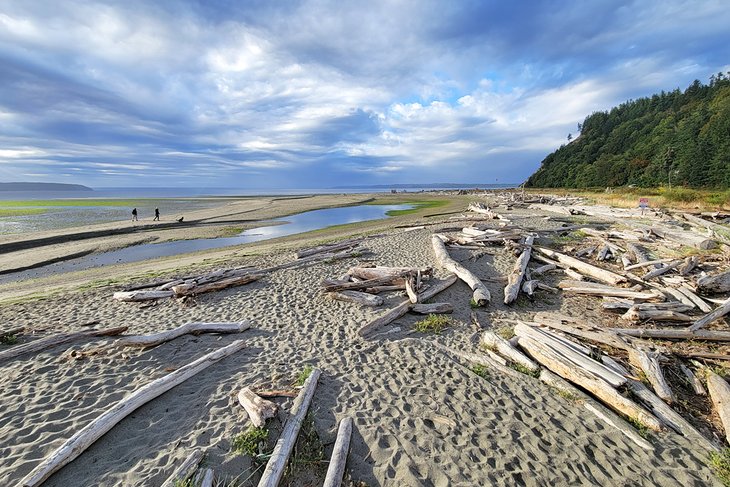 Double Bluff Beach is near the southern end of Whidbey Island, a few miles south of the community of Freeland. I showed up early to the beach on a weekday because I was worried about parking, and I found a quiet environment strewn with driftwood.
I didn't have a dog at the time of my visit, but I could see why it's known as one of Whidbey's best off-leash dog parks, as there is so much room to run free. A gigantic bluff prevents any complete run-offs, and the entire area is a shifting tidal flat ripe for exploring alone or in a pack.
Parking is scarce at the end of the lengthy Double Bluff Beach Road, with spots for approximately 25-30 midsized vehicles. Plan a trip for the early morning to ensure a spot.
6. Find Some Fresh Produce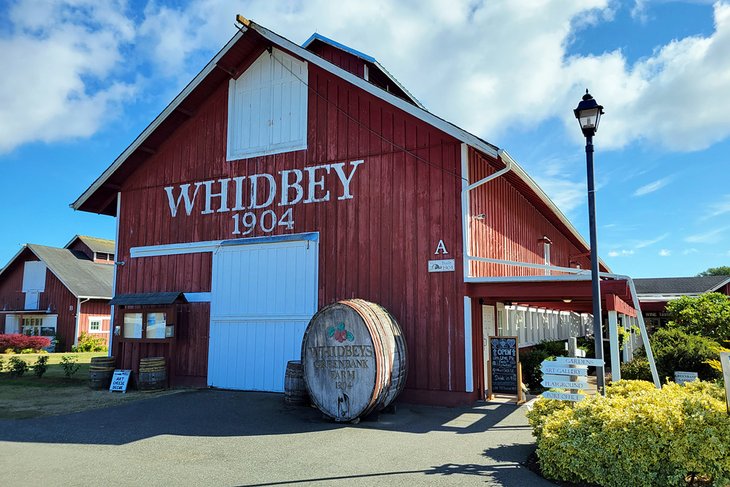 Many people travel to Whidbey Island to find something fresh from the ground. The entire southern half of the island, below Oak Harbor, has all sorts of agricultural opportunities. From farmer's markets to farm stands and family farms, there's something new to bite into every day of the year.
Farmer's markets occur Friday through Sunday on the island from roughly April through September. Langley is home to two farmers markets: the Bayview Market and the South Whidbey Tilth Farmers Market. These two operate on Saturday and Sunday, respectively, always drawing quite a crowd.
Farm stands also often pop up along the roadside in Whidbey Island. Maps and other resources make locating these seasonal stands easier. And for more extended stays, several local farms also offer Community Supported Agriculture (CSA) boxes delivered at weekly intervals.
Official site: http://www.slowfoodwhidbeyisland.org/csa
7. Stroll through Meerkerk Gardens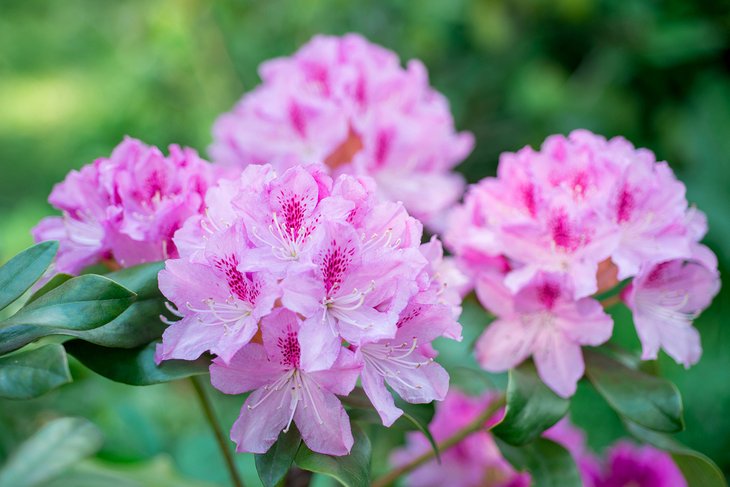 This lovely botanical space is near the community of Greenbank on the southern half of the island. It features 12 acres of intricately landscaped gardens, punctuated by original "garden rooms" created by Ann and Max Meerkerk.
An additional 43 acres of second-growth forest surrounds the gardens, offering natural landscaping at its best. The gardens are open every day of the year with a minimal price of admission. Something is always in bloom, but summer is the most colorful time to visit.
Address: 3531 Meerkerk Lane, Greenbank, Washington
Official site: https://www.meerkerkgardens.org/
8. Catch a Sunset at Fort Ebey State Park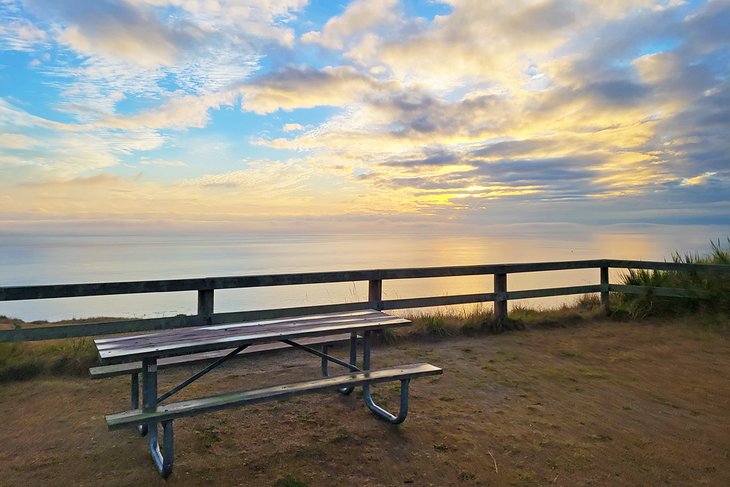 Fort Ebey is another retired military base from 1942, now part of the Washington State Park system. It's on the island's west side, near Ebey's Landing, and was one of the last fortifications built on Whidbey Island. Today, it's part of the much larger Ebey's Landing National Historical Reserve.
Fort Ebey beckoned my interest thanks to all its hiking trails. Over 25 miles of hiking and biking routes spiderweb throughout the park, alongside the adjacent Kettle Trails, managed by Island County Parks. These trails pass through a thick rhododendron-filled forest with several breathtaking coastal views.
Over 50 campsites at Fort Ebey accommodate campers. The campground has all the amenities for a comfortable stay, and its location made exploring the rest of the island easy. I enjoyed camping at Fort Ebey and recommended it if you're looking for a spot to pitch a tent or park an RV (the state park also has hiker/biker sites).
Since I spent most of my days exploring elsewhere, my favorite part of the campground was driving back in the evening and enjoying the sunset at the single gun battery in the park, where in the late evening, I had the fantastic ocean panorama all to myself.
9. Pacific Northwest Naval Air Museum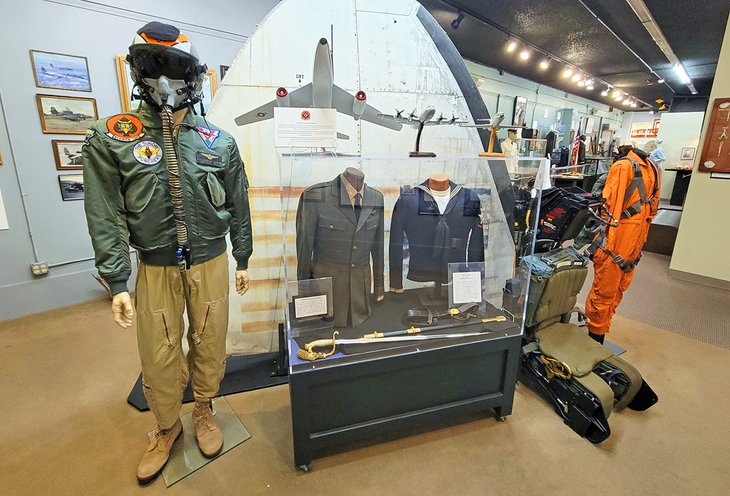 The Pacific Northwest Naval Air Museum is in Oak Harbor, approximately three miles from Naval Air Station Whidbey Island (NAS Whidbey Island). The museum celebrates and showcases the history of the NAS, including the reason behind its creation in 1942.
All members of the public are welcome to enjoy and walk through the 4,700-square-foot museum. The space is well laid out and filled with several exhibits, and even without any strict relationship to the NAS, I found myself interested and engaged with the history on display. After paying the small admission fee, it took me about 45 minutes to make my way through the museum.
Address: 270 SE Pioneer Way, Oak Harbor, Washington
Official site: https://pnwnam.org/
10. Take a Jaunt to Joseph Whidbey State Park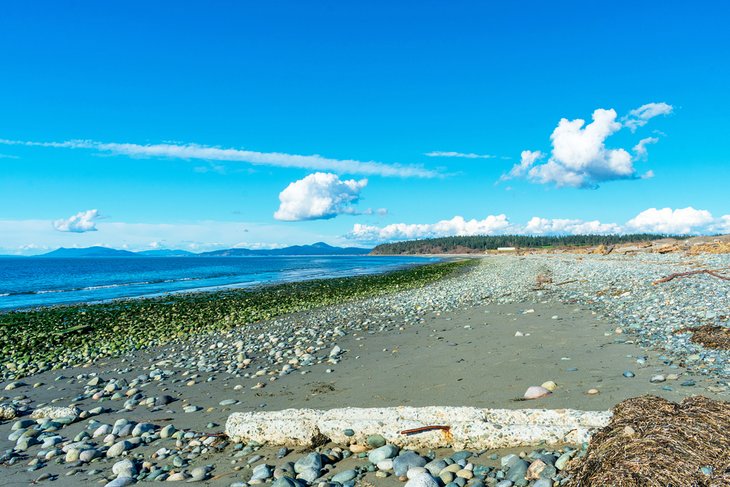 Joseph Whidbey is a small, 200-acre state park with a tremendous view. It's located on the island's west side, overlooking the Strait of Juan De Fuca, just south of Naval Air Station Whidbey Island. And with over 3,000 feet of shoreline, the park is well-regarded for its saltwater views.
This day-use park is popular for casual hiking and beachcombing. A half-mile trail makes its way through the inland portion of the park, and two large grass areas are available for lawn games and picnic space. The park doesn't generally get too busy, although parking becomes more competitive during a good sunset.
Address: 1755 Crosby Road, Oak Harbor, Washington
11. Explore South Whidbey Island State Park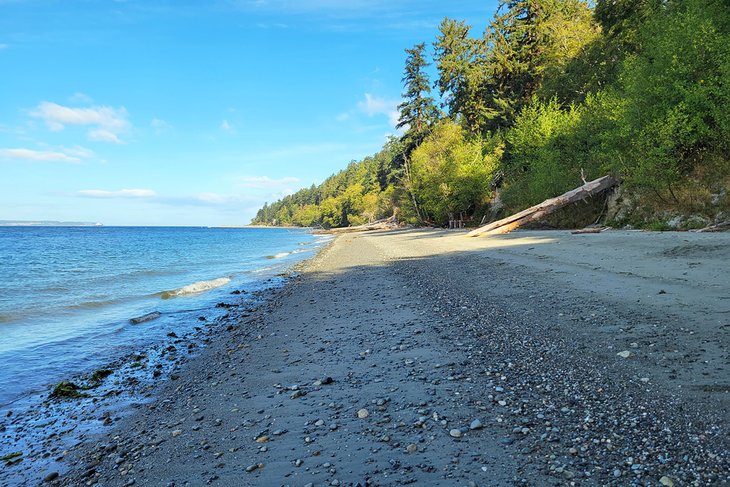 This 381-acre day-use state park is a great spot to connect with the island's wild nature. It's approximately a 12-mile drive to reach the park from the Coupeville ferry terminal; nearest the communities are Greenbank and Freeland.
South Whidbey Island is less visited than other state parks like Fort Casey and Fort Ebey. A few trails meander throughout the area, including one that leads down to a sandy and rocky beach. The beach was tranquil on my visit, leading to about an hour of walking the shoreline as the waves lapped against the shore.
South Whidbey was also an excellent spot to enjoy an outdoor lunch I had bought from the Red Apple Marketplace - a local grocery chain on the island. Several tables span out from the main parking area, offering private enclaves among the giant surrounding trees. No camping is available at this day-use state park.
12. Attend a Whidbey Island Festival
Suppose Whidbey's stunning scenery and historic properties aren't reason enough to visit. In that case, the island also hosts several festivals throughout the year. From kite-flying extravaganzas to lively musical performances, every month offers a new reason to celebrate.
The year starts with the Whidbey Island Film Festival in January. And the springtime blooms with family fun activities like Musselfest, St. Patrick's Day parades, and the massive Clinton Easter Egg Hunt.
Summer events occur just about every weekend, beginning with the Coupeville Memorial Day Parade. July is the busiest month with annual events like the Whidbey Island Fair, Whidbey Island Race Week, and the Whidbey Island Music Festival.
The fun doesn't stop in autumn, with harvest festivals transitioning into Halloween-inspired events. The year ends with holiday celebrations, rarely with snow on the ground, including the Holly Jolly Parade in Langley.
Map of Things to Do in Whidbey Island, WA
Whidbey Island, WA - Climate Chart
Average minimum and maximum temperatures for Whidbey Island, WA in °C
J
F
M
A
M
J
J
A
S
O
N
D

8

2

9

2

11

3

13

5

16

7

18

9

19

10

19

11

18

8

14

6

10

3

7

2

PlanetWare.com
Average monthly precipitation totals for Whidbey Island, WA in mm.

62

43

41

39

37

32

23

22

28

45

78

65