15 Best Campgrounds in Washington State
Overnight camping adventures abound in the state of Washington. Lush rainforests, rugged coastlines, and pristine alpine environments wait to be discovered, as do wild and scenic rivers, awe-inspiring archipelagos, and one of the most diverse petrified forests in the nation. With such an array of landscapes, campgrounds in Washington appeal to every outdoor interest.
Camping in iconic national parks like Mount Rainier and North Cascades attracts international tourists and resident tent-pitchers alike, and places to make camp in Olympic National Park are as diverse as the surrounding landscapes. These three national parks not only represent some of the best camping experiences in the state, but they rank high as top spots to experience nature in the U.S.A.
State parks in Washington also beckon for camping excursions. These parks dot the state and encompass islands, mountains, alpine lakes, and petrified forests. Most state park campgrounds also provide flushing restrooms and coin-operated showers.
Plan your next Pacific Northwest outdoor adventure with our list of the best campgrounds in Washington state.
1. Cougar Rock Campground, Mount Rainier National Park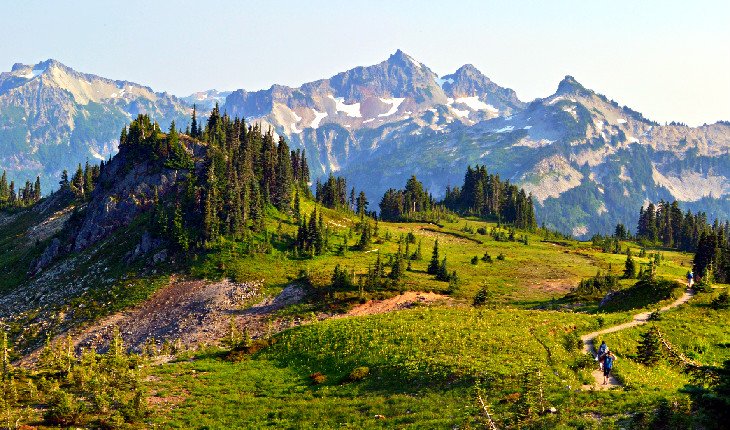 On the southern flank of Mount Rainier, Cougar Rock Campground provides the closest access to the stunning Paradise area of the park. This area of Mount Rainier is nothing short of aptly named, and with a 10-mile scenic drive from the campground, visitors can experience up-close views of Rainier and its many glaciers. Here, the Skyline Trail traverses the mountain meadows, babbling brooks, and surreal alpine environment that defines this scenic region of the park.
With over 170 reservable campsites available, Cougar Rock often fills up early and fast during the typical operating season of May through October. Campsites are close together, but the old-growth settings of western hemlocks and Douglas firs add an extra sense of privacy.
An expansive amphitheater area at the campground offers educational programming throughout the season, and flushing toilets and potable water can be found nearby.
Read More: Best Hiking Trails at Mount Rainier National Park
2. Hoh Rain Forest Campground, Olympic National Park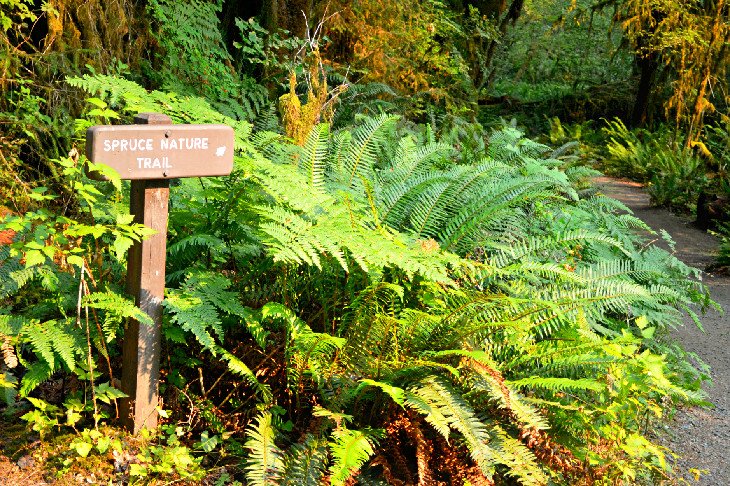 On the Olympic Peninsula of western Washington, the Hoh Rain Forest is an international tourist destination and unique environment found in a few other places in the world. While much of Northwest Washington is green, the Hoh offers endless shades of green, with ferns upon mosses in every inch of the forest.
The Hoh Rain Forest Campground offers 78 campsites to aid in multiple days of exploring this lush and inviting landscape. As of 2020, the sites converted from first-come, first-served to reservation only. No showers are available, but flushing toilets and potable water are nearby. And the real appeal of this popular campground is its proximity to iconic trailheads in the area.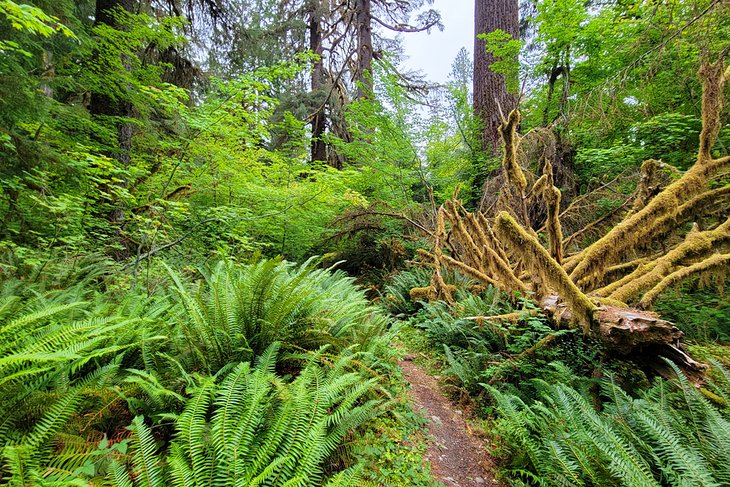 In less than a five-minute walk, next to the Hoh Rain Forest Visitor Center, visitors find themselves wandering the Hall of Mosses or the Spruce Nature Trail. This trailhead is also the beginning of the 17-mile Hoh River Trail that leads all the way to Blue Glacier on Mount Olympus.
Read More:
3. Colonial Creek Campground, North Cascades National Park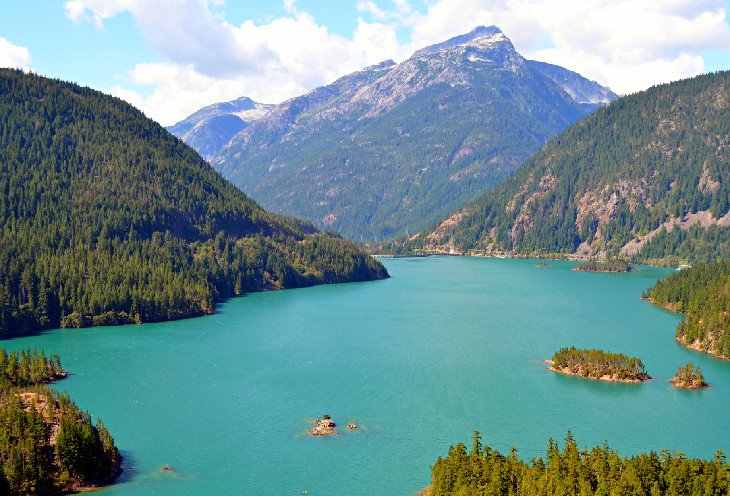 Colonial Creek Campground is one of the most popular bases to explore the rugged North Cascades of Washington. It's next to the aquamarine waters of Diablo Lake and accessible via the seasonal North Cascades Highway.
The campground is split between a north and south loop with over 130 sites available. These sites are best suited for tent campers or small recreation vehicles. No showers are available, but all campsites have access to flushing toilets and potable water.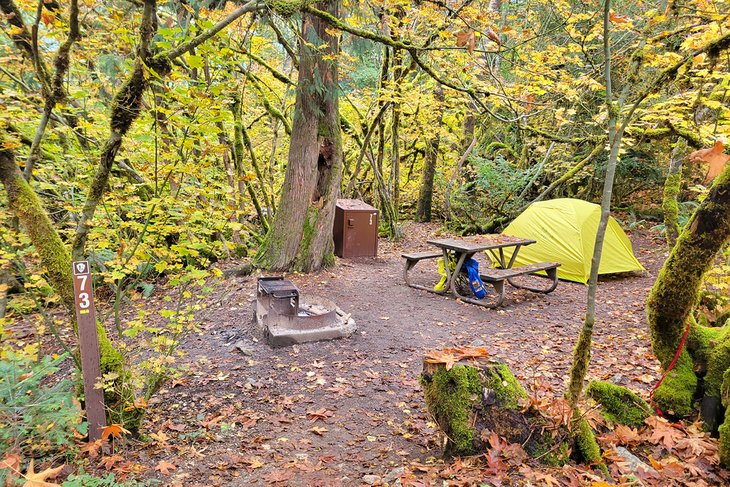 Popular recreational outlets at the campground include fishing, boating, and taking quick dips into the frigid water. The boat launch at Colonial Creek is also one of the few spots to access Diablo Lake.
Numerous hiking trails can also stem from Colonial Creek, including one of the best hiking trails in the North Cascades: Thunder Creek to Fourth of July Pass.
4. Cranberry Lake Campground, Deception Pass State Park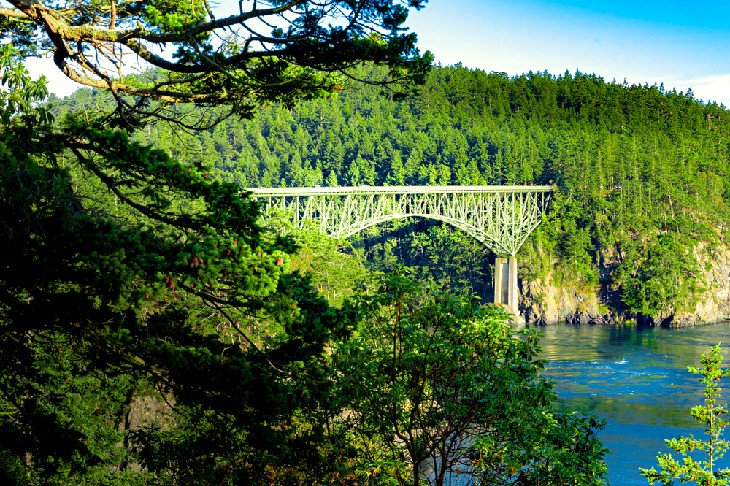 Deception Pass is one of the most popular state parks in Washington. It encompasses both Whidbey and Fidalgo Island, including the historic bridge spanning the two. Part of the park's popularity is its proximity to Seattle, accessible with an 80-mile drive from the city.
Deception Pass was heavily developed in the 1930s by the Civilian Conservation Corps and inhabited by Coast Salish tribes for thousands of years before that. Today, this sprawling state park exposes dramatic views where Skagit Bay meets the Strait of Juan de Fuca. This landscape entices visitors with an abundant shoreline, generous tide pools, and a dense landscape to hike through.
Deception Pass features over 300 campsites spread throughout three areas of the park. Although there are several places for camping near Deception Pass, most campsites are at the Cranberry Lake Campground on the Whidbey Island side of the park. Cranberry Lake caters to tent campers and RVs with partial hookups available.
On Fidalgo Island, Bowman Bay also hosts campsites and offers easy access to the Civilian Conservation Corps Interpretive Center where visitors can learn more about the park.
Read More: Best Campgrounds Close to Seattle
5. Lake Wenatchee State Park Campground, Leavenworth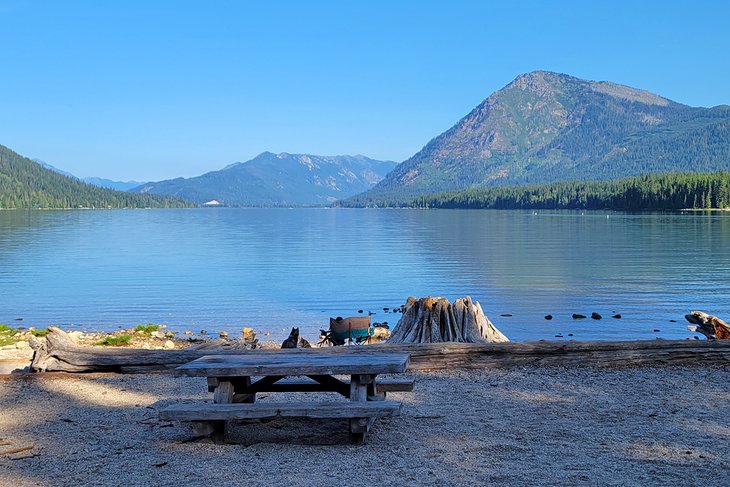 Lake Wenatchee State Park is a 20-mile drive from the Bavarian-themed mountain town of Leavenworth. With high Cascade peaks to match the Alps-inspired décor, the town is a sterling spot for recreation throughout the year. And Lake Wenatchee is one of the top spots for camping in the area.
The north and south campground loops at Lake Wenatchee offer over 150 campsites in total, accommodating both tents and RVs. All the sites are within a short walk to the beach, as well as flushing restroom facilities with showers. Potable water is also available.
Hiking, biking, and horse riding are enjoyed on the park's many trails, and the shallow lagoon of Lake Wenatchee is great for young swimmers and first-time paddleboarders. Other recreation options on the five-mile-long lake include fishing and non-motorized boating far from the shore.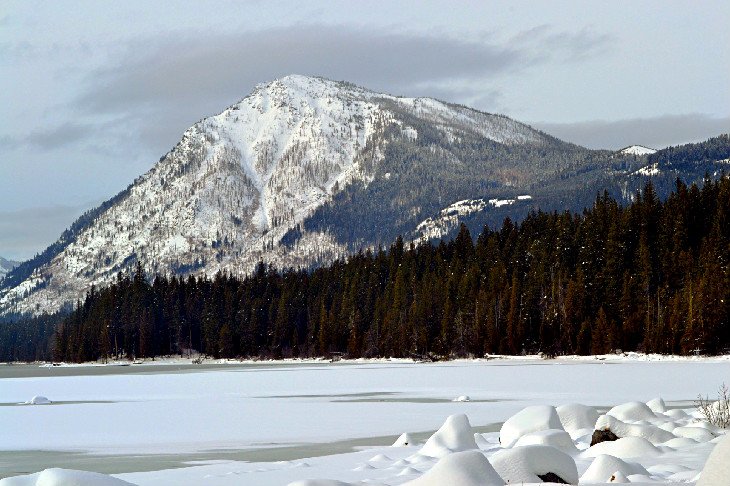 Cross-country skiing and snowshoeing are extremely popular in the winter at Lake Wenatchee State Park. The campground operates during this blustery time, with heated restrooms and warming shelters aiding in this cold-weather endeavor.
Read More: Best Campgrounds near Leavenworth
6. Bowl and Pitcher Campground, Riverside State Park, Spokane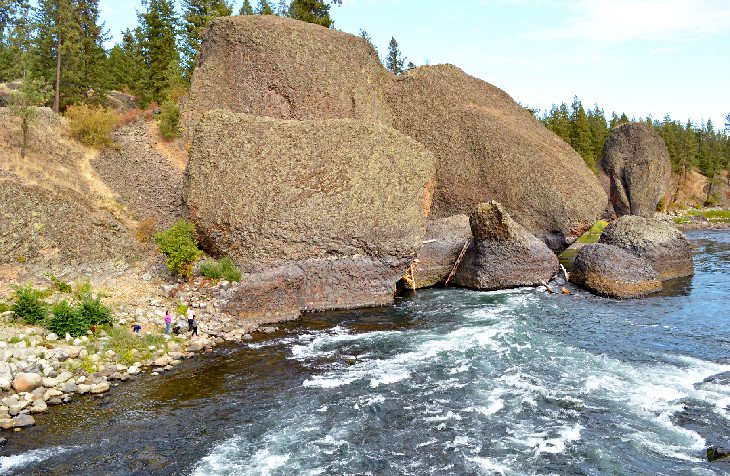 Encompassing over 11,000 acres along the Little Spokane and Spokane Rivers, Riverside State Park is a centerpiece natural attraction of eastern Washington. The state park is split into different regions in northwest Spokane, and the Bowl and Pitcher area is arguably the most scenic.
The 32 campsites at the Bowl and Pitcher Campground are the most sought after within Riverside State Park. The campground provides immediate hiking access to the area's namesake feature: an impressive collection of basalt structures jutting from the Spokane River. And it accommodates tents and RVs with access to hot showers and flushing toilets
Riverside State Park appeals to a wide variety of outdoor interests. Common activities include horse riding, mountain biking, hiking, fishing, swimming, and off highway vehicle operating. Other areas worth exploring include Deep Creek Canyon, Nine Mile Recreation Area, and Little Spokane River Natural Area, all accessed with a short drive from Bowl and Pitcher.
Read More: Best Campgrounds near Spokane
7. Moran State Park, Orcas Island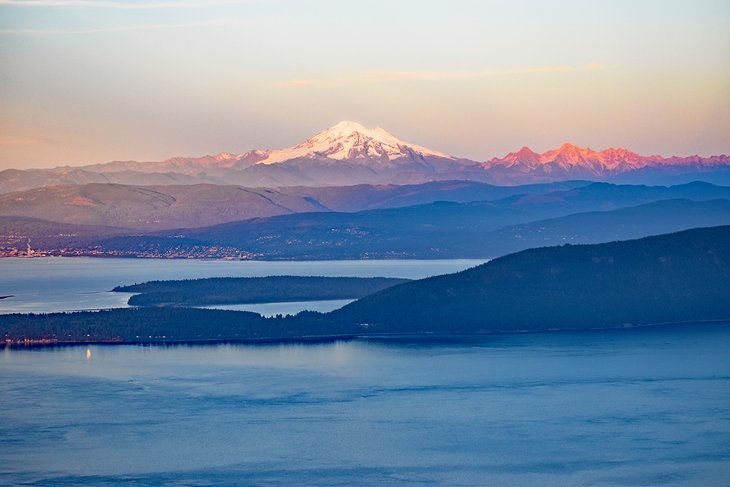 For an excellent adventure in the San Juan Islands, Moran State Park has it all. Hiking, biking, and horse-riding trails navigate throughout this 5,000-plus acre state park, and five freshwater lakes invite fishing, swimming, and non-motorized boating.
The extensive campground at Moran features 124 sites spread out over four distinct areas of the park. Views and privacy vary between the different camp areas at Moran, and the South End Campground tends to be the most popular, with all sites positioned on the shore of Cascade Lake.
A defining experience of visiting Moran State Park is going to the top of Mount Constitution, the highest point in the San Juan Islands. Visitors can walk, ride a bicycle, or drive a car to the top, and a stone tower on the summit enables a stunning 360-degree view. For the closest campground to Mount Constitution, try to book one of the 10 coveted sites at Mountain Lake Campground.
Read More: Top Things to Do on Orcas Island
8. Larrabee State Park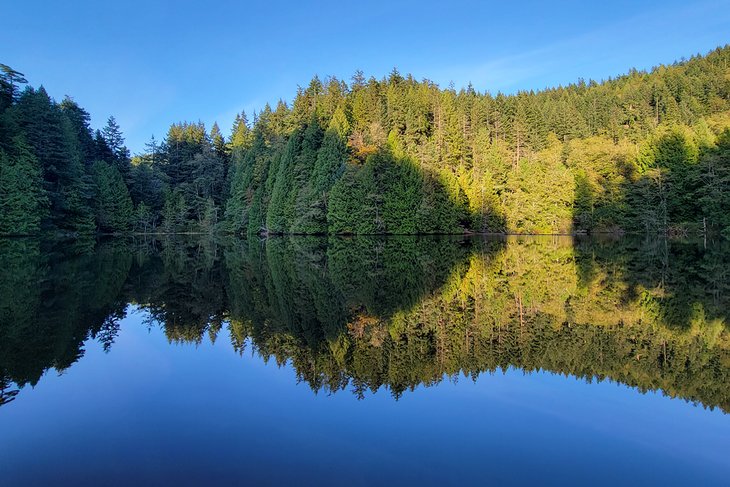 Larrabee State Park is in far northwest Washington, just south of the university city of Bellingham. The state park encompasses a southern portion of the Chuckanut Mountains — the only Cascade peaks to reach the sea. As a result, the state park offers several stunning elevated vantage points overlooking the Salish Sea and the San Juan Islands.
To really indulge in the seaside splendor, the state park has over 80 campsites available. These sites include standard sites with no hookups, utility sites, and a few primitive sites exclusively for tent camping. All overnight guests have access to coin-operated showers and potable water.
Spending the night is the best way to experience the Chuckanuts. From near the campground, the five-mile round-trip hike to Fragrance Lake offers beautiful views and is a good introduction to the area. Other hikes nearby include Oyster Dome and the sprawling network of trails up north at Chuckanut Mountain Park, managed by Whatcom County.
Read More: Best Campgrounds near Bellingham
9. Wanapum Recreation Area, Ginkgo Petrified Forest State Park, Vantage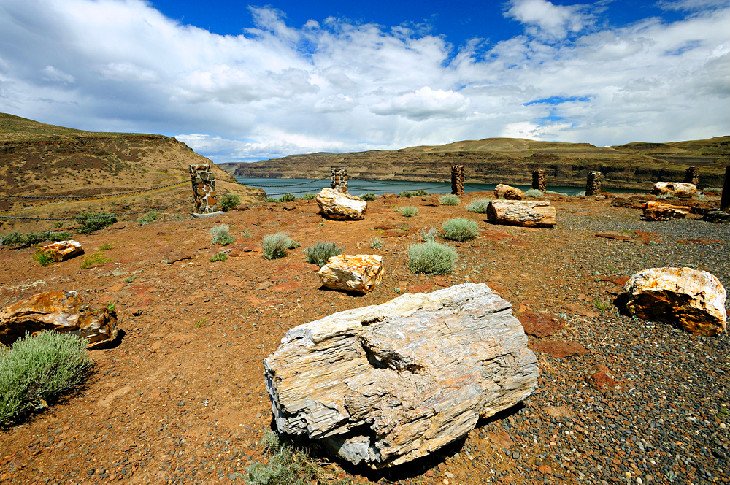 Thirty minutes east of Ellensburg, Ginkgo Petrified Forest State Park presents a dense collection of fossils on display. The state park overlooks the Columbia River and Wanapum Reservoir and is considered one of the most diverse fossil forests in the country. This geologic concentration provides a landscape found nowhere else in the state.
Inside the Ginkgo Petrified Forest Interpretive Center and along the outdoor Trees of Stone Interpretive Trail, visitors learn about the geological history and timespan that turns wood into stone and see for themselves the longstanding result.
The petrified forest areas of Ginkgo are day-use only, but camping is found three miles east towards the community of Vantage at Wanapum Recreation Area State Park. This recreation area is along the shore of the Wanapum Reservoir and has 50 full-hookup RV sites and two hiker/biker areas.
The recreation area offers plenty of scenic attractions itself. A public boat launch is a popular means of enjoying the water, and concert-goers at the nearby Gorge Amphitheater often take advantage of the campground come summer. Flushing toilets and running water are available to all overnight guests.
10. Sol Duc Campground, Olympic National Park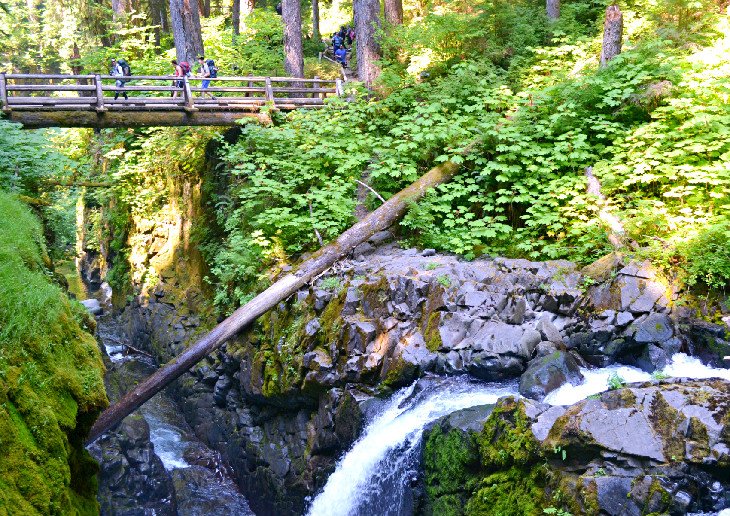 The northwest Sol Duc region of Olympic National Park has a little bit of everything. It's home to one of the park's best waterfalls, a concessionaire hot spring resort, and lends access to the heart of the Olympic wilderness, also known as the Seven Lakes Basin. And its campground of the same name is one of the most popular places to stay in the park.
In conjunction with the National Park Service and the Sol Duc Hot Springs Resort, Sol Duc Campground has over 80 tent sites available and 17 spaces for RVs. Advanced reservations are available and recommended during the summer season. Guests can also stay within the century-old, 1980s revamped Sol Duc Hot Springs Resort by booking a room ahead of time.
Recreation is abundant, stemming from both campground loops at Sol Duc, including walking trails to the nearby Sol Duc Falls trailhead and adjacent hot-water mineral pools at the resort.
The nearby Sol Duc Falls trail is one of the best hiking trails in Washington, and beyond the falling water of this scenic attraction, ambitious day hikers and permitted backpackers reach the enchanting Seven Lakes Basin of the park.
11. Ohanapecosh Campground, Mount Rainier National Park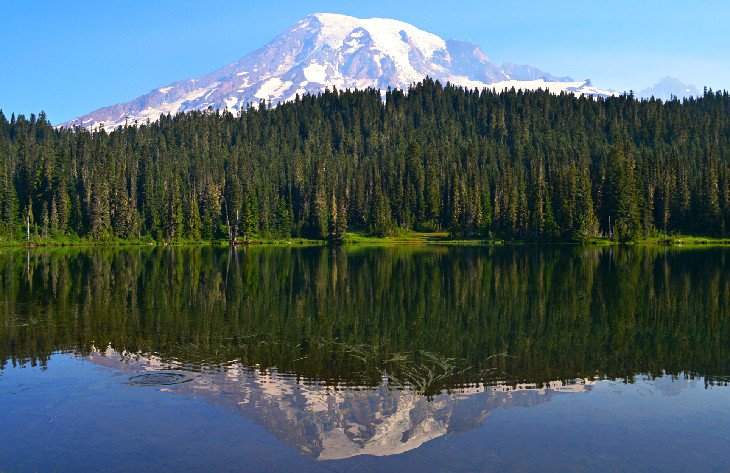 Within Mount Rainier National Park, Ohanapecosh is a great base for exploring the generous alpine environment that surrounds the tallest mountain in Washington. The campground is strategically located between the Sunrise and Paradise regions of the national park. And besides quick access to these aptly named areas, Ohanapecosh offers plenty to see and do within its immediate surroundings.
The glacier-fed Ohanapecosh River carves its way through a canyon adjacent to the campground. A trail follows this tumbling river to the stunning Silver Falls. Campers can check out this rushing landscape with less than a three-mile loop from the campground. And the nearby Grove of the Patriarchs Trail is another family favorite hike.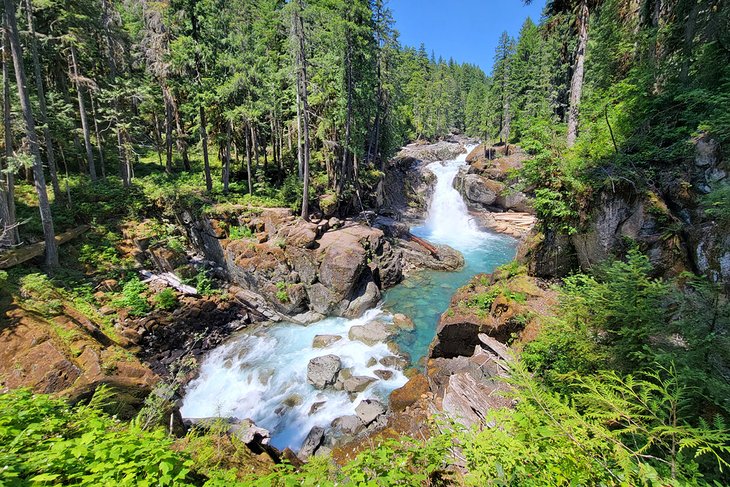 The campground has over 175 sites available, accommodating tent campers and RVs amid old-growth surroundings. Flushing toilets and potable water are within each campground loop. Reservations are highly recommended during the summer months.
12. Salt Creek Recreation Area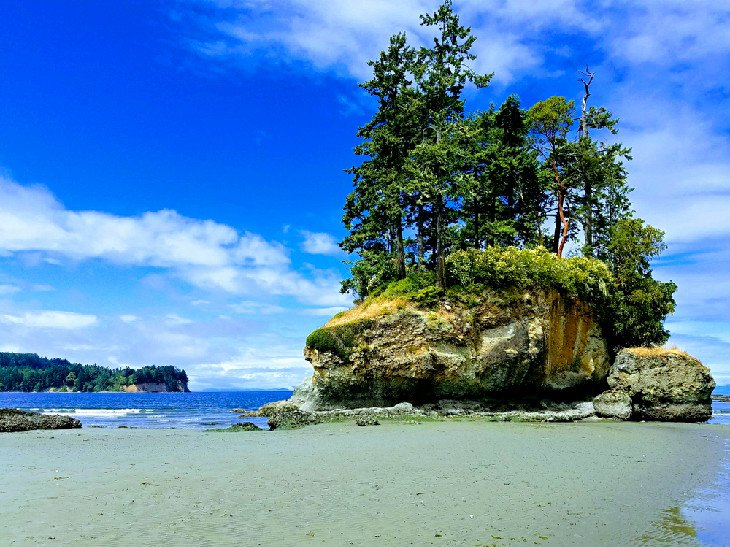 Fifteen miles west of Port Angeles on the Olympic Peninsula, Salt Creek is a county park that nearly outshines its national park neighbor. It encompasses almost 200 acres, including the eastern edge of Crescent Bay, offering constant views overlooking the Strait of Juan de Fuca.
Over 90 sites comprise the two campground loops at Salt Creek, with year-round availability for most, including access to running water and flushing toilets. The campground is near the Tongue Point Marine Sanctuary at the tip of the county park, where visitors find some of the most diverse tide pools in the nation.
Crescent Bay Beach is a must-visit when staying at Salt Creek Recreation Area. This sandy expanse is a stunning example of a rugged Pacific Northwest shoreline and is easily accessible with a short walk from the campground. For extra add-on adventure, the city of Port Angeles is a short drive away and easily earns its status as one of the best small towns in Washington.
Official site: http://www.clallam.net/parks/saltcreek.html
13. Fay Bainbridge Park, Bainbridge Island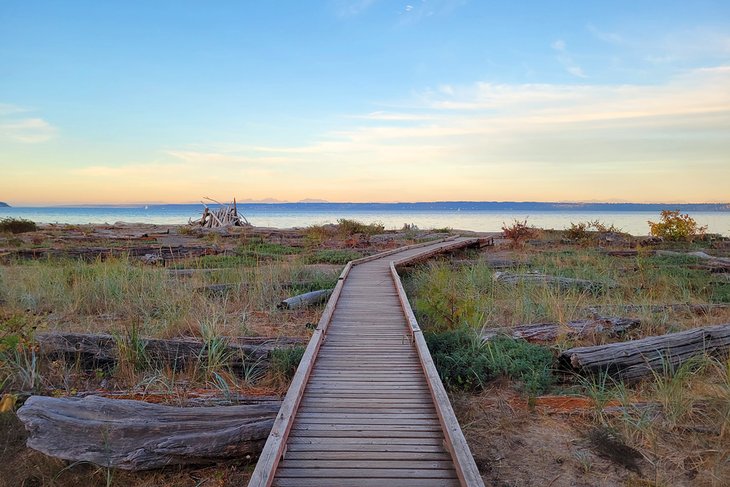 For a taste of the Bainbridge Island life, head to Fay Bainbridge Park on the island's north end. This 17-acre marine park has many amenities to make for a comfortable stay, and several campsites with quite a view.
Fay Bainbridge has 16 tent sites tucked into the woods above the main parking area of the park. It also has 24 RV sites close to the water. These RV sites also cater to tents and have the best views of Puget Sound, including Seattle in the distance. This wide and curving saltwater shoreline is an excellent place to catch the sunset.
Campers at Fay Bainbridge have access to flushing restrooms, free showers, and potable water. Cellular service is also good here, allowing visitors to stay connected while enjoying the laid-back environment.
Read More: Top Things to Do on Bainbridge Island
14. Mora Campground, Olympic National Park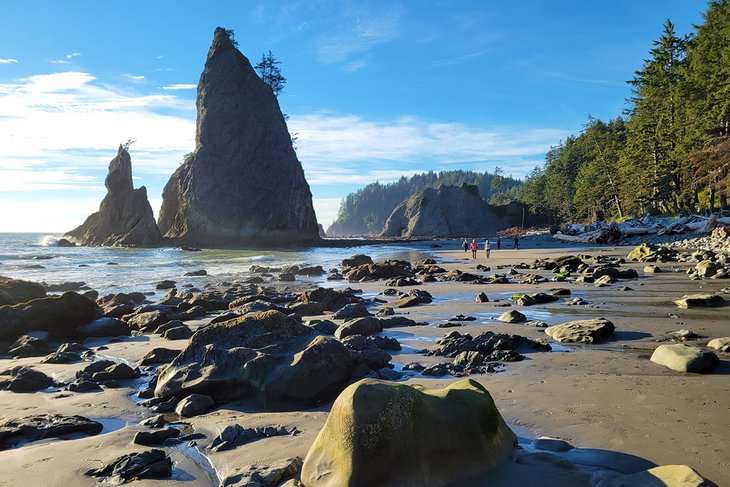 Olympic National Park has a few developed campgrounds along its wilderness coast. And while it's hard to say which one is best, Mora Campground is certainly worth mentioning. That's because this wooded campground lends easy access to the stunning Rialto Beach, where many Olympic postcards are made.
The campground is near the Quillayute River and the community of La Push, approximately a 20-minute drive from Forks. The ocean isn't visible from the campground, but its proximity is evident by the smell of saltwater and the surrounding lush coastal forest. Come time to check out the beach, it's less than a two-mile drive to the shore.
Mora Campground is open year-round and is one of the few campgrounds in Olympic that accepts reservations during peak season (late May through mid-September). A total of 94 sites are available, some with enough space for 35-foot long RVs. No hookups are available.
15. Curlew Lake State Park, Republic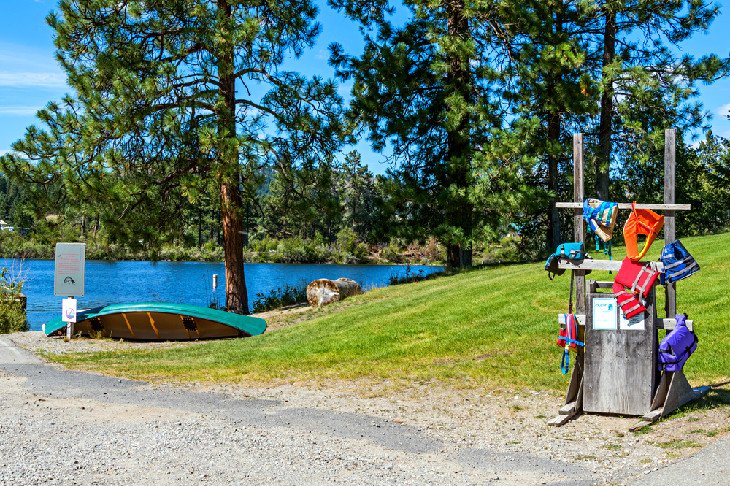 In the northeast corner of Washington, near the U.S./Canadian border, this slightly off-the-beaten-path state park is on the eastern shore of the five-acre Curlew Lake. It's a gem of the region thanks to its relatively undiscovered status and relaxing surroundings.
The campground at Curlew Lake accommodates tents and RVs with over 80 sites available. Large, open play spaces encourage lawn activities near the campgrounds, and the adjacent Ferry County Rail Trail provides a great showcase of the scenic surroundings. All campers have access to flushing restrooms and coin-operated showers.
Curlew Lake is popular for anglers looking to land trout, muskie, bass, or perch. Various wildlife that also fish from the lake include bald eagles, osprey, and herons. For archaeology enthusiasts, the Stonerose Fossil Site is located eight miles from the campground and is open for public digging.
Camping Reservations in Washington
For campgrounds within either three of Washington's national parks, reservations can be made ahead of time for select campsites through Recreation.gov. Similarly, campsites in Washington's state parks, if available for advanced reservation, can be booked through the Washington State Park reservation system. Check each park's official site for reservation information and special guidelines ahead of any visit.
More Related Articles on PlanetWare.com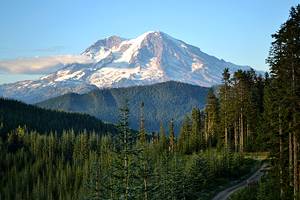 More Campgrounds in Washington: Nearly all of Washington's state and national parks feature great campgrounds. The campgrounds of Olympic National Park match the different ecosystems found throughout the area, and Mount Rainier National Park campgrounds give access to a surplus of alpine splendor. Campgrounds in the North Cascades feature plenty of vertical terrain, and the campgrounds close to Seattle provide a quick escape from the city. If Spokane is your base for travel, our Best Campgrounds close to Spokane article is right for you.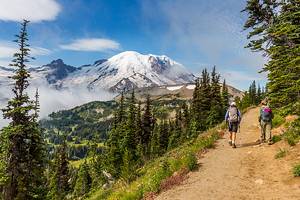 Adventure in Washington: Alongside great campgrounds, the national parks of Washington also provide great hiking trails. Mount Rainier hiking trails and North Cascades hiking trails will both test your legs, and the hiking trails of Olympic National Park tour a wide variety of worlds, including rainforests, rugged coasts, and high-alpine environs. Many of the best hiking trails in Washington can be found in all corners of the state, as can some of the best waterfalls and best hot springs.
For white-water enthusiasts, the top-rated rafting and kayaking adventures in Washington might be right for you, and for powder hounds, the state's best ski resorts deliver on fresh snow every winter.