11 Best Beaches in Oaxaca
Oaxaca is often referred to as Mexico's "last coast." When first you feast your eyes on its enigmatic coastline, it will be easy to see why. Backed by the rugged Sierra Sur mountains, the best beaches in Oaxaca run along a jagged coastline that weaves in and out of rocky bays and inlets. Hidden from view until you're right up on them, the best beaches in Oaxaca are protected like secrets, which is probably why this is one of the last remaining coasts in Mexico to draw mass-market tourism.
The beaches in Oaxaca, La Costa Oaxaquena, stretch for hundreds of miles of Pacific Ocean along the southern heel of Mexico. While most travelers are visiting Oaxaca for the attractions of its highland eponymous city, known for its cuisine, architecture, and history, some of the best kept secrets of the state of Oaxaca can be found along its coastline.
It's difficult to name the best beaches in Oaxaca, as so many are worthy of mention. What they all have in common is an off-the-radar status, a fiercely loyal local community, and an authenticity so rarely captured in larger destinations with a more obvious tourism presence. Get ready for thatched palapa beach huts, fiery sunsets, and a ubiquitous motto of, "no shirt, no shoes, no problem."
If you're ready to discover the best beaches in Oaxaca, this would be the best place to start.
1. Playa Tangolunda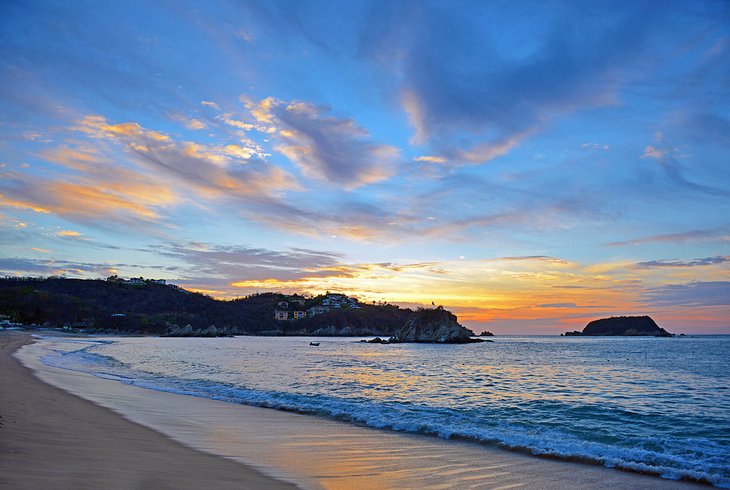 The first stop for most travelers exploring the coast of Oaxaca will be the Bahias de Huatulco. A small beach destination and cruise port by typical Mexico resort destination standards, this is the only coastal destination with a mainstream international airport. Bahias de Huatulco is composed of nine bays, each one with its own distinct vibe, energy, and beaches.
Bahia Tangolunda is one of the most popular and well-known bays in Huatulco. It lies a few miles east of Santa Cruz Huatulco, the major tourist town within the bays. If you're looking for luxury resorts, you'll find them on the golden sands of Tangolunda. It is also notable for its calm, gentle waves, which are ideal for swimming or snorkeling.
The beauty of Tangolunda does come at a luxury premium, however. That said, even if staying on this beach is out of your price range, Oaxaca and Bahias de Huatulco have plenty of other beaches that have unparalleled beauty without the price tag.
2. Bahia San Agustin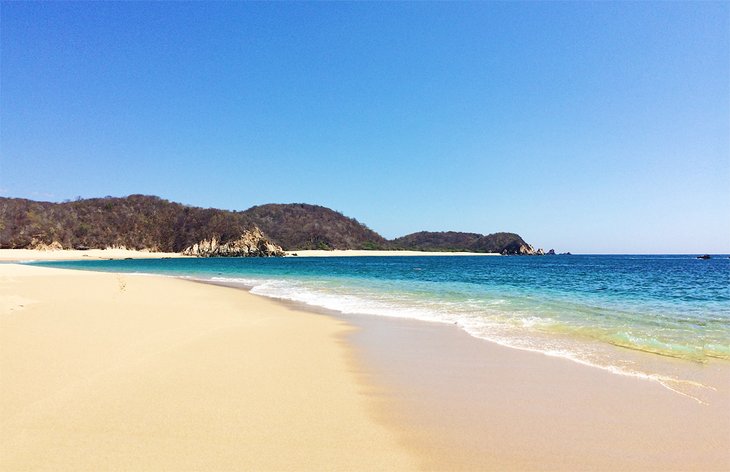 It requires a little bit of legwork, but those who take on the adventure are rewarded with one of the best-kept secrets along the coast of Oaxaca. Bahia San Agustin is off the beaten path, to say the least, but those in the know are absolutely enamored with this paradisiacal stretch of sand.
You won't find crowds here. That's because the bay is several miles down a dirt road that is 20 minutes from La Crucecita (one of the tourist hot spots in Huatulco). When you arrive at the beach you'll see a long stretch of rustic, palapa-topped restaurants and cabanas, many of which offer hot showers and basic accommodations.
Camping is also available on this beach, which is a lot of fun for adventurous and budget-conscious travelers.
It's also a wonderful spot to spend the day, especially if you like avoiding crowds. The waves are gentle here, and it's a prime spot for swimming, snorkeling, and diving.
3. Playa Zicatela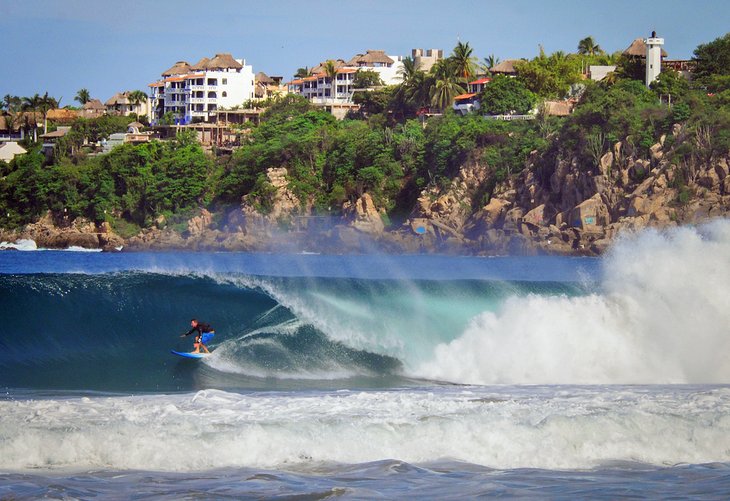 Any surfer worth their salt knows every inch of Playa Zicatela – the main stretch of beach in sleepy surf town, Puerto Escondido, and the gateway to the Mexican Pipeline. Playa Zicatela is a seemingly endless stretch of golden sand that rings the main bay of Puerto Escondido.
For decades this hidden paradise was a mishmash of leathery Australian surfers, Canadian expats, and hard-working locals, who were all enamored with the place for the same reason: this gorgeous piece of paradise.
Today Playa Zicatela sees a bit more action than it did in years prior, as boho-chic restaurants, boutiques, and renovated Airbnbs pop up along the main strip. Still, surfers will wake at the crack of dawn to chase the often nine-foot waves that crash fiercely onto the sand in rolling, powerful barrels.
If you're not a strong swimmer, this may not be the beach for a quick dip. But a string of beach restaurants and hangouts means that there is always something to do for everyone.
4. Playa Carrizalillo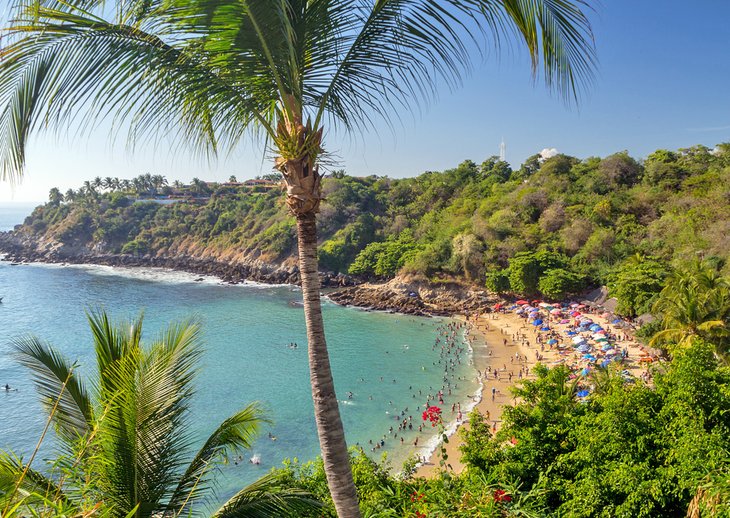 Not far from Zicatela's main drag is another beach that turns the dial up on natural beauty. Playa Carrizalillo is within Puerto Escondido's Rinconada neighborhood, tucked within a calm, rocky cove. The beach is simply stunning, with turquoise-colored water and a crescent of golden sand.
Locals and backpackers love this beach for its intimate size. It's a social hot spot anytime of day, lined with palapa-topped beach restaurants and vendors hawking everything from freshly made coconut ice cream to private surf lessons. And speaking of surfing, beginners love this beach for its gently breaking waves, which make it a top spot to adjust to your sea legs.
Travelers should note that while the beach is easily the most beautiful in Puerto Escondido proper, access is a bit of a hike. The beach sits at the bottom of more than 150 stone steps, which offer incredible views, but can be a bit of a struggle on the way out, especially after a full day of beach lounging.
5. Playa La Punta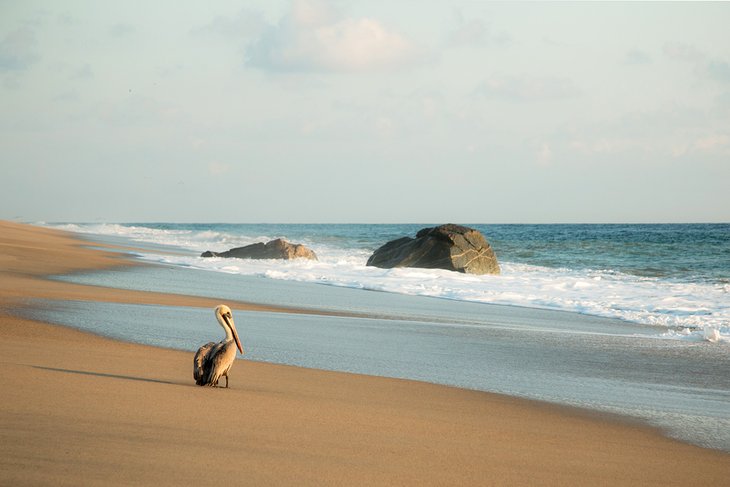 At the southernmost end of Zicatela is a smaller beach community known as La Punta. Once a dusty, dirt-road secret, La Punta has exploded in recent years to become a boho-chic community. Restaurants range from local beach huts to barefoot luxe Thai, Israeli, and vegan cuisine.
The beach itself is truly spectacular, as it offers a sweeping view down the entire bay all the way to Zicatela. Still, it feels like it's its own world, with a rocky point that is beloved for front-row sunset views.
La Punta's waves can be challenging, but are nowhere near the force of Zicatela's breaks, so surfers like to use this area for practice. When the waves are really calm, beginner classes can be held here, as well.
La Punta is on the tipping point. Development is in full force, and it's only a matter of time before this sleepy secret turns into Oaxaca's own Tulum.
6. Playa Zipolite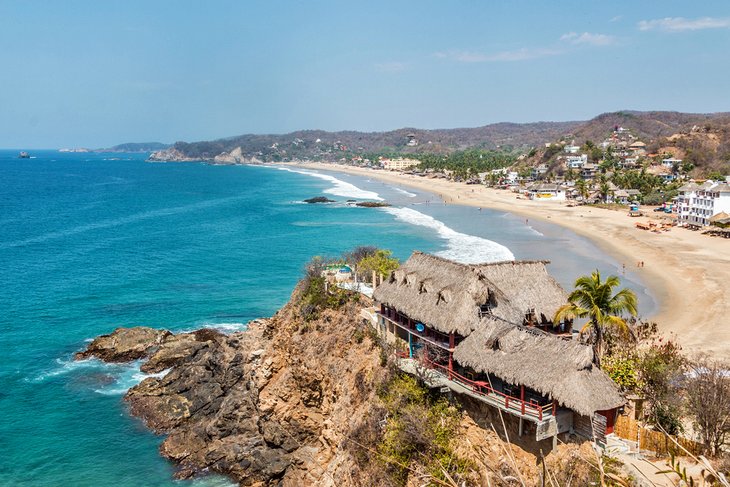 Halfway between Bahias de Huatulco and Puerto Escondido is the small beach resort community of Zipolite. The town itself is small and easily explored in less than half an hour, but you'll find the majority of visitors and locals on the massive stretch of sand.
Long a hideaway for dreadlocked hippies, Zipolite is said to be a natural vortex of positive energy, drawing peace-seekers and Zen-chasers since the 1970s. Today it still retains that charm. A large Italian population reflects itself in the many pizza restaurants in town. Both expats and locals commingle harmoniously, welcoming tourists who are doing an excellent job of keeping this bohemian beach a secret from mainstream travelers.
The beach itself is lined with palapa-covered restaurants, beach shacks, and rustic boutique hotels. The unofficial motto of Zipolite is "do nothing," and people are pretty okay with that. The jungle-covered hills that protect the bay, the crashing waves, and the explosive sunsets are enough to keep everyone satisfied. Note: The beach is "clothing optional," which many do take advantage of, so keep that in mind if that's not exactly your vibe.
7. Playa Rinconcito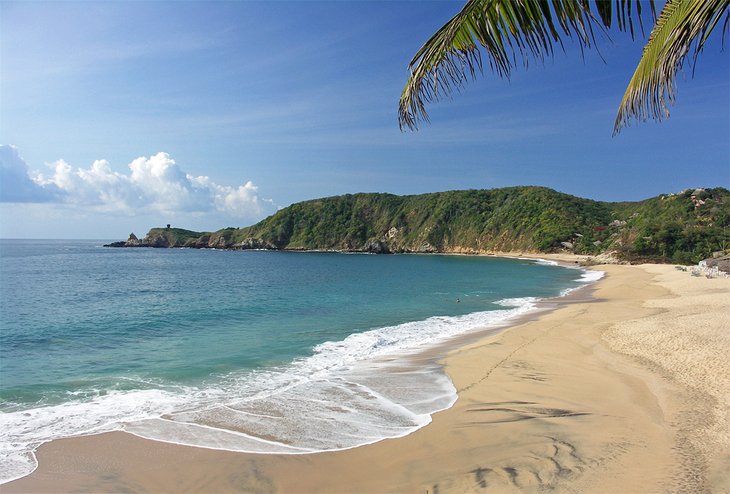 Discovering Mazunte is to truly discover a secret. While the rest of the world is tucking into farm-to-table fare and practicing yoga on the beaches of Tulum or Sayulita, a small pocket of true beach-chasers can be found on the shores of Mazunte, specifically Playa Rinconcito.
Mazunte is just a touch north of Zipolite, still tucked on the coast between Huatulco and Puerto Escondido. The web of sandy streets are flanked with adobe- and thatch-covered buildings, which are home to everything from rustic taco joints to fresh-pressed juice stands, aged hippies selling dream catchers, and locals hawking surf lessons. There are, of course, the obligatory yoga studios and tattoo parlors, as well.
Playa Rinconcito sits on one side of a rocky point, called La Cometa, on the other side of which is a second Mazunte beach that is much less developed than Rinconcito. Still, "developed" by Mazunte standards is hardly the correct word. Expect beach restaurants, bungalows, and hostels, and absolutely zero chain brands.
8. Playa Roca Blanca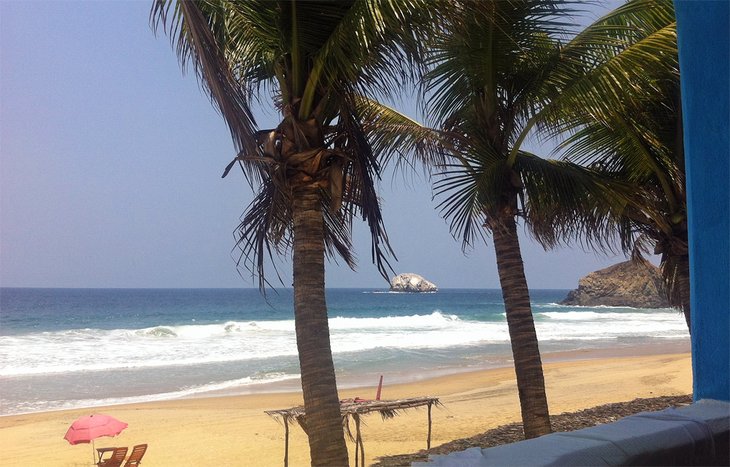 The best part about the coast of Oaxaca is that so much of it is truly wild. While many other stretches of coastline in Mexico have seen the touches of tourism, Oaxaca's many coves, inlets, and bays still remain under the radar, hidden from view as the coastline twists and turns around rocky peaks. Roca Blanca is one of these secret spots: off the tourist trail, but a beloved hangout for locals and surfers who know where to look.
The wind-swept stretch of coastline is peppered with rustic restaurants, where it's not uncommon to spot a celebrity or two, as the beach has appeared in films like Y Tu Mama Tambien and the documentary Camp Abierto. It is just that picture perfect.
Still, it has managed to stay out of the development spotlight, so the best things to do on this beach are to simply enjoy. Pull up a plastic chair at one of the palapa huts and take a bite into the local cuisine, or grab a snorkel and mask and kick off from the sandy shore.
9. Lagunas de Chacahua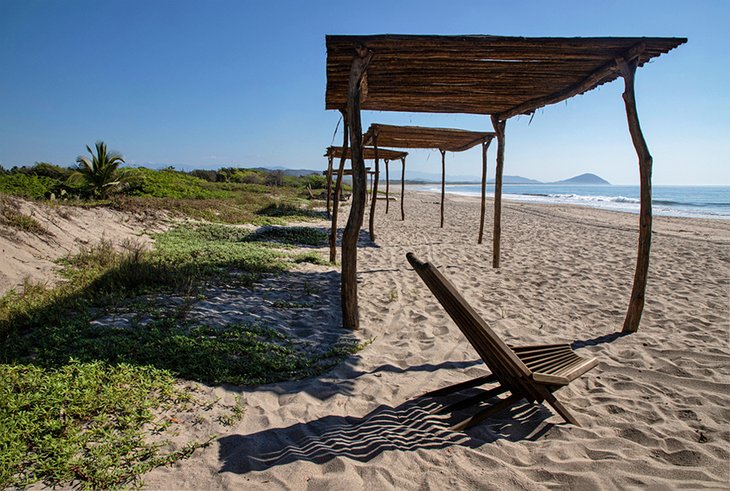 Oaxaca's Lagunas de Chacahua National Park is one of the most popular tourist attractions in Oaxaca. This series of five lagoons has a web of mangrove-covered canals that connect the larger bodies of water. Surrounding the lagoons are the undulating slopes of the Sierra Sur mountains. White herons swoop through the mangrove tunnels, while endangered leatherback turtles can be seen paddling in the wide-open spaces.
But the best part of Lagunas de Chacahua is the stretch of beach. And because it's a bit of a trek to reach, that makes the reward so much sweeter.
The beaches of Chacahua are best reached via a boat tour through the mangroves and lagoons. The boat-for-hire will leave travelers at the point where the lagoon spills out to the sea. It is this stretch of beach where electricity is spotty at best, Wi-Fi practically non-existent, where pristine sand and sea are all visitors and locals seem to need.
A stretch of basic, rustic accommodations runs down this part of the beach, where you can rent a room for as low as MXN$50 per night. Shabby restaurants sling local Oaxacan specialties, and you're guaranteed to meet backpackers from as nearby as Mexico City to as far away as Australia.
The surf at Lagunas de Chacahua has a little something for everyone, whether you're just starting to stand on the board, or if you've been chasing waves for decades. The amenities at Chacahua are about as basic as they come, so it's not a spot for everyone. But those who love it are fiercely loyal and will be repeat visitors time and time again.
10. Barra de La Cruz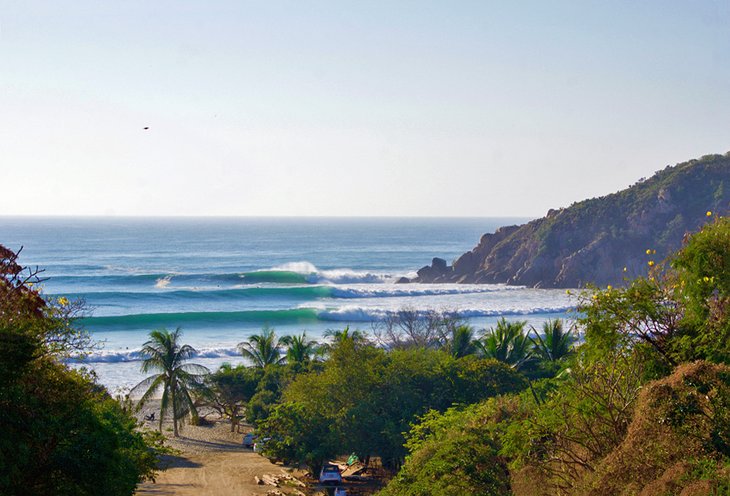 Speaking of remote beaches beloved by surfers in the know, Barra de La Cruz is the ultimate surf secret along the Oaxacan coast. If you thought Lagunas de Chacahua was barebones, just wait until you meet Barra (as the locals call it).
Down a dusty stretch of highway south of Bahias de Huatulco, Barra de La Cruz is a sparse, desolate crescent of beach that opens widely out to sea. Between two stony bookends, the bay has some of the best surf conditions in this part of Oaxaca. But even if you aren't interested in surfing, you'll still be able to appreciate its pristine beauty.
The wide beach is seemingly endless – it feels like an eternity to get to where the waves break. But the sand is soft, white, and fringed in verdant palm trees and jungle.
The small village that backs the beach is as basic as it gets, with a few surf bungalows for rent and not much else. The beach itself has one hut serving fresh ceviche and refreshing beverages. Those who come to Barra aren't visiting for the amenities – their needs are basic: Surf, sand, sun. That's exactly what Barra provides.
11. Playa San Agustinillo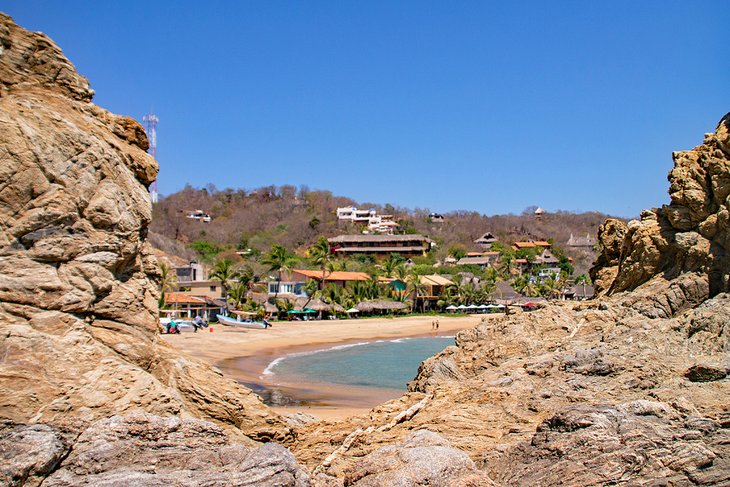 Turning off the main Highway 200, as you make your way towards Mazunte and Zipolite, you will pass through the small fishing village called San Agustinillo. A sleepy coastal community, the beachfront village is where the jungle-covered mountains tumble down to the sea, and it is home to one of the best beaches in Oaxaca.
Truly. Residents and visitors-in-the-know simply adore San Agustinillo for its beautiful swath of sand and pocket-sized village. Along the stretch of beach are several boutique hotels and charming restaurants.
Among the favorite things to do in San Agustinillo, as with anywhere along the coast of Oaxaca, is surfing. The waves here are much more gentle than in other parts of the coast, which makes this beach great for beginners or body boarders. But it's also a great beach for swimming, with calm, gently lapping waves.
Behind the beach is the "historical" center of town, which is really more of just a main strip with a few shops and restaurants. It's safe to say that San Agustinillo's population is less than 500 people, so if you are interested in a tranquil, relaxing beach environment, this may be the best place to stay.
Oaxaca, Mexico - Climate Chart
Average minimum and maximum temperatures for Oaxaca, Mexico in °C
J
F
M
A
M
J
J
A
S
O
N
D

25

8

27

10

29

12

31

14

31

15

28

16

28

15

27

15

27

14

26

13

26

11

25

9

PlanetWare.com
Average monthly precipitation totals for Oaxaca, Mexico in mm.

3

5

15

38

81

170

89

104

125

51

10

5