9 Top-Rated Tourist Attractions in Roskilde
Steeped in regal and Viking history, Roskilde should be high on your agenda of places to visit in Denmark. Take the train or drive about half an hour from Copenhagen, and you'll arrive at the burial place of kings, queens, and knights in the magnificent UNESCO World Heritage Site, Roskilde Cathedral. Their presence reminds visitors that during medieval times, Roskilde was the seat of monarchs and bishops and one of Northern Europe's most important cities.
Long before that, more than a thousand years ago, the Vikings founded Roskilde as a trading hub, and its most popular tourist attraction, the Viking Ship Museum, recalls those times.
But it's not all history, and some of the most exciting things to do here revolve around the city's active music scene. Explore the city's long past and vibrant present with our list of the top attractions in Roskilde.
1. Viking Ship Museum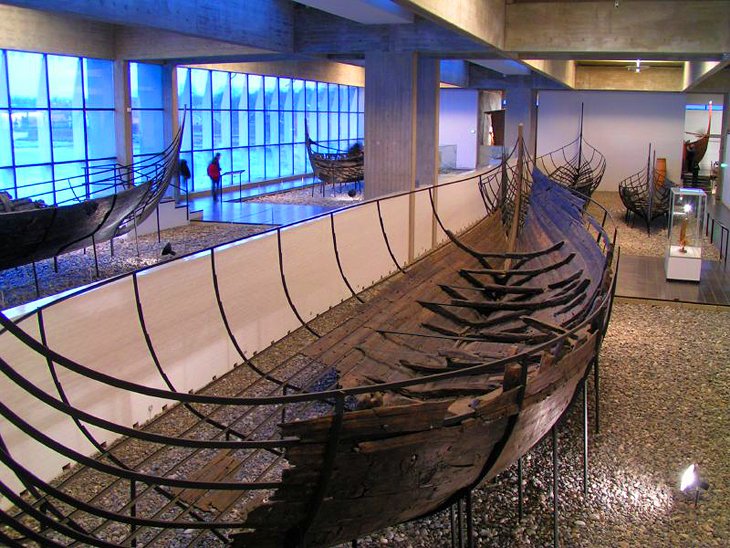 The Viking Ship Museum (Vikingeskibsmuseet) on the banks of Roskilde fjord is one of Denmark's top tourist attractions. Dedicated to the history of seafaring and boat building in ancient and medieval times, it contains rare surviving examples of original Viking ships that were deliberately sunk at the harbor mouth to prevent raiders from attacking the city.
The museum consists of eight buildings with very different functions, including a shipyard where reconstructions of Viking ships and traditional Nordic wooden boats are built, and an activity center where adults and children can try out their skills at Viking Age crafts.
This truly is a must-see for all those fascinated by Viking times and culture, and a visit here is an easy day trip from Copenhagen. Guided tours are available in peak season.
Address: Vindeboder 12, Roskilde
Official site: https://www.vikingeskibsmuseet.dk/en/
2. Roskilde Cathedral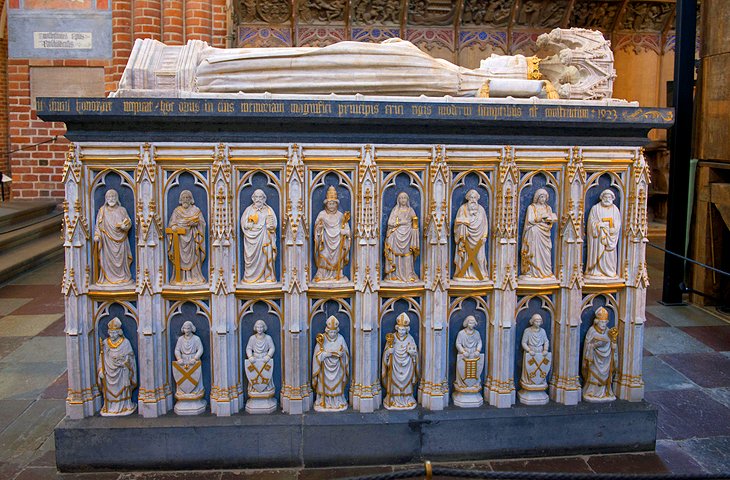 Dominating the town, Roskilde Cathedral has been named a UNESCO World Heritage Site both for its architecture and for the tombs of almost 40 kings and queens of Denmark that it holds. These go back to the Viking Kings, Harold Bluetooth (d. 985) and his son, Sweyn Forkbeard (d. 1014), "Conqueror of England," and include Danish monarchs, commencing with Margarethe I (d. 1412), who ruled over three Nordic countries (Denmark, Norway, and Sweden). Frederik IX, who died in 1972, was initially buried in a chapel, but in 1985, his coffin was transferred to a mausoleum specially built outside the cathedral.
In the 1170s, construction of the present brick church began. It took more than a century to build and is one of Northern Europe's earliest examples of Gothic architecture.
Over the years, various additions have been made. The central nave is bordered by the North Tower Chapel, originally known as St. Siegfried's, and by the South Tower Chapel, which was endowed by Queen Margrethe I as the Bethlehem Chapel. You'll find the tombs in various funerary chapels, entered from the aisles.
The cathedral is one of Denmark's great national monuments and the central feature of the town.
Address: Domkirkepladsen, Roskilde
Official site: www.roskildedomkirke.dk
Accommodation: Where to Stay in Roskilde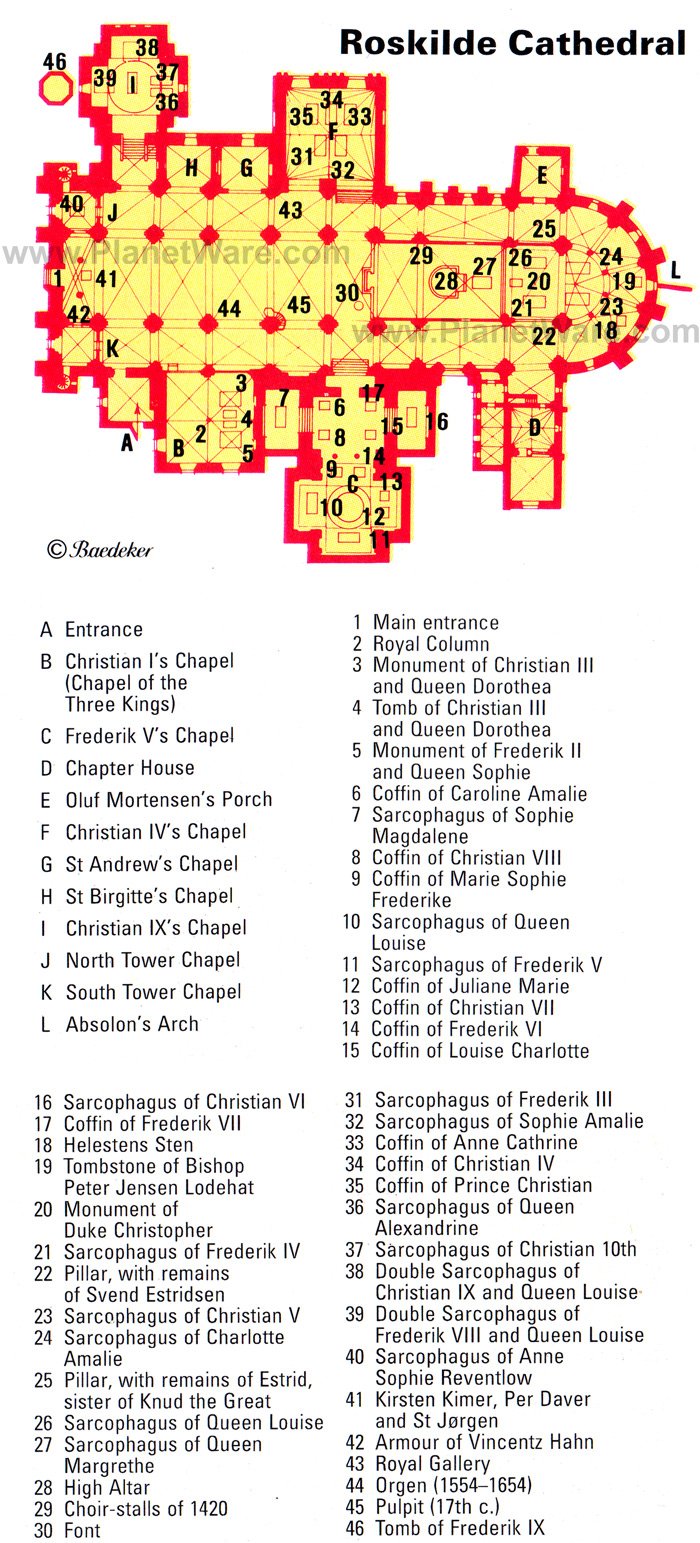 3. Roskilde Rock Festival and RAGNAROCK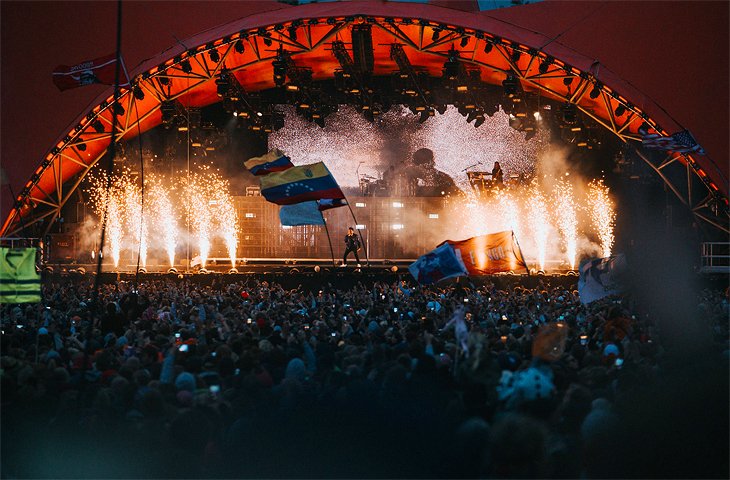 For those who like music, this annual festival, first staged in 1971, is one of the biggest and oldest rock events in northern Europe. It runs from late June to early July, with various folk, rock, and pop concerts; film and video screenings; theatrical performances; and fringe events.
Around 80,000 rock fans converge here for the festival every year. About 180 bands represent all rock styles, and most of the major artists have played here, including the Rolling Stones, Bruce Springsteen, Eminem, Prince, Paul McCartney, and Stevie Wonder. In addition to the music, there are pop-up fashion boutiques and shops, as well as food trucks.
If popular music is your thing, near the festival grounds you can't miss the distinctive cantilevered building housing RAGNAROCK, a museum of pop, rock, and youth culture. With its interactive exhibits, you will not only hear but see and feel the story of music from the rock 'n' roll of the 1950s through 1980s pop, and into today's European music scene.
Roskilde hosts many other smaller festivals throughout the summer, including opera and outdoor classical concerts.
Address: Havsteensvej 11, Roskilde
Official site: www.roskilde-festival.dk
4. Roskilde Museum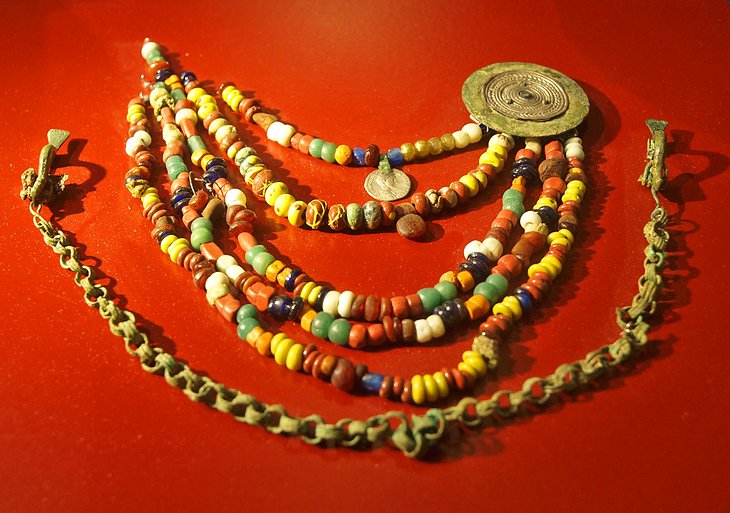 Exhibits in the Roskilde Museum are housed in two of the city's oldest historic houses - "Sukkerhuset" and "Liebes Gård." Although the focus is on history, the exhibits are 21st-century, with engaging interactive features that tell the story of Roskilde through archaeological finds and a widely varied collection of other artifacts. The picture it gives of local life goes well beyond Roskilde's own history, encompassing the Viking era, Denmark's political past and present, even the role of religion in Danish life. The museum's Caféen Freunde is a good place for a lunch break.
Address: Sankt Ols Stræde 3, Roskilde
5. Royal Mansion (Yellow Palace)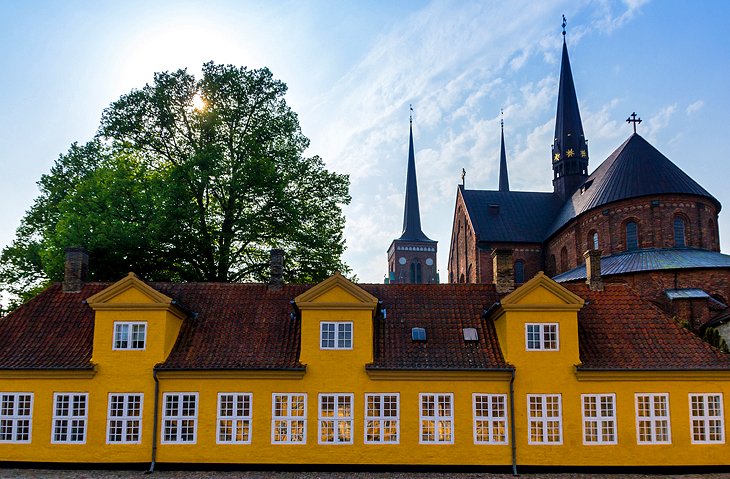 Roskilde Palace is a four-wing yellow Baroque building built between 1733 and 1736 on the site where the vicarage once stood. The Absalon Arch connects Roskilde Cathedral with the palace, which was once the residence of the Royal Family when they were passing through or attending royal funerals.
From 1835 to 1848 the Assembly of the Estates of the Realm of the Islands, who formulated a new Danish Constitution, was housed here. Today, there are two exhibitions on-site: the Museum of Contemporary Art and the Palace Wing. The garden is used for exhibitions, concerts, and other cultural events.
Address: Stændertorvet 3, Roskilde
6. Ledreborg Palace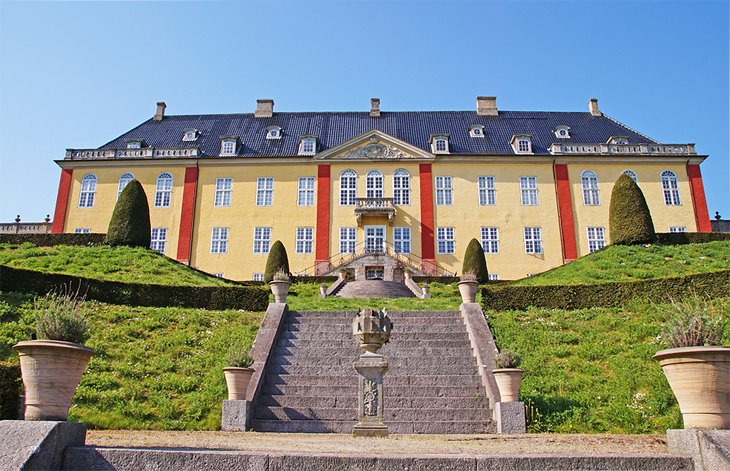 An easy 20-minute drive from Roskilde brings you to magical Ledreborg Palace set amid superb Baroque gardens and grounds. Since 1739, the palace has been the home of the Holstein-Ledreborg family and is a fine example of 18th-century Scandinavian architecture and landscaping.
Within the palace, you can admire an impressive collection of paintings and furniture. The second floor has changed little since it was first created about 250 years ago. The old dungeon is particularly interesting, and be sure to stroll through the lovely grounds.
Address: Ledreborg Alle, Lejre
Official site: www.ledreborg-slot.dk
7. Roskilde Havn and Fjord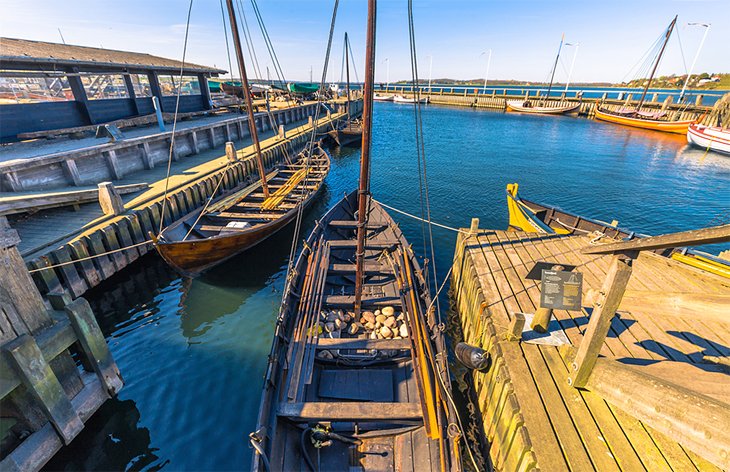 Roskilde was a trade center in the Viking era, when nearly all transportation and commerce was by boat, so its position on the fjord was important, as was its central location.
Today, the harbor is still a busy place, with pleasure and fishing boats coming and going, a lovely place to stroll, ride a bicycle, or sit on a bench and enjoy the views—especially at sunset. There is a signposted route along the harbor, and you'll find cafés and restaurants, as well as ice-cream kiosks.
To see more of the harbor and fjord, take a lunch, tea-time, or dinner cruise on board the historic M/S Sagafjord, with a beautiful teak mahogany and brass interior. Or step back in time by sailing an authentic replica Viking ship or a traditional Nordic boat, which are the descendants of the Vikings' ships. The Viking Ship Museum is the only place in the world where you can sail in an authentic Viking ship.
8. Roskilde Town Hall and St. Laurence Tower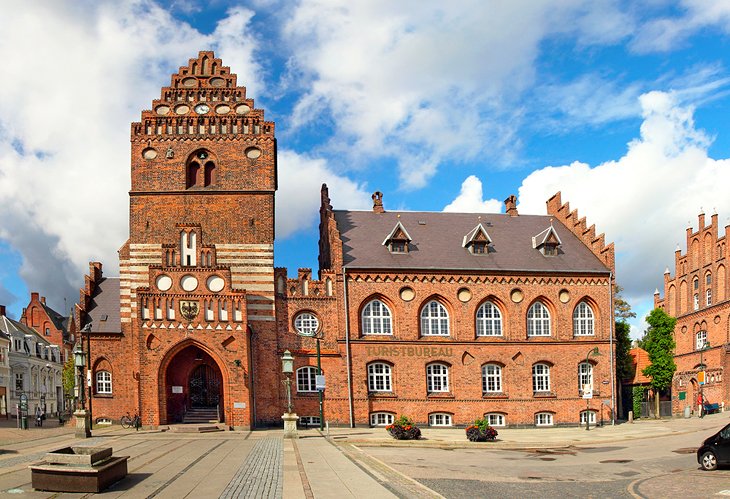 In the marketplace (Stændertorvet), south of the Roskilde Royal Mansion and in the center of town, you'll find the Town Hall, built around 1880 in Gothic style and designed by the architect O. Momme. The imposing tower dates to around 1500 and was originally the tower of St. Laurence's Church, the ruins of which can still be visited in a small museum beneath the market square.
Only one section of the church, dating from about 1125, has been excavated. To appreciate the full size of the original church, look for its outline in the pavement of the Stændertorvet. When the church was torn down during the Reformation, the tower was saved as a town watch tower, later being incorporated into the town hall.
Address: Stændertorvet 1, Roskilde
9. The Land of Legends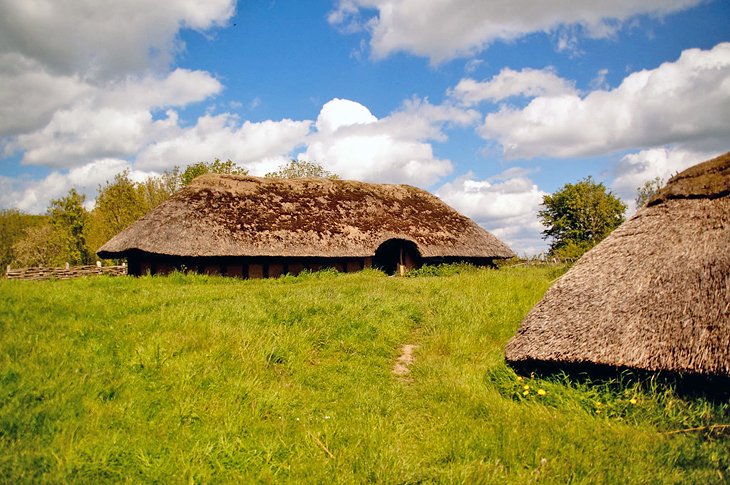 The official name of the 106-acre archaeological open-air museum is the Centre for Historical-Archaeological Research and Communication, and it's located a few kilometers west of Roskilde.
The whole family will find a lot of things to do here as they tour replica homes and farms from the Iron, Stone, and Viking eras. Kids will enjoy trying on clothing typical of the times and learning everyday skills, such as carrying buckets on a shoulder yoke or grinding wheat into flour. All ages can learn how to spin wool into yarns and watch skilled artisans work in wood, leather, and metal.
Address: Slangealleen 2, Lejre
Official site: https://www.sagnlandet.dk/en
Where to Stay in Roskilde for Sightseeing
In the Center of Roskilde: Located amid restaurants and shopping streets, the historic Zleep Hotel

Roskilde

is in a 300-year-old building that's a heritage landmark. Moderately priced rooms are simply furnished, some with vintage accents, and all have flat-screen TVs. Some rooms have been upgraded and have "Juliet" balconies. The hotel is less than a five-minute walk from the cathedral.
Outside the Center: Still within walking distance of the top tourist attractions, Scandic Roskilde

Park

overlooks a park near the RAGNAROCK museum and festival grounds. It is very easy to reach from the motorway and has free parking. Breakfast is included in the rates. Also highly rated and moderately priced is Comwell

Roskilde

, which has family-sized rooms and offers complimentary breakfast and parking. The hotel has a fitness center, room service, and currency exchange.
More Related Articles on PlanetWare.com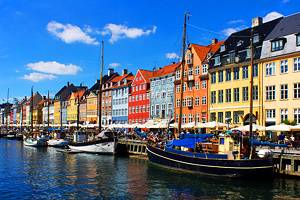 Where to Go from Roskilde: The attractions of Copenhagen, the capital of Denmark, are only 30 minutes away, and you'll find our page on where to stay in Copenhagen helpful in finding the best areas and hotels. The port city of Helsingor, with its famous Kronberg Castle, is less than an hour from the capital.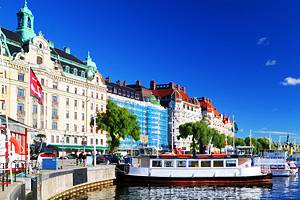 Where to Go in Scandinavia: The iconic Oresund Bridge links Denmark to neighboring Sweden, and from the bridge, it's only a short drive to the lively city of Malmo. You'll want to visit the capital, and you'll find plenty of things to do with the help of our handy guide to the top attractions in Stockholm. Ferries connect Stockholm to Helsinki, from where you can explore Finland.