Top Tourist Attractions in Roskilde & Easy Day Trips
Steeped in regal and Viking history, Roskilde should be high on your agenda of places to visit in Denmark. Drive about half an hour from Copenhagen, and you'll arrive at the burial place of Kings, Queens, and Knights at the magnificent UNESCO World Heritage Site, Roskilde Cathedral. More than a thousand years ago, the Vikings founded Roskilde as a trading hub. During medieval days, it was the seat of Kings and Bishops and one of Northern Europe's most important cities. Today, with a population of around 50,000, it ranks as the tenth largest city in Denmark. Roskilde is also a center of learning and is renowned for its accomplished craftsmen and bustling commerce.
Cathedral of St. Luke
Dominating the town and an easy 30-minute train ride from Copenhagen, the Cathedral of St. Luke, or Roskilde Cathedral, contains the tombs of almost 40 kings and queens of Denmark. This unique and beautiful medieval building with a truly fascinating history was made a UNESCO World Heritage Site in 1995. The Viking Kings, Harold Bluetooth (d. 985) and his son, Sweyn Forkbeard (d. 1014), "Conqueror of England," are also buried here. In the 1170s, construction of the present brick church began. It took more than a century to build and is one of Northern Europe's earliest examples of Gothic architecture. Over the years, various additions have been made. The cathedral is one of Denmark's great national monuments and the central feature of the town.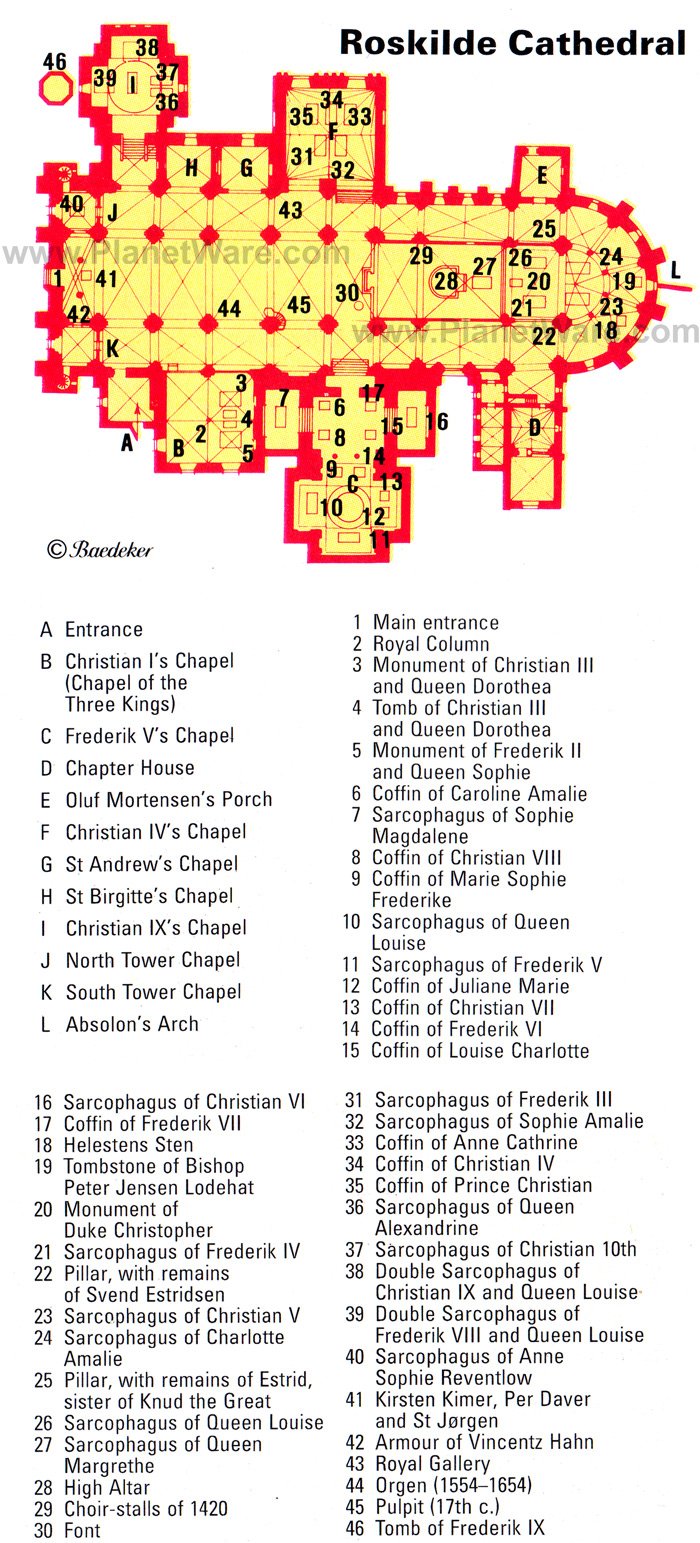 Roskilde Cathedral Map
Want to use this map on your web site?
Copy and Paste the code below:
Royal Tombs in the Roskilde Cathedral
Throughout the cathedral, you'll see magnificent tombs of royalty, nobility, and Knights of old. The interior, with lateral aisles flanking the nave, is divided mainly into the central aisle, choir, and upper choir. The central nave is bordered by the North Tower Chapel, originally known as St. Siegfried's, and by the South Tower Chapel, which was endowed by Queen Margrethe I as the Bethlehem Chapel. In the various funerary chapels, which are built on to the cathedral and entered from the aisles, are the tombs of nearly 40 Danish monarchs, commencing with Margarethe I (d. 1412), who ruled over three Nordic countries (Denmark, Norway, and Sweden) to Frederik IX, who died in 1972 and was initially buried in a chapel. In 1985, his coffin was transferred to a mausoleum specially built outside the cathedral.
Editor's Pick

Viking Ship Museum

The Viking Ship Museum (Vikingeskibsmuseet) on the banks of Roskilde fjord is one of Denmark's top tourist attractions. Dedicated to the history of seafaring and boat building in ancient and medieval times, it first opened in 1969 and has been attracting huge numbers of visitors ever since. The museum consists of eight buildings with very different functions, including a shipyard where reconstructions of Viking ships and traditional Nordic wooden boats are built, and an activity center where adults and children can try out their skills at Viking Age crafts. This truly is a must-see for all those fascinated by Viking times and culture. Guided tours are available in peak season.

Address: Vindeboder 12, Roskilde
Royal Mansion (Yellow Palace)
Roskilde Palace is a four-wing yellow Baroque building built between 1733 and 1736 on the site where the vicarage once stood. The Absalon Arch connects Roskilde Cathedral with the palace, which was once the residence of the Royal Family when they were passing through or attending royal funerals. From 1835 to 1848 the Assembly of the Estates of the Realm of the Islands, who formulated a new Danish Constitution, was housed here. Today, there are two exhibitions on-site: the Museum of Contemporary Art and the Palace Wing. The garden is used for exhibitions, concerts, and other cultural events.
Address: Stændertorvet 3, Roskilde
Roskilde Town Hall
In the marketplace (Stændertorvet), south of the Roskilde Royal Mansion and in the center of town, you'll find the Town Hall, built around 1880 in Gothic style and designed by the architect O. Momme. The imposing tower dates back to around 1500 and was originally the tower of St. Laurence's Church, the ruins of which can still be visited in the basement.
Address: Stændertorvet 1, Roskilde
Roskilde Rock Festival
For those who like music, this annual festival, first staged in 1971, is one of the biggest and oldest rock events in northern Europe. It runs from late June to early July, with various folk, rock, and pop concerts; film and video screenings; theatrical performances; and fringe events. Around 80,000 rock fans converge here for the festival every year. If rock and pop isn't your thing, the town hosts many other mini-festivals throughout the summer months including opera and outdoor classical concerts.
Address: Havsteensvej 11, Roskilde
Ledreborg Palace
An easy 20-minute drive from Roskilde brings you to magical Ledreborg Palace set amid superb Baroque gardens and grounds. Since 1739, the palace has been the abode of the Holstein-Ledreborg family and is a fine example of 18th-century Scandinavian architecture and landscaping. Within the palace, you can admire an impressive collection of paintings and furniture. The second floor has changed little since it was first created about 250 years ago. The old dungeon is a particular treat and a stroll through the grounds is utterly enchanting. Guided tours for groups must be pre-booked.
Address: Ledreborg Alle, Lejre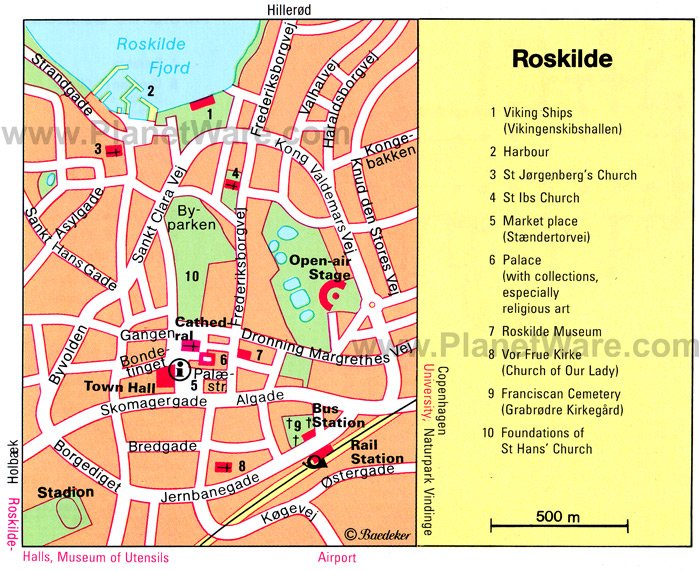 Roskilde Map - Attractions
Want to use this map on your web site?
Copy and Paste the code below:
More on Denmark