9 Top-Rated Things to Do in the Hardangerfjord Area
We may earn a commission from affiliate links ()
The 178-kilometer-long Hardangerfjord, the country's second largest fjord, should be on any Norway visitor's travel itinerary. This spectacular body of water extends all the way from Herøysund to Odda on the Sørfjord and is one of the country's most popular destinations due to its mild climate and stunning scenery.
In fact, one of the world's first tour operators, Thomas Cook, offered cruises from London to the Hardangerfjord as far back as 1875. Like modern day travelers, these Victorian-era visitors were enthralled by the region's spectacular nature, glaciers, and grand waterfalls.
The Vikings, too, liked the Hardangerfjord. For them the area around the fjord was settled for its fertile soil and pleasant, mild weather, while the fjord itself offered excellent fishing. The region is also famous for its bountiful fruit trees. Especially important are cherries and apples, and one of the most popular things to do is visit during spring for the brilliant displays of color when the blossoms arrive each May.
For ideas on these and other great places to visit, see our list of the top attractions in Hardangerfjord.
Note: Some businesses may be temporarily closed due to recent global health and safety issues.
1. Visit the Town of Voss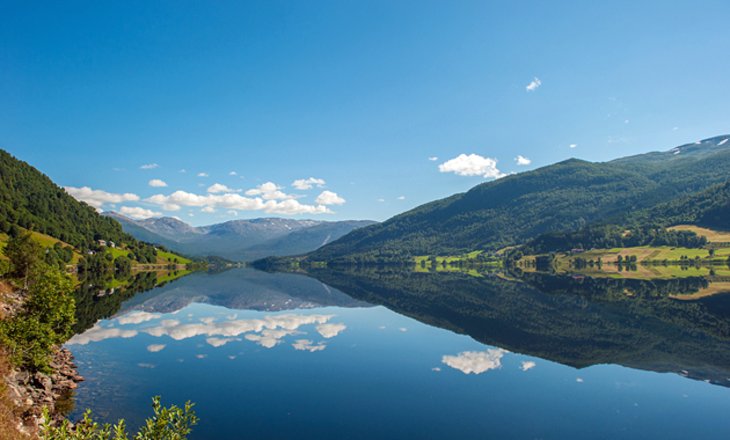 Voss, the Hardanderfjord's largest town, is situated at the east end of the Vangsvatn and is an important junction on the Bergen Railroad. As such, it's also a popular year-round tourist destination, attracting hikers in the warmer months and skiers in winter.
Top attractions in Voss include the Voss Church (1270); the 11th-century St. Olav's Cross; and Norway's oldest secular wooden building, Finneloftet, built in 1270 (now a museum). Also worth a visit is the Voss Folk Museum, consisting of 16 original wooden buildings dating back to the 1600s.
Visiting in spring? One of the top things to do in Voss at this time of year is catch a concert (or two) at the Vossa Jazz festival, a world-class musical event held here each March.
2. Go Behind the Scenes at Steinsdalsfossen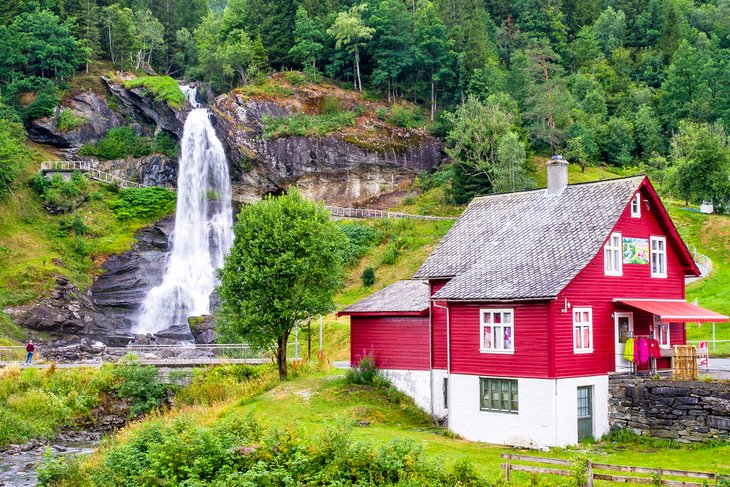 A 1.5-hour drive west of Voss along one of the most picturesque driving routes you're likely to encounter in Europe is the spectacular Steinsdalsfossen waterfalls. This lovely route follows the shoreline of the Hardangerfjord, and so offers plenty of breathtaking scenery to photograph.
The falls themselves are no less lovely. They are located in the tiny village after which they're named (Steine) and are one of Norway's most visited waterfalls. A visit to Steinsdalsfossen does involve a short climb, but it's certainly well worth the effort. Although seeing these 46-meter-tall cascading waters from their base is thrilling enough, the highlight of a visit is having the chance to walk behind the falls.
It's a stunning vista that's not to be missed – just be sure to pause long enough on the wooden walkway (without getting wet!) to catch your breath and soak in the experience. Best time to visit? The waterfalls are at their fullest in springtime during the snow melt.
3. See Sørfjorden and Hike through Folgefonna National Park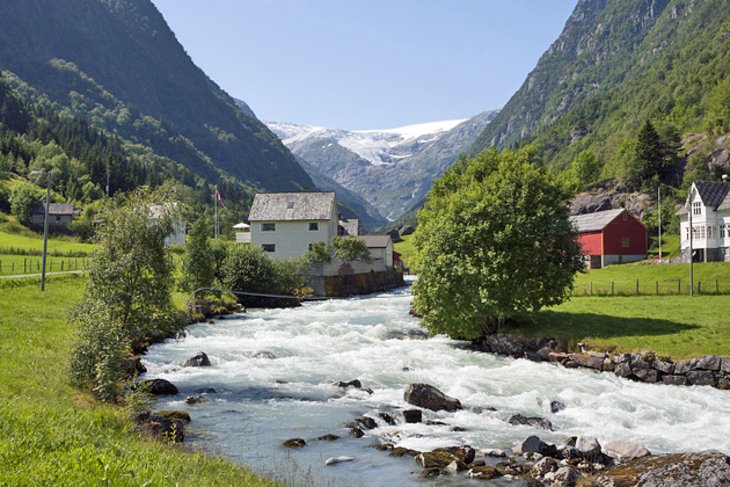 At 38 kilometers in length, the Sørfjorden is the longest of the Hardangerfjord's many arms, and stretches from Kinsarvik in the north to the industrial town of Odda. Odda makes a great spot from which to explore Folgefonna National Park (Folgefonna nasjonalpark).
The park is an especially popular place to hike to for its massive glacier. Some 33 kilometers long and 16 kilometers wide in places, Folgefonna's glacier is, in fact, the third largest glacier in Norway and is certainly impressive when you get up close. Be sure to also visit the park's visitor center, which provides a great source of information related to the area.
Top things to do in Kinsarvik include hiking the spectacular trail that leads to the lovely Husedalen Valley, famous for its four wonderful waterfalls and magnificent scenery. For those with the ability (and no fear of heights), Odda also serves as the starting point for day-long hikes to the spectacular Trolltunga, a scenic cliff that juts out dramatically over lake Ringedalsvatnet far below.
Address: Skålafjæro 17, 5470 Rosendal, Norway
Official site: www.folgefonna.info/en
4. Get Back to Nature at Hardangervidda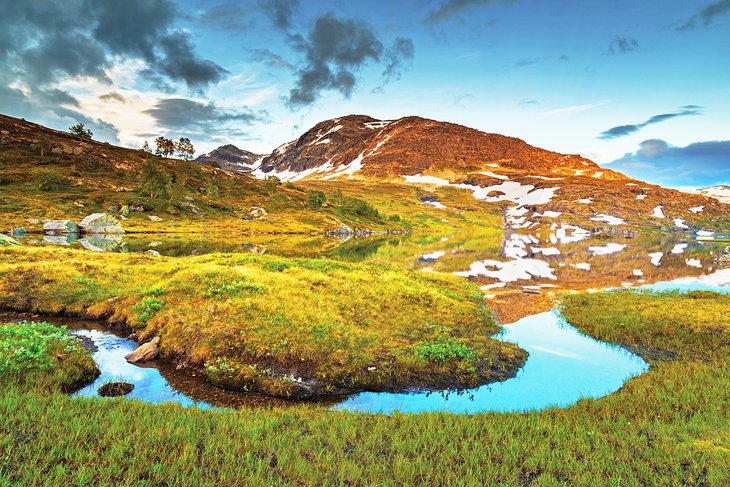 Easy to get to from Kinsarvik, Hardangervidda is one of Europe's largest mountain plateaus and is where Explorers Roald Amundsen and Fridtjof Nansen planned and prepared their many expeditions. Today, the plateau is one of Norway's most popular spots for outdoor activities and camping, attracting hikers, mountain bikers, and Nordic skiers to its well-marked trails, as well as fishing fans keen to try their luck in the numerous lakes and streams.
To the northwest of the plateau lies another of Norway's big glaciers, Hardangerjøkulen. Finally, the Hardangervidda Nature Centre (Norsk Natursenter Hardanger) is a great place to learn more about the area's alpine flora and fauna.
Address: Sæbøtunet 11, 5784 Øvre Eidfjord, Norway
Official site: https://norsknatursenter.no/en/
5. Take a Trip to Kjeåsen Mountain Farm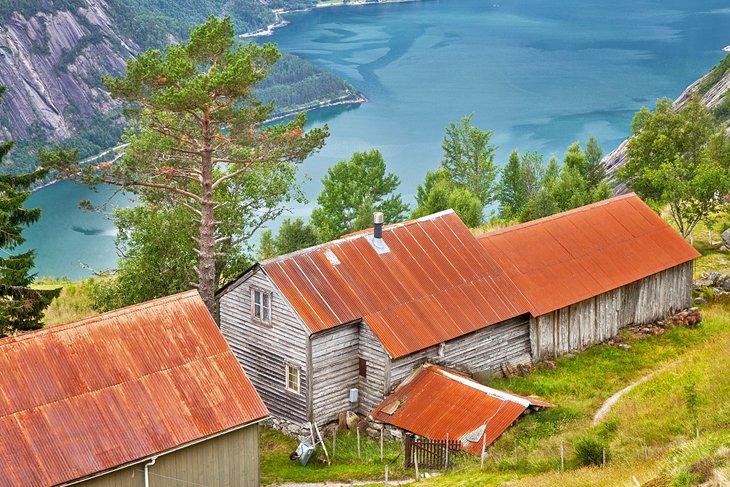 Perched somewhat precariously on the side of a mountain, the amazing Kjeåsen farmstead is so remote, it can only be reached by a 1.5-mile-long tunnel, which just so happens to be its only means of communication with the rest of the world.
Although located up a very steep and narrow road, the incredible views of the Hardanger peaks and the Simadalsfjord make the hour-long drive (or a longer but fun hike) well worthwhile.
Address: Kjeåsen, 5783 Eidfjord, Norway
6. Follow the Hardangerfjord Route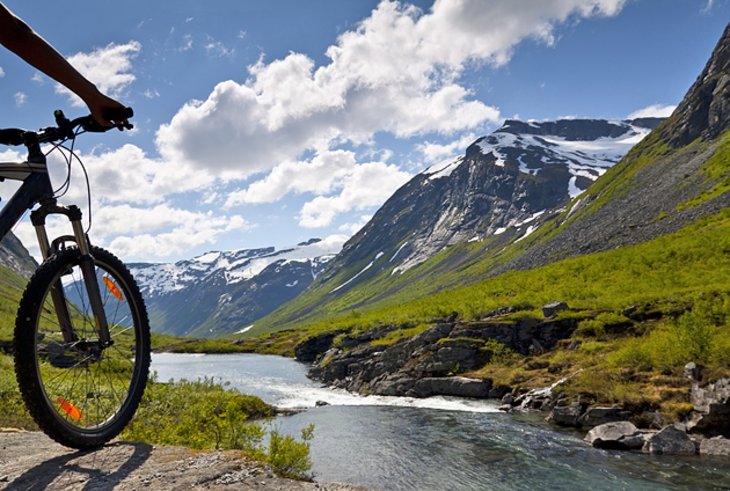 The Hardangerfjord Route is a superb hiking and biking trail that passes through some of Norway's most beautiful scenery. Top things to do along the way include visiting some of the Hardangerfjord's most spectacular waterfalls, glaciers, and mountains.
Accessible at a variety of points along the fjord-many offering great food stops, accommodations, and tourist attractions-the trail's highest point reaches an impressive 350 meters. A shorter, less challenging route includes the excellent walking and cycling path from Skjervet to Voss.
7. Ski Bavallen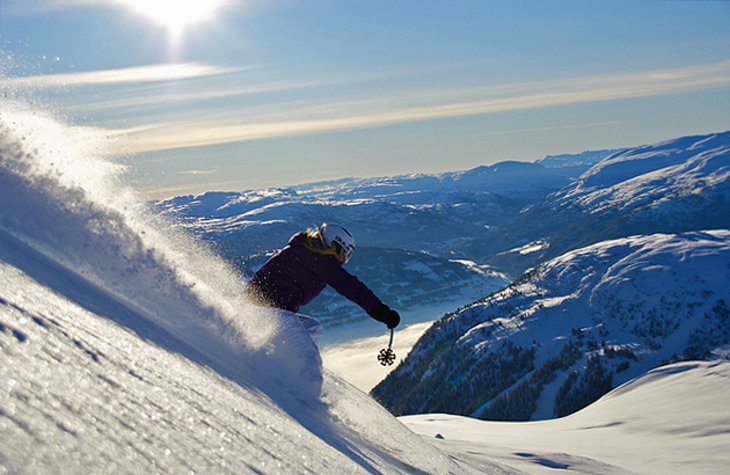 Skiers and snowboarders are well served in the Hardangerfjord area, particularly around Voss. The region is one of the top ski destinations in Norway, its 49 kilometers of well-prepped slopes as popular with families as they are with die-hards.
The easiest hills to access are at Voss Resort in Bavallen, about four kilometers from Voss town center. The other ski destination is Voss Fjellandsby Myrkdalen in Myrkdalen, 24 kilometers away. Dedicated ski buses service both locations.
Address: Vangsgata 20, 5700 Voss, Norway
8. Take the High Road to Ulvik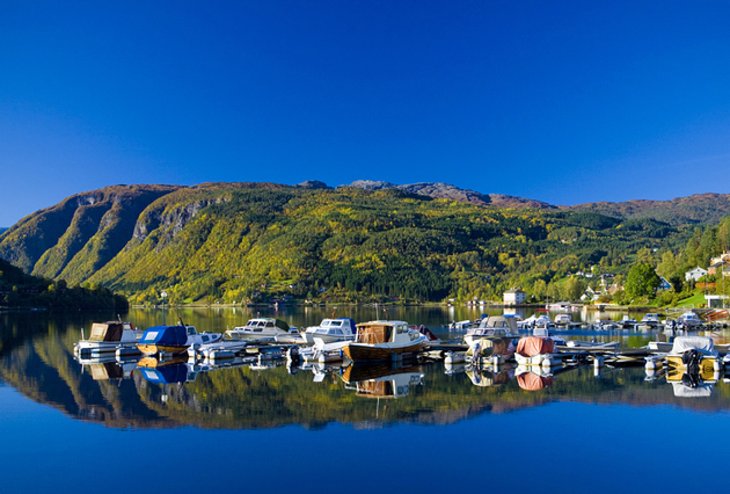 The village of Ulvik, one of the most popular holiday resorts in the Hardanger and a frequent stopover for cruise ships, was once the home of Norway's best-known lyric poet, Olav Hauge, who was greatly influenced by the natural beauty around him. Getting to Ulvik is half the fun, as it's accessed by a particularly attractive stretch of road that descends from a height of 350 meters down to the village.
In addition to its quaint church (built in 1858), the village is home to the State College of Horticulture, where Kristofer Sjursen Hjeltnes planted Norway's first potatoes in 1765. The nearby train station at Finse on the Bergen railway line is notable as the highest station on the Norwegian rail network.
9. Visit the Agatunet Museum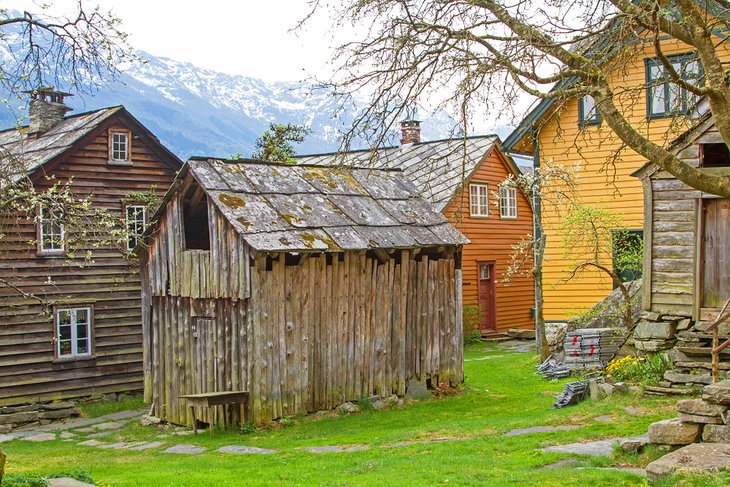 One of Norway's only remaining original farm hamlets, Agatunet Museum in Aga consists of 30 listed buildings, some of them dating all the way back to the Middle Ages. A must-see is the courthouse built by Sigurd Brynjulvson Aga, a medieval knight who lived around the year 1250, as well as the displays of traditional costumes.
Guided tours are available, and the on-site café serving traditionally baked breads is well worth a visit, as is its well-stocked herb garden.
Address: Aga, 5776 Nå, Norway
Tips and Tours: How to Make the Most of Your Visit to the Hardangerfjord Area
From Bergen to Hardangerfjord: A great way to see this beautiful area of Norway is via a fun Hardangerfjord Day Trip from

Bergen

. This epic 12-hour adventure starts in Bergen and includes transportation by bus, rail, and boat, taking in some of the most spectacular scenery in the country. Along the way, you'll see the very best of Hardangerfjord, from tall mountains to deep fjords and rivers, as well as typical Norwegian farms and villages. A highlight is seeing the spectacular Vøringsfossen, the country's tallest waterfall.
More Related Articles on PlanetWare.com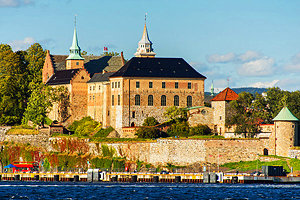 Port Cities: While Bergen is a popular starting point for excursions into the Hardangerfjord area, it's certainly worth exploring as much of this beautiful city as possible, especially around the city's historic harbor area. Another port city to explore is Stavanger, itself an easy day trip from Bergen and a popular hiking destination thanks to the nearby Preikestolen, or Preacher's Pulpit, a dramatic rock formation that can be climbed. The most spectacular port area, though, is in Oslo, the country's capital, where you'll find waterfront attractions like pleasant promenades, parks, and the city's opera house.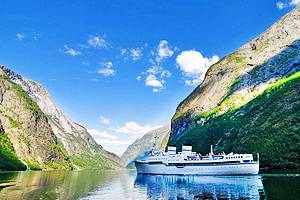 Other Fun Fjords: Norway has no shortage of incredible scenery surrounding its majestic fjords. Some of the best can also be seen in the Sognefjord region, home to the country's biggest fjord, which is flanked by steep cliffs reaching heights of up to 1,676 meters.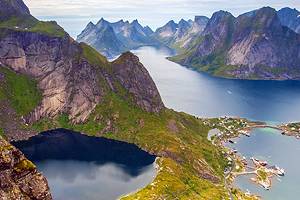 Norway Vacation Ideas: Norway's dramatic Lofoten Islands are gaining in popularity as a top tourist destination, not least of all for their spectacular mountains, which have proven popular for hikers and outdoors enthusiasts. Two other northern destinations worth exploring include Tromsø, the country's northernmost city and a great place to enjoy a display of the northern lights; and Trondheim, the country's oldest city and home to many historical buildings, including its attractive cathedral.