12 Best Spring Break Destinations
We may earn a commission from affiliate links ()
Every year, college students and families look forward to the chance to take a week or two to warm up and recharge after months of cold and studying. Top places to visit for spring break are those with plenty of entertainment and nightlife, while the best destinations for families have a range of attractions that appeal to both parents and kids.
Whether you're looking for somewhere to go in the United States or something a little more exotic, check out our list of the best spring break destinations.
Note: Some businesses may be temporarily closed due to recent global health and safety issues.
1. Miami Beach, Florida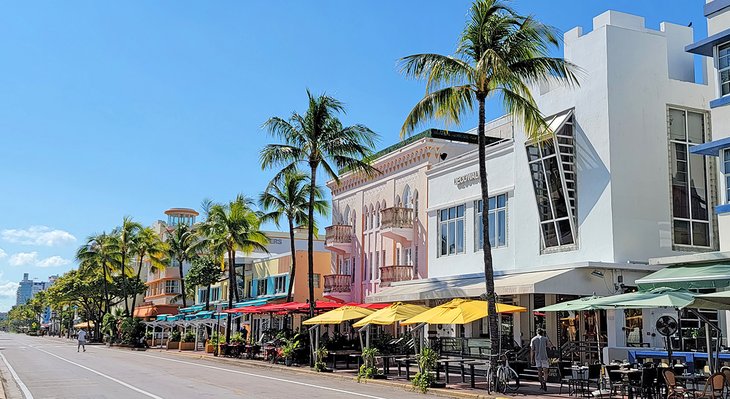 Miami Beach has everything you need for the most epic spring break, with plenty of ways to relax, have fun, and feel a million miles away from everyday life. This barrier island is actually home to many beaches and a variety of neighborhoods that offer a range of distinct atmospheres and things to do.
The Art Deco Historic District and adjacent South Beach are the most popular areas for younger tourists, full of beachfront restaurants and entertainment, as well as plenty of shopping and great nightlife. South Beach is one of Florida's best beaches, often crowded but always the best spot for people-watching.
Near South Beach is Jungle Island, a wildlife sanctuary that features a wide variety of exotic animals within realistic habitats, as well as numerous species that live among the exotic plants in the tropical gardens.
Just across the water in downtown Miami is Bayside Marketplace, a top shopping destination that has specialty boutiques, live entertainment, and dozens of dining options. More adventurous tourists can plan a day trip to Everglades National Park walking the trails and taking an airboat tour.
Accommodation: Where to Stay in Miami Beach: Best Areas & Hotels
2. Cancún, Mexico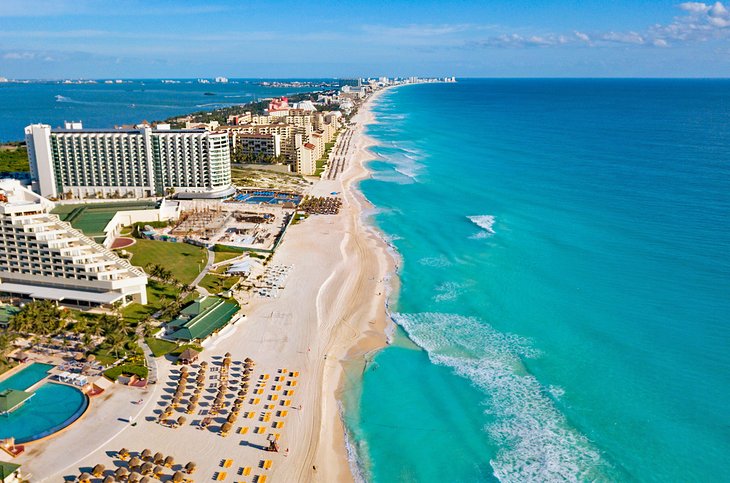 The tourist area of Cancún occupies a narrow barrier island off the northeastern coast of Mexico's Yucatán Peninsula. This 21-kilometer-long stretch of white sand is a beach-lover's paradise, and nearly all of Cancún's hotels and resorts are located right on the beach. Cancún is one of the most fun places to visit for spring break because the entire hotel district was designed to be a tourist's paradise.
In addition to the seemingly endless beach, with sunbathing, volleyball, and swimming, there are well-equipped rental shops with gear for all water sports. Fishing and sightseeing tour operators provide the chance to see the open waters of the Caribbean, and the beach is lined with restaurants, entertainment, and plenty of things to do when the sun goes down.
Those who want to venture beyond the sand and sun will find coral reefs waiting to be explored, and tourists who want to check out the ocean's depths without diving in can see its wonders up close at the Interactive Aquarium Cancún. For a truly unique experience, the Cancún Underwater Museum has a unique exhibit of submerged sculptures that are viewed via a glass-bottomed boat tour.
Even in this resort-packed tourist area, visitors will find some fascinating historic Mayan sites, including the El Rey Maya Archaeological Site (El Rey Zona Arqueológica) and the San Miguelito Archaeological Site (Zona Arqueológica de San Miguelito), which is also home to the Cancún Mayan Museum (Museo Maya de Cancún).
Those who want to venture inland can also take a day trip to explore the incredible Mayan Ruins of Chichén Itzá.
Accommodation: Where to Stay in Cancun: Best Areas & Hotels
3. Cabo San Lucas, Mexico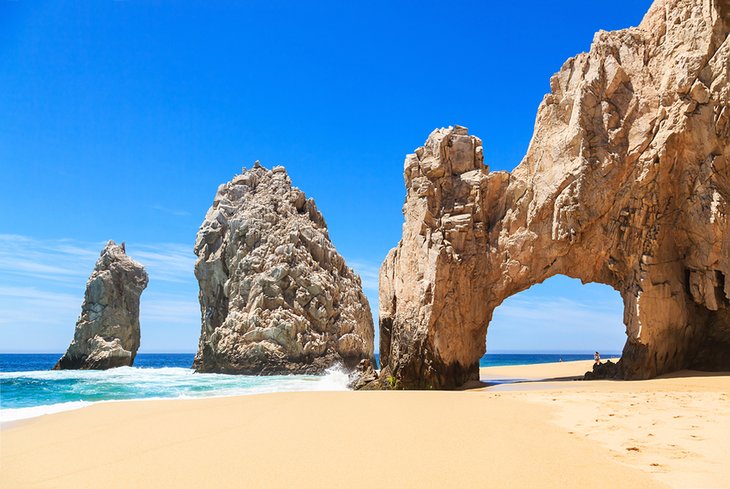 The resort town of Cabo San Lucas, most commonly just referred to as "Cabo," is located at the southern tip of Baja California Sur in Mexico. This is such a popular spring break destination that its name instantly inspires images of poolside fun in the sun and long days of relaxation. Add the jagged tan rock formations that line the beach between endless blue skies and ocean, and it's the picture-perfect escape of dreams.
The beaches of Cabo are great for walking, but not usually safe for swimming, so local resorts are all equipped with large pools for cooling off.
The Grand Solmar at Rancho San Lucas has multiple pools, including a unique saltwater lagoon that is big enough for kayaking and paddleboarding. This excellent resort offers all-inclusive packages and a full suite of amenities as well as multiple dining options. The resort's on-site spa offers a full range of services, and for the ultimate relaxation experience, guests can get a massage right on the beach in a private cabana.
Accommodation: Top-Rated Beach Resorts in Cabo San Lucas
4. Panama City Beach, Florida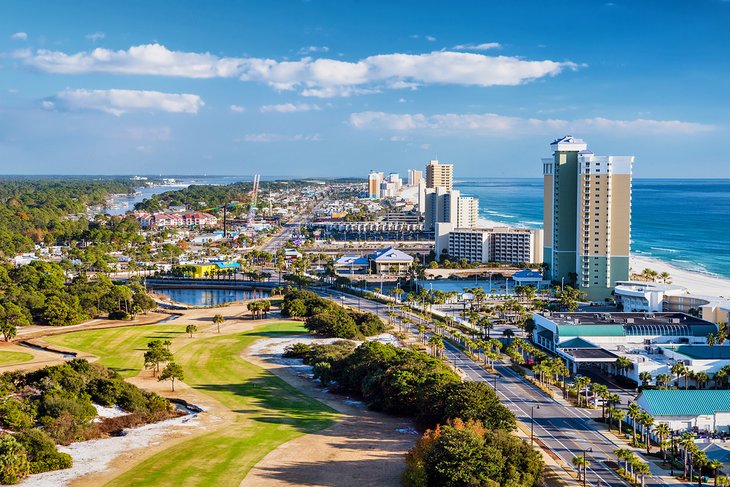 Spring break signals the unofficial season opening for the resort area of Panama City Beach, and March is the perfect time to enjoy the sun and waves along the Gulf of Mexico. In addition to swimming and sunbathing at one of Florida's top beaches, visitors can find everything they need for a good time at the adjacent Pier Park, including an amusement park with classic rides, an IMAX theater, and a variety of shopping and dining choices.
A popular nearby family attraction is Gulf World Marine Park, home to penguins, dolphins, and other ocean animals. Dolphin lovers can also find several tour operators who offer boat cruises for dolphin-watching and sightseeing, as well as snorkeling excursions around the nearby Shell Island.
Other Panama City Beach attractions that are popular with all ages include ZooWorld; multiple water parks; and Ripley's Believe It or Not!, a good option for rainy days.
Accommodation: Top-Rated Resorts in Panama City Beach
5. Puerto Vallarta, Mexico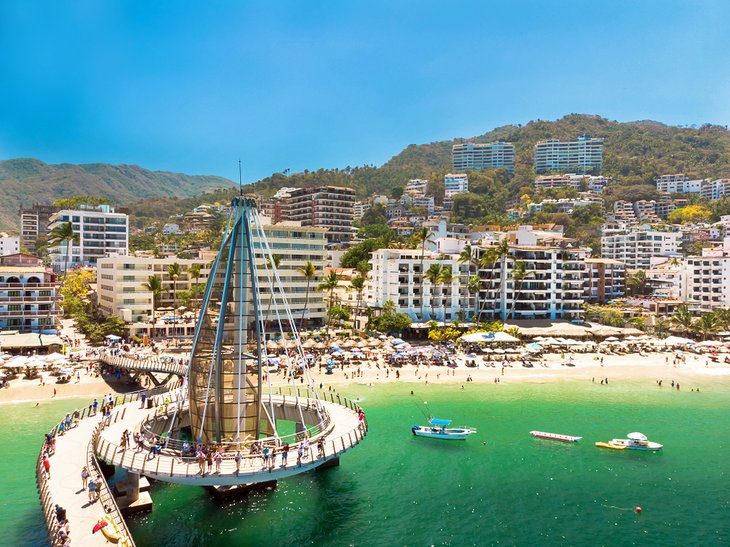 One of the most popular beach destinations in Mexico, Puerto Vallarta has become a top spring break destination for college students and families. Those looking for adventure will find plenty of opportunities for action on the water, including jet skiing, parasailing, surfing, and snorkeling.
There is also plenty of room for relaxation, with sprawling sandy beaches and cool ocean breezes in abundance, as well as plenty of space around the pool. Beyond the oceanfront resorts, the city of Puerto Vallarta has plenty of things to see and do, including a good selection of small artisan shops and restaurants.
The Sunset Plaza Beach Resort & Spa provides a spring break experience like no other, an all-inclusive luxury resort with ocean-view rooms. This modern resort features an adults-only pool among the many on site, as well as butler service, on-site dining, and a full-service spa.
6. South Padre Island, Texas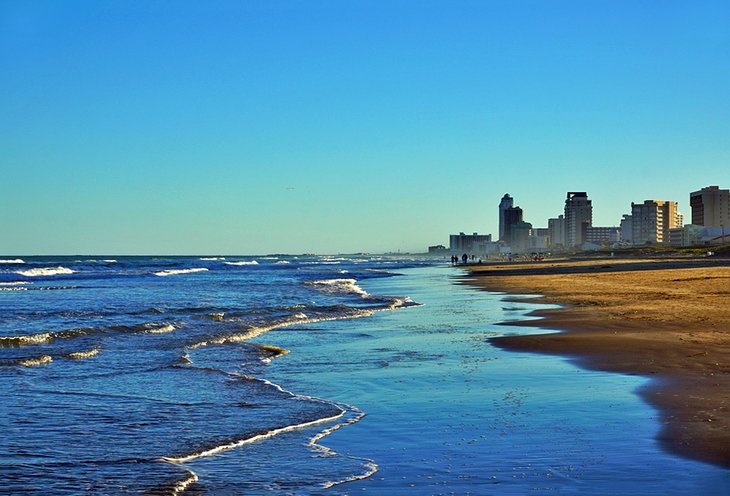 Located in the Gulf of Mexico off the southern shore of Texas near Corpus Christi, South Padre Island is one of the best places to visit for a relaxing spring break getaway.
The island's 34 miles of beautiful sandy beaches offer water sports like swimming, surfing, kiteboarding, and jet skiing, as well as plenty of things to do on land, like sunbathing, kite flying, and even sandcastle building lessons. Boat tours are also a popular activity, ranging from low-key dolphin-spotting cruises to full-day diving trips.
The atmosphere here is more laid-back than the stereotypical spring break scene, but there is plenty of fun to be had thanks to an abundance of live music and entertainment, excellent beachfront dining, and a variety of cultural activities including art classes.
Those interested in local wildlife can head to the Malaquite Visitor Center at the Padre Island National Seashore to learn more about the newly re-introduced sea turtles, as well as the 350 species of migratory birds that visit on their semi-annual flights.
7. Montego Bay, Jamaica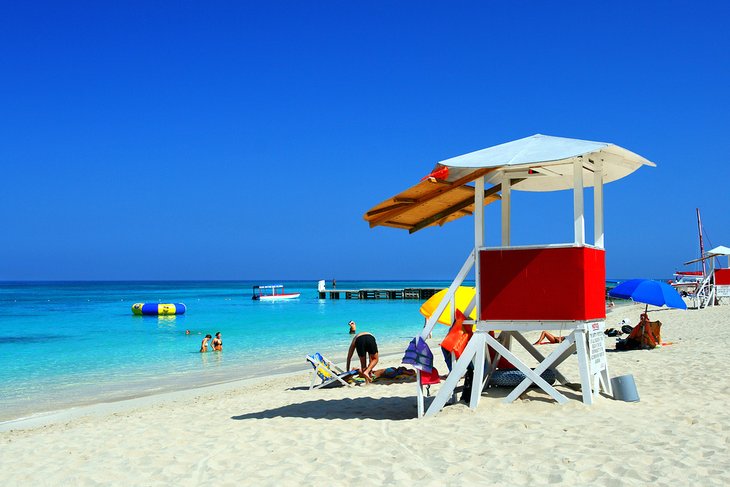 This top Caribbean resort destination is a favorite spring break destination because of its soft sand, warm water, and plethora of activities both on land and sea. The Montego Bay Marine Park and surrounding reefs are a great place for snorkeling and diving; sightseeing boat tours are a good way to see the rich greens of the tropical island.
Other popular things to do include rafting on the Martha Brae River, ziplining tours over the jungle canopy, and guided hiking trips.
Accommodation: Best Hotels in Montego Bay
8. Las Vegas, Nevada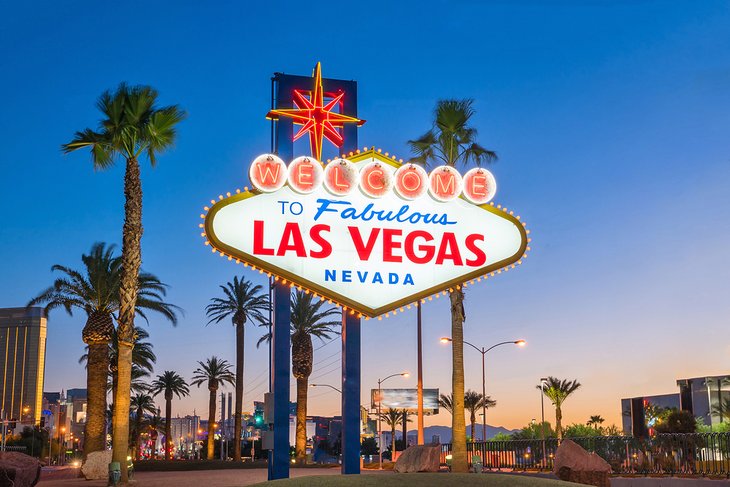 Spring break is the perfect time to visit this bigger-than-life city, early enough in the year to enjoy the outdoor warm weather without the stifling heat of summer.
The Strip, a 2.5-mile stretch of Las Vegas Boulevard, is where tourists will find most of the city's biggest attractions and most popular entertainment. The big hotels here are home to many of the iconic landmarks of Vegas, including the perpetually-erupting volcano at the Bellagio and the Eiffel Tower at the Paris Hotel.
Visitors who want to see the bright lights of The Strip from above should book an unforgettable helicopter sightseeing tour; helicopter tours of the nearby Grand Canyon also depart from Las Vegas.
Families might also enjoy a quick escape to nature on the hiking trails around Las Vegas. Some of these can be found right in the city or on the outskirts, others are just a short drive away and make great day trips.
Accommodation: Where to Stay in Las Vegas: Best Areas and Hotels
9. Daytona Beach, Florida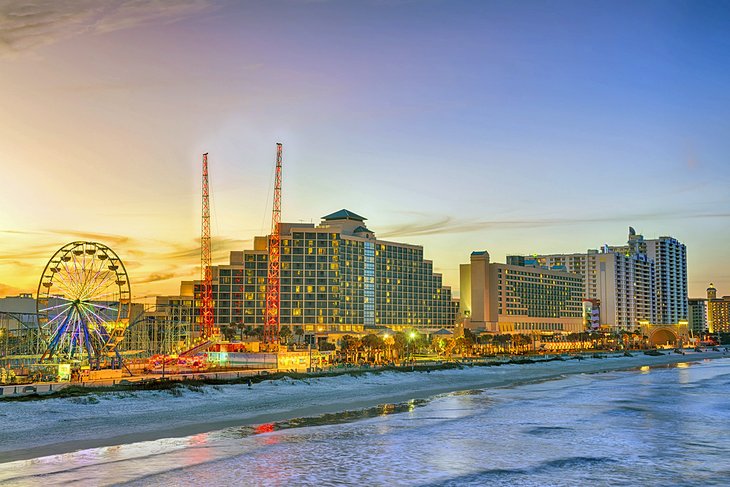 Daytona Beach is an ideal spring break destination with 23 miles of beach and a lively Boardwalk filled with restaurants, shops, amusements, and street performers.
There are 10 parks total along the sandy shore, offering everything from classic rides to a thrill-seeker's roller coaster.
The beach area closest to the main Boardwalk is also host to numerous festivals and events that keep the atmosphere exciting.
Nature-lovers will want to visit the nearby Marine Science Center, a facility dedicated to rehabilitating aquatic animals, as well as helping baby sea turtles hatch and begin their lives in the wild.
Accommodation: Best Hotels in Daytona Beach
10. Punta Cana, Dominican Republic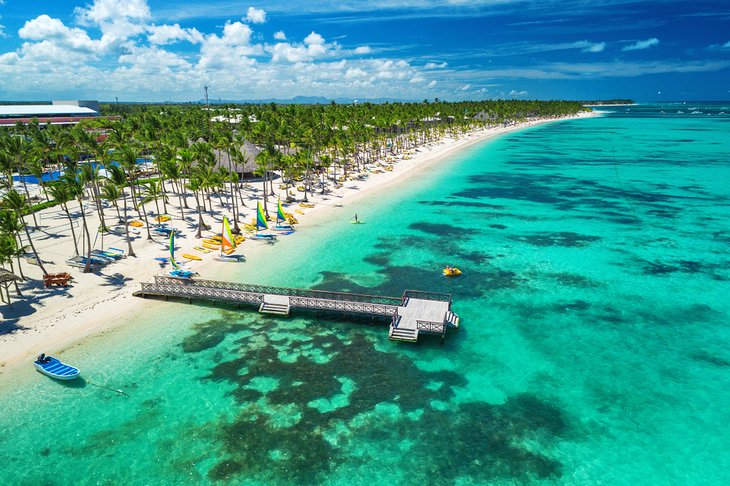 Occupying the easternmost point of the island, Punta Cana is best known for its all-inclusive resorts and picture-perfect beaches. There are miles of reef-protected white-sand beaches, where the Caribbean water is safe to swim in, and snorkeling is a popular activity.
The area has become the most popular destination in the Dominican Republic for parasailing, with numerous options for equipment rentals and lessons.
Bávaro Beach is the busiest and most popular beach, home to the majority of resort hotels. Most travelers prefer to spend their entire spring break on the beach, where there are plenty of restaurants and near-constant festivities and entertainment provided by the resorts and locals.
A top resort for groups, including families, is Club Med Punta Cana. In addition to all the top-notch amenities of a big resort, guests of any age can have a blast at the Cirque du Soleil Circus School. This unique on-site attraction gives lessons in everything from juggling to the art of the trapeze.
Accommodation: Top-Rated Family Resorts in the Dominican Republic
11. Nassau, The Bahamas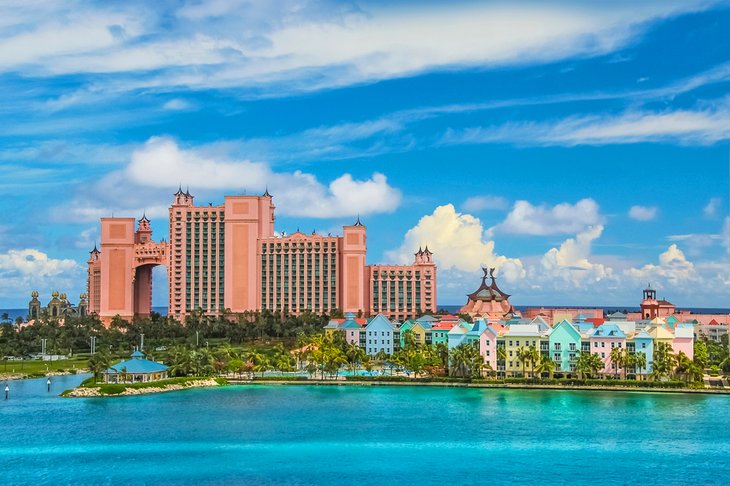 It's hard to pick just one of the 700 islands in the Bahamas, but Nassau on the island of New Providence is the best place for spring breakers looking for plenty of activity and excitement.
The hub of action is on Paradise Island, home to the biggest and best resorts, as well as great shopping and dining at Marina Village. For those who need a break from the bustle, the Versailles Gardens and French Cloister are open to the public, maintained by The Ocean Club, A Four Seasons Resort.
Another stunning Paradise Island attraction is Atlantis, a themed luxury resort complex that has gone to great lengths to bring a vision of this legendary city to life. In addition to themed décor throughout its numerous hotels, the complex is also home to an enormous marine habitat, a water park, and entertainment. Guests can also swim with the resident dolphins on-site.
Accommodation: Top-Rated Resorts in The Bahamas
12. San Juan, Puerto Rico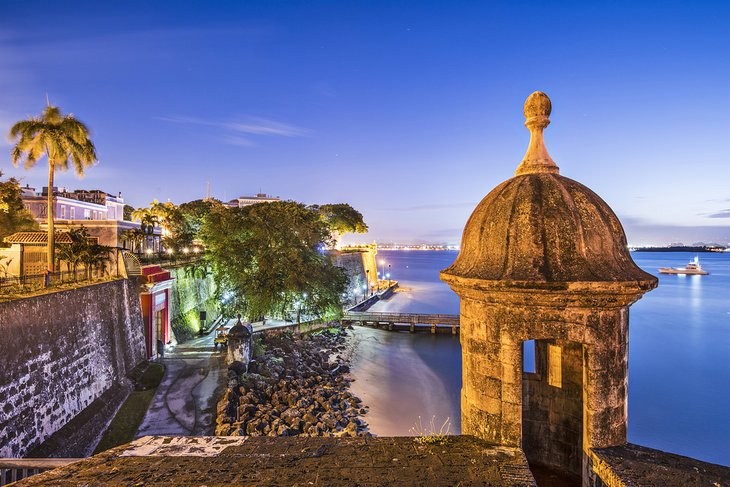 San Juan is a beautiful city with an astounding variety of things to do, providing spring breakers with Caribbean beaches and sunshine, as well as a rich culture and beautiful historic architecture. The capital city of Puerto Rico is also home to the Fuerte San Felipe del Morro and the Castillo de San Cristóbal, as well as Old San Juan, a UNESCO World Heritage Site.
The Condado district is San Juan's main beach resort area, home to white sand and plenty of space to spread out and enjoy the waves. For an over-the-top luxury spring break, the Condado Vanderbilt Hotel offers five-star amenities, including spa services, an ocean-view infinity pool, butler service, and on-site dining and entertainment.
Accommodation: Top-Rated Family Resorts in Puerto Rico