14 Top-Rated Tourist Attractions in Nassau
Author Karen Hastings lived in the Bahamas for several years and loved exploring Nassau during many visits. Author Shandley McMurray has been visiting Nassau since she was a kid, most recently in December 2022.
The city of Nassau is one of the most popular cruise ship ports in the Caribbean. Several cruise ships at a time can dock at Prince George Wharf, disgorging waves of tourists into the city to explore its many attractions and things to do — from botanical gardens and an adrenaline-pumping water park to private island day trips, dreamy beaches, and duty-free shopping.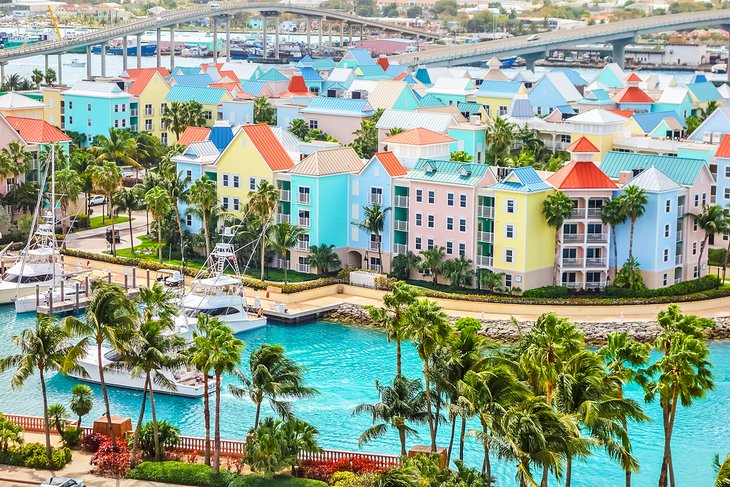 Despite the considerable development in recent times, you can still soak up some of the city's colonial charm. Spend some time sightseeing in Nassau to witness this old-world elegance in the city's candy-colored colonial buildings, old forts, and grand hotels.
For ideas on the best places to visit in this buzzing Caribbean port, check out our list of the top attractions and things to do in Nassau.
See also: Where to Stay in Nassau
1. Aquaventure Water Park at Atlantis, Paradise Island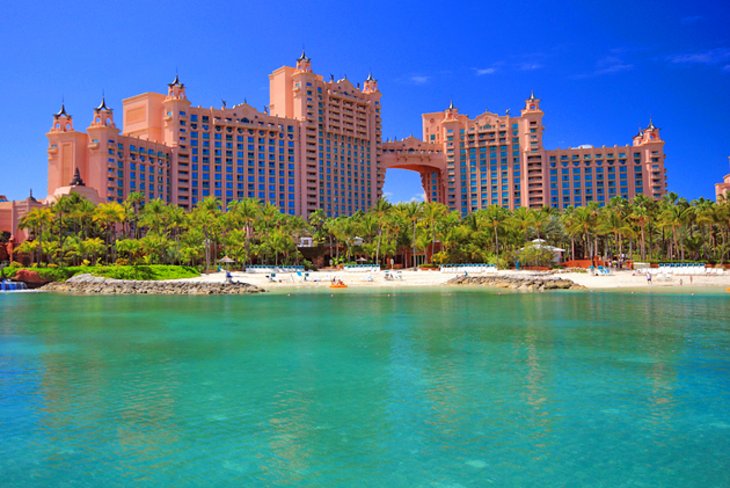 Atlantis, a luxury hotel, aquarium, water park, and entertainment complex is one of the top places to visit in The Bahamas. The Atlantis Resort designers have gone to great lengths to recreate this fantasy world. Decorations reflect real and mythical creatures: seahorses, helmeted domes, and giant bronze doors.
The marine habitat is one of the largest outdoor aquariums in the world. It specializes in native tropical species, and the tanks incorporate the ruins and sculptures of Atlantis.
Children and adults alike will love the Aquaventure water park. Highlights include the Leap of Faith, which plunges riders down an 18-meter drop through a tunnel submerged in a shark-filled lagoon, and the less adventurous can float around the park on a lazy river ride, over waves and rolling rapids. Spending a day here is one of the most popular things to do in The Bahamas.
Animal lovers can also swim with dolphins or join the Ultimate Trainer for a Day program at the resort's Dolphin Cay.
Atlantis is one of the best resorts in The Bahamas, and with its splashy attractions and colorful motifs, it rivals the top theme resorts in Las Vegas.
Address: 1 Casino Drive, Paradise Island
2. Cable Beach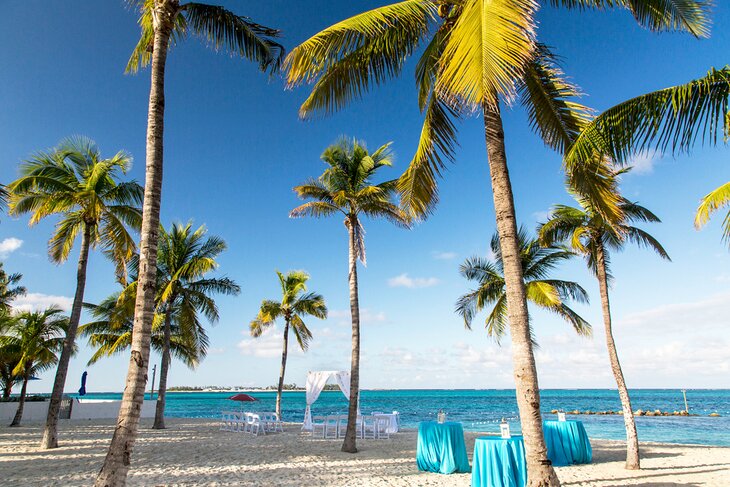 Despite all the resorts lining this iconic stretch of coastline, Cable Beach still manages to conjure the feel of a classic Caribbean beach. Soft white sand stretches to turquoise water, and sun loungers beckon along the shore, making this one of the best places to visit in Nassau. The clear waters are also safe for swimming.
Staying at one of the resorts here puts you steps from the freshly-raked sand — the Meliá Nassau Beach Hotel, Breezes, and Sandals Royal Bahamian all rim the sun-splashed shore. But even if you're not staying at one of the resorts, the beach is open to the public, so you can still spend a day here relaxing by the sea.
Read More: Best Beaches in the Caribbean
3. Blue Lagoon Island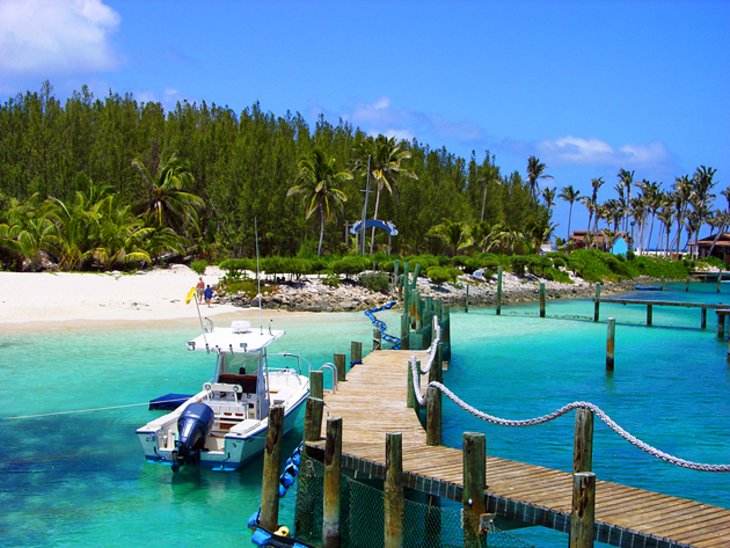 Also known as Salt Cay, Blue Lagoon Island is a popular place to visit in Nassau on a cruise. This fun-packed private island lies about five kilometers from Nassau and offers a range of water sports, as well as close-up encounters with dolphins and sea lions.
At the island's three-acre marine mammal facility, animal lovers can participate in the Dolphin Encounters program to learn all about these friendly mammals and interact with them under the careful watch of professional trainers.
Day-trippers can also tour the island on Segways, relax in hammocks along the palm-lined beach, and snorkel and swim in the lagoon. Children will love the water park, packed with inflatable toys.
4. Queen's Staircase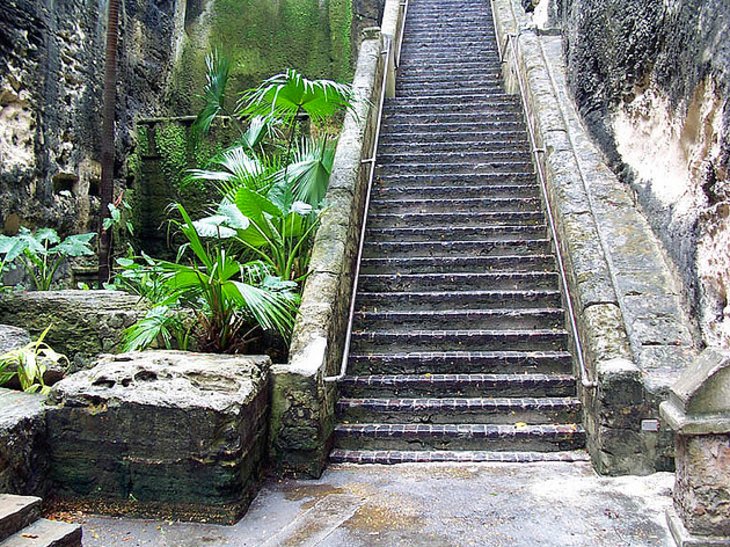 Cut by slaves into solid limestone in the late 18th century, the 66 steps known as the Queen's Staircase gave troops protected access to Fort Fincastle. More than a century later, the staircase was named to honor Queen Victoria and her role in abolishing slavery in The Bahamas.
Today, visitors can appreciate this amazing feat of construction as they climb the steep staircase, now flanked by a cooling cascade and tropical foliage.
The stairs lead to Fort Fincastle, the highest point on the island. Built by Lord Dunmore in 1793, the fort is shaped like the bow of a boat and affords panoramic views of Nassau and the ocean beyond.
Address: Elizabeth Ave, Nassau
5. Ardastra Gardens & Wildlife Conservation Centre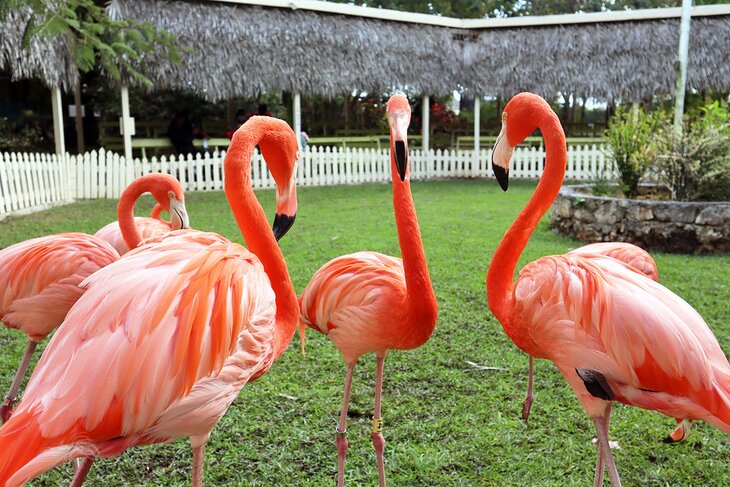 Best known as the home of the marching flamingos, the Ardastra Gardens & Wildlife Conservation Centre is set on four acres of tropical gardens. The flamingos entertain visitors by marching in formation to commands.
A fun spot to bring the whole family, this zoo specializes in the conservation of Caribbean species, including the endangered Bahama parrot and several species of iguanas.
Children love the petting zoo and hand-feeding the friendly rainbow lorikeets. This is a great thing to do in Nassau with kids if you want a break from the beach.
Address: Chippingham Road, Nassau
6. Clifton Heritage National Park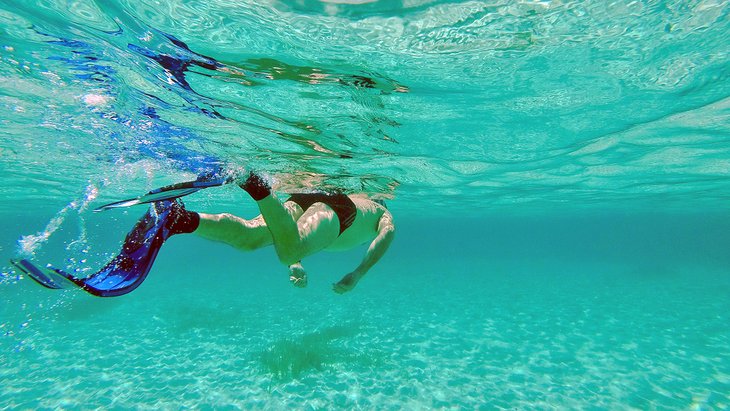 Clifton Heritage National Park offers a little something for everyone: history, culture, natural beauty — and tranquility.
Take a guided tour along the trails and soak up some history. Learn about the Lucayans, the Loyalists, and the Africans — three important cultures that make The Bahamas such a fascinating destination — and explore the remnants of villages, plantations, and slave quarters. You'll even find a medicinal garden here.
Wander the winding trails through different tropical ecosystems, from coastal wetlands and rocky cliffs to dunes, coral reefs, and an inviting slice of beach. Along the way, keep a look out for wading birds, seabirds, and songbirds.
Better still, don your snorkel gear and get out in the water. You can follow an underwater snorkel trail, admire the coral reef sculpture garden, and even see sunken film wrecks — the park was the setting for Jaws and other films.
How to Visit: Clifton Heritage National Park sits on the western tip of New Providence Island, about a 25-minute drive from Nassau. Many visitors book a guided tour here, but you can also visit on your own. Note, though, that there is an entry fee and a separate fee for snorkeling — bring your own snorkel gear if you want to save money renting it.
7. Cabbage Beach, Paradise Island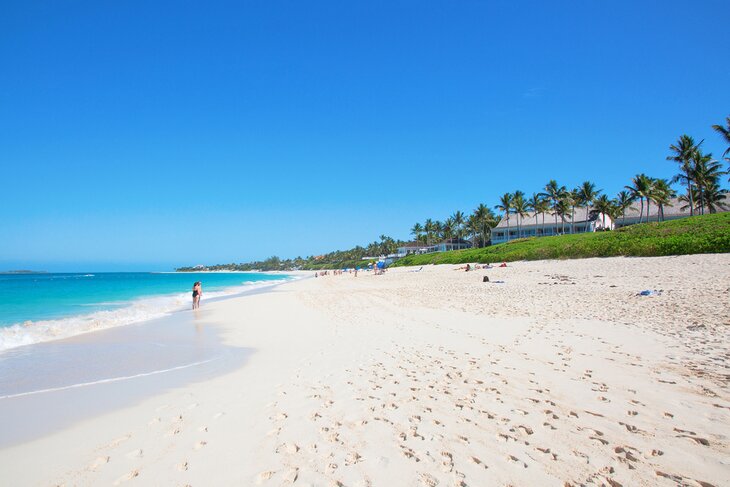 If you're hoping to sit back, relax, and soak up the rays on a pristine beach, you'll love Cabbage Beach. The most popular beach on Paradise Island, this soft, white gem is an ideal place to visit for families looking to build sandcastles and bury each other in the sand.
That said, the surf can get quite rough, so you'll want to pay extra close attention if you're traveling with little ones. While playing in the sand is a great thing to do with the family, this isn't the most kid-friendly beach for swimming.
You can rent beach chairs or umbrellas on-site, but be prepared to pay a hefty sum for their use. This seems to be par for the course on Nassau, though, so the high prices for rentals at Cabbage Beach are not much different than other area beaches.
Some vendors can be bargained down, and you should take a look at their gear before you use it. Some tourists have been scammed into less-than-stellar equipment (i.e. umbrellas filled with holes). Better yet, if you can bring your own gear, you'll have a stress-free, cheap visit to the beach.
Insider's tip: The closer you get to Atlantis, the nicer the beach. The beach vendors can be quite pushy, and not all are honest, so beware. Also, there are no bathrooms on-site.
8. Pirates of Nassau Museum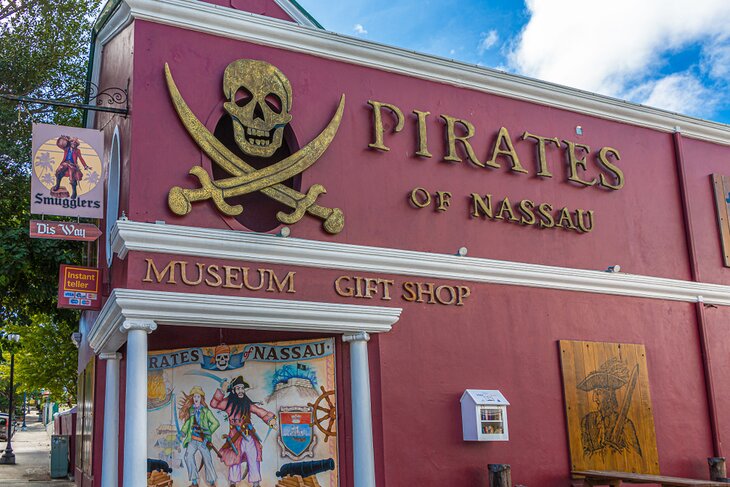 Though a little light on historical exhibits, Pirates of Nassau Museum is a wonderful way for children to learn more about Nassau's seafaring days.
Visitors to the museum can explore a replica of the pirate ship Revenge and the shanty town of Nassau, see pirate paraphernalia, and interact with theatrical pirate hosts. Exhibits also cover the infamous Blackbeard and women pirates.
This is a great thing to do for a couple of hours with the whole family, especially on a rainy day.
Address: King and George Streets, Nassau
9. Marina Village, Paradise Island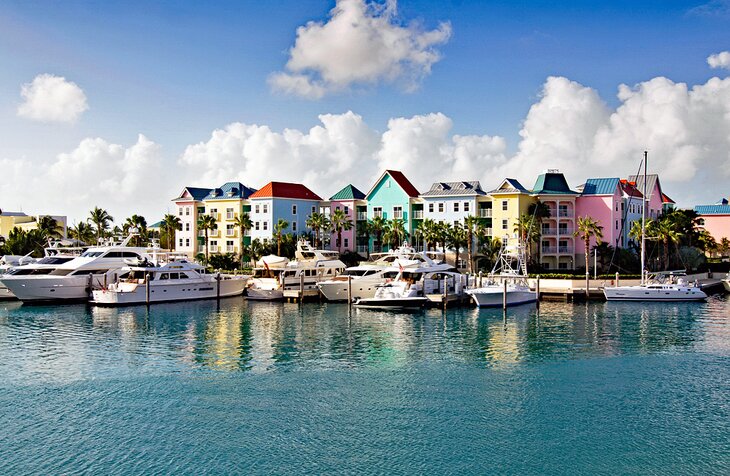 Those hoping to practice a little retail therapy while on a Bahamian vacation should schedule time to explore Marina Village on Paradise Island. Colorful buildings welcome shoppers to examine the wares behind their pretty, pastel façades. Conveniently located, the village lies a mere three-minute walk from Atlantis.
Here, you'll find everything from beach wear to jewelry to touristy kitsch. And once you've worked up an appetite from all that shopping, you can sit down to enjoy a meal at one of the many Marina Village Restaurants. Whether you're hoping to enjoy a laid-back, family-style Italian meal or tasty Bahamian fare at the upscale Café Martinique, your taste buds will be thrilled. Don't forget to leave room for ice cream!
When you aren't shopping or eating, be sure to enjoy the endless fun and entertainment on offer. Junkanoo parades, live music, and shows of all kinds are performed throughout the year. Then, make time to ogle the luxury yachts parked at the surrounding docks.
Insider's Tip: If you're a fan of hand-made gifts, visit Art Walk at Marina Village. It runs from 12 to 7pm on the second and fourth Saturday of every month.
10. Nassau Straw Market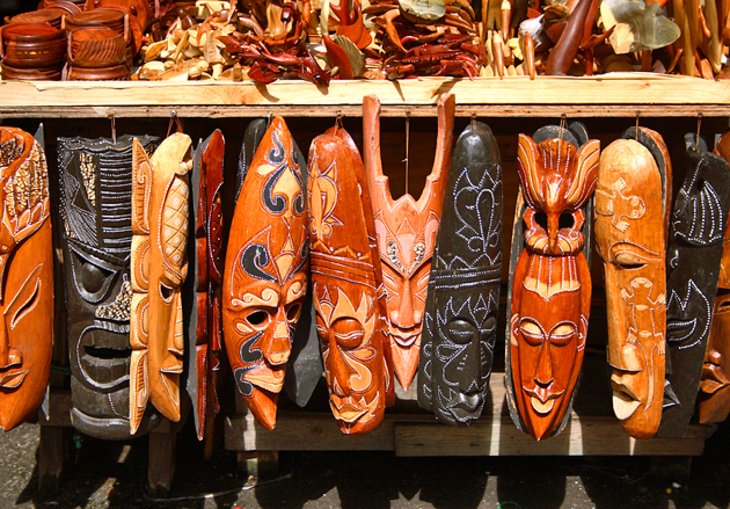 After the decline of the sponging industry in the mid 1940s, Bahamian women began braiding and weaving the leaves of palm trees and sisal plants into baskets and fishing traps as a way to boost their income. Today, this tradition continues at the Straw Market in Nassau.
Looking for some Bahamian souvenirs? You can buy woven items such as hats, mats, and baskets, as well as fine wooden carvings, colorful fabrics, and many other souvenirs. The historic market building was destroyed by fire in September 2001, but the market continues and has become a downtown institution.
Address: Downtown Bay Street, Nassau
11. National Art Gallery of The Bahamas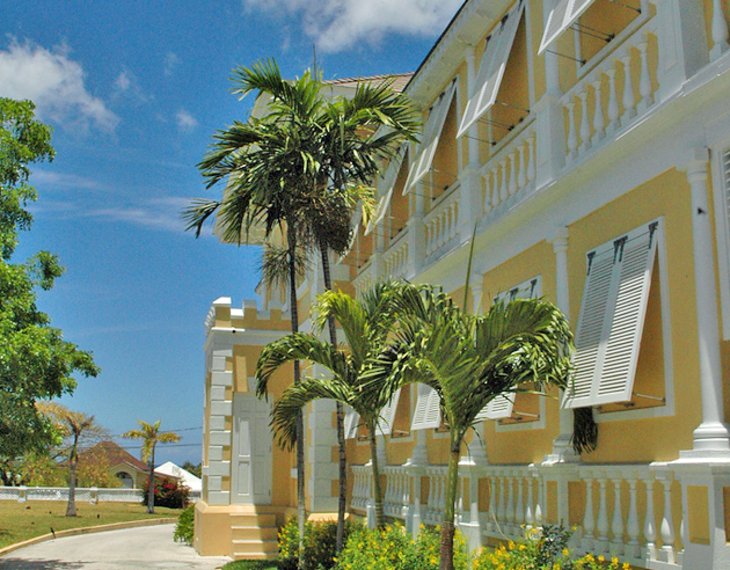 Housed in the lovingly restored Villa Doyle, a large historic Neoclassical mansion, the National Art Gallery of The Bahamas is the most important art institution in the country.
The oldest section, looking toward the harbor to the north, was built in the 1860s by William Henry Doyle, Chief Justice of The Bahamas. The southern wing was added in the 1920s by Sir Walter K. Moore.
The impressive collection includes paintings, sculpture, ceramics, photography, and textiles from Bahamian artists, spanning the early 20th century to the present day.
Address: Villa Doyle, West and West Hill Street, Nassau
12. Government House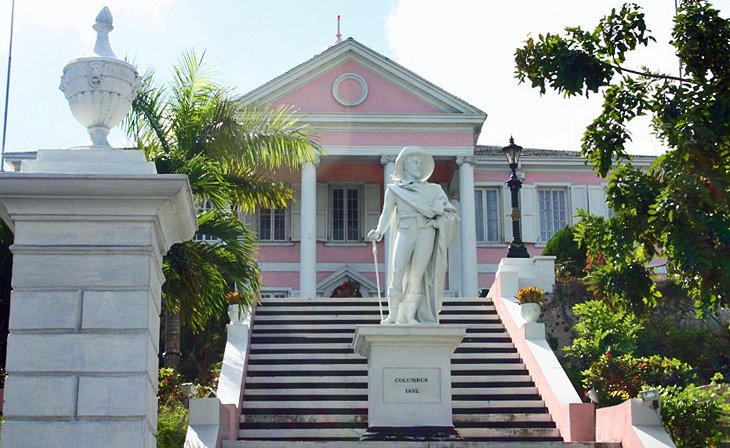 Built in 1801 and renovated after the 1929 hurricane, this magnificent conch-pink mansion on top of Mount Fitzwilliam is the official residence of the Governor General of The Bahamas.
Constructed of stone and supported by ionic columns, the structure is an impressive example of Georgian Colonial architecture. A statue of Christopher Columbus, dating from 1830, stands at the entrance. Today, visitors can stroll around the complex and enjoy beautiful views of the bay and Paradise Island.
Children will enjoy watching the changing of the guard ceremony, which takes place at Government House twice a month.
Address: Duke Street, Nassau
13. Versailles Gardens, Paradise Island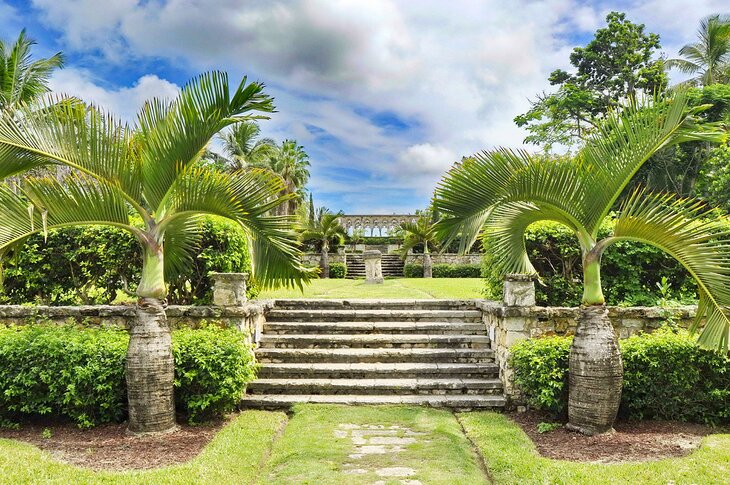 If money is no object, book a stay at the swanky The Ocean Club, A Four Seasons Resort, Bahamas. Home to luxurious rooms, five-star amenities, and delectable restaurants, this lavish resort is a treat for all your senses. This high-end luxury resort's most famous attribute is the beautiful Versailles Gardens.
An immaculately landscaped, terraced pathway peppered with statues and stone steps leads visitors to the gardens' highlight: a collection of marble cloisters boasting a stunning view of the harbor. In the center stands a marble statue named Silence, which was created in 1928 by artist, Sir William Reid Dick.
Lower down on the path, towards the resort's main pool, you'll find the equally impressive statue, The Reclining Venus, which was sculpted by Italian master Lorenzo Bartolini in 1829.
Insider's Tip: Look closely in the garden's pools and fountains and you might spy a turtle or two. Also, enjoy a meal while on the property, so you can park easily at the resort.
14. Downtown and Bay Street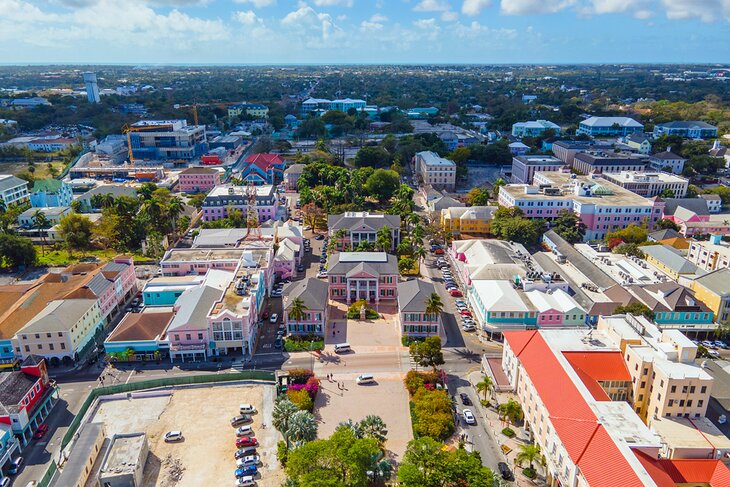 A bustling mix of shops and restaurants, Downtown and Bay Street offers some of the best duty-free shopping in Nassau. Cruise ship passengers flock here to buy jewelry, T-shirts, and perfume, and you'll also find the straw market and Pirates of Nassau Museum along this strip.
Street hawkers can be aggressive here, especially when a wave of tourists alights from a cruise ship, but a firm "no thank you" usually does the trick.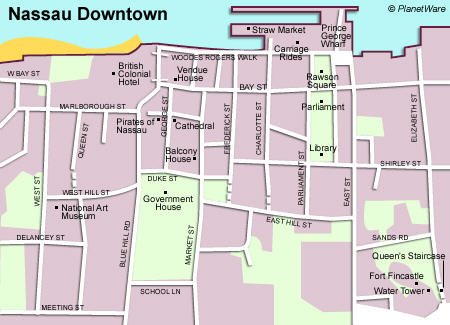 Tips and Tours: How to Make the Most of Your Visit to Nassau
Sailing & Snorkeling in Nassau:
Nassau is all about life underwater, as well as on land, and a great way to explore this subterranean world is on a Nassau Sail and Snorkel

Tour

. Sail out to a fish-rich reef on a luxury catamaran and spend your time snorkeling among the colorful fish and coral. All your snorkeling gear, boat transportation, and refreshments are included on this fun three-and-a-half hour tour.
Day Trips from Nassau:
From Nassau, a day trip tour is a convenient and stress-free way to visit some of the smaller Out Islands without worrying about boat rental and navigating your way in unfamiliar waters. The Blue Lagoon Island Beach Day from

Nassau

whisks you to Salt Cay, where you are invited to lounge on the soft sand, visit the marine park for a close up view of dolphins and sea lions, and enjoy a freshly grilled lunch.
The six-hour Rose Island Day

Trip

is another must-do activity. It offers you a choice of activities, from basking on the beach of this beautiful island to group activities such as beach volleyball and snorkeling in the clear waters, or a combination of these options. All equipment is provided, as well as a delicious buffet lunch.
We're betting you've never had a chance to swim with pigs before. If we're right, this is something you must add to your to-do list. Check it off with an uber fun Morning Pig

Encounter

to Rose Island. This four-hour tour includes a 30-minute bus ride to the boat that will take you another 25 minutes to the aptly named Da Pig Beach. Here, you'll find your fun, pink, four-legged swimming partners.
Map of Tourist Attractions in Nassau
Nassau, The Bahamas - Climate Chart
Average minimum and maximum temperatures for Nassau, The Bahamas in °C
J
F
M
A
M
J
J
A
S
O
N
D

25

17

25

17

27

18

28

19

29

21

31

23

32

24

32

24

31

24

30

22

28

20

26

18

PlanetWare.com
Average monthly precipitation totals for Nassau, The Bahamas in mm.

48

41

41

53

117

234

158

216

173

175

56

51
Average minimum and maximum temperatures for Nassau, The Bahamas in °F
J
F
M
A
M
J
J
A
S
O
N
D

77

62

78

62

80

63

82

66

85

69

87

73

89

74

89

74

88

74

86

72

82

68

79

63

PlanetWare.com
Average monthly precipitation totals for Nassau, The Bahamas in inches.

1.9

1.6

1.6

2.1

4.6

9.2

6.2

8.5

6.8

6.9

2.2

2.0