12 Best Beach Resorts in Florida
We may earn a commission from affiliate links ()
Florida is one of the most popular destinations for a beach vacation in the US, especially during winter. With so many of us pining for an escape to sunny skies and warm breezes, the Sunshine State has upped its game to make us feel uber welcome.
A slew of fantastic accommodations line the sandy coasts, enticing visitors to dine in their first-class restaurants, indulge in their luxurious spas, and rest peacefully in comfortable rooms. Now for the hard part: deciding which of these epic beach resorts to stay at during your vacay.
That's where we come in. We'll help you choose the perfect spot to kick back, relax, and soak up the rays on your next Floridian beach holiday. Whether you're looking for a family-friendly hotel, plush five-star resort, or an intimate boutique accommodation, you'll find it in our list of the best beach resorts in Florida.
Note: Some businesses may be temporarily closed due to recent global health and safety issues.
1. Acqualina Resort & Residences on the Beach, Sunny Isles Beach, Miami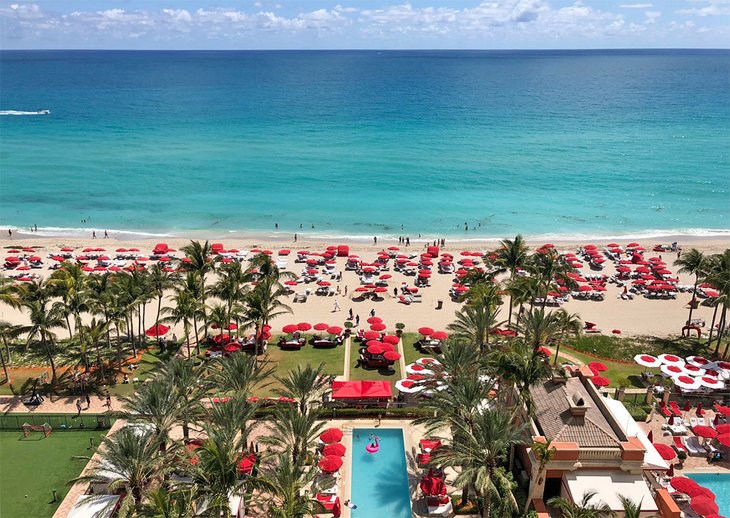 A whole lot of glamor awaits visitors to the Acqualina Resort & Residences on the Beach. Located on the golden sands of Miami's Sunny Isles Beach, this posh wonderland is a treat for all your senses. Bright turquoise water sparkles from the Atlantic shore, which is backed by towering palms leading guests to a perfectly sized hotel so glamorous, they won't want to leave.
Winner of the 2020 AAA Five Diamond Award and frequently voted the best resort in the US, this magnificent property has everything you'd ever want in a Floridian vacation. Four and a half miles of pristine sand, 54 lavish guest rooms, and 44 immaculate suites invite visitors to truly relax. Add a treatment or three at the remarkable spa, and you'll beg to prolong your stay.
Choose between three oceanfront pools (because one wouldn't be enough in this sunny locale); rent a cabana for added shade and privacy; or park yourself on a comfy, red-cushioned sun lounger. Kids are more than welcome here, with a children's program designed to ensure they have plenty of fun activities and educational opportunities to keep them busy.
Il Mulino New York, the resort's acclaimed Italian restaurant, offers spectacular views and even better food, while Ke-uH serves up an incredible example of Japanese fusion at its best. Looking for something more casual? Visit the oceanfront Costa Grill.
Address: 17875 Collins Avenue, Sunny Isles Beach, Florida
Accommodation: Acqualina Resort & Residences on the Beach
2. Four Seasons Resort, Palm Beach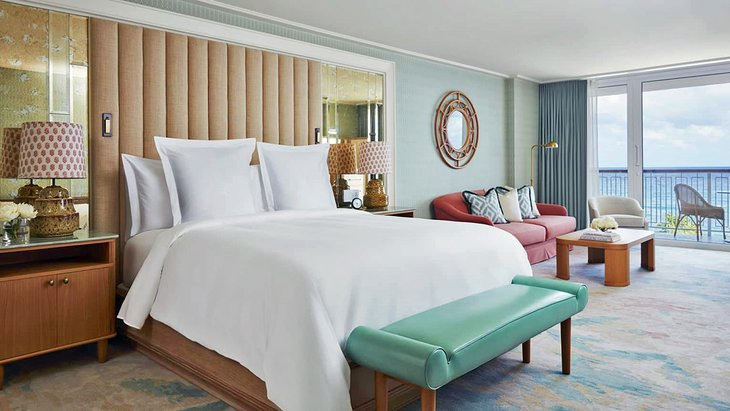 It's hard not to fall in love with the Four Seasons Resort in Palm Beach. Like all resorts in this luxury chain, you'll find the best of the best when it comes to service – we're talking sunglass cleaning while you soak up the rays on the private beach, and delivery of ice water to your lounge chair. Would you expect less from a five-star, five-diamond resort?
There's plenty of fun to be had on-site, with poolside movies, culinary classes, and an entire water sports team at your beck and call. They help guests arrange beach-based activities, like paddle boarding, snorkeling, and surfing, while those who prefer their fun on land can enjoy tennis, basketball, volleyball, or croquet on this lovely barrier isle.
While the Four Seasons presents a perfect backdrop for a romantic vacay (there's even a five-star spa, perfumery, and boutique shops), kids are more than welcome to enjoy the vast amenities. The complimentary Kids For All Seasons Program keeps them happily entertained, and those four and under eat free. Older kids should check out the Teen Game Room.
The 194 spacious rooms and 14 suites are immaculately designed with a modern yet glamorous feel and bright colors that enhance the picturesque view. As for dining, you'll find plenty of worthy options including, Florie's, Seawway, and snacks by the pool.
Address: 2800 South Ocean Blvd., Palm Beach, Florida
Accommodation: Four Seasons Resort, Palm Beach
3. Boca Beach Club, Boca Raton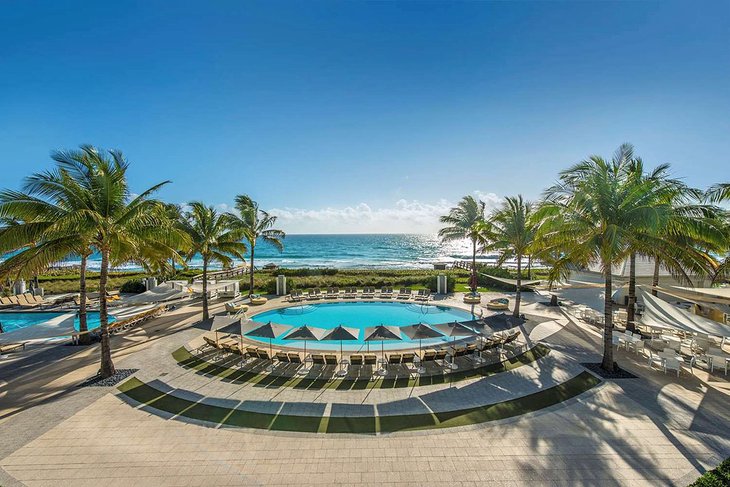 With such a stunning location in ritzy Boca Raton, it's no surprise that the Boca Beach Club revolves around its shining star: a spotless, private, golden beach. Boasting 356 acres of waterfront on both the Intracoastal Waterway and Lake Boca, this lush Waldorf Astoria Resort is a haven for vacationers looking to unwind while soaking up the luxury provided by a five-star hotel.
Floor-to-ceiling windows highlight the ocean view, while rainfall showers allow guests to luxuriate a little longer while washing away grains of sand from their day spent frolicking in the waves. Choose from a 420-square-foot room or a one- to three-bedroom suite, or enjoy a few nights in an oceanfront sky deck — a 250-square-foot room featuring its own sun porch.
Part of the historic Boca Raton Resort & Club, the Beach Club offers access to a spa, fitness center, tennis courts, fitness studios, and three oceanfront pools (complete with cabanas). A meal at the fantastic SeaGrille restaurant offers impeccable dishes in a postcard-worthy setting.
Kids can enjoy time at the Quest Kids' Club or join you for a game of giant Jenga or a kayak, surf, or paddleboard at the beach.
Address: 900 South Ocean Blvd., Boca Raton
Accommodation: Boca Beach Club
4. The Breakers, Palm Beach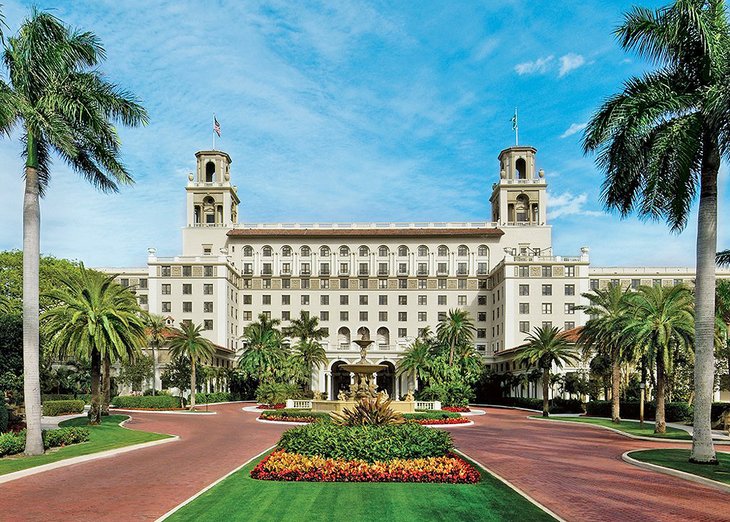 There's no shortness of luxury at The Breakers, a Renaissance-style masterpiece located in upscale Palm Beach on Florida's east coast. Since 1896, this iconic hotel has graced the idyllic golden shores of the Atlantic Ocean, welcoming visitors who like their vacations served with a large side of opulence.
Children are welcome to enjoy this affluent property along with their parents. Special family rooms are on offer, as well as a 6,100-square-foot Family Entertainment Center boasting a playground, playroom, and plenty of activities to keep little ones (and even teens and tweens) happily occupied.
Enjoy a snorkeling excursion to the resort's own reef; borrow a kayak; or try surfing, paddleboarding, or boogie boarding at the private beach. Back on land, you can borrow a bike to explore the property, indulge in a spa treatment, play tennis or golf, or stretch your shopping muscles at the on-site boutiques. Then, jump into one of the four pools.
Looking for privacy by the pool? Rent one of the 25 open-air bungalows, which come complete with a bathroom, shower, lounge area, and dining table. You'll also have a dedicated concierge and exclusive dining options.
Speaking of food, The Breakers offers world-class dishes at a number of restaurants, ranging from an open-air gazebo by the beach to the more glamorous Circle, an architectural masterpiece featuring 20-foot frescoed ceilings.
Address: 1 South County Road, Palm Beach, Florida
Accommodation: The Breakers
5. The Ritz-Carlton, Naples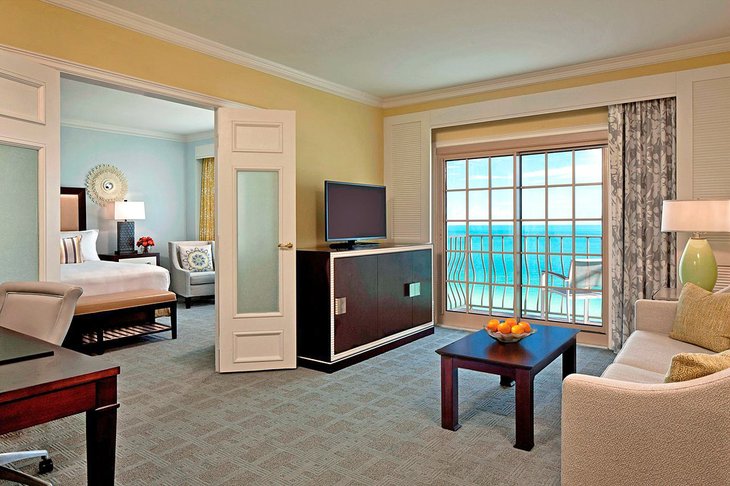 Few resorts can top the level of service offered at a Ritz-Carlton property. The Five Star, AAA Five Diamond luxury property gracing the pristine shores of Naples Beach is a prime example of the company's innate ability to pamper guests beyond their wildest dreams. Once you add in the unbeatable sunset views over the Gulf of Mexico, you'll beg to extend your stay.
The 447 guest rooms are as lavish as you'd expect from a resort of this caliber, with suites boasting balconies, soaking tubs, and plenty of room to stretch. Families are more than welcome, and the three-bedroom royal suite can house everyone while offering four balconies to enjoy the spectacular view.
Kids will enjoy the fun and educational programs offered at Ritz Kids®, while their adults can indulge themselves at the 51,000-square-foot spa (book extra time to enjoy the serene private pool).
When they've tired of playing in the sand or splashing in one of the two glorious swimming pools, guests can hop aboard the free shuttle to The Ritz-Carlton Golf Resort. Merely three miles away, the perfectly manicured greens found on the two 18-hole courses found at this luxurious property beckon golfers who appreciate a high level of class served with their game.
Address: 280 Vanderbilt Beach Road, Naples, Florida
Accommodation: The Ritz-Carlton, Naples
6. Ponte Vedra Inn & Club, Ponte Vedra Beach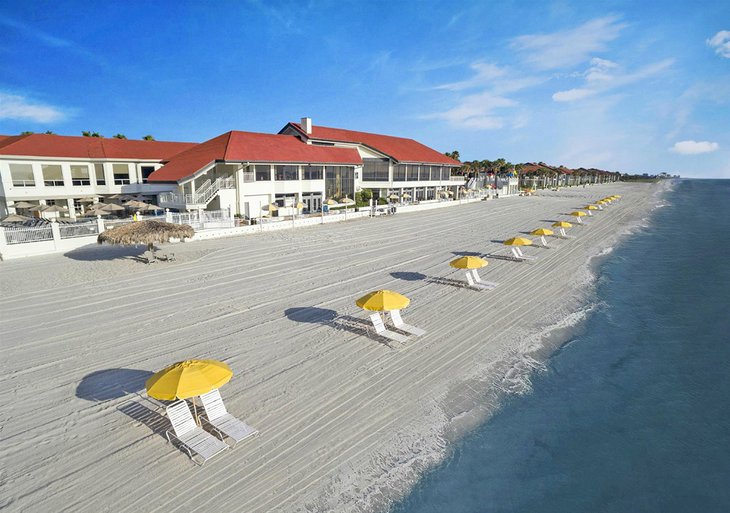 What's a beach resort without a fantastic stretch of silky soft sand? Less than stellar, that's what. You won't have to worry about a rock-strewn base at Ponte Vedra Inn & Club. An opulent resort favored by families and couples alike, this magnificent spot is a must for those looking for an unforgettable stay.
Rent a kayak or paddleboard, or explore the sand on a beach bicycle. When you've had enough sun, leave the strand behind in favor of alone time in your elegant oceanfront room. Each of the 262 rooms offers guests picturesque vistas and salty sea breezes that transform a mere holiday into a relaxing vacation.
Visiting Florida without golfing is akin to touring Rome without sampling gelato. Luckily, this lovely resort boats two beautiful lagoon-laden courses – the Ocean Course and Lagoon Course – that offer golfers a challenging, 18-hole game peppered with breathtaking scenery.
Not a golfer? Head to the tennis courts, partake in retail therapy at the on-site shops, or luxuriate in a few treatments at the outstanding 30,000-square-foot spa. Kids will adore the playground and four heated swimming pools.
The food at Ponte Vedra Inn & Club is as delicious as its setting is serene. Choose to dine beachside at the Surf Deck Grille, enjoy lunch at the Surf Club Patio, grab a bite at the Golf Club Dining Room, munch on an entrée beside a giant aquarium at the Seahorse Grill, or make a night of it in the lavish Seafoam Room (jackets are required for men). There are a slew of options to tempt your palate.
Address: 200 Ponte Vedra Blvd., Ponte Vedra Beach, Florida
Accommodation: Ponte Vedra Inn & Club
7. The Lodge & Club, Ponte Vedra Beach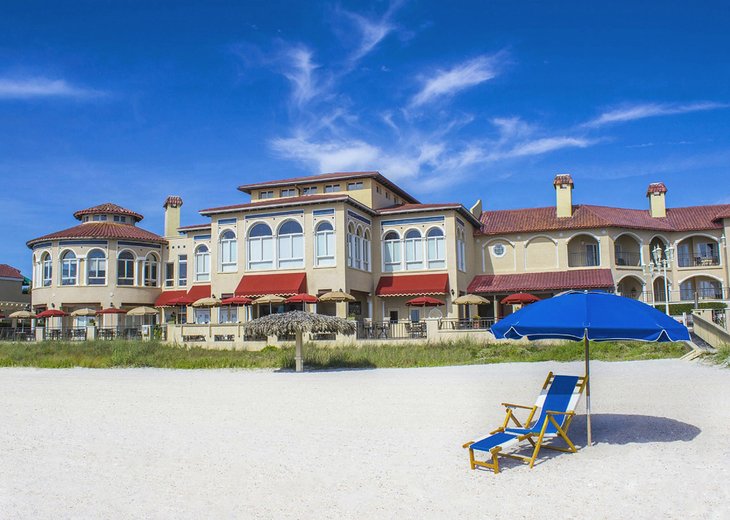 The Lodge & Club is located on a pristine stretch of dune-backed beach that spans the Atlantic coast between St. Augustine and Jacksonville – the same that houses its classy neighbor, the Ponte Vedra Inn & Club. This AAA Four Diamond resort is a boutique beauty offering first-class charm and unbeatable amenities, not to mention spectacular ocean views.
A relatively small hotel in comparison to its larger sibling, this lovely lodge boasts 66 elegant rooms and suites. Due to its size, exceptional service, and lavish surroundings, a stay at this pretty site feels both intimate and luxurious. Plus, guests are free to enjoy the amenities at its sister site, including a free shuttle bus to transport them between resorts.
Boasting an adults-only oceanfront pool and Jacuzzi and heated lap pool complete with a children's section (including a waterslide and splash park), this beach resort will be beloved by kids and adults of all ages. Spend your days at the beach building sandcastles, or rent a kayak or paddleboard to experience the ocean firsthand.
Then, grab a bite by the ocean at the laid-back Oasis restaurant, relax in the Sea View Lounge, or savor the dramatic flavors on offer at the spectacularly gorgeous Sea View Grille – the views are as unbeatable as the tasty dishes!
Address: 607 Ponte Vedra Blvd., Ponte Vedra Beach, Florida
Accommodation: The Lodge & Club Ponte Vedra Beach
8. Opal Sands Resort, Clearwater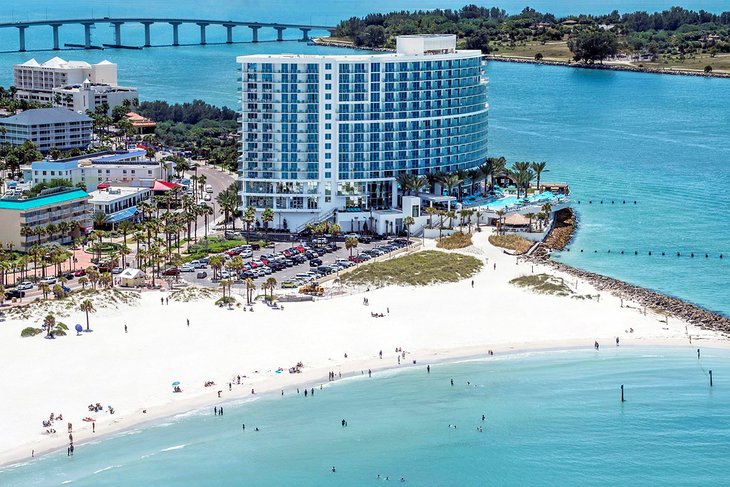 You won't forget you're on the Gulf Coast while staying at the chic Opal Sands Resort on Clearwater Beach. This is one of the best resorts in Clearwater. Emerald waves can be seen glistening from almost every corner of this classy modern hotel, most notably from the floor-to-ceiling windows and private balconies fronting each guest room.
Intriguing, maritime-inspired art adorns the walls of each room, as well as the rest of the hotel, highlighting the main reason you came: to enjoy the beach and vast sea beyond. Upgrade to a suite to enjoy more space to relax, plus a queen-sized sleeper sofa to house an extra child or two.
The resort has four restaurants serving food so deliciously fresh, you'll want seconds. The Pool Bar makes it easy to stay in a swimsuit all day, while Sea Guini's handmade pastas and seafood are as divine as its stunning Gulf views.
Speaking of the Gulf, head to the beautiful beach to enjoy a slew of fun activities (including jet skiing). You can rent a cabana for more privacy.
Both children and pets are welcome here. Kids will love the zero-entry pool and water sports, while parents will enjoy the resort's Family Package, which provides access to larger rooms and kid-friendly meals, as well as a daily resort credit.
As for your four-legged family members, they'll adore Opal Paws' Sit, Stay & Play Package. It offers furry pals a gift bag of treats, plush dog mat, and food and water bowls during their stay.
Address: 430 South Gulfview Blvd., Clearwater, Florida
Accommodation: Opal Sands Resort
9. B Ocean Resort, Fort Lauderdale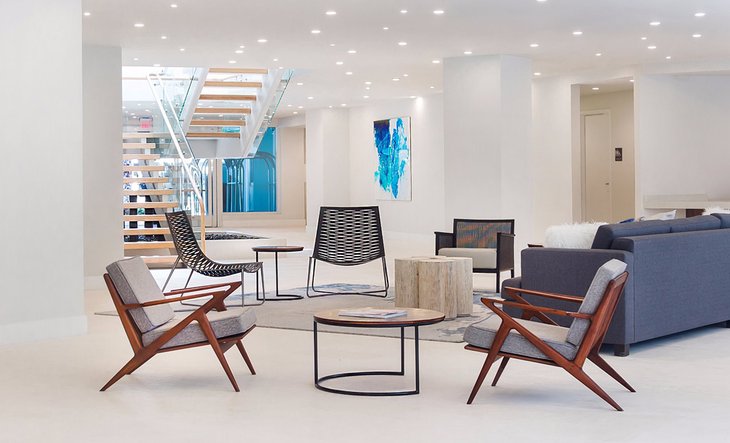 Visiting a private beach is the best way to experience Florida's soft, sandy shores, which means guests of the B Ocean Resort in Fort Lauderdale are in for a treat. An exclusive span of caramel sand awaits travelers to this upscale resort on Fort Lauderdale Beach, beckoning them to enjoy the azure waves and as many water sports as they can fit into one day.
Two pools welcome visitors looking to cool off without fighting waves. Four restaurants featuring authentic South Floridian fare are on hand to satisfy hunger cravings and delight gastronomes, while the Mermaid Show at Wreck Bar provides a dining backdrop you won't forget.
Sick of tossing and turning on uncomfortable hotel mattresses? You'll sleep soundly on their uber comfy trademarked Blissful Bed®. Each of the 486 guest rooms and suites offer these dreamy beds, as well as bright, ocean-themed décor to top off your beach vacation.
Address: 1140 Seabreeze Blvd., Fort Lauderdale, Florida
Accommodation: B Ocean Resort Fort Lauderdale
10. Little Palm Island Resort & Spa, Little Torch Key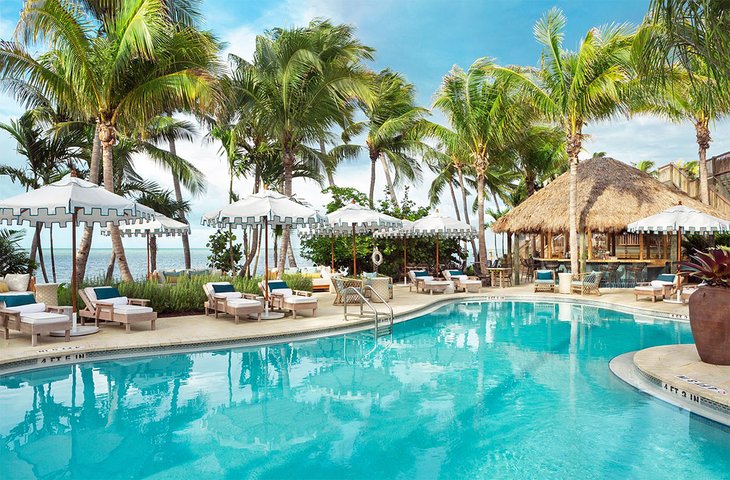 Ever wondered how it feels to be treated like royalty? You'll find out during a stay at the exclusive Little Palm Island Resort & Spa. The only way to access this secluded luxury resort is by boat or seaplane, and no kids under 18 are allowed on the premises. So, if you're looking to truly unwind, this is the place to do it.
The star attraction on this idyllic barrier island consists of four acres of sugar-white sand backed by tall, waving palms. Set back from the turquoise waves lie 30 thatched-roof bungalows housing tastefully decorated suites.
One thing guests won't find here is technology. Each room is refreshingly free from televisions and phones, encouraging visitors to enjoy the gorgeous gifts nature has to offer in this picturesque locale. Visit SpaTerre for a massage, facial, or salt scrub; take a dip in the lagoon-like pool; or admire the views from your private porch.
When hunger calls, head to the on-site Dining Room restaurant for a meal worthy of the A-list celebs and presidents who often visit this little piece of paradise.
Address: 28500 Overseas Highway, Little Torch Key, Florida
Accommodation: Little Palm Island Resort & Spa
11. Eau Palm Beach Resort & Spa, Palm Beach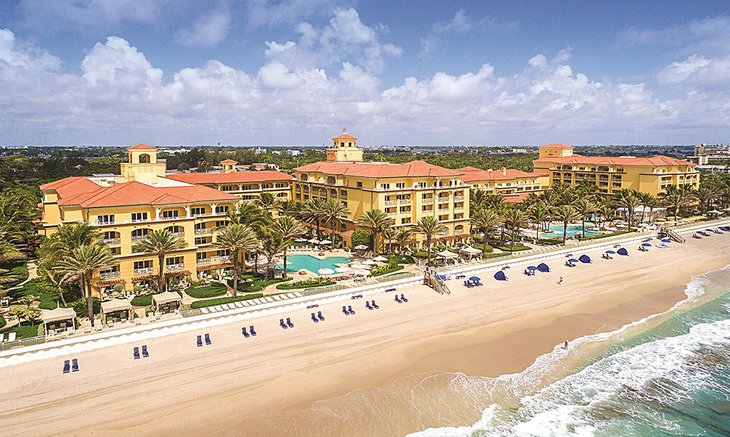 Another Five-Star, AAA Five Diamond Award winner, the Eau Palm Beach Resort & Spa is a lavish boutique hotel worthy of your hard-earned dollars. In addition to boasting seven acres of soft, sandy beach, this top tier resort is home to the 42,000-square-foot Eau Spa, complete with a wishing well and whipped cupcakes.
Fresh seafood and top American cuisine await diners at the romantic Angle restaurant, while guests can dine on Mediterranean/Floridian dishes while gazing at the spectacular view at Temple Orange. Speaking of views, it's hard for an eatery to get closer to the ocean than Breeze Ocean Kitchen.
Roast s'mores around the outdoor fire pit at the Stir Bar & Terrace while being lulled by waves crashing upon the shore. Then head back to your stylishly decorated, uber comfortable room and enjoy the ocean breeze while swinging on the hanging chair on your private balcony.
In the morning, hit the waves on a paddleboard or surf your way to shore on a boogie board. Kids can join the popular AcquaNuts program to climb a "reef," hang out in a "Grotto," have a beauty treatment, or watch or perform in a show at the Oyster Pearl Theater.
Address: 100 South Ocean Blvd., Manalapan, Florida
Accommodation: Eau Palm Beach Resort & Spa
12. Treasure Island Beach Resort, Treasure Island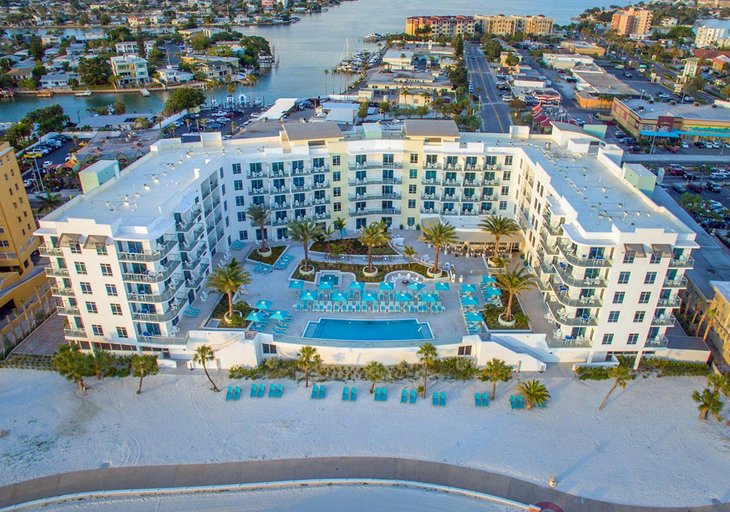 While Treasure Island Beach Resort may lack the opulent spas found at many other accommodations on this list, you won't feel much need for a massage once you've spent a few hours at this relaxing locale. At this intimately sized resort, you'll find 77 well-appointed and spacious suites featuring lovely views of the Gulf or resort, and kitchenettes to make in-room snacking a cinch.
Head outside to bike, rollerblade, or walk along the boardwalk while gazing at the emerald waters of the Gulf of Mexico. When you've had enough of the heat, jump into the warm, calm waters of the Gulf and float your way back to the sugar-white sandy shore.
The gorgeous beachfront pool is a must-visit, and you can enjoy a cool drink and tasty meal poolside while you relax. The BRGR Kitchen + Bar is a great spot for a comforting dinner.
Address: 10800 Gulf Blvd., Treasure Island, Florida
Accommodation: Treasure Island Beach Resort
More Related Articles on PlanetWare.com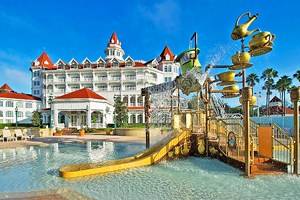 More Places to Stay in Florida: Not sure about the hotels on this list? Or perhaps you'd prefer to stay somewhere a bit farther from the sea. You'll find plenty of award-winning resorts of all kinds to visit in the Sunshine State, including some that are perfect for families looking for an escape.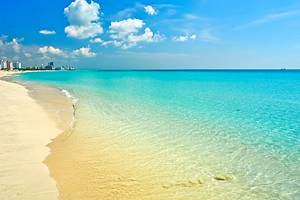 Don't Miss These Must-See Spots in Florida:With so many incredible beaches, it's hard to avoid spending at least one day digging your toes into the sand. When you've had enough sun, head to one of the state's best tourist attractions, which include everything from amusement parks to mangrove forests.