9 Top-Rated Resorts in Palm Beach, FL
We may earn a commission from affiliate links ()
The fact that 44 billionaires (and a former US President) own second homes in and around the Palm Beach area says a lot about just how ritzy a place it is. So, too, does Worth Avenue, the city's famous shopping destination. Here, you'll see expensive luxury cars parked outside stores dedicated to selling multi-million dollar yachts. (It's a great place for people watching, too!)
Fortunately for the rest of us, there are also plenty of great hotels and resorts in which to stay in. The best of them offer easy access to the area's endless stretches of beach and its world-class attractions, and make for great places to enjoy the city's consistently beautiful weather – all staples of a great Florida vacation experience.
Examples of lovely beachfront resorts that are guaranteed to provide the kind of luxury experience enjoyed by the very wealthy include the Four Seasons Resort, Palm Beach. This chic luxury resort offers superb beachfront accommodations in a sophisticated atmosphere.
Another contender is The Breakers. Once a favorite of rail tycoons and the country's early industrialists, this classy old resort remains as elegant and chic today as it was at the turn of the 20th century.
Wherever you stay in this upscale corner of Florida, you'll enjoy an unforgettable vacation in one of the most sought-after destinations on the Atlantic Coast of the Sunshine State.
To help you choose the very best base for your adventures, be sure to read through our list of the top resorts in Palm Beach, Florida.
1. Four Seasons Resort, Palm Beach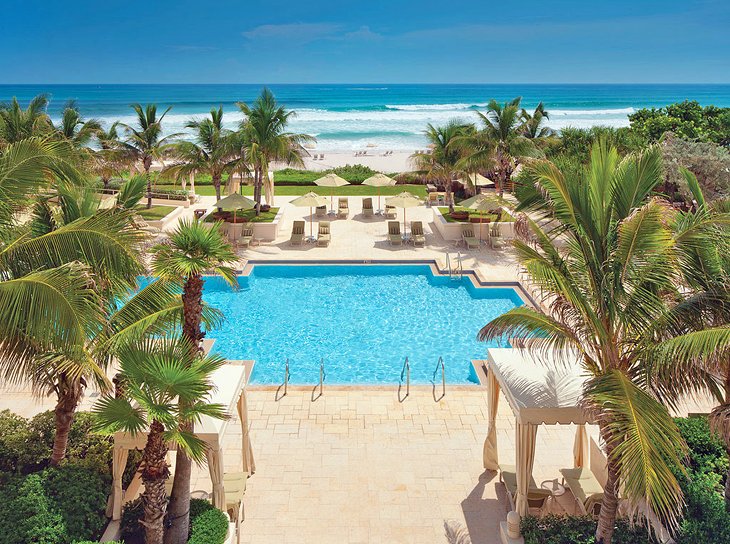 Accommodation: Four Seasons Resort, Palm Beach
One of the leading five-star resorts on Florida's east coast, the Four Seasons Resort Palm Beach offers guests an unparalleled level of service and pampering. From the lovely ocean views experienced at the resort's large heated swimming pool to its lush tropical gardens and palm trees, you'll enjoy perks including comfortable poolside chairs, umbrellas, and chilled towels. For an added dose of luxury, upgrade to a private cabana.
Also impressive is the attendant service down at the beach, as well as use of the resort's house car, available free on a first-come, first-served basis. A large fitness center with classes, a full-service spa, a hair salon, a library, snorkeling, and great daily programs for kids and teens can also be enjoyed here.
The resort also has on-site fine dining in the popular Florie's restaurant. Fancy dining outside? Be sure to book an alfresco dining experience under a canopy at Seaway restaurant. A nice touch are the free hot beverages and muffins available to guests when the urge to snack strikes.
The guest rooms and suites are extremely chic and come with great features, such as comfy bathrobes and L'Occitane bath products. Also included are twice-daily housekeeping, shoeshine service, as well as daily newspapers delivered to your door.
Step it up a notch with an upgrade to the two-bedroom oceanfront suite, and the level of luxury gets even better. Located on the resort's top floor, each of these magnificent units comes with two large balconies (plus a smaller Juliet balcony) and unsurpassed views over the Atlantic. A number of pet-friendly units are also available, as well as special pet-pampering services.
Address: 2800 S Ocean Blvd, Palm Beach, Florida
2. Eau Palm Beach Resort & Spa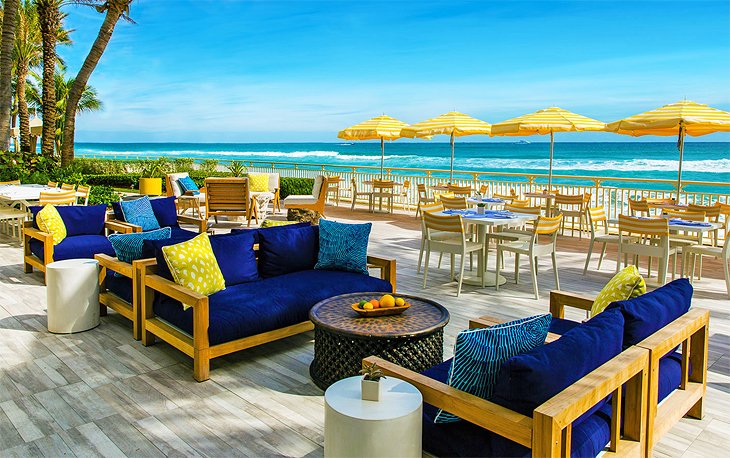 Accommodation: Eau Palm Beach Resort & Spa
Contemporary and classy, Eau Palm Beach Resort & Spa is a perfect escape for couples. As the name suggests, there's a great deal of emphasis on the pampering at this luxurious 5-star resort's magnificent 42,000-square-foot spa. Here, you can enjoy an endless variety of personalized treatments both indoors and out, as well as use of saunas and steam rooms.
For a truly memorable spa experience, opt for a treatment in a private garden cabana. And be sure to check throughout your stay for daily specials available for resort guests, too.
Other notable amenities include two swimming pools, one of which has been designated as adults only, along with a well-equipped fitness center complete with trainers. The resort also offers a variety of dining experiences, too. All told, five unique dining options are available in the resort's fine dining and casual on-site restaurants, including al fresco, private dining, and in-room dining.
Other on-site amenities include a huge waterfront terrace with a fire pit, a business lounge, plus tennis courts and lessons. Also available for guests to enjoy are deluxe beachfront cabanas (fee required), as well as activities such as fishing and boating.
The resort's guest rooms and suites are equally lavish. These spacious accommodations can comfortably sleep up to four guests and come with separate living rooms, two bathrooms, and good-sized balconies.
Those wanting to increase the level of indulgence should consider the club level rooms. These deluxe offerings come complete with a personal concierge and meals in a private lounge. Better still, book the even larger and uber-luxurious "Commander-in-chief" suite. For those bringing pets, an extra fee applies, which includes dog-walking services.
Address: 100 South Ocean Boulevard, Manalapan, Florida
3. The Breakers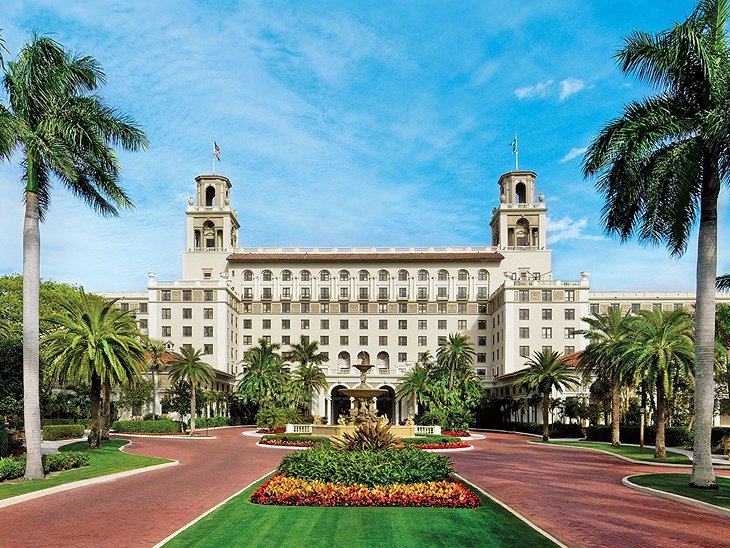 Accommodation: The Breakers
Although built in 1925, making it one of the oldest resorts in Florida, The Breakers can in fact trace its Palm Beach roots back to 1896. It was then that oil magnate Henry Morrison Flagler opened its predecessor, The Palm Beach Inn.
And as today's guests can attest, this wonderful 5-star resort continues to offer a taste of the finer things in life. Guests are spoiled for choice on so many fronts, from the large Beach Club consisting of four swimming pools (all heated, and one dedicated as adults only), no less than five hot tubs, its beautiful promenade, and perfectly manicured lawns.
Other amenities include a fitness center, a full-service spa, and a spectacular half-mile stretch of private beach. The resort also features nine excellent restaurants and also offers in-room dining and one of the region's best brunches.
For a special experience, rent one of the quaint beachside bungalows. Though available for daytime use only, these private beachfront getaways come complete with HD TVs and beverage services. Beach activities include scuba diving and snorkeling adventures, kayaks and paddleboards, as well as fishing and boating expeditions. The resort is also home to the state's oldest 18-hole course, and childcare services are available.
The rooms are no less desirable. Popular choices include the 300- to 400-square-foot sumptuously decorated and furnished units. Boasting chic decor throughout, these elegant rooms come with plenty of closet space and spacious bathrooms with separate bathtubs and marble showers (not to mention a TV in the mirror). They also come with large balconies with beautiful views over the ocean and the property.
Address: 1 S County Road, Palm Beach, Florida
4. The Colony Hotel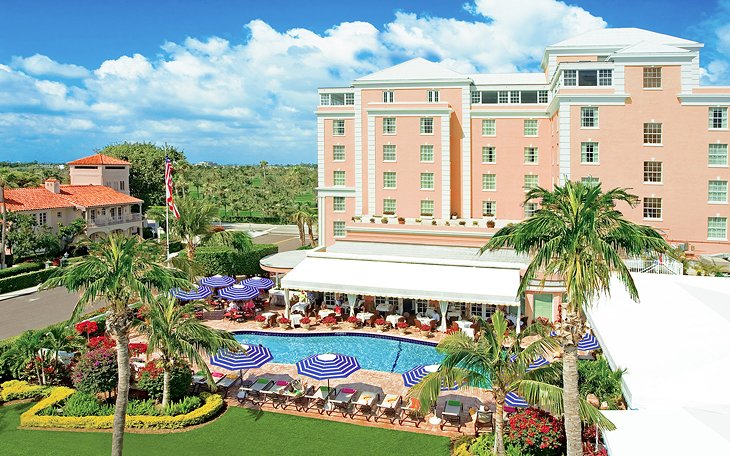 Accommodation: The Colony Hotel
Since it opened in 1947, The Colony Hotel has provided visitors to Palm Beach with a most delightful boutique hotel experience. Located just steps from ritzy Worth Avenue (check out the yacht brokerage storefronts) and the beach, this romantic, colonial-style building offers a variety of chic accommodations.
While no two standard rooms are alike at this 4-star resort, they all come with classy furnishings and elegant marble bathrooms with stand-alone showers. Upgrade if you can to one of the spacious one- or two-bedroom suites. These larger units come with guest powder rooms and master bedrooms with en-suite bathrooms, pull-out couches, as well as full kitchens and verandahs.
This posh hotel boasts 90 rooms. For those wanting that billionaire experience, check into the very luxurious penthouse suite. The largest of these two ultra-luxe suites is over 1,900 square feet in size, and both offer incredible views over the Palm Beach area.
There's much to commend the hotel in terms of amenities, too. Highlights include its well-known restaurant, Swifty's; a beach butler service; beautiful pool; and bike program. Hotel staff can also help arrange fun adventures and experiences, from sightseeing to fishing. Guests also have access to a nearby golf club, salon, and fitness center. The hotel also offers plenty of great entertainment, including a regular roster of live music and other events.
Address: 155 Hammon Ave, Palm Beach, Florida
5. The Chesterfield Palm Beach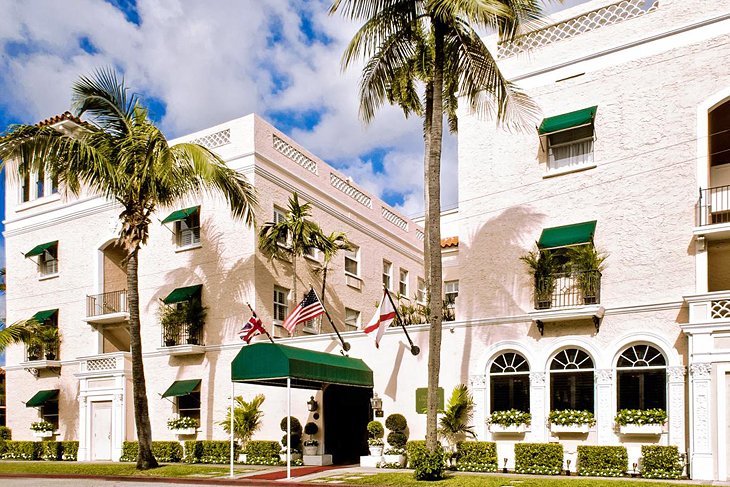 Accommodation: The Chesterfield Palm Beach
Another great 4-star option for those desiring to be within walking distance of the opulent Worth Avenue shopping area is The Chesterfield Palm Beach. This elegant resort adds a dose of old-world charm to your luxury beach vacation.
A lovely addition to the resort's world-class gourmet dining is the opportunity to partake in indulgences such as the delightful traditional afternoon high tea, a ritzy affair that comes complete with scones and cream. The resort's Leopard Lounge is also worth experiencing, and offers a variety of light meals and refreshments. The hotel has a good-sized swimming pool, and a number of fitness centers and spas are located nearby.
This boutique-style resort consists of just 53 rooms and suites, and the emphasis of each is very much on comfort. The largest units are stylish affairs with separate king bedrooms and living areas, plenty of closet space, and spacious marble bathrooms, including one for your guests.
Other nice features include fresh fruit and flowers, fridges stocked with water and pop, evening turndown service, and, a real treat for the kids, jelly beans! Pets are also welcome and are treated royally with their own pet room service and menus.
Address: 363 Cocoanut Row, Palm Beach, Florida
6. The Brazilian Court Hotel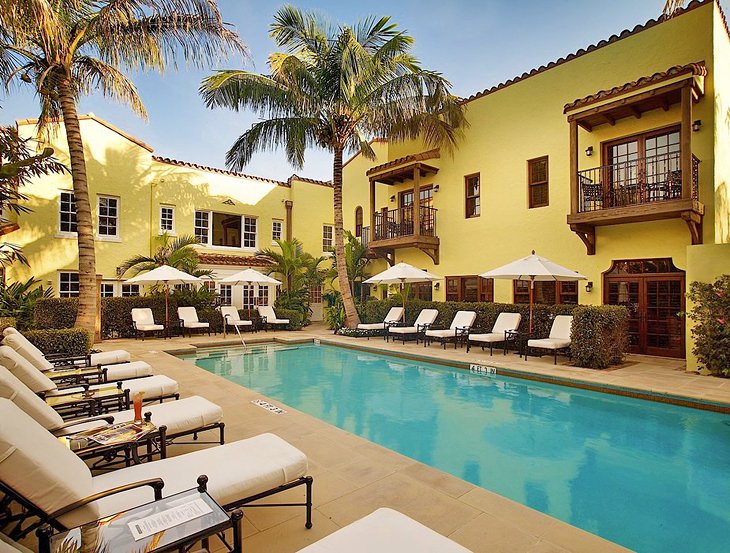 Accommodation: The Brazilian Court Hotel
The inspired design of The Brazilian Court Hotel - it follows a classic Spanish Colonial style - certainly sets this property apart. So, too, does its color, a bright sunshine yellow that just makes you feel good.
Centered around a number of elegant courtyards, this luxurious 4-star hotel's accommodations range from spacious studio suites right up to huge three-bedroom units, all of which come with such standard features as marble bathrooms with separate bathtubs and showers (plus bathrobes and slippers). Also included are good-sized balconies or terraces, as well as twice daily maid service, laundry and dry cleaning, and in-room dining.
The interiors of these chic rooms deserve special mention, and comprise elegant furnishings and real mahogany trim and accents. Pet-friendly units are available (be sure to make your needs known when booking.)
There's much to commend the resort's amenities, too. Features of note include a heated outdoor swimming pool, and when it's time to have a dip in the ocean, a chauffeur-driven limo will convey you to the beach. Once you've arrived, you'll be treated to a personal beach bag with water, towels, and sunscreen, as well as complimentary beach chair and umbrella use.
Other amenities include a fitness center, bike rentals, an art gallery, and dining. The hotel also offers a first-rate concierge service. Classy French fare is served in the hotel's main restaurant, the award-winning Café Boulud Palm Beach.
Address: 301 Australian Ave, Palm Beach, Florida
7. Palm Beach Marriott Singer Island Beach Resort & Spa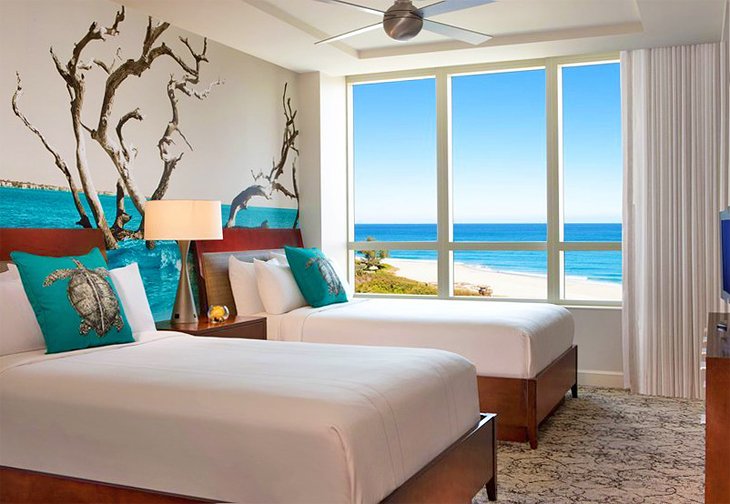 Accommodation: Palm Beach Marriott Singer Island Beach Resort & Spa
One of the newer 4-star resorts in the area, the Palm Beach Marriott Singer Island Beach Resort & Spa offers spacious accommodations, most with great views over the ocean. Each of the resort's one- and two-bedroom condo-style units come with large well-equipped kitchens, laundry rooms, and good-sized balconies. The master bedrooms each include large en-suites with two-person bathtubs and spacious stand-alone showers (plus bathrobes).
On-site amenities include a restaurant and snack bar, gift shop, two outdoor heated swimming pools, a state-of-the art fitness center, hot tub, and spa. The beach is easy to get to, and lounge chairs and umbrellas are available for rent. There's much to do on the water, and activities such as kayaking, scuba diving, and snorkeling can be arranged through the resort, as can boating and Jet Ski excursions.
Address: 3800 N Ocean Drive, Riviera Beach, Florida
8. Tideline Ocean Resort & Spa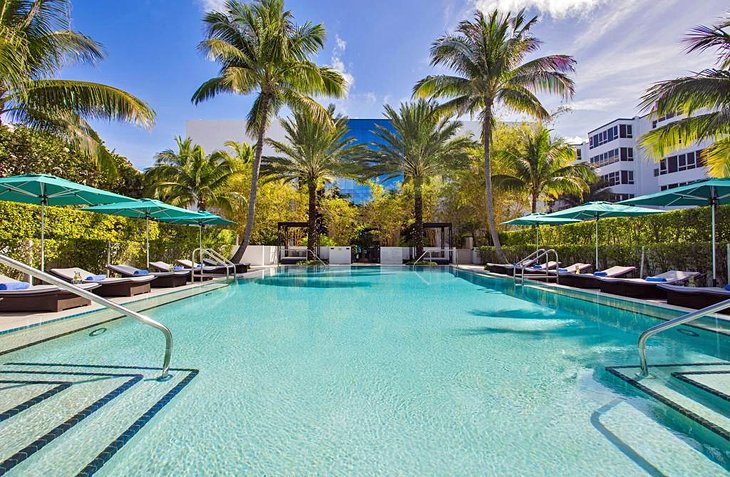 Accommodation: Tideline Ocean Resort & Spa
Consisting of 134 guest rooms, most with excellent views over the Atlantic, Tideline Ocean Resort & Spa is a great choice for those looking for a fun beach vacation in Palm Beach.
This 4-star resort's accommodations are bright and airy thanks to their huge windows, and come with good-sized balconies or verandas as standard features. Other in-room amenities include spacious bathrooms with separate bathtubs and walk-in showers, as well as large 55-inch HD TVs. A choice of king or two queen beds is available.
Tideline's large swimming pool is the focal point of the resort's outdoor amenities. In addition to a large pool terrace with plenty of lounge chairs and umbrellas, guests can reserve their own cabana for an added degree of privacy as they relax.
Other on-site amenities include dining (in-room and alfresco options are available); a large fitness center; and a world-class, state-of-the-art spa facility.
Address: 2842 S Ocean Blvd, Palm Beach, Florida
9. Hilton West Palm Beach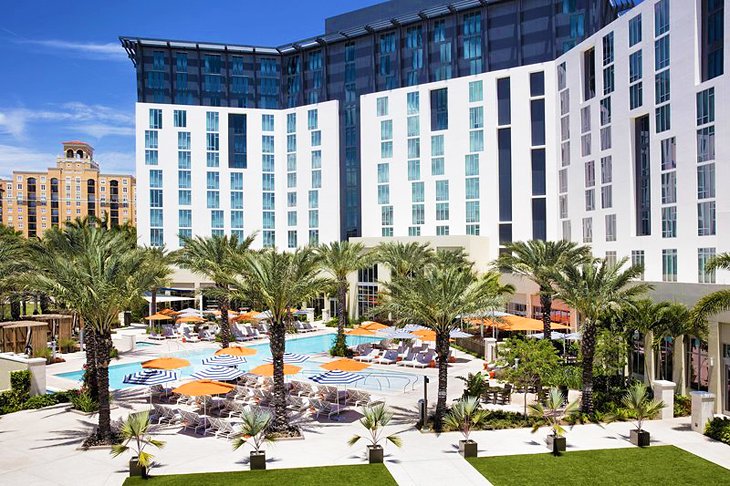 Accommodation: Hilton West Palm Beach
Although not strictly speaking in Palm Beach proper, the Hilton West Palm Beach is a great location for those wanting to spend time exploring its ritzier neighbor. This refined hotel places a great deal of emphasis on the quality of the on-site amenities on offer to its guests.
Highlights of this new and wonderfully designed 4-star luxury hotel include a huge 20,000-square-foot pool deck, where you'll find plenty of space to lounge and relax without ever feeling lost in a crowd.
For an added dash of elegance, be sure to reserve one of the poolside cabanas, which include a mini-fridge and TV. Failing that, stake your claim to a lounge chair and umbrella and enjoy the large gradual-entry pool. Poolside dining is also available.
Other notable amenities include a business center and meeting rooms, snack and gift shops, and a fitness center. Families will appreciate the kids' programs. A nice added extra is the complimentary airport shuttle bus service to and from the airport.
A popular choice when it comes to bedtime are the standard rooms with king beds. Other features of these bright and well-appointed rooms include mini-fridges, HD TVs, work desks, seating areas, and good-sized balconies. For those wanting a bed of their own, a version of this room is available that comes with two queen beds.
Address: 600 Okeechobee Blvd, West Palm Beach, Florida