11 Best Resorts in Miami Beach
Miami Beach is the most famous beach in Florida, and likely the entire east coast. Home to glitz, glam, and a whole lotta sand, this epic locale is a hot spot for everyone from A-listers to couples to families.
Luckily, there's no shortage of fantastic resorts in Miami Beach to keep up with the tourist demand.
The closest a resort can get to the soft, golden sand of Miami Beach is a coveted spot on Collins Avenue, which is where you'll find most of the top resorts in this area.
Whether you're looking to lap up the luxury along this famous strip of sand, or hope to enjoy a family-friendly beach vacation filled with children's activities and water-based fun, you'll find a slew of must-visit resorts.
Some Miami Beach resorts boast impressive architecture, others pride themselves on having world-class spas, and still more tout popular hangouts. What they all have in common, though, is a coveted locale and top-notch service.
Before you visit, find the perfect accommodation for your next trip to the Sunshine State by using our list of the best resorts in Miami Beach.
1. The Setai, Miami Beach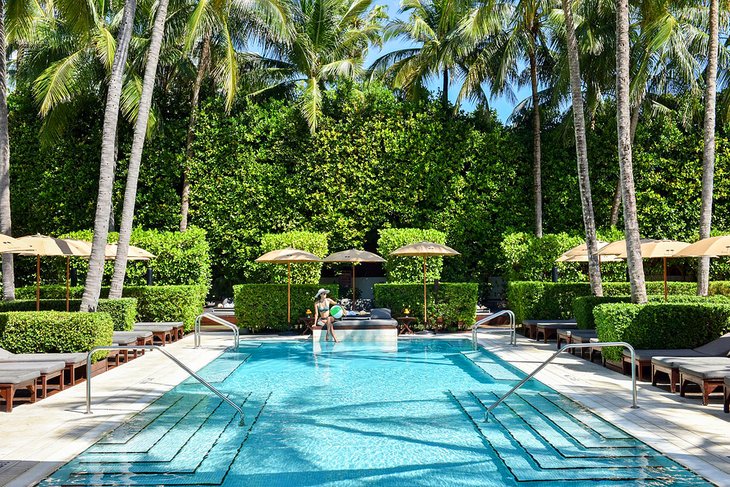 Accommodation: The Setai, Miami Beach
If you're wondering where to stay in Miami Beach, look no further than The Setai. Not only will you be granted access to the most sought-after and trendiest section of South Beach, but you'll be plopped right into the lap of luxury at this five-star, Asian-inspired resort.
A word of warning: one of America's top beach resorts, The Setai may ruin other resorts for you. Top-notch service, elegant design, and high-end amenities are the norm here. And don't even get us started on the rooms!
Hand-crafted Swedish Duxiana beds are draped with the most luxurious linens, while modern bathrooms feature rainfall showers. Some boast Jacuzzi tubs as well.
Stay in a suite in the Art Deco building to enjoy a resplendent mix of teak wood and rich fabrics, with wall-to-wall windows offering a captivating view.
Looking for a more exclusive feel to your holiday? Stay in the Ocean building. The one- to four-bedroom suites here boast impressive ocean views, private balconies, handcrafted beds, Jacuzzi tubs, rainfall showers, and a slew of extra amenities.
Daily breakfast is included either in the suite or at Jaya restaurant, as are airport transfers to Miami and Fort Lauderdale airports, non-alcoholic drinks in the room, and valet parking.
The food is drool-worthy. Ocean Grill offers diners a waterfront setting and cuisine that's so good, you'll want seconds. Jaya serves dishes with a Southeast and Northern Asian flare and a café in the courtyard offers breakfast or a light lunch around the serenity pond.
Swim in one of the tranquil pools or dig your feet into the soft sand, then treat yourself to a Setai Signature Master of Time treatment at the Valmont Spa. You'll feel refreshed in no time.
Address: 2001 Collins Avenue, Miami Beach, Florida
2. 1 Hotel South Beach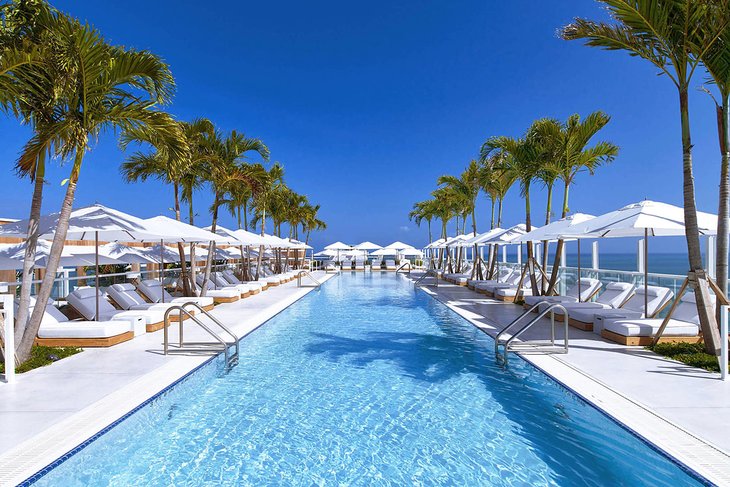 Accommodation: 1 Hotel South Beach
You won't have to feel guilty about staying at 1 Hotel South Beach. This eco-conscious hotel is as sustainable as it is trendy.
Living walls line the building's façade, reclaimed materials make up the high-end design, linens are sustainably sourced, and the heating and cooling systems are energy-efficient.
Choose between a room, suite, home, or the retreat collection (two- to five-bedroom beachfront accommodations). All are impeccably designed and uber-luxurious, so you really can't go wrong.
Plus, the stellar meals are made with locally-sourced, sustainable, and organic farm-to-table ingredients. You can choose between Mexican fare at Habitat, Peruvian-influenced Japanese meals at Watr at the Rooftop, or laid-back Mediterranean cuisine al fresco at 1 Beach Club, among other tasty eateries.
So, ditch that guilt and get on to having a stress-free beach vacay. At a resort this posh, that's super easy to do. All you have to do is visit the holistic wellness spa, take a dip in one of the four pools (including a rooftop pool with insane views), or ask one of the friendly staff to bring a fresh juice to your sun lounger.
Have kids in tow? Great. 1 Hotel South Beach is a fun resort for kids. Its Seedlings kids' club teaches youngsters about the environment, and keeps them happily entertained with exciting activities.
While you're here, hitch a ride (within a three-mile radius) in the hotel's fleet of electric vehicles, or make use of the resort's fitness and wellness center.
With so many amenities on hand, it's no wonder this is deemed one of the top beach resorts in Florida.
Address: 2341 Collins Avenue, Miami Beach, Florida
3. Faena Miami Beach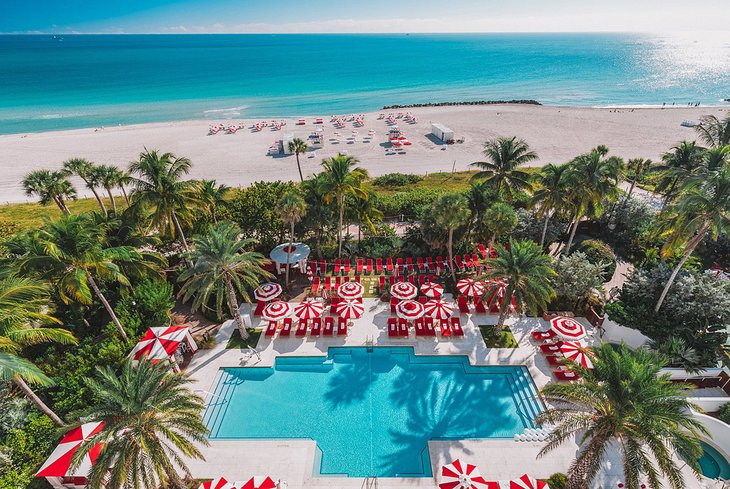 Accommodation: Faena Miami Beach
There's no mistaking you've entered a high-end luxury resort when you arrive at Faena Miami Beach.
A haven for those with deep pockets and excellent taste, this is one of the best resorts in Miami. It opened in 2016, at the famous Art Basel event, and it's easy to see why so many creative types choose to stay in this popular resort in the Faena District.
Pops of color are used to enliven the entire resort, from gold columns and frescoed walls in the lobby and bright chairs and drapes in the rooms, to striped umbrellas by the pool and red sun loungers at the beach. A giant Damien Hirst sculpture, the "Golden Mammoth," can be seen on display by the pool.
Amenities include four restaurants, a holistic healing spa, cabaret theater, and fitness center. Tuesday nights play host to a live DJ playing vinyl records in The Living Room. Or, take things down a notch with a session of Twin Hearts Meditation.
Rooms are vibrant and luxurious; some include a furnished balcony, while suites offer more space to stretch out and marble bathrooms up the glam factor.
Address: 3201 Collins Avenue, Faena District, Miami Beach, Florida
4. Soho Beach House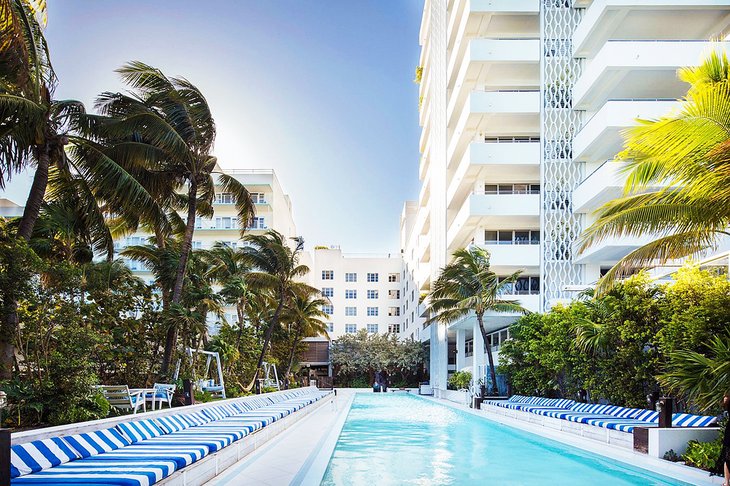 Accommodation: Soho Beach House
You'll want for nothing during a stay at the Soho Beach House. Set in the most northern section of the Art Deco district, this 15-story Miami Beach resort is primed for fun, luxury, and romance. It's also a hot spot for art lovers from across the globe.
The resort's on-site restaurant is a happening spot, especially after the sun goes down. The food is tasty and its décor is one of a kind, with elements of 1940s Cuba and rotating art exhibits. The Library is quiet and elegant, a perfect place to enjoy a tranquil beverage in the company of friends.
Book a training session on the third-floor gym balcony or try air yoga on the roof. If you prefer your exercise with a side of soft sand, there are beach bootcamp classes on offer as well. These are all available through the Soho Health Club.
Head to the roof terrace on the eighth floor for a swim in the plunge pool, then grab a bite of Mexican fare at La Santa at Ocho. Healthy meals are also available by the pool and the ocean.
You'll need to become a member to book a room, which features a funky design, bespoke furniture, and a rainforest shower. The Big Ocean+ rooms boast a large oceanfront terrace and bathrooms with tubs.
Address: 4385 Collins Avenue, Miami Beach, Florida
5. Carillon Miami Wellness Resort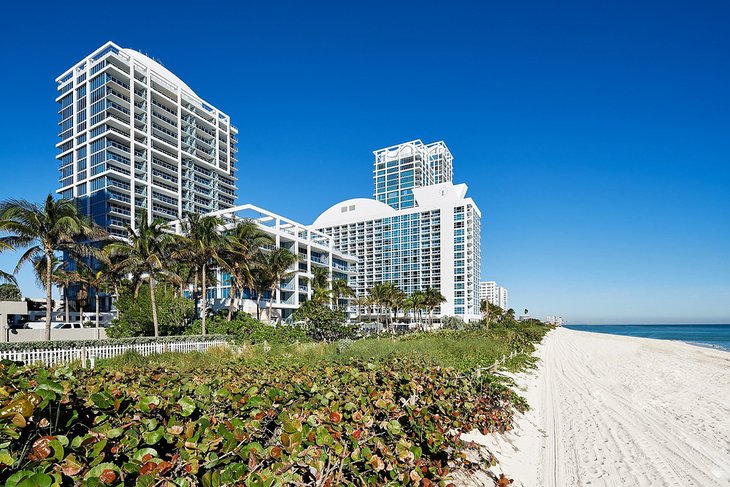 Accommodation: Carillon Miami Wellness Resort
It's easy to see why the Carillon Miami Wellness Resort is deemed one of Miami's best resorts. In addition to picturesque surroundings, five-star service, and delicious organic cuisine, the resort is a haven for wellness seekers.
Here, guests are granted a wellness concierge who's dedicated to creating a bespoke journey to improve each guest's physical and mental health.
The resort spa is a must-visit, especially for those who've arrived with added tension. A mix of treatments work together to cure what ails you, and massage therapies, including NuCalm, a brain-soothing, stress-busting session, will leave you feeling recharged.
The fitness center is massive and features state-of-the-art equipment and over 200 exercise classes each week. The resort's section of Miami Beach covers a whopping 750 feet, so you'll have plenty of space to enjoy the warm, Floridian sun.
When it's time to cool off, head to the ocean or one of the four pools on-site. One is reserved for adults-only and another caters to families. Speaking of children, there are plenty of kids' programs and babysitting on offer at this family-friendly resort.
Rooms are housed in luxury beachfront apartments featuring floor-to-ceiling windows; crisp, modern furnishings; and bright and airy spaces. One- and two-bedroom apartments start at 720 square feet and include a fully equipped kitchen, separate living room, and luxurious bathroom.
Address: 6801 Collins Avenue, Miami Beach, Miami, Florida
6. The Ritz-Carlton, South Beach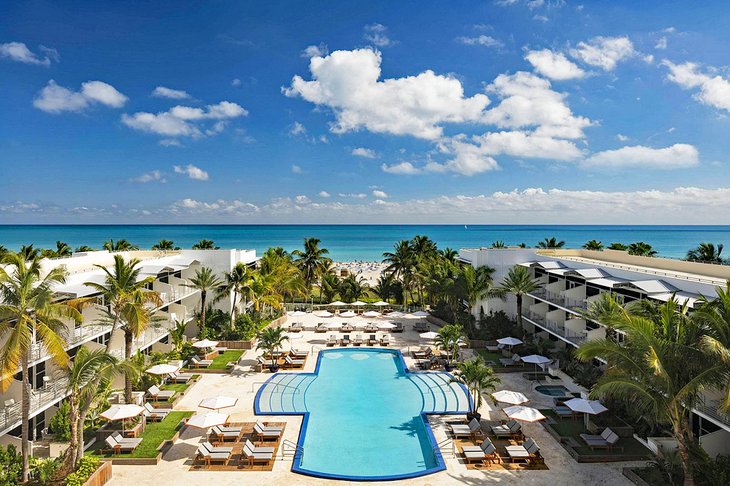 Accommodation: The Ritz-Carlton, South Beach
You know you're in for good service when you stay in a Ritz-Carlton Resort. When that resort is the Ritz-Carlton South Beach, you're really in for a treat.
From fine dining to outdoor fitness classes to a first-class spa, there is a lot to love about this resort. Set in an Art Deco building dating from the 1950s, this glamorous resort oozes elegance.
Private cabanas surrounding the oceanfront pool beckon tourists who are looking to relax in the lap of luxury without having to fight for a lawn chair. Enjoy a meal al fresco at the oceanfront DiLido Beach Club.
The 376 guest rooms and suites are as luxurious as you'd expect from a Ritz-Carlton resort. They've been newly renovated and boast fab views of either the ocean, South Beach, or pool. You can't go wrong no matter which way you face. Marble bathrooms, classy décor, and super-soft linens help make your stay even more plush.
Kids are always welcome at the Ritz-Carlton, and they'll love the activities on offer at the popular Ritz Kids program. There are fun things to do with the family at all times of the day and night.
Hoping to remember your visit to Miami Beach forever? Talk to the photography concierge and book a professional session to capture your favorite people creating memories to last a lifetime.
Address: 1 Lincoln Road, Miami Beach, Florida
7. Fontainebleau Miami Beach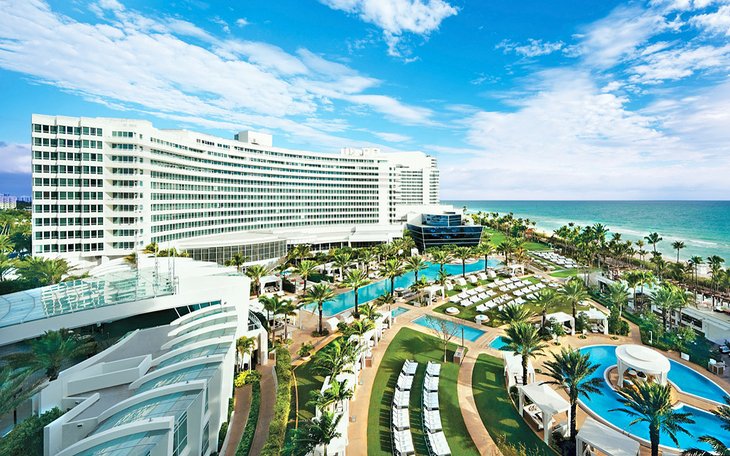 Accommodation: Fontainebleau Miami Beach
Look no farther than the Fontainebleau Miami Beach for your next Miami Beach vacation.
Ideally located north of mid-beach, and far enough away from the tourist-filled South Beach, guests at this resort can enjoy a more serene experience on the sand. That said, if you visit during high season, expect to line up for your beach chair. We'd suggest arriving early to ensure your optimal spot.
If you're looking for pure tranquility, this may not be the spot for you–but if you like excitement, it's the place to be. This resort is known for pumping out loud music by the pool, and is a popular hangout that is revered for its music and all-night dancing. Other types of live entertainment are on tap at BleauLive.
A few hours spent in Fontainebleau's Lapis Spa can fix any tension. The treatments are luxurious and divine, but the amenities are the real reason to head to this relaxing spot. Massage-jet showers, eucalyptus steam baths, mineral pools, and spectacular ocean views help guests to unwind.
Once fully relaxed, guests can enjoy a meal at one of the multiple on-site restaurants. Whether you're in the mood for a casual meal or hope to partake in a bit of fine dining, you'll find the perfect venue right here.
Then, head back to your lavish room or suite. Many come with balconies featuring views of downtown Miami or the sparkling Biscayne Bay. Suites include a kitchenette with a mini-fridge and microwave.
The daily resort fee grants guests access to the fitness center, unlimited Wi-Fi, a daily fitness class, beach chairs, and access to the Refresh Lounge.
Address: 4441 Collins Avenue, Miami Beach, Florida
8. Nobu Hotel Miami Beach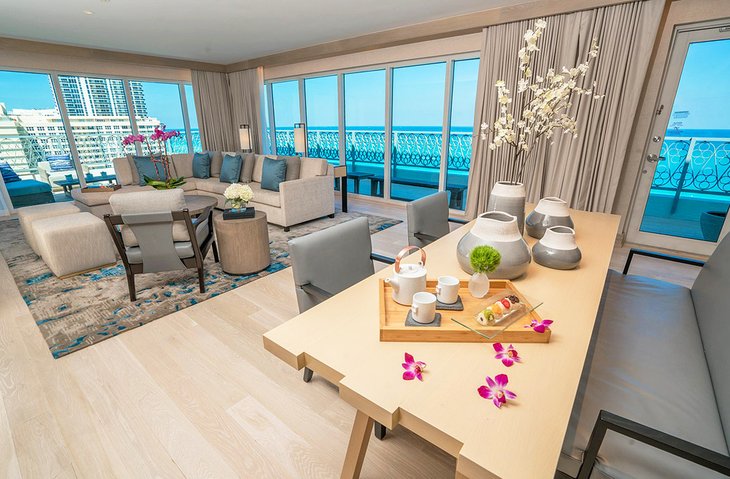 Accommodation: Nobu Hotel Miami Beach
Exceptional Japanese beach-house inspired suites and villas, the upscale treatments at Esencia Wellness Spa, and a beachfront locale help make the Nobu Hotel Miami Beach one of the best resorts in Florida. Plus, it wouldn't be Nobu if it didn't boast exceptional cuisine.
The resort is home to Nobu Miami. Guests are treated to Chef Nobu Matsuhisa's famous Japanese dishes created with a Latin flair. Don't miss Tanoshi Hour in the lobby, where guests can enjoy Nobu bento boxes and a sampling of other Nobu treats between 5pm and 7pm daily. Ocean Social serves upscale dinners or leisurely lunches by the sea.
All 206 rooms and suites are impeccably decorated and spacious, so you can't go wrong. That said, Zen Suites come with a wrap-around balcony, floor-to-ceiling windows with water views, an uber-comfy Nobu Signature king bed by Simmons, a separate sitting area, waterfall shower, and robes. Book the corner suite for extra perks like an oversized bathtub and yoga mat.
If you're planning a trip to remember, book a penthouse level villa. These will spoil you for life, so be prepared. Guests gain access to a private fitness center, priority seating at the on-site restaurants, airport transfers, personal concierge, and butler services. In-room amenities include spectacular water views, a yoga mat, up to 1,300 square feet of space, and a large living room and dining area.
Resort amenities include a relaxing spa, three outdoor pools, a children's club, babysitting, and bike rentals as well as beach chairs.
Address: 4525 Collins Avenue, Miami Beach, Florida
9. The Betsy South Beach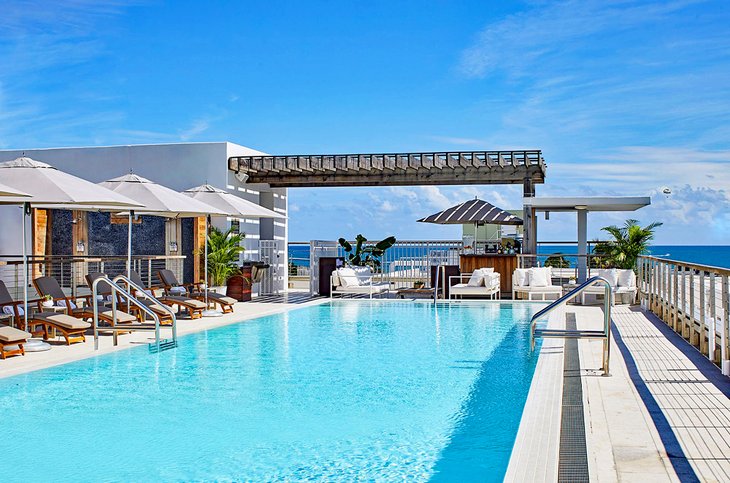 Accommodation: The Betsy South Beach
Each room at The Betsy South Beach luxury boutique resort comes with its own curated library, marble bathroom, plush furnishings, and colorful accents. The linens are lavish and lovely, and some rooms come with balconies featuring fabulous views.
There's no mistaking you're staying in an upscale resort when you wander the grounds. Two beautiful pools invite guests to jump in for a refreshing swim. One lies in the main courtyard and the other on the rooftop.
You can't go wrong with a swim in either, but you'll find beverages and food by the rooftop pool, while those with kids will prefer the family-friendly pool in the courtyard.
The Skyline Deck is a resplendent place to relax while overlooking the beach. Other worthwhile amenities include a spa, fitness center, two restaurants, beach service (including lounge chairs and umbrellas), and morning beach yoga classes.
If you're hoping to bring your pet, you can. They're welcome to stay at The Betsy any time.
Address: 1440 Ocean Drive, Miami Beach, Florida
10. W South Beach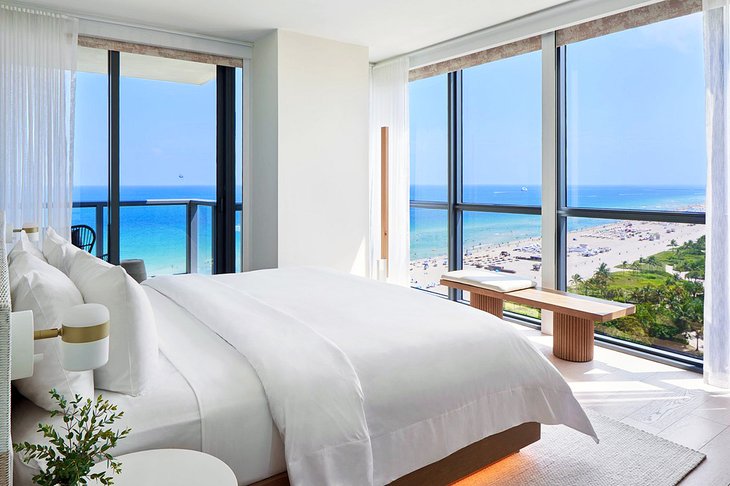 Accommodation: W South Beach
Life passes at a more relaxed pace when you stay at the W South Beach–also known as the W SoBe to locals.
An ideal resort for families, the rooms here recently underwent a massive, $30 million upgrade. They're large enough for those traveling with kids, luxe enough to please guests with expensive taste, and airy enough for travelers to appreciate Florida's best attributes–the bright sun, soft golden sand, and turquoise water.
In terms of things to do, there are plenty. Take a stroll on the private beach, play basketball or tennis on the rooftop courts, or enjoy a delectable meal at Mr. Chow or the Italian RWSB restaurant.
There's also the 9,540-square foot luxury AWAY Spa, a fitness center, and plenty of areas to enjoy music–both live and prerecorded.
Most guests spend the majority of their time on the WET deck, enjoying poolside service from their comfortable lounge chairs and slipping into the cooling water of the infinity pool. No matter how you choose to spend your time at the W South Beach, you won't be disappointed.
Address: 2201 Collins Avenue, Miami Beach, Florida
11. Loews Miami Beach Hotel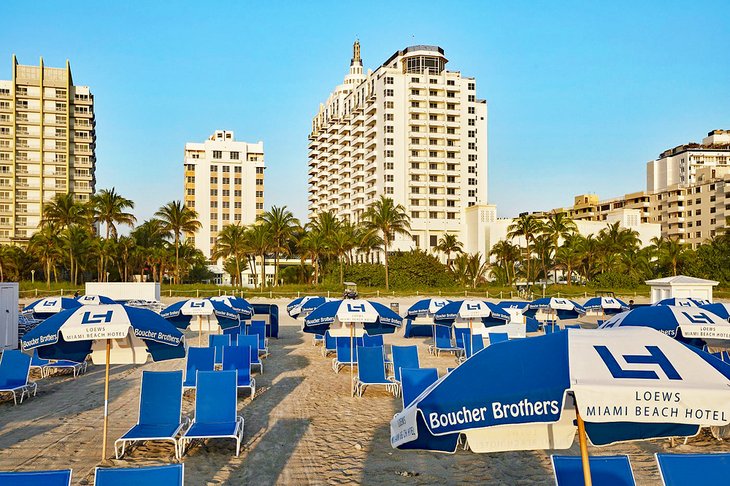 Accommodation: Loews Miami Beach Hotel
The Loews Miami Beach Hotel has everything you'd hope for in an oceanfront resort in Miami Beach. From luxurious rooms to tasty restaurants to a private section of beach, you won't be at a loss for fun things to do.
The resort fee includes activities like kayaking, banana boat rides, paddleboarding, and swimming in the large infinity pool. Guests are also granted access to the fitness center and can use one beach chair per person each day.
Rent a cabana or beach umbrella to make your day at the beach even more enjoyable, or head to the Exhale Spa for a rejuvenating therapy. If those perks weren't enough, guests of the Loews Miami Beach Hotel are also granted a 45-minute photoshoot on the property with one complimentary branded image.
Bring the kids along to enjoy this fab resort for families. Baby bath amenities, pack and plays, and child-friendly menus make it easy for little ones to settle in. Plus, they'll love the kid-centric spaces and activities. Another bonus, kids under 18 stay for free.
Can't leave Fido behind? You don't have to. Pets are welcome at this resort (for a fee) and are given access to a gourmet room service menu specifically prepared by the culinary team for cats and dogs.
Rooms and suites are incredibly comfortable, featuring contemporary designs and floor-to-ceiling windows; some come with balconies.
Address: 1601 Collins Avenue, Miami Beach, Florida
Map of Resorts in Miami Beach
Miami Beach, FL - Climate Chart
Average minimum and maximum temperatures for Miami Beach, FL in °C
J
F
M
A
M
J
J
A
S
O
N
D

23

17

23

17

24

19

26

21

28

23

30

25

31

26

31

26

30

26

28

24

26

21

24

18

PlanetWare.com
Average monthly precipitation totals for Miami Beach, FL in mm.

62

54

56

71

125

175

92

138

160

115

84

50