9 Top-Rated Resorts in Boca Raton, FL
Whether you're craving a high-end shopping experience, golf vacay, or relaxing poolside retreat, Boca Raton is one of the best places to visit in Florida. This upscale resort town also boasts a good mix of plush and mid-range resorts featuring impressive amenities. These make it easy to relax here for a weekend getaway.
Countless travelers visit Boca to spend time with family members, many of which reside (at least for the winter) in the city. Others choose to while away a few days seeing the top attractions in Boca Raton: wandering the glitzy streets of Mizner Park and the natural playgrounds found in Gumbo Limbo Nature Center and Sugar Sand Park.
No matter which group you fit into, it's important to choose the right accommodations for your trip. The staff, eateries, and wonderful facilities on offer at these lovely resorts will help turn your vacation into an exceptional holiday. Plan where to stay with our list of the best resorts in Boca Raton.
1. The Boca Raton Beach Club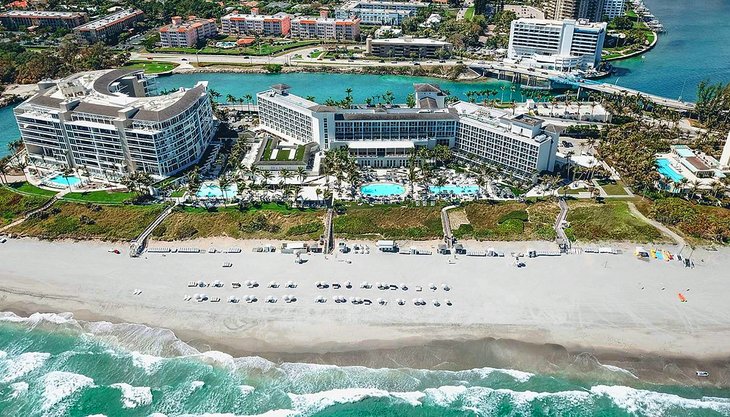 Technically part of The Boca Raton (see below), this elegant beachfront hotel knows how to serve up a luxury vacation. With five-star service, you'll be relaxing poolside with no worries beyond which cabana to rent when you head to the beach or what to eat at the oceanfront restaurant at this top resort in Boca Raton.
Feeling too comfy to move? Order food to your lawn chair. Told you they know how to deliver a luscious vacay.
The Boca Raton Beach Club's membership in the larger resort means guests have access to every high-end amenity on offer — from the Cloister's phenomenal restaurants to its award-winning spa to the fun FlowRider and full-service fitness clubs to the impressive lakeside, Harborside Pool Club. Just hop on the resort's free shuttle bus or water taxi for a short ride to the main building.
No matter where you are on the resort's property, every staff member goes out of his or her way to make guests of all ages feel welcome.
Popular with families, the Boca Raton Beach Club is one of the best places to visit for families in Boca. Firstly, the beach is private, which means you won't have to wrestle with crowds to find a good spot.
Secondly, the beach staff are incredibly helpful. They'll set up chairs where you want them, get fresh towels, and bring food and drink to your sandy spot to help make your experience even more memorable. For those times you'd like to savor a few moments with less responsibility, drop the kids off at the exceptional Banyan Bunch Kids' Club. We bet they'll beg you to stay longer.
Choose from one of 212 clean and crisp modern rooms, most of which feature beautiful water views. When it comes time to eat, enjoy the on-site restaurant or head to the main resort for more varied options.
2. The Boca Raton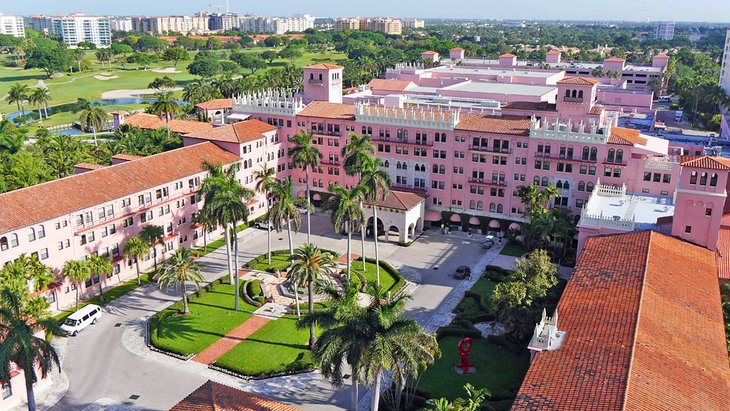 You can tell The Boca Raton is special before stepping foot in the main, historic pink stucco building. Lush grounds sprawl towards the large entrance gate, with no blade of grass out of place. The tall Royal Palms wave graciously, guiding visitors down the long driveway of this top resort in Boca Raton.
Staff walk the grounds wearing genuine smiles, and they're willing to do (or get) pretty much anything you need. Adding icing to this proverbial cake are more than 356 acres of immaculate waterfront on both the Intracoastal Waterway and Lake Boca.
This luxurious property is an ideal place for both couples and families to relax after spending days eating, shopping, or frolicking on nearby beaches. To top things off, the resort offers the Club Course, an 18-hole, par-71 course that doubles as an Audubon Cooperative Sanctuary.
A world-class spa, tennis courts, multiple restaurants, three (soon to be four) waterfront pools, and a bevy of water activities — including paddleboarding, snorkeling, FlyBoarding, banana boat rides, and boat tours are also on offer here.
Traveling with kids? No problem. They'll love spending time in the Banyan Bunch Kids' Club. With friendly staff, fun games, lessons, exercise classes, and crafts, they won't even miss you when you leave to lounge solo on the beach.
The new four-acre lakefront Harborside Pool Club is home to three pools, two giant three-story slides, and a lazy river. You'll also find luxury cabanas, bespoke butler service, and a pool bar for snacks and beverages.
Good luck getting the children out of the Kids Splash Zone, which comes complete with a pirate ship and smaller waterslides. This fun spot also boasts four kiddie cabanas, which are designed with little ones in mind. Choose from a pirate, princess, little chef, or mermaid theme. The cabanas are located next to the splash pad and come with toys, costumes, and bubbles.
Have older kids? Thrill your teen with passes to the on-site FlowRider, a man-made surfing experience in a contained space or, better yet, sign them up for surf lessons.
A fitness buff? You'll be more than set at this fit-forward resort. Whether you're hoping to row at Hydrow, sweat in one of the full-service fitness clubs, or zen out with yoga on the beach, you're bound to find an exercise program you'll love.
Now for the accommodations. With five fabulous places to choose from, it's hard to decide where to rest your head. Here's what you need to know:
1. The Cloister: This historic, main showstopper building was originally designed by famed architect Addison Mizner in a Spanish revival style. It's home to an idyllic spa, six restaurants, lakefront cabanas, a tennis club, and a golf course. This is also where you'll find FlowRider and Hydrow.
2. Beach Club is a five-star boutique hotel with its own private beach. This luxe spot boasts three oceanfront swimming pools, cabanas, an oceanside restaurant, a fitness center, and the Quest Kids Club.
3. Yacht Club: A lakefront hideaway complete with a personal concierge, this elite hotel offers only suites. It, too, offers a spa and six restaurants, as well as a lakefront pool.
4. Bungalows: These large, dreamy units are perfect for families who intend to stay for an extended vacation. There are 58, two-bedroom suites to choose from, each with a full kitchen and private terrace or balcony. They come with access to a private pool, and premium units include laundry facilities.
5. Tower: As of Spring, 2022, guests of The Boca Raton can choose to stay in spacious, bright, and airy suites boasting unparalleled views of the Atlantic Ocean. They are brand-new, contemporary, luxurious, and can be adapted to create larger accommodations that could even take up an entire floor. They also come with personalized butler service.
3. Boca Raton Marriott at Boca Center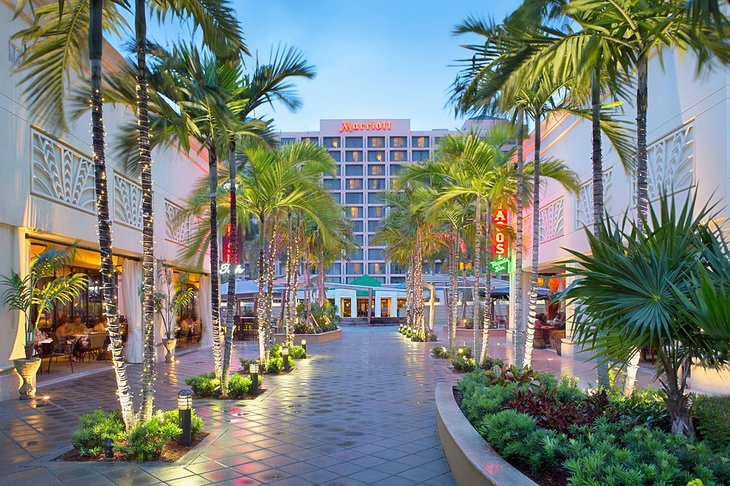 A hotel's most important feature is its guest room. The resort can be all bells and whistles outside of the bedroom, but for it to be a real winner, each room must check the following important boxes: 1. Have a comfy bed. 2. Be quiet. 3. Be clean. The Boca Raton Marriott at Boca Center fulfills all these requirements, making it easily one of the best resorts in Boca Raton.
Each of the property's 243 rooms and 16 suites boast comfy beds with luxury bedding, marble bathrooms, and a spacious living area. Another plus: the complimentary toiletries include a makeup-removing cloth.
In addition to its wonderful rooms, this Marriott is home to two exceptional on-site restaurants, a large and quiet outdoor pool, and a 24-hour fitness center.
One of the hotel's other bonuses is its incredible location. Mere steps from Boca's celebrated Town Center Mall, the hotel makes it easy to practice a little retail therapy during your visit. The resort is also close to the popular Mizner Park.
A row of giant palm trees guides guests along the paved walkway to the hotel's grand front entrance. Your walk is lined by restaurants featuring idyllic outdoor patios. Inside, visitors are greeted by sleek, modern furniture and smiling staff members.
Those who prefer to spend their time poolside will enjoy the giant umbrellas and waving palms that transform the area into a tropical oasis.
Insider's tip: Don't miss breakfast at the hotel's restaurant, Sonrisa. The service is just as good as the food, and that's saying something.
4. Renaissance Boca Raton Hotel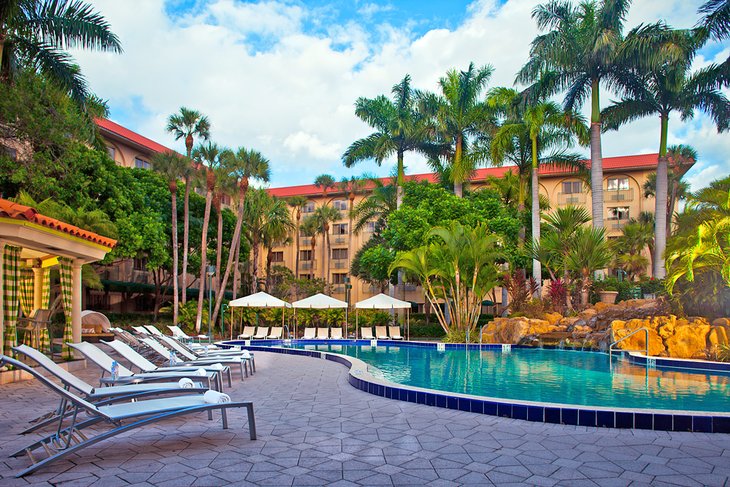 If you're looking for romance, you'll find it at the Renaissance Boca Raton Hotel. This serene Marriott spot is a perfect resort for couples looking to unwind without breaking the bank.
The grounds are lush, but not large, which means you won't have to walk for miles to reach your room. The pool is clean and pretty. It comes complete with a quietly cascading waterfall, and when it comes time to eat, you won't have to go far.
When you're ready to explore the Boca Raton that lies off campus, hop on the hotel's free shuttle. It will take you to attractions, like the Town Center mall, which lie within a three-mile radius.
The rooms themselves are clean but lack the luxury you'll find at other, more upscale Boca resorts. Ask for a poolside view, so you won't be stuck looking out at the parking lot. The fitness center is convenient if you're hoping to burn off the calories you gained from that extra dessert.
Note: The on-site restaurant has been under renovation since April of 2022. That means there are limited food and beverage services until it reopens which will, hopefully, be soon. Guests may also experience some construction due to an overall revamp of the resort.
5. Waterstone Resort & Marina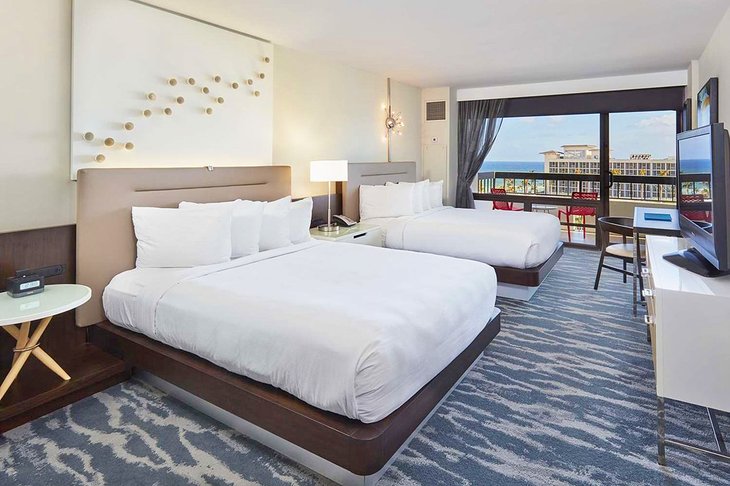 A member of the Hilton Curio Collection, this modern boutique hotel has won the AAA's Four-Diamond award multiple times. Once you meet the super friendly staff and catch sight of the hotel's sleek lines and impressive views over the Intracoastal Waterway, Atlantic Ocean, and Lake Boca, you'll understand why.
Home to a marina, it is easy to access the beach and water sports rentals, as well as book a boat or fishing tour from this locale. Take a dip in the resort's heated pool, made even more sumptuous by its unbeatable water views. And when it comes time to put your feet up, head back to one of the 139 rooms and suites, many of which feature private balconies that face the sparkling azure waves.
Insider's tip: Choose a room on the west side of the hotel. You won't hear the noise from cars rushing over the nearby draw bridge, and you'll be rewarded by full water views.
Feeling peckish? Waterstone Resort boasts two restaurants you'll want to revisit again and again. The Boca Landing's waterfront view is almost as good as its delectable menu offerings. Try to snag an outdoor table, so you can watch boats travel along the Intracoastal Waterway while you dine. There's little more relaxing!
SeaSpray is lower-key, but also offers tasty local cuisine alongside beautiful water views. The Baja Fish Tacos are a must-try, as is the Key Lime Pie.
Parking can be a bit of a hassle, as the lot is on the small side, but the resort offers a free shuttle (complete with complimentary beach chairs and umbrellas) to nearby Deerfield Beach, as well as other locations. That means there's no need to take your car.
6. Hyatt Place Boca Raton Downtown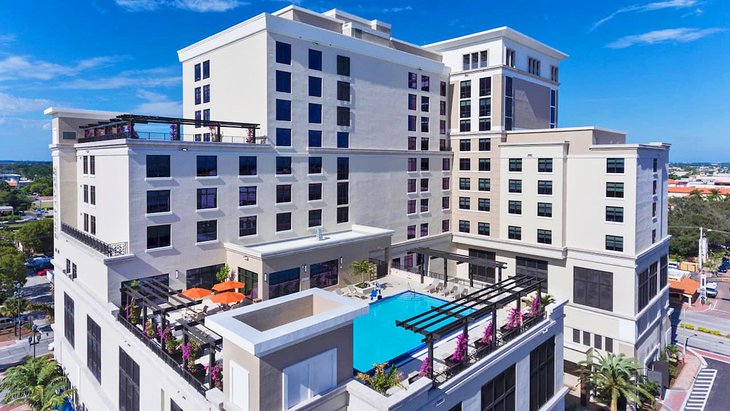 You'll be living in the heart of the action when you book a stay at the Hyatt Place Boca Raton Downtown. Don't worry, Boca's a quiet city, so you won't be fighting with honking horns or screaming people when trying to fall asleep at night.
Close to some of the city's best attractions (like Sugar Sand Park and South Beach Park), plus the Royal Palm Place shopping and dining area, this resort is well-placed for those who'd like to practice a little beachin' and retail therapy during their vacation in Boca Raton.
The rooms are bright, airy, and modern, not to mention comfy (the beds are ahh-worthy). With 200 rooms to choose from, you're sure to be able to book one with an optimal view. They come with sleeper sofas, so it's a great resort for families.
Breakfast is free at the aptly named Breakfast Bar (don't skimp on the parfaits). This is an added perk, as is Wi-Fi. A fitness center and pool make it easy to stay active when you aren't out exploring the town, and an on-site restaurant is a good option for those who'd rather not leave the property.
The Placery can be found in the lobby and is open from 6am to midnight. It boasts a low-key menu (think burgers and Caesar salads) to please all types of eaters. The Espresso Bar is open 24/7 to ensure easy access to caffeine when it's needed.
7. Wyndham Boca Raton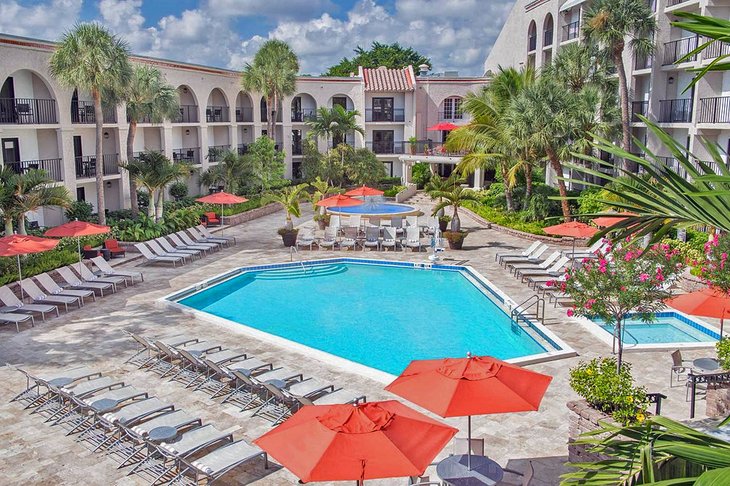 It's easy to stay fit and healthy at the Wyndham Boca Raton. Whether you choose to practice yoga by the pool, or inside the property's Yoga Studio, you'll have over 30 classes to choose from each week at this comfortable resort in Boca Raton.
The fitness center is open 24 hours a day and boasts both cardio and strength-training equipment. Plus, if you're hoping for a bit more, the hotel offers discount rates to nearby clubs like YouFit and Orange Theory. Or, the concierge can book a private trainer to come to the hotel to help you work out.
If swimming's more your thing, the hotel's saltwater pool and hot tub will fit the proverbial bill. The pool area is refreshingly quiet and clean.
As for eating, the Wyndham is dedicated to offering the healthiest of fare at a reasonable price (yay!). The on-site Farmer's Table restaurant serves up a delicious, fresh, and healthy menu with plenty of vegan and gluten-free options.
Each of the 182 rooms boats a private balcony or patio, and the beds are comfortable. If you're looking for more space, the hotel offers 38 suites.
Insider's tip: Head to the 2nd floor when you're in need of a snack. The TrendTea Lounge is packed with a wide selection of teas, coffees, and tasty treats. It's open from 6:30am to 3pm Monday through Saturday and from 6:30 to 11am on Sundays.
8. Vistalmar Beach Resort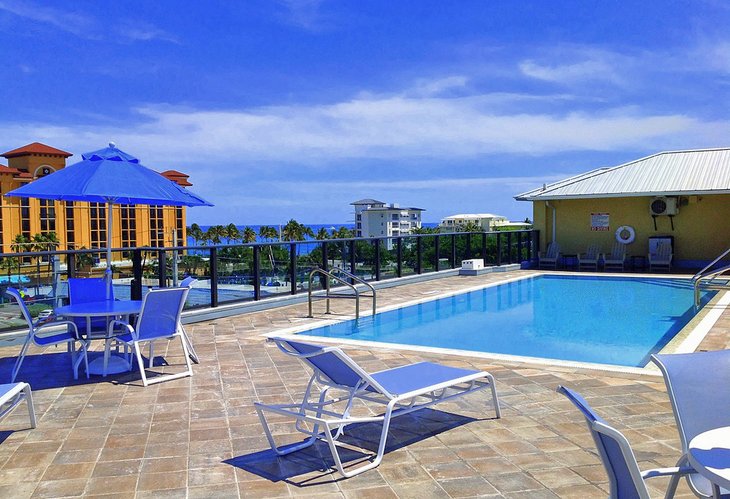 Technically outside of Boca Raton, the Vistalmar Beach Resort lies a mere 3.6 miles away in Deerfield Beach. If you're looking to explore the best attractions and things to do in Boca Raton while also enjoying the beach, this is the place to stay.
This beautiful resort offers guests one (or more) of 26 apartment-style hotel suites ranging in size from one to three-bedrooms. It also boasts an epic rooftop pool that's situated on the fifth floor. Its panoramic views of both the Atlantic Ocean and city of Deerfield are spectacular.
Good news for pet lovers: The hotel offers dog-friendly suites, so little Fido can come along. And while the resort doesn't have an on-site restaurant, there are plenty of eateries within walking distance.
9. Wyndham Deerfield Beach Resort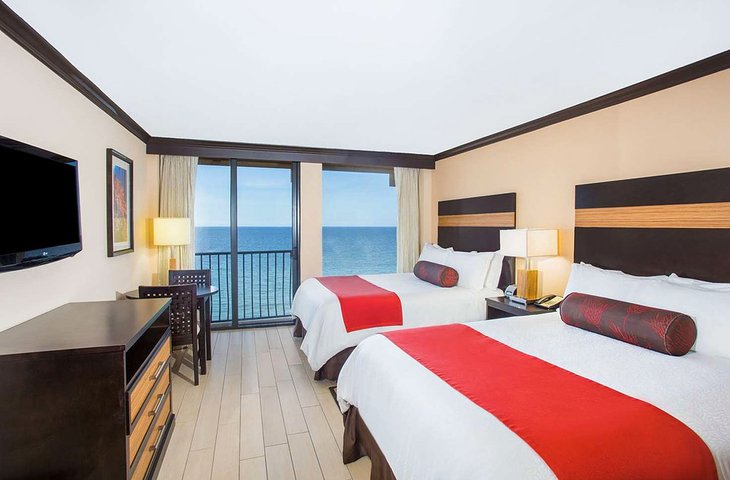 Experience a true South Florida beach vacation by staying at the Wyndham Deerfield Beach Resort. A five-minute drive from Boca Raton, this oceanfront resort is mere steps from the soft white sand of Deerfield Beach. This Wyndham property boasts all the things you want in a beach resort: multiple on-site restaurants (including a gelateria), a fitness center, pool, and Jacuzzi.
The hotel's best feature, though, is its unbeatable ocean views, something they take full advantage of. Each of the 172 modern rooms feature floor-to-ceiling windows. The resort's uber-friendly staff is another plus. No matter what you're looking for (from towels to bodyboards), they'll find it. And they'll do so with a smile.
The fact that pets under 35 pounds are welcome (for a $50/day fee) is an added bonus.
Map of Resorts in Boca Raton, FL
More Related Articles on PlanetWare.com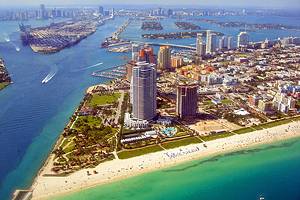 Places to Visit in Florida: There's more to the Sunshine state than mere sunshine, although that's the commodity most of us come in search of. To truly appreciate Florida's assets (including incredible architecture, fascinating flora and fauna, and pristine beaches) check out these best places to visit. Or, head to one of these super fun tourist attractions.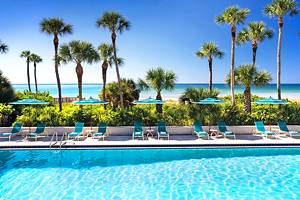 Where to Stay in Florida: Planning to head a bit further afield than Boca Raton? Check out these amazing beach resorts in the Florida Keys.