12 Best Places to Get Married in the World
There's something magical about a destination wedding - the swaying palms on a secluded beach, the scenic backdrop of mountain vistas, the allure of a stress-free day courtesy of wedding planners. Destination weddings are a great way to have the most important day of your life at a location that uniquely represents your love, and to share it with loved ones.
Guests get a fabulous vacation, and you take away wonderful memories of your special day. The best part is you can combine your dream wedding with an unforgettable honeymoon.
Whether you are looking for a small gathering on a beach, or in a chapel, or want to entertain hundreds of guests at an all-inclusive resort, we've got the right destination to suit your needs. For ideas, read this list of the best places to get married in the world.
1. Tenerife, Spain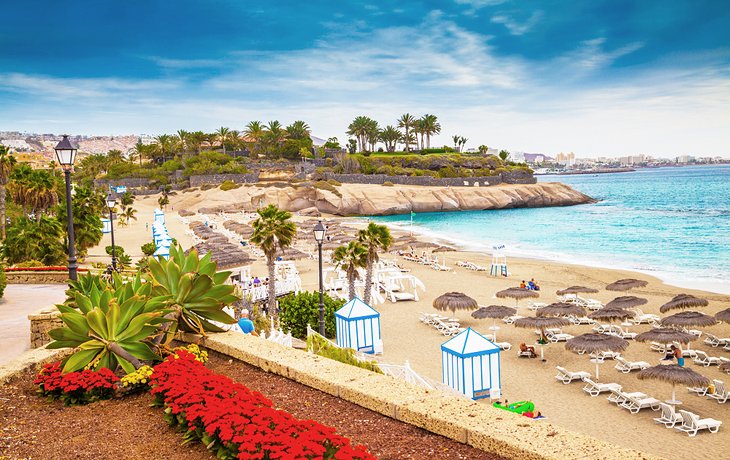 As the romantic singer Ed Sheeran's Tenerife Sea song goes, "The way it brings out the blue in your eyes, is the Tenerife sea," the deep colors of the sea surrounding Tenerife are enchanting. With year-round mild temperatures, the largest of the Canary Islands is known as Europe's tropical paradise. It has stunning volcanic landscapes, Michelin-Starred cuisine, and seaside luxury hotels.
Tenerife boasts two UNESCO World Heritage Sites, Teide National Park, and multiple nature reserves. The island is easily accessible, and the resorts offer a range of wedding planners and packages to make things as smooth as possible.
2. Crete, Greece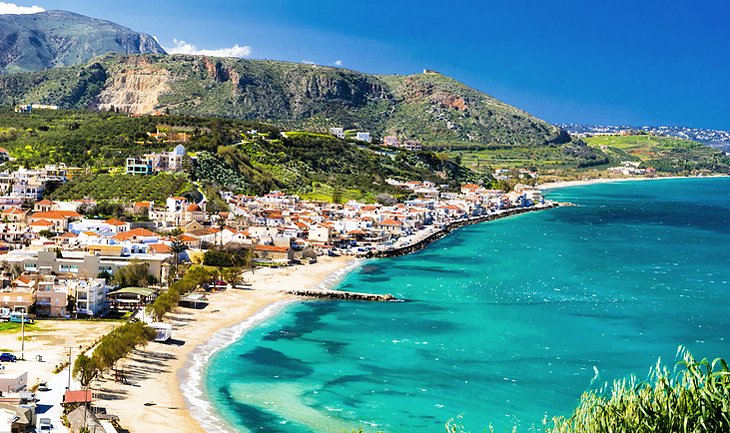 Santorini has long topped the lists of best places to get married, but Greece's largest island of Crete is a lesser-known gem in the Aegean Sea. It has all the right settings for memorable weddings, from the gorgeous pink sand beaches of Elafonissi and the Great Gorge of Samaria in the rugged White Mountains to adorable hill top chapels.
The old town of Chania is charming with cobblestoned streets and restaurants overlooking the lighthouse and Venetian, Turkish, and traditional buildings. There are dozens of venues for every taste and budget, from seaside ceremonies to fairytale weddings at traditional farm estates.
Agreco, located on the northern part of the island near Rethymno, is a lovely Greek traditional estate surrounded by olive trees. Get married either in the small chapel or on the terrace overlooking the sea, followed by dancing in the courtyard, and an al fresco dinner made fresh from the on-site taverna.
3. Montezuma, Costa Rica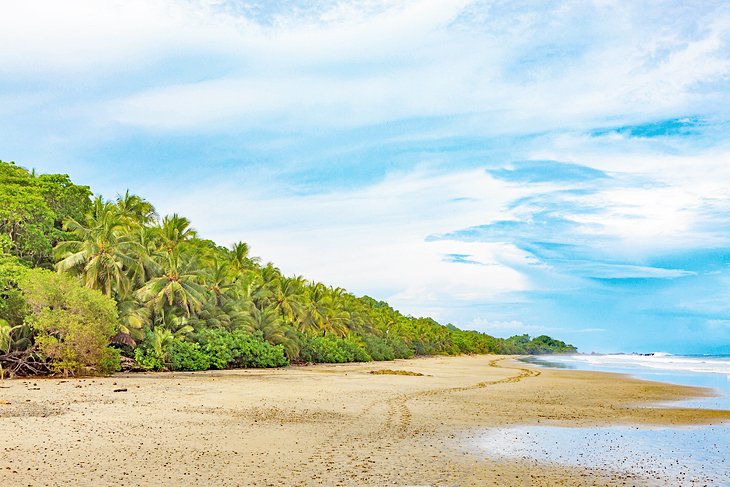 Costa Rica is known for its incredibly diverse wildlife, and nature lovers can host their nuptials under a rainforest canopy teeming with capuchin monkeys, or on a secluded beach fringed by palm trees. In Montezuma, on the western coast, you will fall in love with the small-town feel and pristine, palm-fringed beaches.
The town has several beach houses for rent, and the wedding staff at the five-star Ylang Ylang Beach Resort arranges stress-free ceremonies. No matter where you are staying, you and your guests can finish the evening witnessing adorable sea turtle hatchlings start their new life crawling to the sea under the moonlight.
4. Koh Samui, Thailand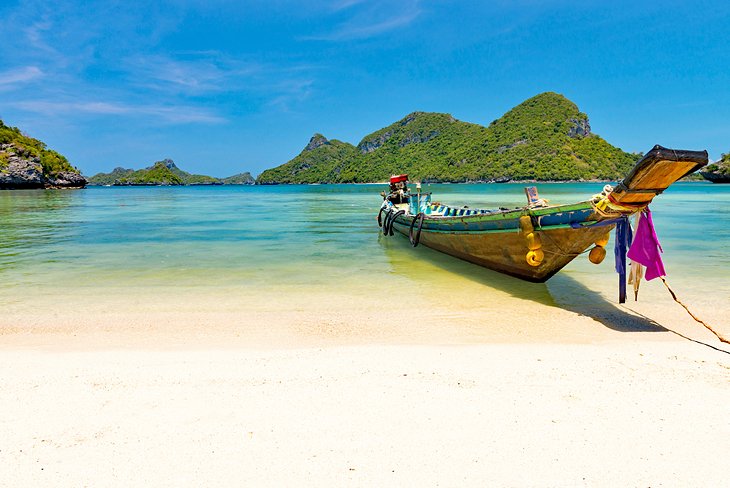 Located off the east coast of Thailand, Koh Samui enjoys sunny weather year-round, avoiding the rains that drench islands like Phuket in the monsoon season.
The island's northern shore boasts a string of high-end resorts, including Four Seasons Resort Koh Samui and Santiburi Koh Samui, ideal for elegant beach ceremonies and pre-wedding pampering at exclusive spas. The island also offers budget-friendly options for those looking to get married without breaking the bank.
Treat your guests to a private yacht to the nearby Ang Thong Marine National Park, an archipelago of picturesque islands surrounded by turquoise waters. Extend your stay to indulge in a four-hour spa ritual in the rainforest interior at Tamarinds Springs Forest Day Spa.
Koh Samui is easily accessible from Bangkok via Bangkok Airways. Visitors can also hop on one of the ferries from Surat Thani or Don Sak from the mainland.
5. Tuscany, Italy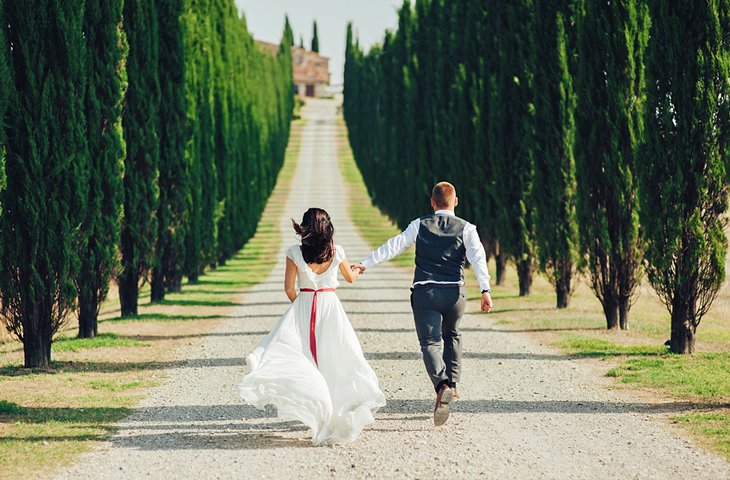 Charming villas nestled on hilltops, cypress-tree lined roads, and sunflower fields make Tuscany inherently romantic. A short train ride from Italy's bustling cities, the Tuscan countryside is centrally located for a dream wedding.
Whether it's a Renaissance-style wedding at a majestic castle like the Lari Castle or a rustic celebration at a farmhouse in the Chianti region, there are varied selections for all tastes and budgets. Many resorts offer luxury private villas for intimate weddings, while estates are well suited for larger parties.
Extend your stay to marvel at Renaissance art and architecture in Florence, or head to the coast from some seaside fun in charming fishing villages.
6. Punta Cana, Dominican Republic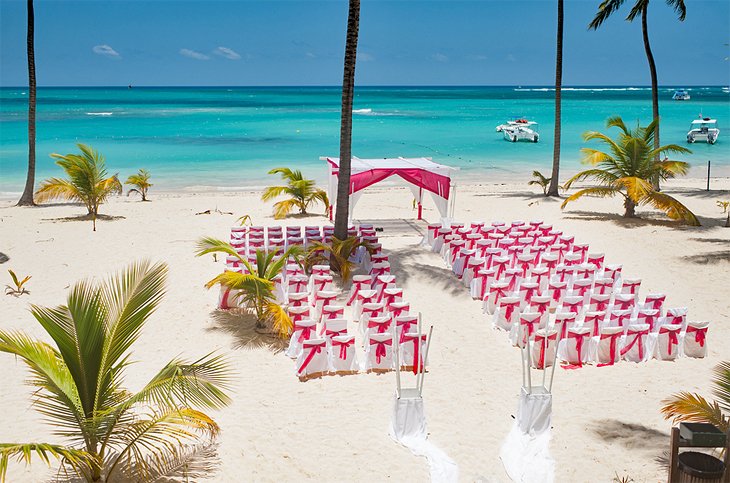 Located on the east coast of the Dominican Republic, Punta Cana boasts scenic beaches, aquatic adventures, and upscale resorts for couples and families. If you are seeking a sun-kissed destination for your special day, there are many golden-sand beaches and all-inclusive resorts.
Bavaro Beach is the area's most beautiful stretch of coastline, lined with palm trees and happening resorts, where you can wade into the emerald waters, sunbathe, or partake in water activities. Aside from great snorkeling in its clear, warm waters, the area is also known for its golf resorts. So, rest assured you and your guests will have plenty to do.
Among the resorts near Bavaro Beach, the five-star Melia Caribe Beach Resort stands out for its powdery sand beach, exotic tropical gardens, and luxurious amenities. The resort offers five different packages for weddings and those looking to renew their vows in either traditional or simple settings.
7. Kapalua, Maui, United States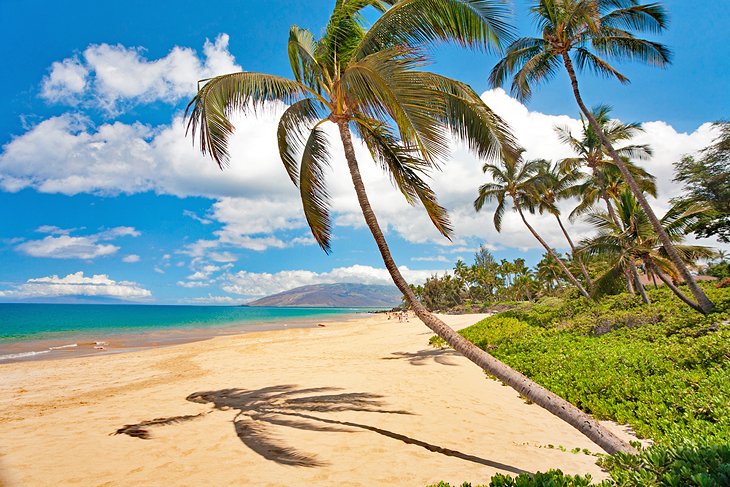 Kapalua loosely translates to "arms embracing the sea," and this premier resort area in the northwest of Maui, at the foot of the Kahalawai mountains, has an understated elegance far from its commercially built-up neighbors. This hideaway has five bays and three white-sand beaches, one of which has been voted among the best in the US.
Luxury resorts like The Ritz Carlton Kapalua and Montage Kapalua Bay offer breathtaking settings with panoramic ocean views of the islands of Molokai and Lanai. The resorts have on-site restaurants with indoor and outdoor seating to accommodate large weddings.
8. Los Cabos, Mexico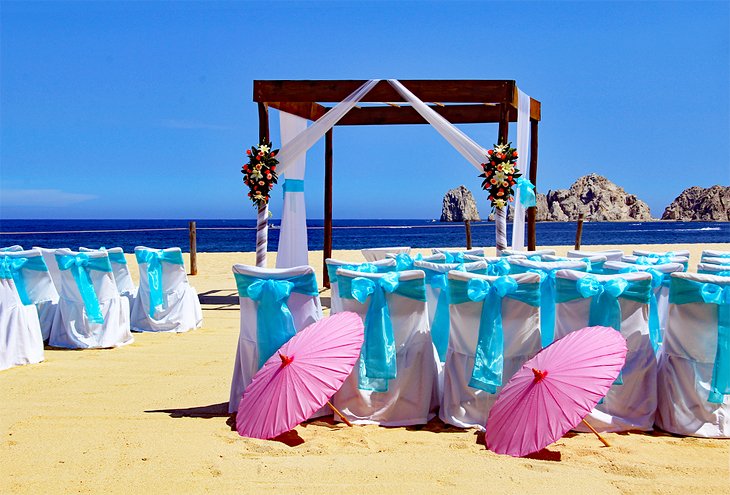 You've probably seen the iconic arch in pictures of Mexico's Los Cabos. Now you can exchange vows in front of this awe-inspiring natural rock formation at the southern tip of Baja California, where the Sea of Cortez meets the Pacific Ocean.
If you are looking for a sophisticated soiree, there are a multitude of secluded luxury resorts. Solaz, a Luxury Collection Resort, Los Cabos and The Cape, A Thompson Hotel offer exclusive settings with elegant halls and gardens paying homage to the desert landscape.
The tranquil scene at the farm-to-table Flora Farm, in the foothills of the Sierra de la Laguna Mountains, is best for couples looking for a sustainable option. If you enjoy the underwater world, Bahia Hotel & Beach House, along with Nautilus Dive Tech, provide ceremonies in the Sea of Cortez.
9. Tofino, Vancouver Island, Canada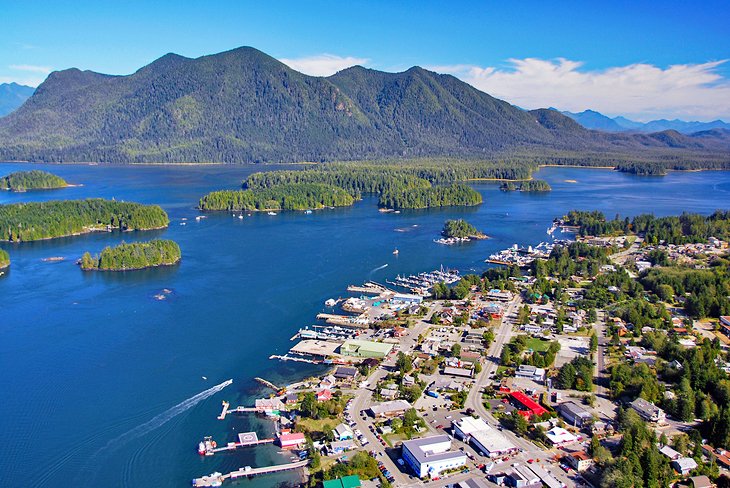 The small surf town of Tofino, a lush wilderness outpost on the western edge of Vancouver Island, is an ideal off-the-beaten-path wedding destination. The local population swells in the summer, and yet there is still a sense of solace in its unmatched natural beauty.
The iconic Wickaninnish Inn, situated on a rocky promontory, offers bespoke wedding packages, whether it's an intimate ceremony followed by dancing by the fire, or a seafood buffet for family and friends in a private dining room overlooking Chesterman Beach.
Pacific Sands Beach Resort, offering modern ocean-view suites and beach houses complete with kitchens, fireplaces, and balconies overlooking the beach, is another ideal setting for a romantic seaside wedding. The resort, in collaboration with Rare Earth Wedding Event Productions, offers custom-made packages for weddings and celebrations.
Pacific Rim National Park is right next door, offering an extensive system of trails through old-growth forests and rugged coastlines with windswept beaches.
Accommodation: Top-Rated Resorts in Tofino, BC
10. Montego Bay, Jamaica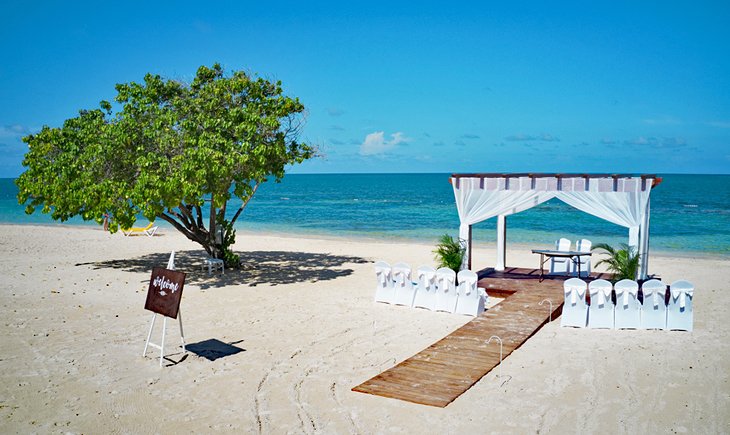 Montego Bay is postcard perfect, with Jamaica's coveted white-sand beaches and turquoise waters. With its own international airport, this is an easy place to visit for your grand tropical wedding under the Caribbean sun.
The Jewel Grande Montego Bay Resort & Spa, which opened in January 2018, offers a gorgeous location for your ceremony and a large ballroom for receptions. If you are extending your stay for a honeymoon, take advantage of the new Sandals Royal Caribbean Montego Bay, featuring over-water villas with see-through glass floors and hammocks overlooking the tranquil waters, the first of their kind in the Caribbean.
11. Banff, Canada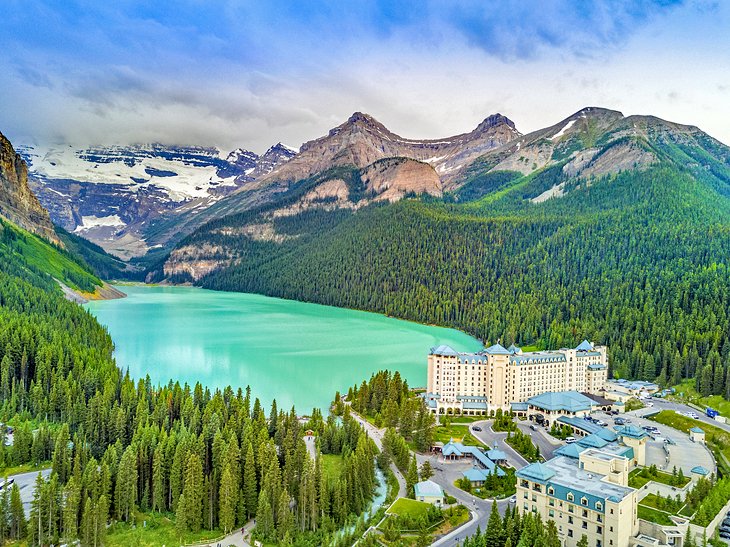 Dominated by the towering Canadian Rockies, the resort town located within Banff National Park is like a quintessential fairy-tale with chateau-style hotels and alpine scenery. The landmark Fairmont Banff Springs, built in Scottish baronial style in 1888, looks like a castle straight out of a movie. This luxury lodge has a wide variety of options for a summer mountain wedding and a selection of ballrooms, lounges, and dining rooms.
The surrounding parkland is perfect for wildlife viewing, from elk to grizzly bears, and the town buzzes year-round with boutique shops and fine dining.
12. Lucerne, Switzerland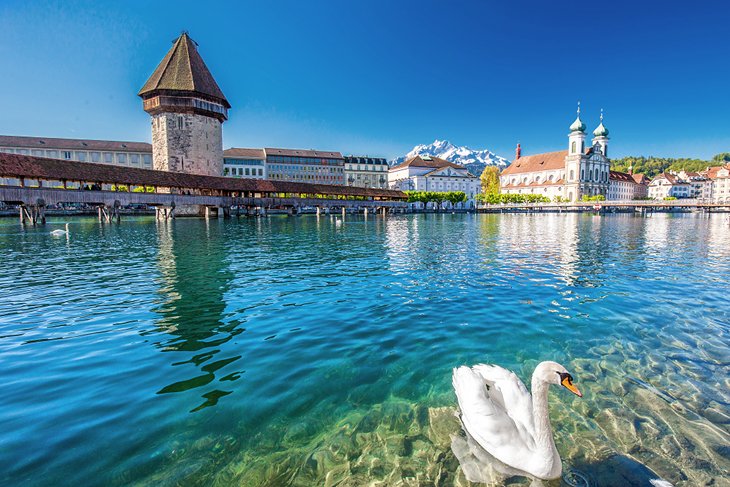 Celebrate your love in one of the most scenic locations in central Switzerland on the shores of Lake Lucerne in Lucerne. This car-free town's centerpiece is the Kapellbrücke (Chapel Bridge), one of the oldest covered wooden bridges in Europe.
Exchange vows at the Chapel of Castle Meggenhorn, standing on a promontory above Lake Lucerne, or atop Mount Pilatus - 6,000 feet above sea level - at the historic and romantic Hotel Pilatus-Kulm. Take your wedding party on a paddlewheel steamer cruise to continue the celebrations on the iconic lake.
Map of Places to Get Married in the World