9 Best All-Inclusive Resorts in the Florida Keys
All-inclusive resorts can help remove the "eek" from travel planning, so you can experience more "ahh" while lounging beachside, and the remarkable Florida Keys offer plenty of beautiful beaches to enjoy. While there are only three true all-inclusive resorts in the Florida Keys, this popular holiday destination boasts other "almost" all-inclusive options and resorts with packages to help keep your vacation bill in check.
One of the most popular holiday destinations in the Sunshine State, the Florida Keys pack plenty of glitz and glam into the idyllic scenery. The last thing you want to worry about while enjoying the exciting tourist attractions in the Florida Keys is your budget.
Whether you're looking for a luxury resort featuring a full dining plan or a family-friendly hotel offering food and beverage credits, there are plenty of options to help streamline your Florida holiday. Find the best place to stay for your next vacation with our list of the best all-inclusive resorts in the Florida Keys.
1. Little Palm Island Resort & Spa, A Noble House Resort, Little Torch Key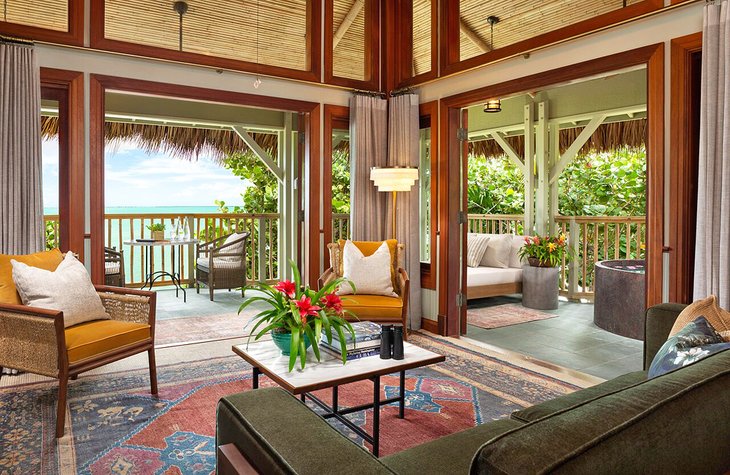 Accommodation: Little Palm Island Resort & Spa
Set on a beautiful barrier island, the four-star Little Palm Island Resort & Spa is only reachable by boat or plane. Talk about a secluded, romantic spot—this resort is perfect for couples. Silky soft, golden sand; turquoise water; and tall, verdant palms create a backdrop so lovely it's easy to believe you're somewhere farther south, like the Caribbean. Not surprisingly, this is one of the best resorts on the beach in the Florida Keys.
Life at Little Palm Island Resort & Spa is about as serene as it gets in the Keys. One of the most exclusive beach resorts in Florida, this luxurious beauty attracts an A-list crowd of celebs and presidents. No one under 18 is allowed on the premises, so peace and quiet can be had by all in the sumptuous, technology-free bungalow suites.
Choose the Culinary Paradise Package for an all-inclusive experience. Your fee includes daily breakfast, lunch, and a four-course dinner, plus a $100 daily spa credit per person. You'll definitely want to take advantage of the Madrugada (Sunrise Water Massage) at SpaTerre. Where else can you have a massage atop a table in the Gulf of Mexico?
The GET LOST Package boasts daily breakfast for two, as well as a $100 spa credit per person per night of stay. Included in the resort fee are yacht transfers, nonalcoholic drinks from the mini bar, and water sports.
Address: 28500 Overseas Highway, Little Torch Key (at Mile Marker 28.5)
2. Bungalows Key Largo, Key Largo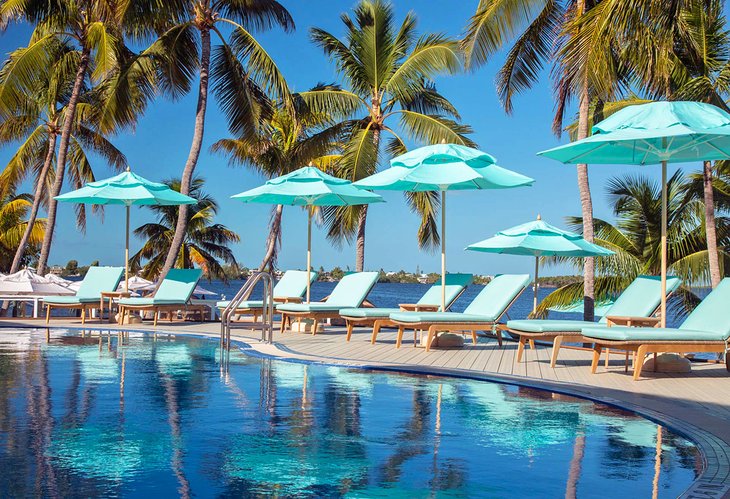 Accommodation: Bungalows Key Largo
You must be over 21 to stay at the magnificently glamorous Bungalows Key Largo resort. Opened in 2019, this four-star nirvana is the sole adults-only all-inclusive resort in Florida, and it boasts five-star service and a stunning backdrop.
Once immersed in the tranquil surroundings (we're talking more than 1,000 feet of azure ocean beauty and a lush botanical garden), you won't miss hearing the screams of kids arguing over who jumped into the pool first. Instead, you can sit on your private, waterfront patio (if you booked a waterfront bungalow, that is) and look for dolphins.
There's no mistaking Bungalows Key Largo for anything other than a high-end beach resort. A nautical ocean theme is peppered throughout the lavish and spacious bungalow suites. Each divinely furnished bungalow sports at least 900 square feet of indoor and outdoor living space and includes a soaking tub and outdoor shower.
Included in your stay are all meals and drinks; kayak, bike, paddleboard, and snorkeling equipment rental; fitness classes (some of which are held in a tiki hut); and a shuttle to reach some of the top attractions in Key Largo. Three dining options are available, including a fine-dining venue, a beachside Mexican eatery, and a more casual seafood restaurant.
There's a fabulously relaxing spa on-site, but treatments aren't included in the nightly rate. Also extra are fun excursions like kayaking through the Everglades and enjoying hors d'oeuvres aboard a sunset cruise on a 56-foot catamaran.
Address: 99010 Overseas Highway, Key Largo, Florida
3. Parrot Key Hotel & Villas, Key West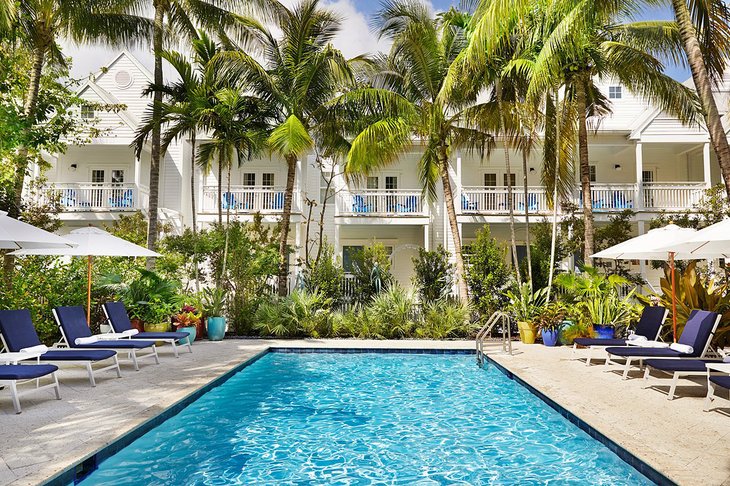 Accommodation: Parrot Key Hotel & Villas
Parrot Key Hotel & Villas recently underwent an upgrade, and boy are we glad it did. The result: a revamped waterfront resort boasting 148 bright, airy guest rooms; spacious suites; and luxury villas complete with a private porch.
Whether you choose to enjoy a waterfront view or one featuring the verdant tropical gardens, you'll be at peace throughout your stay at this lovely spot. If traveling with kids, opt for a three-bedroom villa for more space to stretch out. An abundance of water sports and the on-site fitness center help keep guests occupied.
Cool off in one of the four swimming pools, swing your worries away on a comfy hammock, or enjoy a meal at the tropical The Grove Kitchen & Bar. If you're hoping for some retail therapy, head to Key West, which is only minutes away. The free shuttle bus will take you to popular Duval Street.
The resort fee includes access to lounge chairs and towels for use at Smathers Beach, a shuttle to one of Key West's most beautiful beaches or Duval Street, poolside drinks, and a discount on the water activities.
Opt for The Full Culinary Key, Dining Inclusive Package to make your stay truly all-inclusive. It includes three meals a day (kids 10 and under eat free) and a $50 food and beverage credit each night.
A little less pricey is A Parrot Taste, which offers two daily meals (breakfast and either lunch or dinner) and a $50 food and beverage credit nightly.
Tip: Book the dining packages early, as there is a limited number available, and they sell out quickly, especially during the high season.
Address: 2801 North Roosevelt Boulevard, Key West, Florida
Almost All-Inclusive Resorts & Resort Packages
4. Baker's Cay Resort Key Largo, Key Largo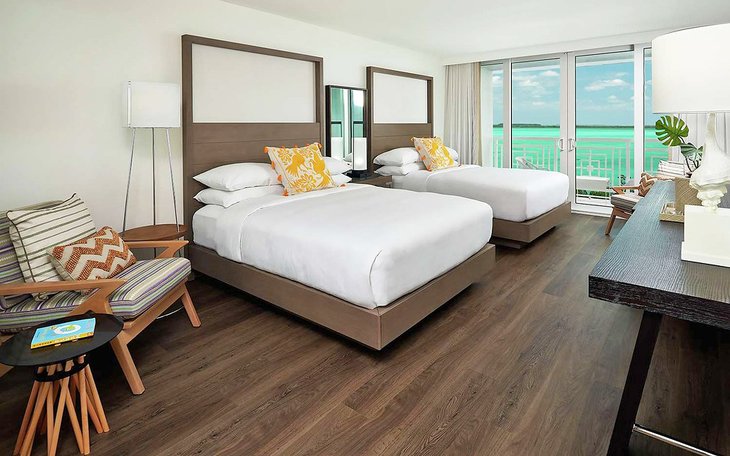 Accommodation: Baker's Cay Resort Key Largo
It's impossible to feel stressed at Baker's Cay Resort in Key Largo. A member of Hilton's Curio Collection, this idyllic spot entices visitors to slow down, relax, and inhale the fresh salty air. Fifteen acres of verdant grounds captivate your senses, while the sparkling Florida Bay invites guests to cool off and splash about in its lovely cerulean waves.
While there, book the Dock to Dish excursion, a deep-sea fishing adventure that includes cooking your catch at the end.
The resort fee includes parking, bicycles, beach chairs, umbrellas, and hammocks. Also complimentary are kayaks, paddleboards, and fishing equipment.
The Breakfast Included Package includes breakfast, obviously. Plus, kids under 12 eat for free with the Cay Kids Package, and you'll save 25 percent off regular rates.
Fresh and casual fare can be enjoyed at the Pool Bar, while more inspired dishes featuring Creole, Caribbean, and American flavors are available at Calusa.
Address: 97000 Overseas Highway, Key Largo, Florida
5. Pier House Resort & Spa, Key West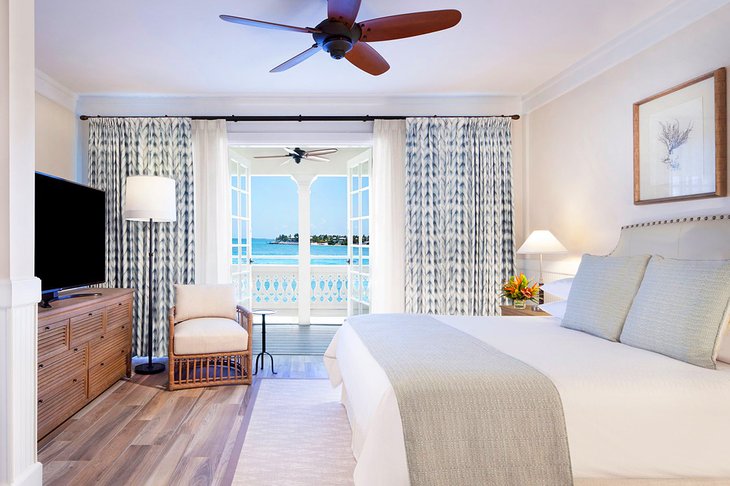 Accommodation: Pier House Resort and Spa
There's no mistaking your ocean locale during a stay at the Pier House Resort & Spa. It's situated right on the water and home to a private, white sandy beach. This is the perfect place to enjoy a romantic vacation in the Florida Keys.
Book the Keys to Romance package if you're traveling à deux. It includes two 50-minute Swedish massages in the spa and daily breakfast for two.
Each of the 119 rooms and 23 suites is designed to enhance either the oceanfront or lush, tropical locale. All rooms include a large bathroom with a rainfall shower, and most boast either a private balcony or patio.
Two restaurants make it easy to grab a bite depending on your mood–casual fare can be enjoyed beachside (in your swimsuit), while a more upscale, organic delight can be found at One Duval.
Popular amenities include an outdoor pool and hot tub, a fitness center, and a spa. The daily resort fee includes your parking, bottled water, Wi-Fi, and towels for the beach and pool.
Address: 1 Duval Street, Key West, Florida
6. Tranquility Bay Beachfront Resort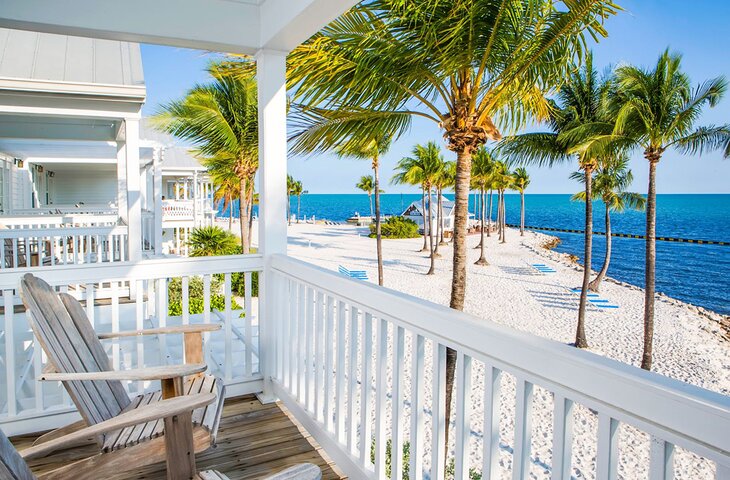 Accommodation: Tranquility Bay Beachfront Resort
It's easy to forget you're in Florida when staying at the stunning Tranquility Bay Beachfront Resort. As its name implies, this tropical paradise is a haven for those in search of a quiet holiday filled with top-notch service and fun beach amenities.
Three swimming pools, a volleyball net, a putting green, a fitness room, water sports, and a 2.5-acre beach are just a few of the holiday gems awaiting tourists to this stellar Florida Keys resort. There are also two restaurants on-site and plush accommodations that include spacious guest rooms and luxurious beachfront houses.
While this four-star beauty isn't an all-inclusive resort, there are a few packages that can help make it feel like one. The Culinary Escape package is designed with gastronomes in mind—guests are granted a $50 credit to be used at the on-site eateries. Note: A two-night stay is required to reap the savings, but the package is only good for a maximum of five nights.
Other packages are offered at various times throughout the year, like the Keys to My Heart package boasting 20 percent off a stay in a two- or three-bedroom beach house during February, plus a $50 dining credit and $25 voucher for use in the marketplace.
7. Playa Largo Resort & Spa, Autograph Collection, Key Largo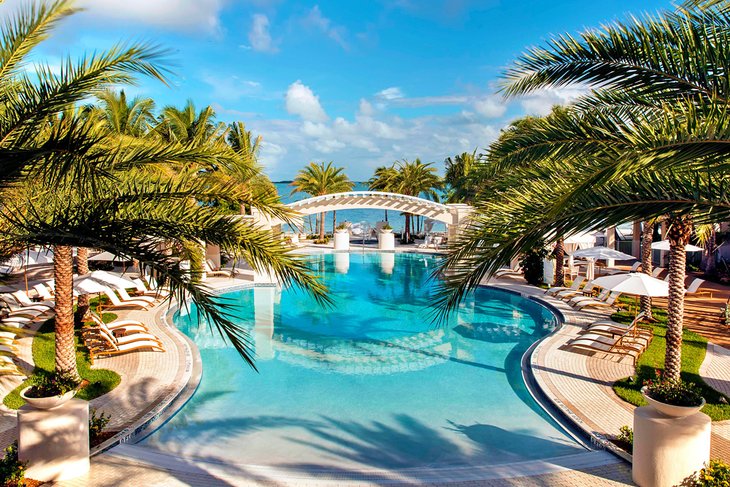 Accommodation: Playa Largo Resort & Spa, Autograph Collection
Luxury seeps through the walls of the Playa Largo Resort & Spa. One of the best resorts in the Florida Keys, this four-star beauty doesn't offer an all-inclusive package per se, but its "Specials" can get you closer to that all-in deal you're looking for.
The Stay and Play package grants guests a resort credit that can be applied at the on-site restaurants or used towards a relaxing treatment in the spa. The longer you stay, the larger the credit, but the minimum is three nights. A three-night stay, for instance, will garner you a $100 credit, whereas staying for seven nights will grant you $350.
Hoping to get food included in your stay? The Breakfast for Two package grants guests unlimited access to the breakfast buffet. Tip: Check before booking, as this dining package isn't always available.
As for accommodations, you won't be disappointed. Guests can choose between luxury rooms, larger suites, a bungalow, or a private beach house to share with friends or family.
When you aren't lounging in your comfy room, head to the 14.5 acres of beachfront, visit the private marina, take a dip in the pool, or grab a bite at one of the resort's four restaurants. The Ocean Spa is another winner if you're looking to be pampered.
Address: 97450 Overseas Highway, Key Largo, Florida
8. Isla Bella Beach Resort, Marathon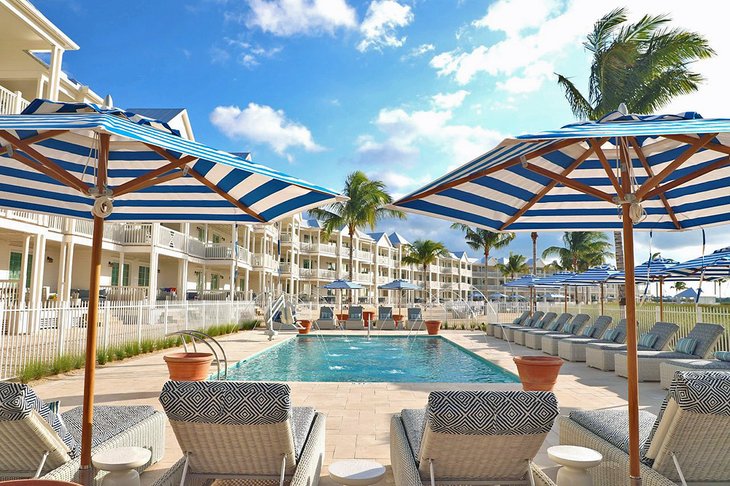 Accommodation: Isla Bella Beach Resort
The captivating Isla Bella Beach Resort is located on Marathon, a barrier island about an hour east of Key West. One mile of the whitest, softest sand overlooking bright azure waves highlight this plush spot, making it the place to be for those looking for top-rate service and exceptional views.
Bike rentals, beach yoga, and access to the fitness center are included with your stay. Book the Savor Isla Bella package to save 15 percent on your rate and receive a $50 food and beverage credit nightly. A two-night minimum stay is required.
Tip: Dining packages are offered at various times throughout the year and change depending on the season (and sometimes the month). Contact the hotel or visit their site to double-check which package is available during the time you plan to visit.
Each of the spacious rooms oozes modern luxury and extreme comfort while offering unbeatable ocean vistas from a private outdoor terrace. Wash off the sand in a tranquil rainfall shower, or soak in the deep tub.
Families should opt for a two-bedroom, two-bathroom suite. Book a beachfront walkout for an even more memorable vacation. The lovely outdoor furniture makes it hard to leave your beautiful veranda. Kids will love the candy happy hours, game nights, scavenger hunts, and hermit crab races.
Don't like your pool crowded? Not to worry. There are five swimming pools to choose from at this lavish beach resort. One is a whopping 4,500 square feet. When it comes time to further your relaxation, head to the sumptuous spa, or settle into one of the covered beach chairs and stare out at the ocean.
The on-site marina provides access to water sports (including Jet Skis) and you can book a fishing charter, snorkel or scuba diving trip, or harbor cruise from here.
As for food, you won't be at a loss for great dishes to tempt your palate. The resort features an impressive Italian restaurant, a more casual beachfront bar, and The Marketplace for a quick coffee and sandwich on the go.
Address: 1 Knights Key Blvd. Mm 47, Marathon, Florida
9. Faro Blanco Resort & Yacht Club, Marathon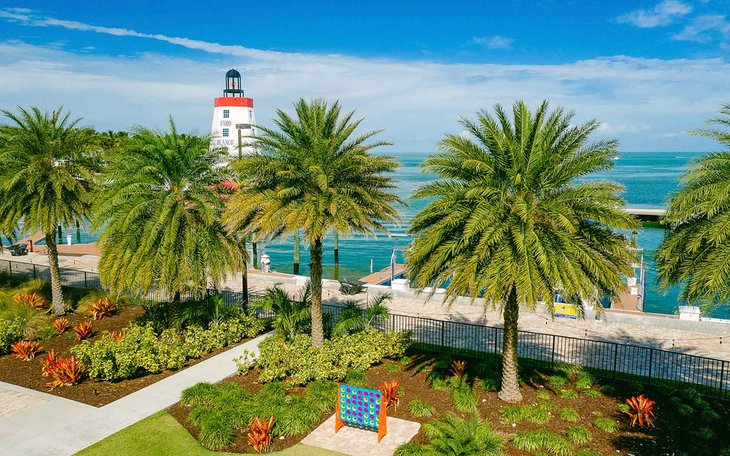 Accommodation: Faro Blanco Resort & Yacht Club, Marathon
Marathon's Faro Blanco Resort & Yacht Club is both picturesque and perfectly located for those who appreciate water views. If the private marina and lighthouse weren't enough to capture your heart, the resort's friendly service will entice you to return.
As for making this an "almost" all-inclusive resort in the Florida Keys, guests can choose from a few packages to help whittle down the bill, or at least make things easier to pay at the end of their stay.
The Dolphin Discovery package includes two tickets to the Dolphin Research Center nearby while the Rise, Shine & Dine offer includes breakfast daily. Have kids in tow? You'll love the fact that they eat free under this package.
While there's no private beach at this three-star retreat, you can enjoy a refreshing dip in the outdoor pool and a walk along multiple wooden docks that make up the marina. Amenities include the Lighthouse Grill restaurant, a fitness center, free Wi-Fi, the pool, and kayak and SUP rentals, among others.
The 125 guest rooms are clean and comfortable with a stylish, modern design. The Lighthouse Tower Suite is especially romantic, boasting luxury products and divided living and sleeping areas.
Address: 1996 Overseas Highway, Marathon, Florida
Map of All-Inclusive Resorts in the Florida Keys
More Related Articles on PlanetWare.com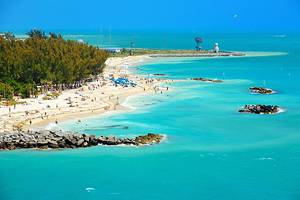 Things to Do in the Florida Keys: Whether you choose to lounge on the sand with a good book or frolic in the waves, these beautiful beaches in Key West are sure to please. Then, shake off the sand and head to a museum on Duval Street or visit Dry Tortugas National Park. There are multiple fun tourist attractions in the Florida Keys.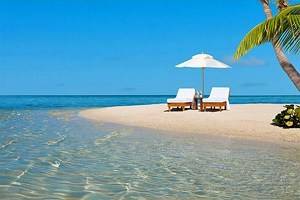 More Resorts to Try in the Keys: While there aren't a ton of options for all-inclusive stays in the Florida Keys, there's no shortage of accommodations. Whether you favor lapping up luxury on a private island or hope to stay in an oceanfront villa, the perfect spot awaits in one of these idyllic beach resorts. Traveling with children? These fun resorts for families will keep everyone happy.