11 Best Resorts on Amelia Island, FL
Amelia Island's appeal lies in its rugged natural beauty, historic buildings, and overt Southern charm. A tranquil slice of paradise that oozes romance, this northern Florida gem (it's located just 13 miles south of Georgia's border) is one of the best honeymoon destinations in the Sunshine State. It also boasts a bevy of top resorts to please even the pickiest of travelers.
Whether you're hoping to luxuriate in a charming adults-only inn or want to splash about with the kids at a family-friendly oceanfront resort, Amelia Island offers plenty of fantastic choices.
No matter what type of accommodations you're after, our list of the best resorts on Amelia Island can help you find the perfect place to stay during your vacation.
1. The Ritz-Carlton, Amelia Island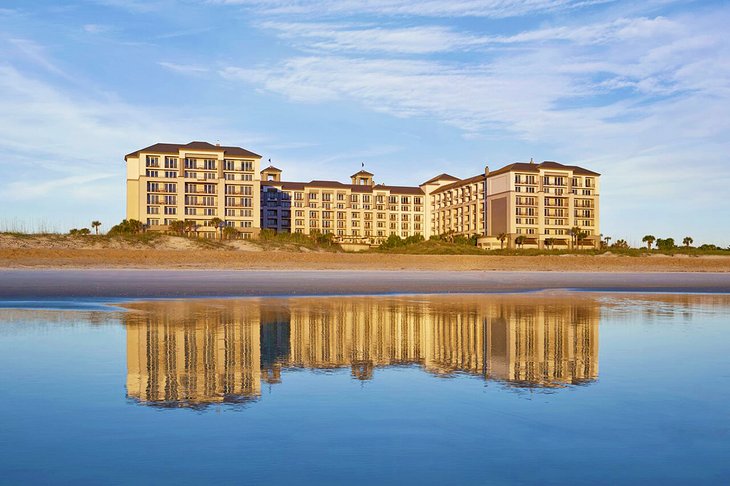 The Ritz-Carlton Amelia Island makes great use of the area's natural wonders. They infuse honey from their own beehives into spa treatments and transform local produce into exquisite, palate-pleasing dishes at their AAA Five Diamond restaurant, Salt. And be honest, beyond putting a big dent in your wallet, can you really go wrong with a stay at a Ritz-Carlton?
Miles of soft, sandy beach complement the luxurious resort surroundings, enticing visitors to ditch their worries, don a bathing suit, and give in to utter relaxation. Speaking of relaxing, head to the upscale spa and request the Heaven in a Hammock massage. Your tight muscles will thank you. Not surprisingly, this swanky spot tops our list of the best resorts on Amelia Island.
Head back to your posh room or suite to enjoy a scenic view and accommodations so plush, you'll forget you're not royalty. When it's time to play, rush over to the indoor and outdoor pools or try for par on the 18-hole championship golf course. There is no end to the fun activities on offer at this posh resort on Amelia Island.
Bring the little ones and treat them to a day filled with fun at Ritz Kids. They'll play games, make crafts, and learn about the environment. Book an indoor pirate campout or pirate tuck-in for an added experience they'll never forget. Be warned, you may have trouble convincing them to go home!
Address: 4750 Amelia Island Parkway, Amelia Island, Florida
2. Omni Amelia Island Resort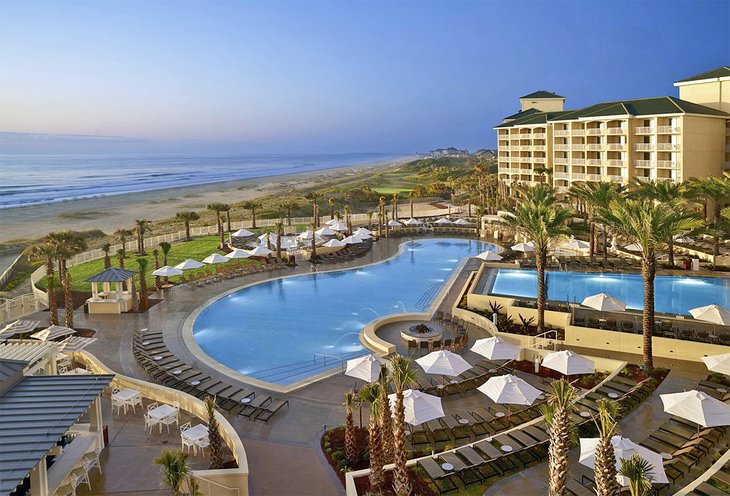 Whoever said kids and upscale vacations don't mix has never visited the Omni Amelia Island Resort. This AAA Four Diamond oceanfront resort is breathtaking in its natural beauty (the grounds are spectacular) and offers a level of service so high, you'll want to prolong your stay.
When it comes to rooms, each offers an ocean view and supremely comfortable beds. There's also enough space for everyone to move around without tripping over each other, especially if you upgrade to a more luxurious suite.
The private section of the beach is pristine and stretches 3.5 miles across Fernandina Beach. Kids (and their adults) can build sandcastles, hunt for shark's teeth, and splash in the waves until their toes are wrinkly. Camp Amelia will keep them happily occupied while you head to the first-rate spa. Told you the kids will fit right in at this plush locale.
The Omni is also home to the largest multi-tiered pool deck in Northeast Florida. We're talking two translucent heated pools on two different levels. A splash park caters to families near the 10,000-square-foot main pool, and the adults-only infinity pool ups the romance factor while eliminating the threat of having a kid do a back flip by your head. Two hot tubs and large outdoor fire pits make it easy to stay warm on cool days.
Craving more fun? There's an 18-hole mini-golf course, gaming lounge, nature center, 36 holes of championship golf, tennis courts, and seven miles of bike trails. Did we mention the lakes and lagoons available for catch-and-release fishing? You certainly won't be bored during your stay; unless you want to be, of course.
Reward your palate with a tasty meal from one of the 10 on-site restaurants. They boast everything from a casual deli to a "flip-flop friendly" poolside restaurant to a fancier experience at Seaglass.
Address: 39 Beach Lagoon Road, Fernandina Beach, Amelia Island, Florida
3. Amelia Surf & Racquet Club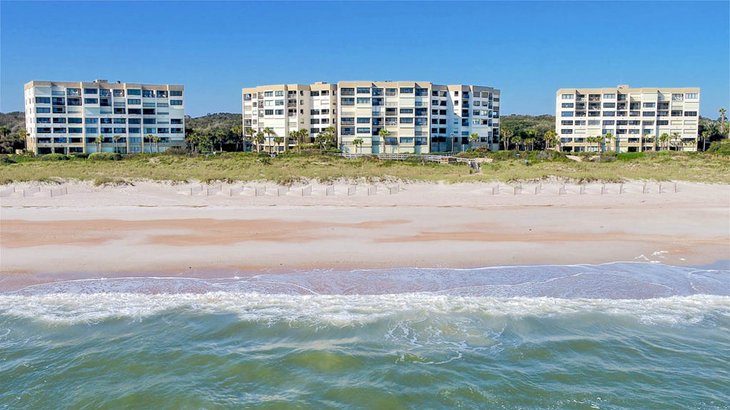 It's no surprise that the Amelia Surf & Racquet Club boasts tennis courts. As a guest, you'll have complimentary access to four Har-Tru courts. The resort is also home to two large pools and unbeatable ocean views.
Head to the sandy shore to watch the sun rise, or enjoy it from the comfort of your balcony, depending which condo you choose to rent. Each room comes with a kitchen, dining, and living area to make your stay feel extra homey.
The condos range in size from one to three bedrooms, and most feature picturesque vistas. The higher up you are, the better your chance of spotting a dolphin, as the sand dunes can block part of your view on the ground and second floors.
During the day, grab a paddleboard and head out to sea, or lounge in the sun while your stress melts away.
Address: 4800 Amelia Island Parkway, Amelia Island, Florida
4. The Villas of Amelia Island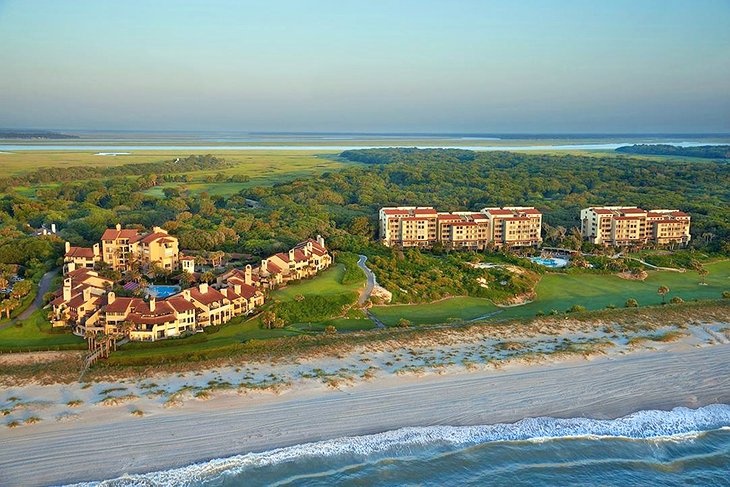 Three and a half miles of private beach are yours for the enjoying when you book a stay at The Villas of Amelia Island, an Omni Hotels property. The hotel staff can arrange cabana, chair, boogie board, and other fun beach rentals, which include Segways to steer around the resort's 1,350 lush acres.
In all, the villas are home to over 330 guest rooms and suites, each of which provides a relaxing home away from home. Kitchens and dining areas make it easy to enjoy a meal, while the large living rooms and balconies serve as excellent venues for decompressing. No wonder this has been deemed one of the best resorts on Amelia Island.
With the exception of Lagoon Villas, each complex has a pool. Some bookings also include access to the Omni Amelia Island Resort's restaurant and adults-only and family-friendly pools.
When bored of swimming, guests can enjoy one of the larger Omni Resort's two golf courses, the tennis courts, spa, and fitness center while sending the children off to enjoy the fun kids' activities at Camp Amelia. Older ones will enjoy the Gamer's Lounge.
Insider's tip: Book a guided nature tour through the maritime forest, rent fishing poles, or book a kayak or paddleboard tour. You'll be happy you did.
Address: 8 Amelia Village Circle, Amelia Island, Florida
5. Elizabeth Pointe Lodge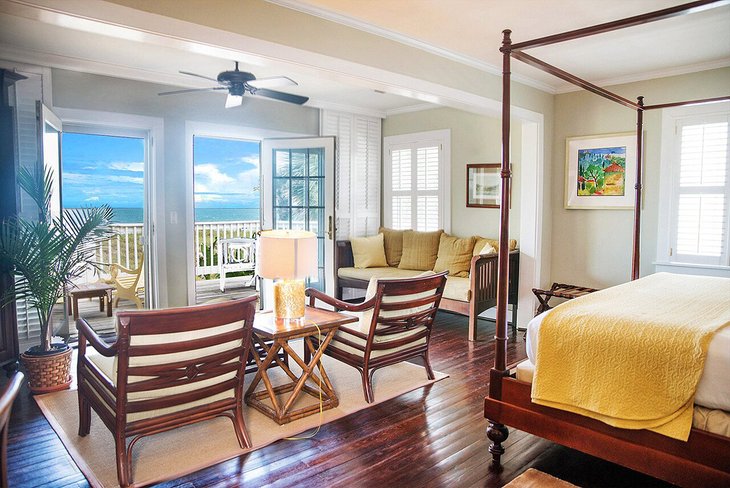 Old Southern charm seeps from every corner of the lovely Elizabeth Pointe Lodge. Set in a stately Victorian-style home on the Atlantic side of the island, this pretty escape is about as peaceful as it gets around here.
Sip coffee while rocking in a chair on the picturesque wraparound porch and look for dolphins offshore, or curl up with a newspaper in the contemporary living room. Guests can choose from cozy ocean-front rooms, suites, or a private cottage at this intimate inn.
The Pointe Restaurant is a hit with both guests and locals. In addition to its delicious fare (the stuffed french toast breakfast is an exceptional treat). This light and airy eatery provides a remarkable ocean view. It's open to all for breakfast and lunch, but only guests of the hotel are invited to dine here for dinner.
Breakfast is included in your room rate, as are evening hors d'oeuvres and drinks, which are best enjoyed on the verandah.
Another reason to stay: the resort is dedicated to protecting the area's sea turtles. From installing low-frequency lighting in the garden to fitting blackout blinds in the rooms and turning off balcony lights during "Sea Turtle Season," the staff are committed to keeping these endangered animals safe.
Address: 98 South Fletcher Avenue, Amelia Island, Florida
6. Seaside Amelia Inn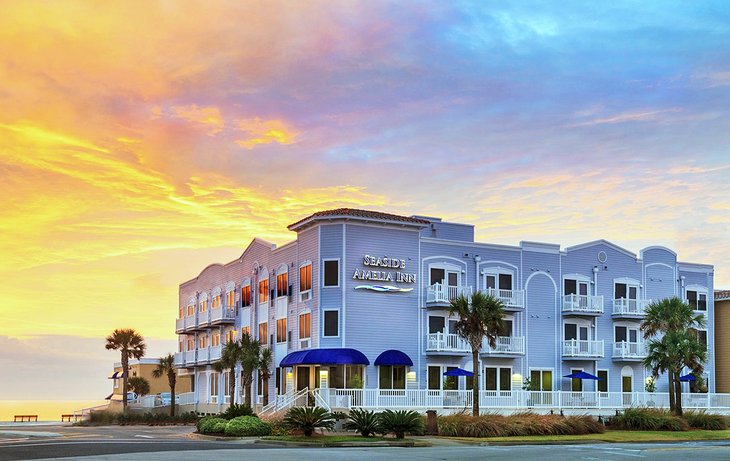 As you'd likely guess by its name, Seaside Amelia Inn is an oceanfront resort, and it's one of the best resorts on Amelia Island. Mere steps from the golden sands of Fernandina Beach, this inviting boutique hotel is cozy and quaint. Lounge on the rooftop sundeck, swim in the on-site pool, or wash down complimentary freshly baked cookies with lemonade from the front desk. Yum!
With only 46 rooms (many of which offer partial beach views or oceanfront balconies), life never feels too crowded at the Seaside Amelia Inn, even during the high season. The recently renovated guest rooms feature modern amenities in a bright and airy environment.
With walls covered in works created by local artists, the inn also serves as an area art gallery. Like what you see? Talk to a staff member about purchasing it.
Only two miles separate guests of Seaside Amelia Inn from the bustling streets of downtown Fernandina Beach and its shopping and eating scene. This is a great convenience since there's no restaurant at the property. Daily breakfast is available to go, but you're on your own for other meals.
Address: 2900 Atlantic Avenue, Amelia Island, Florida
7. Hampton Inn & Suites Amelia Island-Historic Harbor Front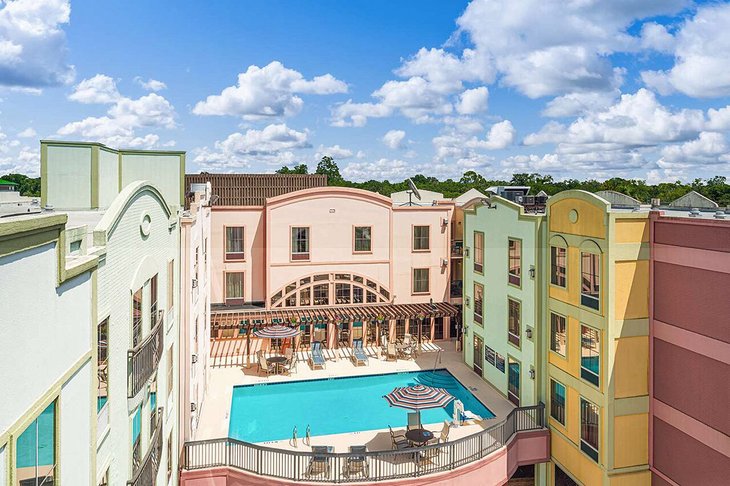 As you admire the view over Fernandina Beach Marina while eating a complimentary hot breakfast, it's easy to forget you're not in an upscale resort on Amelia Island. In addition to incredibly clean, spacious, and comfortable rooms, guests at the Hampton Inn & Suites Amelia Island-Historic Harbor Front are rewarded with fabulous service.
If you're hoping to swim while on vacation, you're in luck. The outdoor pool is a welcome respite from Florida's warm rays. The resort also has a fitness center, business center, and meeting rooms (in case you're unlucky enough to have to work while on vacay). Another bonus: It offers free parking, which is something more lavish resorts charge a high fee for.
When it comes time to get out and explore, guests of the Hampton Inn & Suites are in the perfect locale. Located downtown, they'll be steps away from the fun shops and fabulous restaurants of Fernandina Beach.
Address: 19 South 2nd Street, Fernandina Beach, Amelia Island, Florida
8. Comfort Suites Fernandina Beach at Amelia Island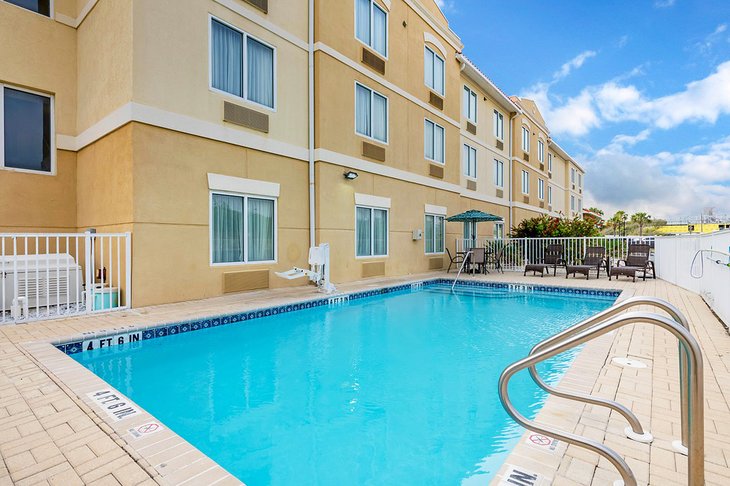 The staff at Comfort Suites Fernandina Beach really want you to have a good time. In addition to being greeted by friendly faces, guests are welcomed with lemon-infused water and freshly baked cookies. Who wouldn't love that?
Start your day with a tasty warm breakfast. Then it's time to enjoy the resort's amenities. While not on the beach, this recently upgraded hotel is only a couple of minutes' walk from the soft sandy shores of Fernandina Beach. Splash about in the pool, enjoy a workout in the fitness center, or rent a bike to explore the area.
Comfort Suites is also centrally located for the town's best shops and eateries, which makes it easy to find somewhere to eat lunch and dinner. At the end of the day, return to your clean, comfy, and very spacious room, which boasts a large sofa bed to house extra friends or kids.
Address: 2801 Atlantic Avenue, Fernandina Beach, Amelia Island, Florida
9. The Hoyt House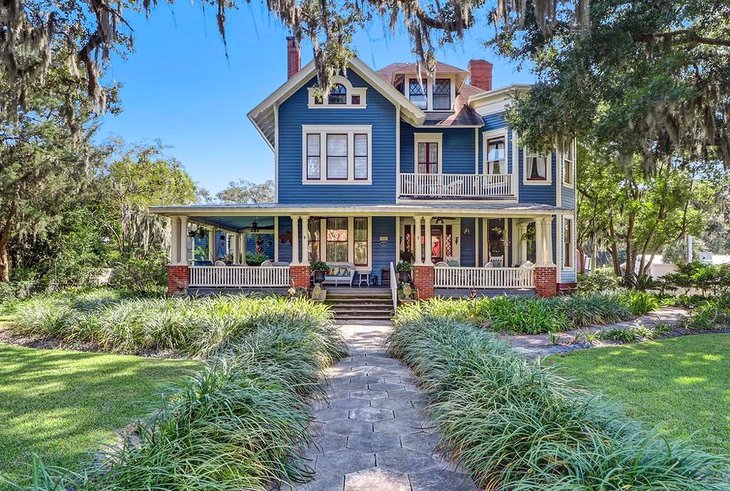 Looking for an uber romantic hotel? You'll find it at The Hoyt House. Built in 1905, this gorgeous home is set within a Victorian building so adorable, you'll fall in love with it immediately. Wraparound porches and giant trees flank the outside of this picturesque home, begging travelers to take a load off in one of the wicker chairs.
Out back hides a pool area so tranquil, it can cause even the tensest visitor to relax. Surrounded by lush bushes and palm trees, there are plenty of options for shade and multiple loungers to enjoy. No kids are allowed at this resort, so there's no fear of getting drenched by someone's cannonball at the pool.
Each of the 10 sweet bedrooms is unique, featuring a mix of antique furniture and an en-suite bathroom. Some rooms up the romance level even more with a fireplace. While only breakfast is offered here (it's delicious, by the way), the eateries of downtown Fernandina Beach are mere steps away.
Insider's tip: Book an English Tea Service for a magical time, complete with freshly made scones and crumpets, with clotted cream and jam, of course.
Address: 804 Atlantic Avenue, Fernandina Beach, Amelia Island, Florida
10. The Addison on Amelia Island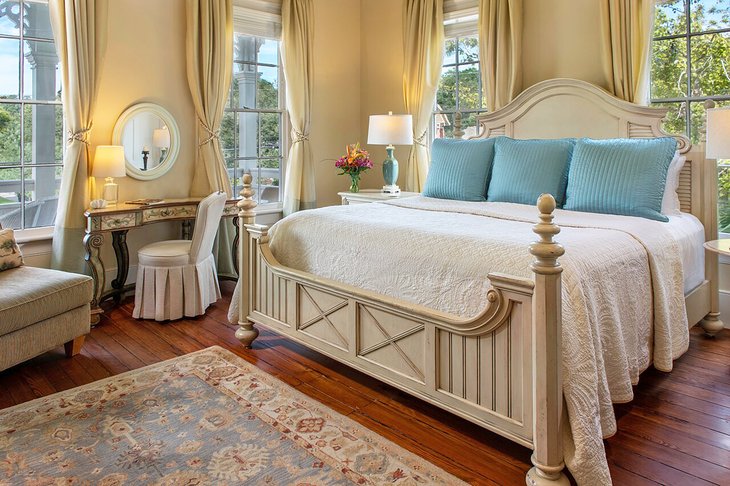 While not technically a resort (you won't find a pool or restaurant on-site), what this quaint bed and breakfast lacks in amenities, it more than makes up for with charm, comfort, and excellent service. You'll be transported to Old Florida when you first set eyes upon this historic, pastel beauty flanked by intricately detailed porches.
Enjoy a moment of peace in the pretty courtyard, ask for seconds of the top-rate breakfast (all baked goods are made in-house), and enjoy the personalized service at this lovely spot. It's easy to relax in this idyllic adults-only haven.
The Addison boasts 15 rooms, all wonderfully decorated, and a few which still sport the house's original flooring. Chic, contemporary furnishings add a modern rustic feel to this impeccable home. Insider's tip: rooms 8, 9, 11, and 14 boast private porches, perfect for a morning coffee break.
Located a short bike ride from the beach and mere steps from the downtown shops and restaurants, this serene little hideaway is an ideal venue for a romantic holiday.
Address: 614 Ash Street, Fernandina Beach, Amelia Island, Florida
11. Residence Inn Amelia Island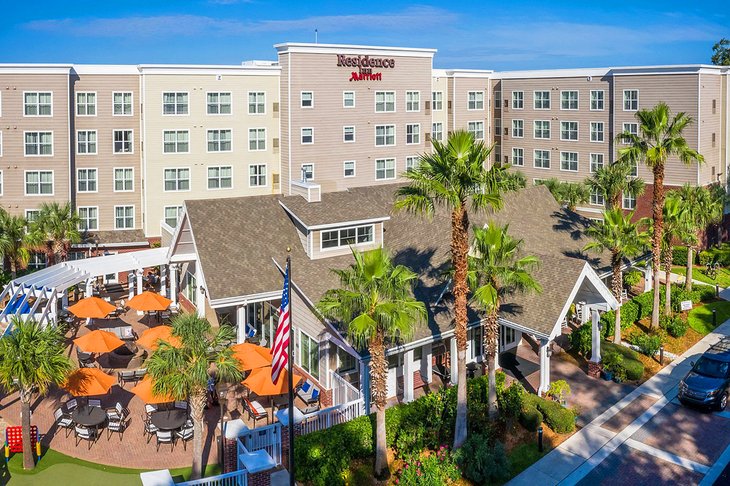 While you won't find a restaurant on-site at this comfortable Marriott resort on Amelia Island, the Residence Inn makes it easy to cook your own meals. Each spacious room comes with a full kitchen. Choose between a studio-, one-, or two-bedroom suite, depending on your needs.
Plus, there's a fire pit and an outdoor grill on-site. As for breakfast, a tasty buffet that includes cereal, oatmeal, cooked eggs, and fresh fruit is available each day at no extra charge.
Spend your day by the outdoor pool (there's also a hot tub), or enjoy the short walk to the beach. Just two quick blocks, and you're there! There's also a 24-hour fitness center and full-service business center on the property.
Address: 2301 Sadler Road, Fernandina Beach, Amelia Island, Florida
Map of Resorts on Amelia Island, FL
More Related Articles on PlanetWare.com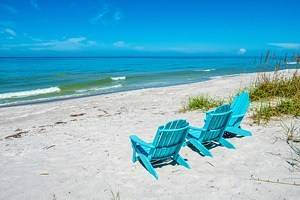 More Florida Islands You Shouldn't Miss: Amelia Island is a haven in the Sunshine State's most northeasterly section, but Florida is home to more than 4,500 sundrenched isles. You won't want to miss these lovely islands. And if island life is really what you're after, consider a stay at one of these beachfront resorts in the Florida Keys. While you're in the state, check out the top-rated things to do in Florida.