Best Time to Visit London, England
Let's be honest: no one travels to London for its weather. Frequented by cloudy skies that release smatterings of mist and rain, the UK's epic capital city is best visited with an umbrella in hand.
That said, London receives less annual rainfall than its tarnished reputation would have us believe, and less than many European cities. And rather than heavy rainfalls, the norm is "little and often." Yes, you'll likely run into a sprinkle or two during your visit, but a little rain never ruined a vacation, especially when touring a historic metropolis with so much to offer.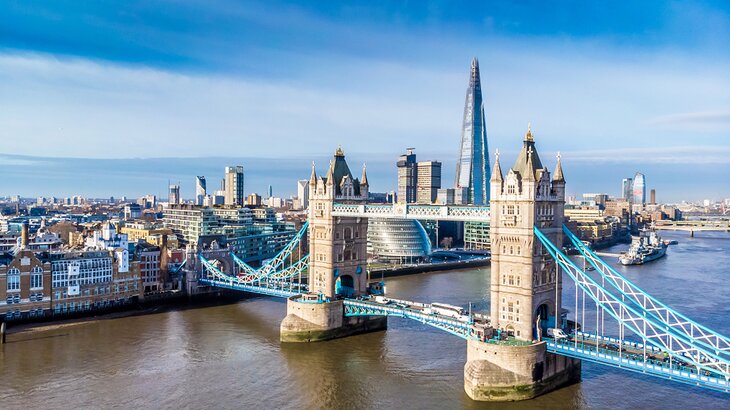 When those beautiful, bright sunny days do appear, visitors receive front row seats to the city's remarkable transformation. Locals smile more easily, the city's best parks and gardens fill with sun worshippers and picnickers, and a sparkling hue adds another level of magic to the city's most magnificent buildings. There's nothing better!
London is a tourist hot spot throughout the year. In other words, there's never a bad time to visit. If you're looking for a better chance of glimpsing the sun and avoiding masses of tourists, however, the best time to visit London is from March through May. That said, if you don't mind rubbing elbows with a zillion other tourists, a good time of year to travel to London is during the summer months from June to September.
Read on to find out more about the best time to visit London, England.
Best Month to Visit London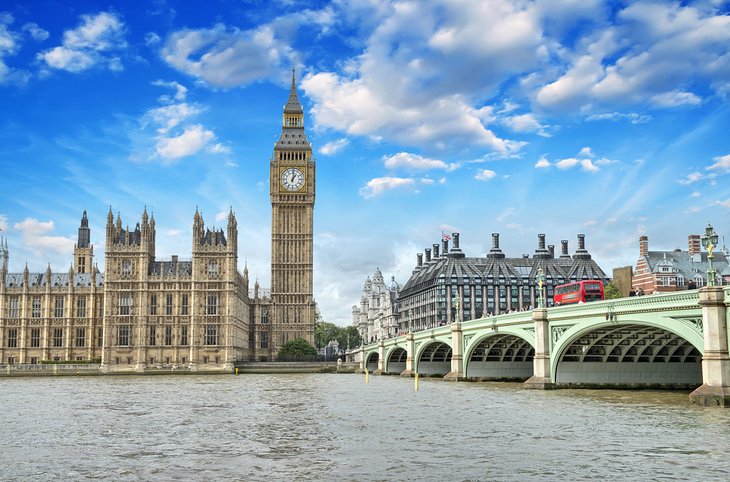 May is the best month to visit London. During May, the temperature is comfortable, averaging in the high 50s to low 60s fahrenheit. And there's also less rain than you'd find in other months, barring March, which has the least amount of rain year-round, and April, which has slightly less precipitation than May.
London is transformed into a floral wonderland during May. Bright yellow, blue, pink, and purple blossoms pepper parks throughout the metropolis, while the grass returns to its lushest, most vibrant state. May embodies the sweet spot, right before prices and tourist numbers ramp up in June and continue to climb through the summer months.
May is also host to the RHS Chelsea Flower Show, which dazzles visitors with innovative designs and exhibits. The show gardens are spectacular; you'll never look at a flower the same way again.
Cheapest Time to Visit London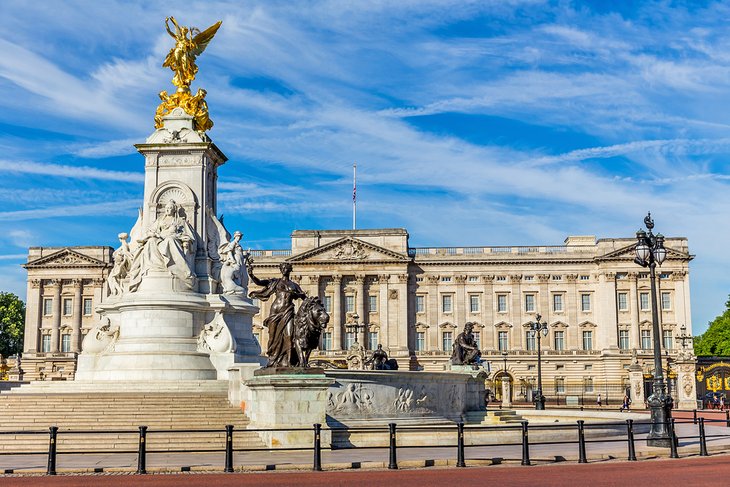 Getting to and staying in London can be pricey, no matter how or when you travel. If you're looking to score the best deals, November through the end of March is the cheapest time to visit London. It's cold, though not by North American standards, with temperatures hovering around 32 degrees Fahrenheit (0 centigrade). And it's dark, with around seven hours of daylight and sunshine, if any, sometimes a rarity.
While all of this, however, makes visitors less inclined to visit in winter, those that do will find some benefits. Not only will you find smaller crowds at London's top attractions, you'll also find better deals on everything from accommodations to flights and meals during this time. That said, you'll want to avoid traveling over the weeks immediately before and after Christmas when literally everyone and their cousin decides to visit.
The most expensive time to visit London is from June through September. At this time of year you'll also have to face a multitude of crowds jostling their way for a better view of everything from the Changing of the Guard at Buckingham Palace to the Crown Jewels in the Tower of London.
Worst Time to Visit London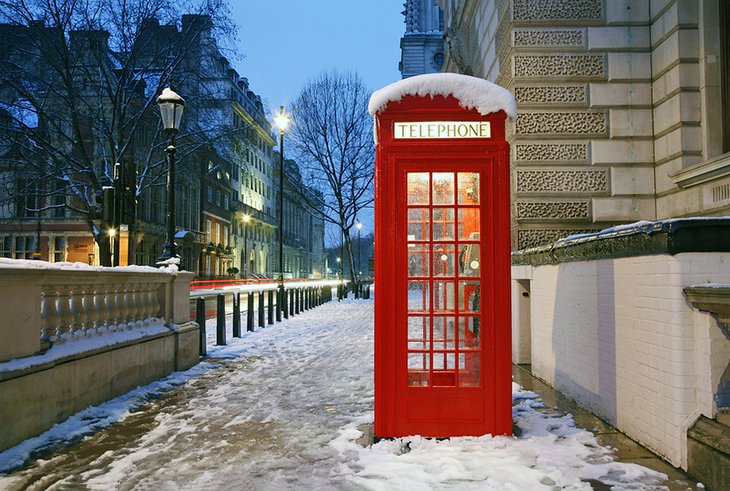 While London doesn't usually experience temperature extremes, the winter months are dark, dreary, wet, and cool. This makes winter the worst time to visit London. It's hard to enjoy sightseeing when you're prickled with goosebumps and dripping with rain.
While you won't suffer through the biting below-freezing temps of other European cities (London's winter highs average in the upper 30s to low 40s), the dampness makes everything feel even colder than it is. Plus, December and January are two of the rainiest months, so you'll want to be prepared with layers and waterproofs if you visit during this time.
There are a few perks to a winter visit. Holiday lights and decorations transform the city into a magical wonderland, especially along Regent and Oxford Streets. You'll also find pop-up ice rinks throughout the city. Whirling across the ice with the Natural History Museum as your backdrop never gets old!
Best Season to Visit London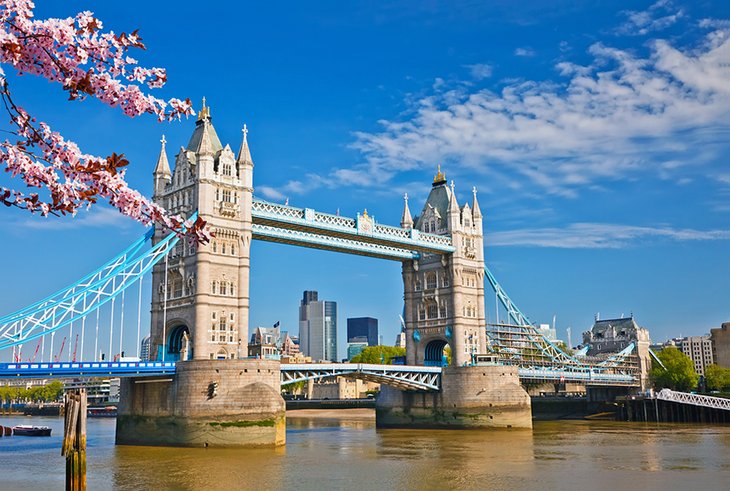 If you're looking for beauty as well as good weather, spring is the best season to visit London. Exquisite cherry blossoms line neighborhood streets, making a picturesque city even more photographable. Their blossoms float in the wind, showering cars and pedestrians. They're so lovely that no one seems to mind the mess.
The temperature is comfortable, there are flower shows and festivals to attend, and the sun is starting to set much later. And, best of all, those swarms of overseas visitors are only just beginning to show up.
Fall is the second-best season to visit London. With highs in the mid- to high 50s, the temperature is comfortable. Crowds will have waned during autumn, although this being London, you'll never avoid other tourists completely. The festive holiday lights are usually put up in November, allowing fall visitors an early glimpse at the magical Christmas celebrations. Plus, hotel rates won't break the bank.
Summer is another good time to travel to London. While you're guaranteed warmer weather (highs generally stay in the upper 80s but have been known to shoot into the 90s), you're also going to have to contend with hordes of travelers. Plus, if you hit the city on one of those rare 90-degree days, you'll feel as if you're sweltering, as most buildings don't have air-conditioning.
You'll also do damage to your pocketbook at this time of year, as it's the most expensive for hotels and restaurants. A bonus: all the attractions are open, including the State Rooms at Buckingham Palace, which only open for eight weeks a year, from mid-July to late September.
Winter is magical, but its weather is miserable, dark, and dank. The bonus: prices are low, hotel vacancies are high, and there are fewer people to navigate around while you're out touring.
Best Time to Visit Gardens in London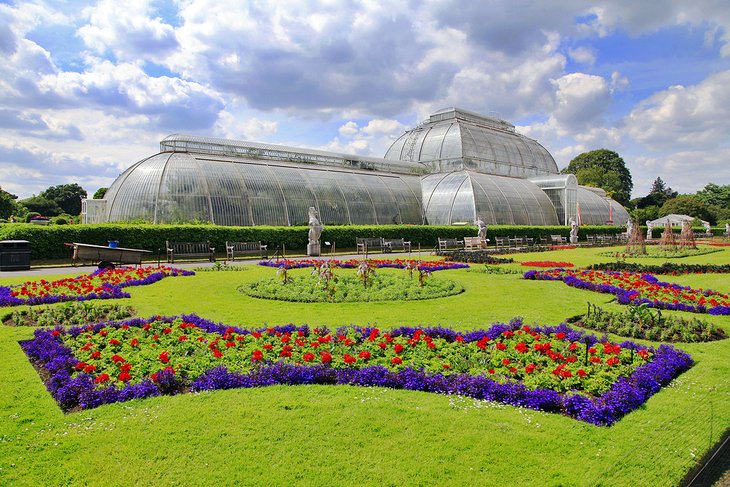 The English are renowned for their impeccable gardening skills. Gardens are filled with the lushest grass and shrubs (there has to be an upside to all that rain) and in spring, the most incredible blooms arrive.
Although the first bright buds begin bursting through the ground in early March (sometimes even February) by May, everything is in full bloom. This makes spring (especially May) the best time to visit gardens in London.
The Isabella Plantation, a hidden gem within the heart of Richmond Park, is worthy of a lengthy visit at this time of year. The scene that greets visitors through its iron gate is literally breathtaking. The walkways are lined with azaleas popping with the most vibrant hues of red, pink, and purple. Walking through these flowering tunnels is unforgettable. Pack a picnic because once you're inside this magical land, you won't want to leave.
Kew Gardens is another must-stop on your London garden tour. During spring, the immense park is blanketed with white and purple crocuses (these sprout during mid-February), azaleas of all colors (mid- to late-May), bluebells, bright yellow daffodils, tulips, and snowdrops. Head to the Elizabeth Gate in mid-April to witness over 250 types of magnolias in full bloom. Wandering this luscious landscape is a treat for all your senses.
Best Time to Shop the Sales in London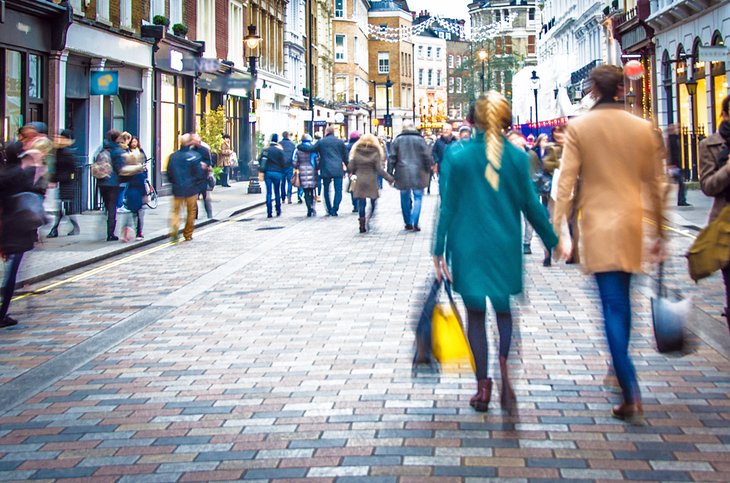 London is a beloved shopping destination. Home to historic staples like Harrods, Harvey Nichols, Hamleys and Liberty, there's no shortage of opportunities to lighten your wallet.
Looking for a good deal? The best time to shop the sales in London is after Christmas. Most stores start slashing prices on Boxing Day (December 26th), and these lower costs often stay low until mid-January.
The summer sale season is second to the post-Christmas rush. Beginning the first week of July, stores tend to take advantage of the dramatic increase in tourists. They entice visitors to part with their hard-earned cash by advertising great deals on everything from jewelry to art to designer clothes. And a lower-than-normal exchange rate for pound sterling means a traveler's shopping budget can be stretched even further these days.
Best Time to Enjoy the Arts in London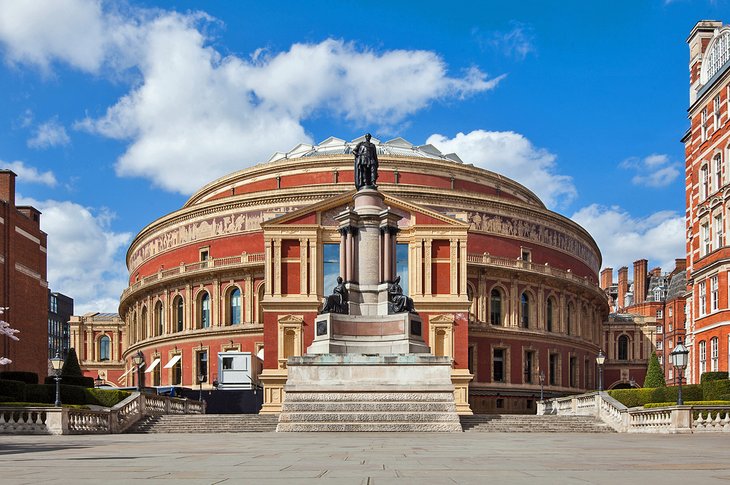 Winter is the best time to enjoy the arts in London, especially in December. To celebrate the holidays, large theaters play host to traditional pantomimes, a form of family-friendly theater that features comical, slapstick dramas often based on fairy tales. If you haven't seen one, you must: they're an entertaining example of British humor at its best.
Musicals and plays abound in the theater district, and you'll find concerts in pretty much every neighborhood. The sing-Along Carols at Royal Albert Hall are a fun, festive favorite. Be sure to dress in Christmas attire (think light-up necklaces, Santa hats, and sparkly tinsel). The Brits love any excuse for "fancy dress."
Festivals in London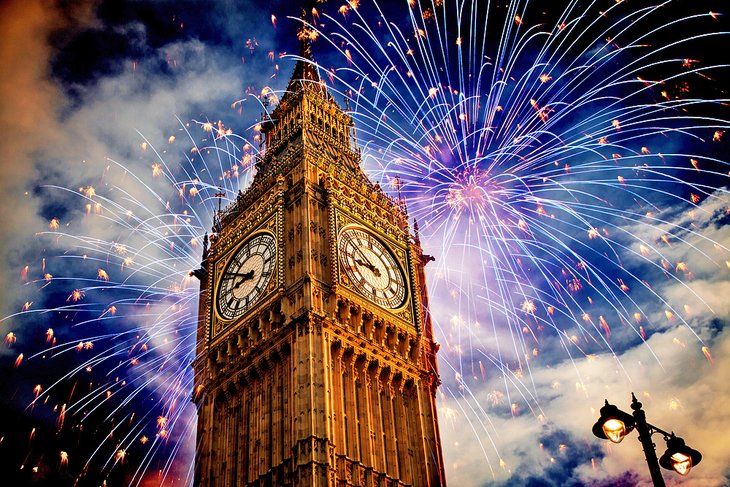 London is always "on." From fashion shows to foodie events to open-air concerts, there's always something to do. Here are some of the top festivals in London.
January 1: New Years celebrations continue with a New Year's Day Parade that runs through the city's streets. It begins at The Ritz London and ends at Parliament Square.
February: For over 25 years Kew Gardens has hosted the Kew Orchid Festival. Visit the tropical greenhouse to witness the overwhelming and uber-colorful beauty first-hand. The Vault Festival is also held in February. An underground theater fest, this event is based in the tunnels under Waterloo tube station and features art of all types, from spoken word to cabaret to comedy.
February and September: London Fashion Week is so popular, it's held twice a year. If you're hoping to get a sneak peak at the next season's most "in" looks, head to Somerset House for one of the chic (and unique) events.
April: The London Marathon. Walk, run, or watch this epic race through the city's most famous streets. Over 30 million runners participate, so you'll have to book early if you want to join.
Row boats cover the Thames during the first week of April during a popular event known as The Boat Race. Rowers from Oxford and Cambridge universities take to the water, vying for the coveted winner's spot.
The London Book Fair also takes place in April, too. It's held in the Earls Court Exhibition Centre and highlights books from a different country or region each year.
May: RHS Cheslea Flower Show. An annual event held over five days since 1912, this incredible spectacle attracts some of the world's most prestigious horticulturalists. It's held at the Royal Hospital Chelsea near King's Road and features unique and impressive flower and landscape designs.
June: Celebrate the king's official birthday at the annual Trooping the Colour. The event, which dates to the 17th century, is basically a giant parade. It features over 1,000 men and officers, 200 horses, and 100 musicians who march (and trot) along The Mall from Buckingham Palace to the Horse Guards Parade and Whitehall before returning.
Late June - early July: You'll have to book early or get super lucky to score tickets to Wimbledon. Arguably the most famous tennis tournament on the planet, this upscale event is unmissable. From junior greats to tennis powerhouses (i.e. The Williams sisters and Rafael Nadal), this iconic event is a pure joy to watch.
Also at this time is the City of London Festival. Celebrated throughout the metropolis, you'll find concerts, dance shows, tours, and exhibits celebrating the city's history and culture.
July: If you love flowers, don't miss the Hampton Court Palace Garden Festival, which is held on the castle's glorious grounds during the beginning of the month.
August: The Proms (a.k.a. The Henry Wood Promenade Concerts) take place at the Royal Albert Hall each August. Featuring British orchestral and classical music, these concerts are incredibly popular and last for eight weeks. Get your tickets early for the finale, which is the most coveted event.
The vibrant and eclectic Notting Hill Carnival takes place during the weekend before the August bank holiday. This well-attended event is packed with fabulous music, costumes, food, and a vibe that makes you want to groove.
October: The London Film Festival is held at the BFI Southbank during late October. At the very end of the month, you'll find the Lord Mayor's Show, a procession that begins at Guildhall and ends at the Royal Courts of Justice. Fireworks, music, and dancing are on the itinerary, but buy tickets early when they go on sale in June.
November 5: Guy Fawke's Night. Also known as Bonfire Night, this famous event celebrates the foiled Gunpowder Plot to blow up the House of Lords on November 5, 1605. Each year, London hosts numerous fireworks festivals throughout the city.
November - January: Hyde Park Winter Wonderland. One of the most fun holiday-centric events, Winter Wonderland in Hyde Park offers activities for kids of all ages, from 1 to 100. Ride a carousel, zip down the Helter Skelter slide, wander the German Christmas Market, nibble on tasty treats, or skate outside.
December 31: The annual New Year's Eve fireworks light up the city's most famous bit of skyline: namely the Thames lined by the London Eye, Big Ben, and the Tower of London.
More Related Articles on PlanetWare.com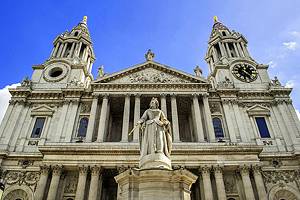 Must-See Sights in London: London is so jam-packed with things to do, it can be tough to decide which of the sights to hit first. The Tower of London is a must-see, as are the magnificent St. Paul's Cathedral and Natural History Museum.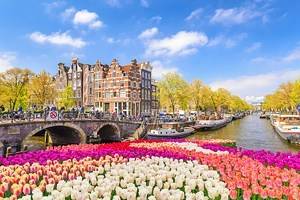 Getting Out of London: While the city is fabulous, you'll kick yourself if you don't explore beyond its borders. Take a day trip to soak up the history at Hampton Court Palace or Stonehenge, or head a little further afield (mais oui, Paris) for a weekend getaway.