12 Best Resorts in London
You'll be spoiled for choice when hunting for a place to stay in London. Packed with everything from hostels to bed and breakfasts to five-star resorts, there's a perfect spot for every type of traveler. And if you're willing to pony up the pounds, you can experience a stay in one of London's lavish resorts.
It's no surprise that London, a city that doesn't skimp on opulence or luxury, is home to so many phenomenal resorts.
Whether you're hoping to be pampered in an award-winning spa, swim laps in a pool that hovers 52 floors above the ground, or eat in a Michelin-starred restaurant, you won't be short on opportunities at London's best resorts.
With so many amazing places to choose from, it can be hard to pick the best one. Find the perfect place to stay for your next holiday in this magnificent English capital with our list of the best resorts in London.
1. The Connaught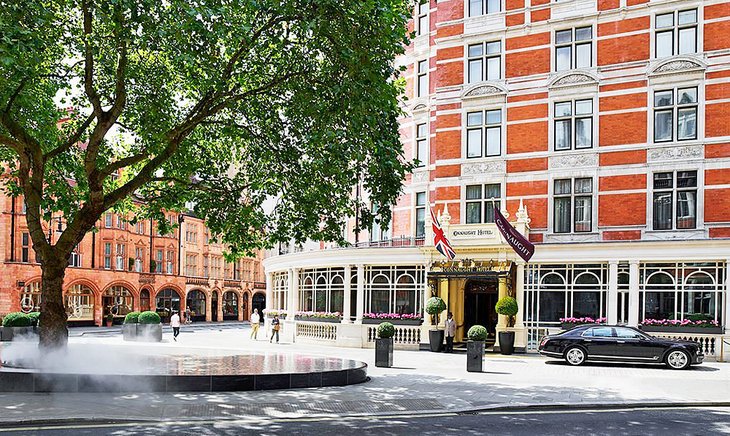 Accommodation: The Connaught
Up the ante with a stay at the swanky Connaught Hotel, which is conveniently set in the heart of Mayfair. By far one of the best resorts in London, the Connaught doesn't skimp on a thing. A doorman greets guests upon arrival, guiding them into a lobby steeped in history, and flanked by a gorgeous wooden staircase.
The rooms are a mix of modern elegance and historic charm. The standard rooms are lovely—at 29 square meters, the Superior King Suite Room is big enough for two. That said, you'll find the real plush fittings in the suites. The Terrace Suite is 140 square meters and includes the largest terrace in Mayfair. All rooms come with butler service.
Hélène Darroze is a must-visit once the hunger pangs hit. While the bill may make you gasp, the gastronomical delights served in this three-Michelin-star-rated restaurant are divine.
Jean-Georges at The Connaught is another palate-pleaser serving stylishly tantalizing dishes to guests from within and outside the hotel. Or, you can always opt for room service and stay in your jammies.
The Aman Spa adds the "aah" to every stay. While you can relish in the pampering of massages and facials, it's the specialized therapies (i.e. goal- and nutrition-oriented programs) that really set this spa apart from the rest. This is also where you'll find the granite swimming pool and fitness center.
Address: 16 Carlos Place, London
2. The Milestone Hotel & Residences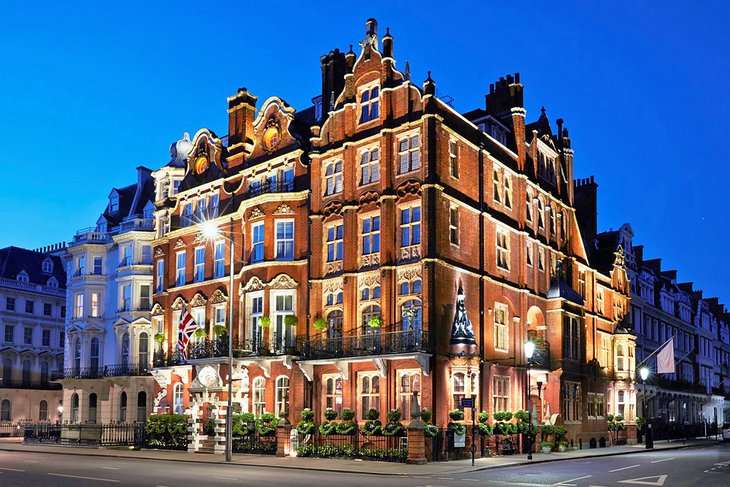 Accommodation: The Milestone Hotel & Residences
A stay at the Milestone Hotel & Residences is about as close as you can get to living like royalty. Well positioned across the street from Kensington Palace, this famed boutique resort boasts service so excellent, you'll forget you aren't a Windsor.
The building itself is pretty spectacular—a Grade-11 listed red-brick Victorian mansion as beautiful inside as it is out. No matter which room you choose, expect fresh flowers and fruit daily, super soft bathrobes, and room service available 24 hours a day.
The spa is incredibly relaxing, and Cheneston's Restaurant won't disappoint even the pickiest of gastronomes. If you're looking for a memorable romantic experience, book dinner in The Oratory. Dubbed "London's most romantic venue," this delightful and tiny eatery lies in what was once the chapel.
Enjoy afternoon tea in the book-lined Park Lounge, take a dip in the resistance pool, work up a sweat in the Health Club, or relax in the sauna. Then, take a stroll around the incredible neighborhood. You're mere steps from London's most popular tourist attractions, like the lush Kensington Gardens, Royal Albert Hall, and Notting Hill.
Staying for an extended period of time or traveling with kids? Book one of the six two- or three-bedroom residences. These spacious units are as glam and gorgeous as you'd expect from a five-star resort in London, plus they grant access to the hotel's first-class amenities.
We're talking twice-daily housekeeping, grocery shopping service, and a personal chauffeur. You'll even arrive to a stocked kitchen and tasty welcome basket. Told you it was regal!
Address: 1 Kensington Court, London
3. The Lanesborough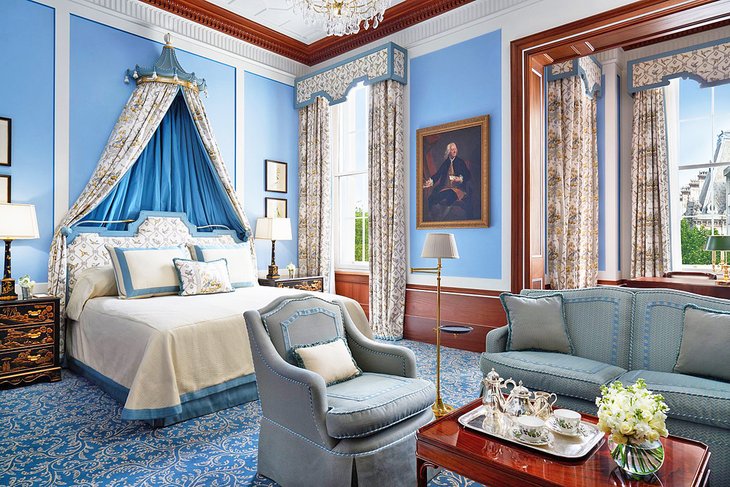 Accommodation: The Lanesborough
A five-star luxury resort overlooking the spectacular Hyde Park, this elegant gem features service so impressive, you won't ever want to leave. Once a hospital, the gorgeous Lanesborough resort was transformed into a hotel in 1991. A word of caution: a stay here will likely ruin other hotels for you.
Rooms are decorated in period-type décor, so although this London resort is relatively new inside, expect to find floral fabrics, pastel walls, and dark wood furnishings.
Modern fixings like in-room tablets, Wi-Fi, and 24-hour butler service help make you feel at home. The marble bathrooms are more contemporary and feature soaking tubs, underfloor heating, and rain showers.
As you'd expect from all of the best resorts in London, The Lanesborough offers a top-notch afternoon tea, with a menu as beautiful as it is delicious. No guest should miss the afternoon tea service served in the breathtakingly gorgeous Lanesborough Grill restaurant.
For an enjoyable respite, visit the Withdrawing Room—a lovely spot featuring glass chandeliers, gold-embossed ceiling decals, and a delectable menu of light treats. Guests are given access to the Lanesborough Club & Spa, which offers a perfect way to prolong the relaxation after your reprieve. The pool, sauna, and steam room are divine.
Address: Hyde Park Corner, London
4. The Langham, London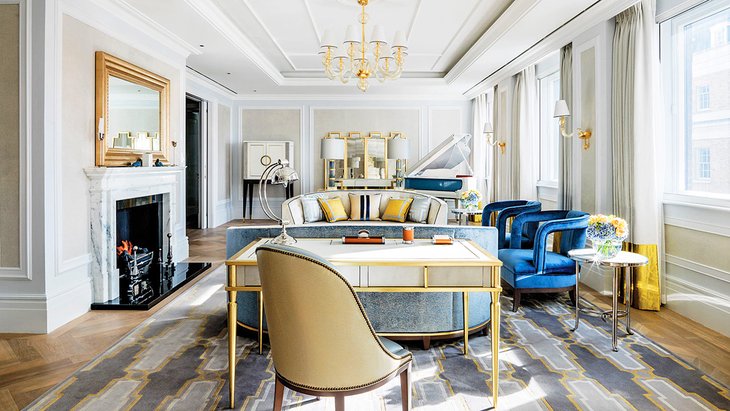 Accommodation: The Langham, London
The Langham, London is a historic marvel set in the most bustling of locales—five minutes from both Oxford Circus and Regent Street Tube stations.
When you aren't frequenting the neighborhood's upscale boutiques and intriguing points of interest, rest your head on the luxurious linens covering the plush bed in this late 19th-century hotel. Choose from one of the 333 elegantly spacious guest rooms, five apartments (complete with a kitchen), and 42 suites.
If you're dripping with extra cash, shell out for a stay in the magical Sterling Suite, a 4,844-square-foot penthouse masterpiece containing six bedrooms; a dining room; and a large drawing room with a piano, pantry, and sweeping views of the city. A personal butler and private media lounge are also included.
The amenities are as fabulous as you'd expect from a five-star hotel. They include a spa, a 16-meter indoor pool, a fitness center, phenomenal restaurants, and a remarkable lobby flanked by giant marble pillars.
This lavish London resort is famed for its Langham Afternoon Tea. Served in the breathtaking Palm Court restaurant, the resident pastry chefs create modern adaptations of the country's favorite tarts, sammies, and biscuits paired with JING teas. Children's tea includes sandwiches and a treat.
Address: 1c Portland Place, Regent Street, London
5. Corinthia London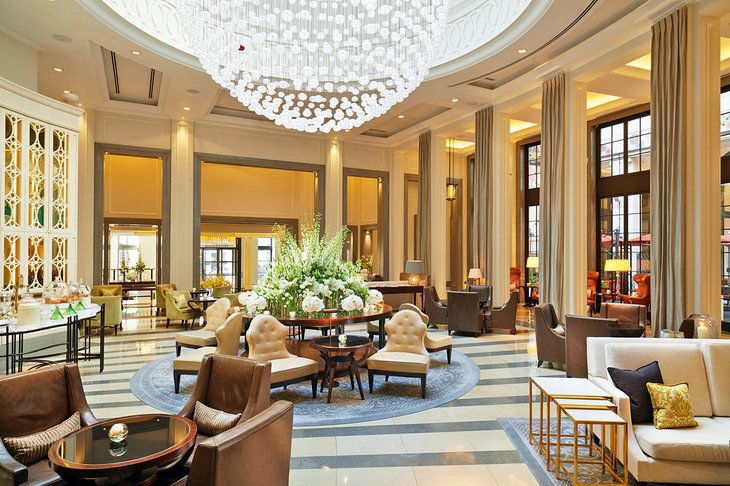 Accommodation: Corinthia London
The Corinthia London is the epitome of five-star luxury.
The opulent lobby will be your first point of contact and sets the stage for what to expect as you delve further into this lavish resort. Massive chandeliers dangle from the ceiling, sending warm light over the plush furniture and marble doorways.
The ESPA Life Spa is where you'll find overall wellness. Whether you're hoping to exercise in the health center, partake in a facial therapy, or enjoy an anti-aging treatment developed by Dr. Barbara Sturm, you're in for a rejuvenating treat. Save time for a swim in the heated pool and a rest on the poolside lounges.
Since you're already prepared to dole out a large amount of money for your trip, why not push your budget a little farther with a stay in one of the resort's most exclusive penthouses? The Royal Penthouse is particularly posh, with two bedrooms, a personal butler, rooftop terrace, walk-in closet, and butler's kitchen.
Not ready to break the bank? Don't worry. The regular rooms are just as airy and glamorous, featuring floor-to-ceiling windows that make them feel even larger than they already are. Their bathrooms are marble laden and feature tubs and rainfall showers as well as flat-screen TVs in case you really need to finish that show you were bingeing. Or you can upgrade one level higher to a slightly larger suite.
Grab lunch or dinner al fresco in The Garden, enjoy UK dishes with a twist in Kerridge's, or take things to the next more formal level at the grand Northall restaurant. Afternoon tea is served in the Crystal Moon Lounge, under the giant, 1,001-crystal chandelier.
Address: Whitehall Place, London
6. Mandarin Oriental Hyde Park London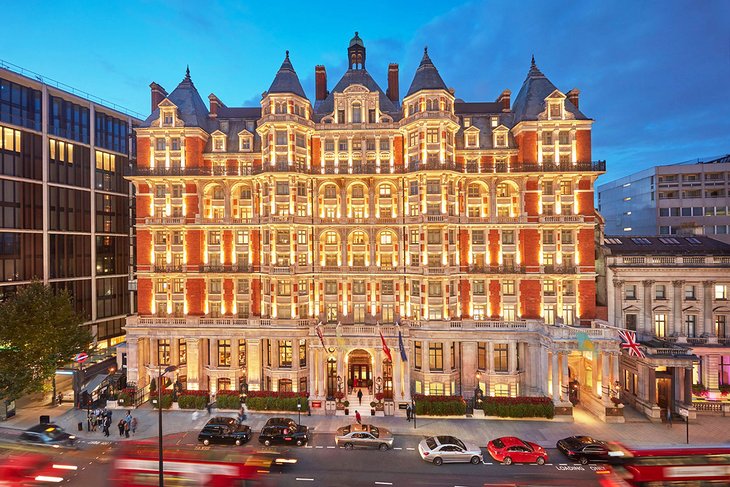 Accommodation: Mandarin Oriental Hyde Park London
The staff at Mandarin Oriental Hyde Park are as exceptional as its stunning Victorian façade. The location is ideal—perfectly set between Knightsbridge and the idyllic Hyde Park, two of London's best places to visit. Guests can shop or enjoy nature by merely stepping foot outside.
The lobby itself is as opulent as you'd expect from a Mandarin Oriental. Walled in marble, the two restaurants are so fab, you'll need a reservation to get in and an appetite for trying all the award-worthy dishes.
The Michelin-starred Dinner is headed by Heston Blumenthal. Trust us, you won't be disappointed. Enjoy afternoon tea during spring and summer at The Rosebery, or tuck into breakfast, lunch, or dinner in this bright and airy dining room.
Now let's talk about the rooms, which ooze with luxury. You can expect to find leather-topped desks, onyx chandeliers, and marble bathrooms in each. Hate getting stuck with uncomfortable pillows? No need to worry—this lavish resort has a pillow menu, so you can choose the perfect place to rest your weary head.
The super wealthy opt for the extravagant penthouses, but a regular room is glam enough to make you never want to leave.
A two-lane pool is primed for swimmers, and the gym offers top line equipment to help you get sweaty. The dazzling and tranquil spa is ready to heal what ails you.
Address: 66 Knightsbridge, London
7. The Savoy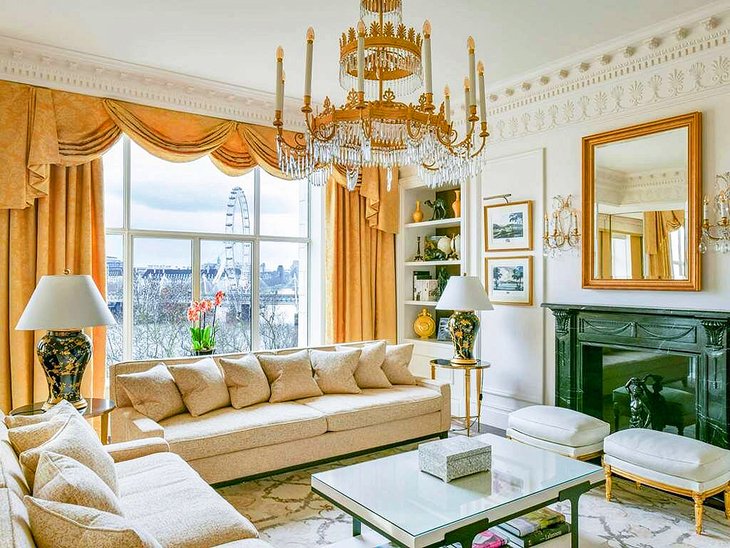 Accommodation: The Savoy
Even if you've never visited London, we bet you've heard of The Savoy.
An iconic beauty historically frequented by celebrities the likes of Frank Sinatra and Marilyn Monroe, this notable resort is one you absolutely must visit, even if it's just for dinner in Gordon Ramsay's Savoy Grill or Simpson's in the Strand, or afternoon tea in the glass-domed atrium of the Thames Foyer.
Located on The Strand, one of London's most famous streets, the resort's Covent Garden locale means you're close to some of the city's best shops, restaurants, and theaters. Although, the draw of the hotel's Beauty & Fitness area is so strong, you may not want to leave the grounds. It includes a pool, sauna, steam room, spa services, and two gym areas.
Boasting a 130-year history, the Savoy underwent an upgrade in 2007, resulting in more modern fixings in each of the bright, and luxuriously designed rooms. The style ranges from Edwardian to Art Deco, and many of the rooms offer stunning views of the city or the Thames.
The two-bedroom family room is the way to go if you have little ones in tow. Book a suite for even more space and access to a personalized butler service the likes of which you've never experienced. This includes fashion advice on what to wear to high society events and a personal shopping service.
Address: The Strand, London
8. Pan Pacific London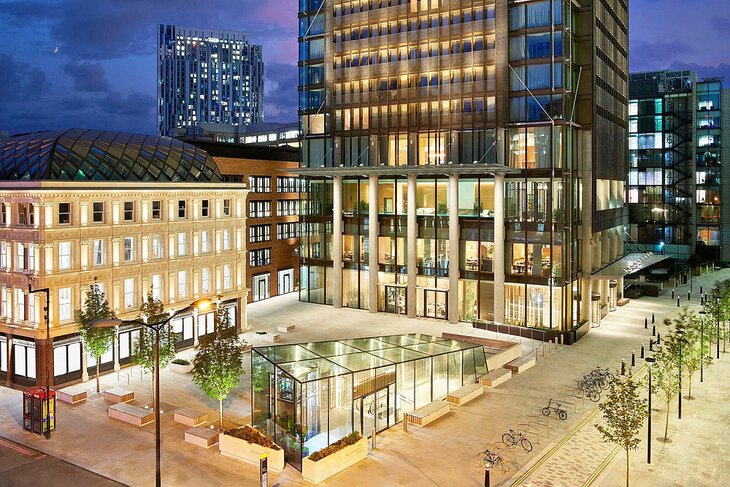 Accommodation: Pan Pacific London
The Pan Pacific London resort offers the perfect respite for those looking to decompress after a busy day spent sightseeing. The neutral tones and sleek design of the resort's interiors instill a sense of calm, and the luxury spa treatment rooms are sure to erase any signs of stress.
This resort aims to please and relax its visitors (even children), with an entire floor devoted to wellness. Here, you'll find the treatment rooms we mentioned, as well as a sauna and steam rooms, a gym, a mindfulness studio, and a stunning infinity pool with views over Bishopsgate Plaza.
There are many places to grab a bite, be it a light snack or a more hearty, fine-dining meal featuring Singaporean cuisine. Room service is also available if you're loathe to leave your plush room.
As this resort is owned by a Singaporean company, you'll find a contemporary Asian flair in each of the plush rooms and suites. All feature floor-to-ceiling windows with city views, marble bathrooms with heated floors, a bathtub, and pillow menu. The suites come with private butler service.
Address: 80 Houndsditch, London
9. Shangri-La The Shard, London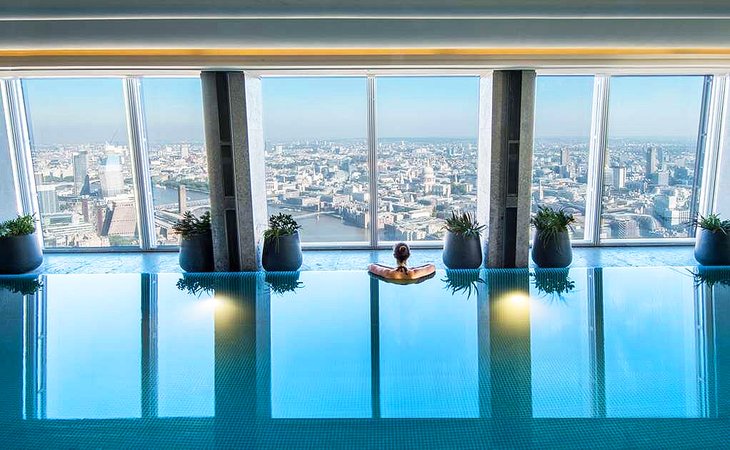 Accommodation: Shangri-La The Shard, London
The dramatic Shangri-La The Shard, London is an ideal resort for those who'd jump at a chance to hover above the skyline. A resort created 125 meters above the Thames, this architectural marvel takes up 18 floors of London's tallest building, The Shard. That said, it's not the best choice if you have a crippling fear of heights.
Located on floors 32 to 54, you're guaranteed a phenomenal view no matter which room you choose. They all feature floor-to-ceiling windows with vistas so high, they'll make your stomach and jaw drop simultaneously. The décor is elegant but muted, earthy tones vying to keep their presence in the background, while you spend your time ogling the unbeatable city views.
The rooms include spacious marble bathrooms with rainfall showers, comfy beds fitted with 300-thread-count linens, and of course, those panoramic vistas. Suites offer more space, as well as a walk-in dressing room, living room, dining area, workspace, and an extra bathroom. Guests of these rooms are also granted 11,000-thread-count linens and the use of a personal butler.
A pool is a luxury to find in any resort in London, let alone one that hovers above the clouds. Luckily for guests of the Shangri-La, the Skypool allows them to swim laps 52 floors above ground in the highest hotel pool in Western Europe. You'll never beat this breathtaking view.
Be sure to book a reservation at the resort's TING restaurant and three spectacular lounges, as they're extremely popular with locals and visitors.
Address: 31 St. Thomas Street, London
10. One Aldwych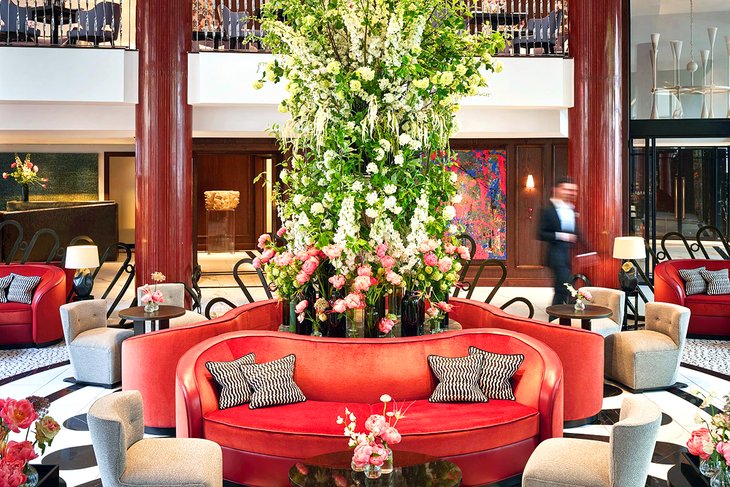 Accommodation: One Aldwych
It's hard not to be charmed by the cobbled streets, narrow alleys, and boutique shops surrounding the One Aldwych resort. Located in the heart of Covent Garden, this is a well-appointed gem worthy of a stay.
Looking to unwind? You've come to the right place. A glamorous 59-foot pool complete with underwater music and soft lighting soothes swimmers, while the bespoke treatments available at the on-site spa are so blissful, you'll forget you were stressed in the first place.
The rooms and suites boast sweeping views and a calming pastel palette. The Dome Suite is particularly enchanting; guests can spend the night under the building's copper cupola and enjoy their private living room, dining area, and walk-in closet.
There is also the option to upgrade this to a three-bedroom suite, perfect for those traveling with family members. Included are minibar snacks and drinks and a one-way transfer in an S-Class Mercedes from Heathrow airport or a train station.
One Aldwych also houses a fitness studio and serves traditional afternoon tea with a twist in the popular Indigo Restaurant.
Want your kids to love you forever? Book the unbeatable Charlie & the Chocolate Factory Afternoon Tea, which features fizzy drinks, snozzberry jam, chocolate tea, and a towering box of cakes.
Address: 1 Aldwych, London
11. 45 Park Lane, Dorchester Collection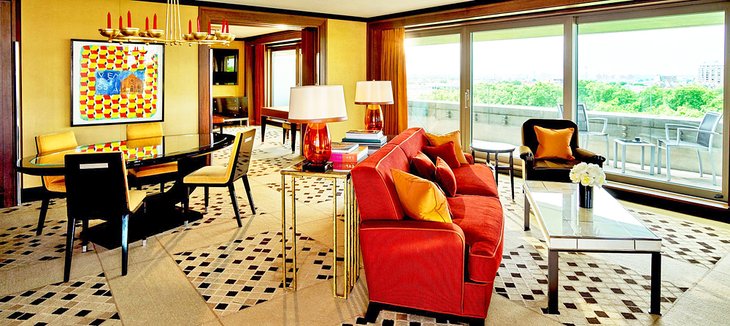 Accommodation: 45 Park Lane, Dorchester Collection
A vibrant, Art Deco-inspired wonder welcomes visitors to London's exclusive Mayfair neighborhood. A popular night club in the 1960s, the Dorchester Collection revamped this unique space in 2010, transforming it into the contemporary 45 Park Lane masterpiece you see today.
Inside its glitzy walls lies an art collection worthy of the Tate and colorful furnishings that contrast the often-dreary weather outside. The rooms are just as funky and sleek, with the bonus of lush Hyde Park views. The bathrooms have heated floors and a television hidden in the mirror. Remote controls open and close the blinds, and the closet contains a yoga mat and skipping rope, as well as fitness videos.
Guests are treated to exemplary customer service, twice-daily housekeeping, daily fresh fruit, and complimentary breakfast bites and newspapers. The food served at the resort's Wolfgang Puck restaurant, CUT, is just as artistic as its décor and so delicious you'll want seconds.
A spa, 20-meter swimming pool, and health club are also at your disposal.
Address: 45 Park Lane, London
12. Montcalm Royal London House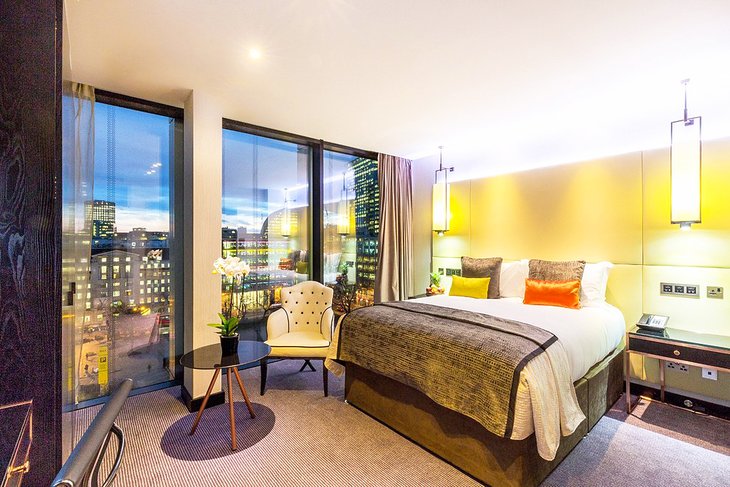 Accommodation: Montcalm Royal London House
A beautiful hotel based in Finsbury Square, the Montcalm Royal London House resort offers five-star luxury at a more palatable price point.
In addition to its convenient location near the popular tourist attractions and some of the best shopping in London, this hotel offers guests an uber-comfortable stay and a slew of fab amenities.
Restaurants: The Aviary is one of the hotel's main draws. In addition to a palate-pleasing menu, its rooftop locale is a truly romantic place to spend an evening. Burdock is a more modern eatery serving everything from a takeout breakfast to smoothies to light lunches and dinners to share.
The Spa is a popular space to spend downtime, so it's highly suggested that you book a treatment (or more) in advance. This is also where you'll find the pool, Jacuzzi, and wellness center. If you'd like a robe and slippers, merely call down to the front desk, and they'll bring them to your room.
The regular rooms are large enough to feel comfortable, while suites offer more space to stretch out if you're planning to stay longer than a few days. They include marble bathrooms with underfloor heating, super comfy beds, and captivating city views.
Address: 22-25 Finsbury Square, London
Map of Resorts in London