9 Top-Rated Attractions & Things to Do in St Ives, England
We may earn a commission from affiliate links ()
Lying just north of Penzance on the Celtic Sea, St Ives is so beautiful, you'll never want to leave. Its slate roofs, colorful beach huts, golden sand, and turquoise waters make it a go-to Cornish destination. This appealing seaside resort is so pretty it was deemed the "Best Seaside Town" by the British Travel Awards in both 2010 and 2011.
As a result of its magnificence, St Ives has become a real estate hot spot. English vacationers are gobbling up holiday homes at an increasing rate. And who can blame them? This picturesque town has a bevy of attractions and things to do, including pristine beaches, quiet walks, diverse restaurants, and eclectic shops.
St. Ives also boasts a diverse arts scene. It's within the town's multiple galleries that you'll come across some truly interesting works by locals like Barbara Hepworth, Naum Gabo, and Ben Nicholson.
Plan your sightseeing in this pretty town with our list of the top things to do in St Ives.
Note: Some businesses may be temporarily closed due to recent global health and safety issues.
1. Barbara Hepworth Museum and Sculpture Garden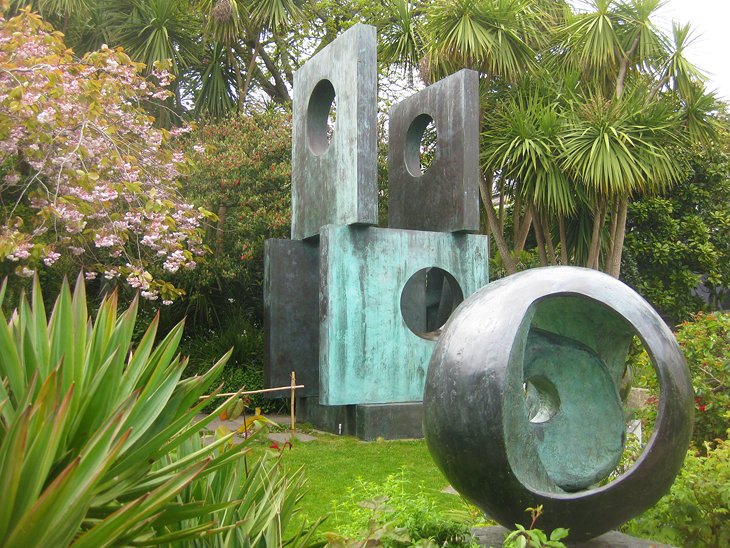 The Barbara Hepworth Museum and Sculpture Garden is housed at Trewyn studio and garden, the famed sculptor's residence (and studio) from 1949 until her death in 1975. It's also one of the most popular tourist attractions in town.
Walking into this spectacular space is a fascinating experience. Giant sculptures (the largest group of her works to be on permanent display) stand stoically in an immaculate and intricate garden. This is perhaps the best part of the museum and shouldn't be missed. While outstanding under the sun's bright rays, the sculptures and varied vegetation come to life in a different, yet still remarkable way during a downpour. So, bring an umbrella just in case.
Wandering through the house and studio brings the artist back to life; visitors learn about her influences and how her sculpting changed with time. Crippled by arthritis and cancer, Hepworth had to find different ways to create her art.
Insider's tip: Since 1980, the museum has been owned and run by Tate. Add this on to your admission ticket for the Tate Museum to save a bit on your entrance fees.
Location: Barnoon Hill, St Ives
Official site: https://barbarahepworth.org.uk/st-ives/
2. South West Coast Path National Trail-Godrevy Head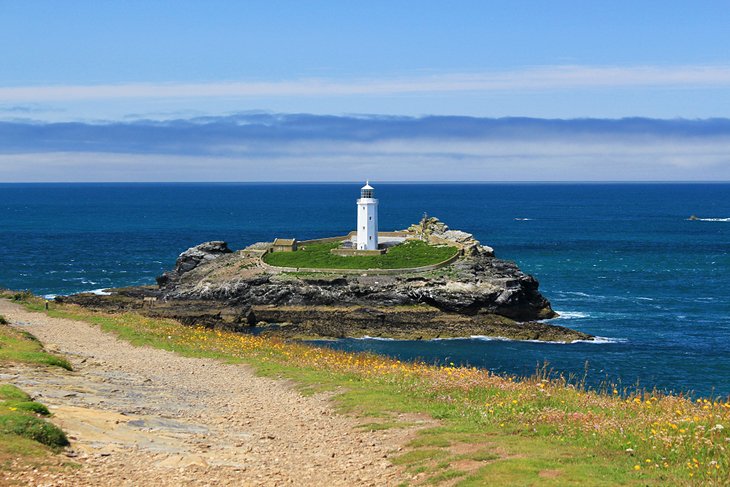 What do cliffs, sandy beaches, and a cove filled with seals have in common? They're all accessible from the South West Coast Path National Trail. So, too, is a clear view of Godrevy Island Lighthouse, thought to be Virginia Woolf's inspiration for To the Lighthouse.
This path spans the South West peninsula coastline, along a whopping 1,013 kilometers from Minehead in Somerset to Poole Harbour in Dorset. The Godrevy Head walk covers a mere 0.6 miles of this massive expanse while providing hikers with incredible views across St Ives Bay. It's short and easy, with only one small and gentle climb, which makes it a perfect walk for families. There is a stile, though, which can present a challenge for those with strollers or wheelchairs.
The path begins at the National Trust car park at Godrevy Point, which is open from Easter to the end of October. Those looking to hike outside of these dates can park at the Gwithian Towans car park, which is open year-round.
Insider's Tip: Spring is the best time to visit, when the wildflowers are in full bloom and fulmars begin to nest in the cliffs.
Address: Godrevy Head Car Park, St Ives
Official site: https://www.southwestcoastpath.org.uk/walksdb/67/
3. Porthminster Beach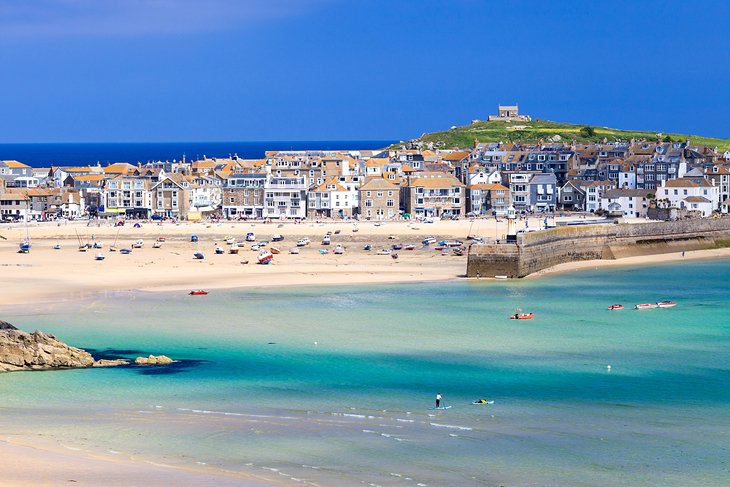 While most don't consider England a beach destination, this rainy isle boasts lovely beaches, especially in Cornwall. St Ives' Porthminster Beach is one of the best.
A golden crescent of sand backed by towering palm trees gives this strand a tropical feel not present on other English beaches (we're looking at you, Brighton). It also provides a beautiful view of the Godrevy Lighthouse across the sparkling bay. Another plus: Cornwall boasts milder weather, making its climate ideal for a quiet day spent frolicking seaside.
This family-friendly beach is located a short walk from the center of town and boasts safe, calm waters and an 18-hole mini putt course. Plenty of cafés and restaurants are nearby, making it easy to spend a full day at this lovely spot.
Insider's Tip: Lifeguards are on duty from mid-May to the end of September, so it's best to visit then, especially if you're traveling with kids.
4. Porthmeor Beach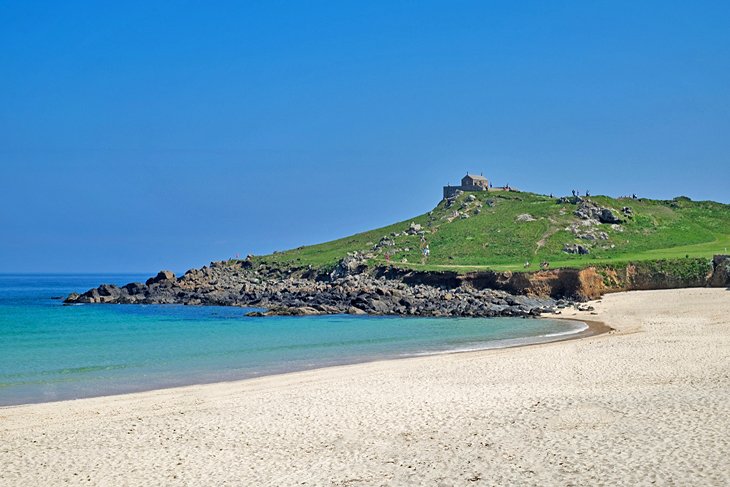 This small, sandy beauty is definitely worth a stop. A mere half-mile in length, Porthmeor is one of the most popular beaches in St Ives. In addition to the soft, firm sand and rolling waves that make every beach worth visiting, Porthmeor features a bevy of tasty cafés and restaurants nearby.
Grab some takeout food for a picnic and hunker down to watch surfers frolic in the waves. When you've had enough sun, head into town for some retail therapy or treat your inner artist to a visit to the Tate St Ives, which backs the beach.
Another plus: Porthmeor was given a 2019 Blue Flag Award for its impeccable water quality, safety, and devotion to environmental management and education. It's one of only seven beaches in Cornwall to receive the prestigious title.
Lifeguards are on duty from late March to the end of October.
Insider's Tip: Plan a "wind break" every now and then. The gusts can whip up when you're least expecting them. The perfect solution: a tapas respite in the nearby Porthmeor Beach Café. The marinated olives, grilled halloumi, and chickpea dahl are delish!
5. St Ives Bay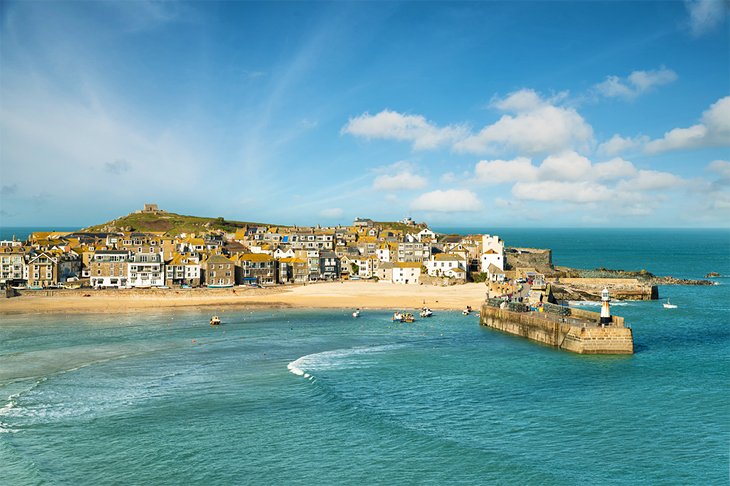 Most who visit Cornwall do so in hopes of eschewing loud and busy tourist attractions. Vacationers to England's south east coast come here to relax and soak up the incredible nature it has become famous for.
St Ives Bay offers them the most stellar natural landscape. Close to town, the crescent-shaped bay is lined by charming homes, hotels, shops, and restaurants.
As you travel farther away, however, this six-mile expanse of soft golden sand stretches past coastal dunes, the quiet Porthkidney Sands, and the beautiful Gwithian beach. The bay extends from St Ives in the west to Godrevy Head in the east.
In addition to providing great waves for surfing and plenty of spots to practice the latest in sandcastle designs, St Ives Bay is home to a diverse collection of birds. Plan on adding binoculars and a good camera to your packing list.
Insider's Tip: Keep your eyes peeled for seals. They love to hang out near fishing boats in the harbor.
6. Porthgwidden Beach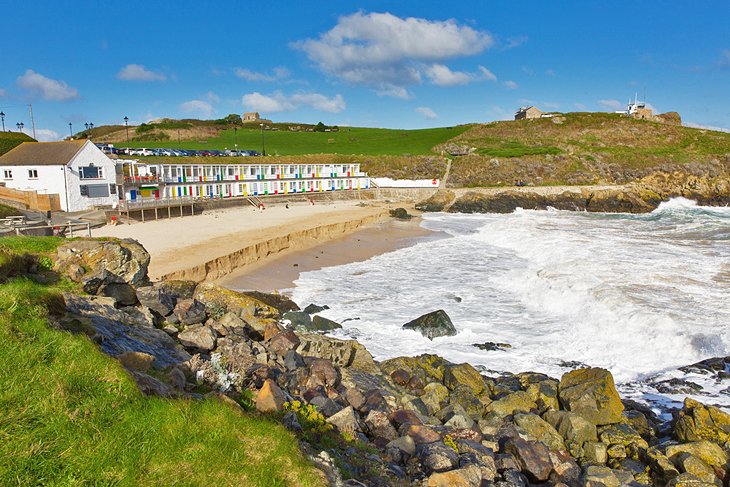 Colorful huts line Porthgwidden beach, adding to its supreme holiday vibe. The crystal-clear water and super fine sand help add to its seaside charm.
A family-friendly gem, this beach boasts smaller waves, as it's more sheltered than some of the other, larger strands in the area. On a windy day, though, you'll still feel the breeze.
Porthgwidden is located close to the St Ives Harbour, with many cute shops and restaurants an easy walk away. There are plenty of concessions to choose from, so you won't need to worry about where to buy all those things you forgot (like sunblock and a hat). We suggest renting a deck chair while you're here. They always make a beach visit more enjoyable.
Insider's Tip: The bathrooms are up a hill, which may be difficult to reach for those who are less able.
7. Carbis Bay Beach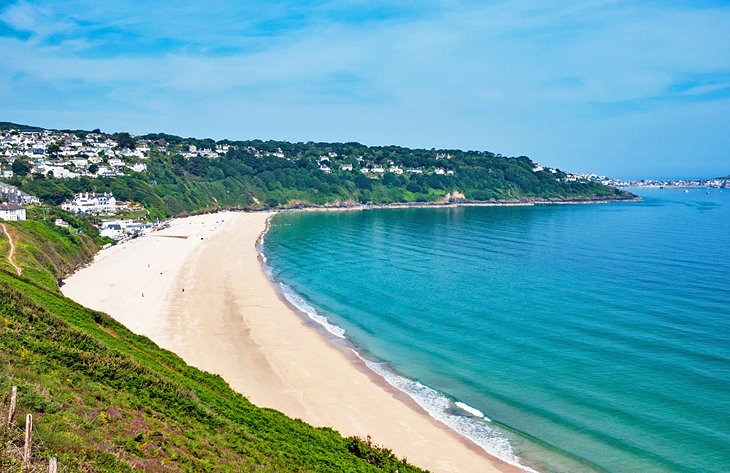 Owned by the Carbis Bay Estate, this pristine Blue Flag beach is located about a mile from the center of St Ives in Carbis Bay.
Spanning a luxurious 25 acres, the sand here is so plush, you won't need to wear sandals. Luckily, the hotel allows non guests to enjoy this sliver of paradise. It's conveniently located a short walk from the Carbis Bay train station, making it a popular place for visitors from nearby towns. Public parking is limited, at the top of a hill, and can be expensive, making the train a great option.
The usual beach necessities are available for rent-from stand up paddleboards to deck chairs. And there are plenty of nearby kiosks and a café selling treats. No beach visit would be complete without ice-cream, and the town of St Ives knows it! You won't be lacking for access to this tasty fare.
With easy water access to the calm, relatively sheltered sea, Carbis Bay Beach is an optimal spot for those traveling with kids.
Address: Beach Road, St Ives
8. Gwithian Beach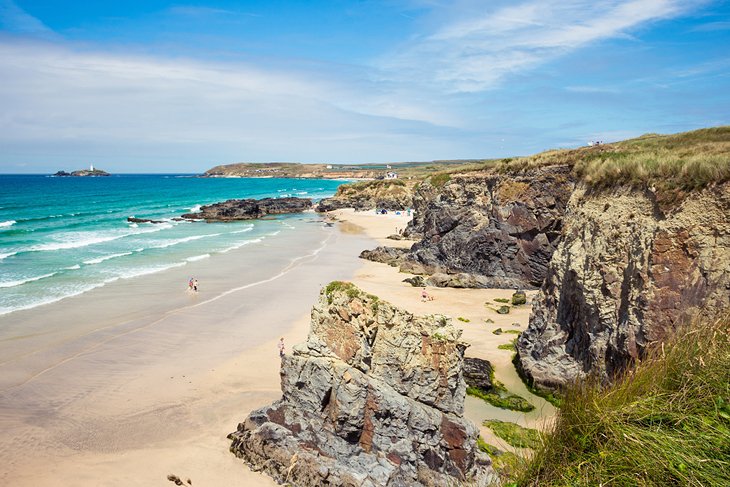 Yet another beach tops the list of things to do in St Ives. We told you Cornwall was known for its beaches! Technically, Gwithian Beach isn't located in St Ives. It sits along the St Ives Bay, a short drive east of town, between Hayle and Godrevy.
This beach is a surfer's paradise. Sheep Dips, as the main surfing spot is known, boasts warm water (when compared to the Atlantic) and large waves. Being slightly sheltered in the bay, the waves at this shore are often a better size for beginners.
Body boarders and kite surfers are also big fans of Gwithian's surf, spotting the sea with their brightly colored swimsuits and boards. The safest time to partake in these water activities is from early May to the end of September, when lifeguards are on duty. They're also employed during Easter holidays and on weekends in October.
Insider's Tip: Arrive early, before the tide comes in. Kids will love searching through tide pools to see crabs, starfish, and other marine life up close.
9. Tate Gallery St Ives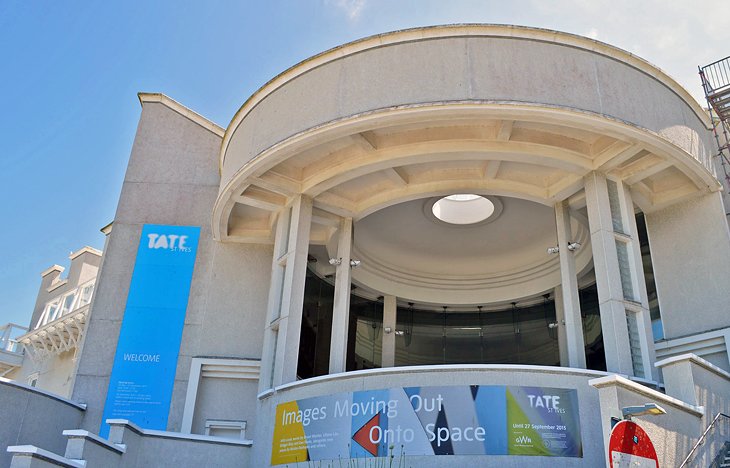 You can't beat the view from the Tate St Ives, which sits on the shores of Porthmeor Beach. That said, the effervescent blue hues of the Atlantic will pale in comparison to some of the impressive works on display in this gallery, which is owned and operated by Tate.
Don't expect to see the likes of Degas or da Vinci at this modern locale. Instead, the Tate St Ives features works by 20th-century artists with strong ties to the town-all have either lived or worked in St Ives. Wandering through the vast rooms, you'll be introduced to works by the likes of Alfred Wallis, Ben Nicholson, and Barbara Hepworth. Opt for a guided tour if you're not up on modern art, the guides make learning fun and interesting.
Insider's Tip: Make time for a stop in the café to enjoy magnificent views and tasty fare. The scones and tea won't disappoint.
Address: Porthmeor Beach, St Ives, Cornwall
Official site: https://www.tate.org.uk/visit/tate-st-ives
Where to Stay in St Ives for Sightseeing
St Ives isn't dripping with luxury hotels like other seaside escapes. Instead, this coastal gem boasts a slew of gorgeous, plush hotels that won't break the bank. Want to rest your weary feet in a comfy hotel with great service, views, and food? Consider these charming hotels, bed and breakfasts, and campsites to help enhance your stay.
Luxury & Mid-Range Hotels: With its own private 25-acre Blue Flag beach, private beach lodges, and an award-winning spa, the Carbis Bay

Estate

transports guests into the lap of luxury. The hotel also boasts four excellent restaurants, making it hard to justify leaving the premises. It's a four-star resort with a reasonable price tag. Affordable luxury is also within reach at the recently updated St Ives Harbour Hotel &

Spa

. The beds are uber-comfy, the views of the bay are spectacular, and Porthminster beach is just a few steps away. Add top-rated restaurants, a fabulous spa, and a pool to this, and you've found yourself a great place to rest your head. Primrose

House

, a much smaller mid-range option is located mere steps from Porthminster beach and about a five-minute walk from town. This boutique B&B offers nine rooms, great breakfasts, and on-site parking.
Budget Hotels: The Western

Hotel

has it all-a good price, great location (in the heart of town), and comfortable rooms. Don't miss the delicious breakfast. Looking to be even closer to the impressive natural landscape? Camping in Cornwall is an unbeatable experience, especially when you stay at Lower Penderleath

Campsite

. Bring your own tent and get set for a fabulous time in this beautiful spot. This campsite offers clean and modern toilets and showers, a fridge and freezer, plus a room for washing dishes.
More Related Articles on PlanetWare.com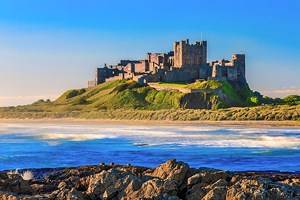 English Seaside Vacation Ideas: County Devon is another of England's vacation hot spots, especially during the summer months. It's also home to Plymouth, one of the UK's largest seaports. It's here that you'll find the lush park, Plymouth Hoe, which offers spectacular views of Plymouth Sound. Vibrant Brighton lies on England's east coast along the English Channel. While its strand is much rockier than that found in Devon and Cornwall, you'll find plenty to do here-like walk along the famous Palace Pier or shop in one of multiple eclectic shops. Still stumped for a sandy spot to visit? Check out one of these top-rated English beaches or head a bit further afield to one of these best beaches in the UK.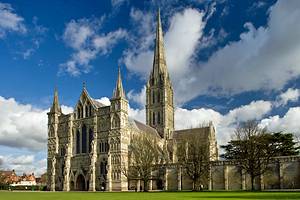 Exploring England: Its beaches are lovely, but they aren't the only reason to visit this British Isle. Beautiful Salisbury lies in breathtaking Wiltshire. Its cathedral is literally unmissable-it towers in all its Gothic beauty above the spectacular ancient town. Up north in Scotland, you'll find the capital, Edinburgh, where you'll need to schedule a stay of at least two full days. There's so much to see-from the regal Edinburgh Castle to the Queen's official Scottish residence, Palace of Holyroodhouse. Talking about capitals, you can't beat a trip to London. While you're in the land of fish and chips and onion pasties, don't miss these best places to visit in the UK.