19 Beautiful Lakes in New Jersey
Well known for its impressive stretch of beaches, New Jersey is one of the Atlantic Coast's go-to summer vacation destinations, especially for Manhattanites craving an escape. People of all ages flock to the Garden State to inhale salty ocean air; eat frozen custard; jump into one of its beautiful, shimmering lakes; and visit East Coast beach towns like sweet Cape May and the vibrant Atlantic City.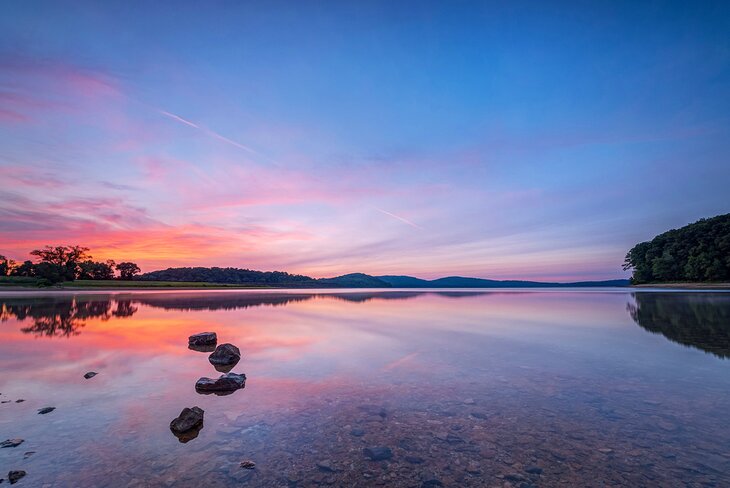 The state's magnificent lakes await those willing to eschew the coast for an inland vacation. Hidden in forests, sprawling at the bottom of valleys, and sitting at the side of busy highways, these are New Jersey's most incredible assets. From North to South and East to West, they cover over 61,000 acres.
Whether you're hoping to try your luck behind a fishing rod, lounge on an inflatable raft, or paddle a canoe from one shore to the next, thousands of freshwater New Jersey lakes are awaiting a visit. Decide which one to see first with our list of the best lakes in New Jersey.
1. Lake Hopatcong, Jefferson Township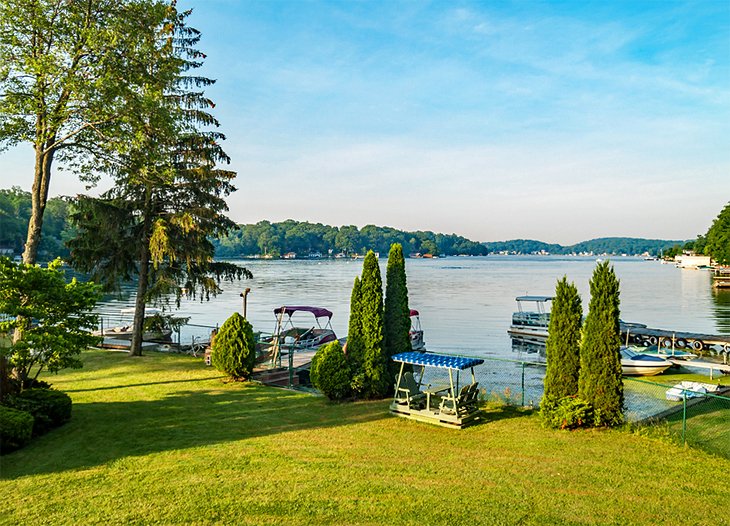 Lake Hopatcong is the stuff of summer dreams. The largest freshwater lake in the Garden State, this glistening beauty beckons swimmers, anglers, and water skiers to frolic for hours. Its assets make it easily one of the best places to visit in New Jersey, especially for families looking for some water-based summer fun.
A mere 40 miles from the main attractions of New York City, in the heart of Hopatcong State Park, the lake is surrounded by 45 miles of well-appointed shoreline that's made the most of its popularity.
From sprawling public beaches to tasty restaurants and marinas for miles, this vacation hot spot is a wonderful place to unwind, even if all you have time for is a quick, summer day trip. Traveling with kids? They'll love the playgrounds, volleyball, and basketball courts on offer. Plus, there's a mini-putt course. What's not to like?
2. Lake Carnegie, Princeton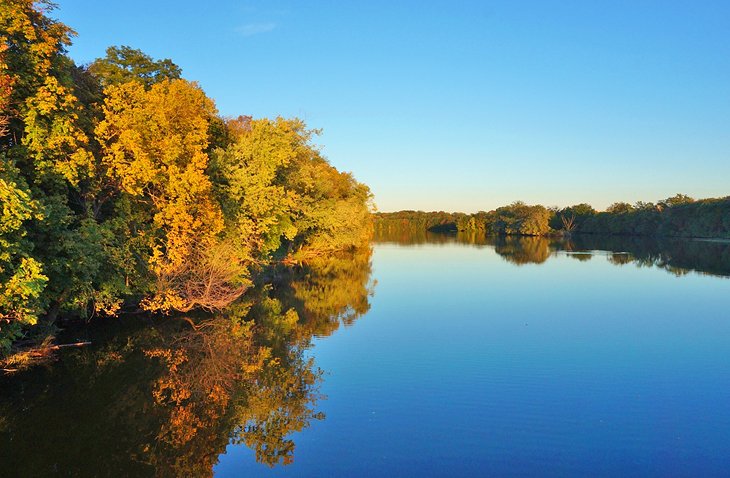 Lake Carnegie takes Ivy League to a whole new level. This manmade beauty was created exclusively for the Princeton University rowing team. See, there are perks to attending an Ivy League College!
When famed businessman and industrialist, Andrew Carnegie, heard the team were lacking an adequate practice venue, he did what any wealthy dignitary would do: he created an entire lake. Now do you get the name? First, Carnegie bought the land, then he dammed the Millstone River. Next, a reservoir was born.
While the Princeton crew still have rights to this privately-owned gem, they now share the waters with members of the US Olympic Rowing Team. You won't be able to swim here, but watching the teams practice is entirely satisfying, as is fishing in the waters, which you're allowed to do as long as you release the fish after you catch them. During winter, they open the area to ice skating.
The lake is located close to some of Princeton's most interesting attractions, so there's not a lot to lose by visiting here for at least an hour. Spending time near its calming shores just adds charm to the already alluring small New Jersey town.
3. Deal Lake, Monmouth County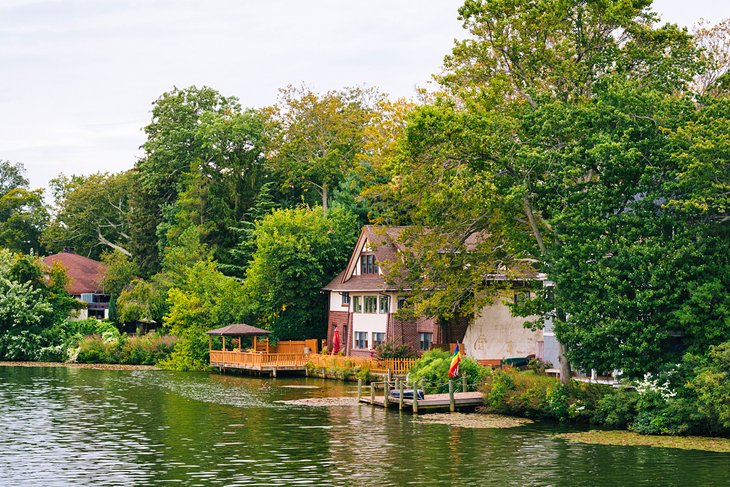 Over the years, Deal Lake has had many names: Lake Uliquecks, Great Pond, and Hogs Swamp Pond, among them. In the late 1800s, it was closed off from the Atlantic Ocean and became more like the lake that exists today.
Over time, residents began to recognize its allure – water views, marine life, and nesting birds made its banks even more appealing. They began to build upon its shores in droves, choosing a quiet lakeside locale over the busy streets of Manhattan.
Today, the lake is known for its great fishing, as well as being a wonderful spot to dip your oar while piloting a kayak. Not surprisingly, it's become a haven for weekend warriors looking for a little serenity.
4. Greenwood Lake, Passaic County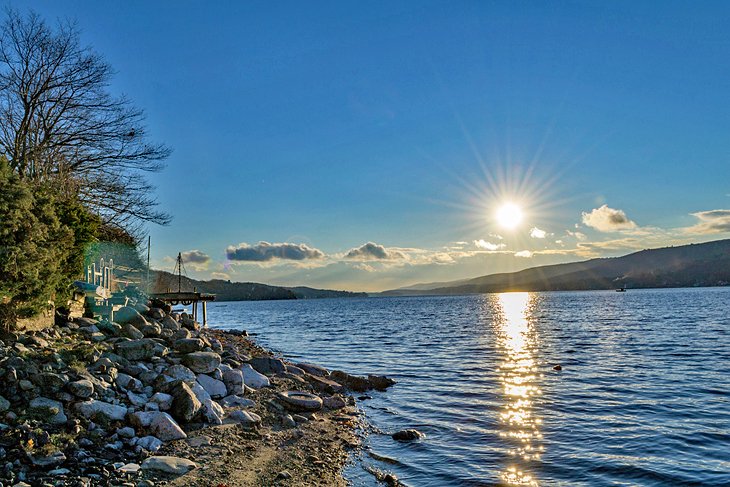 This interstate lake stretches for just over seven miles, from New Jersey's West Milford through New York's Orange County, with half of the lake lying in each state.
At the north end of Greenwood Lake lies a sweet village of the same name. The area became a playground for the wealthy way back in the 1800s. With New York City only 50 miles away, this was a perfect spot for a rejuvenating weekend away. Today, it's peppered with cute stores, splendid vacation homes, and great restaurants, making it a wonderful spot for a quick break in New Jersey.
What used to be an area rich in quiet beauty now buzzes with the sound of non-stop jet skis and children screaming with joy during the summer months. In the winter, things quiet down considerably, but the hum of snowmobiles washes over the frozen landscape.
5. Atsion Lake, Shamong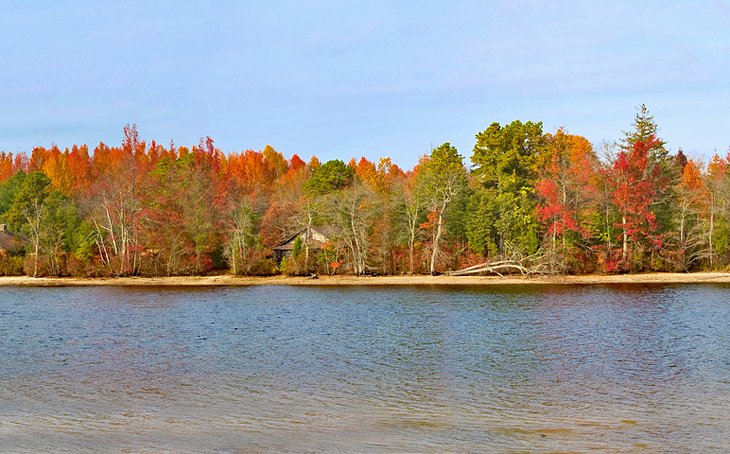 The Wharton State Forest is home to the beautiful Atsion Lake. Giant pines loom over its edges, enveloping the crystal-clear water from all sides. On a perfect night, they're reflected upon its smooth surface, as is the gloriously pink-hued sunset, begging to be photographed.
This lake is an ideal spot for families to spend a day while visiting the Jersey Shore. Sadly, many people have caught on to this lake's impressively calm and clear waters, which means it can get quite crowded, especially during summer weekends. Lifeguards are on duty from Memorial Day to Labor Day.
Insider's Tip: Arrive early, the park's been known to reach capacity by 10am.
6. Round Valley Reservoir, Lebanon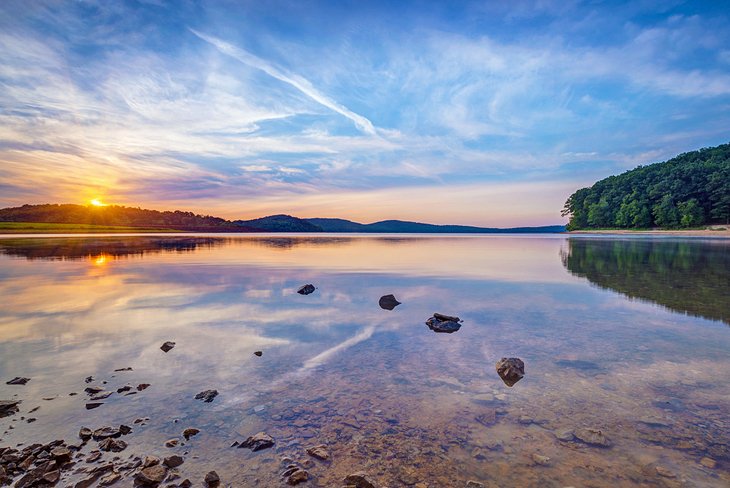 Since it's technically a reservoir, swimming is only allowed in the main section of Round Valley Reservoir. Even then, swimming is permitted only when lifeguards are on duty (between 10am and 5:30pm during the summer). This giant body of water is majestic in its calm, clear nature, and it's extremely inviting on a hot summer's day.
If you're lucky enough to arrive when the sun is rising or setting, you'll think twice about causing ripples to disrupt the reservoir's perfect reflection.
Located in the Round Valley Recreation Area, there are a ton of non-swimming activities on offer – from volleyball courts to soft, sandcastle-worthy sand to exciting playgrounds. We guarantee you won't hear the kids whine, "I'm bored!"
7. Egg Harbor City Lake, Atlantic County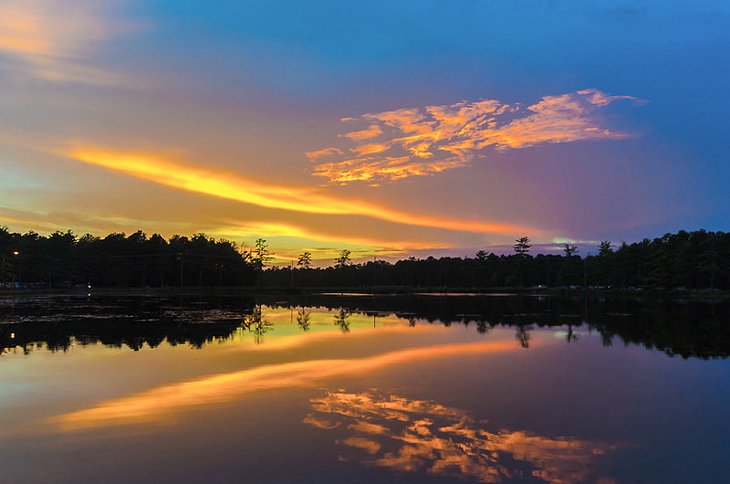 Egg Harbor City Lake provides a summer vacation your kids won't forget. From swimming to canoeing to golfing to fishing, there's a slew of activities to keep guests of all ages entertained.
Pack your gear and pitch a tent at one of the lakeside campgrounds to cement your place as their favorite parent (for the day, at least). You won't be the only one sporting that new title. This lake has become a well-loved stop on the list of travel destinations on the Jersey Shore.
Egg Harbor City Lake and township's unique name is attributed to Cornelius Jacobsen Meh, a Dutch explorer who came upon this place in the early 1600s. He found so many birds and waterfowl eggs in the area that he named it "Eyren Haven" (a.k.a. Egg Harbor).
8. Echo Lake Park, Mountainside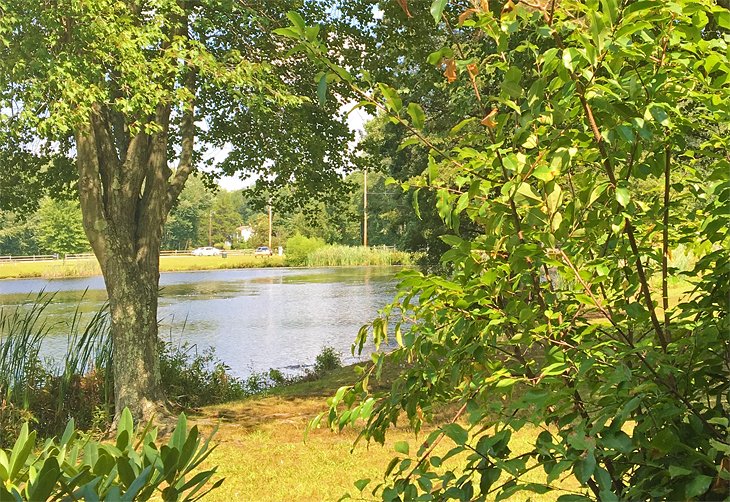 Echo Lake boasts all the things you'd hope a lake would have, like fishing, boating, and swimming (ice-skating during winter). Nestled in Union County's Echo Lake Park, the lake is best viewed from one of the paved walking paths that run along its shore.
Enjoy the view from one of the many benches, grab a bite at the concession stand, or take a selfie in the lovely gazebo. The park is also home to a dog park, playgrounds, and baseball diamonds, making it easy for a family to stay occupied all day.
Hoping to bring your favorite four-legged family member along? Great idea. Your fluffy friend will love running free in the area's dog park.
Insider's Tip: Don't miss out on the area's fun boat rentals. While you won't be dragging a water skier behind a pedal boat, you'll have a blast making your way around this pretty and quiet lake.
9. Lake Marcia, Sussex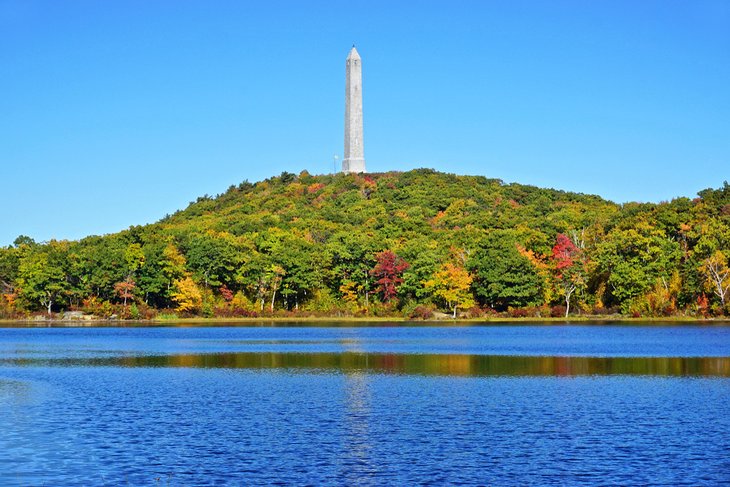 Lake Marcia is one of the main attractions found in High Point State Park in Sussex, and lifeguards are on duty here from Memorial Day through Labor Day. When you aren't spending your time splashing with your kids in the clear water, swimming laps, or floating, spend a moment or two soaking in the remarkable view.
The best place for a vista can be had at the High Point Monument, which stands 1,803 feet above sea level. From the summit, you can see the rolling hills and pastoral farmland of three states.
If you're not ready to leave, no one will blame you. Pitch a tent in the campsite that hugs the area's other watery wonder, Sawmill Lake. There are a couple of furnished cabins to choose from if you're more of a glamping type.
The next day, spend some more time lakeside before heading out for a hike on one of the winding trails. For those in search of more watery beauty, there are multiple captivating cascades (like Pinchot Falls and Hackers Falls) that lie a short drive away.
10. White Lake, Hardwick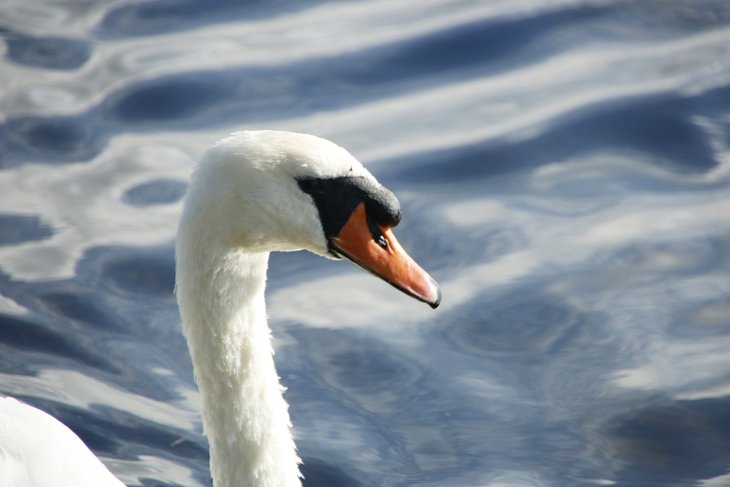 An idyllic place to spend a day, White Lake will tick all the boxes for any outdoor enthusiast. Whether you're hoping to catch a big one while fishing at dawn or spend an hour canoeing around its verdant shores, there's much to appreciate in this 69-acre nirvana. Other activities on offer include swimming, kayaking, and exploring miles of hiking trails.
This spectacular spring-fed lake lies within the 394-acre White Lake Preserve in the Great Limestone Valley. It sits serenely in the shadow of the Appalachian Mountains. With an array of ecosystems on display, visitors can expect to find everything from rare grasses to lush forests to pond creatures.
11. Lake Garrison, Monroeville
Looking for a lake vacay that won't break the bank (or force you to sit bumper to bumper for hours)? The charming Lake Garrison will fit the proverbial bill.
What originated as a cranberry bog (picture people wearing giant boots and waders moving slowly through a sea of the bright red berries), Lake Garrison has become a go-to holiday alternative to the Jersey Shore. In addition to multiple log cabins built by the lake's original owner, John Garrison, Lake Garrison also boasts a concession stand, basketball court, playground, and multiple opportunities for boating, making it a fun place to spend a sunny day.
Insider's Tip: The sunset views are fantastic, so plan to stay late.
12. Oxford Lake, Oxford
A sweet little thing, Oxford Lake's charm extends beyond its sparkling blue waves. Motorboats aren't allowed here, so rest assured that a visit to this New Jersey lake will leave you feeling well-rested and relaxed. In addition to its clean, sandy beach, the area has a recreation area and picnic areas complete with outdoor grills.
BYOF (bring your own food) and hunker down for the day or, if you don't fancy carting your nosh with you, buy a hotdog from the concession stand. On-site restrooms are an added bonus that make it easy to spend a full day here.
Oxford lake is open to the public for a small entrance fee, which helps cover upkeep and paying the lifeguards. You'll also have to pay to use the grill and picnic table.
Insider's Tip: Take advantage of the boat rentals and borrow a kayak to explore Oxford Lake's cool, dark water.
Looking for more beaches to enjoy? New Jersey is known for its sandy shores, so tack on a visit to one of the state's top beaches if you're staying put for a couple of days.
13. Swartswood Lake, Swartswood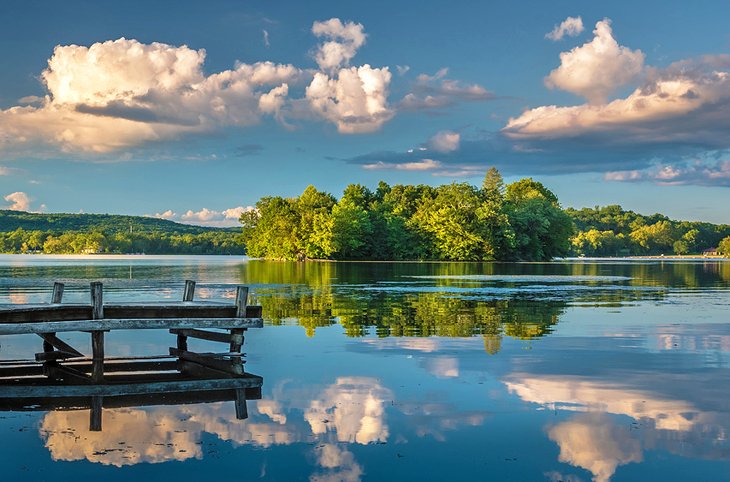 What a beautiful place to forget about your troubles! Swartswood Lake is located in New Jersey's first state park, Swartswood State Park. This designation means the park and its freshwater oasis (and the third-largest lake in New Jersey) is open to the public.
While there's a fee to enter (unless you're walking or biking in), the bevy of attractions offered at Swartswood Lake are definitely worth paying for. Enjoy the numerous hiking trails, get out fishing, splash in the calm waters, or rent a kayak or canoe to experience the full beauty of this natural wonder. The area is packed with amenities (including showers, restrooms, and a concession stand), making it easy to stay all day.
Insider's Tip: Swimming is available while lifeguards are on duty, from 10am to 5:30pm from Memorial Day through Labor Day.
14. Lake Absegami, Bass River Township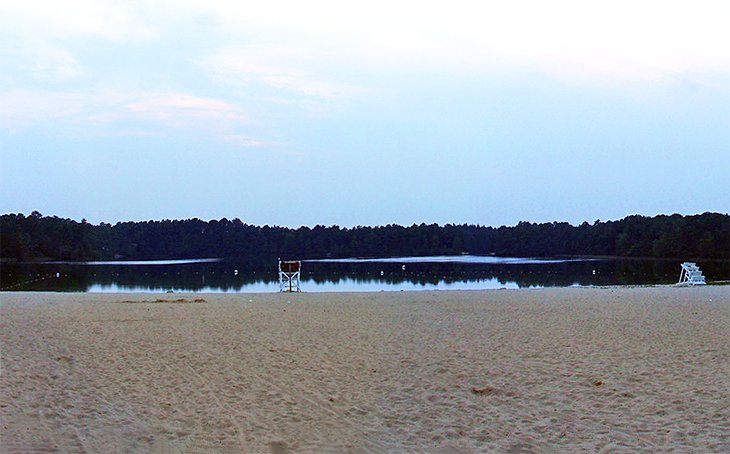 Ahh, Lake Absegami. Just hearing the name evokes a sense of pure and utter relaxation.
Set in Bass River State Forest Park, this 67-acre lake was created in the 1930s. Surrounding its shores lie six adorable cabins with multiple campsites nearby. Once you witness the area's quiet beauty, you'll understand the need for accommodation.
Spending a night (or more) offers visitors a more thorough experience to enjoy all that's on offer at this vacation wonder spot. Fishing, swimming, hiking, and boating are just a few of our favorite things to do at Lake Absegami.
Insider's Tip: The public boat launch allows easy access for those with canoes, rowboats, kayaks, and other types of permitted watercraft. Only electric motors are allowed, which helps keep down the noise and water pollution.
15. Culver's Lake, Frankford, Sussex County
If you're looking for a place to kick back, relax, and settle in with a good book, Culver Lake won't disappoint. Another popular vacation spot during the late 1800s, this private 550-acre lake is owned by the Normanoch Association. That means that sadly, no one can use it outside of members and their guests. No wonder it's so peaceful.
Being private ups the exclusive feel of this posh resort-like area. Fishing is one of the most beloved pastimes, as are water sports like water skiing, windsurfing, and kayaking. During the winter months, those activities are swapped out for ice fishing, skating, and snowmobiling.
16. Speedwell Lake, Morristown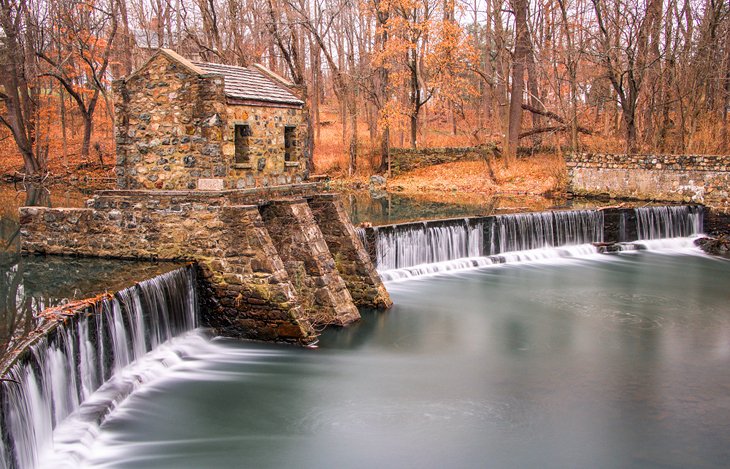 Magnificent scenery boosts any fishing trip to Speedwell Lake, especially when visited during the height of fall's spectacular foliage. A trail called "Patriots Path" leads to a stunning waterfall that once powered the Speedwell Ironworks. Today, it acts as a reminder of the town's industrious past and a vision worthy of a gazillion snapshots.
The lake is located in Morristown in Morris County. The town itself is worth a wander when you've tired of waiting for the fish to bite. Historic Speedwell is peppered with landmark sites from the Industrial Revolution. These include the "Factory Building," where Alfred Vail and Samuel F.B. Morse worked on the first telegraph.
17. Sunfish Pond, Hardwick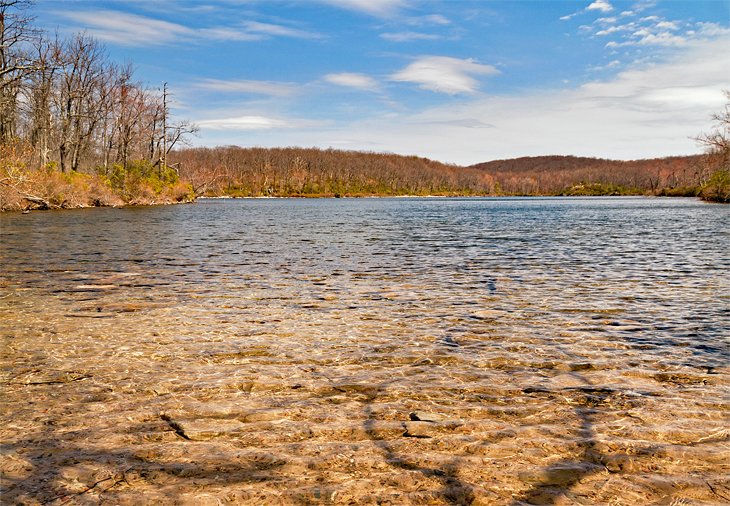 It's not easy to get to Sunfish Pond. In fact, you can expect to hike for at least seven miles to reach this glorious hidden gem. Once the vibrantly blue, rippling water comes into view, though, you'll realize the long, sometimes tricky hike was well worth the effort. One of the more popular hikes requires a more than 10-mile traipse along the Appalachian trail and Dunnfield Creek Trail Loops.
The so-called "pond" is 41 acres and was made by glaciers. It's been deemed "one of the natural wonders of New Jersey." Due to its acidic nature, the pond is fine for swimming, but only a few types of fish (i.e. pumpkinseed sunfish and yellow perch) have been able to survive in its waters.
18. Bellmawr Lake, Bellmawr
A cheap and cheerful day at the beach can be had at Bellmawr Lake, which lies near the border of Philadelphia. There aren't many bells and whistles here, but the whole family can enjoy a day spent swimming, sandcastle building, and frolicking lakeside without having to drive to the Jersey Shore.
Another bonus: the lake boasts a concession stand, volleyball nets, horseshoes, and a mini putt course to help keep everyone entertained.
Keep in mind that adults like to come here for the nightlife, so if you're traveling with kids, you'll want to stick to a morning visit. Also, this lake, which is considered a small amusement park, is closed during the off-season.
Insider's Tip: Reentry is only permitted on weekdays, when the park hasn't reached capacity. If you're planning to leave and come back, you won't be able to do so on a weekend or holiday.
19. Hooks Creek Lake, Matawan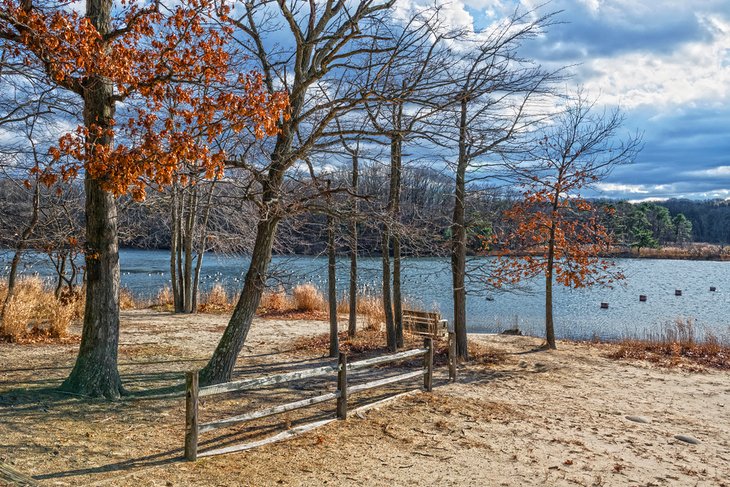 Hooks Creek Lake is a perfect place to visit for families in search of a quiet yet fun day by the shore. Located in Cheesequake State Park, this palatably sized beauty offers swimming from Memorial Day weekend through Labor Day while lifeguards are on duty.
Set between the Atlantic Coastal Plain and Piedmont, the dyke displays a fascinating ecosystem and wildlife–you'll spy a saltwater estuary on one side and a freshwater lake on the other.
While here, be ready to spend your days swimming, hiking the nine miles of trails, fishing, canoeing, or crabbing. In the winter, snowshoeing and cross-country skiing are popular activities. Not ready to leave? There's a campsite on the grounds, or you can book into a plush resort.
Expect to pay a small fee for access to the park during the week, a bit more on the weekends and holidays. If you're from out of state, you can add on another $10 or so.
Map of Beautiful Lakes in New Jersey
More Related Articles on PlanetWare.com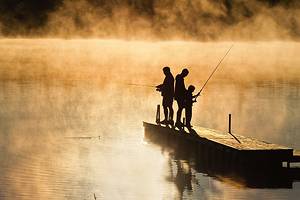 More Must-See Lakes in the US: Can't get enough of American lakes? You're not alone. From fishing to swimming to lily dipping in a canoe, there's nothing quite like the crisp feel and smell of freshwater. Next time you're jonesing for lake water, check out these best fishing lakes in Ohio and best beaches in Michigan or Wisconsin.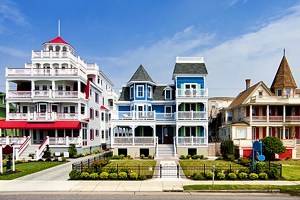 See More of New Jersey: New Jersey has so much more to offer than its lakes. From seaside resort towns like the famed Atlantic City to the adorable beach town of Cape May, there are a ton of visit-worthy places in the Garden State. While you're at it, check out these top-rated waterfalls.