Where to Stay in Nantucket: Best Areas & Hotels
We may earn a commission from affiliate links ()
Nantucket is one of the most unique beach destinations in the world and a great place for a vacation. Generations of families have written their summer stories on the Grey Lady, a spit of land 30 miles off the coast of Cape Cod. Well known as a whaling capital in its early history, the island today is a tourist destination with world-class restaurants, shopping, hotels, and museums.
Originally founded in the 1600s as a fishing village, Nantucket has kept much of its original late 18th- and early 19th-century charm. Designated a National Historic Landmark District, its grey shingled cottages covered with roses intoxicate even the most jaded traveler.
Off the beach, most of the activity takes place in the historic downtown district. In fact, many visitors never venture off the cobbled streets and clam shell paths of this quaint New England seaside community. This area is easy to get around, centrally located, and a good place to stay.
At the eastern end of the island, Siasconset offers a respite to the bustling tourist area. With floral blossoms adorning residences both grand and petite along simple country lanes, this area envelopes you with a pure feeling of escape. Feel the ocean breeze from expansive bluffs, which are ready to be reclaimed by the sea.
In addition, the beaches of Cisco, Madaket, Monomoy, Surfside, Dionis, and Tom Nevers all offer their own personality, but little in the way of hotels. Finally, there is Wauwinet, which takes on a life of its own. On the way to the isolation of Great Point, this tiny treasure holds a secret escape. Read on to find the best accommodation for your perfect stay on one of the best island getaways in the world.
On This Page:
Where to Stay in Nantucket for Luxury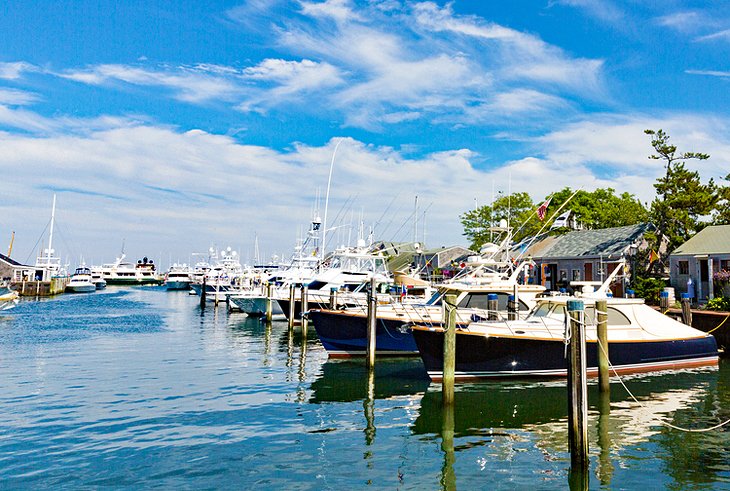 There are many accommodations on Nantucket for those wanting a luxurious stay. In fact, the island is well known as an escape for those with deep pockets. White Elephant is perhaps one of the most famous on the island.
This resort, a historic waterfront property located a short walk from both downtown and the Brant Point lighthouse, is filled with all the amenities of a five-star hotel. It offers a concierge service, beach and ferry shuttles, five-star dining, and special touches like luxury bedding and L'Occitane toiletries.
The landmark Jared Coffin House is regularly voted one of the best hotels in New England. Representing one of the oldest properties on the island, this three-story charmer combines history and modern amenities that will satisfy history buffs and the most discerning of customers. Enjoy a complimentary breakfast in the stunning library/parlor.
Rose-covered cottages anyone? For those wanting a luxury experience in a quiet, cozy atmosphere, The Summer House Cottages in Siasconset offer quaint, fisherman-cabin-inspired accommodations in an elegant shabby chic style.
Views on the property overlooking the ocean and access to a private beach are two of the best perks, not to mention the beachside pool area and on-site restaurant. It feels like a world away from the bustling beaches on other parts of the island.
Greydon House has been creating buzz since their recent arrival on ACK (those in the know refer to the island by the airport's ACK identification code). This spot is a welcome retreat, especially for those with an eclectic travel palate.
The luxe accommodation tastefully mixes antiques with unique accents from around the globe. Bonus points for the incredible seasonal fare at the in-house restaurant, which is sure to please guests with its maritime flavors. Seating options include cozy dining rooms or people watching from the elevated exterior deck.
Where to Stay in Nantucket: Mid-Range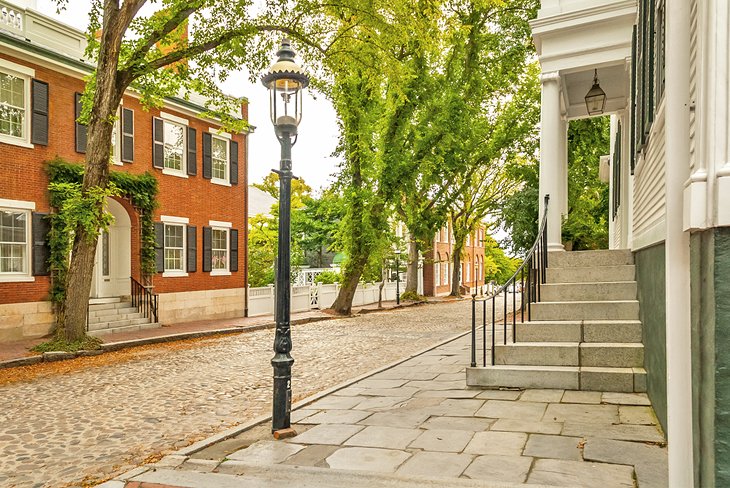 Still rich in amenities, but less expensive than some of the luxury resorts on the island, there are several choices where you can kick up your feet and relax in style. 21 Broad Hotel is a mix of hotel and bed-and-breakfast style.
Guests enjoy the close proximity to the water and at night, the outdoor courtyard makes the perfect backdrop for an evening beneath the stars by a fire. While you are here, you can enjoy the in-house spa treatments.
At The Veranda House Hotel Collection, you can choose from three experiences. This boutique hotel collection features three distinct properties: a retro hotel, an urban bed-and-breakfast, and cottage-style accommodations. Decide what you want your stay to be and choose a property to suit your travel personality. Each unique accommodation is filled with amenities and more moderately priced, so you can enjoy your vacation in Nantucket in style.
Also downtown, Seven Sea Street Inn is located on a quiet street in the historic district, close to everything. You can explore Nantucket or take the short stroll and enjoy sunset on the beach. It includes many amenities, especially for a smaller property, such as breakfast, Wi-Fi, and a garden patio. Even though you are a few steps from all Nantucket has to offer, the Inn will transport you.
Where to Stay in Nantucket for the Best Value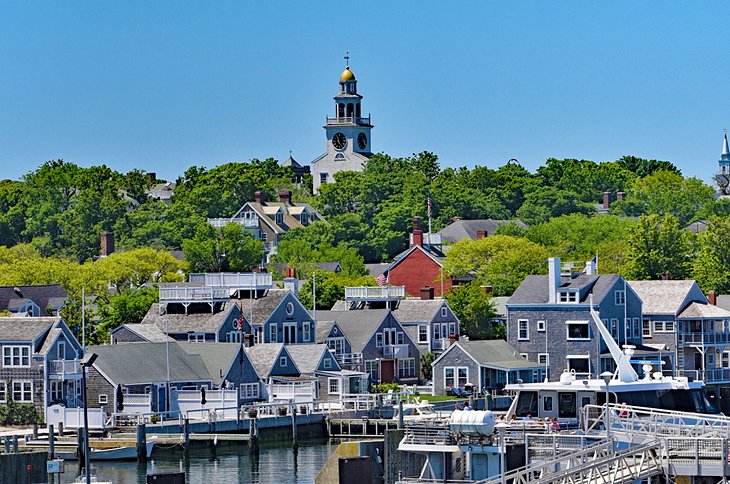 As a destination with a reputation for its well-heeled customers, there are a few spots for those travelers who want to enjoy all of Nantucket's offerings without breaking the bank. The Cottages at Nantucket Boat Basin are nautical, in a great location, and offer marina views.
These cottages have been a home-away-from-home to visitors from around the world for the last 50 years, and many sit directly over the water. Spa services are available, and full kitchens allow savings for those who don't want to eat every meal in a restaurant. Pet-friendly Woof Cottages are popular, and guests enjoy complimentary bicycles, beach shuttles, and coolers.
Another good choice is the Sherburne Inn Nantucket . This bed-and-breakfast is within walking distance to everything and features spacious guest rooms with private baths. Many have four-poster beds. The serene setting of the garden, another piece of the island's beauty, gives you a spot to rest and recharge before gearing up for a delicious dinner at one of the town's excellent restaurants.
What the Nantucket Inn lacks in location, it more than makes up for with extras for its guests. The fact of the matter is, even inland, you're never very far from a beach. The inn offers tennis courts, free Wi-Fi, a fitness center, pool, and a free shuttle service to town and Surfside Beach, and tourists will especially enjoy Mom's Breakfast, a bountiful spread to start your day.
Where to Stay in Nantucket for Families
One of the best resorts for families is the White Elephant Village Residences and Inn. With all of the amenities of a luxury resort, the White Elephant Village caters to families. It's just a few steps away from Children's Beach and offers a heated outdoor pool, bicycles to explore the island, and personal touches to make you feel at home with your family.
The Nantucket Hotel and Resort is another great choice. Their award-winning kids' camp allows children to have their own activity while parents enjoy a bit of adult time and take advantage of the resort's amenities.
This newly renovated property is in a prime location, just at the edge of town, near shops, restaurants, and ferries. You'll find it filled with fun family-friendly activities like a ride on an antique fire truck.
If you're looking for a kid-friendly stay in a B&B environment then you'll want to check out Martin House Inn. This hotel has just 13 rooms and suites, all charming in their decor, and some of which have been designed for families. The property is in an 1803 home constructed by a sea captain for his bride and has been restored in the era's style.
Away from the rooms there are lovely gardens complete with fountains and a fire pit to wander around. You'll also find a veranda for reading on a warm day and a complimentary continental breakfast. The location in Nantucket's historic district is also ideal, as guests can walk to restaurants, shops, and the beach.
Where to Stay in Nantucket for Couples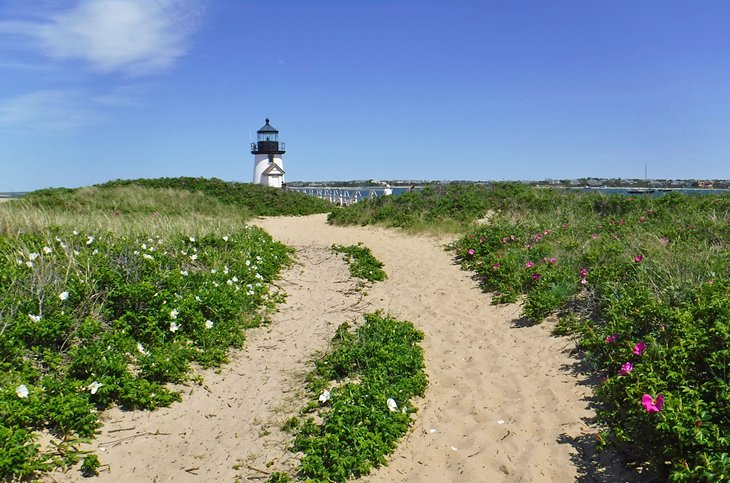 There are many properties on the island that cater to couples, and some even have a minimum age requirement. For those longing for romance, 76 Main is an excellent boutique hotel choice. Designer Rachel Reider has crafted a property of turquoise dreams, and the spacious, relaxing rooms might tempt you to never leave.
The environment caters towards couples wanting to spend some quality time together. The location is convenient for exploring Nantucket, or if you just want to stay in and relax in your luxurious kimono robes, you can do that, too. In the evening, an outdoor fire pit will be calling your name.
Off the beaten path outside of town, The Wauwinet is all about luxury and escape. Nestled in the dunes, this award-winning waterfront property exudes old-world charm. As the island's only Relais & Châteaux destination, guests can be assured they'll find outstanding service combined with luxury.
Amenities include a private beach, complimentary jitney service from the ferries, hiking and biking trails, and stand up paddleboarding among others. Sunsets from the lovely wicker chaise lounge chairs are legendary, as is the food at the AAA Five Diamond award-winning Topper's restaurant.
Another romantic choice is the Union Street Inn. This boutique hotel is located in Nantucket's historic village area and boasts self-described "New England-by-way-of-France" ambience. There are just 12 rooms, and each has designer decor and romantic touches like four-poster beds, fireplaces, and robes. Breakfast is complimentary and there is a game room and swimming pool on-site.