Best Time to Visit Maine
Maine's vast topography offers visitors a seemingly endless list of things to do at all times of the year. Whether you're hoping to fish, hike, swim, or ski, there's something to keep you occupied during every season. That said, the best time to visit Maine is between June and August if you're hoping for good weather.
Summer is when you can soak up the sun's rays beachside. You may find yourself shoulder to shoulder with other tourists, fighting high prices for lodging, but this is when the state really shines.
If you're hoping to avoid crowds, the best time to visit Maine is during the spring or fall. Both seasons present an impressive display of Mother Nature's great talents, while fall is the cheapest time to visit.
Winter is the worst time to travel to Maine, unless you're hoping to ski. The state can get pummeled by snowstorms, so you may have to dig yourself out. But on the plus side, the skiing is awesome.
To ensure you get the best out of your East Coast holiday, it's important to figure out the ideal time of year to travel. Use our list to help you figure out the best time to visit Maine.
Best Time of Year to Visit Maine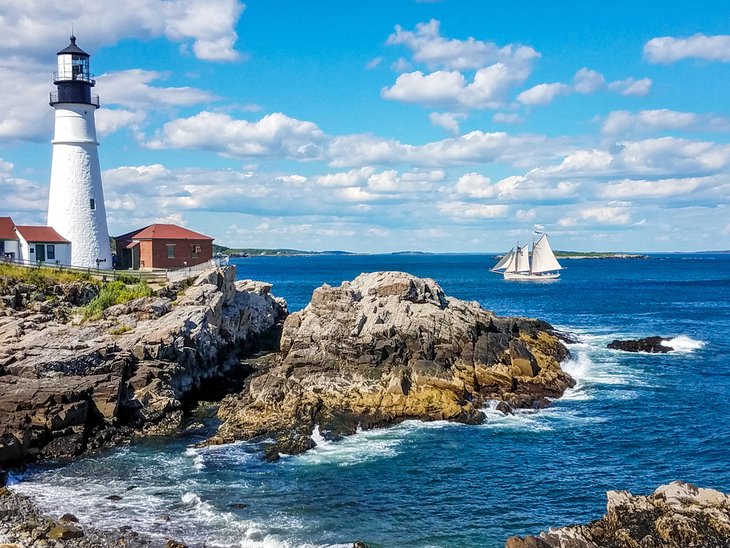 The best time to travel to Maine depends on what you want to do while you're here. If you're hoping to ski, head to the mountains during the winter (obviously). Want to hike through Acadia National Park? Choose spring, summer, or fall. In general, though, the best time to visit Maine is during the summer, especially if you're headed for the coast, planning on spending time at a resort, or simply visiting small towns.
Yes, you'll be faced with hordes of tourists and yes, prices will be higher on everything from souvenirs to lunch to lodging. But with these downsides comes a big payoff: spectacular weather. Highs hover in the comfortable high 70s with lows dipping into the upper 50s. You won't be sweltering during the day or shivering at night, which is perfect.
Plus, this is an ideal time to visit Maine's best beaches, take a sail around Frenchman Bay from Bar Harbor, or enjoy a weekend getaway to Portland.
Another summertime bonus: all restaurants and attractions (many of which tend to close in the off-season) will be open. If you're itching to enjoy a meal in one of the state's best restaurants or stay in one of the top resorts in Maine, book early to ensure your summer visit is a success.
July and August experience the least amount of rain, with only 3.3 to 3.5 inches recorded to fall throughout the month, which is another plus.
A close second to summer is a tie between fall and winter. High season for the inland section of the state, these two seasons are popular for widely different reasons. Fall, which sits comfortably in the high 40s to high 50s, presents artists with a dream palette. Nature's bright red, yellow, and orange hues highlight the beauty of this New England masterpiece. Trees burst into color, captivating visitors and begging cameras to immortalize their beauty.
Winter is cold (sitting in the 30s) and often pummeled by snow. These conditions create a fantastic upside: optimal weather for those who prefer to spend their days on the slopes. Plus, there are plenty of indoor attractions to enjoy in big cities like Portland, so you won't be at a loss for ways to stay warm and entertained.
Best Month to Visit Maine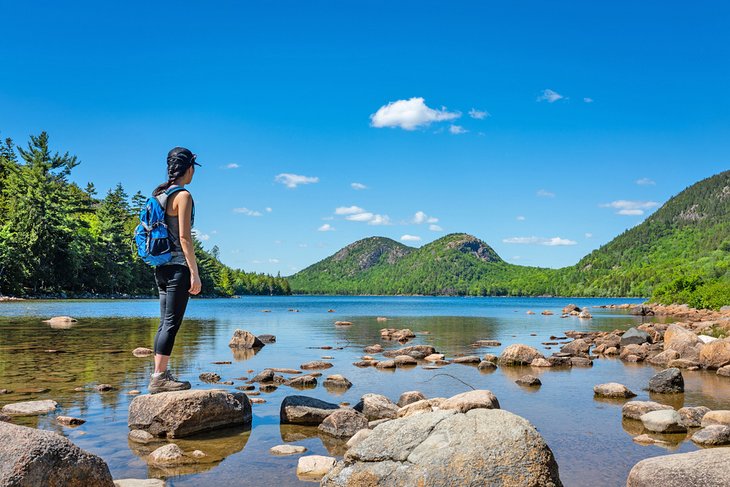 September is the best month to visit Maine; you basically get the best of everything at this time. Summer weather is still clinging on (highs are in the upper 60s and low 70s) but the boatload of tourists has packed up and left. With them went the astronomical hotel rates, leaving you with a bevy of places to stay that won't break the bank.
During September, you can roam freely through Acadia's vast terrain, kayak on the still-warm water, hop on uncrowded boat tours, and sit pretty much anywhere you want in the area's top restaurants. Stay put for a while, and you'll witness a spectacular sight.
As the weather cools towards the end of the month, it leaves behind picture-perfect fall foliage from north to south. Bright fall colors paint the landscape, while a crisp wind refreshes your journey. What a perfect backdrop for a horseback ride or cycling tour.
Cheapest Time to Visit Maine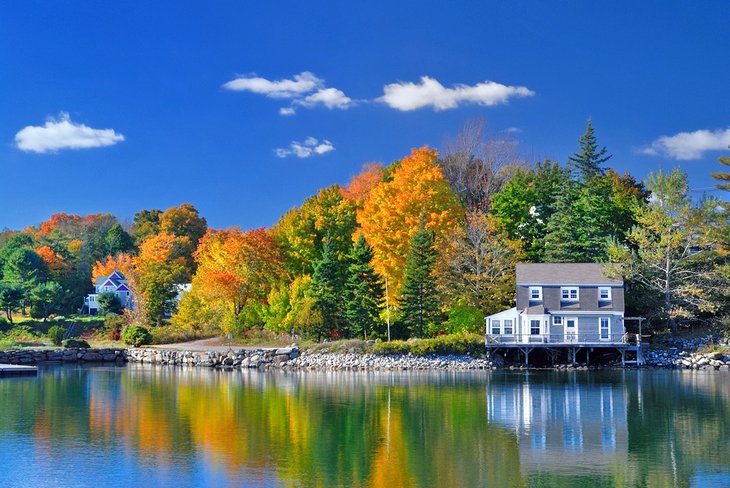 High season throughout most of the state begins on July 4th and extends to Labor Day. If you're heading inland, ski season (mid-November to April) is a favored time to visit. With popularity, though, come inflated price tags, overcrowded restaurants, and packed hotels. If you're looking to save some cash, the cheapest time to visit Maine is the fall, especially from mid-September through October.
Despite the magnificent foliage on display during fall's later months, Maine experiences a drop in tourists at this time. With this drop comes a radical reduction in prices, which can have wonderful effects on your wallet - some hotels lower their rates by $200 a night!
This might be your best chance to stay in one of Maine's best cities (ahem, Portland) at a fraction of the price.
Worst Time to Visit Maine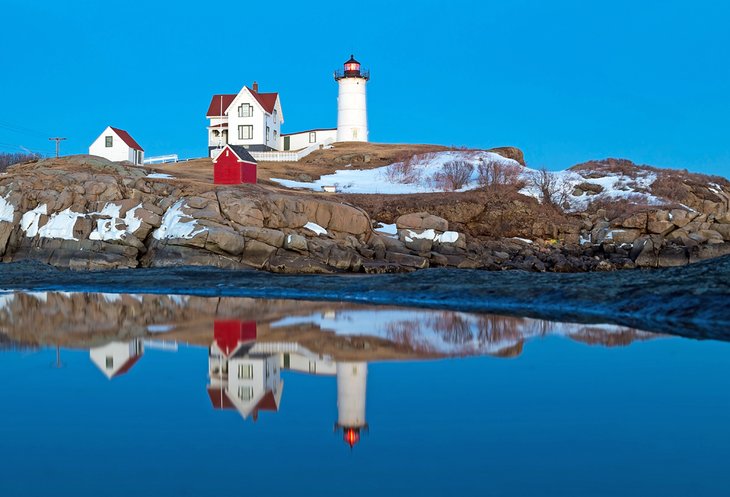 The worst time to travel to Maine depends on what you're hoping to get out of your trip. If you're looking to enjoy the outdoors for anything other than skiing, the worst time to visit Maine is during the winter. If you're heading to Maine in hopes of zipping down the slopes on skis or a snowboard, summer and fall are your worst choices for traveling to Maine.
During winter, Maine can get buried by snow. An average of 50 to 70 inches fall on the coast each year. This is fantastic news for skiers, but less than stellar for those hoping to enjoy a peaceful wander through sleepy towns or an easy hike through the woods. Temperatures reach highs in the low 30s by January, and lows can dip into the mid-teens.
Don't let that put you off–there are plenty of fun things to do in Maine in Winter, despite the cold and snow. Visitors can cross-country ski, sled, or snowshoe. More adventurous types could even try dogsledding. Or those wishing to stay warm can spend time in the state's many museums.
The summer, while warm and wonderful, presents drawbacks of its own. These come in the form of tourists creating traffic everywhere - beaches, trails, hotels, attractions, and roads are all bombarded by visitors hoping to enjoy Maine's beautiful outdoors. If you want to experience Maine's glory in a serene environment, summer is the worst time to visit.
Best Time to Visit Portland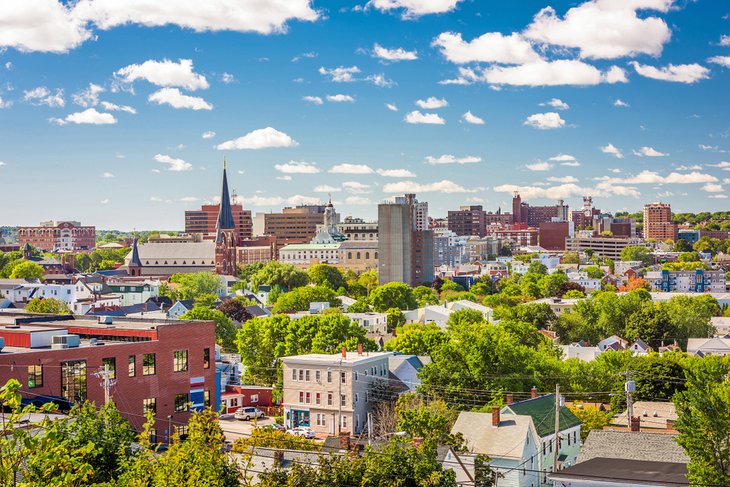 Portland is an idyllic port town complete with cobblestone streets and an iconic white lighthouse. The largest city in Maine, Portland is both charming and cosmopolitan. To get the most out of your visit to this coastal spot, it's important to time it right.
The best time to visit Portland is between June and August. Technically high season, summer offers visitors the most ideal weather conditions to truly enjoy this coastal town. Mild evenings, dry skies, and a lack of pesky black flies make dining al fresco a memorable experience. This optimal climate (with highs in the upper 70s and lows just under 60 degrees) also makes it easy to enjoy popular outdoor events like the Old Port Festival, Portland Schooner Festival and Regatta, and Art in the Park.
Visiting at this time will put a dent in your wallet (it's high season after all). You'll also be faced with competition from other visitors during this popular time. The weather will be great, though, so you won't likely mind either.
If you want to shave a zero off the end of the bill, head to Portland in November, the cheapest month for traveling to this popular city. Few people want to visit at this time, which means there are better deals to be had.
The spring (March through May) is the cheapest season to visit Portland, and you'll be rewarded with moderately cool temperatures (highs in the mid to upper 60s and lows in the high 20s). Expect a lot of rain, though, as this is one of the rainiest seasons, behind fall.
Winter is a surprisingly popular time to visit Portland, making it the second busiest tourist season for this area. It's cold (highs range from the upper 20s to upper 30s) and you can expect increased amounts of snow (or rain) between December and February
Best Time to Visit Bar Harbor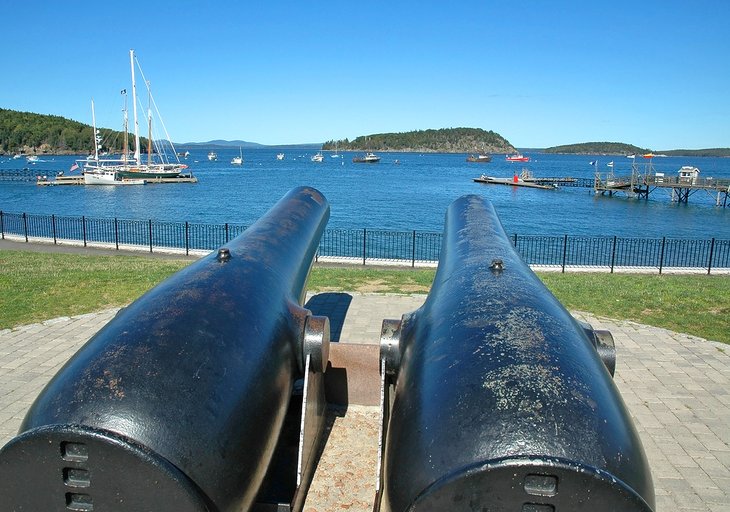 An adorable town overflowing with charm (and guests during the summer), Bar Harbor is one of Maine's most visited cities for plenty of good reasons. Many use this seaside resort as a base for visiting the nearby Acadia National Park and other attractions. Packed with B&Bs, hotels, restaurants, and shops, it's a perfect place to relax, book a kayaking tour, and restock your hiking supplies. The best time to visit Bar Harbor is during May or September.
May sees most of the seasonal businesses dusting off shelves and reopening their doors, especially towards the middle of the month. Temperatures hover in the 60s, which makes hiking through Acadia a truly enjoyable experience.
Another bonus of traveling in May: cheap hotel rooms. Plus, you won't have to compete with a ton of other visitors since May is technically a less popular shoulder season. The iconic Bar Harbor Inn will still pinch your wallet, but May is a cheaper time to enjoy its luxurious amenities and unbeatable views from high above Frenchman's Bay.
September also falls within a shoulder season and boasts temperatures in a similar, comfortable 60-degree range. If you're hoping to head out on a whale watching tour, be warned: they often stop running early in the month. And you'll be faced with quite a few buses and cruise ships filled with travelers, so Acadia will be busier than you'd expect for a post-summer trip, especially between 10am and 4pm.
The summer is also a good time to visit, as long as you're prepared for higher prices and a ton of people. This season sees Acadia at its best, and the temperatures range in the mid-70s, which is perfect for spending a day outside.
Winter is probably the worst time to visit Bar Harbor. Certain roads (i.e. the Acadia National Park Loop Road) close for the season due to impending unfavorable weather. Multiple businesses (including hotels and restaurants) also shutter their fronts from November through May 1st. Another reason people tend to avoid Bar Harbor in the winter: it's cold (temperatures range anywhere from 12 to 30 degrees Fahrenheit), and it's prone to dumps of snow.
Best Time to Ski in Maine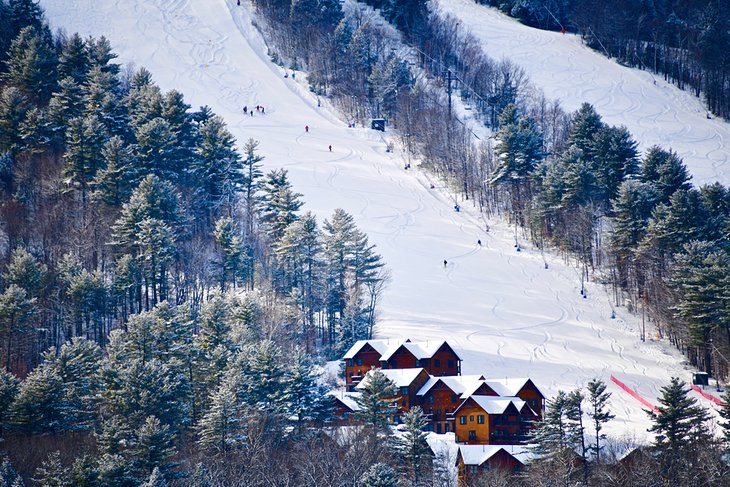 If you're hoping for fresh powder, the best time to ski in Maine is from January through March (or sometimes into May). The ski resorts open in November and close at the beginning of May, offering winter athletes a good chunk of time to spend enjoying the crisp mountain air.
While you may not have the deepest snow during the early and late ski season, it's still worth a visit at this time. The state's two biggest (and most popular) ski resorts are Sugarloaf and Sunday River, although smaller resorts like Bigrock Mountain, Black Mountain of Maine, and Camden Snow Bowl are also frequented by those who love to whip down the slopes.
Best Festivals in Maine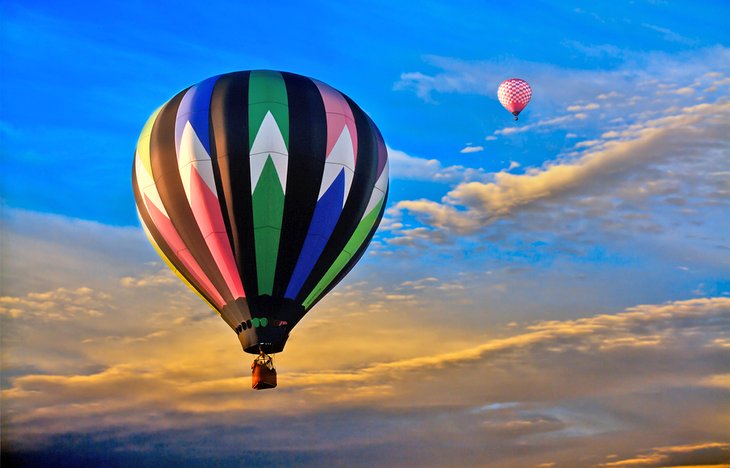 There's always something happening in Maine. Here are a few of the best events to look out for:
January: The annual Snowfest and Sodeo takes place in mid-January on Rangeley Lake in Rangeley. You'll find an antique snowmobile parade, sled races, and a ton of good food.
February: Back in 1990, the town of Camden decided to play host to the first U.S. National Toboggan Championship. Since then, the super fun competition, which involves launching toboggans down a 400-foot-long wooden chute onto a frozen pond, has become a must-see event.
March: Tempt your taste buds at Maine Maple Sunday. Held on the fourth Sunday of March, this statewide event was created to celebrate the delicious sugary treat. Visit a sugarhouse for free samples and watch a demonstration of how maple syrup is made.
May: The Kennebunk May Day Parade and Festival boasts craft fairs, a famers market, and free music. Also in May is the Taste of Bar Harbor, a food festival you won't want to miss.
June: The Old Port Festival is Maine's largest and most popular event. Held in June, this arts and music festival hosts over 50,000 guests each year. During mid-June, Portland hosts the Portland Schoonerfest & Regatta. A unique and picturesque affair, this event features traditional schooners dipping and speeding along the water. The Kennebunkport Festival celebrates all things food and art in this thriving town. You'll find plenty of food to sample, boats to ride, and concerts to attend.
July: Each July, Rockland hosts the North Atlantic Blues Festival, a two-day event featuring live music from the state's best bands, as well as food and craft fairs.
August: Portland's Art in the Park festival is held at Mill Creek Park on the second Saturday of August. More than 170 artists showcase their talents (including photographers, painters, and sculptors).
The Great Falls Balloon Festival has been held in Lewiston/Auburn Maine for over 25 years. Here, you'll find hot air balloons a plenty, as well as live music, food stalls, and a parade. Bangor also hosts the American Folk Festival this month, celebrating arts of all kinds (dance, crafts, food, etc).
September: Boothbay Harborfest features a five-kilometer trail run, but if you're not up for that, you can enjoy the music, food, and sales held throughout the town.
Maine is known for its beautiful lighthouses. See one for yourself on the first Saturday of September. Maine Open Lighthouse Day takes place at this time and features free admission to its best lighthouses.
October: Early October plays host to the Freeport Fall Festival. The town's streets are lined with artists and craftspeople selling (and exhibiting) their wares - everything from jewelry to paintings to crafts to musical performances are on offer.
Harvest on the Harbor is a delight for any food-lover. Held in Portland during mid-October, this annual gastronomic festival features a wide array of local foods and drinks.
The Mount Desert Island Marathon also takes place during mid-October. It begins in Bar Harbor and finishes in Southwest Harbor.
November: Don't miss Kennebunk's Festival of Lights, which happens on the weekend following Thanksgiving. Caroling, tree-lighting, and shopping will help get you in the festive spirit.
December: Get your holiday on at the Freeport Sparkle Weekend, held during the first weekend of December. Meet Santa, enjoy a parade of lights, or ride in a horse-drawn wagon.
Ogunquit hosts their Christmas By the Sea Celebration during this month. Shopping, caroling and a parade top the list of festivities. In Portland, you'll find the unique Christmas Boat Parade of Lights on the second Saturday of the month. Beautifully decorated boats sail the sea, and the event's topped off with a firework show.
More Related Articles on PlanetWare.com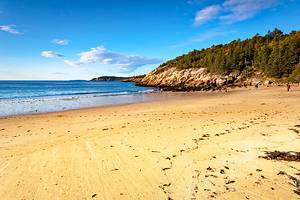 Best Places to Go Beachin': Maine is home to some beautiful beaches. No wonder so many tourists flock here during the summer. Craving more soft sand? Check out one of these best beaches in New England.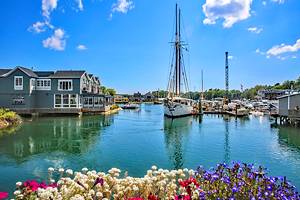 Best Places to Visit in Maine: This gorgeous state is best loved for its natural beauty - from coastal havens to inland parks. Want to get the most from being outside? Head to Acadia National Park and check out these amazing hikes. Don't miss these incredible weekend getaways - from quaint fishing villages to quirky towns.