12 Top-Rated Resorts in Curacao
We may earn a commission from affiliate links ()
The unique colonial history of most of the resort islands in the Caribbean offers the opportunity to experience multiple cultures during a single trip. Many retain customs, foods, and traditions from their mother country. A great example of this is Curacao, a beautiful Caribbean island, located closer to South America than to the U.S.
The country's predominantly Dutch colonial history gives it a unique culture, different than the British- or French- influenced vibe you find on other islands. The island is a very popular vacation destination due to its wide sandy beaches, beautiful resorts, and some of the world's best diving (and snorkeling).
Willemstad is the capital city, and you'll find it filled with historic architecture, mostly all painted in light pastel colors. That unique architecture and the cultural history make it a UNESCO World Heritage City. Most resorts on the island are located within a short drive of Willemstad.
Find the best place to stay for your next Caribbean vacation with our list of the top resorts in Curacao.
Note: Some businesses may be temporarily closed due to recent global health and safety issues.
1. Baoase Luxury Resort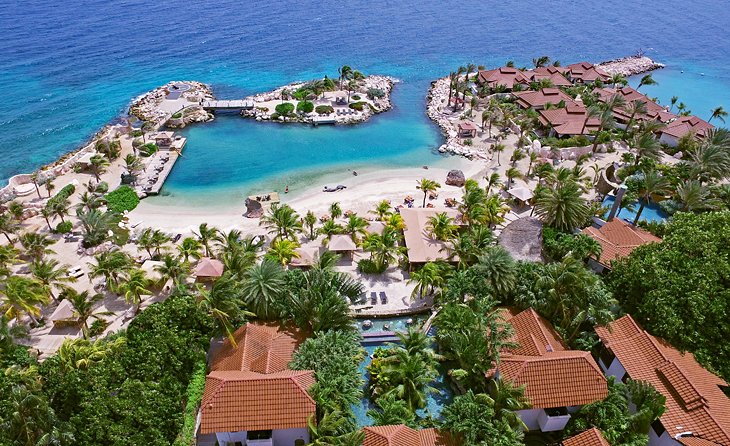 There's a reason the Baoase Luxury Resort is consistently ranked as the island's top resort, and it comes down to guest satisfaction. This intimate luxury resort has only 23 accommodations, providing a staff-to-guest ratio that ensures a very personal experience. The majority of the accommodations are suites and villas, and 12 of the units have their own private plunge pool. The entire resort, in style, design, and furnishings, evokes a Balinese vibe.
Baoase is an especially great place to stay for couples and those on romantic trips like weddings, anniversaries, or honeymoons. The resort is also the perfect Curacao destinations for foodies as the resort's Baoase Culinary Beach Restaurant is considered one of the best on the island. It features a range of romantic meal experiences, like a picnic on the beach or in a gazebo on a pier.
Address: Winterswijkstraat 2, Willemstad, Curacao
Accommodation: Baoase Luxury Resort
2. Sunscape Curacao Resort Spa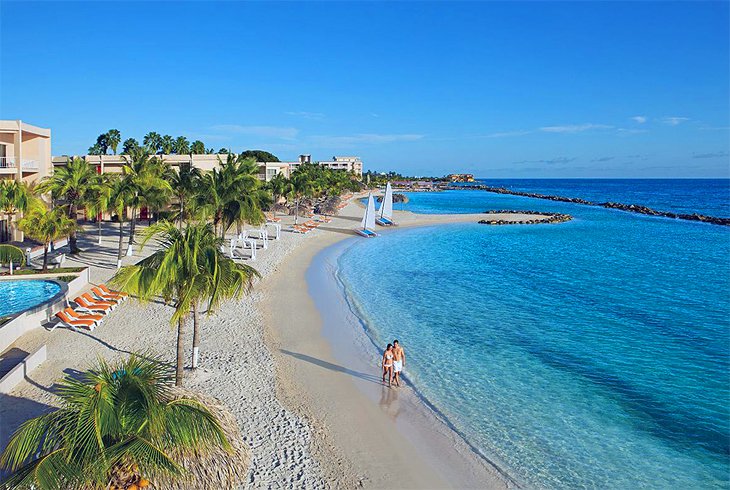 This large, all-inclusive beachfront resort is on the southern side of the island. It really embraces the all-inclusive concept, with six restaurants to choose from (no reservations required) and a full range of outdoor (non-powered) water sports activities also included.
Sunscape is a great resort for families, and there's an Explorer's Club for kids ages 3-12 with a wide range of daily, supervised activities. Kids even have their own special check-in area in the lobby, complete with a red carpet. The resort also has a supervised activity program and recreation area for teens called the Core Zone.
Rooms and suites are modern in style and have either garden or ocean views. There are a lot of connecting suites and family rooms (larger than standard rooms). If you want to head into Willemstad for some exploring, the resort has a twice-daily shuttle to get you there and back.
Address: Dr. Martin Luther King Boulevard # 78, Willemstad, Curacao
Accommodation: Sunscape Curacao Resort Spa
3. Blue Bay Curacao Golf & Beach Resort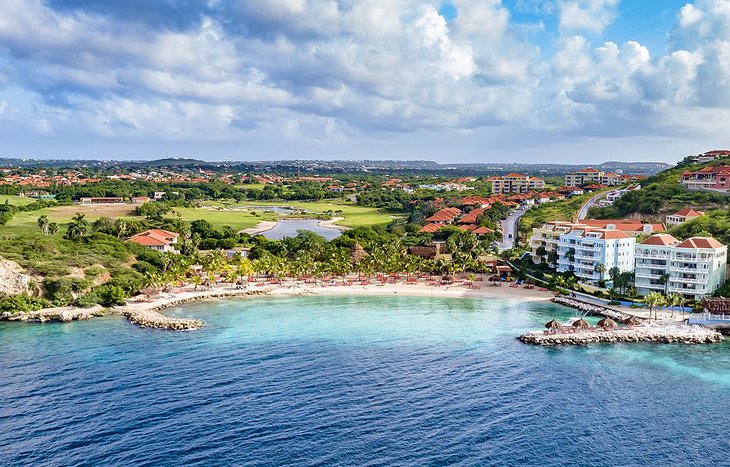 This large resort in Dorp Sint Michiel is perfect if you want to combine some golf with your island vacation. Blue Bay has its own par 72, 18-hole golf course with a full pro shop and a golf academy with lessons and training.
The stylish accommodations are in several village-like areas on the large property. Some are clustered near the beach, called The Oceans, some near the pools and golf course, called The Gardens. The resort has its own beach club on Blue Bay Beach, considered one of the most beautiful beaches in Curacao.
One-, two-, and three-bedroom apartment-like suites are available, and all have huge balconies and full kitchens. The resort is great for families or groups traveling together, as the units have bathrooms for every bedroom.
When you get hungry, dining options include a beach café, a café in the golf course clubhouse, and a popular upscale beach café called Sunset Bar. There is also Azzuro, on the sand, which features a seasonally-influenced Mediterranean menu.
Address: Landhuis Blauw Z/N, Dorp Sint Michiel, Curacao
Accommodation: Blue Bay Curacao Golf & Beach Resort
4. The Royal Sea Aquarium Resort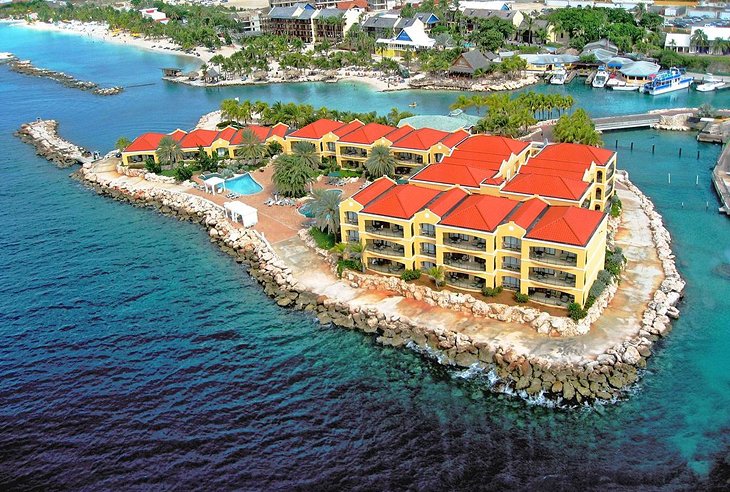 This very family-friendly resort is named for Curacao's amazing Sea Aquarium, which is right next door. The resort is on its own tiny island, connected to the land by a bridge. It's not right on the beach, but the Sea Aquarium beach is a few steps away.
The resort hosts a range of activities, including dance and language classes, organized volleyball games, bingo, and games for kids. If you want to explore the island, there's a free shuttle into Willemstad and a shuttle to take you to the local grocery store.
If you want to do some diving, the Ocean Encounters dive center is next to the aquarium, just over the bridge. Snorkeling gear is free for guests and available at the front desk. The resort is an easy walk to popular beaches like Kontiki, Lion's Dive, and Mambo.
There are 30 fully furnished villas, which each sleep up to six people. The villas can be divided into 30 suites, each accommodating four people, and 30 rooms, each for two people. There are two large pools (surrounded by cabanas) to enjoy plus a kiddie pool and a large Jacuzzi.
Address: Bapor Kibra z/n, Willemstad, Curacao
Accommodation: The Royal Sea Aquarium Resort
5. Avila Beach Hotel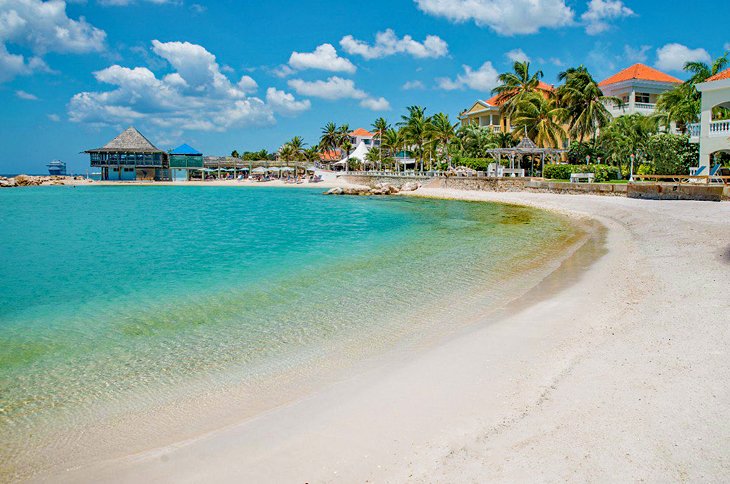 If you're looking to stay at a historic hotel, it doesn't get more historic than Curacao's oldest, continuously operating hotel, the Avila Beach Hotel. First opened in 1949, the hotel's main building was formerly a governor's mansion built in 1780. Now, it's the heart of a modern, family-owned boutique resort with over 150 rooms located in three wings.
There are a range of rooms and suites available, including romantic rooms, family rooms, and even rooms designed for business travelers. Only about 10 minutes from downtown Willemstad, the resort is on a peninsula, offering guests access to two private beaches.
There are three main restaurants at Avila: The Pen is an upscale Caribbean spot located in its own beach house. The Avila Cafe is a buffet restaurant with a large outdoor patio, and another venue serves grilled specialties and is known island-wide for its live blues and jazz music.
Address: Penstraat 130, Willemstad, Curacao
Accommodation: Avila Beach Hotel
6. Papagayo Beach Resort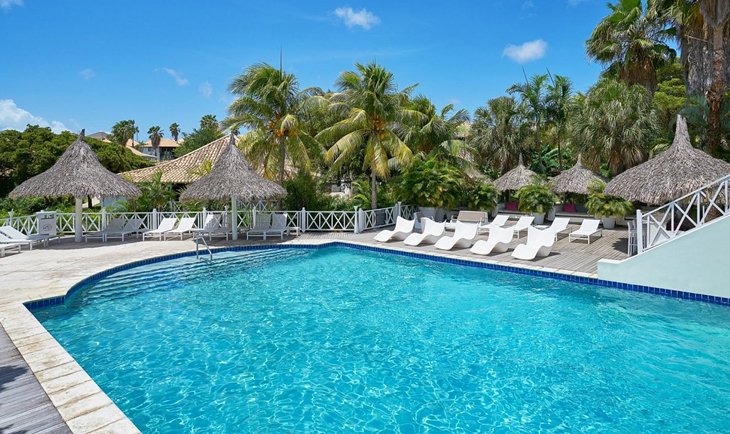 Papagayo is the name of a resort complex with two hotels. The Papagayo Beach Resort is a luxurious collection of stand-alone villas, perched on the hillside overlooking the beach and the town of Jan Thiel Village. The Papagayo Beach Hotel (see below) is the country's first luxury design hotel and offers a different experience than the villas.
The Papagayo Beach Resort's villas offer open-plan living; some have two bedrooms and two bathrooms, some have three bedrooms and two bathrooms. All come with a full kitchen and either have ocean or garden views.
There are also Royal Suite Villas, which accommodate up to eight guests with four bedrooms, three bathrooms, and luxury amenities like their own private pool. You get the space and privacy of a vacation rental with the service and amenities of a luxury resort.
Guests can visit the spa and dine or shop in the adjacent Papagayo Beach Plaza. The mall also has a large fitness center and tourist services like car rental agencies.
Address: Kaya Adriatiko, Jan Thiel, Curacao
Accommodation: Papagayo Beach Resort
7. Papagayo Beach Hotel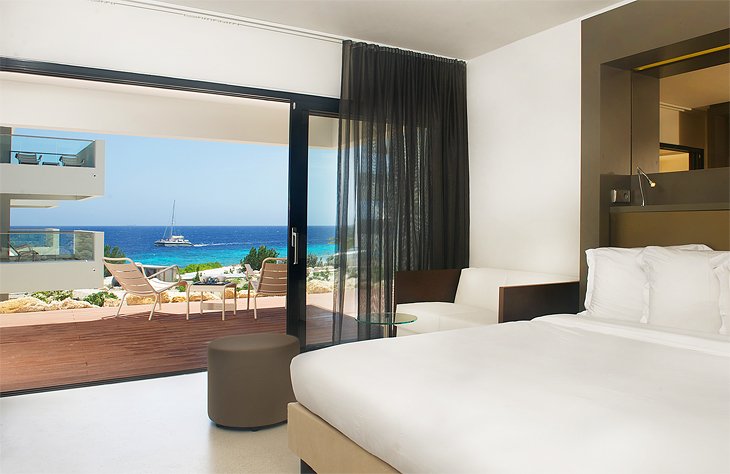 Curacao's luxury design hotel offers a beautiful visual and style experience in a Caribbean setting. Think lots of white walls and sharp lines, sometimes making the property feel like an art museum.
All the rooms are large, with their own private, furnished balcony. Some have side ocean views, some face the ocean directly, and others face Jan Thiel Boulevard (and the ocean beyond). The building has a large atrium, and some rooms have views of the lobby with indoor balconies.
Guests at both hotels get access to the Papagayo Beach Club, which offers all kinds of activities and water sports along with a large beachfront infinity pool.
Address: Jan Thiel Beach, Willemstad, Curacao
Accommodation: Papagayo Beach Hotel
8. Floris Suite Hotel - Spa & Beach Club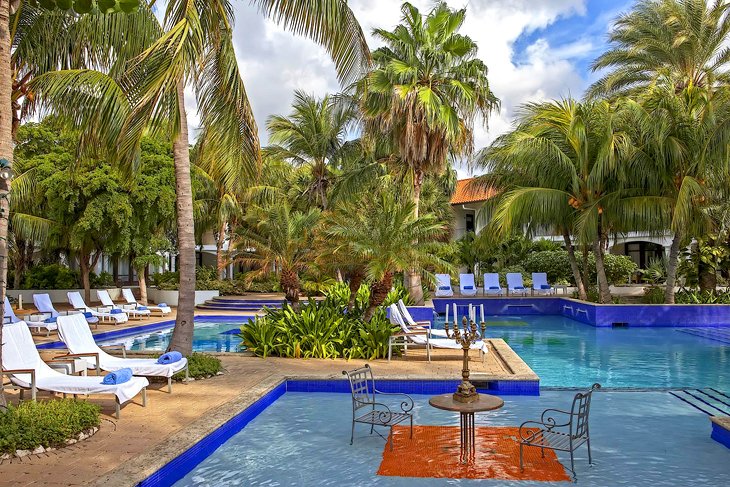 The Floris Suite Hotel is a good mid-range resort option offering a lot for its reasonable prices. It's an all-suite, adults-only property with its own beach club. The resort's Moomba Beach Club (a short walk from the hotel) is a very popular place to spend an afternoon, and the club sells day passes if you're not staying here. Resort guests receive complimentary chairs and towels.
The 72 residential-style suites all have private balconies or patios with either garden or pool views. There are a few dining options on-site including the Moomba Beach Cafe, the upscale Pirate Bay Beach Restaurant, and a pizza café on the sand.
The Water Club Spa is a popular place for a massage or one of their many skin and body treatments. The spa is open to men only after 6pm on Mondays and Sundays. The Floris also prides itself in being very LGBT-friendly and welcoming to all guests.
Address: Piscadera Bay, Willemstad, Curacao
Accommodation: Floris Suite Hotel - Spa & Beach Club
9. LionsDive Beach Resort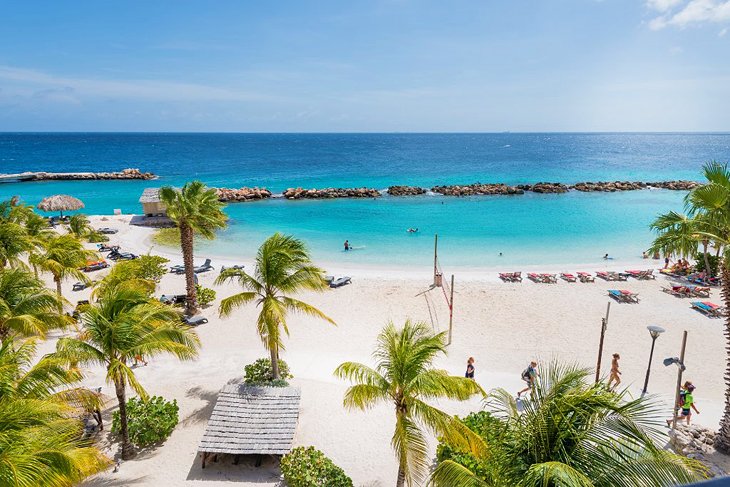 Named for one of the island's best diving beaches, the LionsDive Beach Resort is best known for its perfect location on the island's most popular beach. Resort guests have two beach areas to access: one is the swimming pool-like (and sometimes crowded) Mambo Beach; the other is a smaller, rocky beach with better snorkeling.
LionsDive has a casual vibe and is great for families traveling with children, single travelers, and those seeking a romantic experience. There are a range of accommodations available, including larger units like the two-bedroom apartments surrounding the resort's olympic-size pool. There's even a large penthouse unit with a wraparound balcony providing some amazing, unobstructed 180-degree views of the sea.
It's not a huge resort, so you don't have long walks to get from one part to the other. Be aware that some of the beachfront accommodations face Mambo Beach, which can have loud music on weekend nights.
Guests have four dining options at the resort, including a buffet café, a nice sit-down restaurant, and a pool and beach grill. There are lots of other food options in the large mall right next door or along the Mambo Beach Boulevard shopping area, also right next to the resort.
Address: Bapor Kibra, Willemstad, Curacao
Accommodation: LionsDive Beach Resort
10. Renaissance Curacao Resort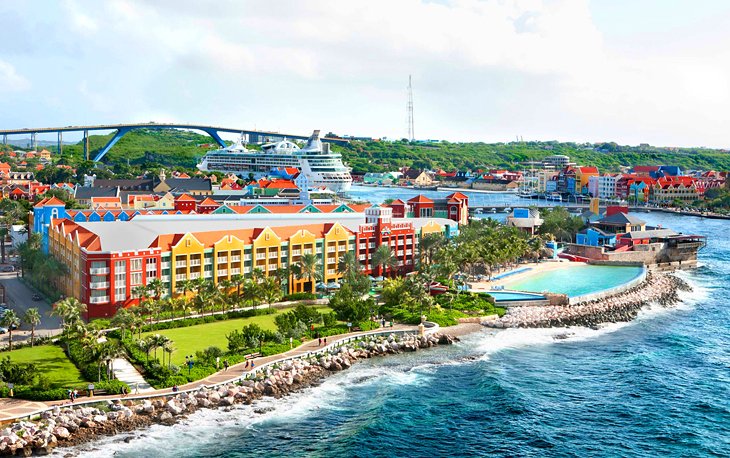 The Renaissance resort is right in Willemstad, built around an old fortification. You have a wide range of room types and sizes to choose from. Guests on a romantic getaway may want an oceanfront suite, while those on a budget may opt for one of the resort's inexpensive windowless, no view interior rooms.
One of the best things about the Renaissance is its central location. You can walk to Punda, Willemstad's historic waterfront tourist area. It's also within walking distance of Christoffel National Park, the country's largest national park. There are miles of hiking trails, and an early morning hike (three hours up and down) to the top of Christoffel Mountain affords some spectacular views.
The Renaissance is a beach resort with its own private beach and beach club. The private beach is actually a saltwater infinity pool with a sand bottom, making it always calm and beautiful. As a Marriott property, you also get the benefits of spending or earning Bonvoy points.
Address: Baden Powellweg 1, Willemstad, Curacao
Accommodation: Renaissance Curacao Resort
11. Kura Hulanda Lodge & Beach Club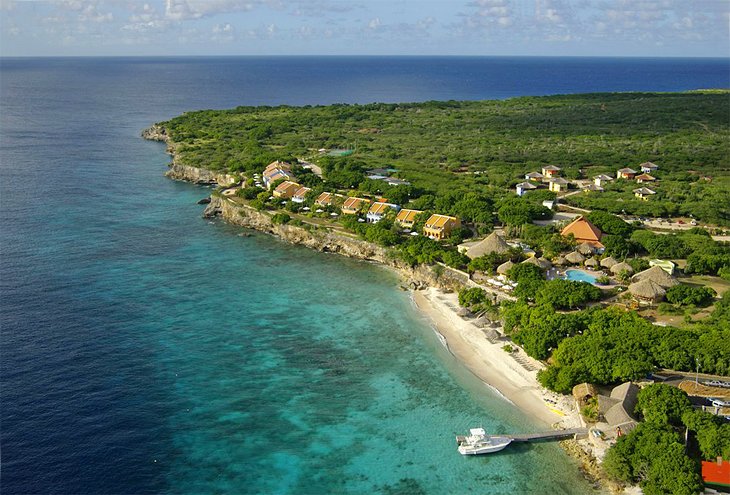 Escape the crowds in and around Willemstad and its beach resorts and head to the West End area of the island and the Kura Hulanda Lodge & Beach Club. It's a budget to mid-range, all-inclusive resort that gives you a more remote, island getaway experience.
There are 42 rooms and 32 suites set across a 250-acre property. There are three restaurants to choose from, and food and all non-motorized water sports are included in your all-inclusive experience.
The remote location and spectacular diving are the big draws here-the famed Mushroom Forest dive area can be accessed from the resort's pier. You can also snorkel to the Alice in Wonderland underwater area. If all that isn't enough, walk down to Playa Piscado, where you can swim with sea turtles.
There is a sister property, the Kura Hulanda Village & Spa, located in Willemstad.
Address: laya Kalki 1, Sabana Westpunt, Curacao
Accommodation: Kura Hulanda Lodge & Beach Club
12. Curacao Marriott Beach Resort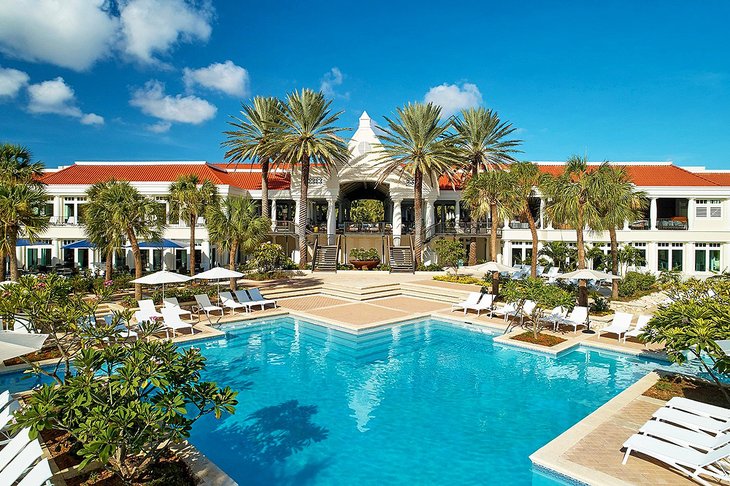 Inspired by a mix of old-world European elegance and Caribbean charm, this new Marriott property sits on six acres of oceanfront property just 15 minutes from historic Willemstad and only 15 minutes from the airport. The rooms and suites are spacious and comfortable with contemporary decor and perks like private furnished balconies and accent wallpaper walls. Many have direct ocean views.
Amenities here are plentiful. Besides private beach access with sun loungers and umbrellas for guests, there are eight different restaurants on the grounds serving a variety of cuisine from fusion to European, casual to fine dining. There are also two swimming pools, beautiful tropical gardens, a spa, a gym with fitness classes, and tennis courts on-site.
Check with the concierge to set up activities from snorkeling to scuba diving, fishing, and kayaking. If you are traveling with kids, the Curacao Marriott Beach Resort is also family friendly with activities for children.
Address: John F Kennedy Boulevard, Willemstad, Curacao
Accommodation: Curacao Marriott Beach Resort
More Related Articles on PlanetWare.com