11 Top-Rated Family Resorts in Cuba
We may earn a commission from affiliate links ()
Anyone considering a tropical sun and beach family holiday should certainly consider the first-rate all-inclusive vacation packages available in Cuba. This Caribbean paradise is not only safe, it's affordable. In fact, not only are cheap vacations easy to find, many travelers seeking a luxury family vacation experience at some of the top-rated, five-star Varadero all-inclusive resorts, for example, will find plenty of extremely good vacation packages to consider.
And there are certainly unlimited choices for that special family trip. Spread across Cuba's more than 5,000 kilometers of coastline are numerous beach resorts to choose from, with the very best of them offering plenty of fun geared specifically to kids and families. From organized water sports adventures, such as surfing and snorkeling, to outdoor adventures, such as hiking and exploring nature reserves, as well as kids' clubs with games rooms and cultural activities, Cuba has it all.
All you need to do is a little homework to ensure you get an unforgettable family vacation from your Cuba holiday. Plan your trip with our list of the top family resorts in Cuba.
Note: Some businesses may be temporarily closed due to recent global health and safety issues.
1. Iberostar Mojito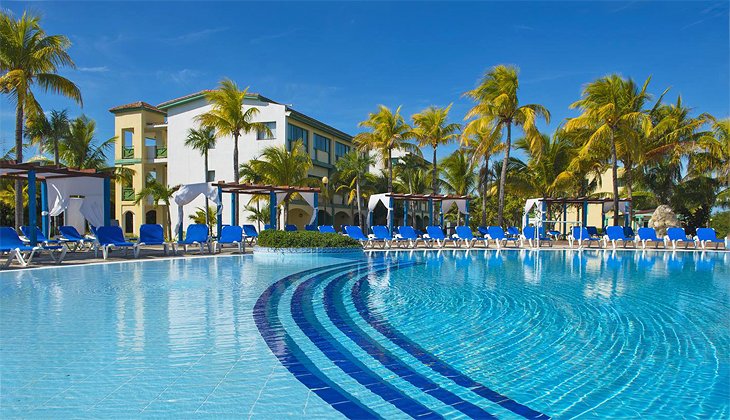 The Iberostar Mojito is a great choice for those traveling as families, and offers superb beach vacation experiences for all ages. Situated overlooking the beautiful white sands of Cayo Coco beach, this popular Cuban all-inclusive resort-part of the massive Iberostar hotel group-offers over 350 rooms, many of them large enough to accommodate families. These bright Caribbean-themed family rooms come with plenty of living space, a pullout couch, plus a terrace or balcony and can sleep up to four guests comfortably (a fun welcome treat is provided for the kids, too).
The amenities are also great for families and include a dedicated kids' swimming pool, along with a gym and spa for the adults in your party. Three restaurants are available in which to dine, each featuring a variety of menu items geared to children. In addition to the great water-based activities, including scuba diving, paddleboarding, windsurfing, and kayaking, hosted on its impressive 600-plus meters of beachfront, guests can also participate in fun activities and things to do including dance classes, live music, and a disco. Babysitting services are also available.
Address: Ave de Los Hoteles, 69400, Cuba
Accommodation: Iberostar Mojito
2. Iberostar Tainos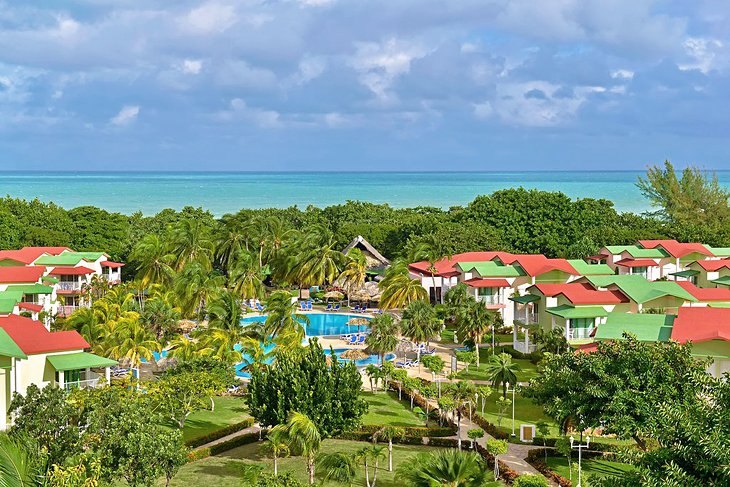 Another Iberostar property worth considering for your Cuba family beach vacation is the Iberostar Tainos. Known for its cleanliness, service, location, and value, the four-star Iberostar Tainos is situated in the heart of Varadero on a long stretch of unspoiled and safe beach that's just waiting to be explored.
The amenities alone are commendable, and include lush tropical gardens in which to unwind and relax; an adults' only swimming pool, along with one that's designed for maximum fun for the kids; a large playground area, along with kids' programs and activities in the fun Star Camp (suitable for ages four to seven years). Also available are a well-equipped fitness center, a full-service spa and wellness center, plenty of water sports to chose from (including paddle boarding and scuba diving), and four restaurants.
Accommodations include standard hotel rooms and larger, spacious bungalows (request one with a view of the pool). All-inclusive packages are optional.
Address: Las Morlas, Km. 12.5, Varadero 42200, Cuba
Accommodation: Iberostar Tainos
3. Melia Las Antillas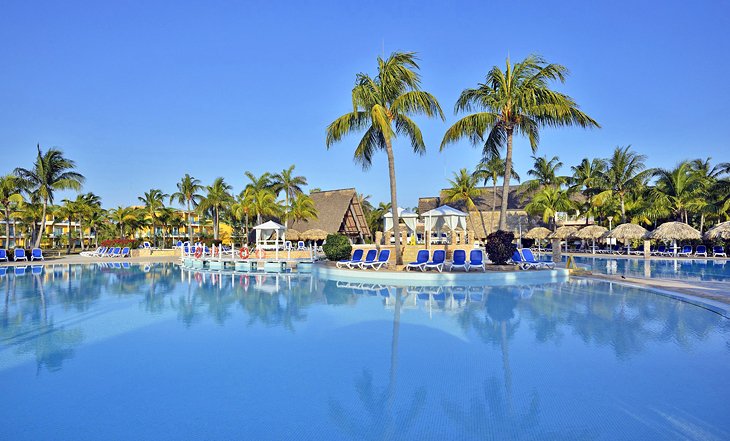 The four-star Melia Las Antillas offers a good-quality, all-inclusive beach vacation experience for families traveling with older kids (ages 16 and up). Set on a very large beachfront property just 35 kilometers from Varadero's international airport and within reach of some of the region's top attractions-including the family-friendly Dolphinarium, just a short walk away-it's a modern resort offering brightly decorated standard hotel rooms and larger bungalow-style units and suites.
The grounds are lush and expansive, including plenty of quiet green space in which to relax and explore, along with a number of ponds and artificial lakes with quaint bridges and gazebos (a lovely hanging garden can be enjoyed in the resort's main lobby).
Amenities include a huge shallow-entry outdoor swimming pool with waterfalls, a hot tub, and plenty of space for sunbathing. Outdoor massages can also be arranged, and the resort boasts a unique outdoor amphitheater used to stage musical performances and cultural activities. A number of dining options are available, while those seeking an upscale experience can opt into the resort's VIP service with its dedicated concierge staff.
Address: Autopista Sur, Carretera Las Morlas, Km 14, Varadero 42200, Cuba
Accommodation: Melia Las Antillas
4. Sol Cayo Coco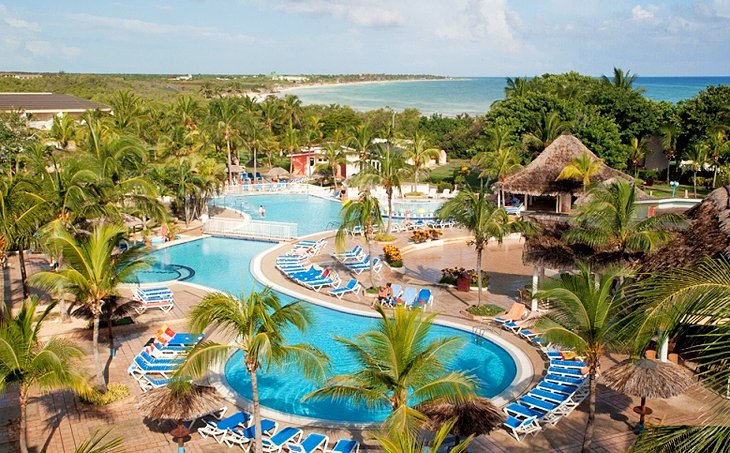 Located on popular Flamenco Beach, the luxurious Sol Cayo all-inclusive resort has plenty of great features for families. For many, the big draw here are the accommodations. For families, the spacious cottage-style accommodations are a great choice and come with plenty of comforts, including wet bars with fridges and microwaves, HDTVs, coffee makers, and roomy terraces or balconies. If these are out of range of your budget, there are also a number of suites available that offer separate living areas with pullout couches.
This big resort comes with a variety of dining options, most offering a good selection of kid-friendly menu items. There's also plenty of fun to be had around the five outdoor swimming pools, as well as in the on-site theater, which offers a mix of programming, some of which is suitable for kids. Add to this a kids' club, and you're all set for a memorable all-inclusive family vacation in Cuba.
Location: Jardines del Rey
Accommodation: Sol Cayo Coco
5. Iberostar Bella Costa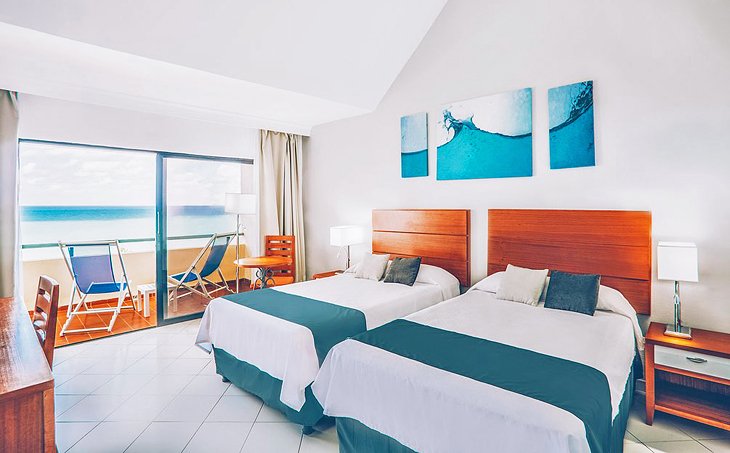 One of the newest resorts from the Iberostar group, the Bella Costa in Varadero should definitely be included on your list of potential Cuban family vacation destinations. Accommodations consist of a mix of brightly decorated standard rooms and suites, along with a number of sizable bungalows. Not that you'll want to spend too much time indoors, no matter how much you like it.
It's the outdoor fun here that kids enjoy most. Highlights include hanging about on the beach, a large area that offers safe, shallow swimming and paddling for the kids; a designated kids' swimming pool (plus a separate one for adults); a kids' camp with plenty of organized activities; and a kids' cafeteria area featuring endless snacks.
Address: Carretera de Las America km 3 1/2, Varadero
Accommodation: Iberostar Bella Costa
6. Brisas Santa Lucia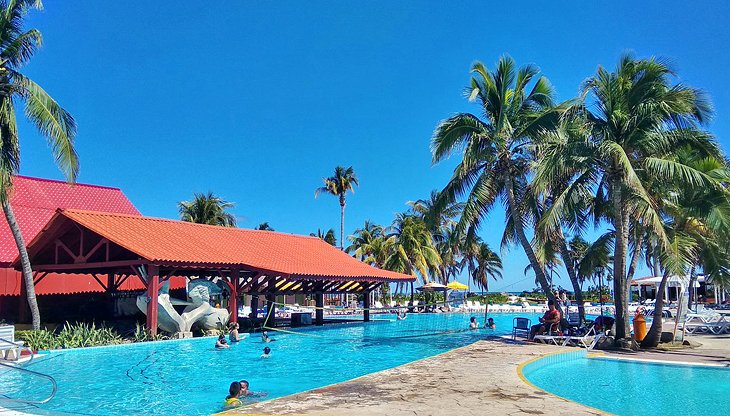 Situated overlooking the beach after which it's named, Brisas Santa Lucia also features plenty of great family fun. Highlights of a stay include access to a beautiful expanse of beach, which offers plenty of opportunity to snorkel along the nearby coral reefs. Numerous water-based activities are also available to enjoy on the beach including paddleboards, surfing, sailing, and kayaks. On-site family-friendly amenities include a kids' swimming pool, a games room, along with two restaurants with kids' menu options.
The 412 rooms in this bright, modern hotel are also worthy of a mention. Notable features include HDTVs, spacious bathrooms, as well as good-sized balconies. A limited number of rooms are available with accessibility for those with mobility issues, along with eight larger suites for those wanting more space.
Address: Avenida Turistica, Playa Santa Lucia
Accommodation: Brisas Santa Lucia
7. Sol Cayo Guillermo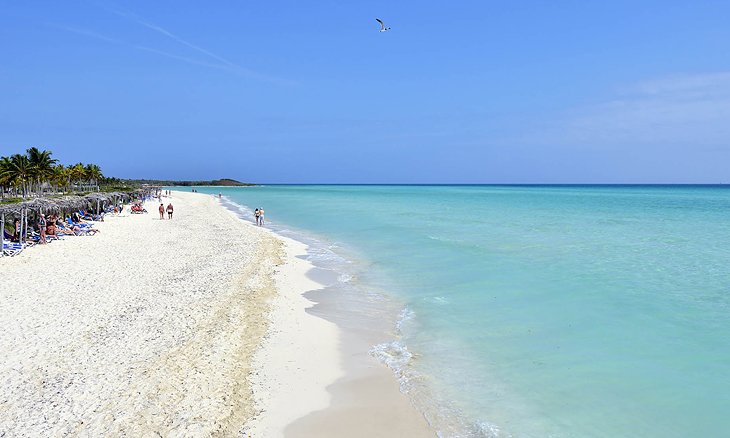 Popular for its lush garden setting and proximity to the Parque Nacional de Cayo Guillermo nature reserve, Sol Cayo Guillermo offers quality, comfortable bungalow-style hotel accommodations, many with lovely ocean views. Standard features include wet bars with mini-fridges and coffee makers, along with HDTVs with access to children's' channels.
A popular choice for families, the resort offers amenities such as four restaurants (kids' menus available) plus a great kids' club offering a variety of activities and entertainment. Kids interested in sports will not only enjoy the chance to sail and surf, but also to snorkel, windsurf, and fish. Tennis and volleyball courts are also available. There's also a separate kids' swimming pool.
Address: Cayo Guillermo, Jardines del Rey, 69400 Cayo Guillermo
Accommodation: Sol Cayo Guillermo
8. Sol Cayo Largo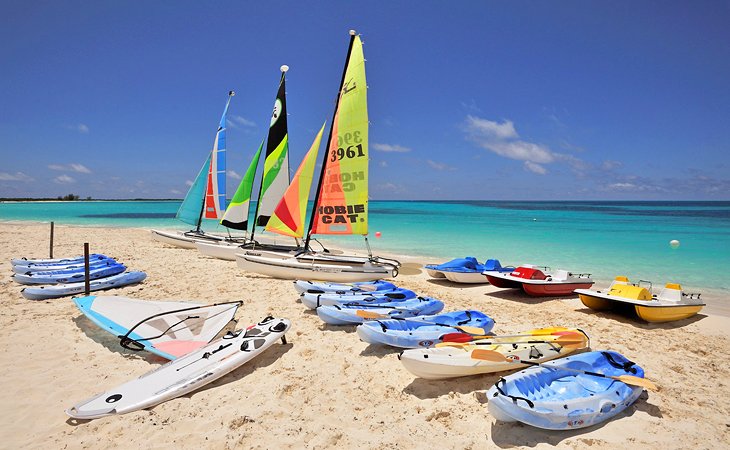 Another great place to stay in Cuba for those traveling together as families, the Sol Cayo Largo all-inclusive resort comes highly rated for its cleanliness, service, location, and value. This beachfront four-star resort features 296 rooms, most of them standard, with a number of larger ocean-view suites available for those seeking an upgraded experience. In addition to their great views, these units come with plenty of room, and a hammock on the private balcony.
A choice of three restaurants are available, and when not enjoying the food, guests will find plenty of other things to do, from swimming and sunbathing on the nearly 600-plus meters of pristine beach to top scuba diving, and sightseeing via guided tours of the best area attractions.
Address: Cayo Largo del Sur, Archipiélago de los Canarreos, Cayo Largo 27900, Cuba
Accommodation: Sol Cayo Largo
9. Melia Cayo Guillermo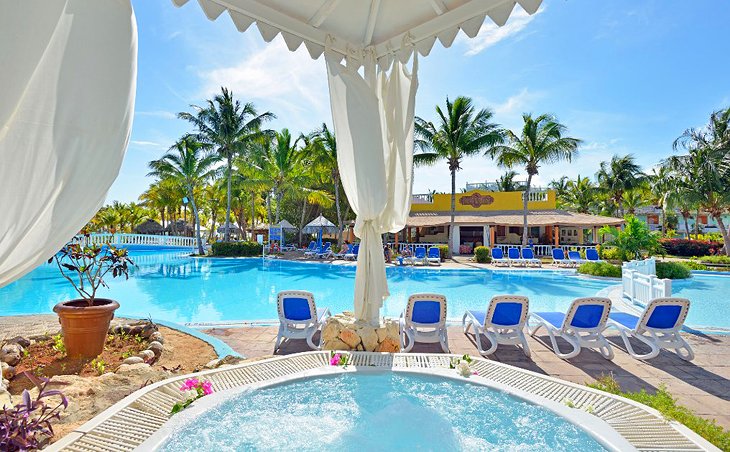 Highly regarded for its pristine, white sandy beaches, Cayo Guillermo- known to have been a favorite of writer Ernest Hemingway-is a great choice for those seeking a memorable family vacation. One of the top-rated places to stay in this beautiful part of Cuba, the all-inclusive Melia Cayo Guillermo overlooks a long stretch of the beach, parts of which are lined by countless shady palm trees.
Popular activities include fishing in the tranquil, emerald waters, along with scuba diving, snorkeling, swimming, and simply lounging about. Melia Cayo Guillermo offers a mix of standard rooms that are elegantly decorated with Caribbean motifs, as well as spacious bungalow-style units that are perfect for families (cribs are available, as are babysitting services).
Address: Cayo Guillermo, Cuba
Accommodation: Melia Cayo Guillermo
10. Iberostar Selection Varadero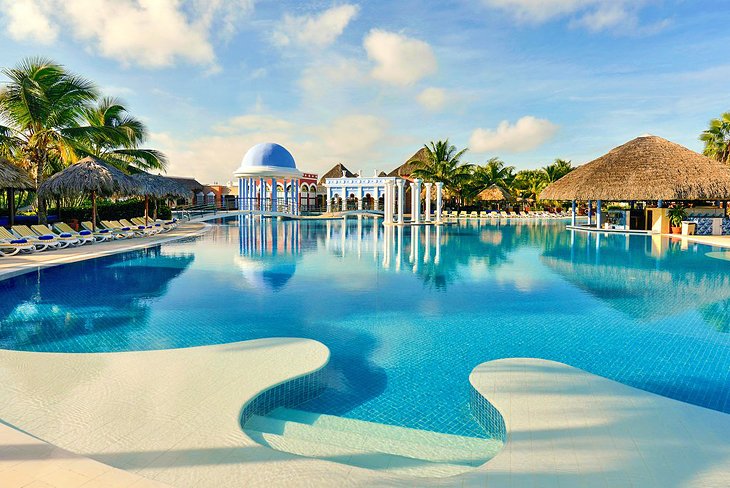 The equal to its sister resort, the Iberostar Laguna Azul (see above), the Iberostar Varadero is another good family getaway option worth considering. Boasting many of the same opportunities for fun in the sun, this family-friendly all-inclusive is in one of Cuba's top beach destinations.
The resort comes with 386 rooms, with some of the larger units being particularly well-suited to those traveling in a group. If that sounds like you, a great option would be one of the junior suites. The largest of these come with pullout couches and plenty of additional living space. Two extremely luxurious penthouse suites are also available.
Now, for the fun stuff-at least for the kids. It starts poolside, with three swimming pools to choose from, one of which is dedicated to kids, along with numerous fun activities at the beach such as beach volleyball, snorkeling, swimming, and sea kayaks. Other outdoor activities for youngsters include basketball, archery, soccer, and tennis. Indoor fun includes a kids' club for children aged four to 12 offering fun things to do such as dancing and crafts. Babysitting services are also available.
Address: Sector Punta Hicacos, Crta Las Morlas KM 17 1/2, Varadero
Accommodation: Iberostar Selection Varadero
11. Club Amigo Mayanabo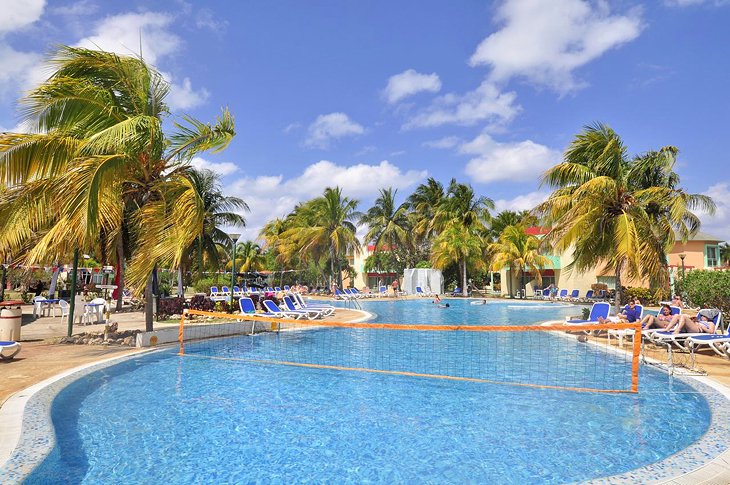 One of the best choices for those seeking a great affordable family vacation, the all-inclusive Club Amigo Mayanabo offers plenty of fun things to do for all ages. Highlights of a stay here include hanging out at the beach, which offers ample seating and space to relax; beach volleyball; along with water-based activities such as paddleboarding, kayaking, kitesurfing, and snorkeling (a dive center is located close by). Other things to do include dining in one of the two a la carte restaurants or one of the casual Cuban style eateries located on-site, enjoying live music and dancing (day and night), and swimming in the large swimming pool.
For kids, a variety of programs are available, including a large playground. Also available are spa services, trip-planning, moped and car rental services, and a gift shop. Room choices include attractively decorated standard units, as well as a number of larger suites perfect for families.
Address: Avenida Turistica, Playa Santa Lucia 74250, Cuba
Accommodation: Club Amigo Mayanabo
More Related Articles on PlanetWare.com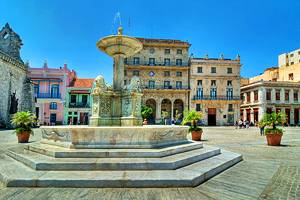 Exploring Cuba: If you are just getting started on planning your trip to Cuba, see our list of Top Attractions & Places to Visit in Cuba. Some of the most popular resorts are located in Varadero, where you'll also discover a number of interesting things to do. For ideas, see our article on the Top Attractions in Varadero. Also worth visiting, particularly for culture and history, is Havana.