12 Top-Rated Beach Resorts in Cuba
We may earn a commission from affiliate links ()
Cuba-few destinations conjure up the kind of mental images that this exotic Caribbean destination can muster. Pristine beaches and turquoise water? Check. Hospitable, friendly people? Yup. And superb top-rated beach resorts. Well, of course...
To help you plan your Cuban adventure, we've pulled together this list of the best resorts and all-inclusive vacations available in this fascinating, romantic country. Featuring the top-rated family resorts and couples' resorts on some of the best beaches in Cuba-including destinations such as Varadero Beach and Holguin-you'll find no end of things to do in these affordable beachfront destinations. Plan your vacation with our list of the top beach resorts in Cuba.
Note: Some businesses may be temporarily closed due to recent global health and safety issues.
1. Melia Varadero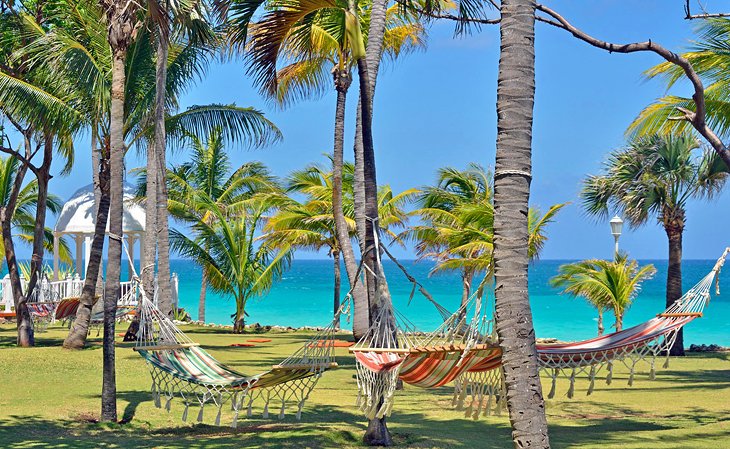 It's for good reason the delightful Melia Varadero is at the top of our list of the best beach resorts in Cuba. This classy, five-star all-inclusive resort features direct access to a beautiful stretch of sandy beach on the Varadero peninsula and is just minutes away from top area attractions and things to do, including playing a round of golf at the popular Varadero Golf Club, or visiting the Plaza América Convention Centre.
The resort is designed to fit in well with its lush tropical surroundings, and a highlight of a stay here is relaxing in the spacious public spaces, including the dome-topped lobby, the gardens, and poolside.
The rooms are clean and comfortable, and for a little extra pampering, upgrade to one of the larger premium suites; these come with expanded terrace areas with stunning sea views and plenty of room for families. And if you're traveling with kids, they'll enjoy the attention and activities when they participate in the resort's Mini Club.
Address: Carretera de las Morlas, Varadero
Accommodation: Melia Varadero
2. Iberostar Selection Holguin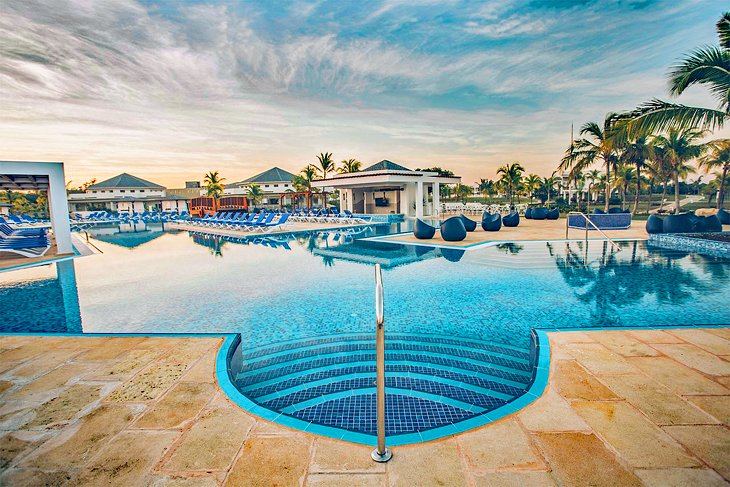 A favorite for those seeking a great all-inclusive beach vacation in Holguin, the Iberostar Selection Holguin is as equally welcoming for families as it is for couples seeking a romantic vacation. The amenities are certainly commendable and include a number of restaurants, a choice of swimming pools, as well as a fun water park.
Kids will appreciate having their own club in which to hang out, as well as organized activities, entertainment, and adventures geared specifically to them. As for adults traveling without kids, the resort's "Star Prestige" services ensure plenty of quiet time doing what you like-kid free. Highlights include diving expeditions along the nearby coral reefs, catamaran sailing trips, or simply lounging around the adults-only swimming pool.
As for accommodation, there's plenty of choice. Our recommendation is to book one of the "Star Prestige" rooms. In addition to stunning sea-view suites, your accommodation block is adults only and includes access to a private swimming pool. The largest suites include spacious living areas, jetted tubs, and roomy balconies with comfortable outdoor furniture.
Address: Estero, Rafael Freyre / Playa Pesquero, Holguin
Accommodation: Iberostar Selection Holguin
3. Memories Varadero Beach Resort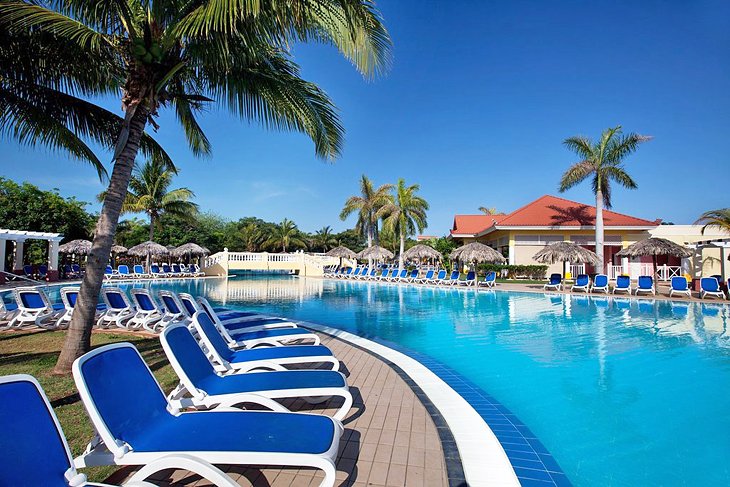 Whether traveling as a couple or a family, Memories Varadero Beach Resort has plenty of reasons why you should visit. Just steps away from the pristine sands of popular Varadero Beach, Memories does a good job of just that-creating unforgettable memories. The amenities are certainly noteworthy and consist of no less than nine restaurants, four swimming pools (two for adults only), a hot tub, along with nightly entertainment including live music and a disco.
Sports enthusiasts will want to make the most of the resort's three tennis courts, the beach volleyball court, along with water-based activities including sailing, windsurfing, snorkeling, and scuba diving. There's also a kids' club, and babysitting services are available.
It's certainly a big place, with some 1,035 guest rooms, each bedecked in bright tropical-theme décor and wood accents. If your budget can handle it, go for one of the spacious suite upgrades. Part of the resort's "Diamond Club" accommodations, you'll enjoy additional living space, roomy balconies (request the ocean view), a choice of a single king or two double beds, a separate living area with comfy seating, plus a good-sized bathroom with stand-alone showers and bathtubs (an additional bathroom is also provided).
Address: Autopista Sur km 18.5, Punta Hicacos, Varadero
Accommodation: Memories Varadero Beach Resort
4. Hotel Roc Arenas Doradas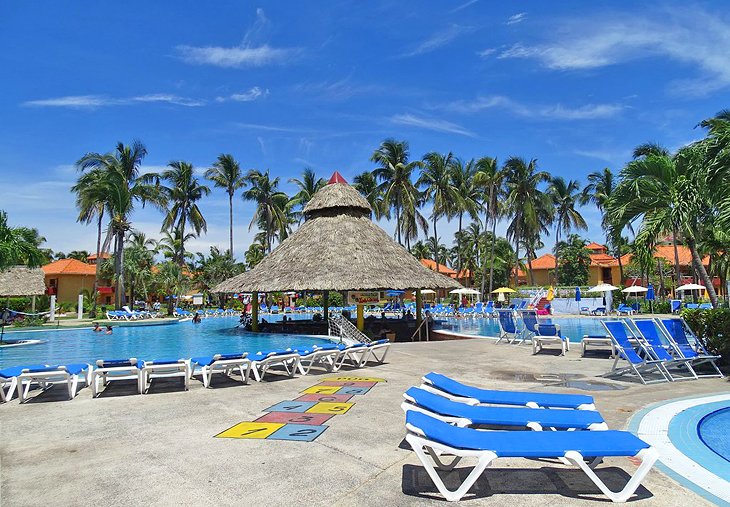 Another popular Varadero resort worth considering, and popular for its affordable hotel deals, is the Hotel Roc Arenas Doradas. Offering comfortable, clean accommodations, many of them overlooking the beach, this attractive spot is as suitable for those traveling as a couple as it is for families.
Standard room features include mini-fridges, air-conditioning, and Wi-Fi (fee required), while upgrades are available that allow a little more space, along with first-rate concierge services. On-site amenities include a large swimming pool with plenty of seating, along with dining options (a daily breakfast is included with your stay). A variety of water-based activities are available, along with excursions to nearby attractions including the popular Ambrosio Cave.
Address: Autopista Varadero km 17, Playa de los Tainos, Varadero
Accommodation: Hotel Roc Arenas Doradas
5. Brisas Guardalavaca Hotel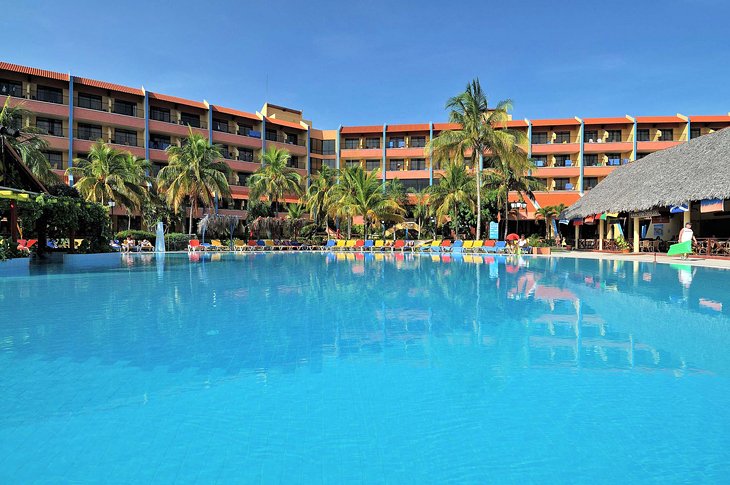 The Brisas Guardalavaca Hotel offers guests a pleasant stay in a great waterfront location. Suitable for couples seeking quality time together, as well as families, this beachfront all-inclusive resort offers affordable rates and good quality, clean accommodations featuring standard items such as large flat-screen TVs, air-conditioning, mini-fridges, and Wi-Fi (fee required).
An on-site concierge is available to help with activities such as water sports (diving and snorkeling are popular), as well as tours to leading attractions in this picturesque area of Cuba. On-site amenities include a good restaurant serving a variety of menu items suitable for kids, a good-sized outdoor swimming pool, as well as beach access and seating, along with extremely friendly staff.
Address: Calle 2, Playa, Guardalavaca
Accommodation: Brisas Guardalavaca Hotel
6. Melia las Americas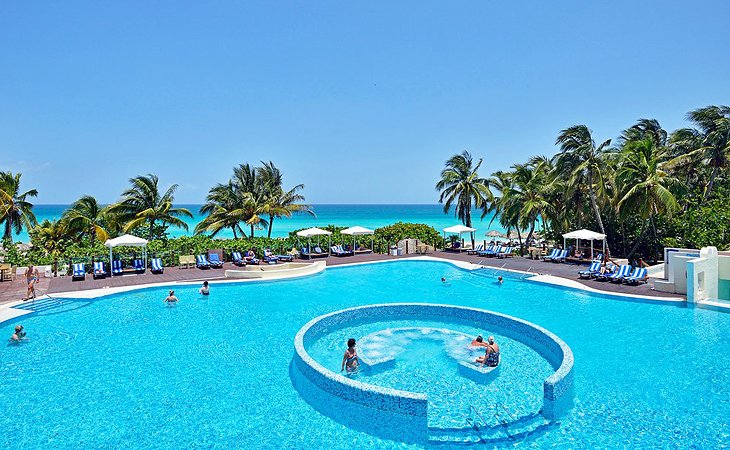 Those seeking a great golf vacation in Cuba-and one without kids-should consider a stay at the Melia las Americas. This top-rated adults-only all-inclusive beach resort offers guests access to the Varadero Golf Club, a championship 18-hole golf with the stunning Varadero Peninsula as a backdrop. And when not enjoying your golf privileges (or playing in a resort tournament), you're just steps away from the beach.
On-site amenities include great restaurants and cafés serving international cuisine, four swimming pools, including a huge lagoon-style swimming pool, a hot tub, tennis courts, and a fitness center. Water-based activities at the beach are also included in your stay.
The accommodations are also first-rate and consist of a mix of hotel units along with a number of bungalows, most with water or golf course views. If it's in your budget, shoot for one of the larger "grand" suites. These bright suites come with extra living space, large windows, quality furnishings, a separate bathtub and shower, HDTV (with satellite), and large balconies with sea views.
Address: Playa de las Americas, Autopista del Sur, 42200 Varadero
Accommodation: Melia las Americas - Adults Only
7. Starfish Cuatro Palmas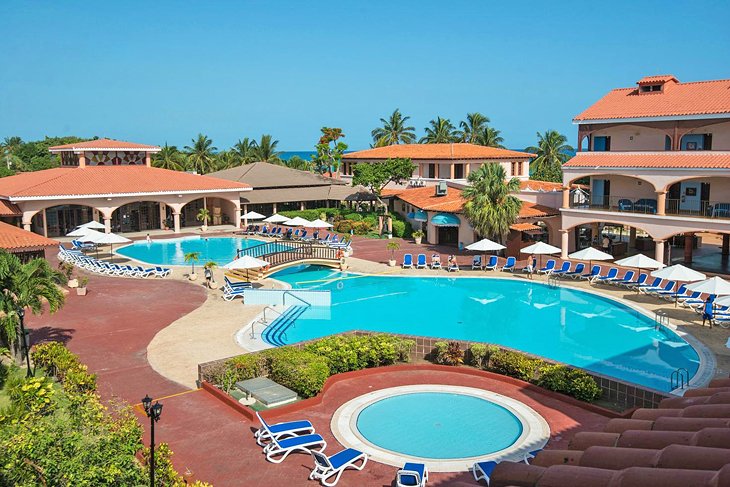 Another great all-inclusive beach resort that focuses on adults-only vacations is the Starfish Cuatro Palmas. It's certainly an attractive setting, with Spanish colonial architecture bursting with color and warmth. A highlight of a stay here for night owls is having access to their 24-hour food and beverage service, a real treat when feeling peckish, whether lounging at the pool or all dressed up for the night. Other amenities on-site include a large fitness center,
The recently refurbished standard rooms are the perfect size for couples. Available in a choice of a king bed or two twins, the rooms offer features such as a stocked mini-fridge, large-screen TV (with satellite programming), a large bathroom, a balcony or terrace, and air conditioning. If available, be sure to request a view over Varadero Beach.
Address: 1a Avenida y Calle 60, 42200 Varadero
Accommodation: Starfish Cuatro Palmas Adults Only - All Inclusive
8. Melia Las Antillas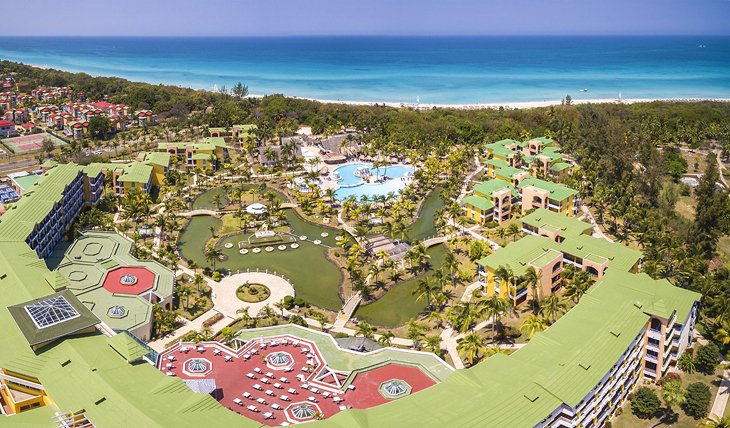 Spread across a large and lush area near Varadero Beach, Melia Las Antillas offers a mix of standard hotel rooms and bungalow-style units. The grounds are a delight to explore and consist of a mix of tropical gardens and native vegetation sprinkled with water features such as ponds and streams, all made easily accessible by an extensive network of paths and bridges. Also worth checking out is the large hanging garden in the hotel lobby, plus the amphitheater, used for live music and other entertainment.
Other amenities include a large swimming pool with cascades and a wading area, a hot tub, plus plenty of patio space, lounge chairs, and umbrellas. A good choice of accommodation are the roomier junior suites. In addition to their larger living areas, they come with spacious furnished balconies and comfortable beds and bedding.
Address: Autopista Sur, Carretera Las Morlas, Km 14, Varadero
Accommodation: Melia Las Antillas
9. Royalton Hicacos Varadero Resort & Spa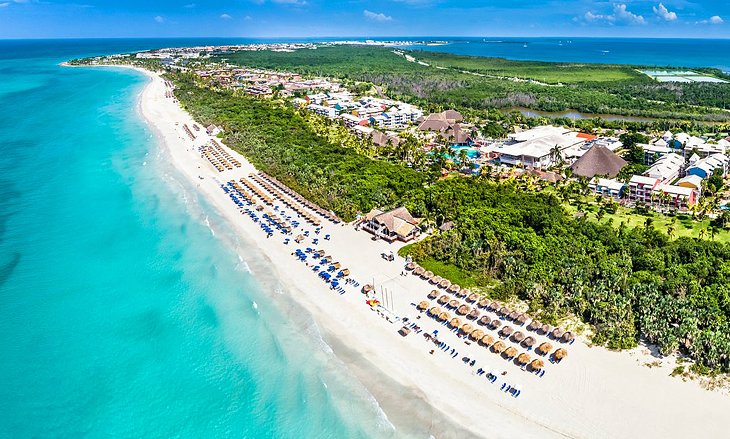 Another Royalton location to make our list of the top-rated beach resorts in Cuba is the Royalton Hicacos Varadero Resort & Spa. This adults-only all-inclusive resort offers pleasant tropical-themed décor throughout its public spaces and rooms. The rooms themselves are bright and airy, offering great views from their balconies (or terraces) over the beach or garden.
The beds and bedding are of a high-quality, with comfy king mattresses, while other in-room features include large screen TVs (with satellite channels), coffee and tea makers, plus a well-stocked mini-fridge. If available, shoot for one of the larger suites for their larger living areas with seating and a table.
Amenities include a large outdoor swimming pool with a hot tub, a well-equipped fitness center, on-site dining (with 24-hour room service), and a spa. The grounds are also pleasant to stroll around with their quiet areas with fountains.
Address: Carretera Las Morlas km 15 / Punta Hicacos, Varadero
Accommodation: Royalton Hicacos Varadero Resort & Spa
10. Sol Palmeras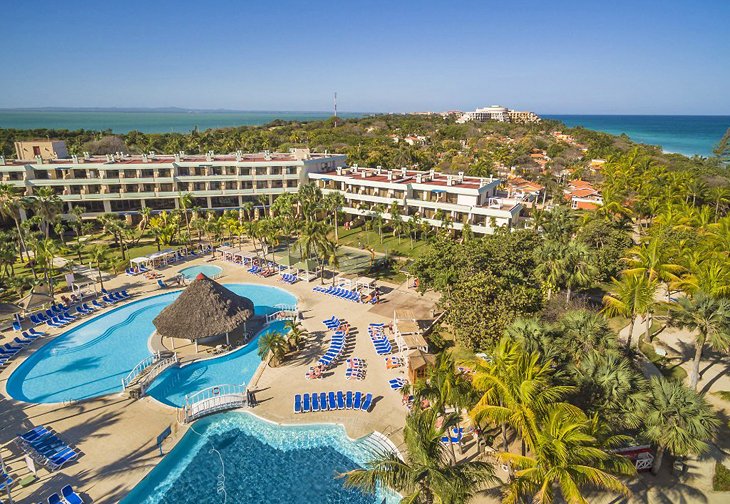 As popular for its beach location as it is for its proximity to Varadero's top shopping opportunities (it's just steps away from the huge Plaza Americas mall), Sol Palmeras Resort and Bungalows is a great choice for a fun-packed all-inclusive vacation in Cuba. Suitable for families and couples, the resort puts on a packed itinerary of free activities to participate in, from water sports such as snorkeling, canoeing, and kayaking to karaoke contests and dance lessons. In addition to on-land sports such as bocce ball, guests also have access to the nearby Varadero Golf Course.
Traveling as a family? Great! Youngsters of all ages are catered to at the kids and teen clubs, with programs including discos, movie nights, mini-golf, plus fun around their own pool. And when they're all tuckered out, they're going to sleep well in the attractive bungalow in which you're staying for the week. Sleeping up to five guests, these spacious units come with plenty of additional living space and large terraces.
Address: Carretera de las Morlas, Varadero
Accommodation: Sol Palmeras
11. Blau Varadero Hotel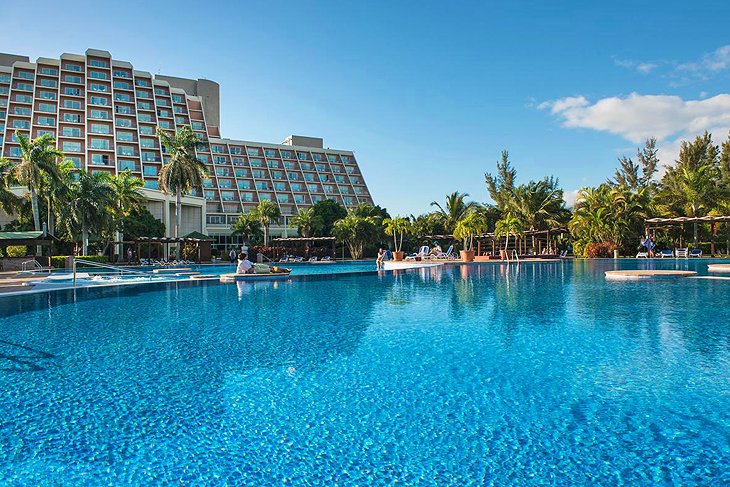 Another reputable adults-only all-inclusive worth considering when planning your couple's Cuba vacation is the top-rated Blau Varadero Hotel. This fine beachfront resort in Varadero offers direct access to the water and all the fun there, with activities such as kayaking and snorkeling included. Couples massages are also available, and for a little additional romance, be sure to take advantage of the opportunity to dine al fresco (a snack bar is also available on the beach).
Other notable amenities include tennis courts, a well-equipped fitness center, gift shop, plus a full-service spa. Fun dance classes are also available, along with language classes. Other sports activities include archery, basketball, and beach volleyball.
Address: Carretera de las Morlas KM15, 12345 Varadero
Accommodation: Blau Varadero Hotel
12. Occidental Arenas Blancas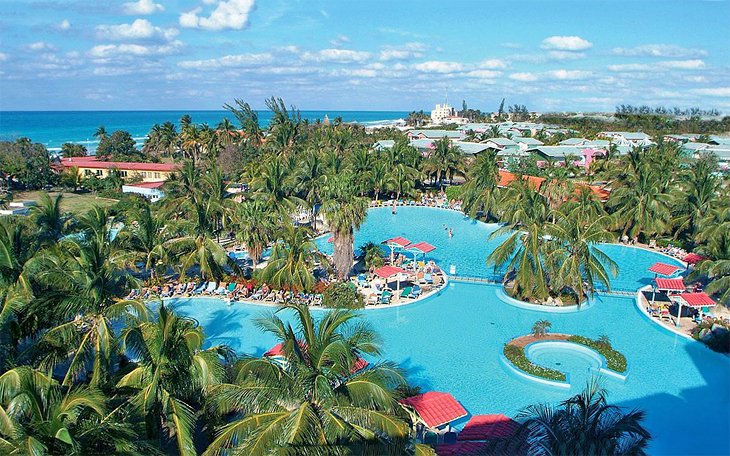 Another beachfront all-inclusive resort in the popular Varadero Beach area-it's just a few minutes' walk from the downtown entertainment district, top attractions, and the water-the Occidental Arenas Blancas is great for families and couples alike. The amenities are certainly world-class and consist of your choice of five restaurants (including fine dining and buffet options), plenty of patio space and pools to enjoy, as well as tennis and volleyball courts. Children can enjoy some fun of their own in the kids' club and the on-site adventure playground.
Along with easy access to the beach area with its many water sports, it's good to know you'll have use of beach chairs and umbrellas (plus pleasant shaded areas), towels, washroom facilities, along with on-duty security and lifeguards. A good choice of rooms are the superior ocean-view units, which come with a king or two double beds (a roll-away can be provided if needed), large balconies, and wide-screen TVs with satellite.
Address: Carretera Las Americas Km. 3, Varadero
Accommodation: Occidental Arenas Blancas
More Related Articles on PlanetWare.com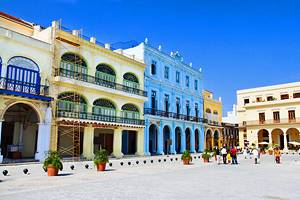 Cuba Highlights: Explore the most beautiful sites in the country with our guide to the Top Attractions & Best Places to Visit in Cuba. When you've had enough of sun and sand, take a break from your beach vacation and spend a day exploring the streets of Old Havana for a little history and culture.