14 Top-Rated Resorts on Bonaire
We may earn a commission from affiliate links ()
A tropical paradise and a slew of friendly and comfortable resorts await visitors to Bonaire, an island oasis set in the Dutch area of the Caribbean Sea. A haven for divers and snorkelers, this small isle is a natural beauty flanked by a protected coral reef positioned right offshore. Kayaking, biking, and hiking are other activities popular with travelers who crave adventure with their holiday.
When it comes time to relax, visitors have a bevy of enjoyable resort options, most of which boast a beachfront locale and on-site dive center. With no five-star properties on the island, the best resorts on Bonaire are lovely four- and three-star retreats.
Not a fan of diving? No worries, these resorts offer plenty of other activities, including spa treatments, snorkeling adventures, freshwater pools, and bicycle rentals.
Whether you're traveling with a family or hoping to enjoy a romantic vacation à deux, you'll find the perfect accommodation on our list of the best resorts on Bonaire.
1. The Bellafonte Luxury Oceanfront Hotel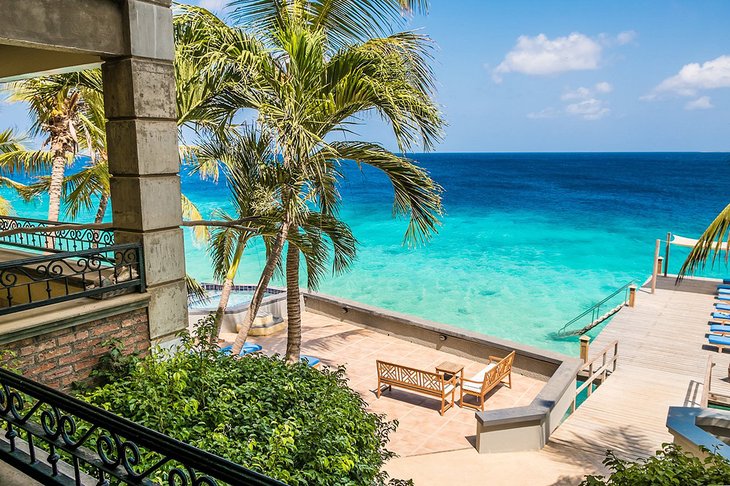 A fully equipped kitchen (or kitchenette) makes it easy to stay in for a meal, which you can enjoy on an oceanfront balcony, while the plush king beds offer plenty of space to stretch out. The décor is sleek and modern with plenty of light, and each room is spacious and airy.
A small plunge pool provides a decadent way to enjoy the ocean view, although it's tiny enough that you won't be able to swim laps or practice a swan dive. There are dive facilities on-site, as well as bicycle rental and car hire facilities.
2. Harbour Village Beach Club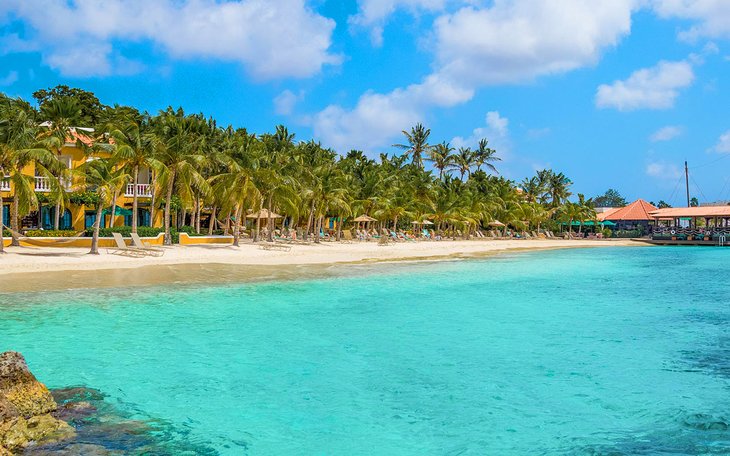 If you've brought a yacht along, you can dock it at the yacht marina or wander around this luxe spot to see how the other half live. This expansive resort also offers a dive shop and water sports center, the tempting La Balandra Bar & Restaurant, and a relaxing spa.
In terms of accommodations, the options are seemingly endless. The private villas will enhance any stay, bringing the comforts of home and a very spacious experience to your island vacation. The guest rooms and suites are elegantly decorated and offer wonderful ocean, marina, or garden views.
We highly recommend booking a premier beachfront suite if the idea of opening French doors onto a private patio complete with hammock and the lull of ocean waves appeals to your vacation ideals.
3. Windhoek Resort Bonaire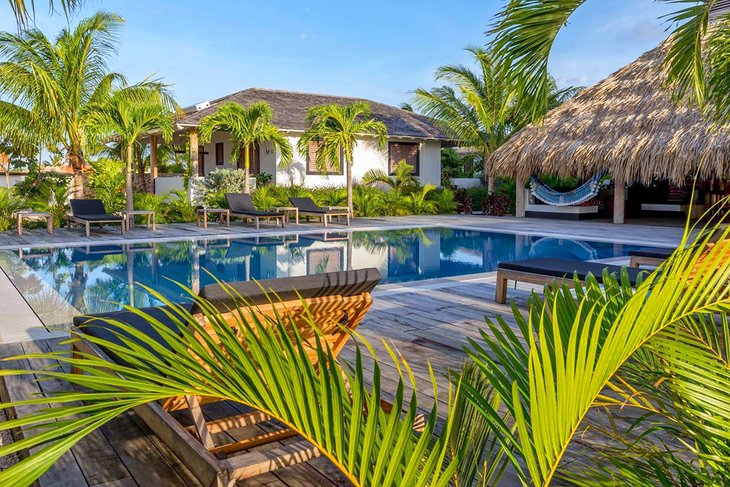 From vibrant-colored hammocks fringed with tassels to comfortable sun loungers to wooden walkways to swaying palms, relaxation is at the core of this resort. Twelve villas surround the pool, set within the resort's calming tropical gardens. They have patios and kitchenettes, and there's a communal grill to make meal prep even easier.
The four-bedroom, Piet Boon Villas - Villa Flamingo and Villa Kas Iguana - are located slightly farther away, but still within walking distance from the resort. Created by the famed Dutch designer they are named after, these luxe units are perfect for those traveling with friends or families, and they boast private pools.
4. Delfin's Beach Resort Bonaire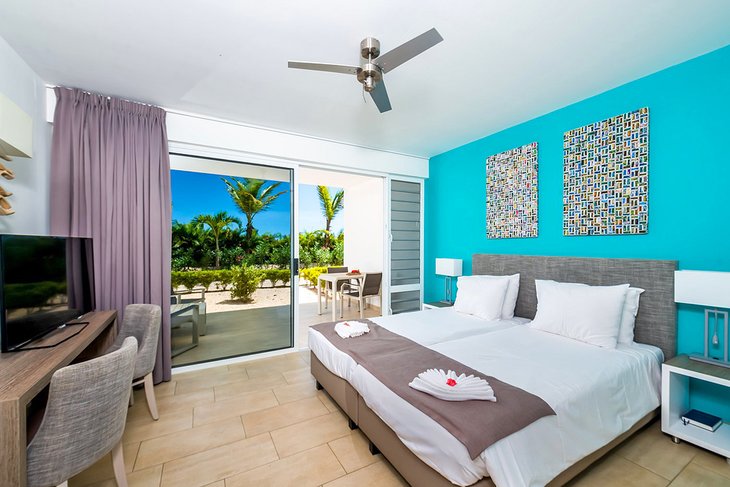 Given the busy coral reef that lies just offshore, most guests spend the majority of their time face down in the water. Tip: Bring water shoes, as the beach is peppered with coral, making it a bit painful on the feet, and bring a sun shirt, so you don't get a snorkeler's burn.
The 116 apartments and 13 villas come with high-end amenities and ample space for guests to stretch out. Built and decorated in European style, the beds consist of two twins pushed together. The 84 luxury apartments are modern and feature well-stocked kitchens, large terraces, and a breathtaking view of the Caribbean Sea.
5. Van der Valk Plaza Beach & Dive Resort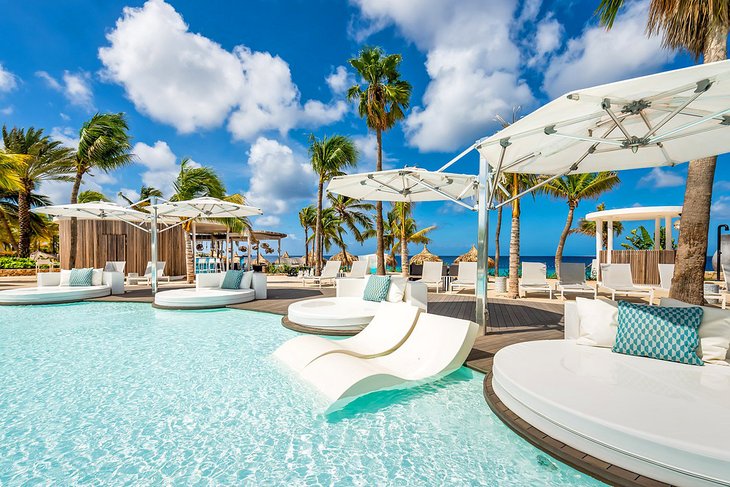 The all-inclusive package includes flights, accommodations, and your meals (including beverages and snacks). The Tipsy Seagull serves up tasty fare in a gorgeous beachfront setting. Scubar offers free lunchboxes, perfect for enjoying after a daily SCUBA dive or snorkel. Also included are non-motorized water sports.
6. Bamboo Bonaire Boutique Resort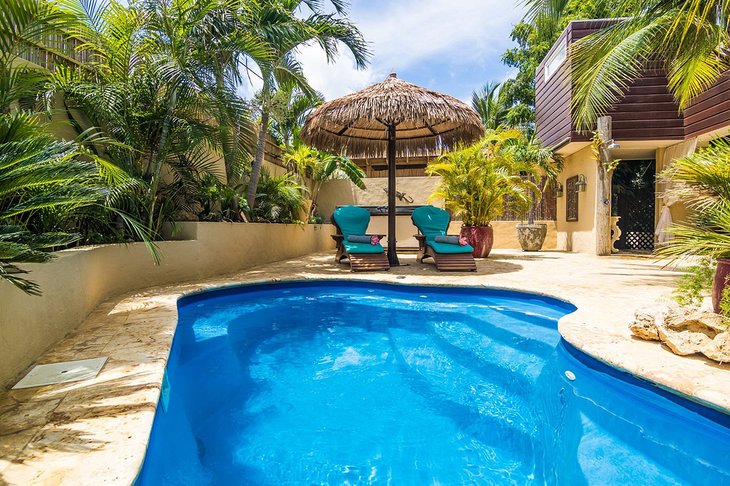 The rooms here are housed in private cottages that feature natural Indonesian design, air-conditioning, full kitchens, and a private porch. Relax on the hammock, enjoy an outdoor shower, or take a nap on the king-sized bed.
Those who enjoy things on a more luxurious scale can opt for the next level of stay, in a Superior Cottage, which boasts a private plunge pool or Jacuzzi and an outdoor bathroom.
CHEFS is the on-site restaurant. It offers breakfast and dinner and is so popular that visitors are advised to book their dinner reservations two to three months in advance. If you'd rather enjoy a meal elsewhere one night, feel free to use one of the on-site grills, or better yet, head out to a neighborhood restaurant.
7. Boutique Hotel Sonrisa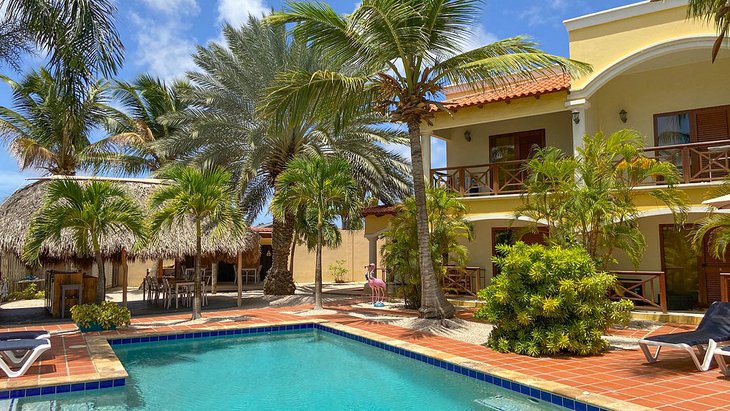 Speaking of rooms, there are only 10 suites offered at this small retreat, which makes this a perfect resort for adults looking to relax. All accommodations are spacious, especially the two apartments, which come with a fully equipped kitchen, one bedroom with either two or three beds, a private terrace on the first floor, and a pool-view balcony on the second floor.
8. SENSES Boutique Hotel & Apartments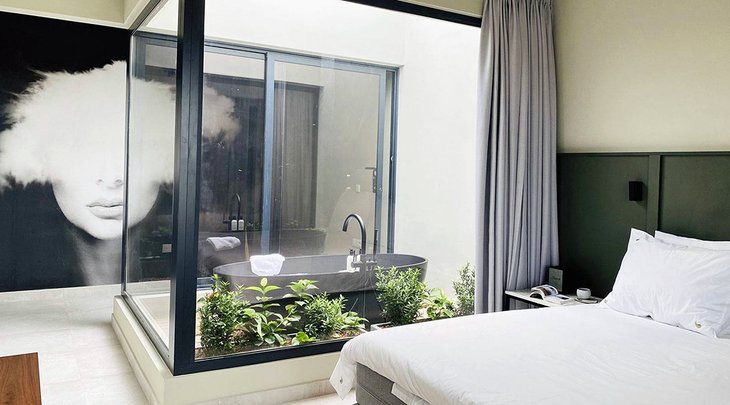 The swimming pool at this resort is lined with cabanas, which are free for use. So, too, is the use of snorkel gear, unlimited water taxis to the beach, and airport transfers.
While there's no restaurant on the property, the resort has partnered with local eatery, B for Bagels. Guests can order a tasty breakfast to be delivered the next day, or they can walk five minutes to enjoy the food on-site.
9. Ocean Breeze Boutique Hotel & Marina

Each of the 58 rooms and suites boast luxurious furnishings, air-conditioning, a plush bed, and a private balcony. If you're hoping for a king-sized bed, upgrade to a junior suite. They also come with a small seating area and outdoor furniture. Rooms face either the airport and gardens or lagoon, so be sure to request your preference upon booking.
10. GOOOD Resort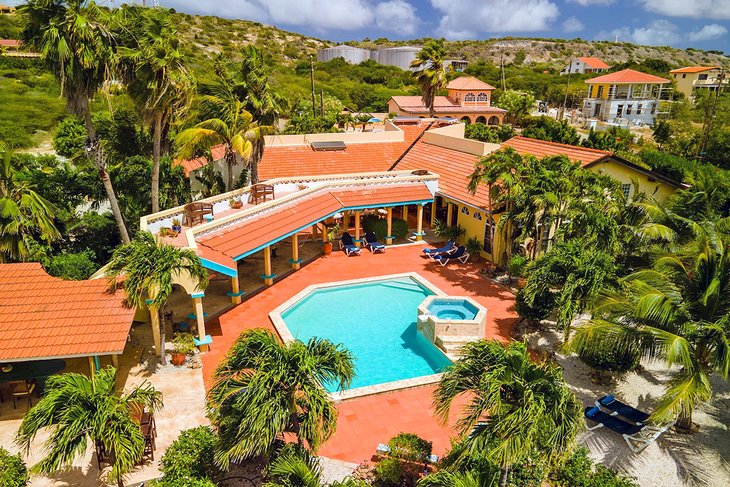 Each of the five standard, and one deluxe, rooms is clean and bright, with colorful touches to remind you that you're on Caribbean time now. Situated on top of a lush hill, the views are outstanding (don't miss the sunset), and the environment is so serene, your worries will immediately melt away. Its location, a short drive from downtown, means you won't have to fight crowds or noise at any point.
Breakfast is at times included (at other times, it's available for a reasonable fee). This is a true highlight for guests. You can choose pretty much anything, from eggs made fresh to order to waffles and fruit. A shared kitchen is accessible for those who'd like to prepare their own meals, as is the fridge and freezer. Or, head into a restaurant in town and enjoy some local specialties.
11. Sorobon Beach Resort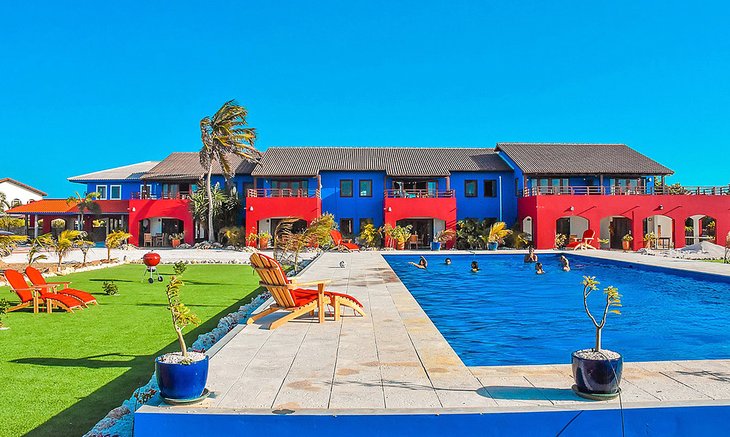 If you're looking for high-end luxury, you may want to stay elsewhere, as this is a more basic retreat focusing more on the beauty of its natural surroundings instead of plush furnishings and amenities. Those who prefer their vacations to be more natural, laid-back, and tranquil, however, will love this pretty spot.
Choose from one of 15 quaint beach chalets nestled directly on the beach, surrounded by lush gardens and swaying palm trees. Most offer ocean views, and all come with large terraces and kitchenettes. To further the resort's wellness goal, there are no televisions in the units, which forces guests to truly relax and appreciate the incredible natural surroundings. This is an ideal resort for couples looking for romance.
A beach bar serves up healthy food for lunch, while nightly meals are provided at Bistro Sorobon in a serene, tropical garden setting.
12. Buddy Dive Resort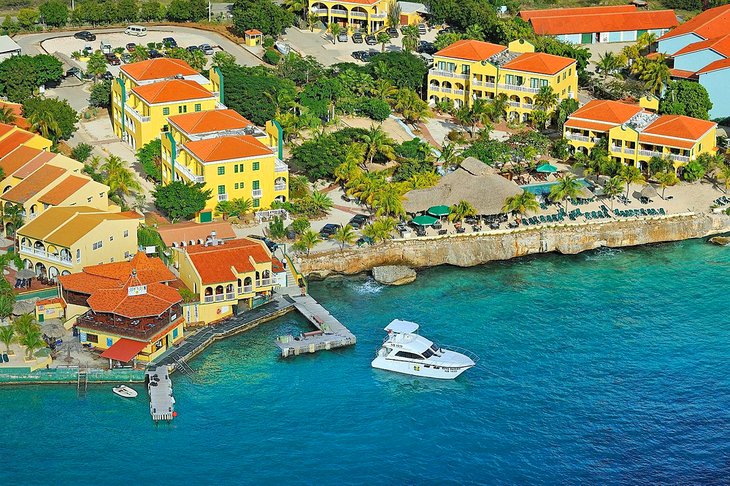 Luxuriate in the gentle ocean breeze while you lie prone on a beach lounger, paddle your way across the crystal-clear pool, or build a sandcastle on the beach. There are plenty of ways to stay relaxed and entertained at this lovely resort, the most popular of which is practiced while snorkeling or diving around the nearby coral reefs.
Blennies restaurant serves lunch and dinner in a prominent beachfront locale offering views as spectacular as the tasty dishes. The unique Ingridïents restaurant is open Friday through Monday, serving top-notch Mediterranean cuisine featuring fresh, local ingredients.
13. Captain Don's Habitat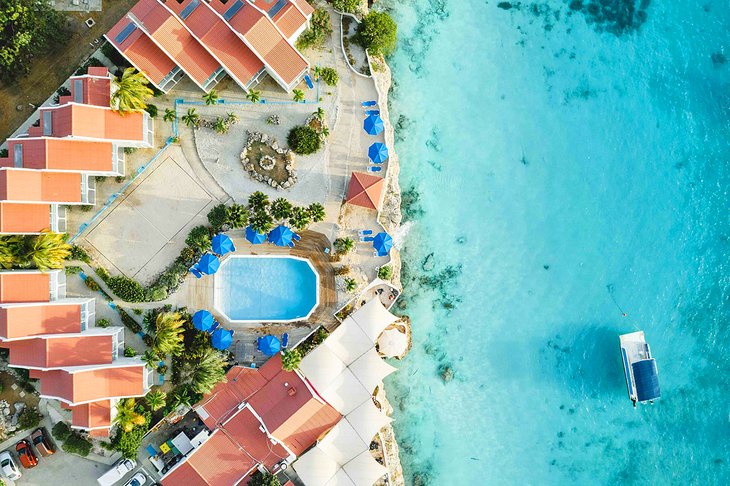 The on-site eatery features delectable fare for breakfast, lunch, and dinner. If you were hoping to enjoy a meal in your large ocean-view room, two-bedroom cottage, or three-bedroom garden villa, no worries. You can whip something up in your own kitchenette.
During the day, guests gravitate towards the water in hopes of experiencing the area's best asset: its captivating marine life. A PADI Resort and SDI 5-star Professional Development Center sit on the grounds, awaiting visitors to join one of three one-tank boat trips a day. They offer 20 specialty courses available to guests and equipment rentals.
14. Divi Flamingo Beach Resort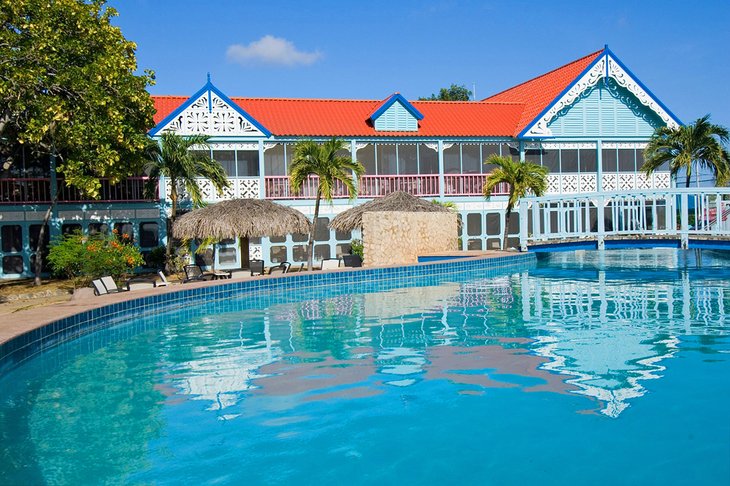 Two freshwater pools are a hit with those who prefer to cool off in a non-salty environment, while The Touch spa is a full-service spa and beauty salon offering a bevy of ways to relax (we're talking facials, sauna treatments, and massages).
The all-inclusive package is a great deal, which includes activities, food and beverages, and snorkeling adventures. Meals can be enjoyed at the Pureocean Restaurant (breakfast buffet), Pureocean Beachside Bar (lunch and dinner), and Chibi Chibi Restaurant and Bar (lunch and dinner). Each offers sparkling views of the Caribbean Sea.