9 Best All-Inclusive Resorts in Puerto Rico
Whether you're hoping to lounge on the beach, surf epic waves, or dance to salsa music, Puerto Rico offers everything you're looking for in a Caribbean beach vacation. This sun-laden beauty is also home to a handful of all-inclusive resorts, making your trip a one-stop shop for fun and relaxation.
Since all-inclusive isn't a big feature of the best beach resorts in Puerto Rico, there are only a small number to choose from, and they mainly offer packages to make your stay either all-inclusive or "almost" all-inclusive. Don't let that dissuade you. Depending what type of traveler you are (i.e. a laid-back beach bum or an activity buff), you'll find a perfect all-inclusive resort to suit your vacation needs. Keep in mind that most of the all-inclusive style resorts in Puerto Rico are in the 2- or 3-star range rather than the luxury category.
Some of these resorts lie on, or close to, the best beaches in Puerto Rico, while others are close enough to Puerto Rico's top attractions that you could spend the day traipsing through vibrant streets, soaking up the region's history, and exploring the exciting culture.
Before you visit, take a few moments to plan your trip. While the best time to visit Puerto Rico is during spring or late fall, it's most popular in the winter and early spring, so expect crowds if you're visiting all-inclusive resorts at this time.
Also, be sure to use our list of the best all-inclusive resorts in Puerto Rico to find the perfect spot for your next beach holiday.
1. Hilton Ponce Golf & Casino Resort, Ponce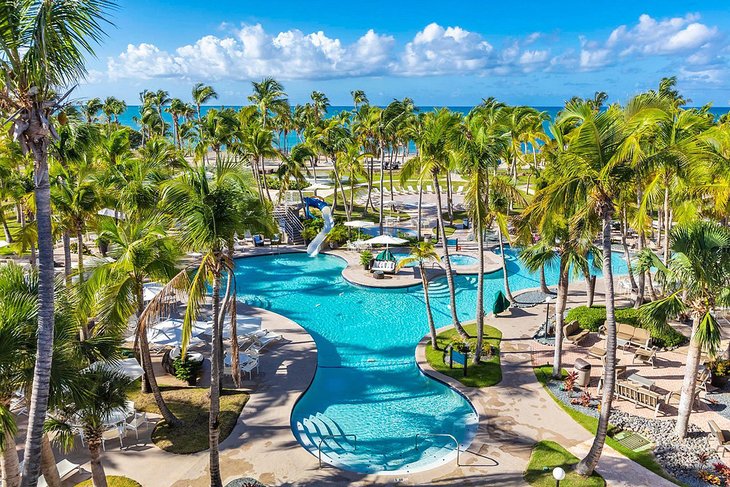 Accommodation: Hilton Ponce Golf & Casino Resort
While technically not an all-inclusive resort, the luxurious Hilton Ponce Golf & Casino Resort offers packages to get you pretty darn close.
Tack on the Breakfast Included Package for, you guessed it, complimentary daily breakfast for two. Kids under five can join for free. Or choose the Sweeten Your Stay Package, which offers a nightly credit of $100 that can be spent anywhere on the property, including the four restaurants.
The amenities here are divine; we're talking a 27-hole golf course (because apparently 18 holes of golf are never enough), mini-golf, tennis courts, a fitness center, a silky-soft sandy beach, and two outdoor pools and hot tubs.
Kids are more than welcome here, with plenty of fun water- and land-based activities on offer. They'll love the children's play area, lagoon pool's waterslide, and splashing in the calm, turquoise waves of the sea. As mentioned above, kids stay free.
Guest rooms are bright, airy, and Caribbean themed, with pops of color to enhance the view. While the ocean view is our favorite, you can't go wrong when looking out at the palm-lined pool. Opt for a more spacious suite if you're enjoying a family beach vacation.
Address: 1150 Avenue Caribe, Ponce
2. Double Tree by Hilton Hotel San Juan, San Juan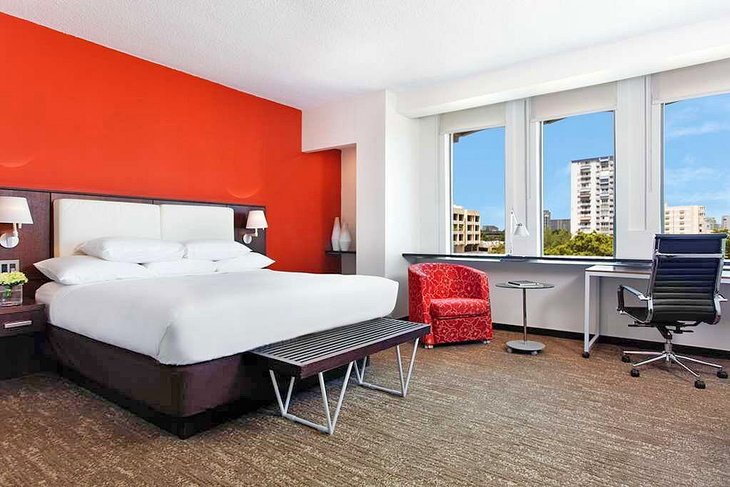 Accommodation: Double Tree by Hilton Hotel San Juan
It's easy to see why the Double Tree by Hilton Hotel San Juan is deemed one of the best resorts in San Juan. Set in the vibrant Condado section of the city, this fun resort is close to the buzzing action of the city's hottest establishments and conveniently located close to the top attractions in San Juan.
The resort itself boasts everything you'd want a four-star resort to have: friendly staff, delicious food, fun activities, a fitness center, bike rental, and a beautiful outdoor pool.
Less than a kilometer away, the resort's beach (Ocean Park) is easily reachable by a free shuttle. It is home to an impressive beach club that provides towels, lounge chairs, and umbrellas, so you won't have to haul too much with you.
The guest rooms are spacious and bright, not to mention clean and filled with helpful amenities like a microwave, mini fridge, and coffee maker.
Once again, this is not an all-inclusive resort. Guests can take advantage of special offers like the Breakfast Included Package (that's self-explanatory) or the Sweeten Your Stay Package, which includes a credit of $100 per night to be spent on-site.
Address: 105 Avenida De Diego Ocean Park Beach, San Juan
3. Parador MaunaCaribe, Emajagua, Maunabo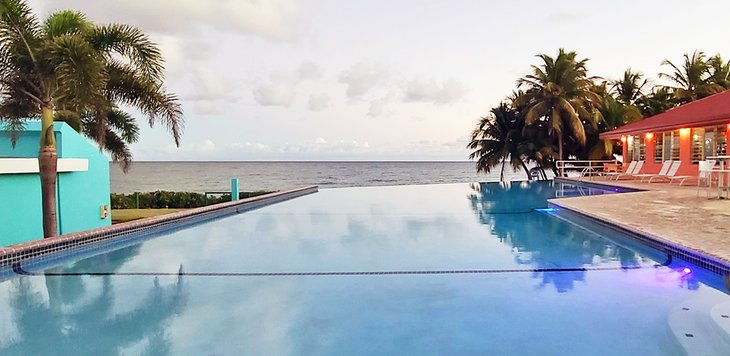 Accommodation: Parador MaunaCaribe
Parador MaunaCaribe, a Tropical Inns resort, is one of the best "almost" all-inclusive resorts in Puerto Rico. A comfortable, three-star family resort with an outdoor pool, restaurant, and fitness center, this scaled-back property has everything you need for a fun beach vacation, without the jaw-droppingly high prices found at other high-end resorts in Puerto Rico.
While you won't find luxe contemporary décor, personal butler service, or multiple infinity pools at this all-inclusive resort, Parador MaunaCaribe contains plenty of other must-haves. The private beach is a popular place to spend the day, as is the pool, of course. There's also a game room packed with fun things to do for kids, including video games geared at younger kids and teenagers.
Choose from one of 52 clean and comfy rooms, which contain a microwave, small fridge, and air conditioning.
The all-inclusive family offer is a great deal for those traveling with kids, which makes this a great family resort in Puerto Rico. It includes your room, three daily meals, taxes, and tips. Note: You'll have to stay a minimum of three days and two nights to book this deal.
Address: Panoramic Road, 901 Km. 1.9 Bo. Emagjagua, Maunabo
4. Villa Cofresi Hotel, Rincon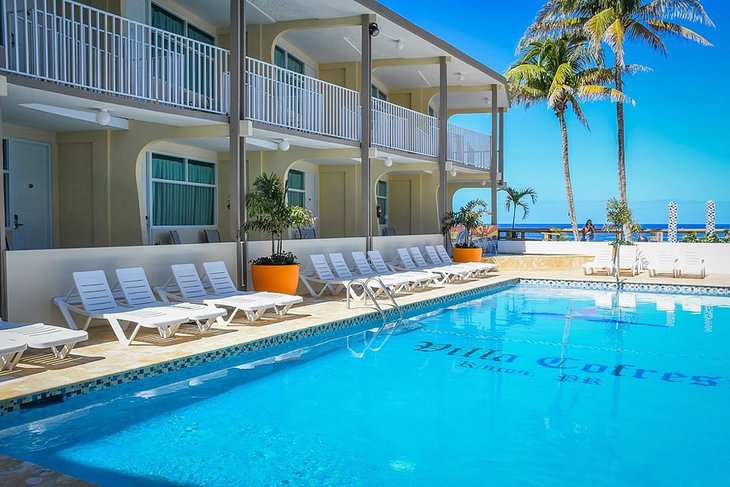 Accommodation: Villa Cofresi Hotel
Parking and Wi-Fi are free at the Villa Cofresi Hotel in Rincon. While this two-star resort lacks luxurious touches, like high-end bath products and uber chic design, the friendly staff and amenities make this one of the best all-inclusive resorts in Puerto Rico.
There's a restaurant on-site to serve breakfast, lunch, and dinner, a gym to help you work off your second helpings, and an outdoor pool and beach to transform your holiday into a relaxing beach vacation. Speaking of beach, this cute resort is set mere steps from the sand.
At night, or during those rare moments that the weather turns less than ideal, head to the game room for some indoor fun.
While this resort isn't a traditional all-inclusive, you can make it "almost" all-inclusive by adding certain elements to your stay. For instance, book the Couples Package Deluxe (a three-night, two-day deal) to receive an ocean-view room, daily breakfast, and dinner with your room rate.
You'll also go home with two Villa Cofresi T-shirts and will receive a discount at the resort's souvenir shop. The Couples Package Standard is the same, but you won't receive the ocean vista.
Address: Rd. 115, Km 12.0, Rincon
5. Parador Guánica 1929, Guánica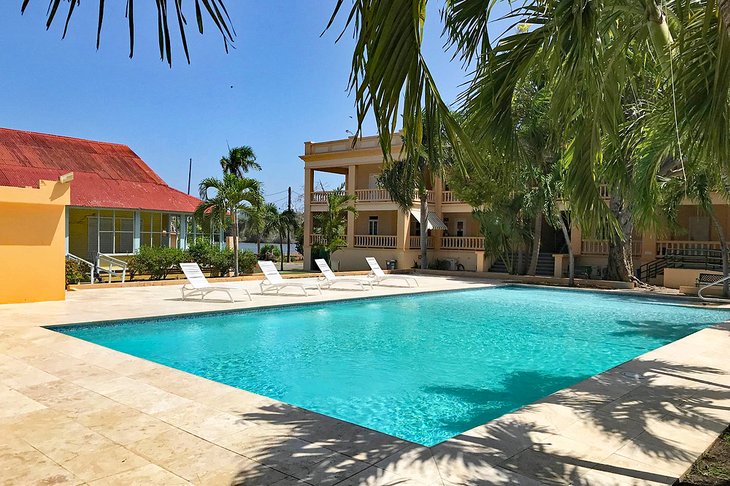 Accommodation: Parador Guánica 1929
Booking the All-Inclusive Family offer is your best chance to transform this historic inn into an all-inclusive resort in Puerto Rico. It includes all three meals, plus tips and room taxes for a three-day, two-night stay.
A charming resort, there are only 27 guest rooms on the property, which means you won't have to fight others for a space in the on-site gym, outdoor pool, or hammocks.
Located in Guánica, on the southwestern section of Puerto Rico, this quiet spot scores points for being a low key, family-friendly resort. While not directly on the sand, the beach is only a short drive away, and guests will be plenty happy to spend a day lying prone beside the sparkling pool.
The restaurant serves dishes so good, you'll crave another serving. If you were hoping to eat elsewhere, you're in luck. This resort is close to many of the island's main attractions, including top eateries.
Address: Ave Los Veteranos Km 2.4, Carretera 3116 Ensenada, Guánica
6. Parador Palmas De Lucia, Yabucoa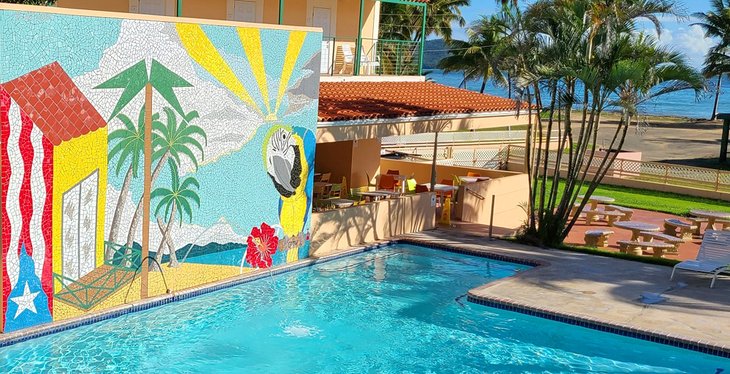 Accommodation: Parador Palmas De Lucia
It's back to basics at the two-star Parador Palmas De Lucia. An all-inclusive resort set in Yabucoa, this Tropical Inns property is yet another intimate yet inviting resort.
While no one will be delivering cold towels or refreshing drinks to help you cool off from the sun, you will have plenty of the most important amenities for a fab beach vacation in Puerto Rico: an outdoor pool, access to the lovely Lucia Beach, a restaurant, basketball and volleyball courts, and a fitness center.
The 34 guest rooms are cozy, featuring comfy beds and tile floors. A microwave, small fridge, and air-conditioning are added bonuses.
Like its sister property, you'll have to stay for three days and two nights to make use of the all-inclusive package.
Address: 901Panoramic Road, Int 9911 Sector Playa Lucia, Yabucoa
7. Parador Costa Del Mar, Yabucoa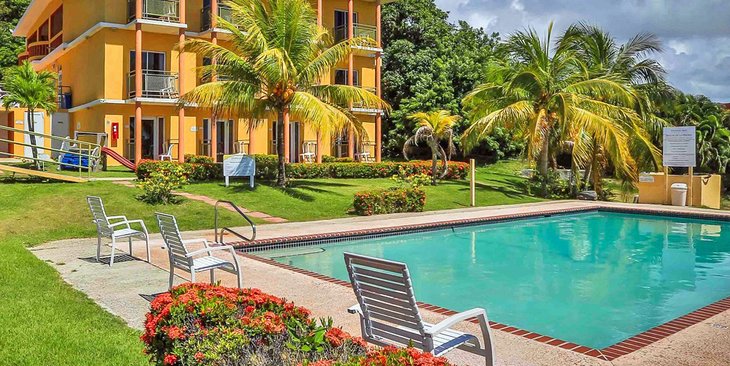 Accommodation: Parador Costa Del Mar
Another Tropical Inns resort joins our list of the best all-inclusive resorts in Puerto Rico. Parador Costa Del Mar is just as cozy and intimate as its sister resorts: Parador MaunaCaribe and Parador Palmas De Lucia. It, too, boasts a large swimming pool, beach access, a basketball court, hammocks, and comfortable air-conditioned guest rooms that come with a small fridge and microwave.
If you're hoping for an ocean view, ask before booking, as 12 of the 16 rooms on the property allow you to see the sparkling water from your room. The All-Inclusive Family Offer is the same as you'll find at its sister resorts: a three-day, two-night stay grants you dinner the first day (with dessert and a soda); breakfast, lunch, and dinner the second day; and an American breakfast the third day.
Address: 901 Panoramic Road, Km. 5.6, Yabucoa
8. Hotel Lucia Beach, Yabucoa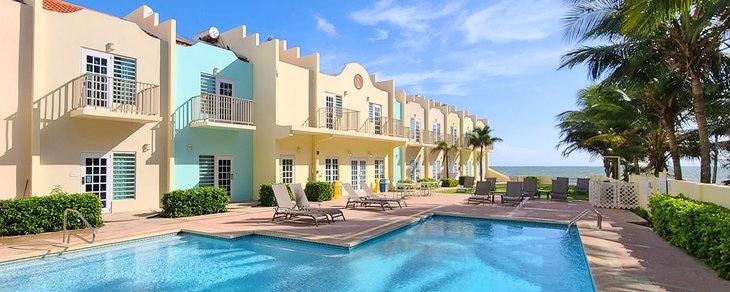 Accommodation: Hotel Lucia Beach
From the outside, Hotel Lucia Beach is adorable. Pastel buildings evoke a Spanish feel, with sloped, red tile roofs and a palm-tree-lined pool. Inside the 26 budget-friendly rooms, you'll find comfy beds and all the other trimmings you'd hope for from a no-frills beach vacation–air conditioning, a microwave, coffee maker, and a small fridge. There are also laundry facilities on-site.
The restaurant is located next door, at Parador Palmas de Luciá. If you've opted for the All-Inclusive Family Plan, your meals are included (Day 1: dinner, Day 2: breakfast, lunch, and dinner, and Day 3: Breakfast). Breakfast can be enjoyed in the on-site dining room.
A fitness center, basketball and volleyball courts, comfy hammocks, and the pool are the main attractions at this resort.
Address: 901 Panoramic Road and 9911 Road Bo. Camino Nuevo, Yabucoa
9. Wyndham Grand Rio Mar Puerto Rico Golf & Beach Resort, Rio Grande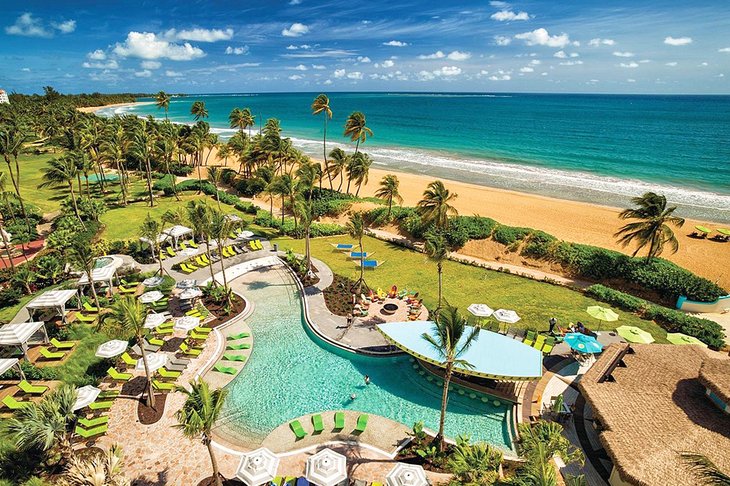 Accommodation: Wyndham Grand Rio Mar Puerto Rico Golf & Beach Resort
Nestled between the lush El Yunque rainforest and the bright cerulean sea, this beauty is one of the best almost all-inclusive resorts in Puerto Rico. Guests can enjoy a secluded beach and over 500 acres of a tropical wonderland. Activities on offer at this four-star resort include tennis, golf, water sports, and, of course, lounging poolside.
This is a fabulous resort for families. Little ones are welcomed with kid-friendly meals at each of the 10 on-site restaurants and lounges. They can also join in kid-centric activities daily, including bingo, bird walks, dancing, aqua aerobics, and the ever-popular movie night. While they're happily entertained, accompanying grown-ups can enjoy some downtime at the on-site Mandara Spa. With 7,000 square feet of meditation areas, treatment rooms, steam rooms, and more, you will find it hard to tear yourself away.
Rooms and suites are plentiful (there are 400 in total), and you're sure to enjoy the private outdoor space (a patio or balcony) that highlights the resort's best feature: it's stunning vista. The pillow-top beds are easy to sink into for a long, quiet sleep.
Despite being an immaculate and dreamy resort to visit in Puerto Rico, we've had to move this stellar property to the bottom of our list, as it's not close enough to an all-inclusive affair.
While the Wyndham used to have an all-inclusive meal package for purchase with your stay, they've put it on hold temporarily. Now, the only inclusive food option is the Bed & Breakfast package. Hang tight, though, they hope to have the better deal back up and running, hopefully soon.
Address: 6000 Rio Mar Blvd, Rio Grande