11 Top-Rated Hotels on Cape Cod
Rustic architecture, pristine beaches, scenic views, and rich wildlife are the characteristics for which Cape Cod is known. From the 40 preserved miles of sand on the Cape Cod National Seashore to the rustic seaside fishing villages, visitors have been traveling to the Cape on vacation for decades. Nature, rest, relaxation, and beautiful hotels await just a stone's throw from Boston. Five hundred miles of coastline and 15 unique towns make up this unique New England playground.
With a laid-back vibe, it's easy to see why visitors flock here to escape, soak up the sun, and get to know historic seaside towns filled with maritime history. Whether your hotel needs are family friendly or secluded retreat, all of the areas have in common a love for the ocean. Water sports adventures or just somewhere to get away from the hustle and bustle of city life are just over the bridge; Cape Cod has something for everyone.
For travelers looking for a luxurious stay, check out our list of the best hotels on Cape Cod.
1. Wequassett Resort and Golf Club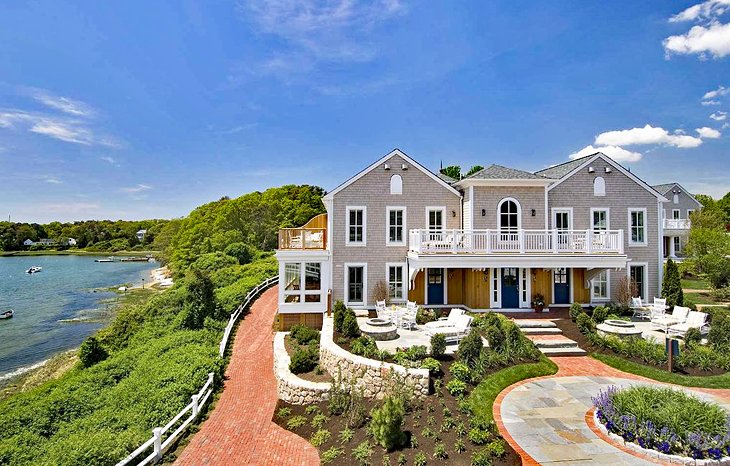 Accommodation: Wequassett Resort and Golf Club
The Cape's only Preferred Hotels and Resorts property is located in Harwich, also known as the Cape's elbow. The Wequassett Resort and Golf Club is an award-winning, lavish destination featuring both luxurious accommodations and surroundings. The Wampanoag name means "crescent on the water," and it would be hard to find a more picturesque half moon setting.
The grey shingled buildings are quintessential New England bordered by English cottage gardens and lovely fire pits with outdoor seating. With 120 rooms and a stylish, rustic design, this is Cape living at its best. Further enhancements include gas fireplaces, open patios, and flat-screen TVs. Staff deliver personal service and take the stay up a notch to extraordinary.
Activities available include boating, golf, relaxing poolside, tennis, water sports, and dance classes. Five restaurants deliver culinary delights and another round of views. Finish off the evening fireside in a classic leather chair overlooking Pleasant Bay.
Address: 2173 Route 28, Harwich, Massachusetts
2. Chatham Bars Inn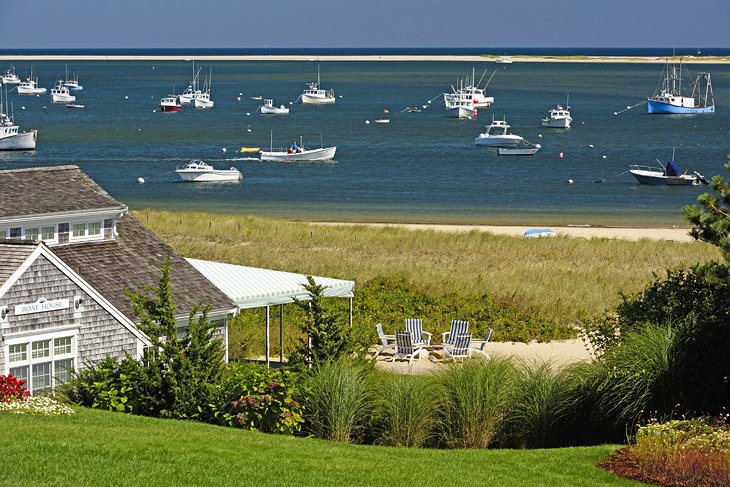 Accommodation: Chatham Bars Inn
Chatham Bars Inn has been garnering rave reviews since its 1914 opening. One of the most-sought after destinations for weddings is also a romantic retreat for couples in the southeastern edge of Cape Cod. The staff are welcoming, and guests are immediately at ease with the property's laid-back luxury found throughout the 217-room destination.
Following the successful palate of Cape Cod décor, the warm colors of beige and blue follow from the entry and common spaces into guest rooms and cottages. Visitors are very fond of the wraparound porches, filled with rockers for taking in the views.
Accommodations are equipped with Bose Wave radios, L'Occitane toiletries, and Nespresso coffee makers. Delectable New England-inspired fare is served at the on-location dining venues STARS, The Sacred Cod, The Beach House, and The Veranda. Ingredients can't get fresher than the on-site 8 acre farm.
Book one of the spa treatments and be restored in a tent setting to de-stress by the sea. This is a spot folks return to year after year. If you are a member of the Leaders Club, expect perks like room upgrades and complimentary breakfast at this hotel.
Address: 297 Shore Road, Chatham, Massachusetts
3. The Mansion at Ocean Edge Resort & Golf Club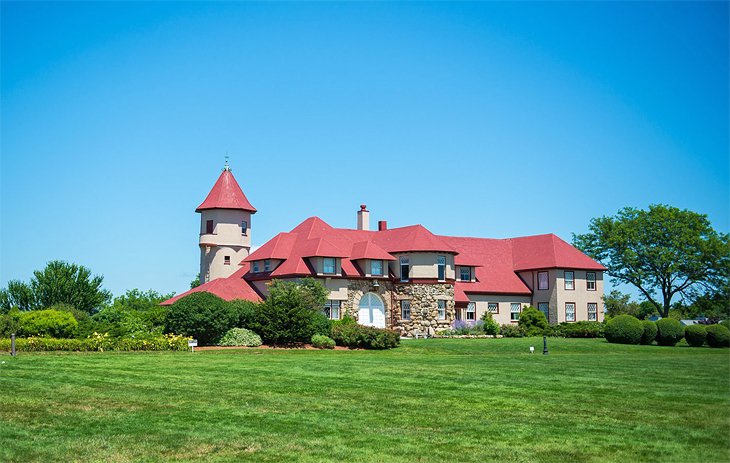 Accommodation: The Mansion at Ocean Edge Resort & Golf Club
Located on the Lower Cape in Brewster, The Mansion at Ocean Edge Resort & Golf Club offers a private beach, luxury spa, and a 439-acre Jack Nicklaus-designed golf course. Add in tennis facilities with nine courts, a bike trail, and five pools, and most visitors would find this resort hard to beat. Indeed, this resort has been recognized as one of Massachusetts' best.
A secluded, family-friendly destination, hidden behind the island's scrub pines, sits on a picturesque setting of Cape Cod Bay. Visitors will find a choice of rooms that include separate villas on one slice of the property and guest rooms in the main mansion, listed on the National Register of Historic Places. All include entertainment centers, coffee makers, and comfortable surroundings with low-key vibes. Colors of muted salmons and blues highlight the cream and white wooden furniture.
Culinary options are many, with the resort's four dining venues offering menu listings for all tastes. Of course you may expect to find some of the area's freshest seafood. The staff receives high marks for helpful and friendly service while being unobtrusive. The same can be said for the Beach House Spa experience. Pampering treatments are inspired by the surrounding landscape.
Address: 2907 Main Street, Brewster, Massachusetts
4. Lands End Inn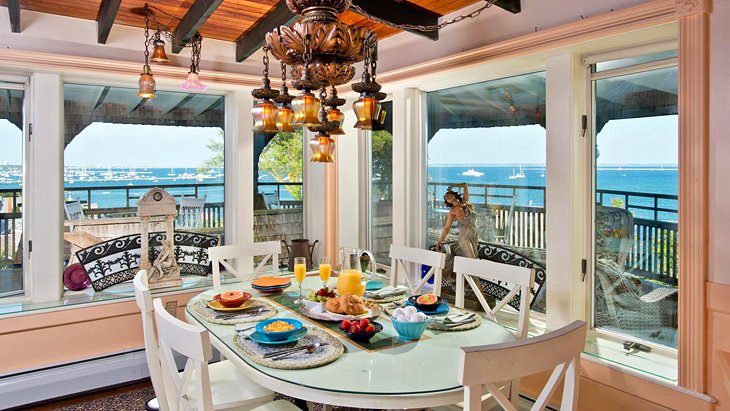 Accommodation: Lands End Inn
This award-winning inn offers 18 guest rooms and spectacular views atop Gull Hill. When you stay at the Lands End Inn, you are just steps away from the iconic beaches and a short walk to downtown Provincetown. In just three miles of this bustling area, you have beaches, restaurants, shops, and more at your disposal, all within walking distance!
The rooms are decorated lavishly with architectural elements, antiques, and art unique to each suite. From Tiffany lamps to rich fabric and wallpapers, your stay will be the epitome of luxury.
Being surrounded by such extravagance, pristine landscaping, and amazing views, it might be hard to leave, but leave you must to head down to Provincetown and enjoy the colorful architecture, explore the galleries and museums, and people watch, as they are all activities you don't want to miss.
Address: 22 Commercial Street, Provincetown, Massachusetts
5. Crowne Point Historic Inn & Spa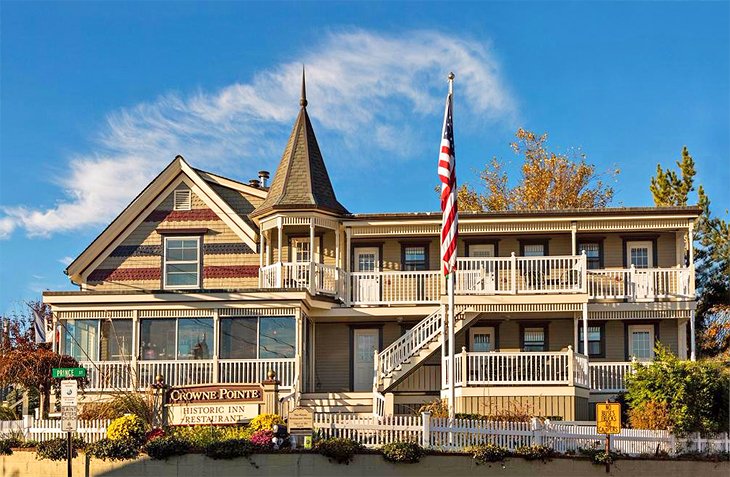 Accommodation: Crowne Pointe Historic Inn & Spa
Located in the center of colorful Provincetown, the Crowne Point Historic Inn & Spa gives guests a unique stay, whether they are here for romance, business, or just want to enjoy everything this area has to offer. Crowne Point was originally a Sea Captain's Estate and encompasses six historic buildings.
The rooms are beautifully decorated and overlook a picturesque courtyard. In addition, the Crowne Point also offers a world-class spa experience, the top-rated in Provincetown. Treatments include use of the mineral tub, the au courant Himalayan salt sauna, and steam room.
Although there are plenty of different dining options to choose from within steps of the hotel, one of the best is right inside. The Pointe Restaurant is an innovative restaurant serving dishes with local farm-to-table ingredients and seafood dishes like grilled swordfish. They offer a special prefix menu.
The inn is within walking distance of all the attractions Provincetown has to offer. Take a stroll and visit sites like the Whydah Pirate Museum and Provincetown Art Museum, or catch a show at the Provincetown theater. There are also a few bike tours to take advantage of, even a haunted one!
Address: 82 Bradford Street, Provincetown, Massachusetts
6. AWOL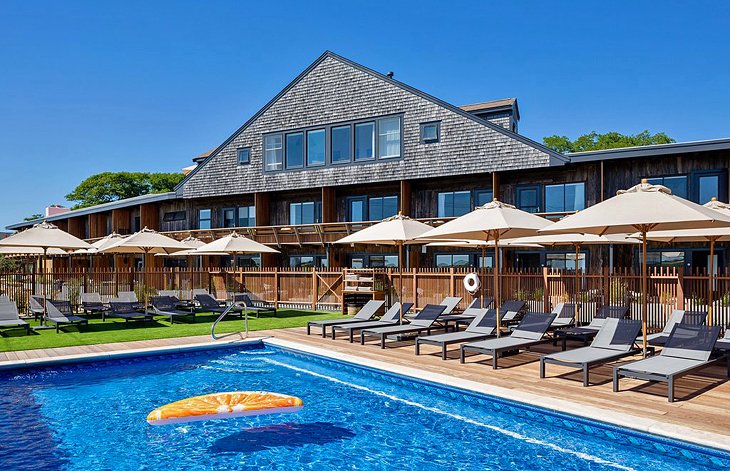 Accommodation: AWOL
Recently minted, AWOL is a relaxing and luxurious experience. From the moment you arrive, you will be greeted by a beautiful property complete with shared spaces especially made for appreciating the breathtaking views.
Every room features plush beds with luxury linens, relaxing baths, and a host of amenities for the traveler. Neutral colors and an updated shabby chic décor allow the views to be the star of the show.
If you don't feel like mingling with the other guests, every room has a private outdoor space whether it is a patio or balcony. To upgrade your experience (and your view), check out the Lark Suite, which comes complete with a rooftop deck and a full kitchen.
During your stay, you can take a dip in the heated pool and lounge on the deck surrounded by marsh views and the ocean beyond. Nature frames every picturesque scene.
For food and beverages, the hotel offers a range of drinks and light meals delivered by The Beach Market at Gail Force Bikes. Available only to guests, the area is a great outdoor spot to watch the sun setting in the distance.
Solé beach cruisers are a popular amenity to head off to one of the local beaches or explore the west end of Provincetown.
Address: 59 Province Lands Road, Provincetown, Massachusetts
7. Captain Freeman Inn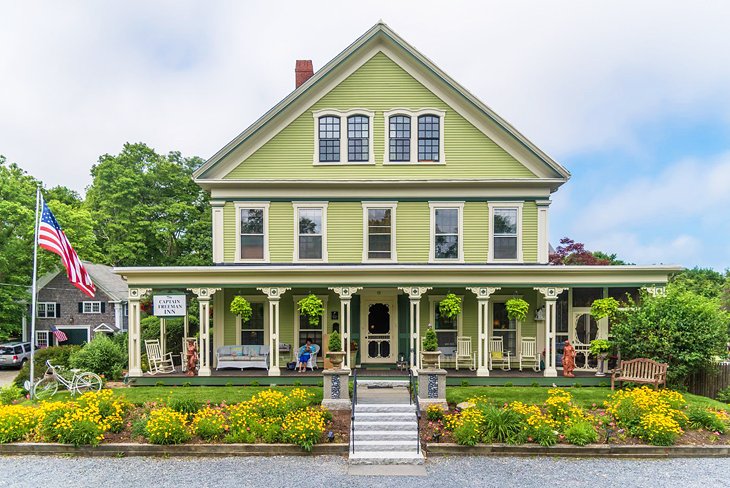 Accommodation: Captain Freeman Inn
Everything about the Captain Freeman Inn screams luxury. From their 600-thread-count sheets to the Turkish cotton bath robes, no detail is left unnoticed. Guests at the inn get a unique experience when they book one of the bed and breakfast's 10 unique rooms. Formerly a Sea Captain's Mansion, the property is now considered one of the best hotels in Brewster.
Each one of the recently renovated rooms are decorated with an eclectic mix of contemporary and period pieces and have comfortable bathrooms with spa baths. Each morning, guests enjoy a thoughtfully prepared three-course breakfast on the patio (in the summer months). After a busy day of exploring, wind down with the complimentary afternoon tea.
For couples or those just looking for some relaxation time, book one of their in-suite spa experiences like a massage or facial.
When you finally leave your cozy room, take the short walk to Breakwater Beach to soak up the sun and sand or the nearby Cape Cod Rail Trail to reconnect with nature. For bikers, the trail connects twenty five miles of scenic paved path from Dennis to Wellfleet.
Address: 15 Breakwater Road, Brewster, Massachusetts
8. 8 Dyer Hotel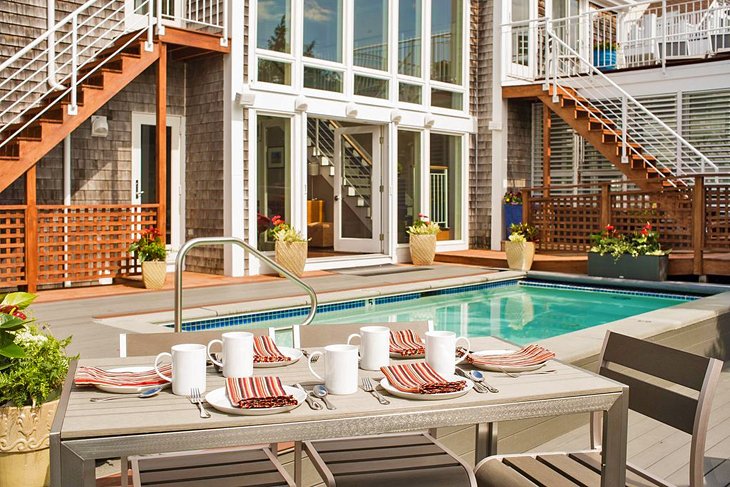 Accommodation: 8 Dyer Hotel
If you are looking for a quiet, peaceful place to rest your head, 8 Dyer Hotel is a great option. This modern, seven-room guesthouse is nestled back on a quiet street in the heart of Provincetown.
Outside, you are just steps away from Provincetown's Gallery District. Also close by are attractions like the Pilgrim Monument, Provincetown Art Association and Museum, and MacMillan Wharf. Provincetown's vibrant nightlife is just a few blocks away if you crave a little more excitement when the sun goes down. If you want to just relax on the beach, you can easily walk there as well.
Because of its size and its strict 18-years-plus policy for guests, it tends to be very quiet, so the 8 Dyer Hotel makes for the perfect getaway for couples or even the solo traveler. The guest rooms feature an ensuite bathroom and either queen or king-size beds. The penthouse rooms feature a Jacuzzi. There is also on-site parking and a complimentary shuttle from either the ferry pier or local airport.
Because this boutique hotel is owned by a chef, your breakfast or brunch (included with your stay) will be a special feast for the taste buds, featuring a range of local flavors.
Address: 8 Dyer Street, Provincetown, Massachusetts
9. Winstead Beach Resort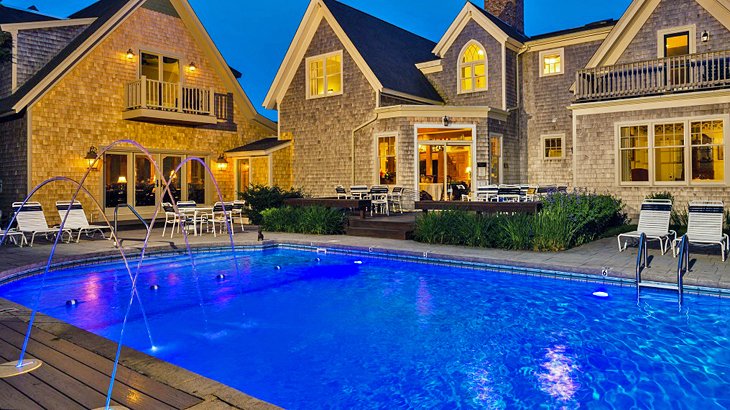 Accommodation: Winstead Beach Resort
Set among two properties, guests have the choice of a 14-room manse with a private beach or a 15-room estate with a bike path. Such decisions for a luxury stay do not come easy! Whichever property you choose, you will thoroughly enjoy your stay, as a welcoming staff will take care of your every need.
The rooms are artfully decorated, clean, and comfortable, and the resort boasts amenities like an outdoor heated pool, lovely gardens, and a complimentary shuttle to the beach for those staying at the estate. Every room's floor plan is unique, adding to the character of the property.
Winstead Beach Resort is within walking distance of beaches and landmarks like The Brooks Free Library; Whitehouse Field; and Brooks Park, where you can enjoy live bands in the summertime. You also have easy access to the Cape Cod Rail Trail and other nature trails in the area.
Address: 4 Braddock Ln, Harwich Port, Harwich, Massachusetts
10. The Platinum Pebble Boutique Inn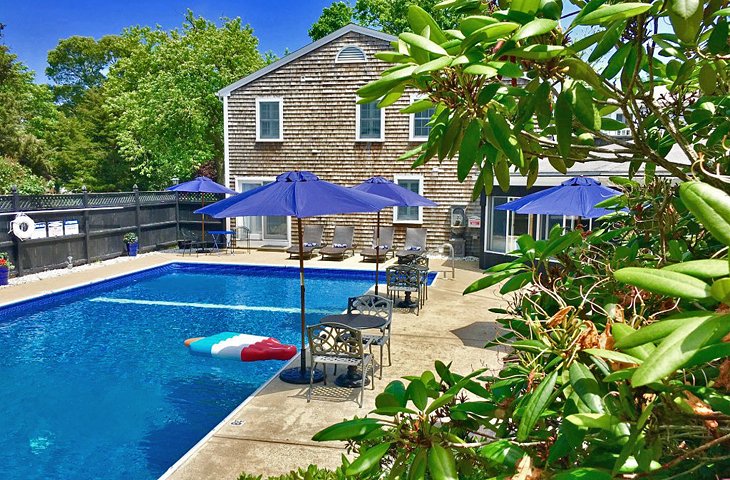 Accommodation: The Platinum Pebble Boutique Inn
For couples wanting to go on a romantic getaway, the Platinum Pebble Beach Inn is the place to stay. This award-winning adult's only hotel is the perfect place to reconnect and relax with your significant other (or yourself). Located in West Harwich, it's just a short drive or bike ride to the beach and nearby points of interest.
The rooms at the Platinum Pebble Beach Inn are welcoming and are designed with the guests comfort in mind, from the aesthetically pleasing design to the elegant coastal feel.
Guests are greeted each morning with an amazing chef-curated breakfast of fresh fruit and entrees like eggs Benedict with goat cheese or raspberry caramel French toast. You can dine poolside if weather permits to get your day started off right.
Address: 186 Belmont Road, West Harwich, Harwich, Massachusetts
11. Brass Key Guesthouse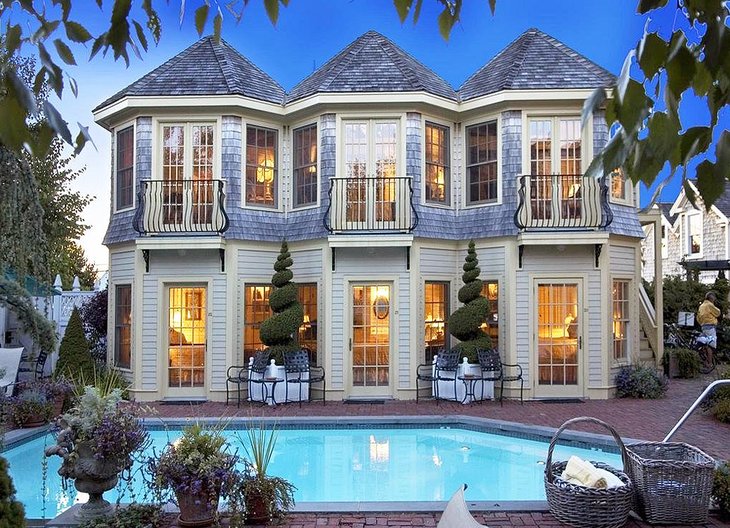 Accommodation: Brass Key Guesthouse
In downtown Provincetown, the Brass Key Guesthouse is only a few minutes' walk from all the shops and restaurants on bustling Commercial Street. This 4-star bed and breakfast is set inside nine historically detailed buildings that line all four sides of a terraced courtyard.
The rooms and suites come in a variety of shapes and sizes. Each is individually decorated and features luxe appointments and different styles depending on the building you are staying in. For a romantic getaway, book one with a fireplace and Jacuzzi bath tub. If you are traveling with a dog, book one of the cottages, which are the pet-friendly rooms on the property.
On-site amenities include a small, heated outdoor swimming pool in the courtyard. It is surrounded by sun loungers in season. A complimentary breakfast is served each morning, and there are also evening social hours to meet other guests. If you are in need of some pampering, book a treatment at the spa.
Address: 67 Bradford Street, Provincetown, Massachusetts